We use affiliate links. If you buy something through the links on this page, we may earn a commission at no cost to you. Learn more.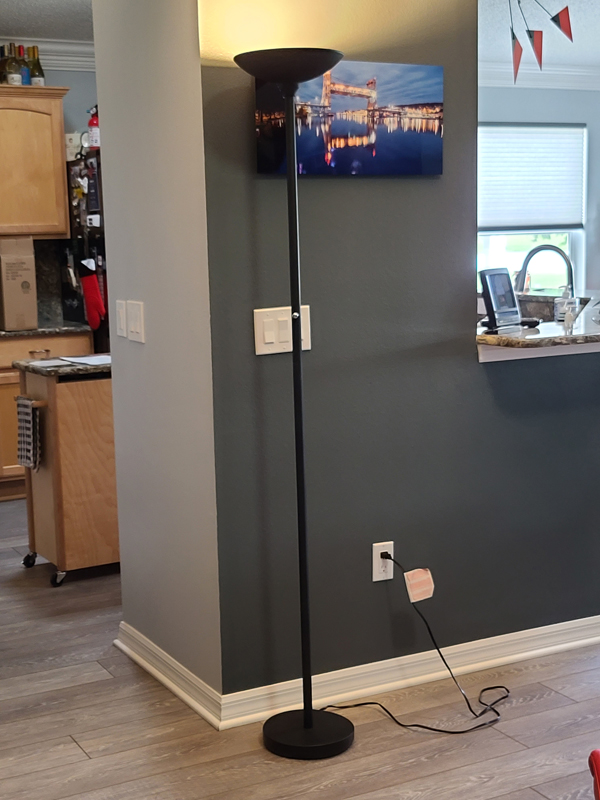 REVIEW – Light.  Light can just be ubiquitous – everywhere and unobtrusive, or, light can be used to highlight.  BoostArea has released a torchiere style floor lamp.  Torchiere is a fancy name for a floor lamp that produces light only in an upward direction. It comes from the flat-topped sticks that were used to hold candles as torches back in the day. As a design element, this style of light is used to bounce lighting off a ceiling, providing light throughout a room, or at least in a specific corner area of a room. Let's see how this lamp can light up up your life.
What is it?
This is a dimmable, torchiere-style, floor-standing upward-facing lamp.
What's in the box?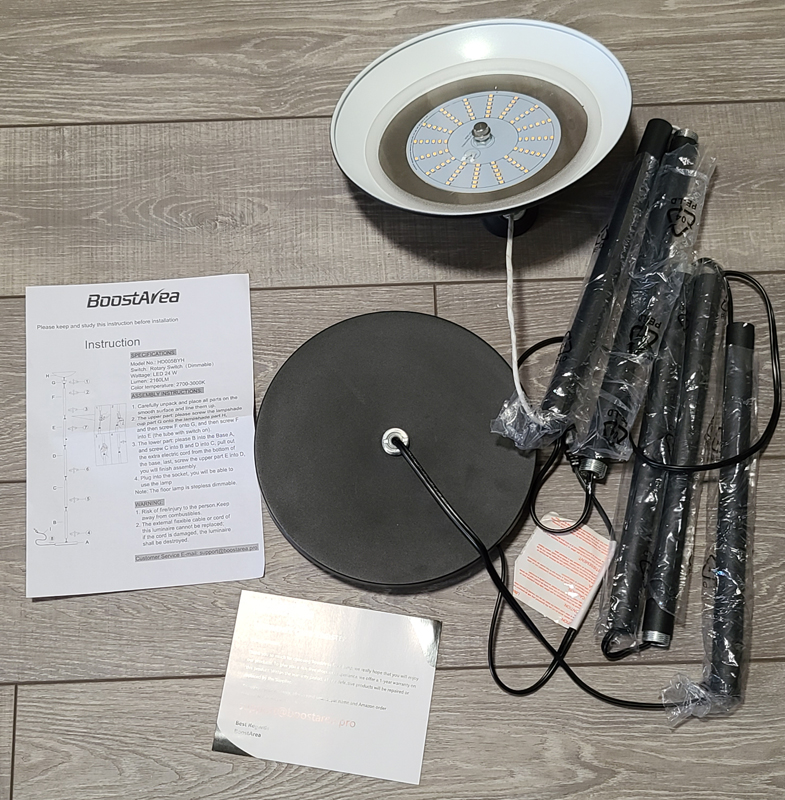 Unassembled lamp with a weighted base, upright rod sections, and lamp assembly connected with the power cord
Instructions
Warranty card
Hardware specs
Size: 10″ x 10″ x 72″
Weight: 11.4 lbs
Construction: metal
Switch: rotary dimming
Lamp: LED
Power consumption: 24W
Light output: 2,160 lumen (200W incandescent equivalent)
Color temperature: 3000K warm white
Lamp life: 50,000 hours
Design and features
Setup
The lamp ships with all the pieces connected together by the power cord.  This allows for a much smaller box as the individual rod pieces can fit next to each other.  After putting the base on the floor, you start screwing the rods into the base, and together, pulling the excess power cord slack through the bottom of the weighted base.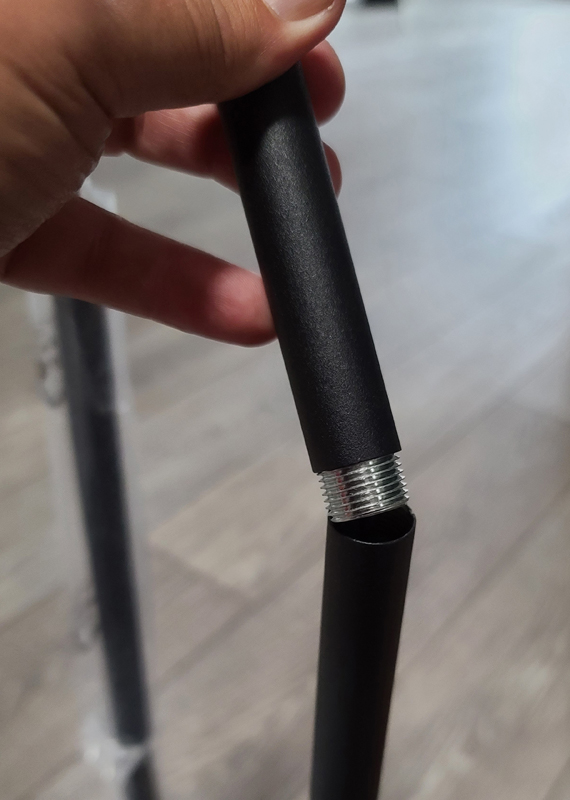 After assembling all the rods, you screw the lamp assembly into the top of the rod assembly.
Design
This lamp in matte black metal has a very contemporary look. The rotary dimming switch is finished in polished chrome and is located about halfway up the rod assembly. Ignore the reflection of the guy in the switch!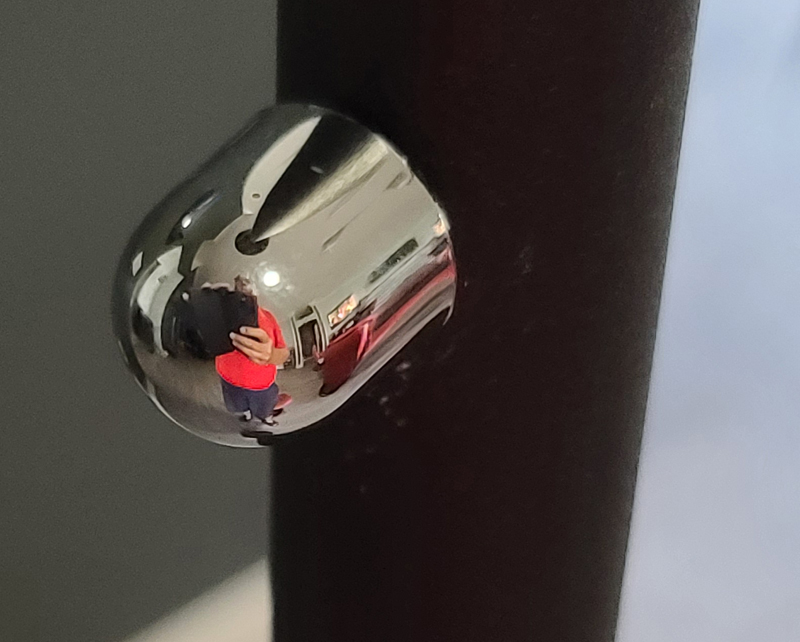 The weighted base is quite stable.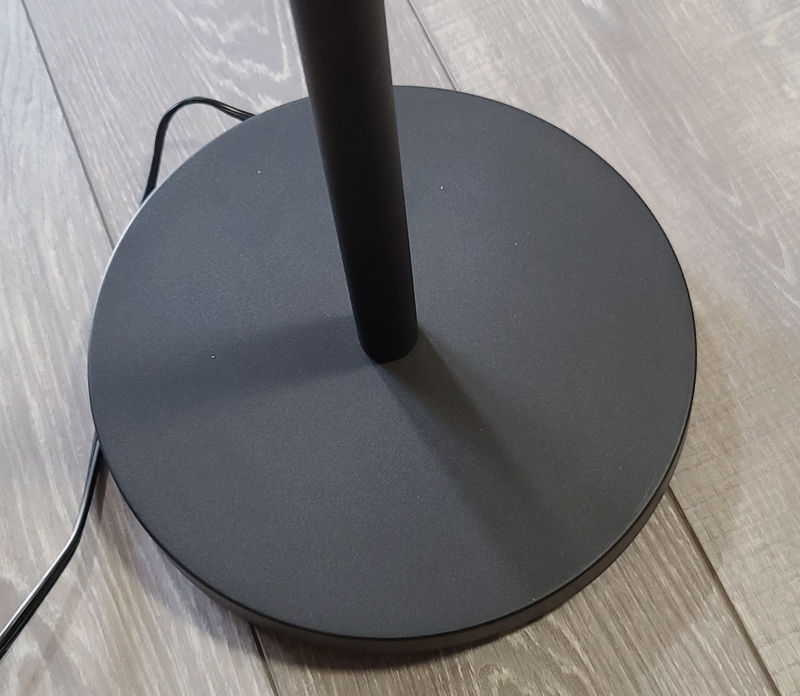 The lamp is made up of 96 individual, dimmable LEDs in a starburst pattern.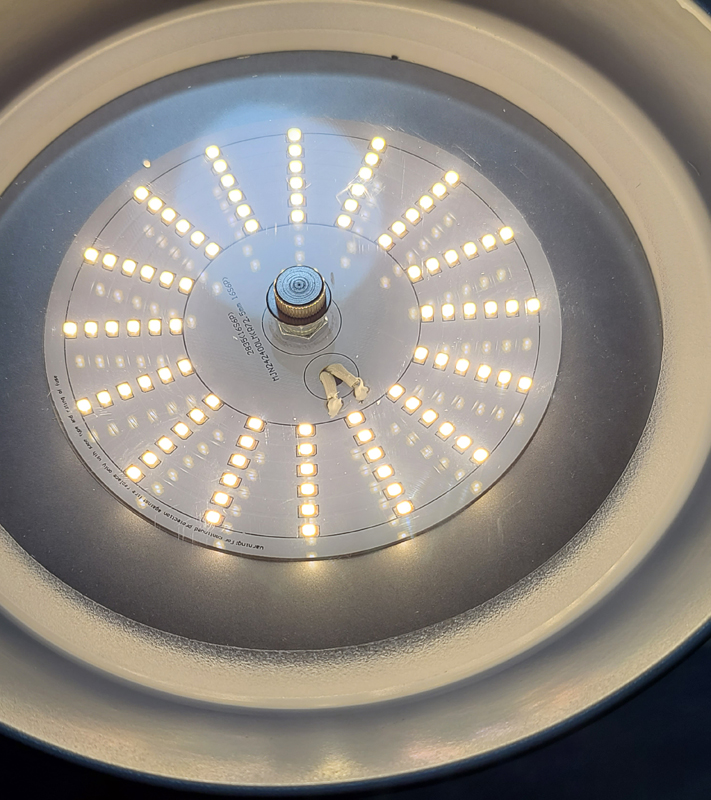 The LEDs sit inside a wide bowl-shaped dish that directs all the light output up to the ceiling.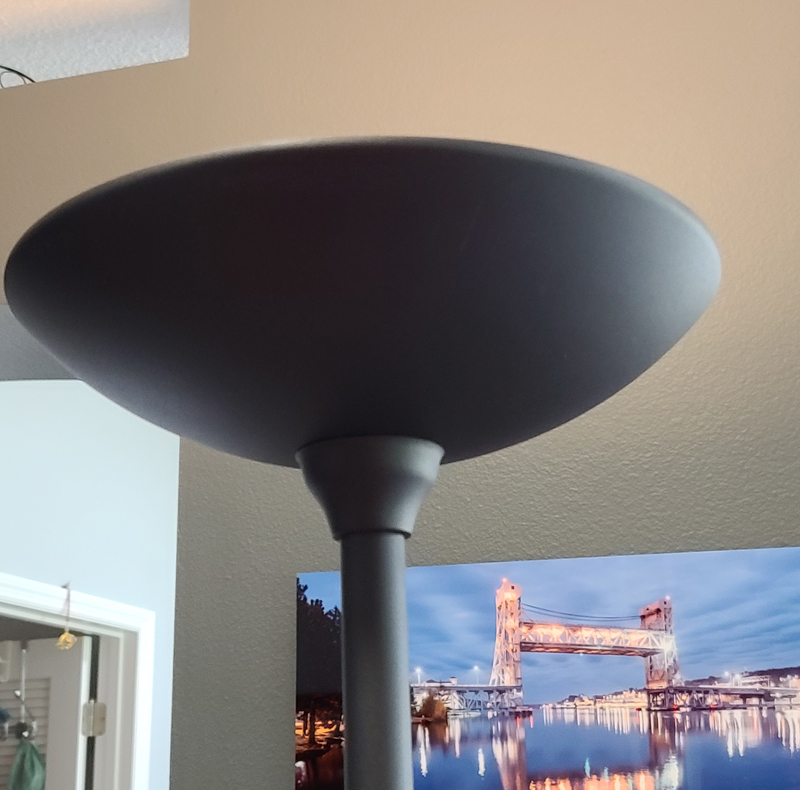 Performance
This lamp is dimmable and produces warm white light.  Warm light does not contain blue hues and is said to be easier on the eyes that bluer hues.  Research suggests that blue lights can adversely affect sleep, so this lamp would be appropriate for use in a bedroom.
The lamp can dim through a range of brightness from a soft, almost nightlight level up to its full 2,160-lumen output equal to a 200-Watt incandescent bulb.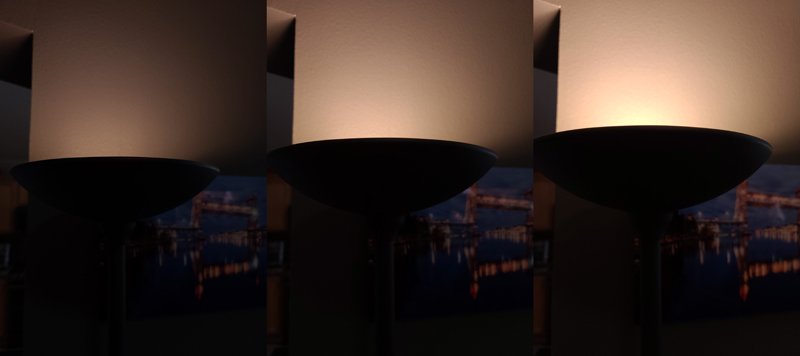 At a 200-Watt equivalent output, this is not designed to replace a full-room light for a large space but does produce enough light to illuminate a smaller room or a corner.
What I like
Sleek, modern look
Assembles easily
Dimmable
What I'd change
Not exceptionally bright, but would be fine in a corner or illuminating a smaller bedroom
Final thoughts
This is a very nice torch-style lamp.  It produces enough light for reading when bounced off an 8-foot ceiling.  Its warm white color temperature is pleasing and won't contribute to eye strain.  It is priced nicely for a dimmable, long-life LED lamp and will be a nice addition to one of our guest bedrooms.
Price: $64.59
Where to buy: Amazon
Source: The sample of this product was provided by Hk Smartvision Technology Limited.