We use affiliate links. If you buy something through the links on this page, we may earn a commission at no cost to you. Learn more.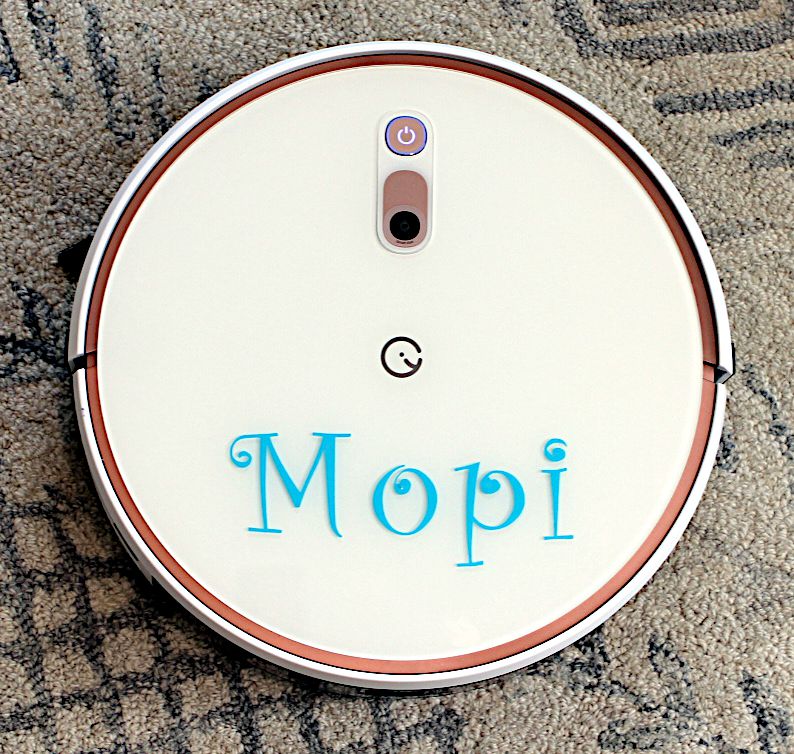 REVIEW – Back in the 60's there was a cartoon called The Jetsons, which gave us a look into the all the conveniences of life that would come with a futuristic space age.  Perhaps the best character in this show was Rosie, the family's robotic maid and housekeeper.  As a kid, I looked forward to a future with my own Rosie, as it seemed like I always had too many chores to do around the house; as an adult, I'm still looking forward to her, because I'm still doing a lot of chores.  While there are yet to be any robots as helpful (and high-spirited) as Rosie, there are a host of robotic vacuum cleaners that can help us keep our house clean.  In this review, I take a look at the Yeedi K700.
What is it?
The Yeedi K700 is a robotic cleaner that can autonomously vacuum and mop your floors.  When finished, it will return to its docking station and recharge.
What's in the box?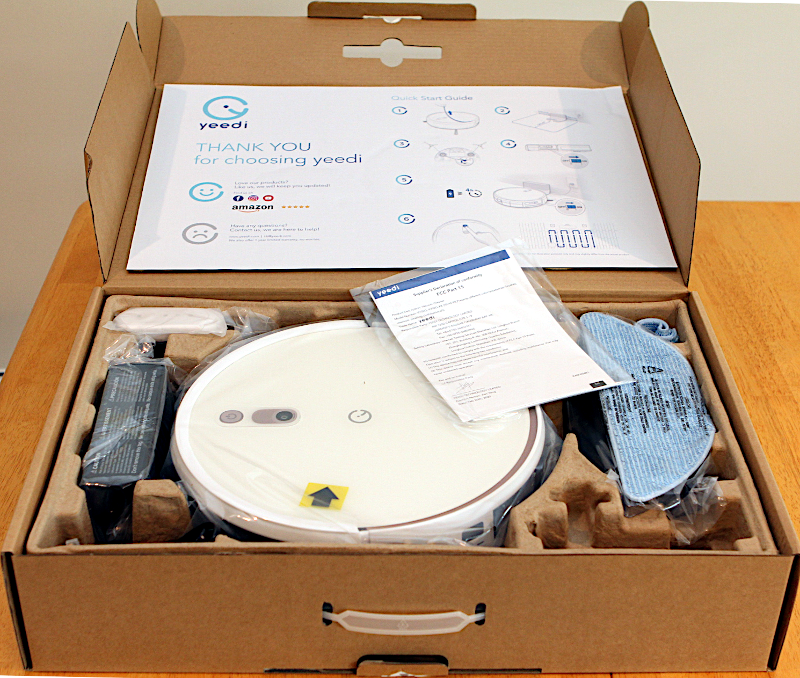 The following items came in a neatly packaged box:
Robot
Docking station
Two side brushes
Mopping reservoir
Two microfiber cleaning cloths
Remote control with batteries
Cleaning tool
Manual with 24 pages of English instruction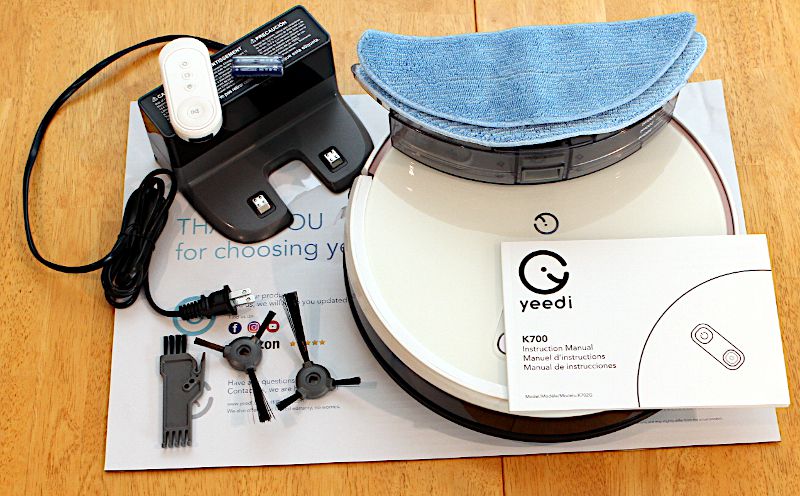 Hardware specs
Weight: 6.75 pounds
Dimensions:  3.5 H x 12.5 W inches
Suction power:  1000 pa (a unit of pressure), 2000 in turbo mode
Lithium ion battery
Vacuum mode: 110 minutes
Mopping mode: 250 minutes
Dustbin: 2.5 cups
Water reservoir:  1.25 cups
Design and features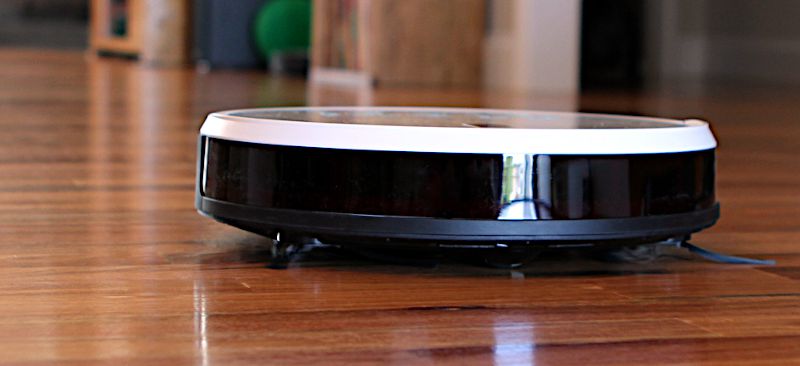 The K700 has the same size and cylindrical shape as other robotic vacuums on the market today.  At only 3.5 inches in height, it's able to fit under most of my furniture, and at 12.5 inches in diameter, it can navigate between the legs of my chairs and bar stools.  The K700 is white, with the notable exception of the front sensor panel, which I actually prefer over the traditional black, as it hides the dust better, and these vacuums certainly accumulate a lot of dust over time.  On top is a glowing white power button and an upward-facing camera.
Installation and setup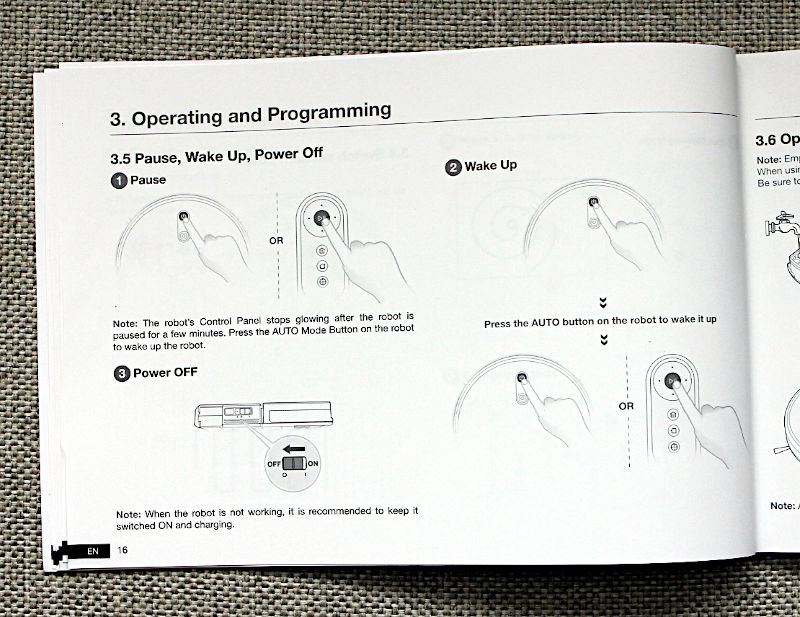 First, I read through the manual, and I must say that Yeedi's manual is probably the best manual I have ever read while reviewing a gadget.  The pictures are clean, the English is good, the explanations are easy to understand, and the layout of the pages is crisp.  Other gadget makers would do well to copy Yeedi's style in this area.  Second, I removed various pieces of plastic and a protective strip from the robot.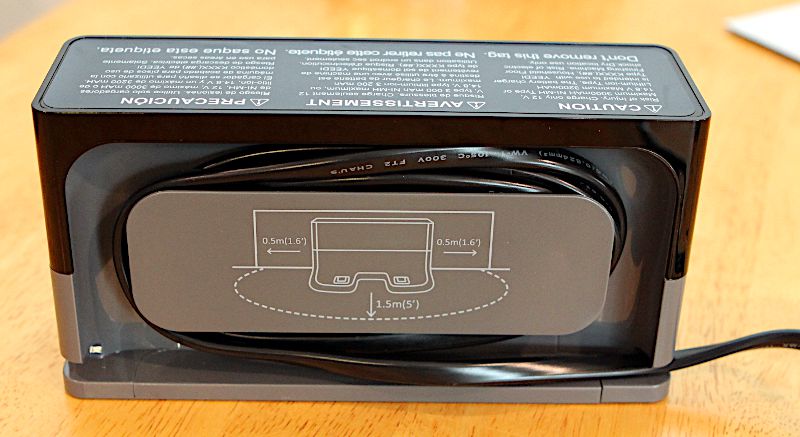 Third, I plugged in the docking station along the edge of an open section of the wall.  The manual says that there should be at least a foot and a half of free space on each side and five feet in front.  I think this makes it easier for the K700 to find its way back.  The back of the station has a convenient place to wrap up the extra cord.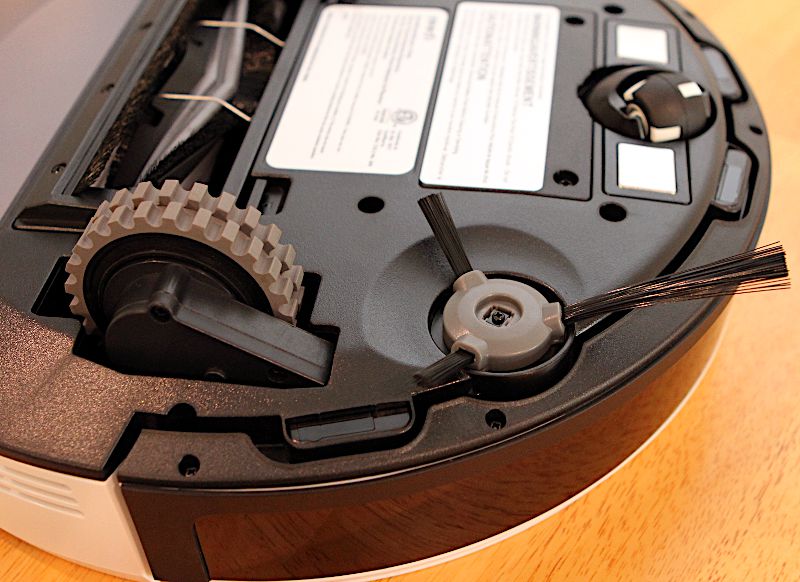 Fourth, I attached the side brushes to the bottom of the cleaner.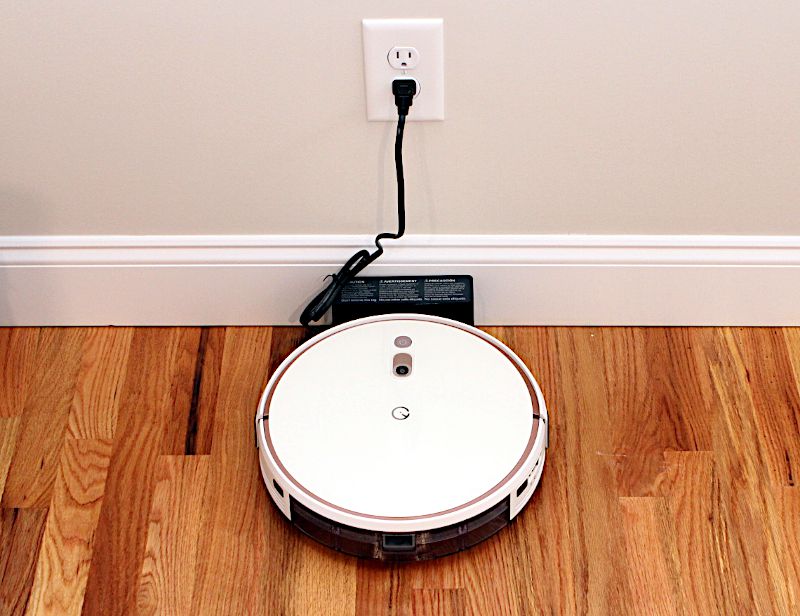 Fifth, I turned the K700 on and then placed it on the docking station, and that's when I got a nice surprise:  The robot talks!  It told me that it was starting to charge!  In fact, it has a whole set of stock phrases that it delivers in clear English with a pleasant female voice.  It lets me know when it's returning to dock, starting to clean, pausing from cleaning, and so on.  It's a nice touch, but more than that it's a humanizing touch.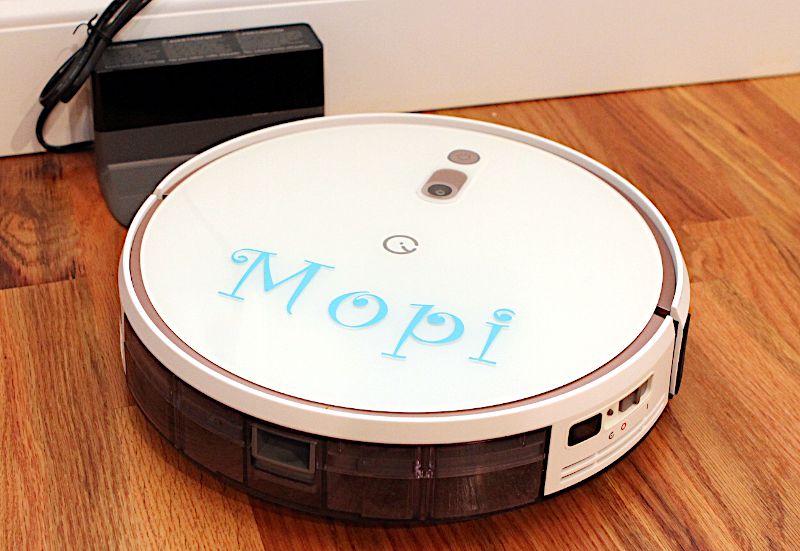 My daughter, who had named our first robot, decided that this one needed a name as well.  As this robot can mop, she named it Mopi (pronounced like moppy), and my wife got out her Cricut Air and created a lovely blue name tag for her.  I'm not sure why, but of all the gadgets that I've tested around here, the robotic vacuum cleaners are the only ones that we've named and that we talk to as if they were pets.  Maybe we're closer to having a Rosie than I thought.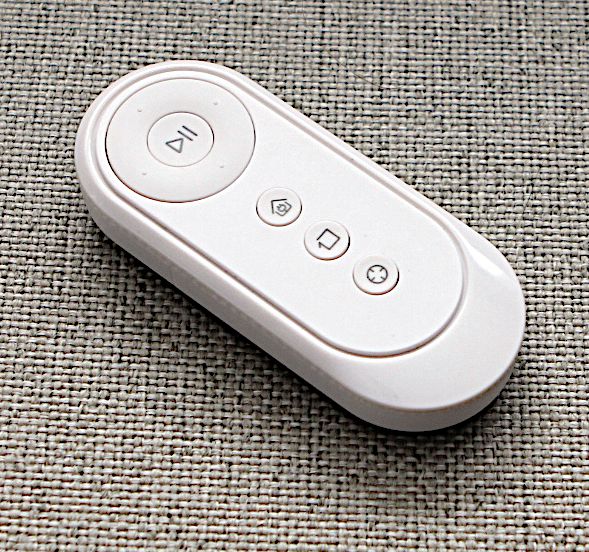 The manual says that it should charge for four hours, and once it was done, I popped the AAA batteries into the remote and pressed play.  The smallish remote is super simple to use.  The main button doubles for starting and stopping the cleaning process.  There's one button for returning home to the charging station, one for edge cleaning, and one for spot cleaning.  There are also a set of four buttons for manual control, but these aren't really that useful.  If I need to put Mopi somewhere specific, then I pick her up and carry her; it's just faster.  Overall, I really like the simplicity of this remote.  No connecting to the Wifi (or sending my data off to China), no Alexi support, and no programming the time of day to run; I'm just fine with this!  99% of the time I only need two buttons:  one to start and one to return home when I'm done with her.
Performance
One of the reasons that I selected the K700 was that it has an intelligent pathing algorithm.  The last robotic vacuum that I tested appeared to have a random algorithm; that is, it kept going and turning, going and turning, going and turning until by blind luck it covered the entire floor.  It kind of worked, but it's super inefficient.  The K700 has a programmed cleaning pattern that allows it to go back-and-forth along straight lines, thus vacuuming everywhere in a room.  It's able to do this via vSLAM technology.  Visual simultaneous localization and mapping (vSLAM) "refers to the process of determining the position and orientation of a sensor with respect to its surroundings, while simultaneously mapping the environment around that sensor."  This is the same technology that is used in some autonomous vehicles.  There's a camera on the top of the robot that allows it to "see" where it's going and plan a path to cover everything.  As far as I can tell, it does this really well, and I think this is Mopi's best feature.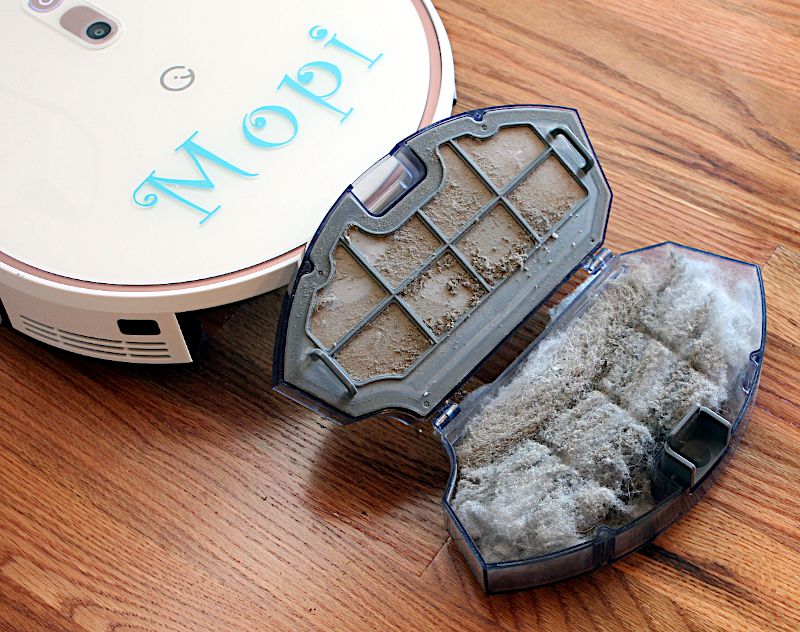 Mopi vacuumed my hardwood floors with the greatest of ease, and though it works on the area rugs as well, it seems to struggle a bit on carpet.  Maybe it's my imagination, but the motors seem to grind harder on the rugs; it sounds as if they are not quite powerful enough for the extra resistance of carpet.  Whether that's true or not, Mopi can really vacuum in a lot of dirt and dust.  I have to empty the bin every other time I run her.  Once she's finished cleaning, she finds her way back to her docking station, and with a cheerful "I'm starting to charge" she powers off and begins recharging.  The main living area in our house (the living room, kitchen, dining room) is about 900 square feet, and it takes Mopi about 70 minutes to vacuum them all.
Most of the time I use Mopi's automatic cleaning mode, but there are two other modes that I use occasionally.  In edge mode, she cleans around the edge of a room.  In spot mode, she cleans area by vacuuming in an expanding and then contracting set of concentric circles, about three feet in diameter.  Spot mode reveals the greatest weakness that I found in the K700.  I pick her up, bring her an area to vacuum, and hit spot mode.  After she's done cleaning—she covers the area in question quite thoroughly—I hit the return button, but she is rarely able to find her way home.  There's something about picking up this robot and carrying it somewhere else that makes it difficult for it to find its way back.  Usually I have to pick it and set it near the docking station again.
After vacuuming for several days, I decided to try mopping.  When I was reading the manual on how to use the mopping feature, I found this statement, "When using the mopping system, fold area rug edges under themselves so the robot will avoid the rug."  What?  Does this really mean that the K700 cannot sense where's there a rug?  In our main living area, we have three large area rugs, one for the kitchen table, one for the dining room table, and one for our sectional.  It's not possible to pick these up or fold them over whenever I need to mop.  Hoping that I misunderstood the manual, I filled the reservoir with water, made sure the microfiber cleaning pad was firmly attached, remove the dust bin and inserted the reservoir into its place–yes, this means Mopi can either vacuum or mop, not both at the same time–and turned her on.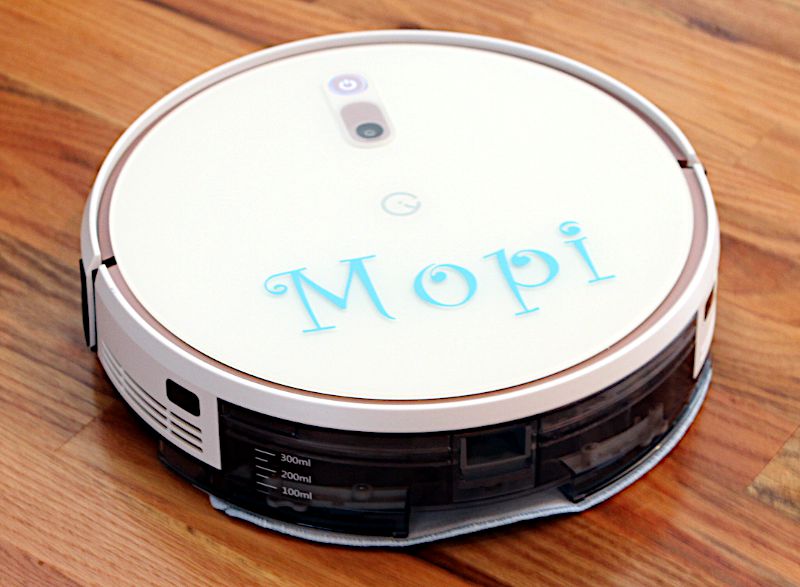 Unfortunately, I was not mistaken.  Mopi immediate headed for the dining room rug and didn't pause at all before rolling onto it.  Mopi can't sense rugs at all, and so she'll try to mop them as if they were a hard surface.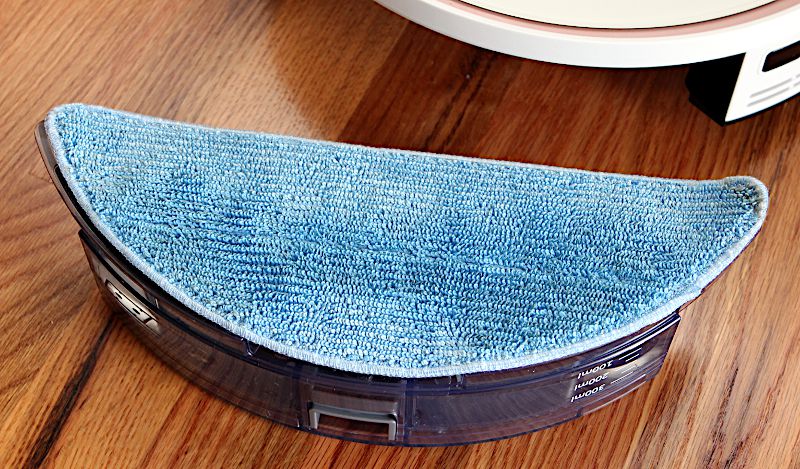 I moved Mopi into the kitchen and let her mop for a while.  As I watched, I came to realize that she doesn't really mop, at least not in the sense of scrubbing or cleaning.  I tend to think of mopping as the work I do when I spill some food on the kitchen floor, but that's not what she does.  Instead, she simply trails a damp cloth behind her, which is more like a very light wiping of a surface.  Mopi releases a very small amount of water as she goes, so little that at times she doesn't leave any trace of water behind.  After letting Mopi mop through the kitchen and the entry hallway, I stopped her and pulled out the reservoir and looked at the cloth.  I could definitely see some dirt.  She's doing something, though not too much.  I think the mopping feature is most useful for those who live in a house or flat with only a few small rugs that can easily be picked up and are willing to run the mopping feature every few days, thus keeping the worst of the dirt and grime down.  If you do spill some food on the floor, then you'll still want to mop that up by hand.
Extra Features
When vacuuming, the K700 has two different suction modes, normal and turbo.  Normal is rated at 1000 pa and turbo twice that.  The extra suction can be activated by pressing the power button on top of the robot twice; there's no way to activate it from the remote.  I can definitely hear the difference; the suction sounds a lot stronger.
Yeedi's vacuum has two rotating brushes on the bottom and an internal filter.  All of these will wear out after time and need to be replaced.  Unfortunately, Yeedi does not supply any extra brushes or filters with the K700—they do supply two clothes for mopping, however–and I was unable to find any place on its website to order more.  It's rather a problem to spend $300 on a gadget and not be able to purchase spare parts when necessary.

To make matters worse, on Yeedi's web page for the K700, there's a button to click in order to contact Yeedi.  When I click it, nothing happens.  It's literally just an image.  That's a huge red flag for me; gadget websites should provide easy ways for customers to contact them for help.  As I read through the fine print on their Amazon page, I did find an email address for customer service ([email protected]).  I sent a message to this email address and got a reply overnight, even though it was a weekend, which is impressive.  The English was rather broken, but I was able to ascertain three things:
Spare parts should be available on Amazon within a week.
The side brushes and filter of the K600, an older model, are compatible, though the roller brush for the beater bar is not.
Yeedi is willing to send me a free set of spare parts.
Well now!  That's about as good of a response as I could hope for.  Even though the support page on their site is 404, it's good to know that Yeedi has a very responsive (and generous) support team.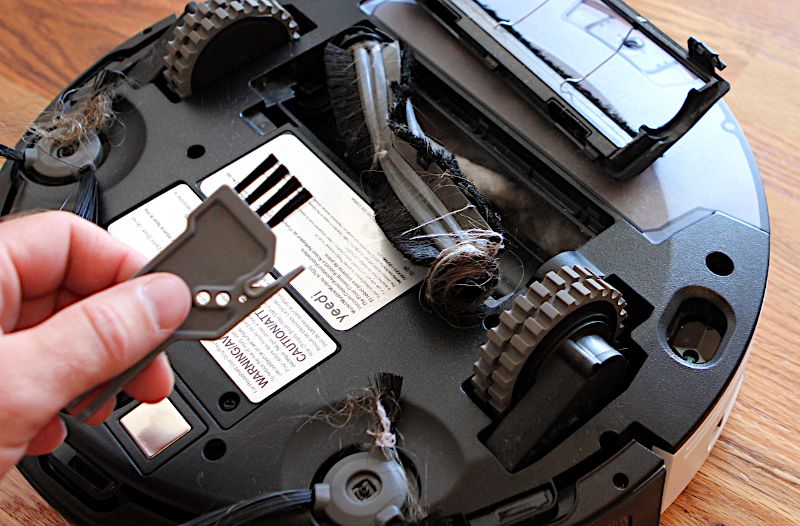 Like all vacuums, robotic or otherwise, the K700 needs a bit of occasional maintenance.  To clean it, I first flip it over, pop out the side brushes, and pull the hair off them.  I then pop out the roller brush and do the same, using the sharp edge of the included cleaning tool when necessary to cut through the accumulated hair.  Finally, I clean out the filters.  The manual gives clear instructions for doing all of these maintenance tasks.
What I like
Excellent manual
Efficient and effective vacuuming algorithm
Ability to mop (or at least wipe)
Pleasant voice
What I'd change
Add customer service contact info to the K700's website
Add a place to purchase spare parts (hopefully coming soon)
Improve mopping feature so that it can distinguish rugs from hard floors
Final thoughts
Although Mopi isn't quite Rosie, she's still a nice addition to our repertoire of gadgets.  Her use of vSLAM technology enables her to efficiently navigate in a back-and-forth pattern in order to clean the entire floor.  She can vacuum and mop both, and while her mopping is rather light, it will wipe up some of the dirt from the floor.  If you live somewhere with few rugs that are easy to pick up when it's mopping time, I think you take a look at Yeedi's K700 robotic vacuum.
Price: $299.99
Where to buy:  Amazon
Source: The sample for this review was provided by Yeedi, a subsidiary of Ecovacs.