We use affiliate links. If you buy something through the links on this page, we may earn a commission at no cost to you. Learn more.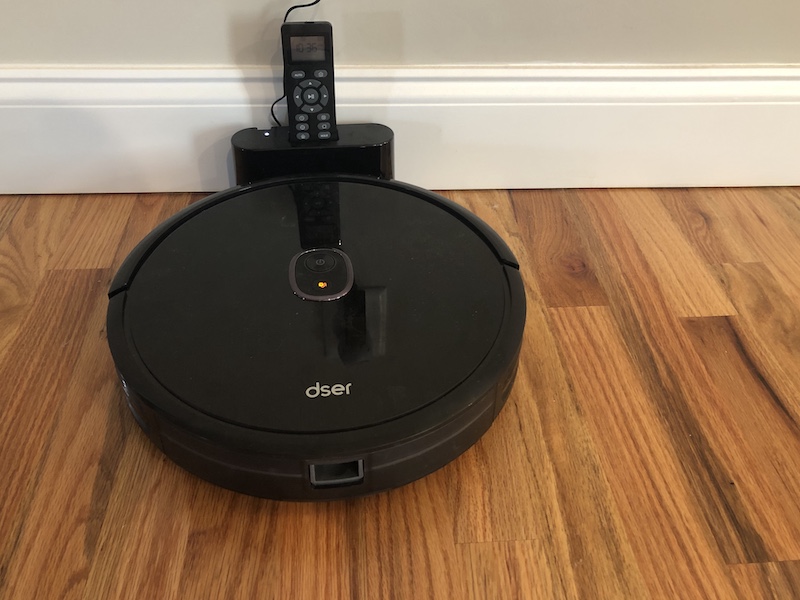 REVIEW – We recently moved to a new single-story house where more than half the rooms have a hardwood floor, which tends to collect dust bunnies.  My wife and I are busy working from home, and we have a small dog as well. Altogether, this seems like the perfect proving grounds for a robotic vacuum cleaner, and that is why I have been testing Dser's RoboGeek 20T.
What is it?
The RoboGeek 20T is a robotic vacuum cleaner that can autonomously clean your floor and then return to its base station to charge itself when its battery gets low.
What's in the box?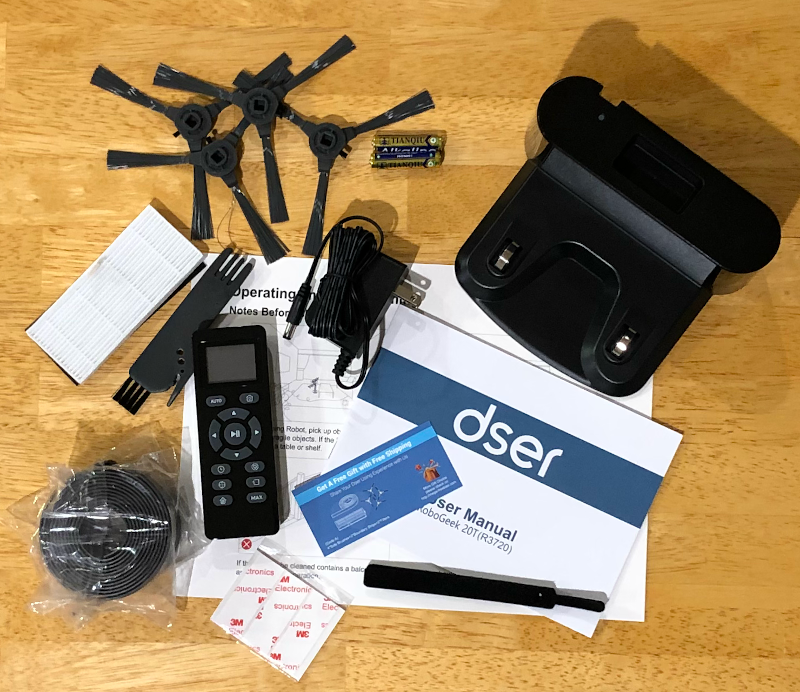 The vacuum
Charging station with power adapter
A remote control with 2 AA batteries
4 side brushes
A spare sponge filter and high efficiency filter
A brush for cleaning
2 magnetic strips and some adhesive tape for marking boundaries
5 cable ties
A manual with 27 pages of English instruction
An operating and cleaning quick guide
Hardware specs
Battery: Internal, rechargeable lithium ion battery (2600 mAh)
Power Consumption:  28 watts
Cleaning Time: up to 100 minutes
Charging Time: 300 to 360 minutes
Dust Collector Capacity:  2.5 cups
Height:  Less than 3 inches
Width:  12.5 inches
Weight:  11 pounds
Design and features
The RoboGeek does not stray from the tried-and-true design first established by the Roomba many years ago.  It has a squat, cylindrical shape and is all black, except for the glowing power button on top.  It has a set of sensors that guide it around the room and minimize collusions.  It can clean hard floors and carpets alike.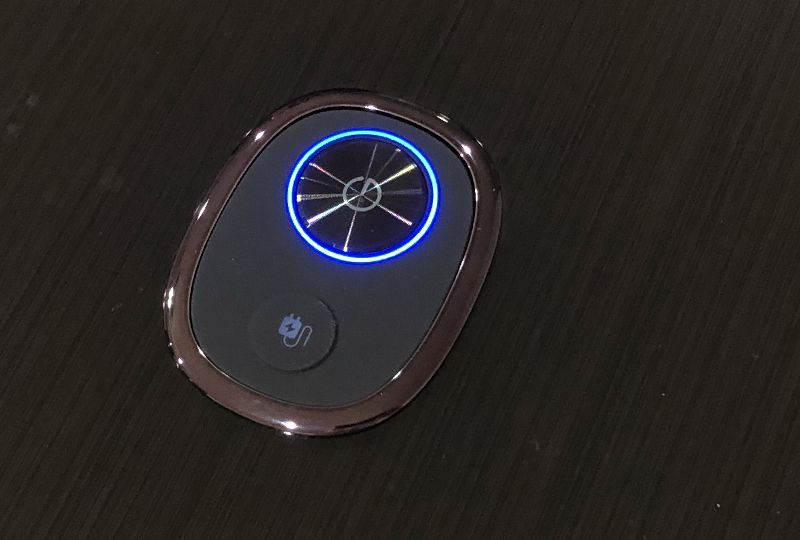 Installation and setup
The first thing I did was to plug the docking station in the wall and place it along an edge where there's plenty of space.  This allows the RoboGeek the maneuverability it needs to autonomously dock.  I popped the batteries into the remote and then put it into the slot on top of the dock.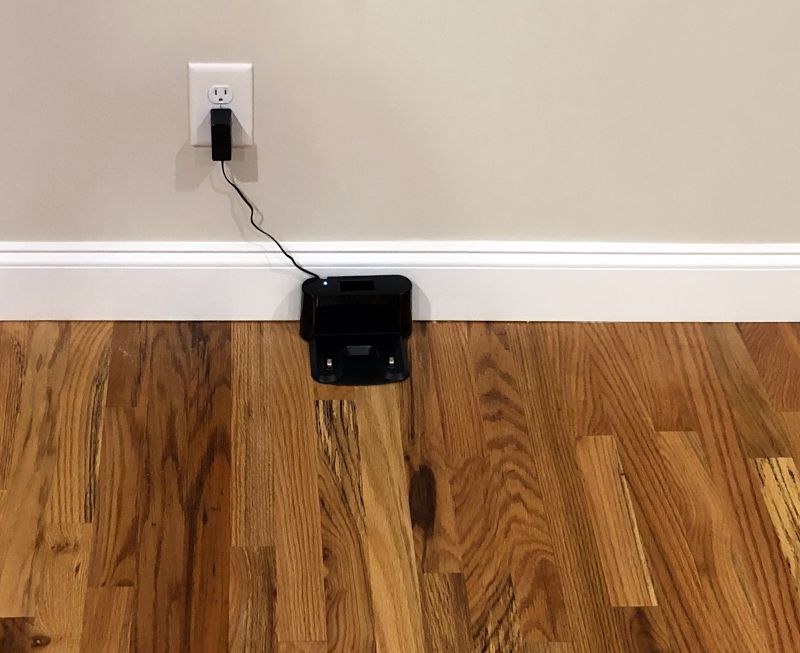 The second thing I did was remove various stickers from the RoboGeek and then attach two of the side brushes; the other two are spares.  I set it on the charging station and waited about 90 minutes for it to charge.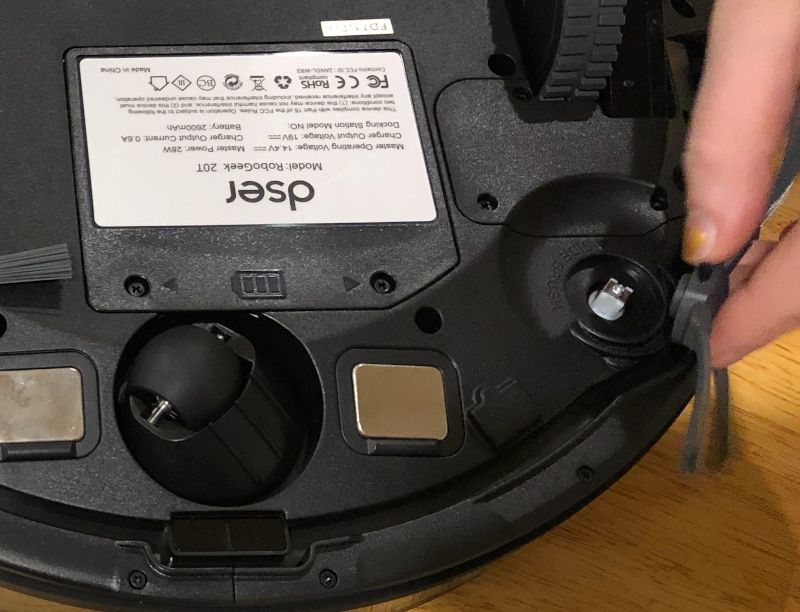 Performance
I was all ready to begin testing the RoboGeek when my daughter realized that it has a manual mode.  She promptly took the remote and used it to drive the robot all around the house.  Hoping to stab me in the ankle, she used tape to attach a plastic fork to the top and christened it "Stabby."  We had a lot of fun playing with it, and though she never managed to successfully attack me, the name Stabby stuck—no pun intended—and that's what we still call him to this day.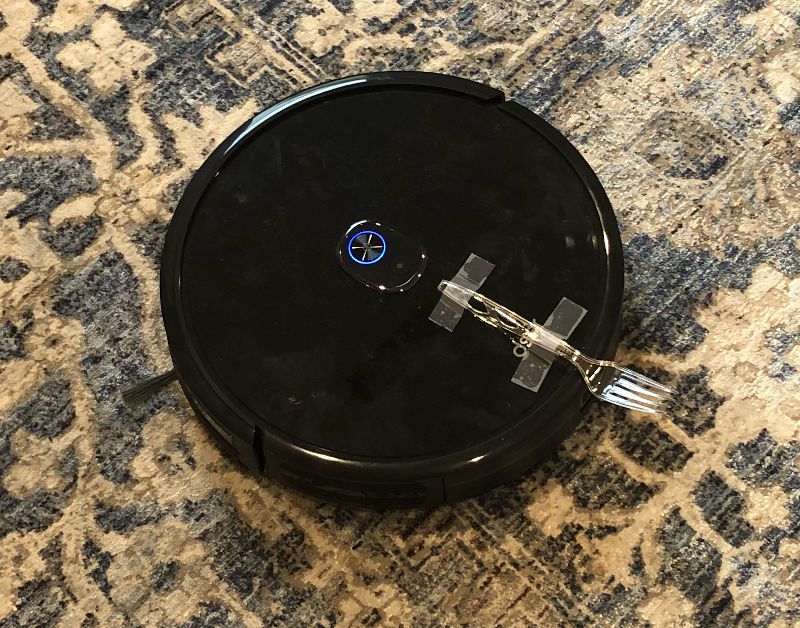 All kidding aside, the main question for any vacuum cleaner is this:  How well does it perform?  The good news is that Dser's cleaner works really well.  It picks up a lot of dust and hair; it's almost shocking how much dirt and debris it manages to find.  The dust collector holds about 2.5 cups worth, and Stabby manages to fill it up every other day or so.  When it fills up, it will stop moving and beep three times repeatedly, which lets me know that it's time to empty the collector.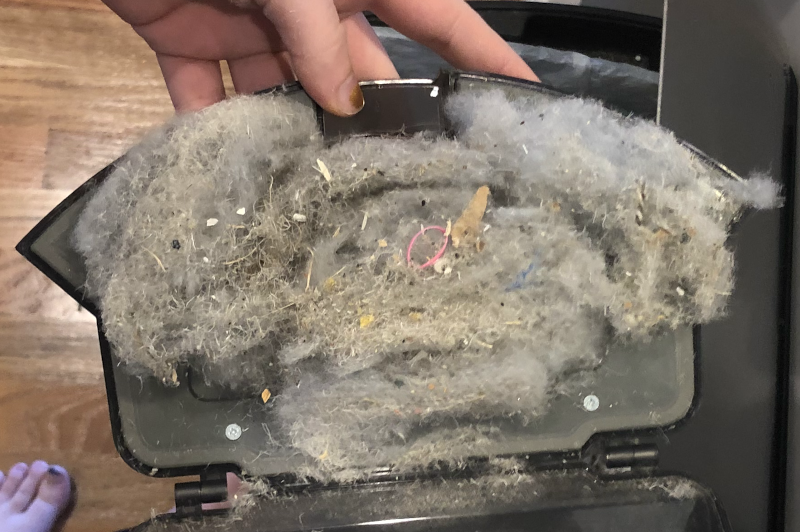 In my testing, the cleaner will run for about two hours on a single charge, which is longer than Dser estimates.  Generally speaking, it has no problem finding its way back to its base station so that it can begin recharging for another day, though there is one corner in my kitchen that gives it problems.
When I began testing, I assumed that Stabby would have problems getting under our kitchen table.  With all the legs from the table and chairs, it seems like quite the minefield for this little guy.  I'm happy to report that it hasn't been a problem at all; he's been able to navigate under and around it without difficulty.
Although we have hardwood floors, we have also have area rugs in the kitchen and dining room.  The RoboGeek has no problem transitioning from one to the other, so long as the edges of the rug lay flat on the floor.  If your rugs curl up, you'll want to find a way to keep them down.
We have a small Yorkie, and she is terrified of our upright vacuum cleaner.  I was worried that a robotic cleaner would terrorize her whenever it approached.  Thankfully, the RoboGeek is much quieter and after a few tentative sniffs, our dog has ignored it, even when it bumps against her bed.
Limitations
While the RoboGeek picks up a lot of dirt, I'm uncertain if it picks up all the dirt that it could; in other words, as I watch it work, I can't discern the pattern that it uses to traverse around our house.  There must be some sort of pattern, but it seems very arbitrary and appears to miss areas in the middle of the floor.  This picture, taken from the manual, depicts the default cleaning mode and certainly appears to be random.  I wish it would use a different algorithm, perhaps some sort of back and forth pattern, that makes it easier to see what's getting done, but I suppose so long as it's picking up a lot of stuff, it's hard to complain too much.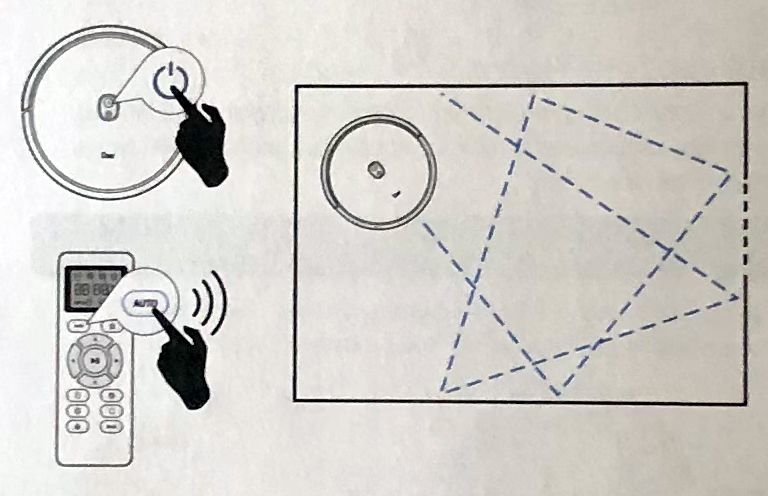 Although it picks up smaller pieces of dirt and dust, it generally can't pick up anything that lays flat on the floor, like a small piece of paper, or anything larger than a half inch in size.  Things like this I just pick up by hand.  Stabby works best out in the open; he struggles to get into corners, no doubt due to his round shape.  There's a corner near our bar in the kitchen that it can't clean, and I use a hand vacuum cleaner to get here.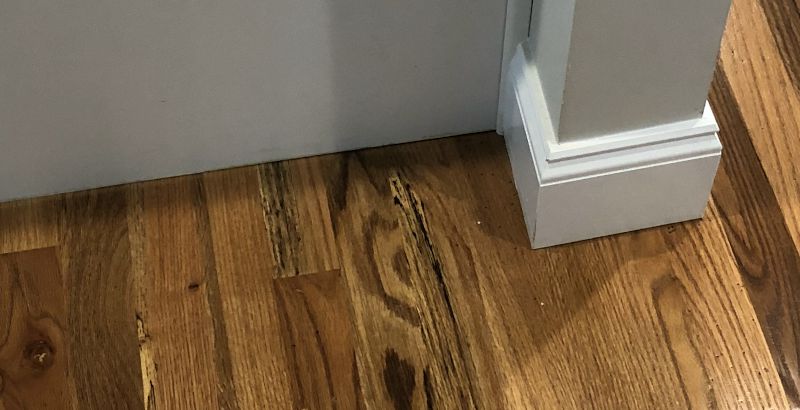 There are some things to consider when purchasing a robotic vacuum cleaner.  It doesn't work well with soft, squishy rugs.  Although Stabby often manages to get onto such rugs, it generally leaves them all bunched up.  It's probably better to use rugs that are lower and stiffer.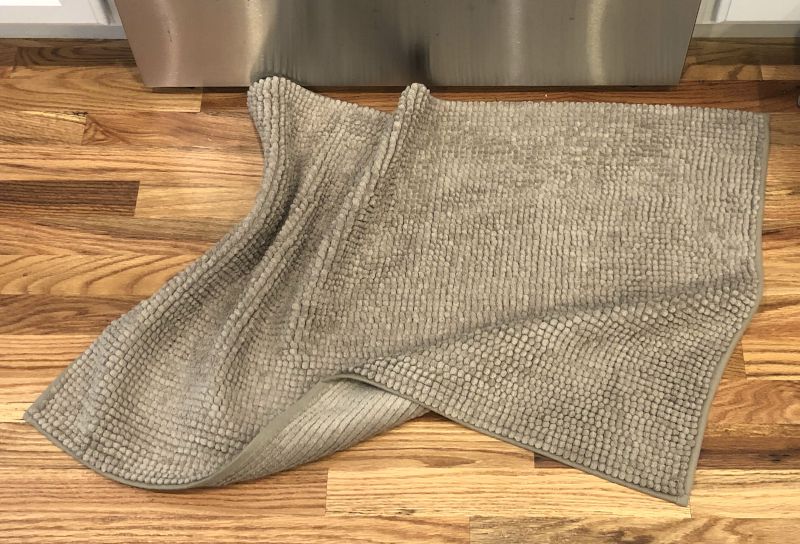 The manual warns that the RoboGeek will eat wires and cords if they are left on the ground, and we have certainly found this to be true.  It found a pair of my headphones and completely ate them, wrapping them around the brushes and beater bar.  As my wife and I both have a home office with loads of computer cables, we've learned to simply keep the doors closed when Stabby is working.  Additionally, we give the house a quick once over before turning it on; we pick up anything that might give it trouble.  This is slightly annoying to do, but honestly, it's a small price to pay for having an autonomous cleaner that saves us so much time.
Humor
Having Stabby in the house has led to several humorous events.  In one case, the bathroom door was slightly ajar.  Stabby pushed its way into the bathroom, cleaned for a bit, then came around behind the door and pushed it nearly shut.  In essence, he locked himself in the room and couldn't get out.
We have a small tray on which we keep our dog's food.  Stabby is able to get up onto the tray and even onto a plate, and the resulting racket makes it look and sound as if he's trying to eat our dog's food.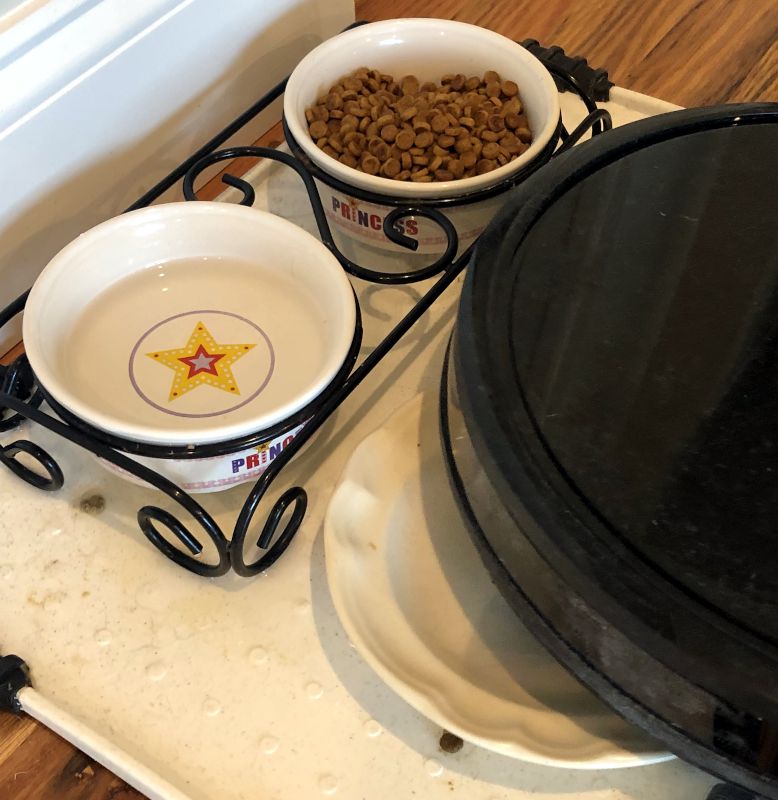 To solve this problem, we used the included adhesive tape to place the magnetic strip along the underside of the tray, and now Stabby happily stays away.
Maintenance
Like all vacuum cleaners, the RoboGeek requires some maintenance.  Not only do I have to clean out the collector, but I also have to clean out the filter, remove all the hair from the beater bar, and wipe down the surface, which gets very dusty.  Due to its smaller size, I've had to do this extra maintenance at least once a week.  The manual devotes 4 pages to explaining everything that needs to be done.  While I'm here, let me say that the manual is well written and fairly thorough.
Extra Features
I often use the default settings when running the RoboGeek; that is, I press the Auto button on the remote to start it, and I let it run its default pattern.  There are some other options that can be helpful.  Using the remote, I can give a cleaning preference, such as clean along the edges or start in one spot and spiral outwards.  These can be handy when you're trying to clean somewhere in particular.   Additionally, I can set the time and then create a schedule when I want it to run.  For example, I set it to run every day at 2pm, which we let it do for several days.
Although we liked having a regular cleaning schedule, we decided it was better for us to run Stabby on command, which gives us time to clean up first and close doors to some rooms.  We followed the instructions for disabling the schedule, and the icon disappeared from the remote.  Stabby, however, continued to turn himself on at various times.  For example, one day we came home from visiting family and found him in our bedroom, where he had eaten a pair of earbuds; another night my wife found him cleaning the bathroom at 3:30am.  Clearly there's a bug of some sort in his programming.  I contacted Dser's tech support by email, and after a couple of polite exchanges, they decided that it was probably defective, and they offered to replace it.  That's pretty cool, but my fellow Gadgeteers had a better idea:  Remove the batteries from the remote and from the cleaner and wait 30 minutes.  Sure enough, that fixed it.  Stabby now only runs on command, which is what we want.
What I like
Picks up a lot of dirt and dust
Autonomously cleans and charges
Nice set of features
What I'd change
Add a back and forth cleaning pattern
Fix the bug where it runs by itself after canceling a schedule
Final thoughts
Overall, I really like Dser's RoboGeek 20T, as it does a nice job helping to keep our floors clean with a minimal amount of extra effort on our part.  The fact that it doesn't terrorize our dog is a big win as well.  It does have some limitations, as all robotic vacuum cleaners do, but we've learned to work with them.  Most troubling, of course, is that it is a bit too autonomous, continuing to run itself after we canceled its schedule.  If you're looking for some extra help around the house, I think you should take a look at the RoboGeek, though if you plan to use a cleaning schedule, you should do so with care.
UPDATE (15 August 2020) – After I finished my initial review of the RoboGeek, our family settled into a regular pattern of usage.  Twice a week we picked things up off the floor, closed the doors to our offices, and then manually activated the vacuum.  It faithfully meandered around our house and always managed to picked up a lot of dirt, dust, and hair.  From time to time I flipped it over and pulled out the hair and lint that accumulates around the brushes and the beater bar.  We've been happy with this little guy.  And then it went a little crazy.  One day, just over 6 months after the review, the robot started driving erratically while it was vacuuming.  It would spin around, backup, spin around, backup, over and over until the blue LED turned red, and it beeped at us.  I cleaned it up, turned it on and off, returned it to the docking station, and even tried my old trick of pulling the battery.  Nothing worked.  I contacted Dser's tech support via email and sent them a short video showing the erratic behavior.  They gave me several things to try, including cleaning some of the sensors, but nothing worked.  The good news is that they offered to send me a new one; the bad news is that they wanted to return the old one at my expense.  When the new vacuum arrived, we promptly named it Stabby 2.0 and set it to vacuuming the house.  I'm pleased to report that we've had no problems with this RoboGeek.  We setup a schedule, let it run for a few days, and then cancelled it, but  there has been no repeat of the randomly-turning-itself-on problem that we experienced with the previous unit.  It appears that Dser has fixed this issue.  We haven't seen it go crazy either, and hopefully we won't.  Once again, we are happily using our little robot a couple times a week, and our house is much cleaner with it here.
UPDATE (24 August 2020) – About a week after I wrote my first update, the new RoboGeek unit started going crazy as well.  It spins 360 degree one way, 360 degrees the other way, charges off in a straight line, then stops and beeps 7 or 8 times with the red light on.  Nothing I do changes this behavior.  At this point, I've had 3 major failures with Dser's RobotGeek in an 8 month span.  That's too many for me.  I've dropped my RoboGeek into the rubbish bin, and I don't recommend that you purchase their product.
Price:  $199.99
Where to buy:  Dser's online store or Amazon
Source: The sample for this review was provided by Dser.