We use affiliate links. If you buy something through the links on this page, we may earn a commission at no cost to you. Learn more.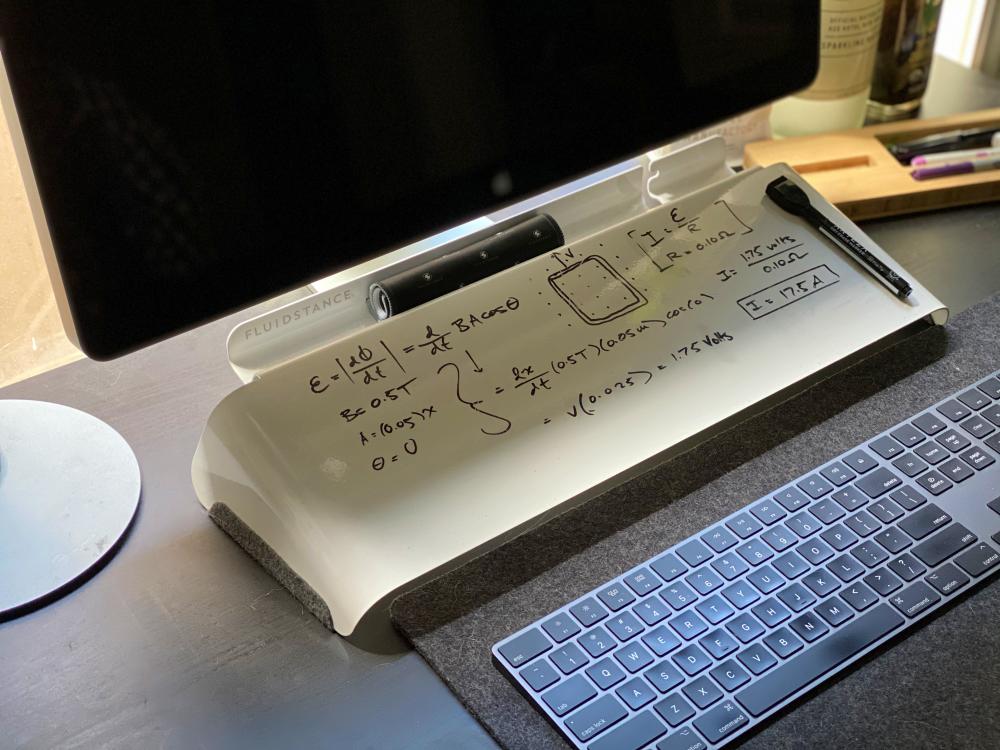 REVIEW – Fluidstance got their start over five years ago with balance boards designed for use at standing desks. As someone who has always been engaged in sideways sports those seemed completely natural to me, in addition to keeping my ankles much happier, but I digress. This review is about their new whiteboard called Slope. It may seem like an odd product line extension but after using it for a while I think it fits right in.
What is it?
The Slope is a whiteboard made for your desk, not your wall. It's made of high-grade steel with a powder-coated white gloss finish.
What's in the box?

Slope Desk Whiteboard
Whiteboard marker with eraser and magnet
Dry-erase cloth
Hardware specs
Material: Powder-coated high-grade steel
Dimensions: 20" long x 8" wide x 3.5" tall
Clearance: 1.25″ under the front edge
Weight: 3 lbs
Design and features
The slope has a beautiful high-gloss finish with a gentle angle that feels comfortable to write/doodle on.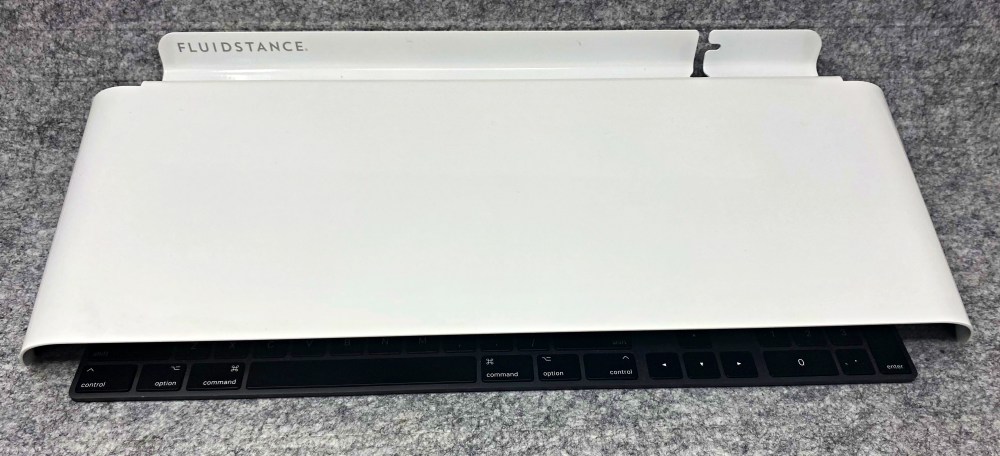 The front edge of the Slope sits 1.25″ above your desk allowing a keyboard, notebook or other items to easily stow underneath.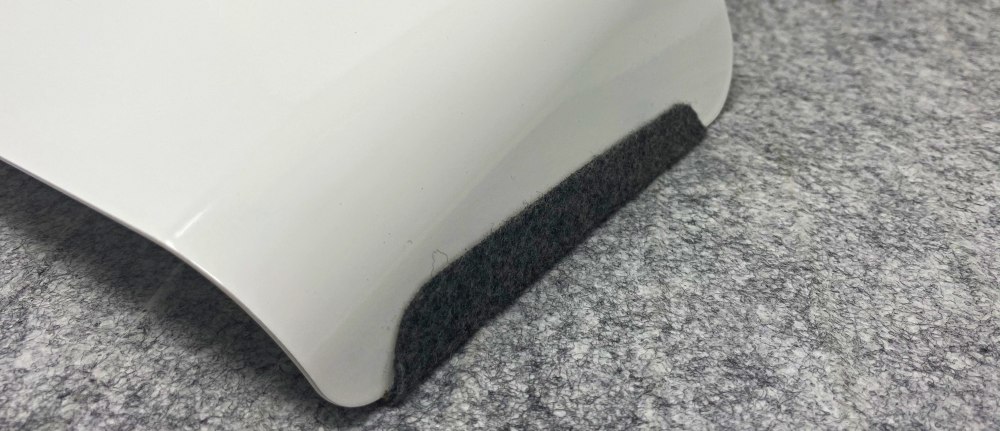 Felt pads wrap around each side/foot providing stability and protecting your work surface.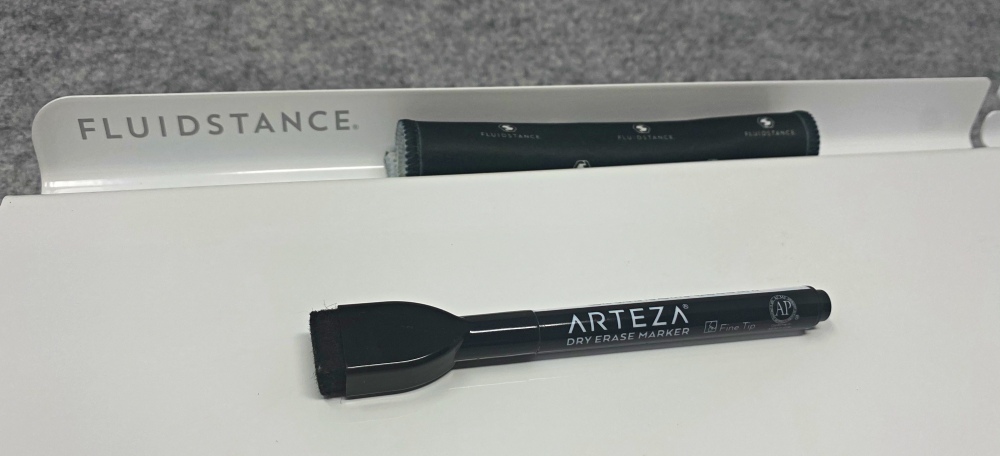 The channel across the back is a stash spot for markers, cleaning cloths and can holding your phone while charging.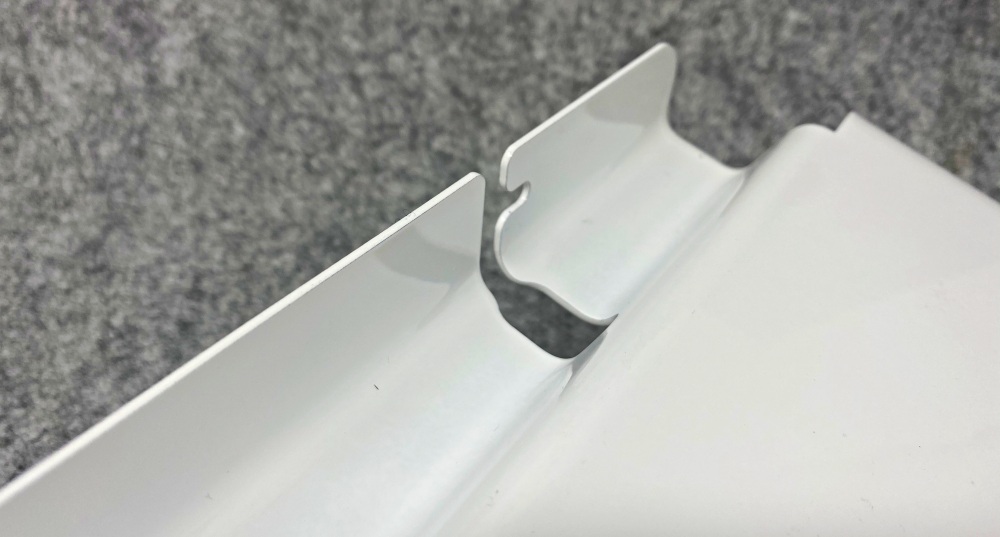 Setup
It doesn't get much easier than this. Place it on your desk and get to work. Actually, you may want to consider reorganizing where your cables come from for charging your phone or if you use a wired keyboard, but that's about it.
Performance
As a whiteboard this thing works really well. The gloss surface writes beautifully and erases the way you'd hope. The lack of a frame or boarder (like on a traditional whiteboard) makes cleaning really easy without getting gunk caught in crevices.
The felt footpads are great as you can slide the Slope around as needed with it's weight helping it stay wherever you left it last.
The marker's magnetic function is cool as you don't have to fish it out of the channel and the built in eraser gives you some fine tune control of erasing small details. The included cloth handles the larger cleanups easily while being infinitely more washable than a typical "brick" eraser.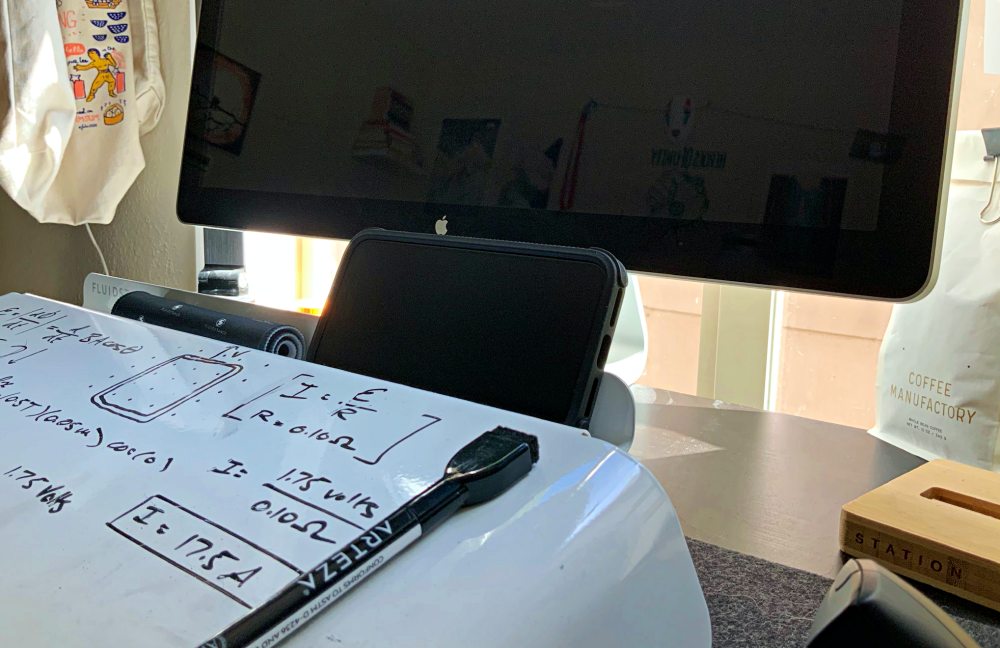 The channel at the back begs to hold your devices and seems tailor made for it. Most phones will lay landscape in the channel and the generous depth should accommodate any case. A vertical position requires a charging cable connected to your phone and its placement in the cable cutout. Without a cable the phone will just tumble backward.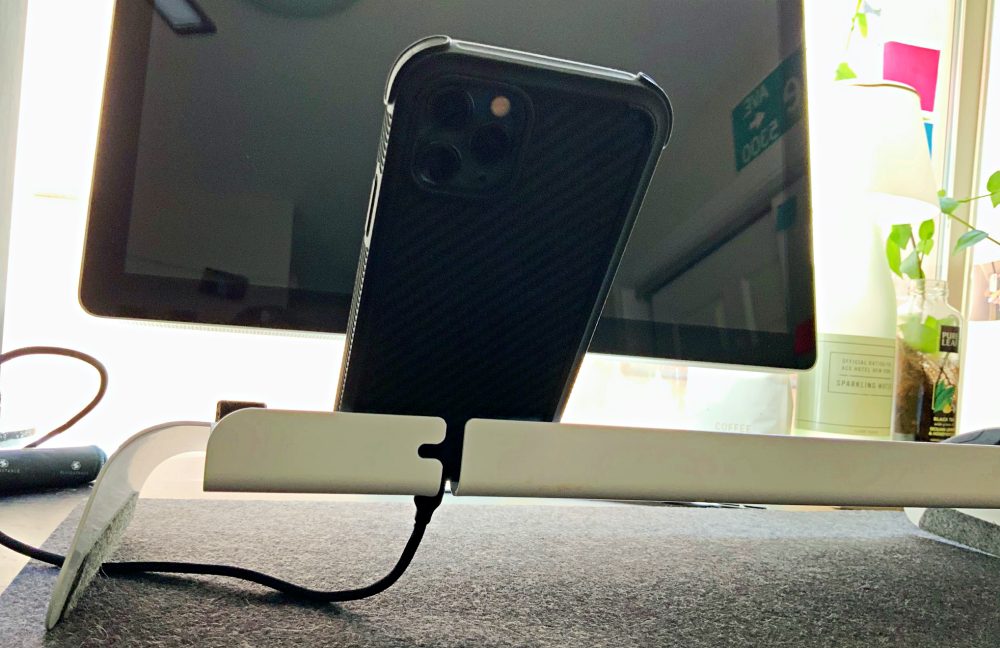 When it comes to tablets, you're out of luck. My iPad Pro 11 almost works in landscape. It's plenty wide enough, but unfortunately with the radius of the bends in the channel, there's nothing for it to grab onto and it will immediately tumble backward. Even if it would lock in, vertical orientation is out of the question as the hefty 3lb weight of the slope isn't enough to counter the cantilevered weight especially with its rounded back edge.
While this feels like a major miss, the Slope was designed for your desk where you likely have a monitor. Are you really going to set an iPad there to block your display? Probably not, but the Slope is pretty portable and I could see having a couple of them sitting out on a large group desk for brainstorm sessions where resting an iPad on it could make sense.
But let's bring the review back around. If your desk is large enough for a product like the Slope there are some great advantages to be had. Sticky notes are great, but they always end up in the recycling bin (or worse, the trash). A desk based whiteboard gives you all the room to take notes and you can quickly take a pic with your phone if you need to save that info before erasing and moving on to the next great idea with no waste.
What I like
Whiteboard functionality
Keyboard stowage
Clean desk aesthetic
What I'd change
Change the channel to better work with tablets
Final thoughts
The Slope is a great whiteboard and that's its primary function. Like their balance board, it helps keep you productive and dare I say entertained while at your desk which is why it fits into the product line. The fact it sits on your desk, can hide your keyboard and can be slid around as needed are sweet features that will either mean something to you or not. If you have the real estate this is a solid add. If you're looking for a multifunction tablet stand, keep looking.
Update 12/18/20
Fluidstance has designed a wireless charger purpose built for their desktop whiteboard and wouldn't you know… it's available now under the moniker Slope+.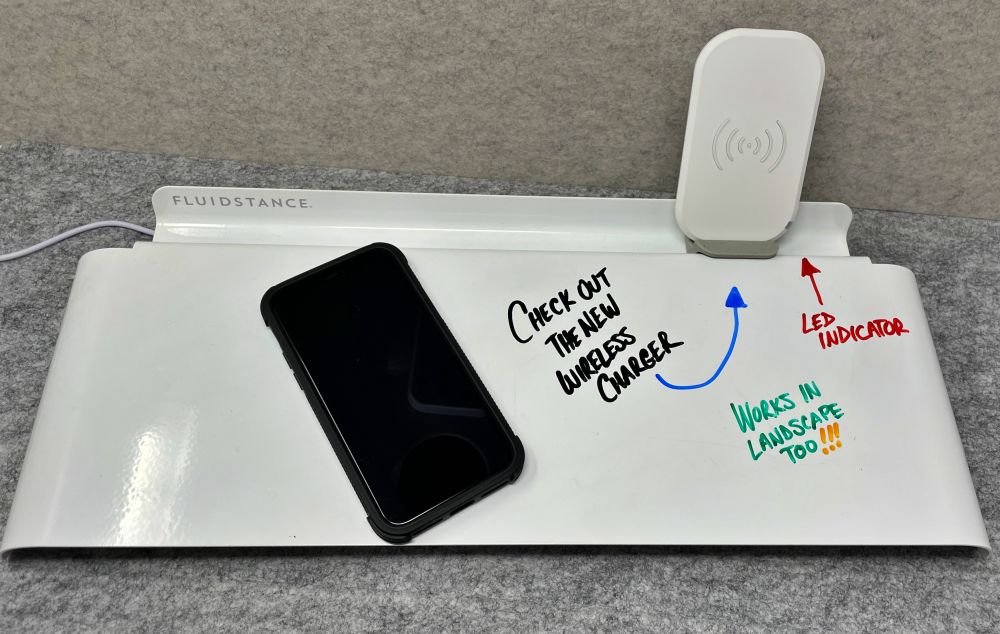 My review unit showed up in a compact little box complete with the charger, Micro-USB cable, bag and info card.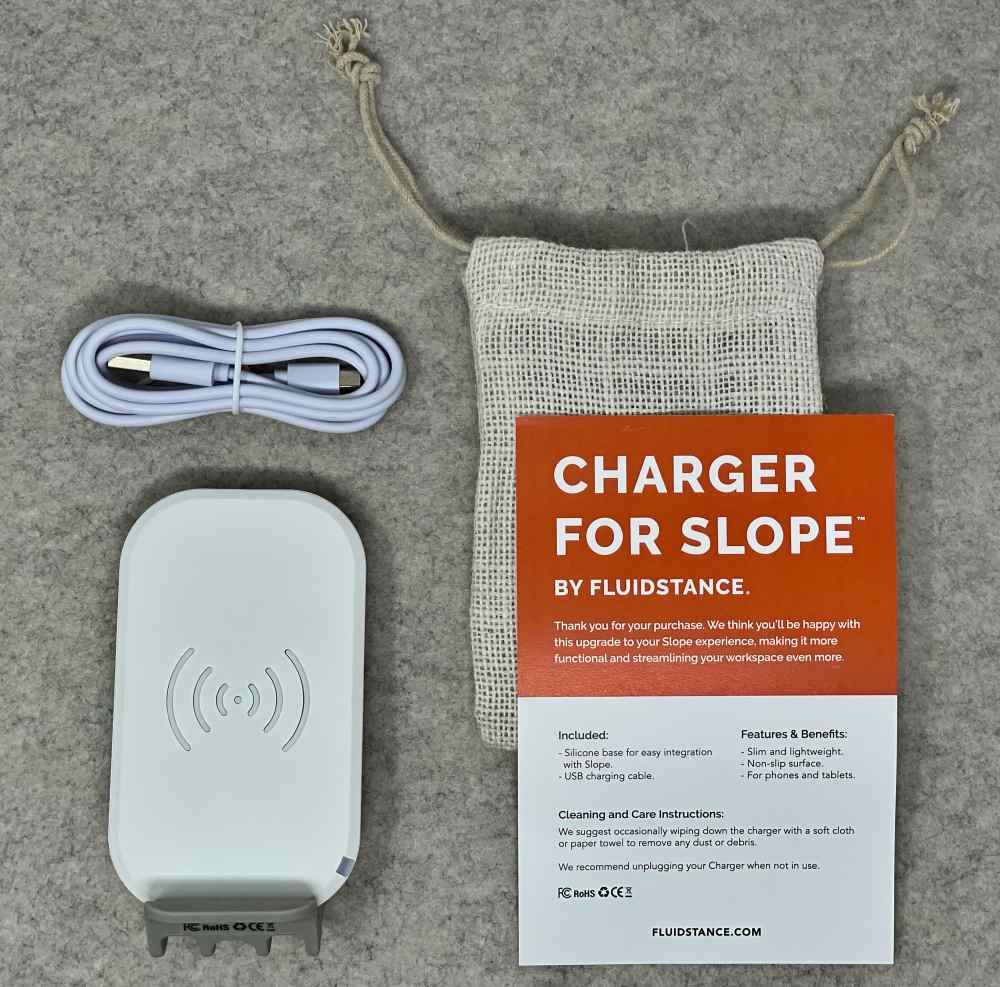 This concept got my attention as a desk is a little like your kitchen counter. You have a limited amount of space and have to decide which appliances get to stay and what gets relegated to a cabinet somewhere between uses. In this case designers were able to make use of the cable channel in the Slope to position and hold a Qi charger that puts your phone at a great angle atop the whiteboard keeping your phone at the ready instead of taking up additional room elsewhere on your desk.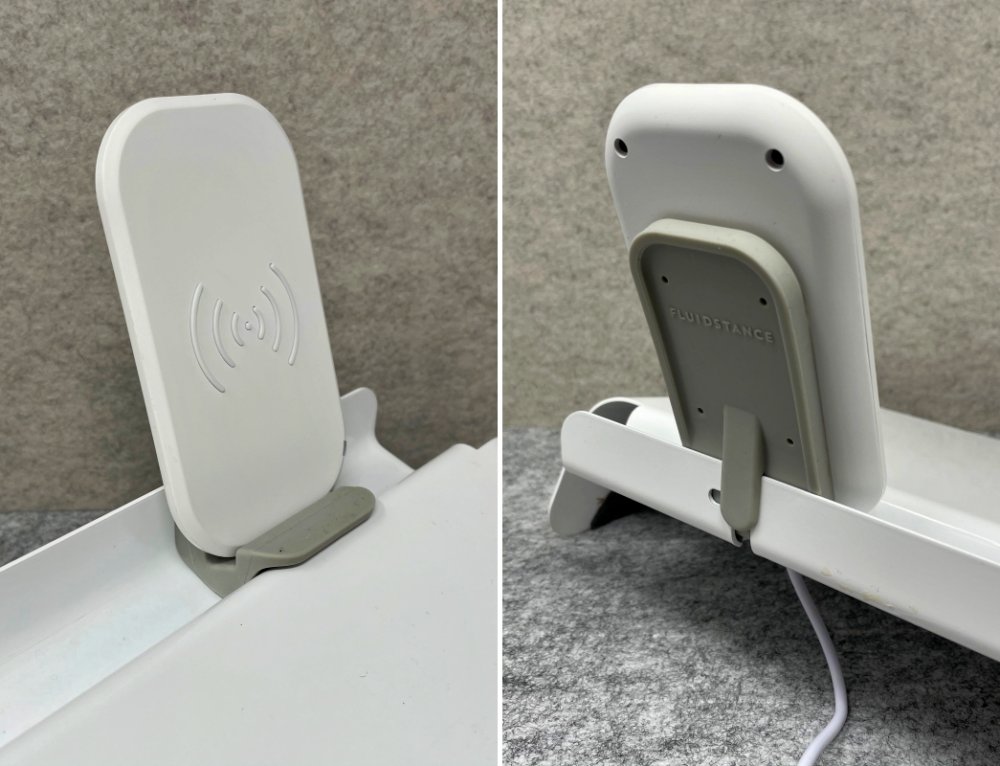 The Micro-USB cable is long enough to reach to your power strip and easy enough to swap out for something longer or shorter of your own if that's what you need. Note that you'll need to supply your own QC fast charge power adapter.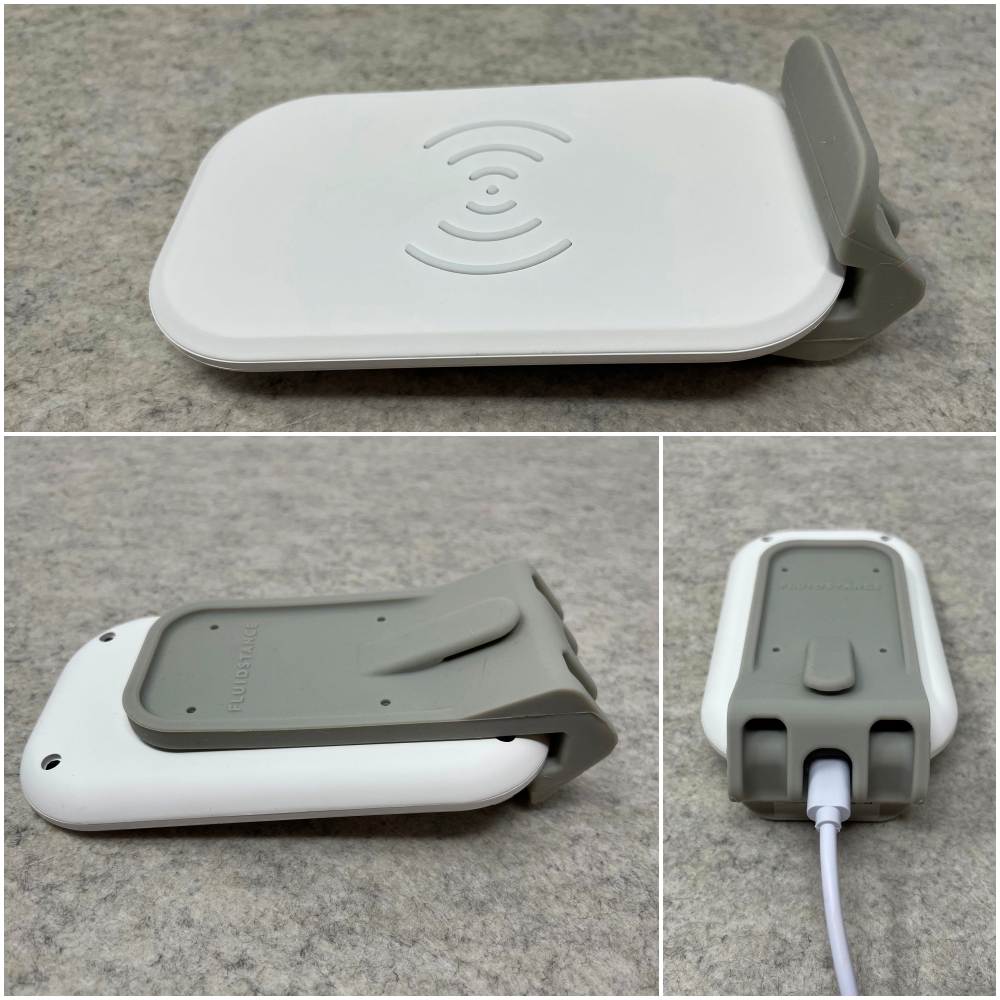 The charger has a green LED that blinks a couple times when you first connect it to show power is present and then blinks and turns solid when you start charing a device. Charging works as you would expect with the addition that my iPhone will charge in both portrait and landscape orientations. Pretty cool. It's unique geometry pretty much requires use with the Slope which is why it's sold as a bundle for a $30 premium over the Slope.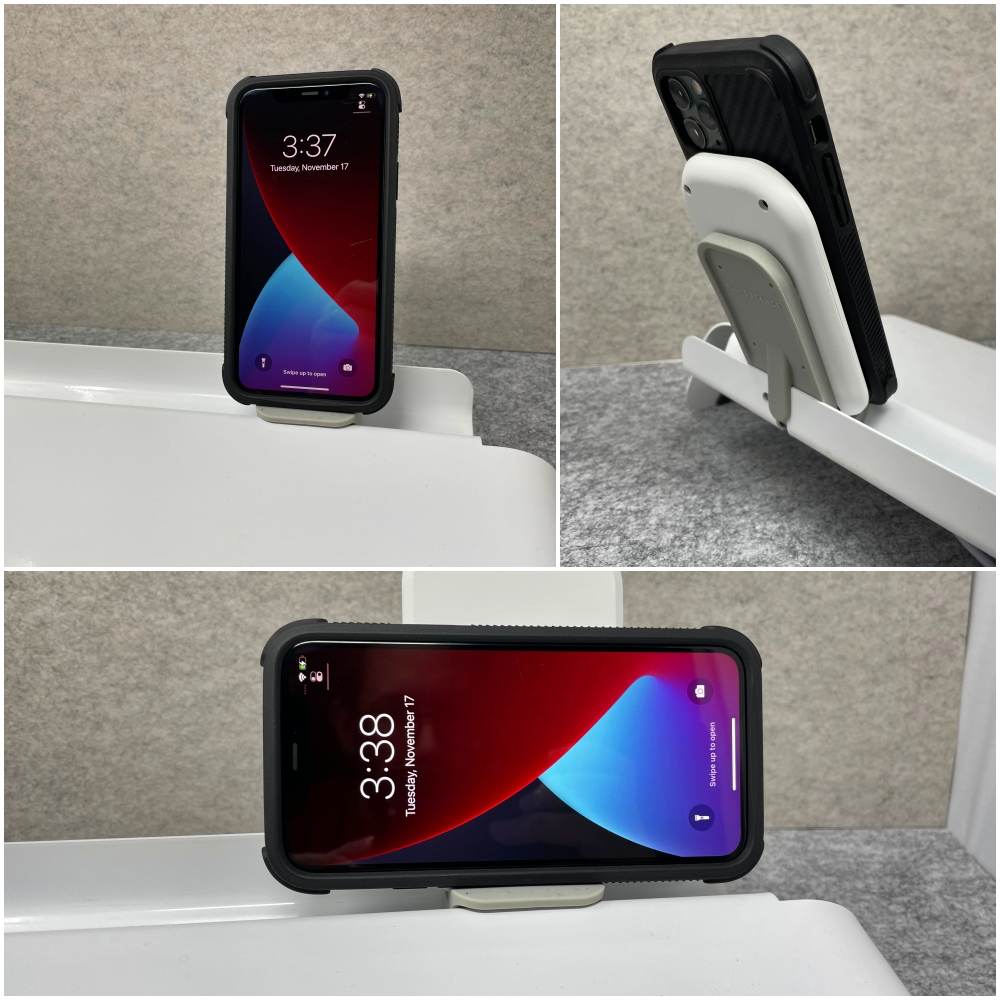 If you are using their Raise Monitor Stand, it's easy to quickly lift the charger out of its groove in order to still tuck the Slope beneath the stand.
If you use a whiteboard regularly or want to transition away from post-it notes, the Slope is a great choice and this new charger continues Fluidstance's mission of helping you make your desk as efficient as possible.
Price: Slope+ $89.00 | Slope $59.00
Where to buy: Fluidstance Slope+ | Fluidstance Slope
Source: The sample of this product was provided by Fluidstance