We use affiliate links. If you buy something through the links on this page, we may earn a commission at no cost to you. Learn more.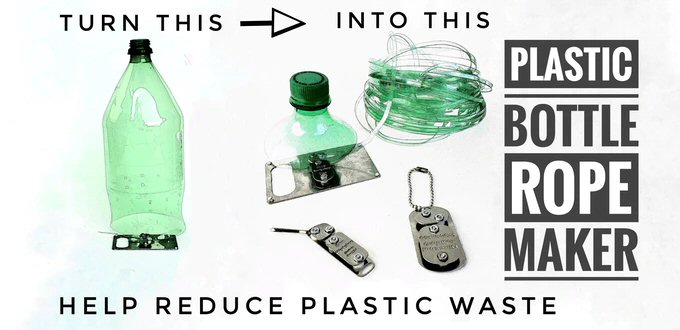 CROWDFUNDING NEWS – I'm a believer in acting to be good stewards of this earth we've been given, and reducing, reusing, and recycling products and materials that would otherwise end up in landfills can help make an impact toward this.  That's what the cleverly-designed Plastic Bottle Roper Maker is intended to do.
What is it?
The Plastic Bottle Roper Maker is a small device that transforms a plastic bottle into a long, thin, rope made from the bottle's material using a set of cutting blades.
Why do I like it?
Besides having one of the most descriptive product names ever, the Plastic Bottle Roper Maker is a small gadget that can be useful and help the environment.  It can turn (literally) a standard 2-Liter plastic bottle into a useful 50-feet long rope by utilizing cutting blades similar to those found on in pencil sharpeners.  The rope has some impressive tensile strength—check out the segment in the video above where strings ropes from just two bottles are being used to pull a 3000 lb tractor.  The rope can also be twisted to created a finer line, and heated to shrink and solidify it, so you don't even need to knot it.  There are three versions.  The credit-card sized Cordage Card is the largest and easiest to use, that smaller, more compact Cordage Tag is sized and shaped like a dog tag so that it can be worn like a necklace or attached to a key ring and the smallest=than-an-AA battery (and therefore most difficult to use) is the Cordage Micro Tool,  All components are sourced and assembled in the USA and if the blades wear out, they can be replaced with the ones found in many common pencil sharpeners.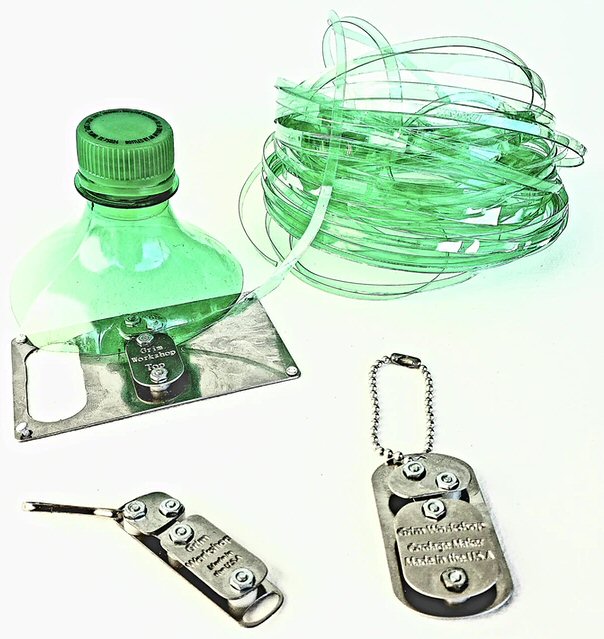 Where can I find more info?
The Plastic Bottle Roper Maker campaign ends on July 2, 2020, and has already met its funding goal of $2,500. Pledge packages start at $9 for a single Key Chain Micro Cordage Maker and increase from there.  After the end of the campaign period, rewards are expected to start shipping in July 2020. Visit The Plastic Bottle Roper Maker campaign site for more information or to become a backer.