We use affiliate links. If you buy something through the links on this page, we may earn a commission at no cost to you. Learn more.

CROWDFUNDING NEWS – If you carry prescription or non-prescription meds and other small items in your pockets or purse on a daily basis, take a look at mōte, which just launched on a Kickstarter campaign.  It's an updated version of the traditional pillbox.
What is it?
mōte is a slim case styled after the traditional pill case with multiple compartments and is small enough to even fit into a wallet.
Why do I like it?
I like mōte's slimness (about 7.5mm thick) and small size (85 x 55 mm footprint) and that it could easily fit into a pocket for EDC.  If you carry prescription meds with you daily, mōte could be very useful.  However, even if you don't, I can envision filling mōte with things like breath mints, acetaminophen or ibuprofen tablets for aches or pains, antacids, or other over-the-counter meds, and keep them all organized and handy.  It has eight compartments (4 larger, 4 smaller) the lids of which have symbols on them for easy identification of their contents.  mōte will be available in either Moonpie (white base, white icons, and black lids) or Raven (black base, gloss black icons, and black lids).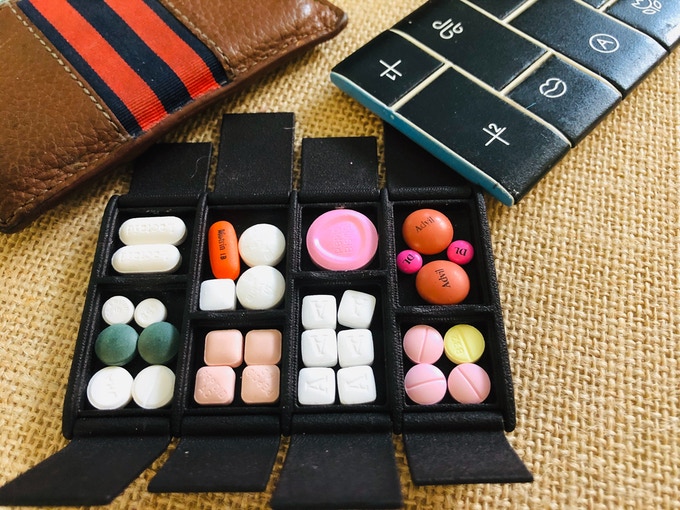 Where can I find more info?
The mōte campaign ends in 29 days on July 18, 2020, and is already on its way to meeting its funding goal of $20,000. Pledge packages start at $23 for a singlemōte and increase from there depending on the options selected.  After the end of the campaign period, rewards are expected to start shipping in September 2020. Visit the mōte campaign site for more information or to become a backer.