The Gadgeteer is supported by readers like you! If you buy something through links on our site, we may earn an affiliate commission. Thank you! Learn more.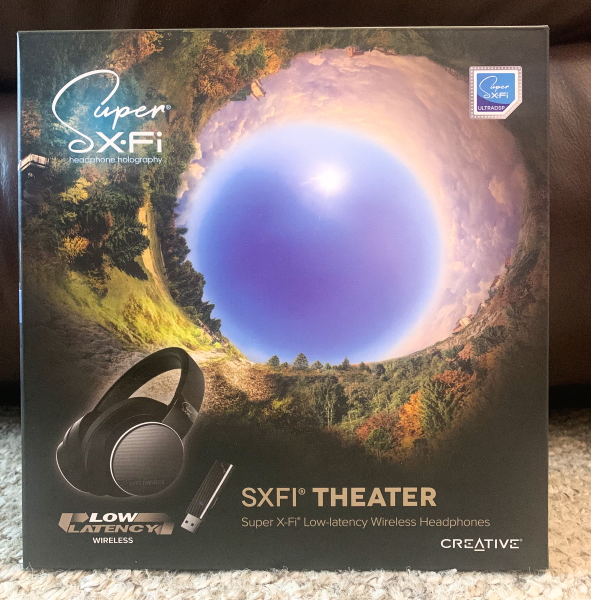 REVIEW – No matter what mode I am in, whether it is editing videos, photos, designing websites, working on my podcast, or even immersed in my duties for my 9 to 5 job, I am almost always in front of a computer or two. Whenever I have some downtime, I am usually looking at movie trailers of other cinematic videos. also, whenever I am not working and unable to watch my TV, I watch videos and movies on my laptop or desktop PC. Regardless, I am usually wearing some type of headphones with or without a microphone, and I am always anxious to try new and better headphones. Let's see where and how the Creative SXFI Theater Wireless Headset fits in.
What is it?
The Creative SXFI Theater Wireless Headset provides the movie theater experience to you in the form of audio holography. It features Creative's Super X-Fi personalization process that guides you through a Head and Ear-Mapping process that customizes the audio to your very own ears. Creative includes a detachable gaming mic for gamers. The USB wireless dongle allows the SXFI THEATER to provide better quality audio transmission with higher reliability via their proprietary digital audio transmission technology. A separate USB Extension dock (1.2m / 3.94 ft) is provided to extend the range of SXFI THEATER.
You are able to personalize your SXFI THEATER's experience further and to hear your audio in a new light with the SXFI AIR Control mobile app. Additionally, there is a built-in customizable light ring that can match any mood or battle station you choose. It provides you with 16 million different colors to choose from.
What's in the box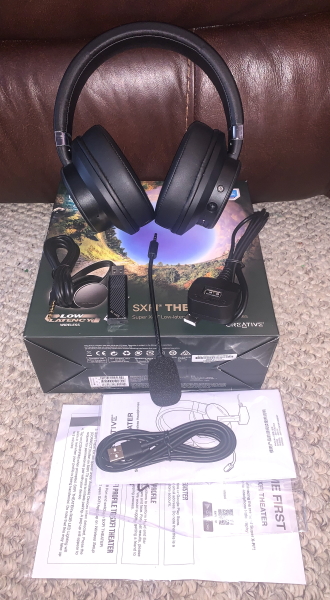 1 X Creative SXFI THEATER
1 X Creative SXFI TX Wireless Transmitter
1 X Detachable Gaming Mic
1 X USB Extension Dock
1 X 3.5 mm AUX-in Cable
1 X USB Type-C Cable
1 X Quick Start Guide
1 X Warranty Leaflets
Design and features
SPECIFICATIONS
Product Type: Wireless Headphones
Wireless Transmission: Proprietary Digital 2.4 GHz
Frequency Response: 20–20,000 Hz
Driver: 50 mm (1.97 inches) Neodymium magnet
Operating Range: Up to 10m / 33 ft
Wearing Style: Over-ear
RGB Ear-Cup Rings: Choose from 16 million colors
SYSTEM REQUIREMENTS:
Windows® OS
Intel® Core™i3 or AMD® equivalent processor
Intel, AMD or 100% compatible motherboard
Microsoft® Windows 10 32 / 64 bit, Windows 8.1 / 8.0 32 / 64 bit, Windows 7 32 / 64 bit
1 GB RAM
>600 MB of free hard disk space
USB 2.0 / USB 3.0 port
Mac® OS
Mac OS X® 10.9 or higher
1 GB RAM
USB 2.0 / USB 3.0 port
PS4
Firmware Ver 5.0 or later
Available USB port
Nintendo Switch
Switch OS 5.0 or later
Available 3.5 mm headphone port on the console
Available USB port (in docking mode)
Voice communications supported when connected via 3.5 mm port and with Bluetooth to Android and iOS Nintendo Switch Online app or VOIP client
Weight: 346g (12.2 oz) with mic, 339g (12.0 oz) without the mic
Color: Black
All of the controls and ports on the headset are located around the outer edge of the left earcup.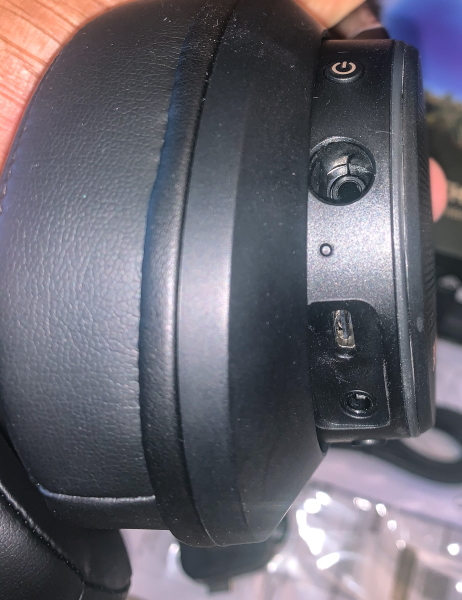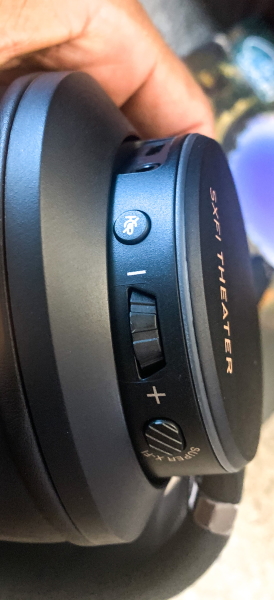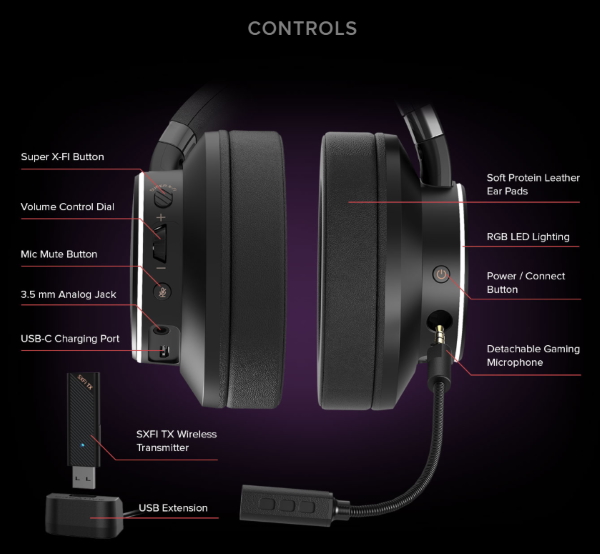 Creative includes an extended USB dock for the wireless USB dongle which not only allows you to place the wireless dongle further away from your computer (Great if your computer is hidden away under your desk) but also allows you to plugin easier in tight USB jack configurations.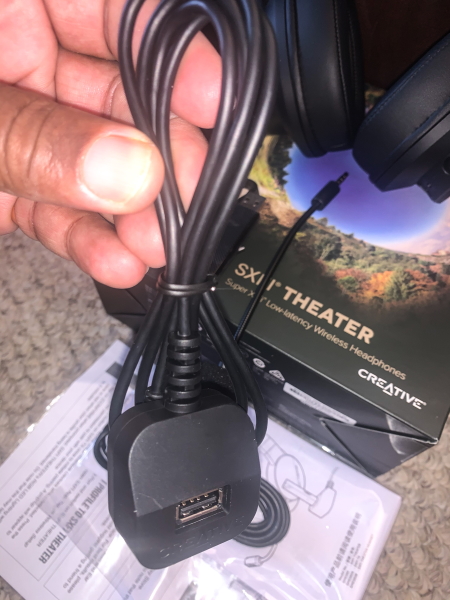 There is also a removable mic that plugs into the headset via the 1/8″ jack. This is a great option when a microphone is not needed.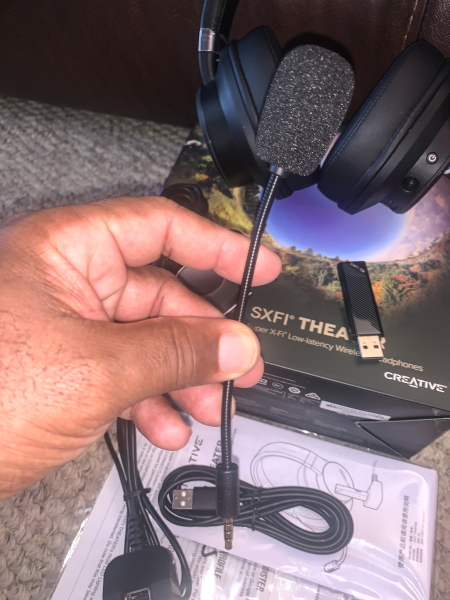 The intended ear for use is very visibly marked on the inside of each earcup.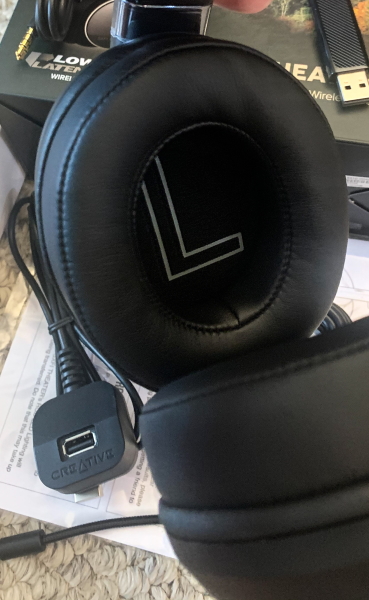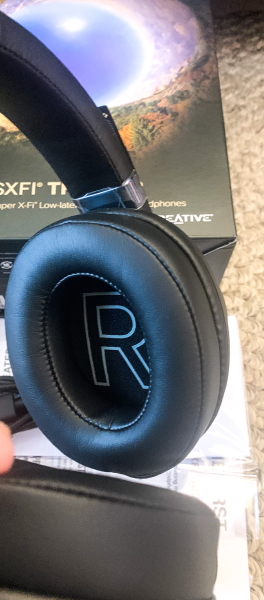 Performance
The first thing that I did out of the box was to fully charge the headset. I then downloaded and installed the mobile app on my Windows PC and plugged in the USB Dongle. I decided to use the included USB extension dock since the dongle is relatively long and I can see myself hitting and breaking it by accident.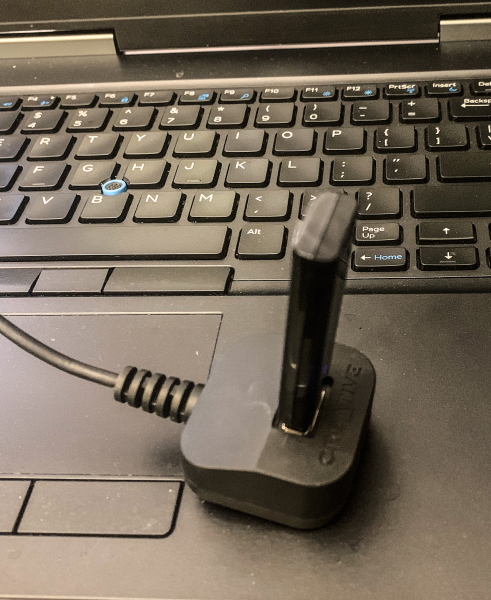 After that, I powered on the Headset and pressed the connect button in the dongle. Maybe I am doing something wrong, but I do find that sometimes it does not immediately connect. If it does not connect, the Headset powers off within a short period of time. Nevertheless, after a couple of tries, it always connects. The setup includes a head and ear mapping feature that requires you to use the app and take a picture of each ear and a front-facing picture. I was unable to get it to take a picture of my ears when I tried doing by myself so I had to ask my wife to take the photos of my ears for me.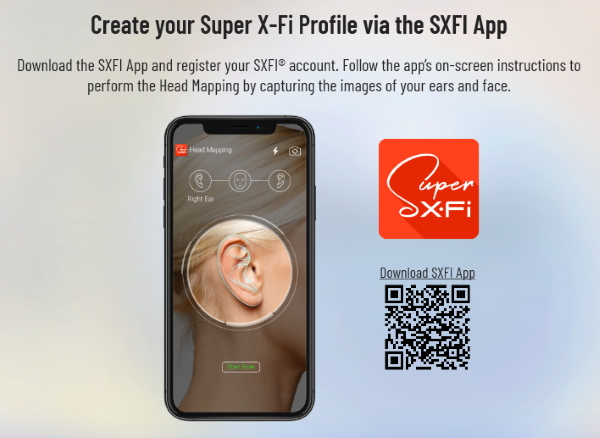 The adjustments via the app allow you to tailor the sound to the way you desire and movies sound great. The battery life is pretty good and I am able to watch multiple movies without any degradation. The separation of frequencies is also great with a nice balance of lows, mids, and highs.
I am not a fan of the controls being on the left earcup but this is a personal preference. Also, the volume knob does not stop at the highest or lowest volume. It just continues to turn in either direction.
The following are screenshots of the settings options provided via the mobile app: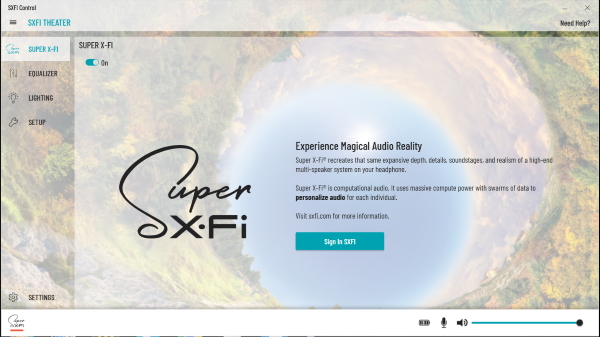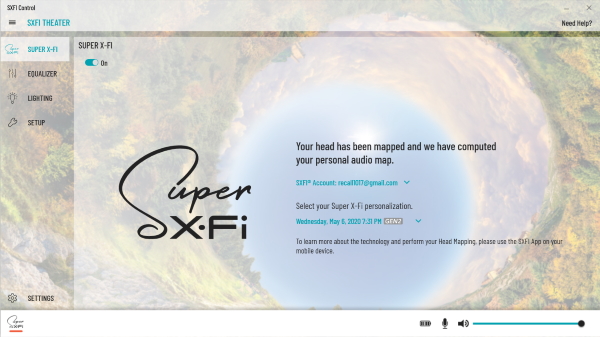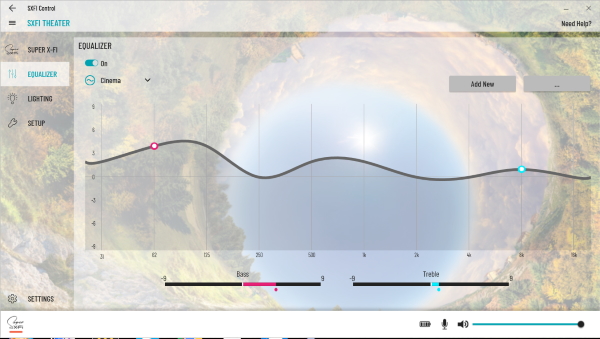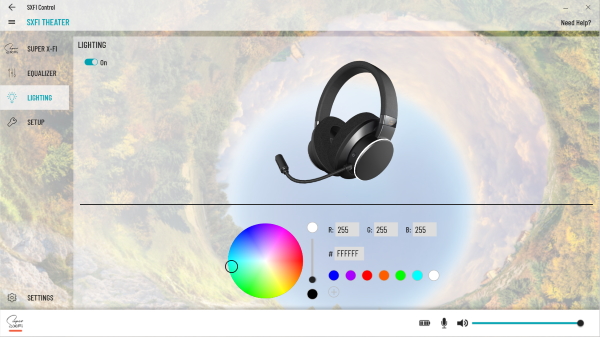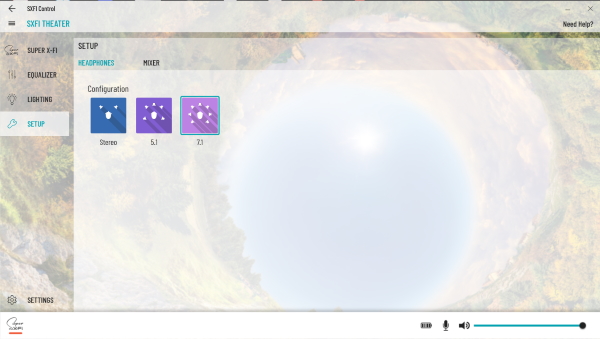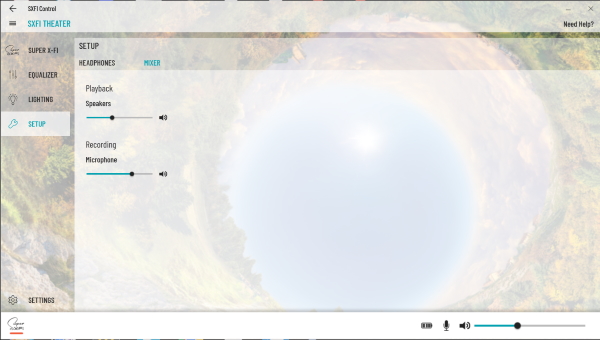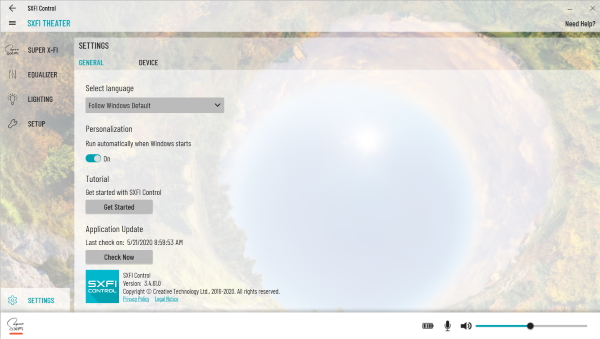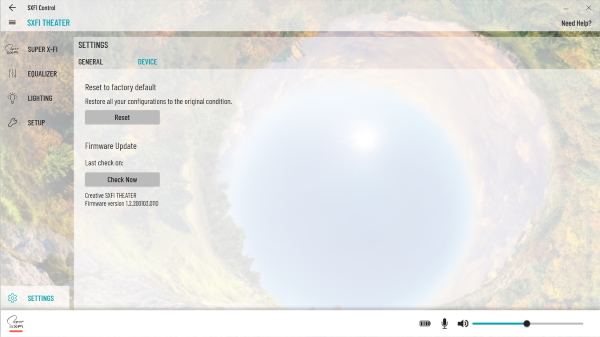 The headset fits well and is very comfortable to wear for hours. Around each earcup, there is a LED color ring and you can customize to the color that you want.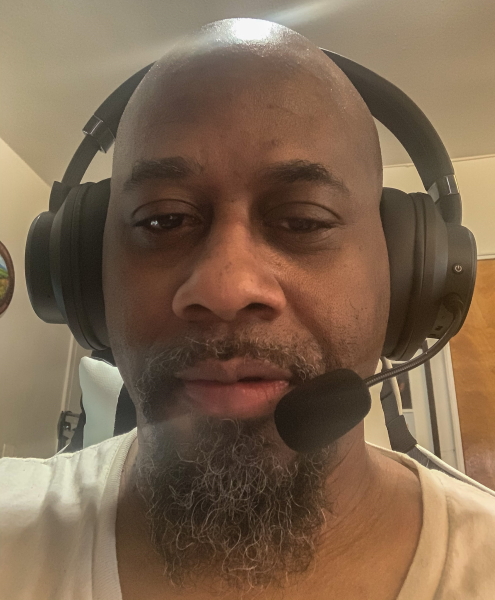 What I like
The build quality
The removable microphone
The really nice cinematic sound  quality
The customizable software
What I'd change
Sometimes the connection to the USB dongle can be tricky
My personal pet peeve is that the controls are on the left earcup. I have become used to them being on the right for most of the headsets that I have tested and used.
Final thoughts
I spend many hours in my home studio, and sometimes I just sit and relax while a long video is rendering or when I am taking a break, etc. On most occasions, I would watch a movie or video on my laptop and while my Sennheiser HD280 Studio headphones can be used for this purpose, this Creative headset brings the movie to life with the ability to provide the intended experience of the sound effects and channel separation. I would love to be able to use them on my iPad as well, but this model is purely wireless without Bluetooth capability. Nevertheless, they provide a very enjoyable audio experience and greatly compliment and enhance the appropriate movies/videos. And, since I am not really a gamer, I really like the ability to be able to remove the mic as opposed to pushing it aside. Well done!!
Price: $199
Where to buy: Creative website
Source: The sample for this review was provided by Creative.
Support The Gadgeteer
:
The Gadgeteer is supported by readers like you! If you buy something through the links on our site, we may earn a small affiliate commission. Thank you! Learn more.