We use affiliate links. If you buy something through the links on this page, we may earn a commission at no cost to you. Learn more.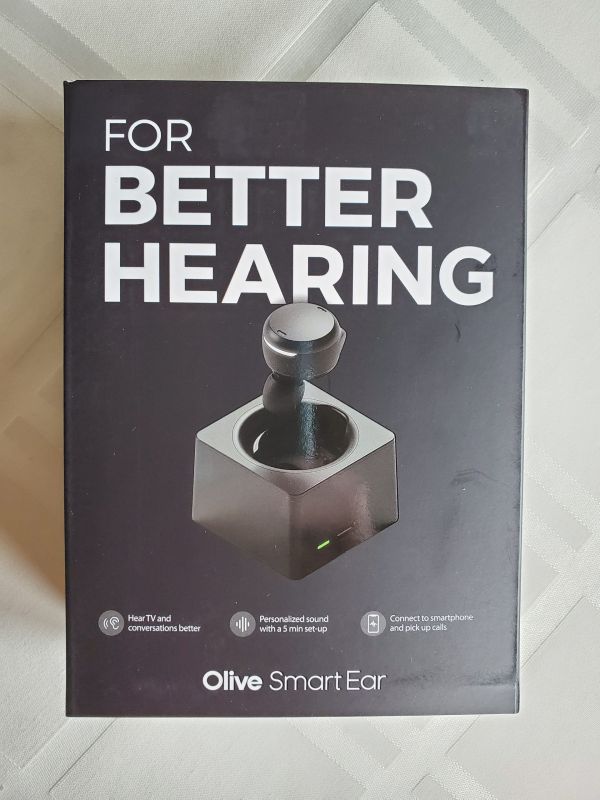 REVIEW – As we all get older a lot of fun things start to happen to our bodies.  One of those fun things can be a loss of hearing.  Of course, a loss of hearing can really depend on how well you treated your ears when you were younger.  Loud musical concerts, loud machinery, close proximity to firearms, being a percussionist in a marching band, and even motorcycle riding.  It was the latter I feel that contributed the most to the loss of hearing I am experiencing now.  I always wear a full-face helmet, but the wind noise can really be loud.  A ride can easily last for 3 or more hours at a time and my ears would often be ringing after a ride.  Eventually I learned to use earplugs while riding, but the damage had already been done.  So when the chance came to review the Olive Smart Ear, I jumped at it to see if it would improve my ability to hear normal sounds around me.  Including when my husband asks me to do something!
What is it?
The Olive Smart Ear is not a hearing aid.  It is designed to enhance the hearing of those people with a 50 db or less hearing loss.  It is significantly cheaper than a traditional hearing aid and comes with an app that will run on Android or IOS for custom configuration.
What's in the box?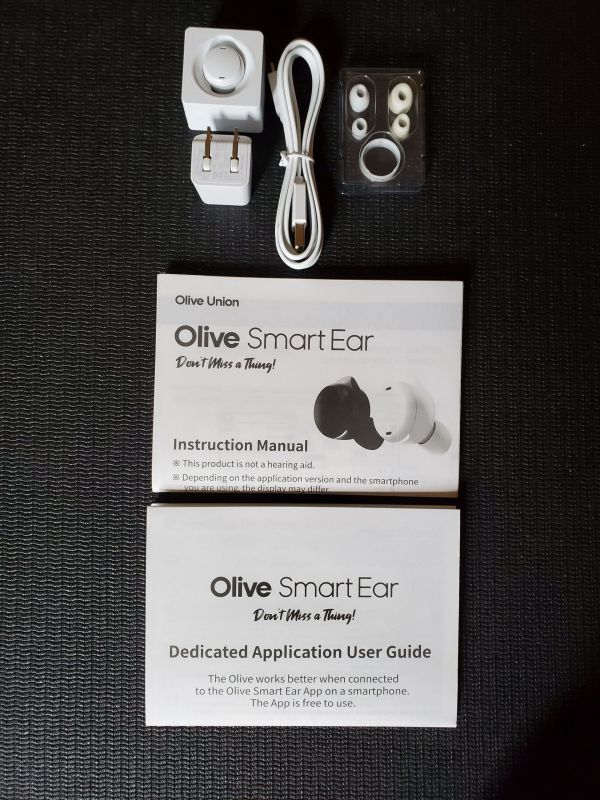 One charging base with the Olive Smart Ear inside (only one, you do not get a pair)
Power adapter
micro USB cable
Two other sizes of ear tips.   One set is small and the other is large.  One of each ear tip is silicone while the other is urethane.  A medium ear tip was installed.
One extra ear band that goes around the outside of the Olive to help it stay in the ear.  One is currently installed.
One instruction manual for the hardware
One instruction manual for the app
Hardware specs
16 channels and a dynamic range of 96db
Wide Dynamic Range Compression algorithm tuned to capture 99.8% of the sounds within hearing range without distortion
Balanced Armature drive supports it to cut out unwanted background noise and dampen loud noises
Feedback cancellation
Both IOS and Android smartphone apps
20+ hours of listening
Handles phone calls and listen to music off your phone
Setup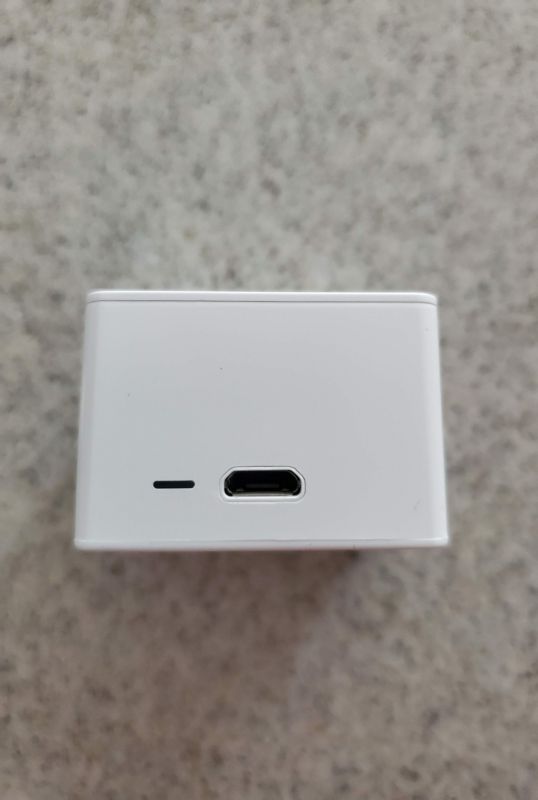 The first thing I had to do was get an initial full charge into the Olive.  The above picture shows the back of the charging base.  You can see the micro USB port, and to the left is an LED light to indicate if the Olive is charging.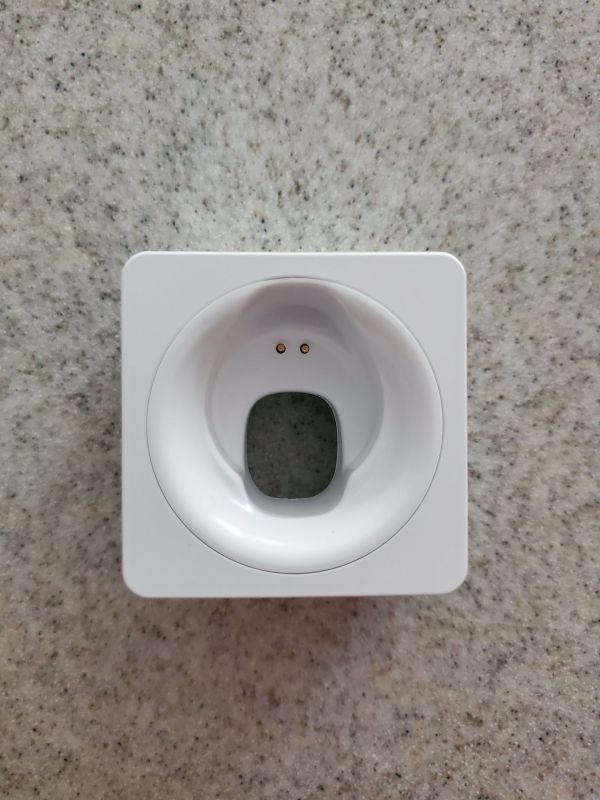 This picture is the top of the charging base where the Olive inserts.  There is a hole in the bottom where you would use your finger to pop out the Olive when you are ready to use it.  The two pins are where the metal pins on the Olive rest.  The base is magnetic.  When the Olive is inserted it will not fall out of the base.  You have to poke it out of the charger with your finger at the bottom of the base.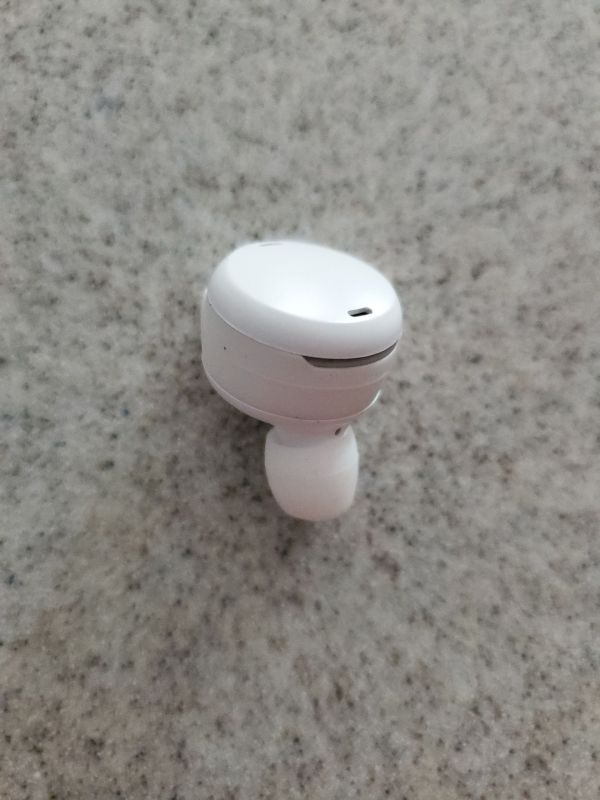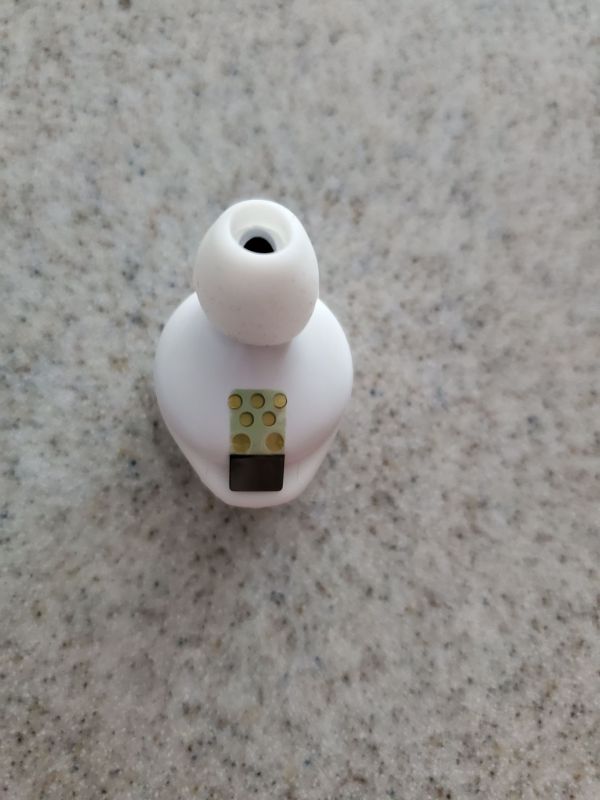 These two pictures are closeups of the Olive.  You can see there are two microphone holes up top.  On the underneath, you can see the charging pins.  There is protective tape over the pins that you must remove before your first charge.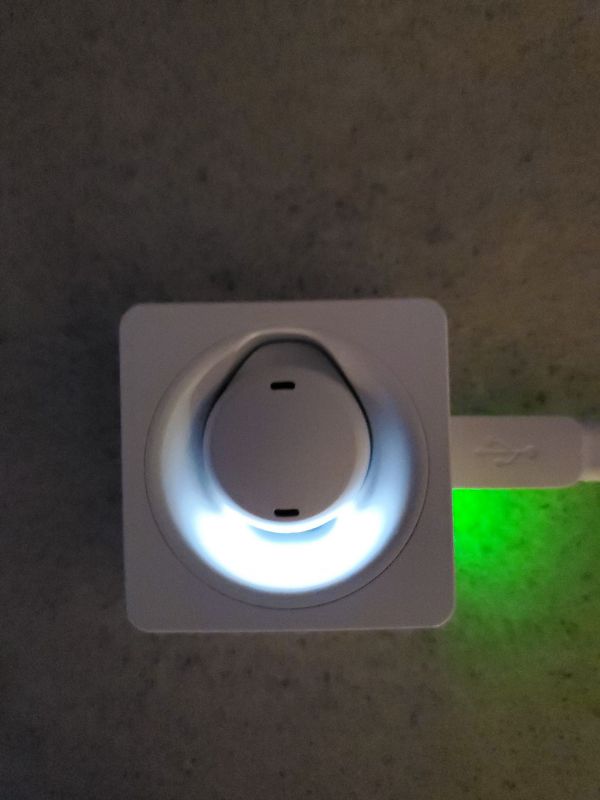 Here is a picture of the Olive in the base charging.  The white light on the Olive will blink and the LED on the base will be a solid green when charging.  When charging is complete both the white light and green LED go out.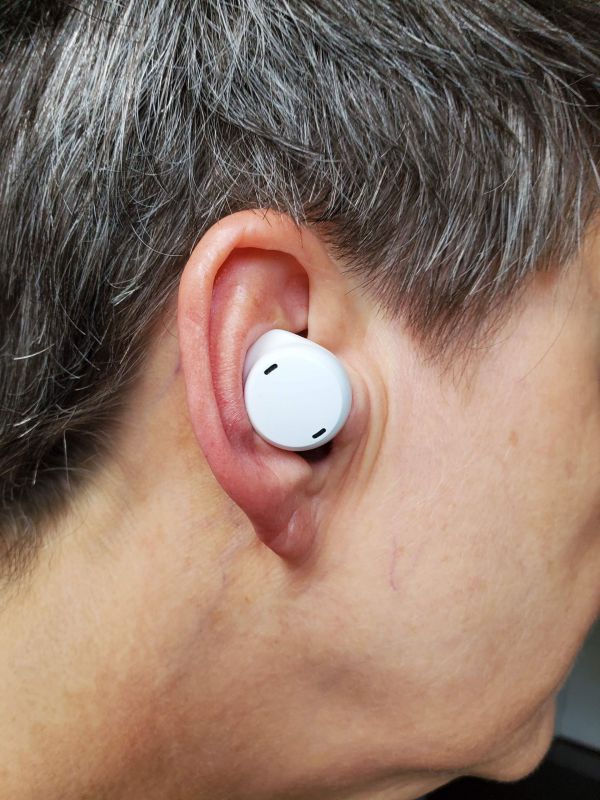 This is a picture of the Olive in my ear.  In previous earbud reviews, I have complained that I have a very small ear canal.  You can see that the Olive is rather large and is putting pressure on the inside of my ear.  I do have the smallest silicone ear tip in place.
App Setup
Once the Olive was in my ear I had to turn it on and set up pairing with my phone and the app.  The whole top of the Olive is a touch button.  It never makes any clicking noise.  You simply put your finger on it and hold it down for two seconds.  You will hear a female voice say 'Power On'.  If you continue pressing for a total of five seconds you will get the 'Pairing' command.  At that point, you can pair the device with your phone via BlueTooth.  If you continue pressing for a total of seven seconds, the device will turn off.   It is a bit annoying you have to press and hold through the pairing command to turn the device off every time.
I then downloaded the Olive Smart Ear app from Olive Union in the Google Play store.  I don't have pictures of the next steps because it quickly found the device and started to take me through the hearing test.  You want to be sure you are in a very quiet room.  The app sends out a series of beeps at various hertz levels.  As soon as you hear the beep you press a button indicating you heard it.  You start off with the ear in which you wish to wear the Olive.  The app then makes you take the Olive out of the one ear and put it in the other so that it tests the hearing in your other ear.  It does this so it can balance the sound better.
At that point, you can put the Olive back into the main ear in which you wish to wear it, and the app defaults to the home page.   The next few screens go through the various tutorials available in the app that show you how you can fine-tune the device even more if you wish.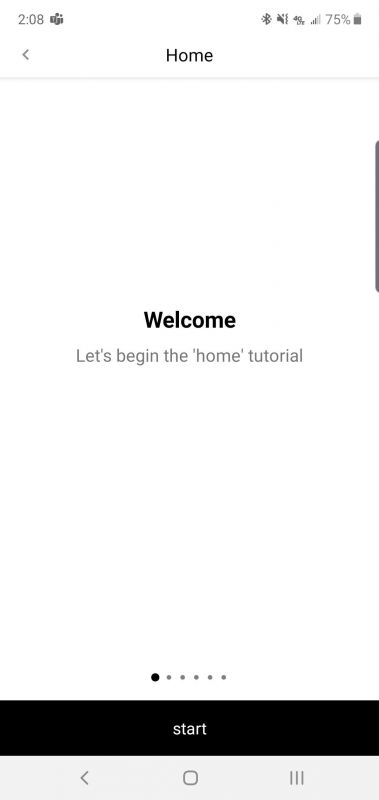 This is the opening page to the Home tutorial.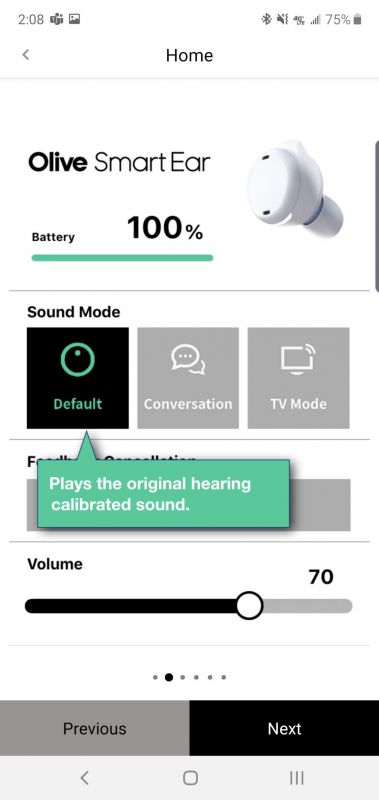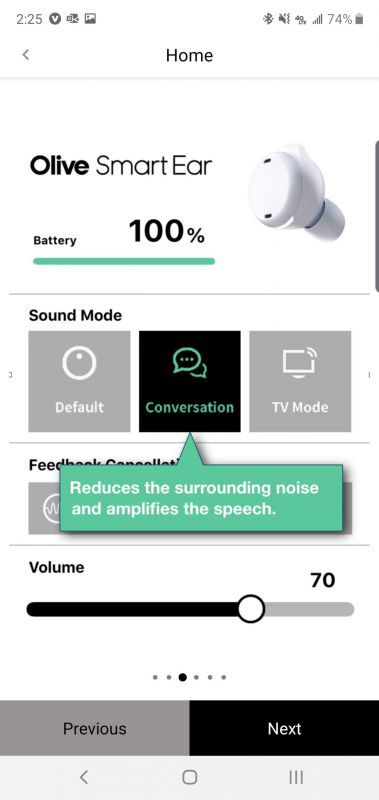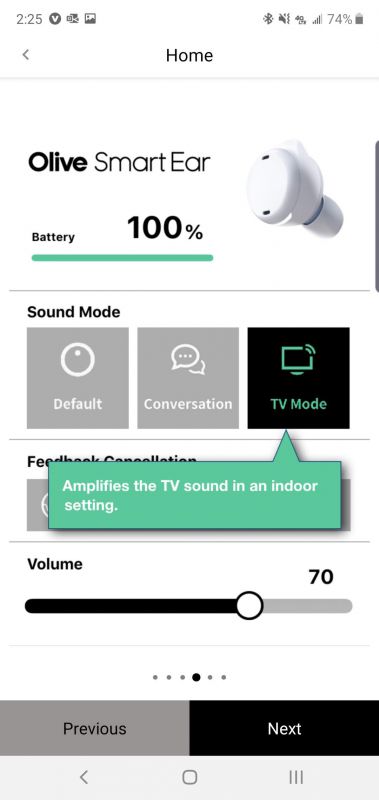 These next three screens show you the three options you have for controlling how the Olive filters the sound.  There is the default mode, a conversation mode which should work really well in places like restaurants or other noisy places, and then a TV mode.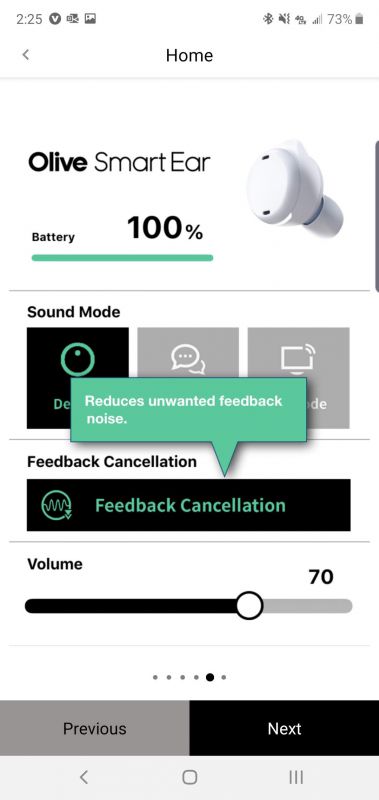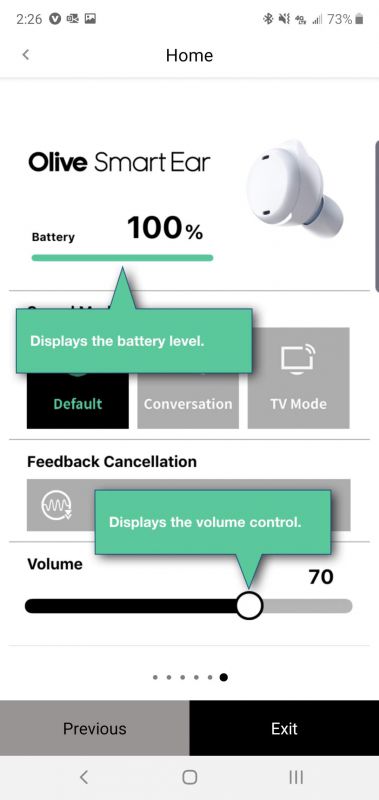 Next, there is a feedback cancellation button.  I found that I always had to have that on.  When it was off, I would sometimes get that high pitched squeal you hear when microphones get too close to speakers, plus my voice would tend to echo on phone calls if it was off.  Finally, the home screen will show you the battery power level and the volume level.   I want to note you can change the volume level through the app, but you can also change it on the device itself.  One quick tap on the button lowers the volume and two quick taps raise the volume.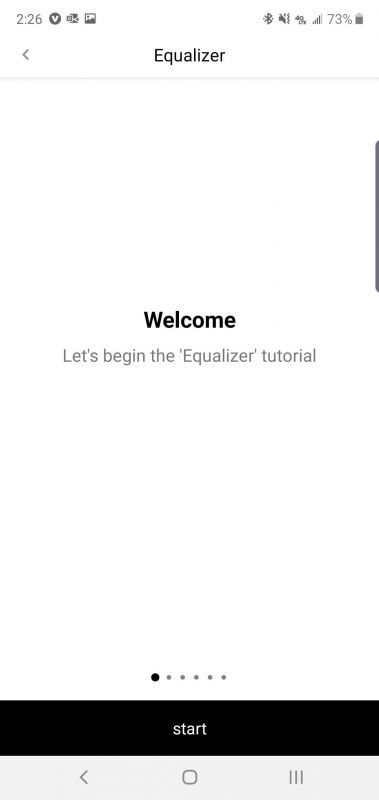 The next tutorial is the Equalizer tutorial.  Even though the Olive auto sets the frequency in the various bands according to the hearing test, you may want to adjust it yourself later.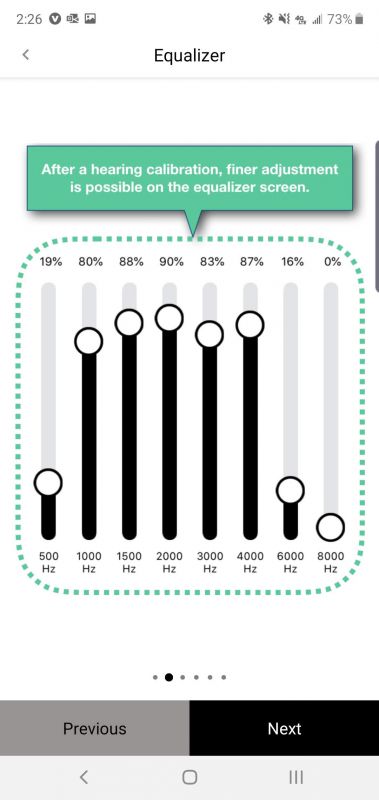 This picture shows you the equalizer page. There are eight frequency bands that you can adjust.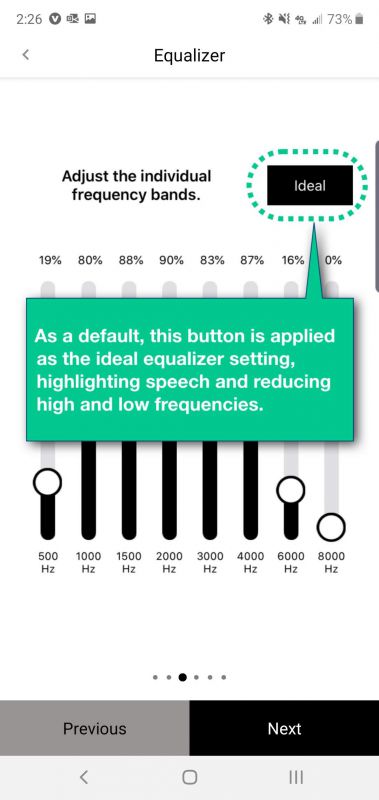 This picture shows you that there is an ideal button.  This is a great feature as it remembers the default settings.  That way if you totally mess up the equalizer, you can press that button and start over.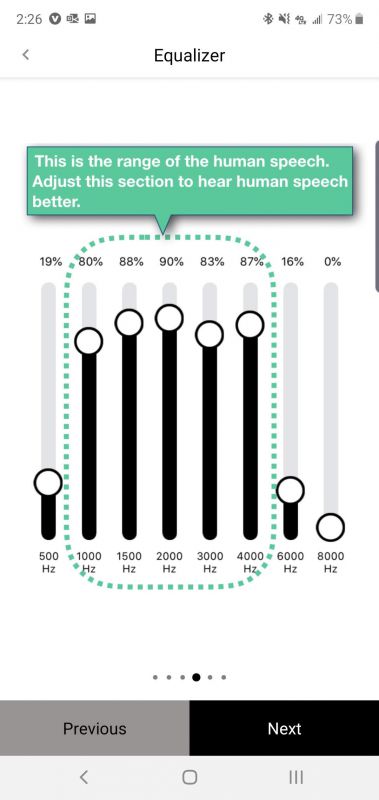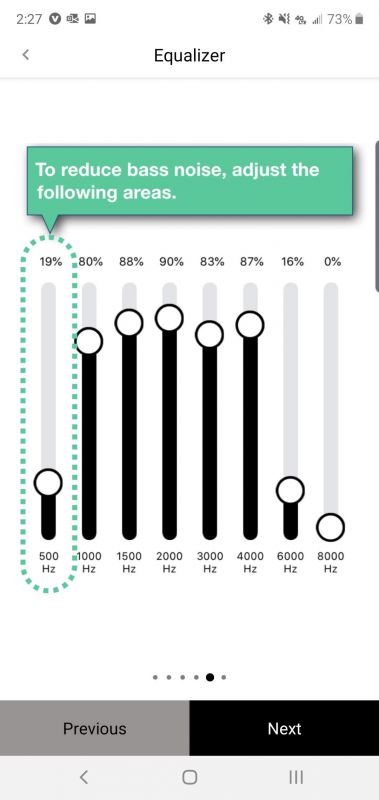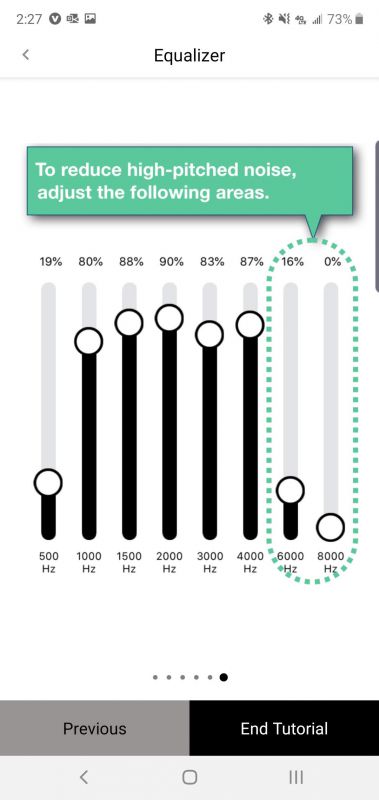 These next pictures describe the ranges of the various frequencies.  The middle bands are all set to high because those are in the range of normal human speech.  The left-most frequency is for bass noises and the far right are high pitched noises.
Performance
When I was done with the hearing test and had the Olive calibrated I was amazed at how sharp sounding everything was.  I did have some feedback and I found I had to turn on the feedback cancellation right away.  In my first phone call with the device, my callee complained of an echo until I turned feedback off.  Once I did that, all calls were sharp and clear.  Listening to music or audible books through the Olive sounded great except, of course, it was not in stereo.   I think if I were to listen to music on a regular basis I would use regular earbuds instead.
As far as actual listening goes, I tried the TV mode right away.  My husband complains that I set the TV way too loud.  I found that I was able to turn the volume a good 5 clicks down from where I normally listen.  Unfortunately, where I really wanted to test, I could not due it due to COVID.  I know that in noisy restaurants I do have a hard time hearing folks across the table.   When I received the Olive we were already in lockdown.  Even though restaurants are at 50% capacity at this time, my husband and I do not feel comfortable eating inside.  Once restaurants are full again and I can do a real test, I will be sure to post back on this review my findings.
There is a big difference between the default and conversation modes.  In default mode, I hear a background hissing type noise.  I am sure I am picking up the fan in my office.  In conversation mode, that sound goes away.  In TV mode, I can hear a bit of that background hiss again.  I believe that is because the TV is putting out a lot more sounds at the low and high ends than normal conversation and the Olive is trying to pick them all up.
Typing on my keyboard sounds different in each mode. In default mode, it sounds really sharp.  In tv mode, it sounds deeper but still very clicky. In conversation mode, it sounds like what I am always used to hearing.  I find myself keeping it in conversation mode most of the time unless I am watching the tv.  I rarely if ever put it in default mode.
I wore it on my daily morning walk and I swear I heard a lot more birds than normal.  You don't know what you are missing until you do!
Finally, I want to note that I could not wear the device for more than a couple of hours at a time.  It would cause my ear to ache.
What I like
I love that it has an app and I can use it to answer calls and listen to books.
Definite sound improvement that allows me to lower the tv volume.
Great price compared to hearing aids.
Looks like an earbud and not a hearing aid.  It can come in black or white.
What needs to be improved
It would be AWESOME if they could somehow make the device less wide.  I know it has a lot of technology, but it is tough to fit that in my ear canal for more than two hours.
Somehow get rid of that hollow sound in the default mode.
It would be nice if they were offered in pairs like in normal earbuds.
Final thoughts
If you have less than 50db of hearing loss and are very tired of people telling you to turn the tv down and quit saying 'What?' all of the time, I recommend you consider the Olive.  I do recommend you get your hearing tested first to see how bad off you really are.  If it is not enough to warrant hearing aids, the Olive may be just what you need.
Price: $299
Where to buy: Olive Union Smart Ear Website
Source: The sample of this product was provided by Olive Union