We use affiliate links. If you buy something through the links on this page, we may earn a commission at no cost to you. Learn more.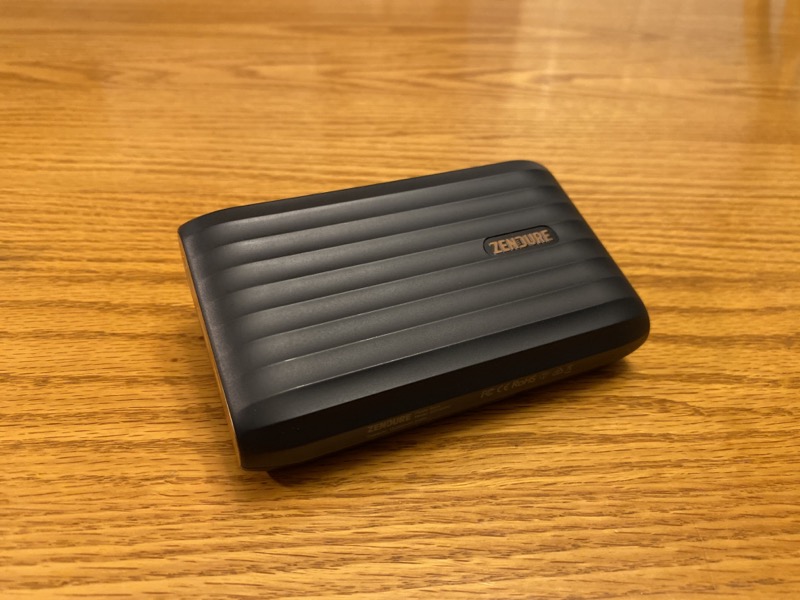 REVIEW – The Zendure X5 is not just another portable battery pack. There are hundreds of external battery charger options available so finding one that's worth your money can be a challenge. I'm always looking for extra features beyond the basic charging capabilities that every other battery pack offers. On this front, the Zendure delivers, for the most part.
What is it?
The Zendure X5 is a small 15,000 mAh battery pack that offers USB-C input and output capabilities, two USB-A outputs, and the ability to act as a hub for the device you have it connected to. The USB-C input and output have PD (Power Delivery) capability, up to 45W, which is enough to charge up a small laptop, even while it's being used. The USB-A output ports support up to 18W output, which is enough to charge a phone, an iPad, and most of your other portable devices pretty quickly.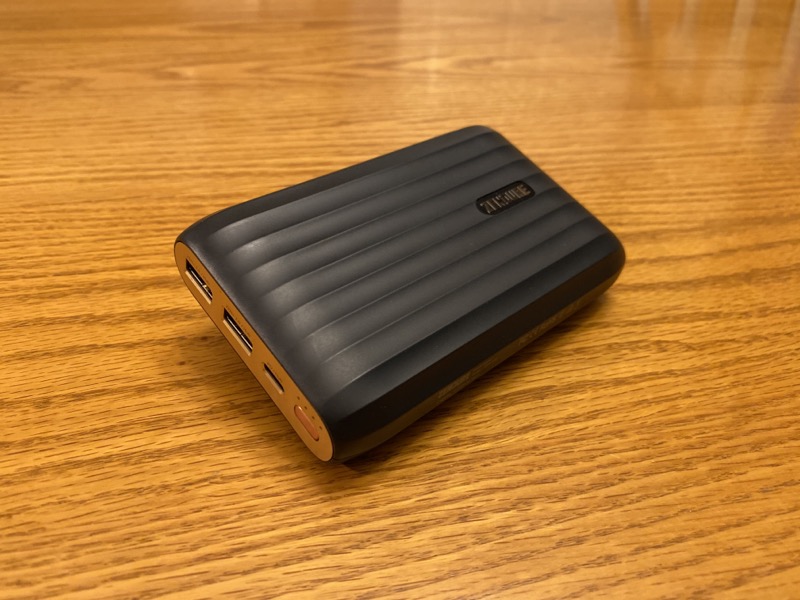 What's in the box?
X5 15,000 mAh Power Bank and USB Hub with Power Delivery (Black or White)

Type USB-C to USB-C & USB-A Cable

Sticker

User Manual

Zendure 2 Year Limited Warranty
(My review unit did not come with any cables, the sticker, the user manual, or warranty so they are not shown in any of the pictures.)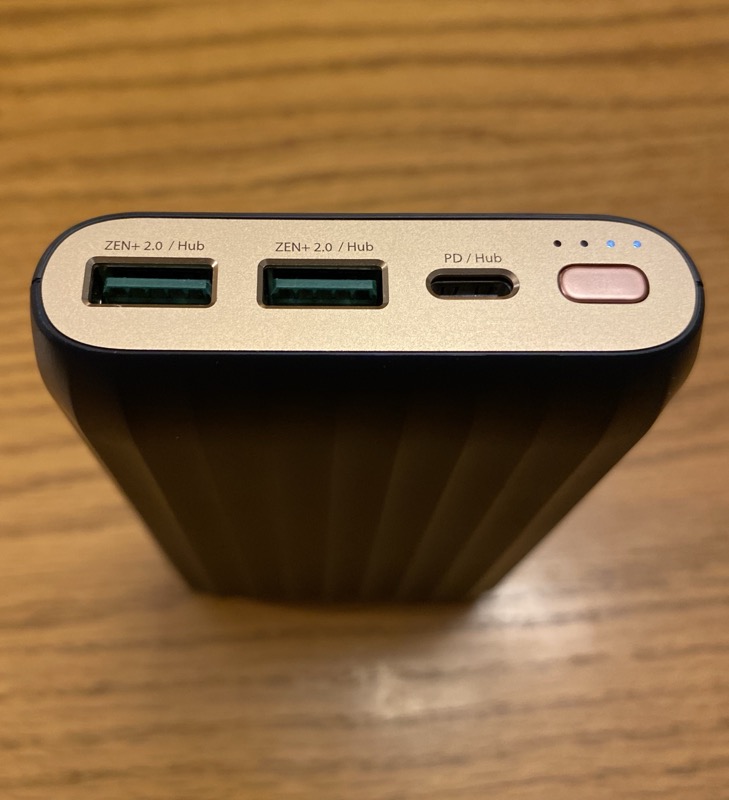 Hardware specs
Capacity:

15,000 mAh 3.63V / 54.6Wh

Dimensions:

4.5" x 2.9" x 1" (114.5mm x 74mm x 25mm)

Color:

White/Silver accents or Black/Gold accents

Material:

ABS + PC

Input:

USB-C: 5V/3A, 9V/3A, 12V/3A, 15V/3A, 20V/2.25A;

(PD 3.0, QC 3.0/2.0, AFC, FCP)

Maximum Input:

45W

Output:

USB-C: 5V/3A, 9V/3A, 12V/3A, 15V/3A, 20V/2.25A, 45W Max; (PD 3.0, QC 3.0/2.0, AFC, FCP); USB-A: 5V/3A, 9V/2A, 12V/1.5A 18W Max; (QC 3.0/2.0, AFC, FCP)

Maximum Output:

Total 48W Max

Certifications:

CB / ROHS / BSMI / UN38.3 / RCM / PSE

Warranty:

2 years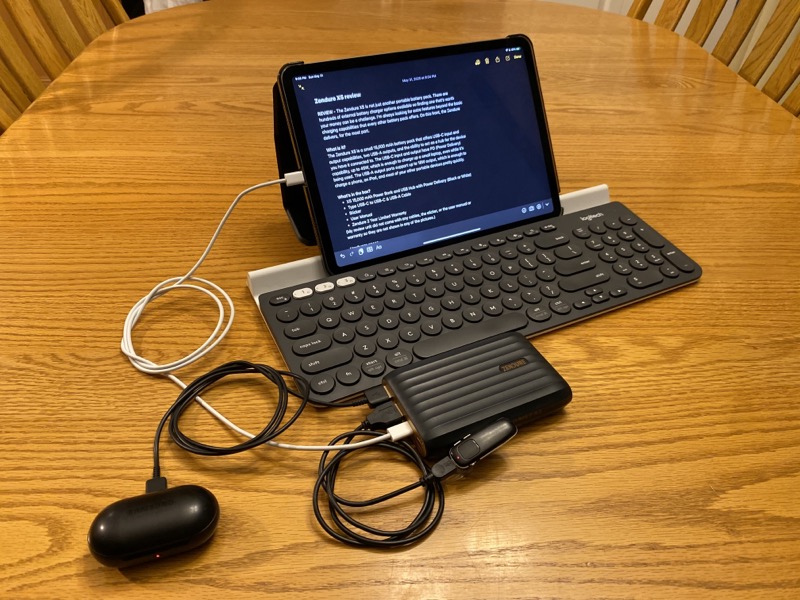 Design and features
The X5 is a palm-sized, plastic covered battery pack, with nice metal accents at either end. The black version has gold accents and the white one has silver accents. It's a very stylish look. All the connectors are at one end with a power/hub-mode switch button and 4 white LEDs which indicate charge level and hub mode.
The X5 is about 2/3 the size of an older 10,000 mAh battery that I've had for years, and it seems to weigh about half as much. It's also much more pocketable, so it's easy to keep with you if you need to top off your phone or other devices while on the go. Unfortunately, it does not have the built-in flashlight that my older battery has, but that's OK because I have an abundance of flashlights just about everywhere I go in my house, and I always like to keep one or two on me when I'm not at home.
One thing that is a little disappointing is the speed of data transfer in hub mode. I took two USB 3.0 flash drives and tested read and write speeds both through the hub and directly connected to my Dell laptop. With an old Kingston, I got 23 MB/sec. write and 38 MB/sec. read through the hub, while I got 25 MB/sec. write and 164 MB/sec. read directly connected to the Dell. With a PNY drive, I got 38 MB/sec. write and 39 MB/sec. read, while I got 70 MB/sec. write and 180 MB/sec. read directly connected to the Dell. That's a pretty significant difference, especially with the read speed on both drives. If you're not transferring a lot of data this won't be a huge issue but the transfer speed was definitely impacted vs. plugging the drives indirectly to the computer. For a Macbook or other laptop that only has one USB-C port, this could be a good solution, even with the limited speeds.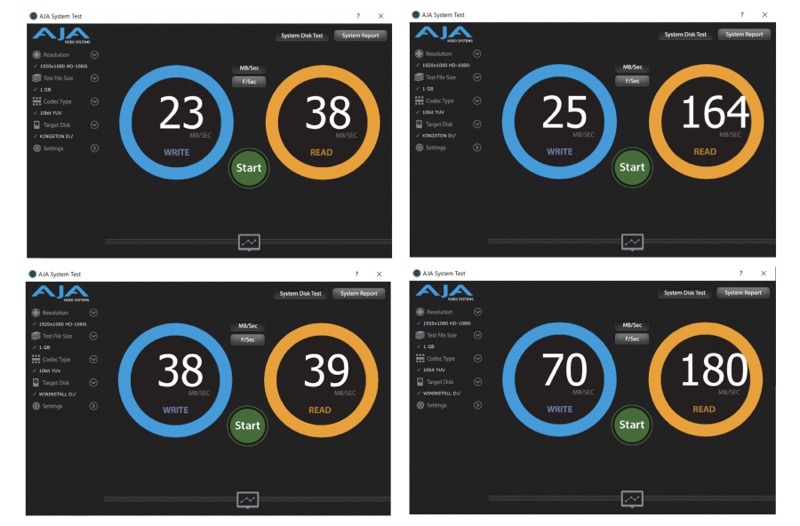 Another disappointing thing with hub mode was that I couldn't get it to work with my iPad. Double-tapping the button started flashing the LEDs the same way it did while connected to my PC but the two flash drives didn't show up on the iPad. This would be a convenient feature since the iPad only has a USB-C port, so there is no way to use a flash drive while charging the iPad with the X5.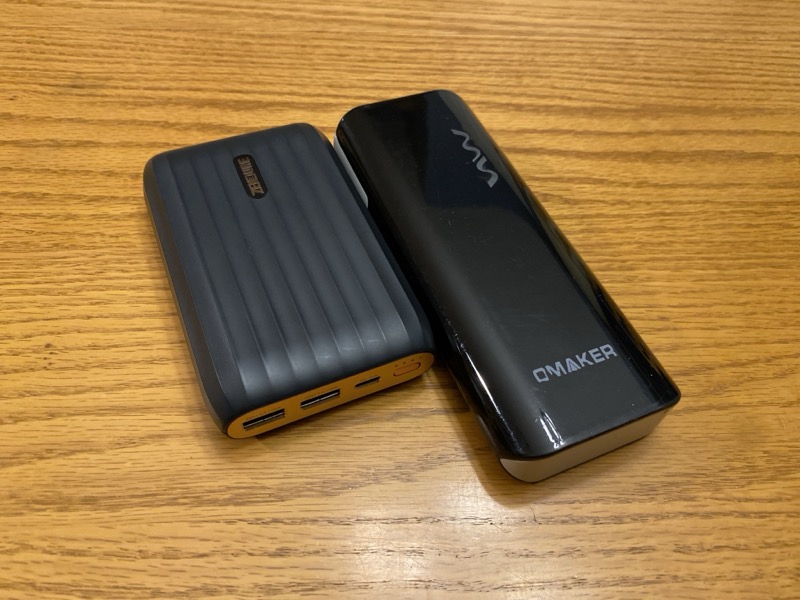 Installation and setup
There's really nothing to do other than taking the X5 out of the box and making sure it's charged up. The USB-C port supports PD up to 45W for both input and output, so charging it doesn't take very long if you have the right charger. When I first got the X5 I grabbed an old 12W iPad charger because it was the closest one I had. Using a USB-A to USB-C cable I tested the charging time. The X5 has 4 LEDs that indicate power; 2 of them were lit up, presumably indicating that it was somewhere between 50% – 75% charged. It took 9 hours to finish charging all the way. Since then using an 18W PD capable charger has cut the total time to recharge down to just a couple hours, so it definitely helps to have a good, PD-capable charger available.
I also tested this with two laptops, one an i7 Dell and the other a 2019 i5 Macbook Air. The Dell went from 5% to 41% in just under 1 hour while I was using it before completely depleting the X5. Windows did tell me I had a slow USB charger plugged in, presumably because the Dell comes with a 60W charger. It still worked fine. The Macbook Air went from 28% to 98% in 1 hour and 20 minutes; some of that was while the laptop was being used, some were not, with the screen turned off. Of course, charging times will vary depending on the specs, whether the device you're charging is being used, and what you're doing, but this would easily be enough to get several extra hours out of either of these laptops, which is what you need when you're working from a coffee shop, an airplane, or anywhere else where you don't have convenient AC power available.
Charging a 2020 iPad Pro 11" went from 0% to 100% in about 1 hour and 40 minutes with the display turned off. While writing this review on my iPad I tested charging from the USB-A port with a USB-A to USB-C cable. It was able to keep the iPad charged, with the battery going up by 1% every 5 –  10 minutes; switching over to the USB-C output sped up the charging significantly. The iPad comes with an 18W USB-C charger but Apple says you might see faster charging if you have a charger that is able to output more than that, which I can confirm to be the case.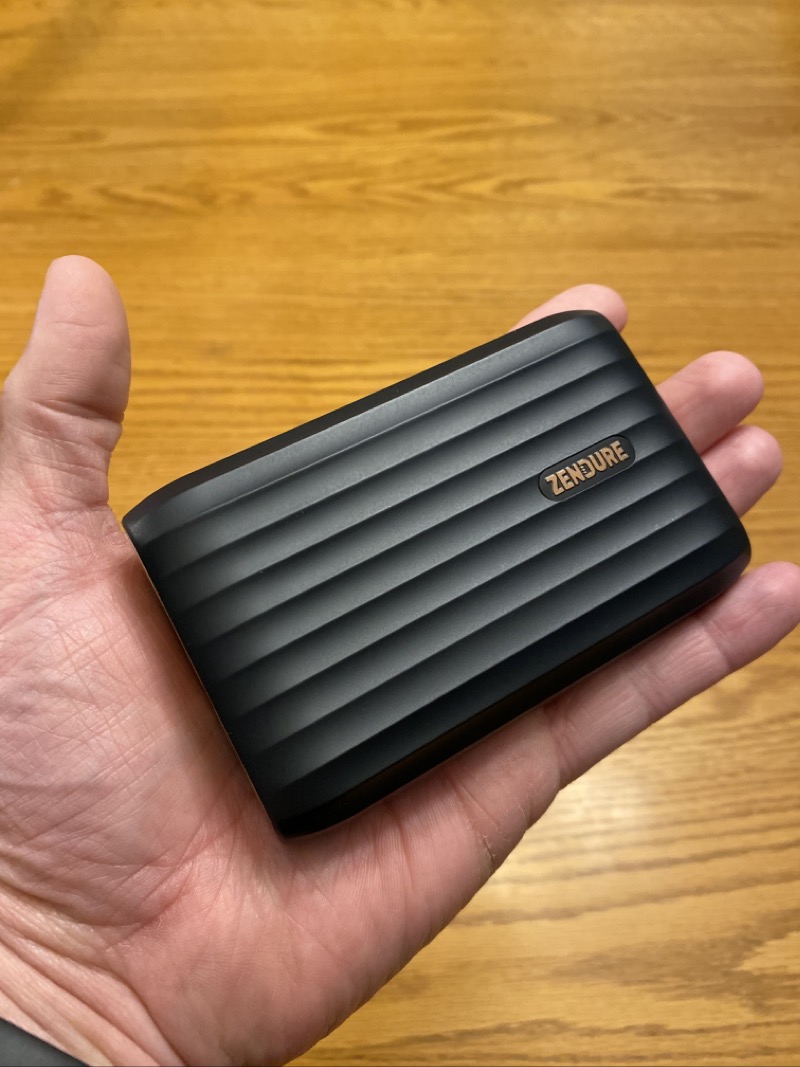 As I mentioned I didn't receive a manual with the X5, but I found the manual for the X6, which is a larger 20,100 mAh battery with two more USB-A ports. In that manual it said to double press the power button to enter hub mode; this also worked on the X5. When I did this the 4 power LEDs started flashing one at a time and my USB stick showed up on my laptop.
The X6 manual also says you can press the power button for 3 seconds to enter what they call X-Charge mode, a low-power mode for smaller devices such as smartwatches, Bluetooth headphones, fitness bands, etc. Trying this on the X5 didn't seem to change anything. I was able to charge a small Bluetooth headset without changing modes so maybe the X5 is auto-sensing and automatically switches to X-Charge mode when it senses a device that draws less power.
What I like
I like that this is a high-capacity battery in a small, lightweight package. Having a battery that can charge anything I'm likely to have with me is great, and at 15,000 mAh it's a perfect combination of capacity and portability. The X5 also doesn't get very hot, either while being charged or while charging another device, even one that takes more power. The ribbed design seems to help with airflow vs. having perfectly flat sides.
What I'd change
Increase USB transfer speed in hub mode

Make hub mode compatible with iPads
Final thoughts
Despite its few minor limitations, The Zendure X5 portable battery pack is a well-built, solid, compact, high-capacity power bank that will help you get through your day whenever you need to be away from standard power.
Price: $99.99 MSRP
Where to buy: www.zendure.com and Adorama
Source: The sample for this review was provided by Zendure.