The Gadgeteer is supported by readers like you! If you buy something through links on our site, we may earn an affiliate commission. Thank you! Learn more.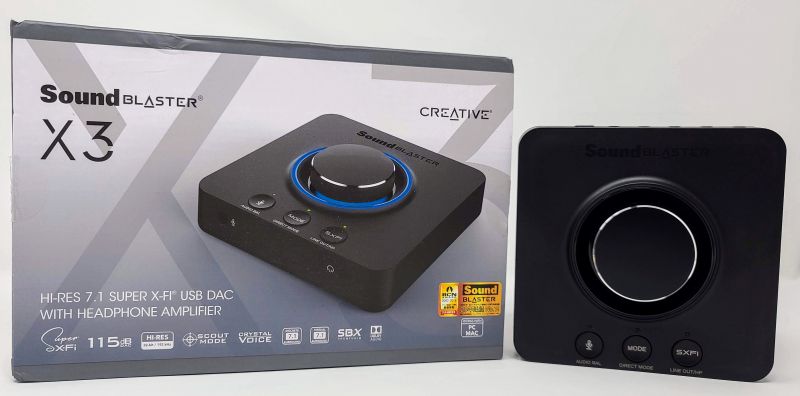 REVIEW – Back when your computer came with a horrible native sound system, the name to beat for a replacement sound cards was the SoundBlaster series by Creative Labs. If you played any games or watched movies (as best you could) on your computer in the late 80's, odds are you had the SoundBlaster 1.0. Since the advent of Realtek's High Definition audio as a de facto standard on computers, the replacement sound card market has shrunk to outliers (like USB replacement if that part of your motherboard died) and niche products.  Where does the X3 fit? Read on to find out…
What is it?
Creative's SoundBlaster X3 is a Digital to Analog Converter (or DAC) sound card that connects to your computer via a USB port. It takes the digital audio your computer supplies and converts it to analog to drive your speakers.  It can also pass through digital sound to a receiver or speakers which can accommodate a digital stream.  The X3 is compatible with both Mac and Windows, and works fundamentally the same on either platform.
What's in the box?
The Sound Blaster X3 box
USB-A to USB-C cable
Multi-lingual instruction sheet
Design and Features
The X3 is a beautiful box to look at. It is small-ish, square and matte black. On the top, there is a big, friendly dial to control the volume. There are also 3 buttons: a mic control button, a button that changes programmed modes, and the Super X-Fi button (a proprietary technology – more on that in a minute).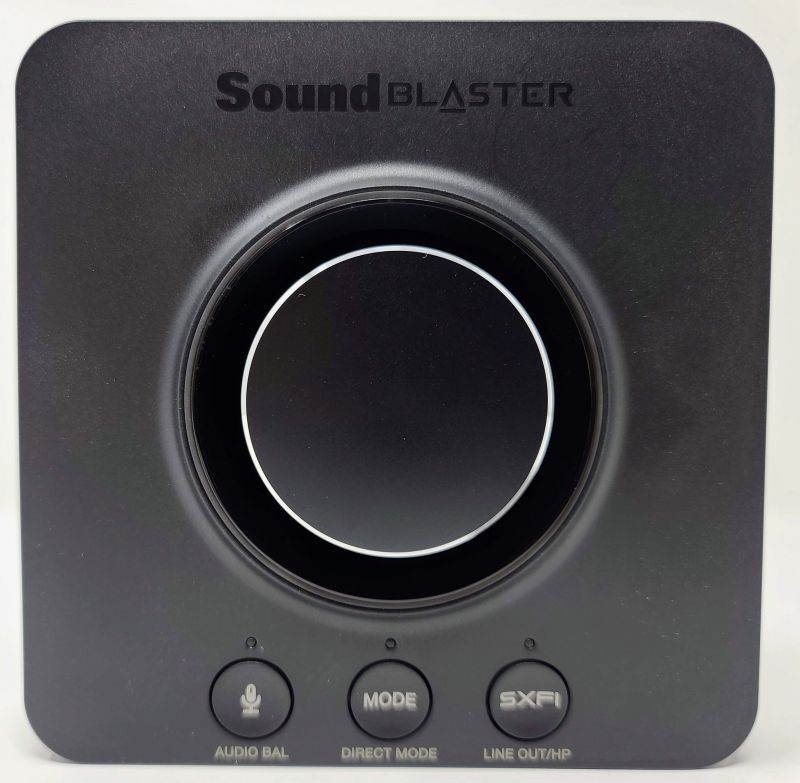 On the front side of the X3 are separate connectors for your headphone and microphone. Note: you must supply your own splitter cable if your headset has a mic – unlike a lot of computers, the headphone jack does not support a TRRS cable, so you have to separate your headphone and mic into separate feeds.

The back of the X3 is for your digital audio in (via a USB-C connection) and a line-in jack (for analog input) as well as your analog speaker connections (the X3 supports 2.1 through 7.1 speakers, but channel separation is achieved through 3.5mm jacks isolating each channel – front, side, rear, and center/subwoofer).  There is also a SPDIF/TOSLink digital audio connector that will plug into a receiver or digital speakers.

How does it work?
Although Creative wants you to begin installation by using an app on your Android or iOS phone, I opted instead to go the "plug and play" route. The main reason I went in this direction is that I did not intend to use headphones often with the X3.  The app begins (after you create an account) by having you or someone close to you takes pictures of your head and ears. This is to create a personalized headphone sound, which I assume is customized via a cloud-based machine learning algorithm. This can be transferred to the X3 via the Command app on your Mac or PC.  As I am not as big a gamer as my son, for example, I decided to test how well the X3 works when I am playing music or watching videos – and, later, co-opt my son into trying the headphone mode.
So, I plugged the X3 into my computer and it was immediately recognized as a DAC. After downloading and installing the Command app from the Creative site I now had control over all of the device functions.  This is the device plugged into my Surface Book 2 (note the pleasant blue glow around the volume dial):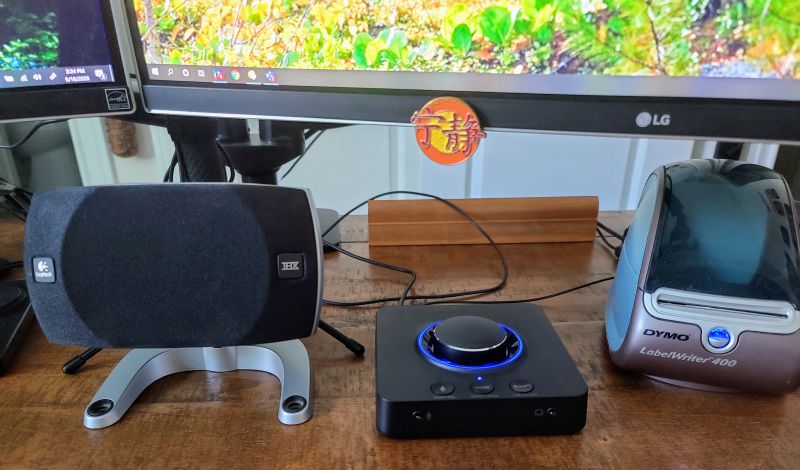 The mic mode button can't prevent you from saying things on a work call that will get you fired – it isn't a mute button. It basically turns sidetone (the ability to hear yourself in your headset) on or off.  When it is on, you can use the volume knob to dial up just how much you want of the outside world to come into your headphones.  In this mode, you can also press the volume knob to mute the mic.
The mode button has different functions depending on whether the Super X-Fi is activated.  When Super X-Fi is off, the button will cycle between the equalizer being off, an optimized mode for either music or movies, or a "Footsteps Enhancer" mode for game play.  This last mode is intended to help you discern sounds around you when playing games using a headset – the kinds of sounds that can get you killed in a game like Red Dead Redemption.  If Super X-Fi is on, all of the modes are enhanced, plus there is a special equalizer mode that you can tweak.
Super X-Fi is a Creative technology that enhances the headphone audio experience by recreating sound patterns that sound like multi-channel audio. Put simply, it makes your headphones seem like they are 7.1 speakers.  It is a multi-award winner for the last 2 years at CES.  The experience, though, is really designed for headphone use – activated when using external speakers, I could not discern any difference. Even without running through the mobile app customization, though, I could clearly hear a difference in my Bose N700 headphones (wired) with Super X-Fi on or off.  On, the sound was superb – as was the sound off, but you could tell a real difference, and that was without personalizing the sound to my head and ear shape.
For my testing, I used an older set of Logitech Z-5500 TXH 5.1 speakers. I ran the audio through the analog jacks as well as the SPDIF digital connection.  While the sound was great through the digital audio connection, some of the features of the X3 seemed like they did not function. Moving back to the analog connection, I could tell a real difference in how I was able to tweak the sound to my preferences. Score one for analog.
How does it sound?
I thought I had great sound through my Surface Dock.  I was wrong. Night and day wrong. The output from the X3 rivals that of my Sonos system, and that coming from a 9 year old 5.1 speaker system that has weathered 2 cross-country moves.
Listening to an effects-heavy movie like Avengers: Endgame using the Movies mode brings a clarity to the audio track I haven't had. In the scene when Tony Stark was talking with his father I could hear conversations and sounds coming from all around – not overwhelming the focus of the scene, but more like I was actually standing a few feet away and listening to their conversation while a real world kept moving around me. Yeah, I know that's what surround sound is supposed to do, but the X3 made it pop in a way I haven't really experienced before.
On to the music. Keeping my geek cred, I loaded up Star Trek: The Astral Symphony and switch to Music mode on the X3. At first, the output did not measure up to the movie mode experience. The music seemed muted – I could hear everything, but the sound, for lack of a better word, was duller. Then I remembered that the Z-5500 speaker control has a Dolby-digital II mode control, and it was set to Movie as well (I am, if nothing else, a creature of habit).  Changing this to Music mode on the speakers, and the music experience became as wonderful as the movie. As cliched as it may sound, I could really feel the emotion in the music in a physical way.
As I said, I am not a big gamer, but my 28 year old son is. I asked him to go through the app setup on his iPhone and customize the sound experience for him. He did this, and once complete we logged in to his Creative account in the Command app on my PC. We plugged his HyperX Cloud II headphones into the X3, turned Super X-Fi on and set the mode to Footstep Enhancer. Then I cut him loose on Doom Eternal (which, by the way, runs reasonably well on my older Surface Book 2) for a couple of hours. He reported back that it felt like true surround sound as he played the game – he could hear events that originated to his side or behind him as if they were really coming from that direction through his decidedly stereo headphones. He says that it really helped his game, and given how well the X3 performed throughout I have no reason to doubt that.
So, as glowing a review as this might be, there must be some downside.  You'd think.  I didn't encounter any problems or anything that would stop me from recommending this. To be fair, though, there are some head-scratchers in the mix.  For example, once you have run through the initial setup in the phone app, you might think you would not need it again.  And you don't, unless you want to use it as a Bluetooth controller for the X3. That's the first thing I questioned – why would I need an external controller if I am sitting 3 feet away with my headphones plugged in? Yes, you can use your computer as a music player at a party, where this might make sense.  But there are so many other, better solutions for that, so it is a puzzler why this would be a feature.
The other question relates to the mic/headphone jack split. Maybe this is necessary for the mic tricks the X3 has, but it seems to me Creative could have put a TRRS jack in the X3 and still have access to all the mic magic.  That way I would not have to find a splitter. As a last resort, they could have included a splitter in the box.  It just seems like an odd omission.
What I like
When I want to use headphones, I have an experience tailored to me
Both movies and music sound great with 5.1 surround speakers or even modest 2.1 computer speakers
Easy to set up
What I'd change
Include a mic/headphone splitter – seems like the headphone experience is what the strong suit of the X3 is
Final thoughts
If you want top level sound on your computer but want it at a reasonable price, the X3 is your sound card of choice.  Easy to use, customized for your specific head shape and earhole configuration, and with truly spectacular playback, you just can't go wrong with this.
Price: $119.99
Where to buy: You can get the Creative Sound Blaster X3 at Creative's site or at Amazon
Source: The sample for this review was provided by Creative
Support The Gadgeteer
:
The Gadgeteer is supported by readers like you! If you buy something through the links on our site, we may earn a small affiliate commission. Thank you! Learn more.