We use affiliate links. If you buy something through the links on this page, we may earn a commission at no cost to you. Learn more.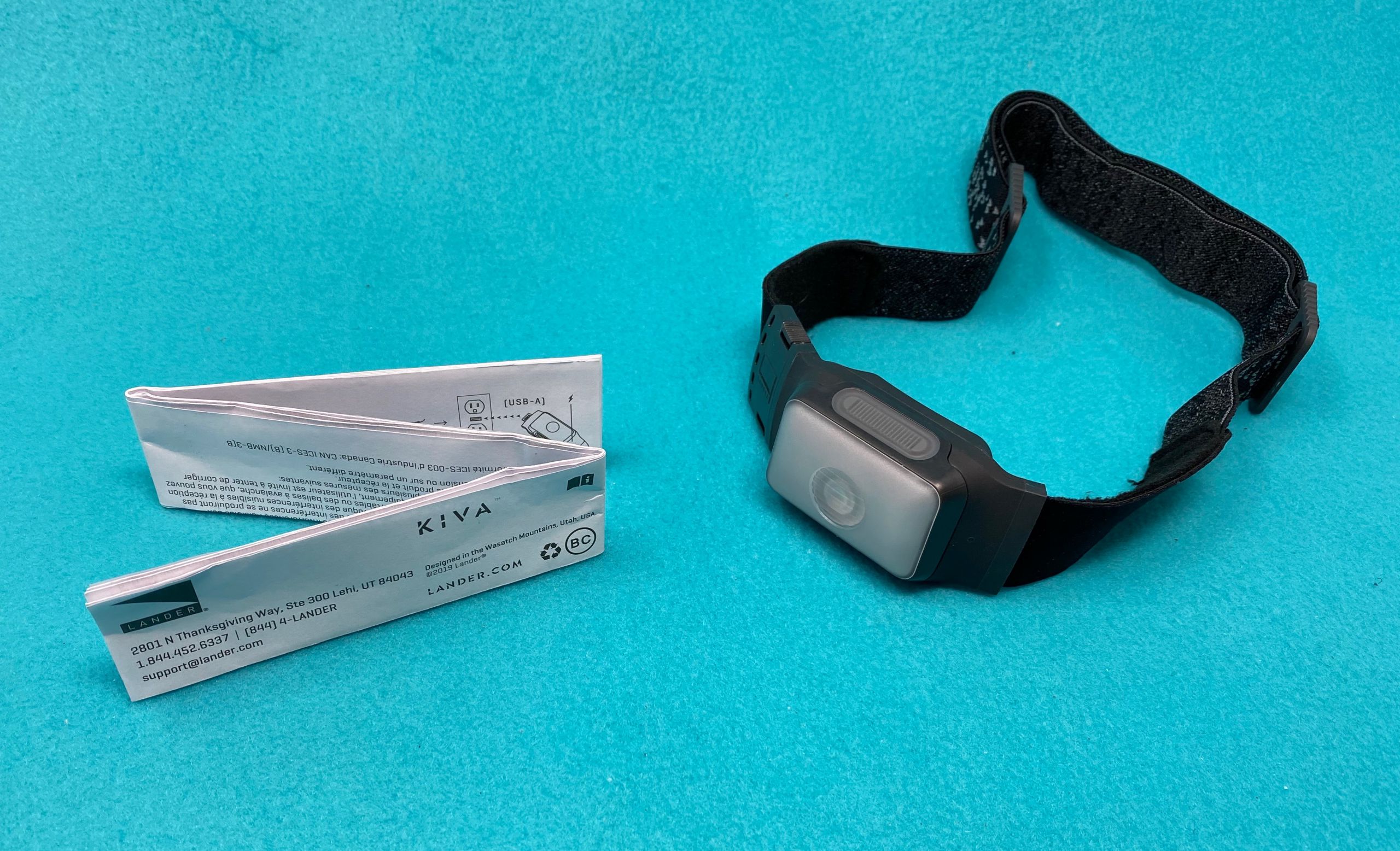 REVIEW – We have been homeowners for long enough to have paid off two different houses. This means we have spent way too much time under the house doing some type of home-ownerly task that usually involves wearing knee pads and headlamps. Whether it's checking out what the plumber said they did, re-routing the dryer venting, or changing a furnace filter, getting into dark, cramped spaces and doing other things with your hands are things homeowners do frequently, and are better accomplished when you're using a headlamp. I was recently sent a headlamp for review from Lander, their Kiva USB Rechargeable headlamp, and have fought off others in my family who wanted to immediately commandeer it. I'm now ready to give my review.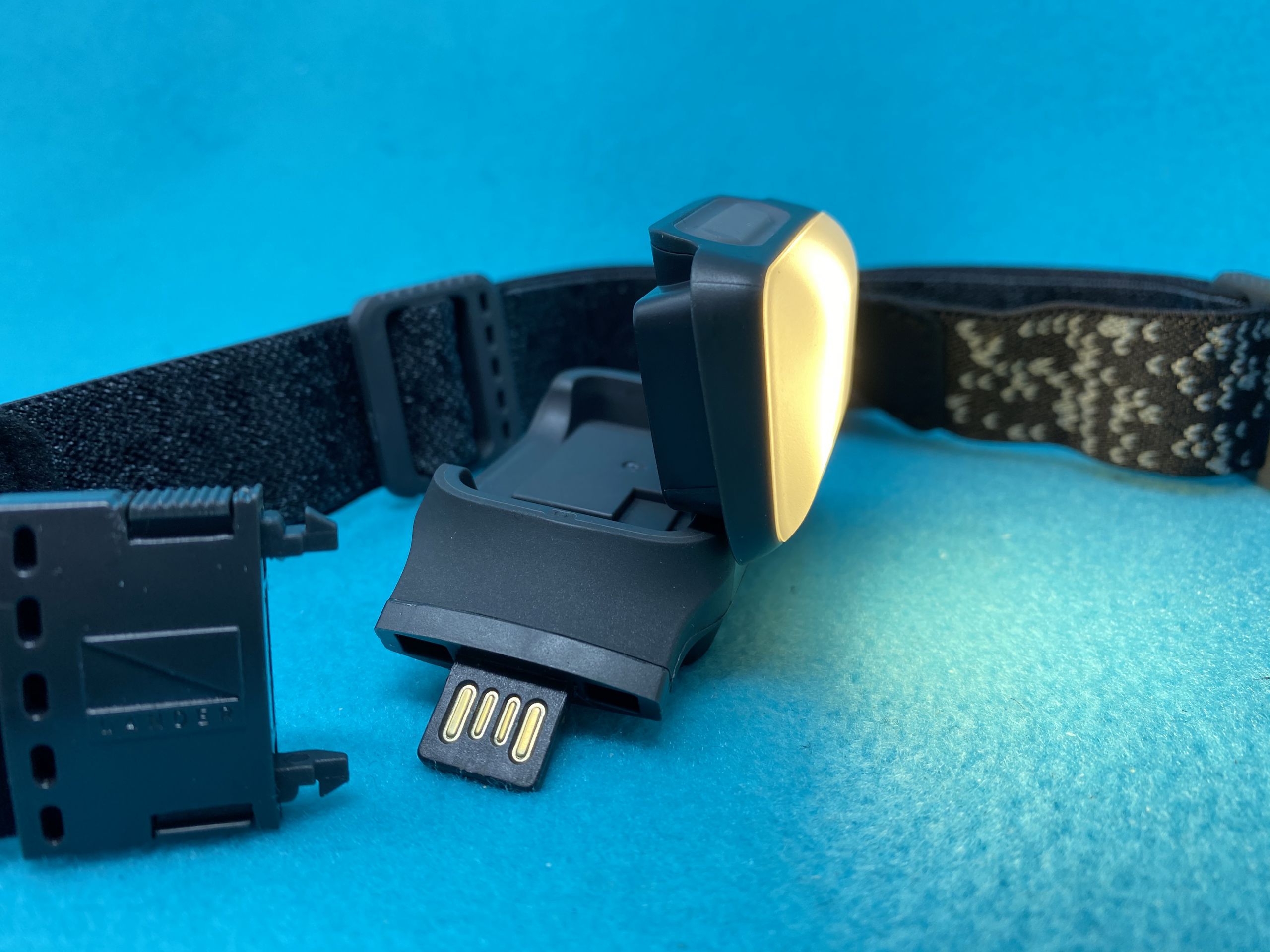 What is it?
An adjustable, elastic headband with a rechargeable, triple-intensity LCD light built in.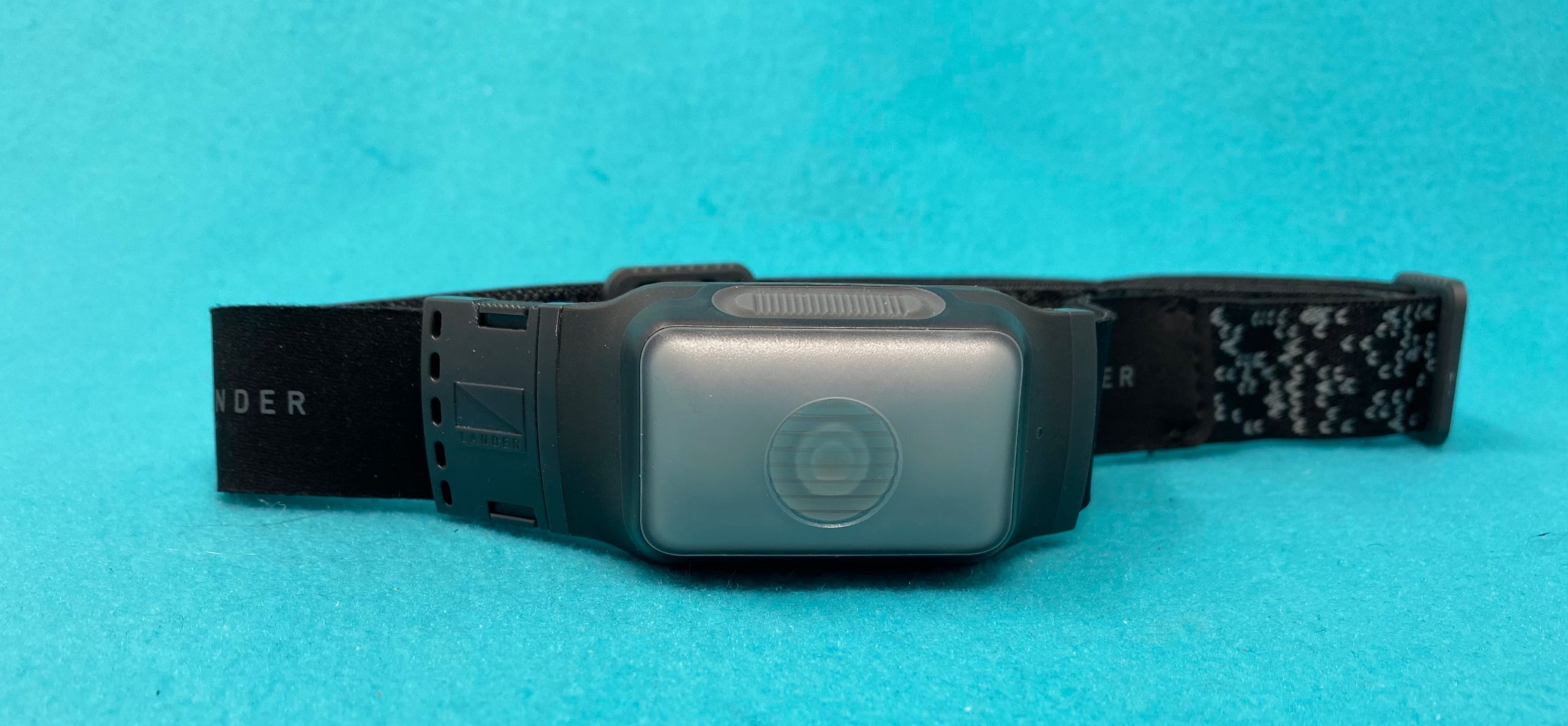 Hardware specs
Low profile, fit for any adventure
Ultra-lightweight (2.3 oz)
Bright (max output 150 lumens), lantern (dim), and strobe modes
Sweat-wicking barrier
Rechargeable battery, no additional cords needed
Rain, snow and dust-proof with IP65 rating
One-hand downward tilt function
40-hour battery time on low, 2 hours on high
1 Year Limited Warranty

Design and features
The design of the Kiva is familiar to anyone who has worn a headlamp in the past decade or two: adjustable elastic headband, with a light mounted inline with the band. There is a switch on the top of the headband that is a simple on/off toggle, but can be double-clicked or triple-clicked to get lantern mode or strobe mode for signaling. The right side of the band unclips from the headlamp with two bayonet-type prongs, revealing a USB-A plug for charging. When it's plugged in, there is a single LED that blinks to indicate charging and finally goes out to indicate full charge has been reached.
I was happy to find that the elastic band is made totally from reclaimed ocean plastic. Living in a state with a huge ocean and estuary landmass, I am really pleased by this, but all of us need to be aware of how dependent we are on wildlife, whether it's fish, fowl, or honeybees. I'm just a little happier using a product that makes an effort to not ruin the world for the generations to come. We're all on this rock together, right?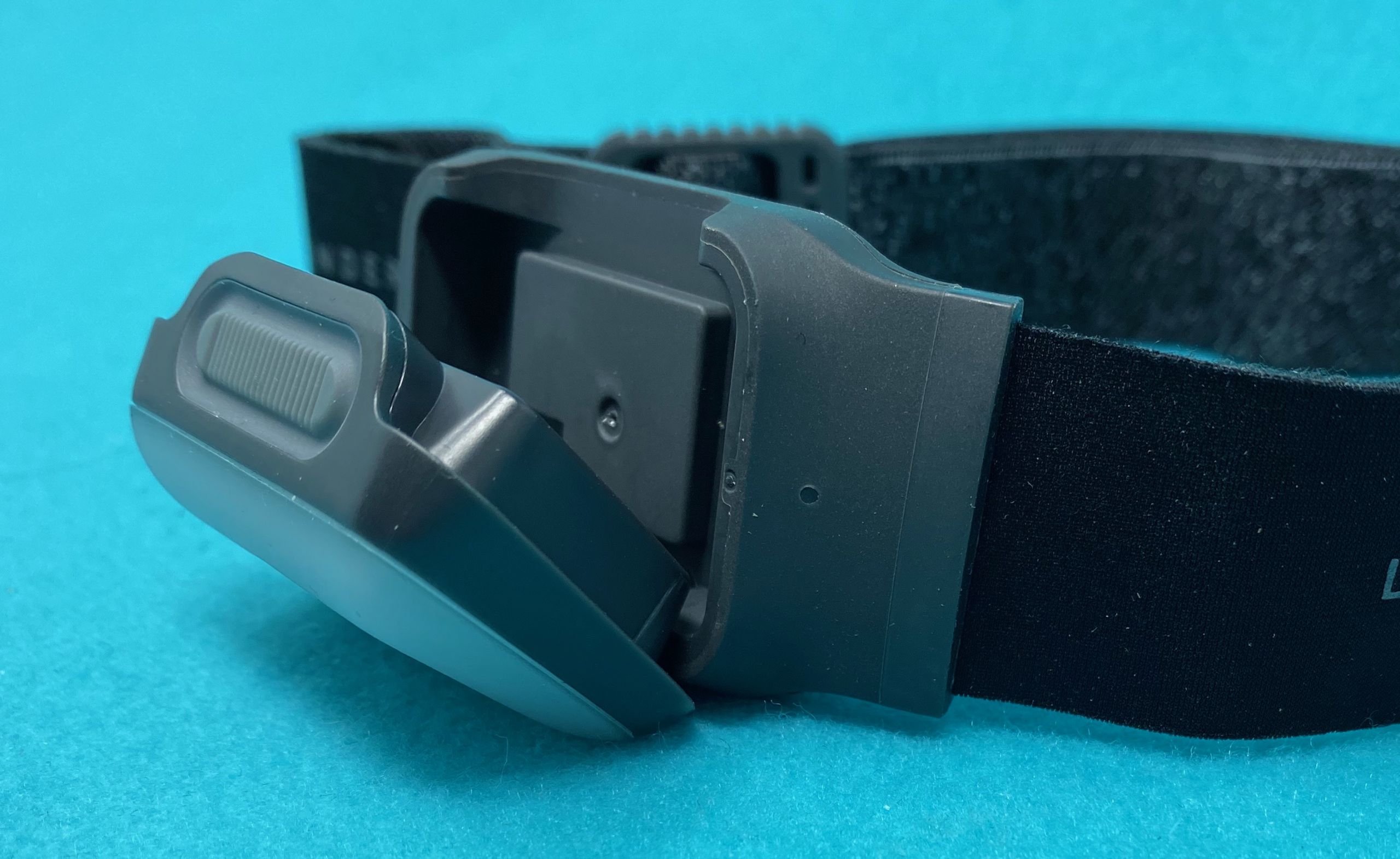 The inch-wide elastic band is connected with a bit of neoprene where it attaches to the light. There is small hit of branding on each side that is reflective. The lens of the lamp itself tilts slightly downward from your forehead (well, from mine, anyway!) when worn as a typical headlamp just above the eyebrows. This throws the light out nicely, and clicking the tilt down one notch brings the lighted area closer to your hands, After the second notch, however, it starts to get into your eyes if the unit is still in the "normal" wearing spot.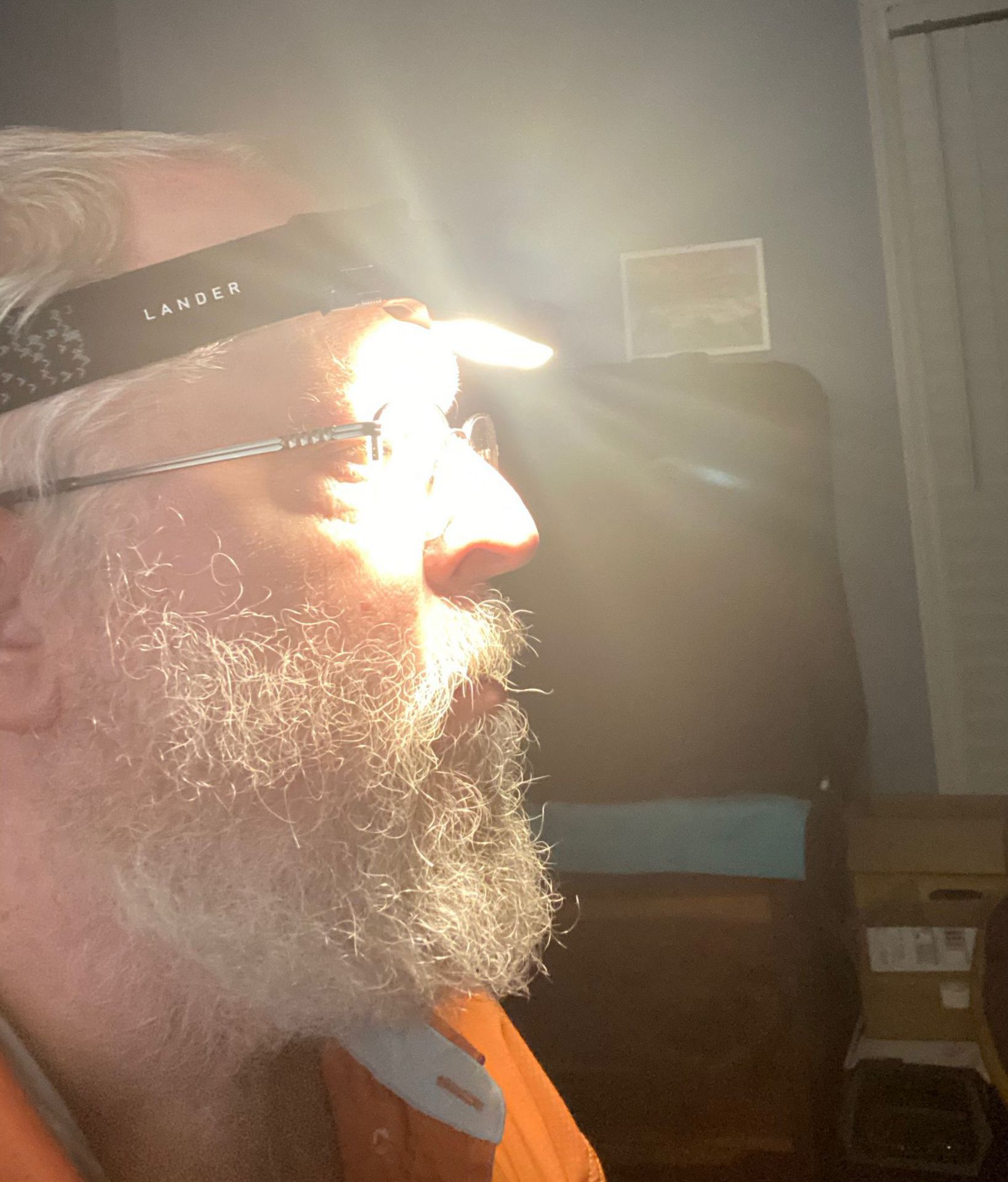 I took to wearing it much further up my forehead, with the band at about a 45º angle from horizontal. When not tilted, this threw the light upwards a bit more, which helps if walking or biking where there are limbs, wires, or rocks above you. (I'm thinking about folks under a house, on a bike trail at dusk, in a damaged building, or exploring a cave, etc. These folks would benefit from more upward illumination.) With the unit placed this way, I can notch it down 2-3 levels to my hands easily, and then swing it back up and have a fuller, further lighted view.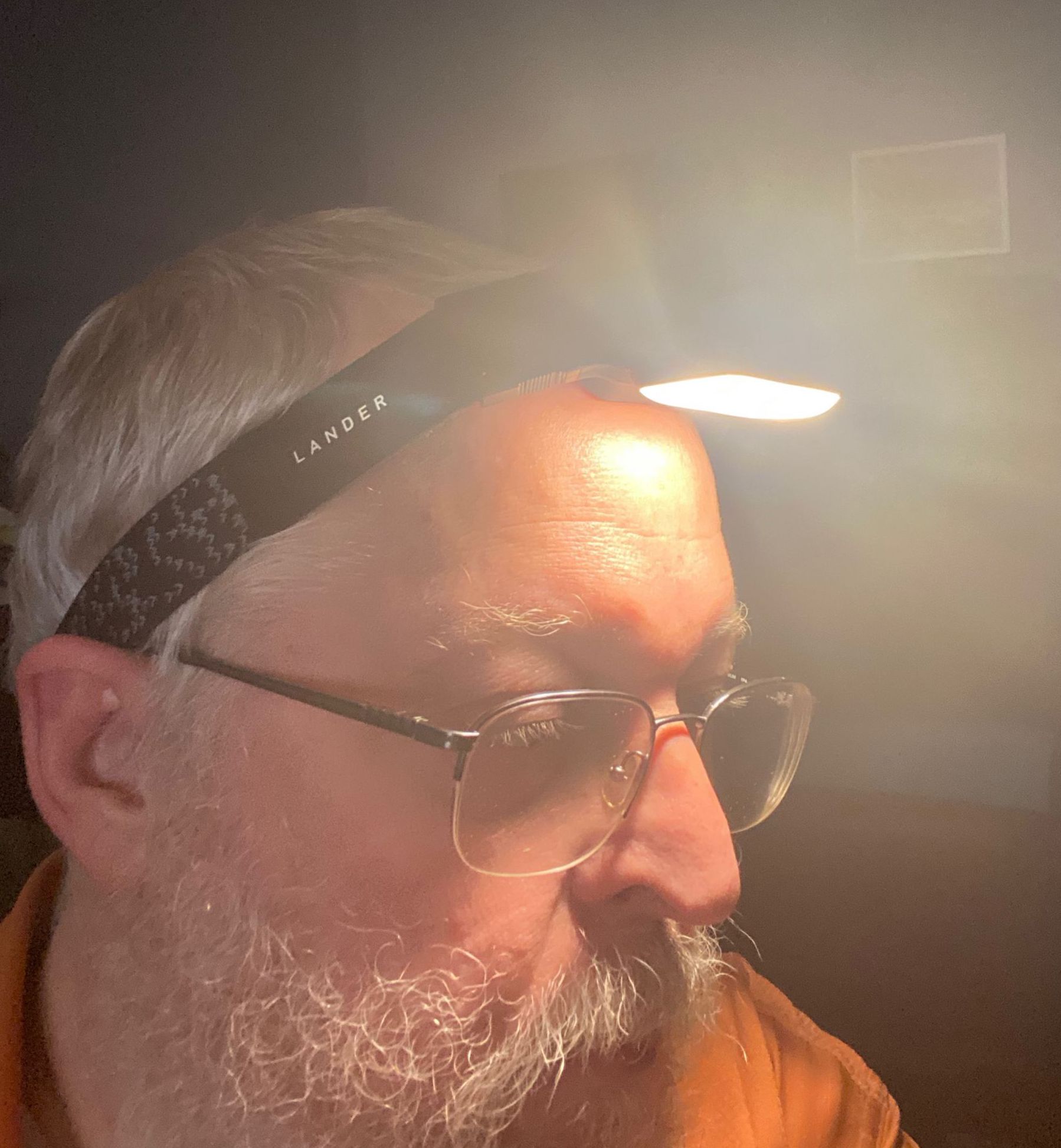 One small nit – the tilt-out part of the light is difficult to grasp to flip out. There is nothing there to grasp, and you're feeling up above your eye-sight, so there are no real cues. With gloves, I'm sure this would be even more difficult. Some type of tab or grip to give the wearer a sure purchase point for the swivel would make the experience a bit better.
Performance
The light is a warm, yellowish tint, which I didn't really like, but it's very bright and focused. It's great for keeping your night vision less affected (when camping/hiking), but not as good (to me) for doing projects where clarity is needed. Being able to quickly plug it into a standard USB socket for a charge is so much nicer than switching out batteries, or having to find the cable and plug it into a charger. That being said, in my usage, I've never had the light run out of charge during any task I've used it for. Fortunately, we don't have any current crawlspace tasks that are taking numerous trips. That's not always the case.
What I like
Rechargeable – with no cable!
Light can swivel down for close work or out for illuminating your surroundings
Straps are made from recycled ocean plastic!
What I'd change
Needs better grip for swiveling the light down
Angle is too far forward – should start at 90º or higher, then fold down.
LCD is very warm (more red than blue). I'd like to see a cooler light, or a cool/warm toggle.
Final thoughts
If you've ever needed a headlamp, you know what I'm talking about when I say a tough, adjustable light on your forehead that can easily swing down to what you're doing with your hands is a good thing. It's rare to have someone who can follow you around and is willing to do nothing but focus light exactly where you're wanting it. A good headlamp makes this happen. With the angle adjustment the Kiva gives, it's even easier. I'll probably have to buy another Lander Kiva headlamp for The Lovely Bride next time we have a spelunking project!
Price: $49.99
Where to buy: Company website and Amazon
Source: The sample of this product was provided by Lander.