We use affiliate links. If you buy something through the links on this page, we may earn a commission at no cost to you. Learn more.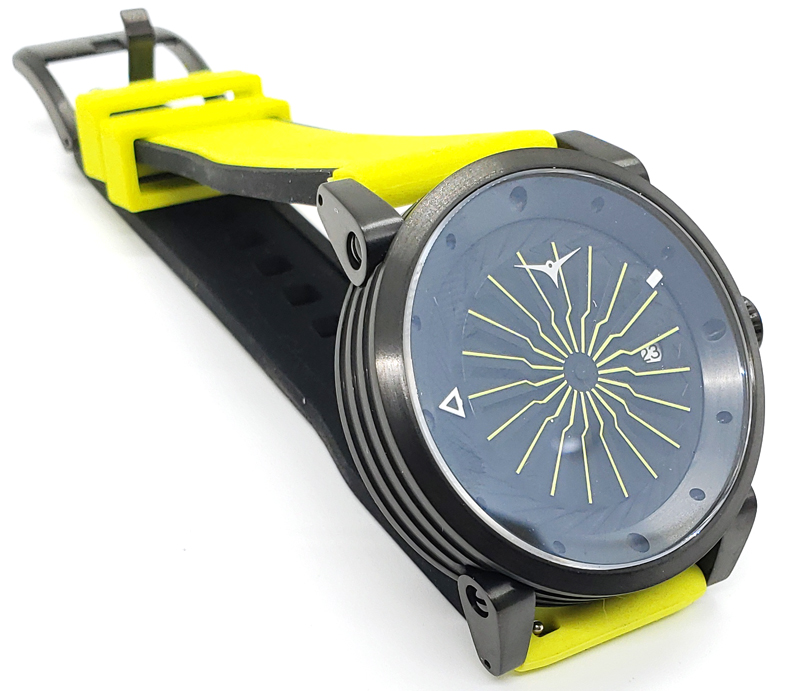 REVIEW – Watches.  There are two schools of thought on watches. You either love them or you have no use for them.  I am in the latter school – I love watches.  It's actually a little bit of an illness.  I have more than 25 watches.  When the opportunity to review the Zinvo Blade Acid automatic movement watch popped up, I jumped on it.  Do you love watches?  If the answer is 'no', it's probably best that you move on to another great review here at The Gadgeteer.  If the answer is 'yes', then read on!
What is it?
The Zinvo Blade Acid is a 250-piece limited edition automatic movement wristwatch. All profits from the sale of the Blade Acid are being directed to California charities supporting local hospital COVID-19 efforts. Zinvo offers a whole line of automatic movement Blade watches, including 26 men's styles and 5 women's styles in a variety of case, dial, and strap color choices.
What's in the box?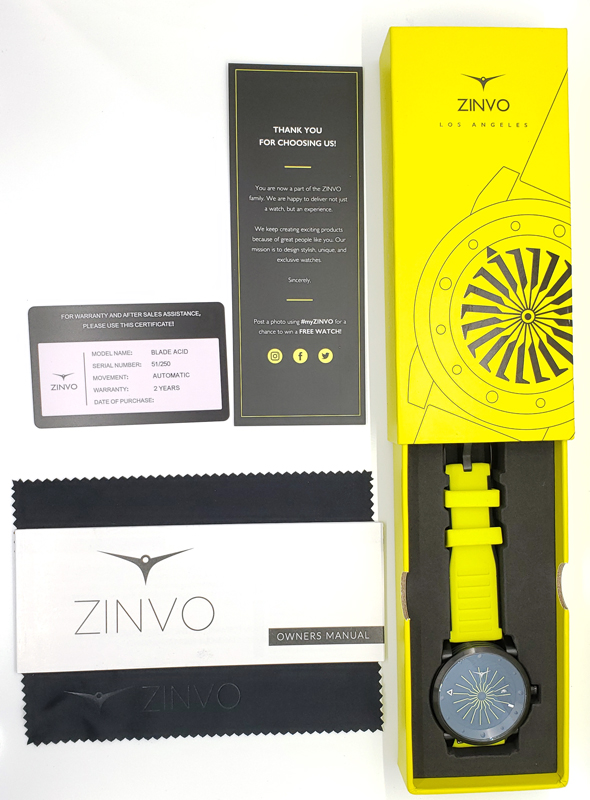 Zinvo Blade Acid watch with a rubber strap
Microfiber cleaning cloth
Thank you / contact card
Warranty card
Owner's manual
Hardware specs
Dial:

Hour (open triangle) and minute (solid bar) had indicators with super lumme luminescent coating
One-second spin turbine rotating disc (replaces the second hand)

Date: window at the three o'clock position
Crystal: Mineral crystal, sapphire coated
Strap: 24mm rubber, quick-release
Case: 44mm x 12mm, steel in black
Weight: 3.8oz
Movement: Seiko NH35 automatic mechanical, 21,600 vph, 24 jewels
Power reserve: 41 hours
Water resistance: 5 ATM / 50 meters / 165 feet
Design and features
Let's get this out there – this is a loud watch.  By "loud", I mean visually loud.  I would describe the strap color as electric yellow/green (mostly yellow), that resembles the bright vests routinely worn by first-responders and emergency workers.  Those vests are designed to make the wearers more visible, and this watch accomplishes the same thing.  I wouldn't wear this to a business meeting.  Of course, I'm retired, so I won't be going to any business meetings anyway. But for a casual/sporty watch, I think the color works and works well.  This watch was produced for a mission, to raise money for COVID-19 efforts at local California hospitals, where Zinvo operates and the color mimics those emergency vest colors.
This is a big watch.

It's fairly thick, so I assumed it would feel heavy.  But at 3.8oz, it felt fine.  Compare that to my Shinola Runwell with a leather strap at 3.5oz and Tag Heuer Carrera calibre 5 in steel with a steel bracelet at 4.6oz and it isn't too heavy.
If you have small wrists, this might overwhelm your wrist.  On my not-tiny wrist, I think it looks good.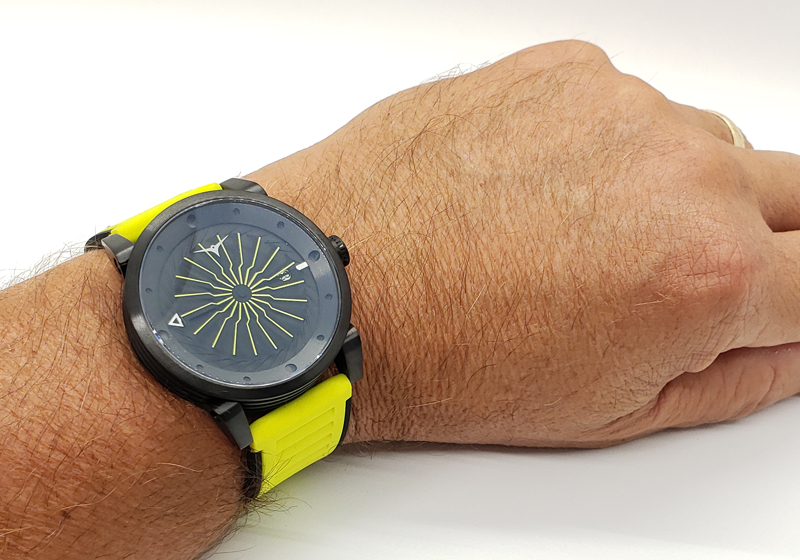 The band is plenty long for most wearers.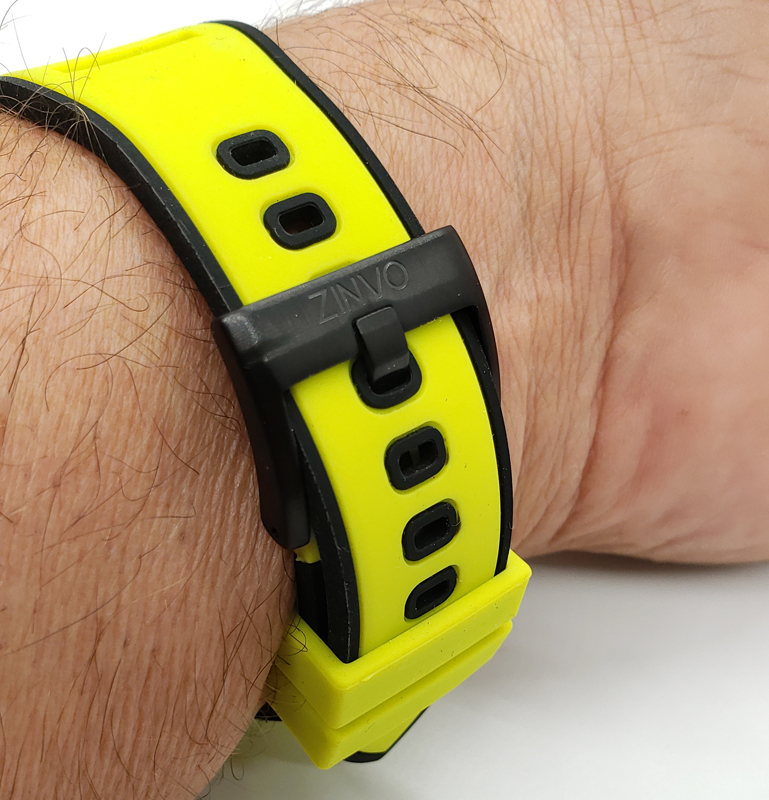 As you can see, there are only three more notches left, so again, users with very small wrists might not be able to wear this watch.
There are nice details on this watch.
The hours are indicated with cutout holes at each location with larger holes at 12/3/6/9.  The Zinvo label is displayed at the 12 o'clock position. There is also a subtle black-on-black turbine design that the hand tips ride above. The hands themselves are not visible as they sit behind a black disc.  All that is visible are the tips.  The hour hand tip is an open triangle.  The minute hand tip is a solid bar.  It takes a little bit to get used to that, but once you do, it's easy to quickly read the watch. The photo above shows the time at 9:26.  The hands are coated in what Zinvo calls "super lumme" luminescent paint, meaning that it will glow in the dark if the hands are exposed to light.  To my eyes, they did not glow very brightly or very long.
Those yellow lines appear on the "spin turbine" – a rotating disc that indicates the passing of the seconds – it moves one click for each second.
The rotating lines add a very interesting visual element to this watch.  This is Zinvo's hallmark design element. If you look at their website, you will see that all Blade watches have some sort of spinning disc.
You can see the date window near the three o'clock position. If I had to complain, the lines make it difficult to read the date.  But you only have to wait for a second for a clear view, so that's a minor quibble.
Here you can see the Zinvo logo on the crown along with a turbine design around the crown's edge.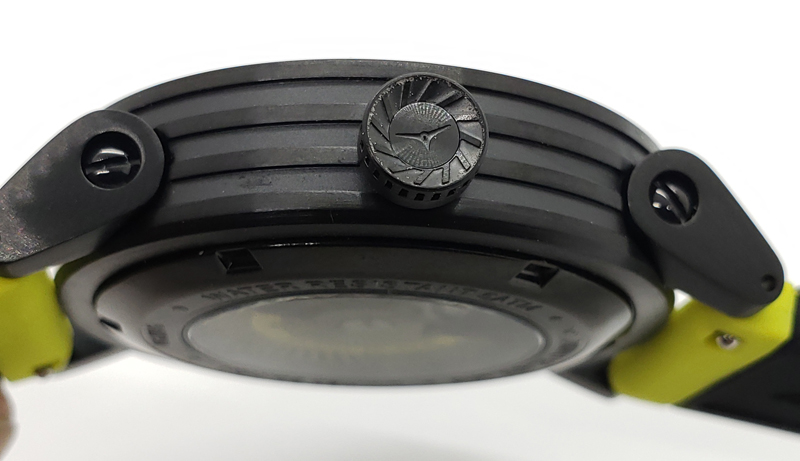 The back of the watch is an exhibition case back.  What that means is that the back is essentially a window that gives you a look at the movement.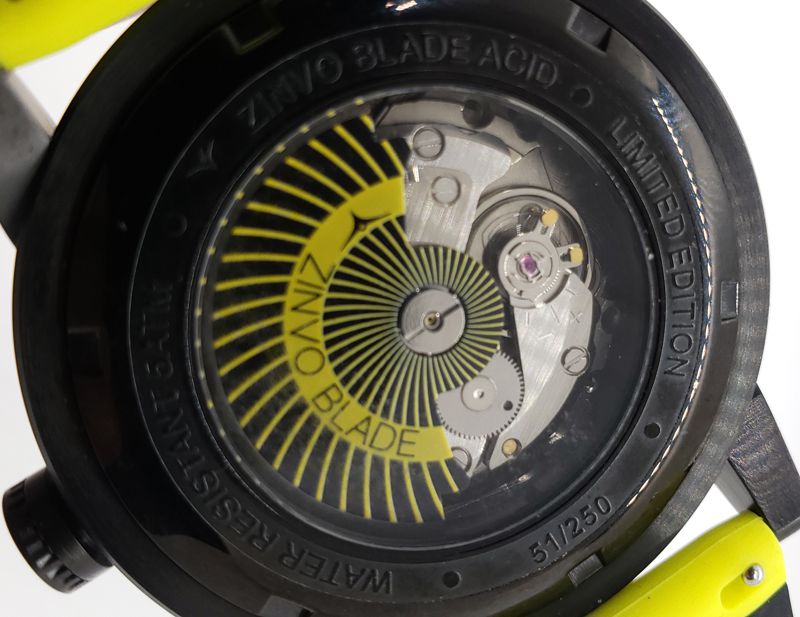 The back is engraved with the water-resistance rating, the name of the watch, the wording "Limited Edition", plus the serial number – mine is #51 of the 250-watch limited run.
The Seiko movement is automatic. What this means is that as long as you wear it, you never have to wind it.  If you look at the photo above, that black/yellow lined semicircle labeled Zinvo Blade is a rotating weight.  It is designed to rotate around the watch case as you move your wrist.  This rotation winds the watch as you wear it.
When fully wound, the watch will run for 41-hours before needing additional winding.  You can also wind the watch manually by winding the crown 15-20 times.
The movement is constructed with 24 jewels.  Jewels, typically lab-created rubies, are used in watch movements to reduce friction where metal-to-metal contact would occur.  Standard mechanical movements are typically produced with 17 jewels, so kudos to Zinvo for going the extra mile and using a 24-jewel movement.
Setting the watch is pretty standard.  Pull the crown out one-stop and rotate to change the date. Pull the crown out two-stops to change the time.  You have to be cognizant of whether you are setting for AM or PM since that will control when the date changes.
The strap attaches via quick-release tabs.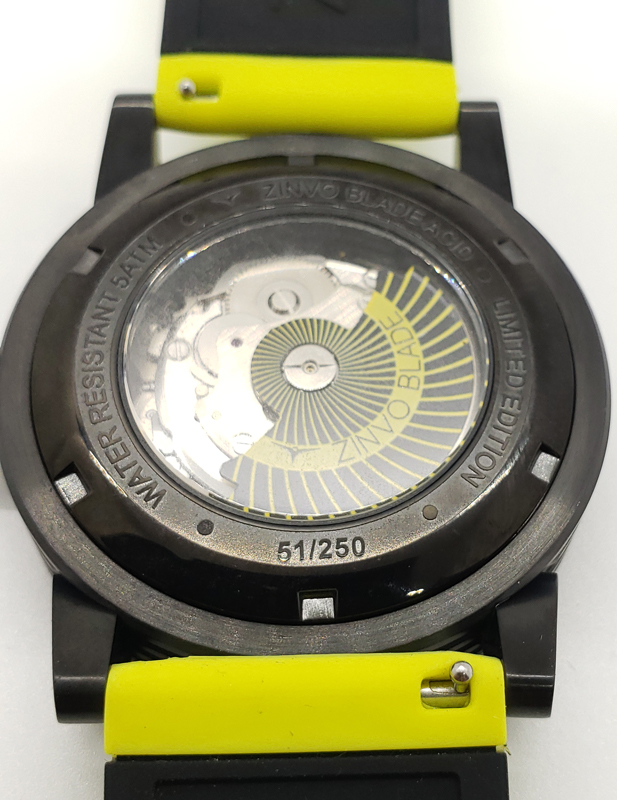 To remove the strap, just pull the little bolt and the pin pops right out allowing the strap to slide off.  This is so much easier than fitting in a tool between the case and the strap to remove pins.  This is a nice, thoughtful touch. If the electric yellow is too much for you, Zinvo offers many other color options for sale.  You can also replace the strap with any 24mm strap, so you could dress this up with a nice leather strap as well.
What I like
Quality 24-jewel automatic movement
Interesting, eye-catching deign
Great power reserve
Good water resistance
Exhibition case back
What I'd change
The rotating design element makes it a little difficult to read the date
The "super lumme" luminescent hands don't glow very brightly
Might be too big for smaller wrists
Final thoughts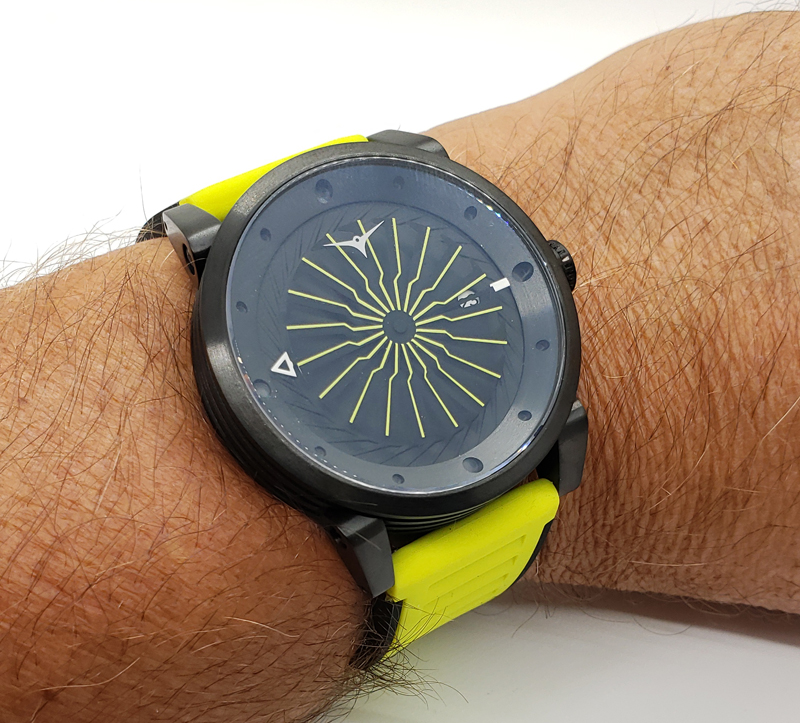 I like the Zinvo Blade Acid. With its 5ATM water resistance rating, I will have no fear of wearing it swimming or snorkeling. Its 24-jewel automatic movement and eye-catching appearance are a nice addition to my watch collection. I expect it will get plenty of wear. If the Blade Acid is a little too flashy for your taste, check out their other designs as there is probably something you will like.
If you do like the Blade Acid, act fast.  As of this writing, they had already sold 214 of the 250-watch limited run and raised nearly $13,500 for COVID-19 hospital relief.
Price: $299
Where to buy: Zinvo; Zinvo also operates a store on Amazon.
Source: The sample of this product was provided by Zinvo.