We use affiliate links. If you buy something through the links on this page, we may earn a commission at no cost to you. Learn more.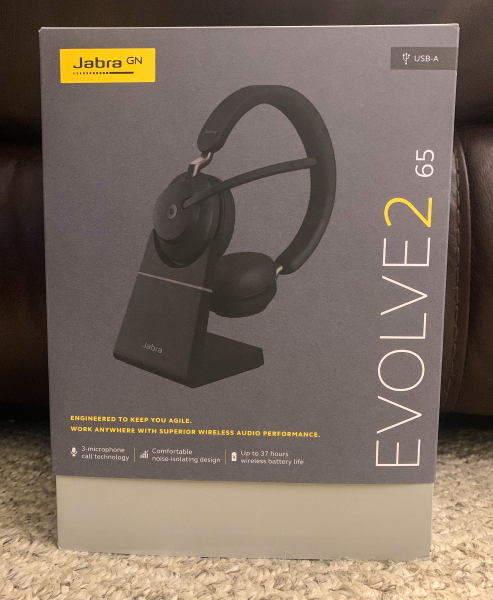 REVIEW – I live in New York City, which is the epicenter in the United States for the life-changing Covid-19 outbreak. For the past 2 months, I have been working from home and have been a part of conference calls that last for hours at a time. It quickly became evident that I needed a capable wireless headset/mic combination that I could wear for hours at a time, and that could connect to more than one device so that I could easily switch between my 2 cell phones or my laptop and cell phone. Enter the Jabra Evolve2 65 Headset!
What is it?
The Jabra Evolve2 65 Headset is designed to provide outstanding call performance and seamless and professional audio. It features powerful leak-tolerant 40mm speakers and is powered by Jabra's most advanced digital chipset. The design includes noise isolating foam oval ear cushions with an angled earcup designed to effectively block out your surroundings, giving you passive noise cancellation.
What's in the box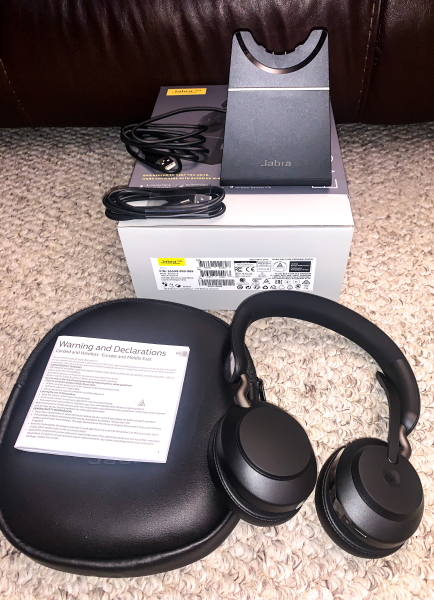 1 x Jabra Evolve2 65
1 x USB-A to USB-C Charging Cable
1 x Charging Stand
1 x Carry Case
1 x User Manual
Design and features
Specifications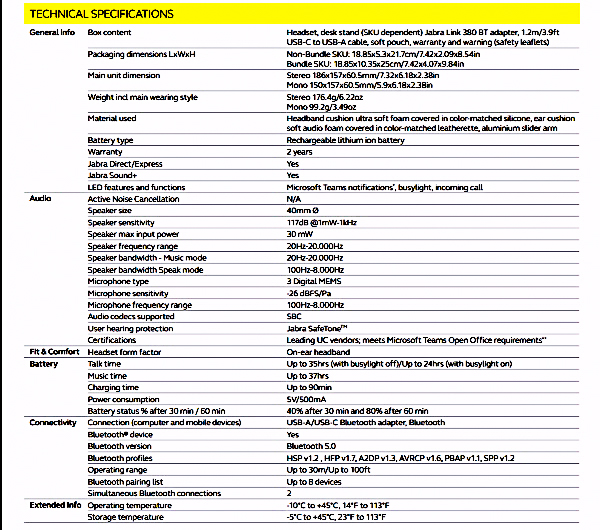 Features
• Comfortable noise-isolating design
• 3-microphone call technology
• Up to 37 hours wireless battery life
• 40mm speakers for exceptional music
• Up to 30m/100ft wireless range, with
significantly enhanced coverage and fewer
dropouts
• Works with all leading UC platforms,
Microsoft Teams-certified variants available
On the outer surface of the right-side earpiece, there is the answer/end call button and microphone. On the inside of the earpieces, each side is clearly marked which is left and right.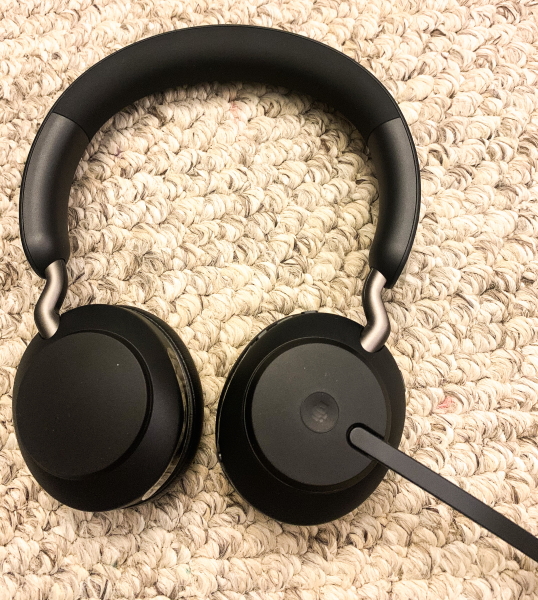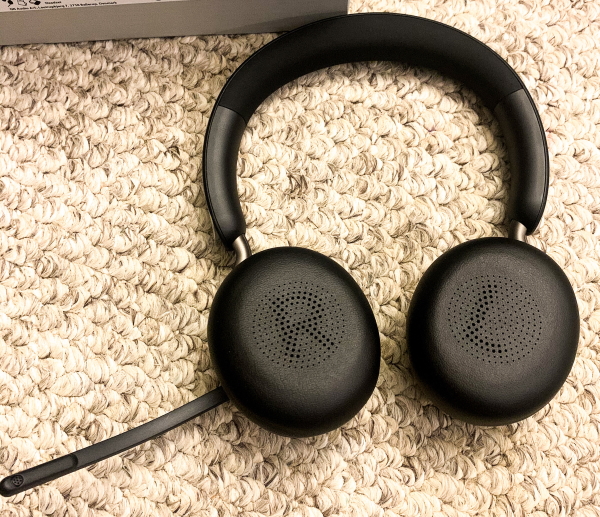 The rest of the controls are all located around the edge of the right earpiece. The photos and illustrations below provide the details.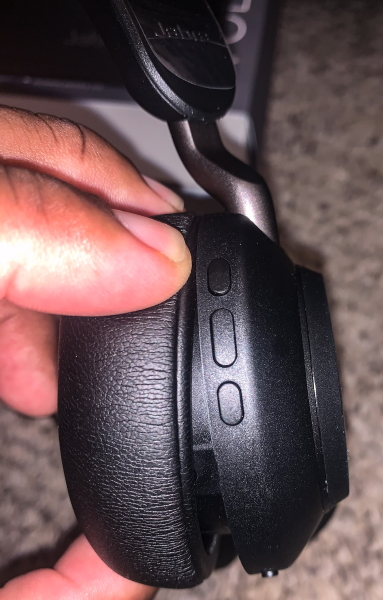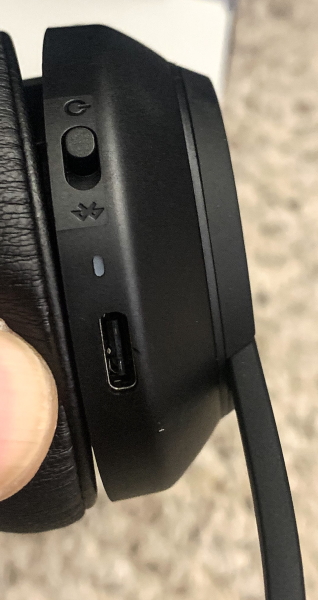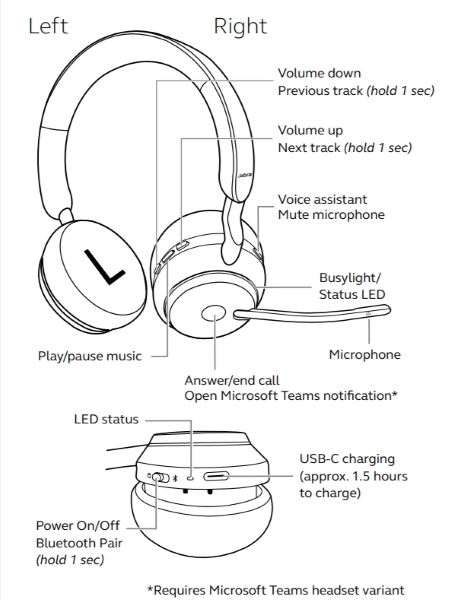 Both sides of the headset can be extended/adjusted to accommodate head size and comfort.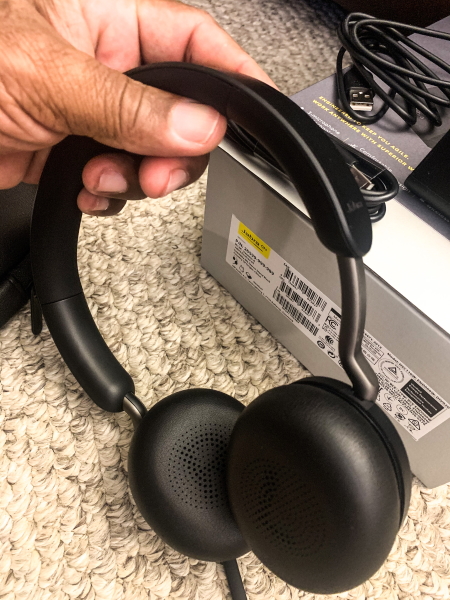 Below is a photo of the charging unit and of the position of the headset when being charged on the unit. The headset can also be charged by plugging the USB-C cable directly into it.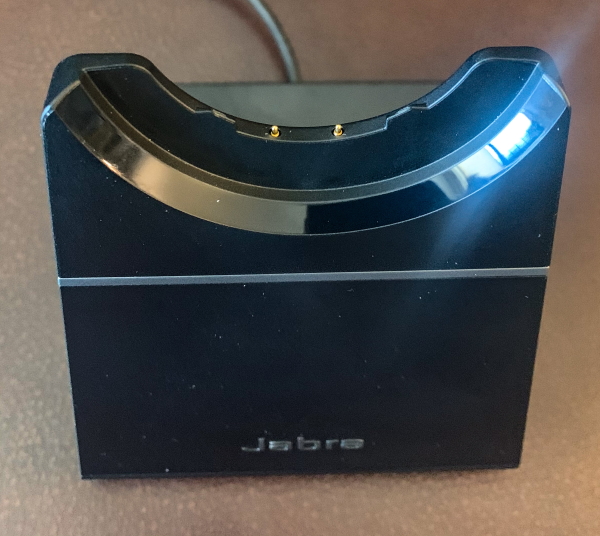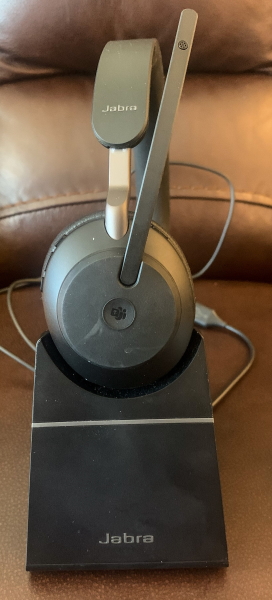 Performance
Just as I would with all wireless devices, the first thing that I did when I was ready to test this headset was to place it on the charging unit and charge it fully. The LED on the charger turns green when the headset is fully charged.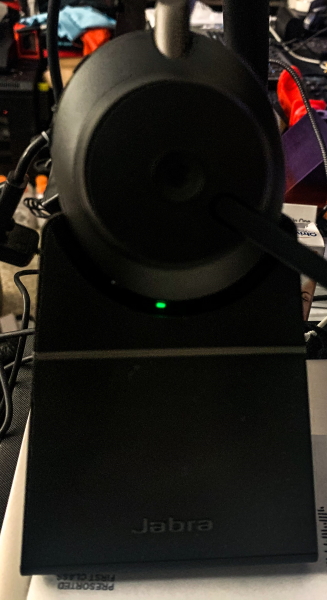 Once the headset was fully charged, I connected it to both my work and personal cell phones (it is capable of 2 simultaneous Bluetooth connections). The Bluetooth pairing process is easy and reliable in terms of successfully connecting. This works well for my workflow because I usually need to switch the connections to one phone and one laptop and then back to 2 cell phones.
Pros:
Bluetooth connects easily
Control buttons are well laid out
Calls and music are extremely clear and the all-around sound quality is good. This includes decent sound for watching videos/movies
The battery life is incredible. (After 7 hours of almost non-stop use, it is usually at 90%)
Did I mention that the battery life is amazing? 🙂
The build quality is pretty good
Nice features overall
Cons:
If connected to 2 phones and on a call on one while the other is frequently receiving data (emails, text messages, etc), the call quality is often affected and I usually have to solve the issue by disconnecting the Bluetooth connection on the second device
If 2 phones are connected and I am watching a video on one, the audio for the video becomes muted if a text or email notification is received by the other phone. In order to restore the audio to the video, I usually have to disconnect the Bluetooth from the other phone. (Important Note: This headset is designed for business use, so the scenario with watching videos while relevant may not be an issue for most)
Overall, for what I would consider normal business use for most, this headset offers great audio quality, usually solid Bluetooth connectivity, and can be comfortably worn for hours without fatigue.
The diagrams below provide the details for using the headset for calls and music.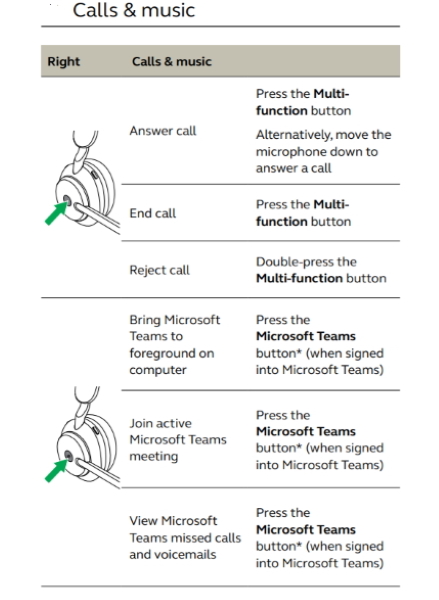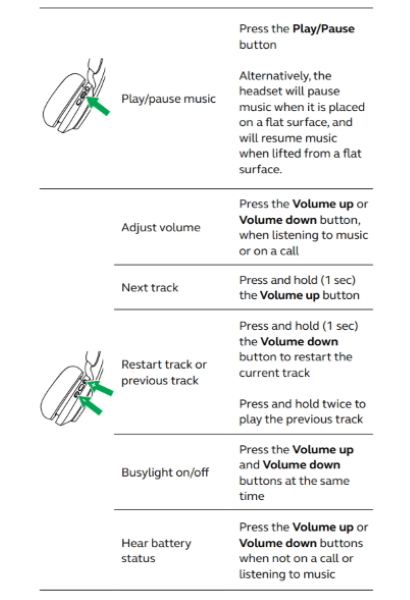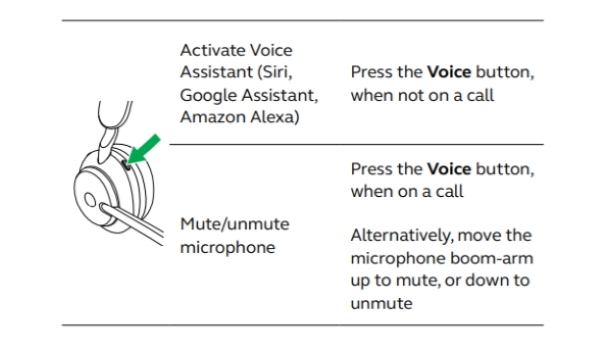 The illustration below provides multiple call handling instructions.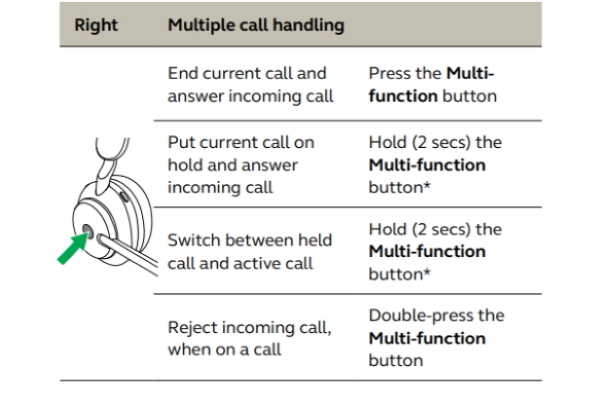 There are status indicator LEDs on the right earpiece that provide information on battery level, pairing, etc.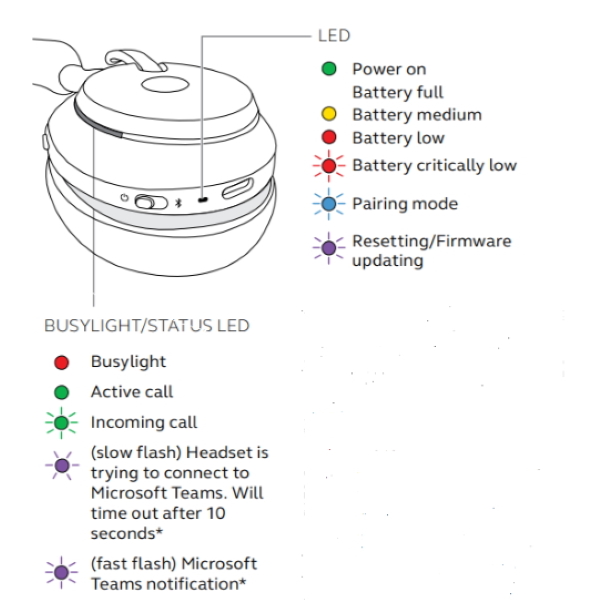 The following are screenshots from the app. The layout is decent and works.
As shown below, you can answer a call or mute/unmute a call by raising or lowering the microphone.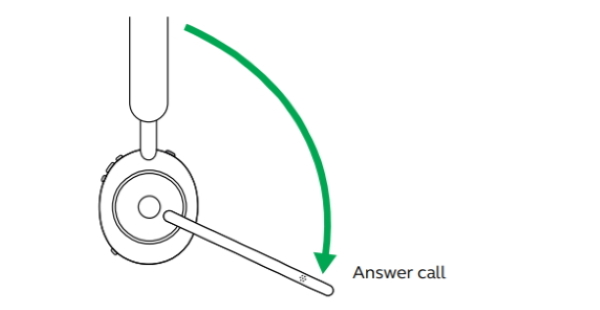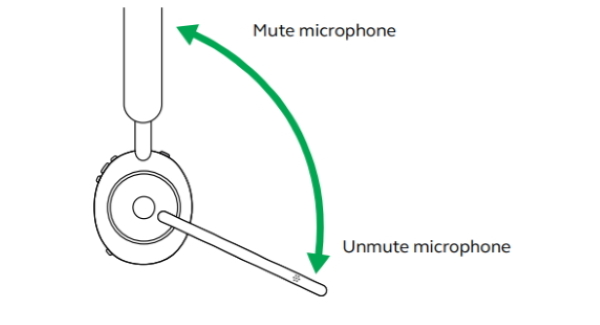 Here I am wearing the headset. it is comfortable, and I have worn it for as long as 6 hours non-stop without any issues.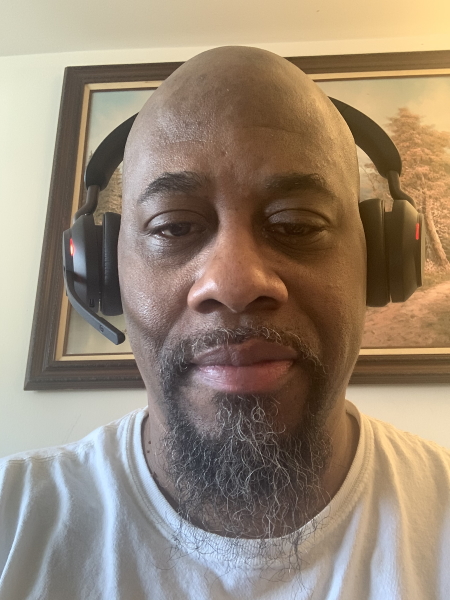 The following is a Zoom interview I conducted using this headset:
What I like
Build quality
Overall performance including call quality and battery life
Features
What I'd change
The stability, clarity, and strength of the Bluetooth connection when 2 devices are connected
Final thoughts
After using this headset for a few weeks, it has become a requirement for my daily work-from-home gear. I spend hours every day on conference calls, and the comfort, clarity, and capabilities make it a winner. That is not to say that the headset is perfect. However, the PROs outweigh the CONs and for me, and I can't imagine working without them now that I have them. I definitely give them a well done and two thumbs up!!
Price: $299 (Pre-order)
Where to buy: Jabra website and Amazon when it becomes available there
Source: The sample for this review was provided by Jabra