We use affiliate links. If you buy something through the links on this page, we may earn a commission at no cost to you. Learn more.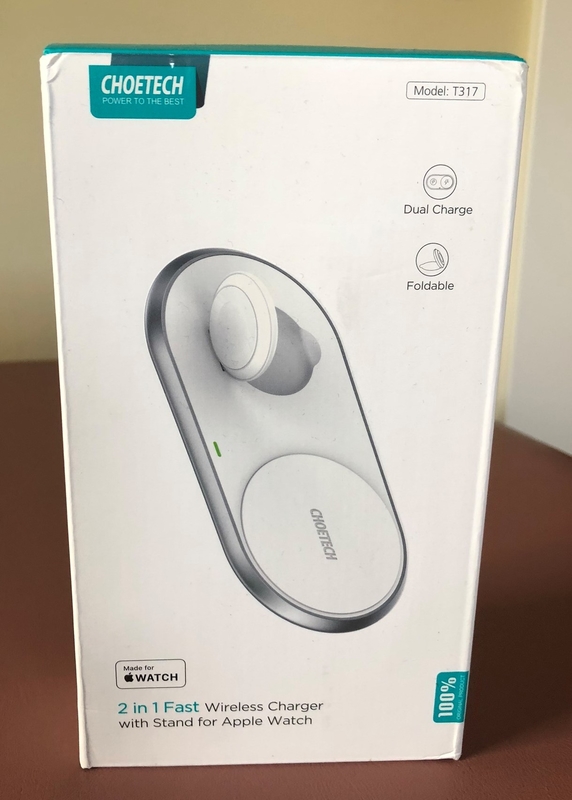 REVIEW – My desk configuration has several options for charging multiple devices, but the result is outlets, cables, and stations. If there is a way to consolidate chargers, and to simplify cable management with wireless charging, I'm all for it. Can this 2-in-1 wireless charger from CHOETECH help clean up the desk? The AirPower charging mat had promise to be an attractive concept for handling multiple devices – does the Dual Wireless Charger satisfy in the same way?
What is it?
The CHOETECH Dual Fast Wireless Charger is a wireless charging pad with a spot for a wireless-charging smart phone, and another dedicated dock for an Apple watch to be charged simultaneously.
What's in the box?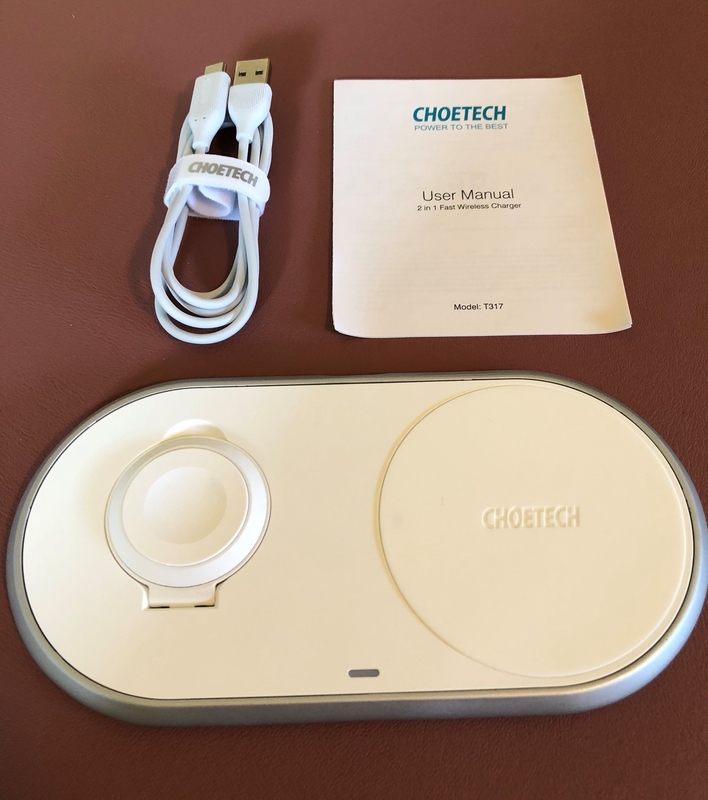 The package contains:
CHOETECH wireless charging pad
40″ / 100cm USB-C cable
User Manual
After-sale support card
Hardware Specs
Model Number: T317
The charging pad is 18cm x 9.5cm x 1.5cm, 222g / 8oz
Electrical Input specs: 5v/2A, 9v/2A
A quick-charging adapter is required for quick-charging functionality
MFi certified
Design and Features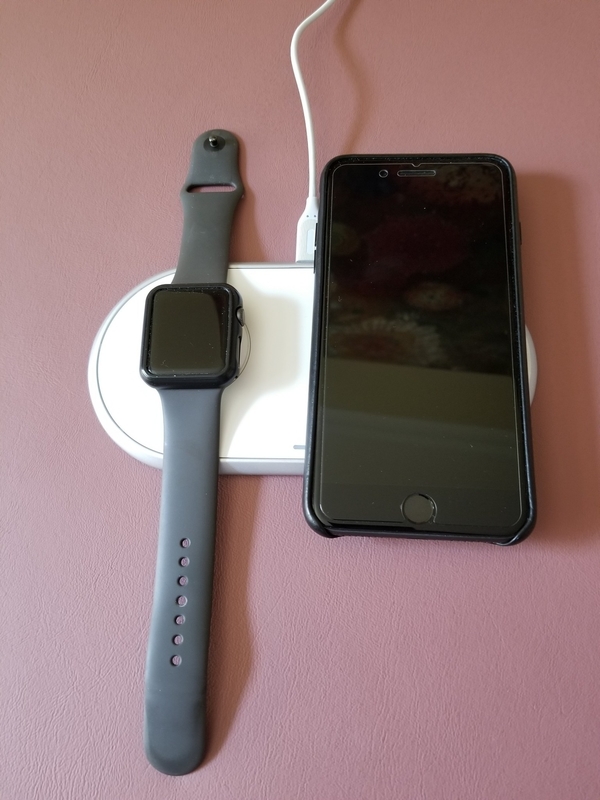 The charging pad has clean lines and finish. There is a grippy surface on the charging pad for the phone. It has a nice heft and build quality, and is also thin enough to be part of the electronics set for travelling.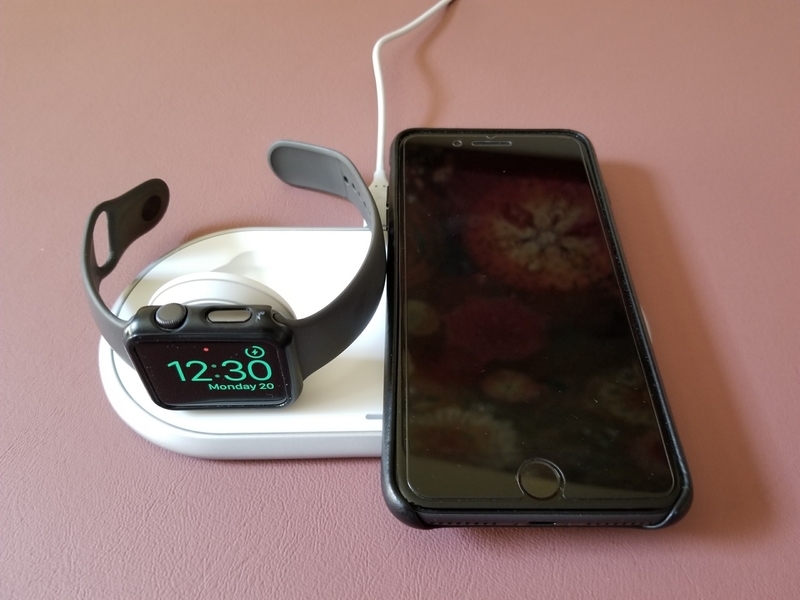 The apple watch charger is hinged, to allow the watch to either lay flat and flush with the charging mat while charging, or to sit up in nightstand mode.
Installation and setup
Because the 2 in 1 wireless charger does not include an AC/USB adapter, a suitable one must be selected. A QC/quick-charge 3.0 adapter is recommended. I did not expect a standard 5W iPhone AC adapter to work (it is under the desired 2-amp spec with its 5v/1A output) but when connected to the CHOETECH charging pad, I saw that my watch and phone both displayed active charging status. Using an iPad 12w AC adapter was similarly successful – and the 5.1v/2A output is within the desired input spec of the CHOETECH charging pad.
My iPhone in its leather case had no problems charging, and the charging mat is case-friendly within 6mm of proximity. Credit cards, metal, and magnetic attachments will impact the inductive charging experience and might damage the phone.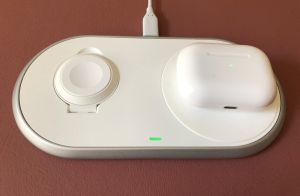 The charging pad also displayed functional charging with an AirPod Pro case.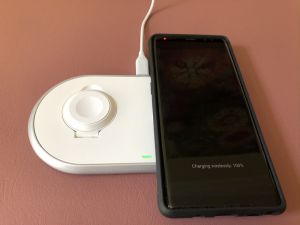 And also with a Samsung Note 8.
I don't have a quick-charging AC adapter in the house, and so was unable to test the speed of wired charging vs wireless charging vs wireless quick-charging. The convenience of having a charging pad on the desk lends itself to dropping the phone there while sitting, so for my routine and work pattern the phone gets charged at intervals during the entire day.
What I like
The CHOETECH wireless station is low-profile, simple, and easily portable.
Other phone/watch charging stations are often configured like an easel, or nightstand mode or look like tiny valet racks for their devices. Good for presentation or consuming media, but I prefer something receptive where I can toss the phone or watch while I am at the desk.
Most charging stations come with a LED light to show activity, and this device is no exception. On the desk, it's an unobtrusive indicator of charging activity. On the bedroom nightstand, I've tried to limit the blinkenlights glow of LEDs and chargers while sleeping, and it's pleasant to see that this LED can be covered by simply rotating the phone on the charger a few degrees.
What I'd change
A quick search shows that this device is at the high end of the price range for phone/watch wireless charging stations, especially for a device that still requires an AC adapter.
Final thoughts
The CHOETECH Dual Wireless charger makes it easy to have a dedicated spot for charging, and consolidates the chargers for phone and apple watch into one location. My old routine of unearthing two cables from the desk clutter, and then plugging the watch and the phone into their cables under my monitor can be replaced by placing them quickly onto the mat. I like the charger and would continue to use it – but to be candid the search process for a 'phone watch wireless charging station' produces a selection of comparable devices that are similar and in competitive price points.
Price: $53.99
Where to buy: Amazon
Source: The sample for this review was provided by CHOETECH. For more info visit their site.