We use affiliate links. If you buy something through the links on this page, we may earn a commission at no cost to you. Learn more.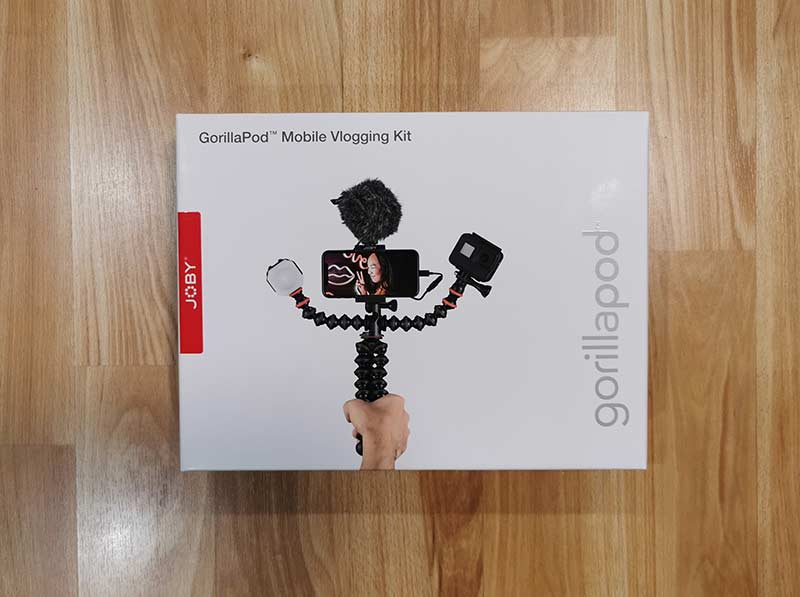 REVIEW – Joby started out offering tripods with bendy legs that you could use to hold a camera in almost any position. They've since branched out to offer accessories for their GorillaPod tripods and the kit I want to show you today is their Mobile Vlogging Kit.
What is it?
The Joby GorillaPod Mobile Vlogging Kit is everything you need in one package to vlog and make video content except for the camera.
What's in the box?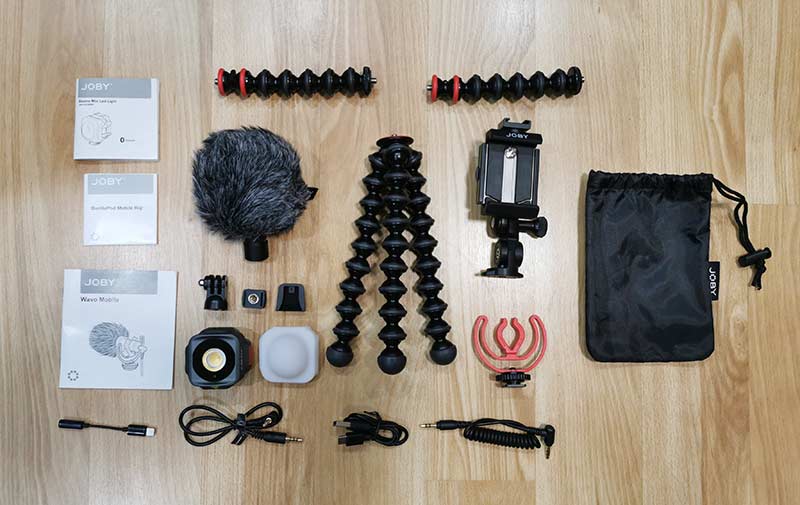 GorillaPod™ Mobile Rig with phone holder and accessory arms
Beamo™ Mini LED with a diffuser
Wavo™ Mobile microphone with hotshoe holder, wind guard, and microphone cables
Design and features
GorillaPod Mobile Rig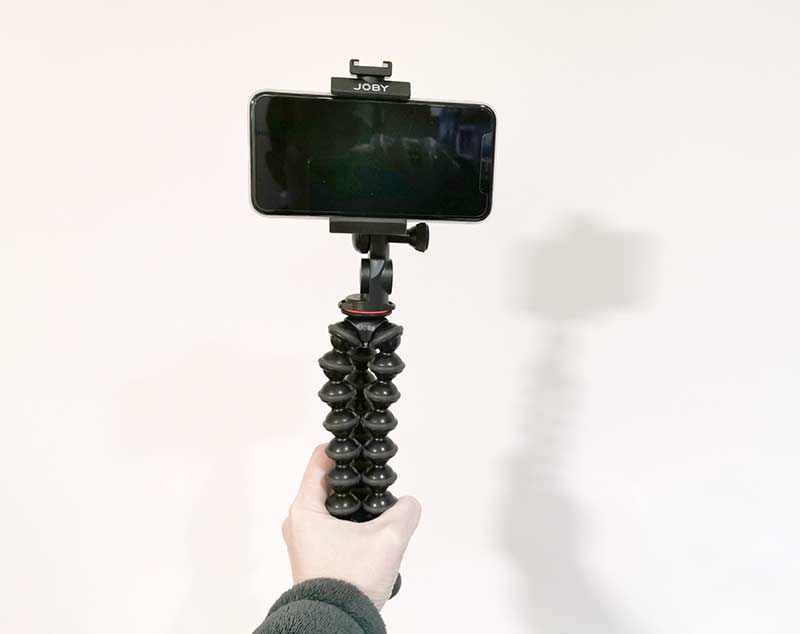 Let's start with the core part of this kit which is the GorillaPod Mobile Rig. The GorillaPod has been around for a while and as you probably already know, it's a combination monopod/tripod that has bendable legs and a screw top mount at the top that you can attach the included phone holder that you can use in landscape orientation.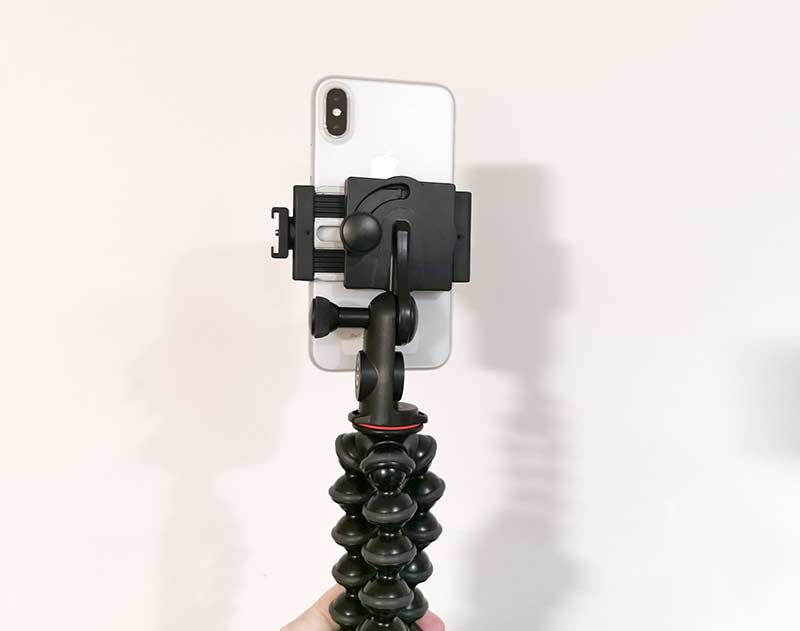 Or in portrait orientation. All you do is loosen the knob on the back to switch the orientation and tighten the phone holder. The Joby phone holder has an adjustable jaw that opens wide enough to accommodate large phones like my Huawei P30 Pro in a case.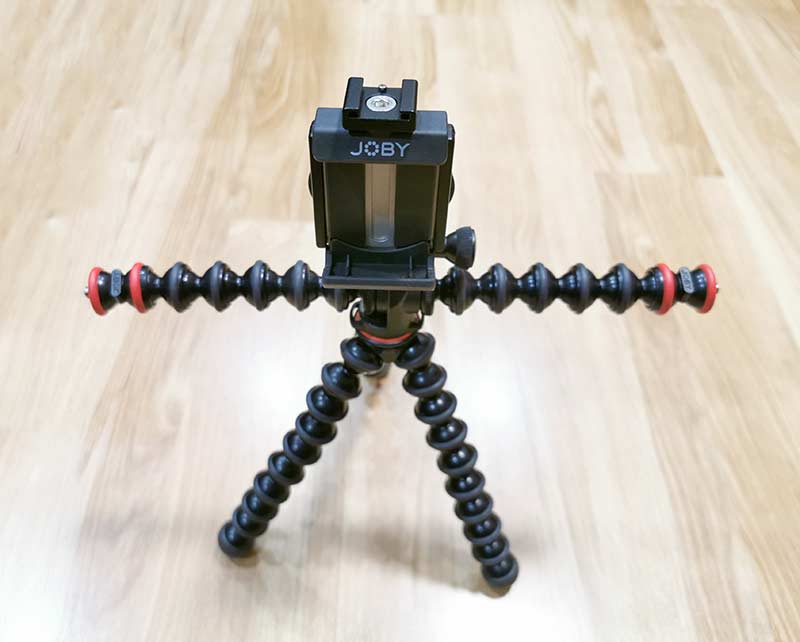 The phone holder also gives you three more attachment points. One at the top for a coldshoe device and two more attachment points for the two extra bendy arms that are included in the blogging kit. What do you need two extra arms when the three legs of the tripod are just fine for keeping it upright on a stable surface? Because the extra arms give you attachment points for more accessories!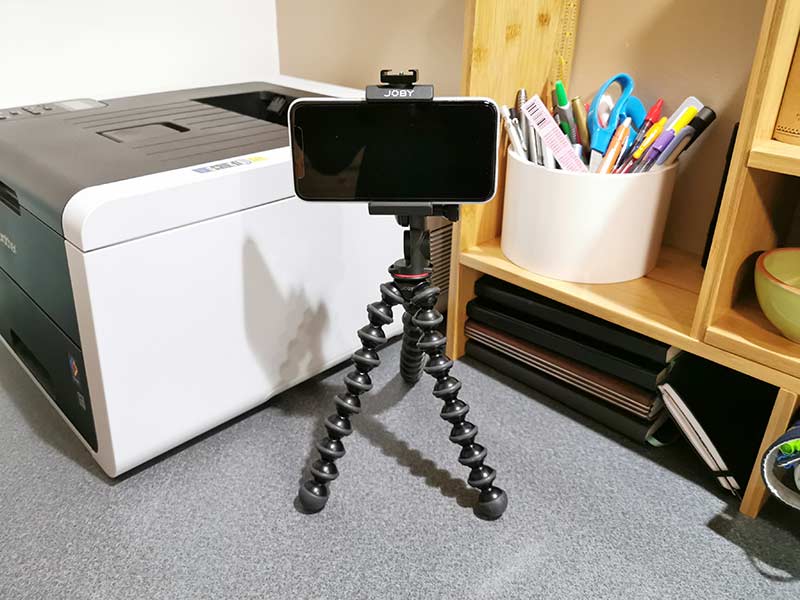 As an example, here we see an iPhone X mounted on the GorillaPod all by its lonesome.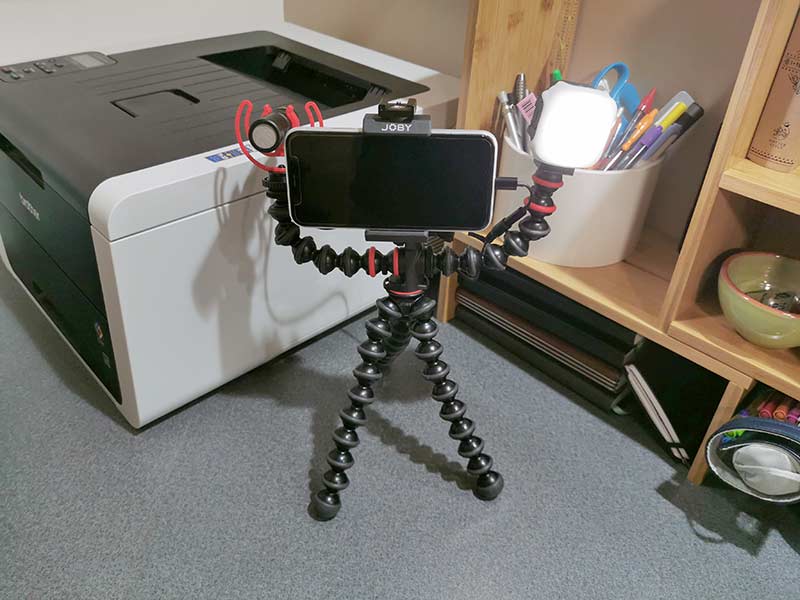 But add the other two bendy arms and you have a place to attach the Wavo microphone on one side and the Beamo mini LED light on the other side. Is it just me, or are you also getting robot vibes from the picture above?
Beamo mini LED light
The Joby mobile vlogging kit has everything you need to create content on the go. You have the GorillaPod to hold your phone and then you also get the Wavo mic and the Beamo mini LED light.
This little LED light is packed with features. First of all, it has a built-in battery that's rechargeable either by connecting a USB-C cable, or you can just sit it on your wireless charging pad and charge it that way. It works for 40 minutes at 100% power and 100 minutes at 50% power.
This light doesn't mess around, at the brightest setting, it pumps out 1000 lumens/470 lux at 5100K daylight temp light. That means it's going to bring out natural skin tone and brighten you up even in the darkest environment.
The Beamo is well-made with a rugged aluminum casing that is shock and waterproof. It has a threaded socket, a magnetic back, two cold shoe mounts, and buttons that you can use to adjust the brightness level. You can also pair with your phone via Bluetooth and control the output that way.
Wavo Mobile Microphone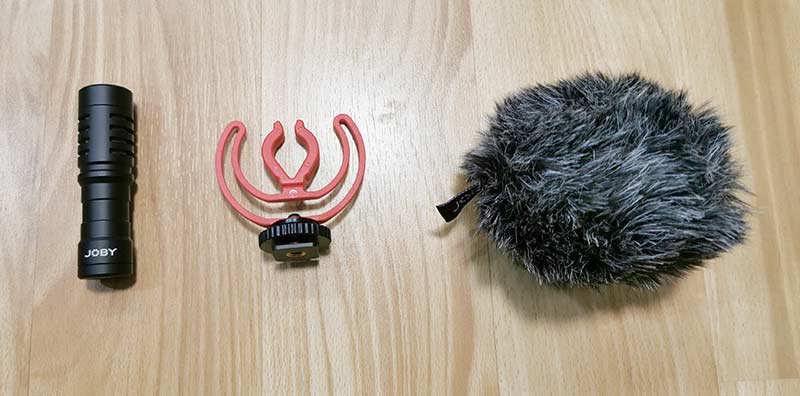 Next up is the Wavo Mobile Microphone which next to the GorillaPod is my favorite part of the Joby Mobile Vlogging Kit. I like it because it's compact, doesn't have a battery that you have to keep charged (it uses your phone or camera for power), comes with a lyre mount and a dead cat wind screen.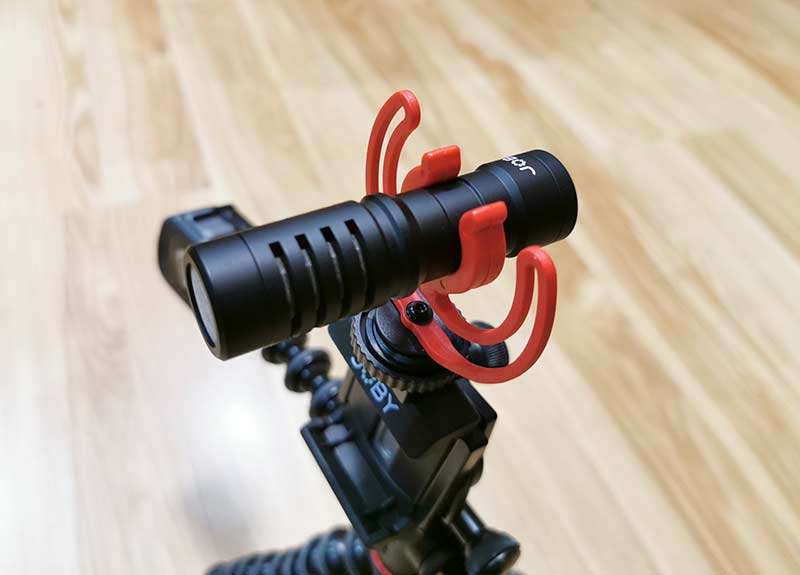 This little mic is really well built. It has a black aluminum case and it fits into the specially made Rycote Lyre holder that is designed to absorb shock from movement like walking and running so that you won't hear movement noise in your recordings.
The included dead cat wind screen fits over the end of the Wavo mic to keep wind noise out of your recordings. Also included are cables to connect the microphone to you a camera or your phone, as long as that phone is an iPhone or a phone with a headphone jack. If you're like me and use an Android phone with only a USB-C connection, then you'll need to find a USB-C to 3.5mm headphone jack adapter. If you're an iPhone user, there's a lightning to 3.5mm adapter included. Not sure why Joby didn't do the same for Android users…
See it in action
What I like
Everything you need to vlog on the go
Quality components
What I'd change
Include a USB-C to 3.5mm adapter for Android phones
Include a storage case that can hold all the items
Final thoughts
If you fancy yourself the next YouTube star and want to get started creating great content, you'll need a set of tools. The Joby GorillaPod Mobile Vlogging Kit has you covered with everything you need to get started. There's a tripod that you can use as a selfie stick/monopod and extra arms for the included attachments. The Beamo LED light makes sure that you're seen (just don't wear glasses) and the Wavo mobile microphone makes sure that you're heard. The only other things that you need are an imagination and an idea for the next great video.
Price: $199.95
Where to buy: Joby and Amazon for the individual components
Source: The sample for this review was provided by Joby.