We use affiliate links. If you buy something through the links on this page, we may earn a commission at no cost to you. Learn more.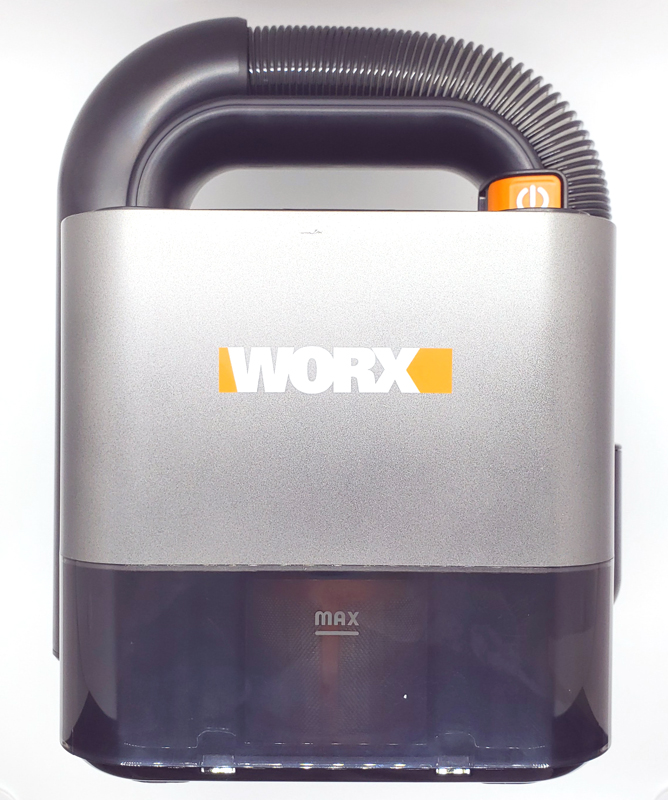 REVIEW – When you think about cordless vacuums, what brand comes to mind?  For me, it's Dyson.  The Dyson stick vacuums pretty much set the standard for cordless suction, provided your needs are mostly cleaning larger areas.  Even with the shorter attachments, wiggling a Dyson into the nooks and crannies of your car, or even a home workshop, can prove daunting or even impossible.  Sure, there are lots of car vacs around, but they either have to plug into the wall, creating a cord nightmare or into the cigarette lighter and don't really have much suction.
Enter Worx, the purveyors of all types of cordless tools.  They recently released the Worx WX030L 20V cordless vacuum.  Like most things Worx, it is part of their Power Share family where multiple machines can all share a single battery.  They offer 20V, 40V and 56V families of tools, depending on your power needs.  Let's see if this new little vacuum sucks (in a good way for a vacuum) or sucks (in a bad way).  Maybe I need a thesaurus…
What is it?
The WX030L is a 20V portable cordless vacuum that includes attachments.  Is uses any of the Worx 20V batteries and can share its battery with other Worx 20V Power Share tools.
What's in the box?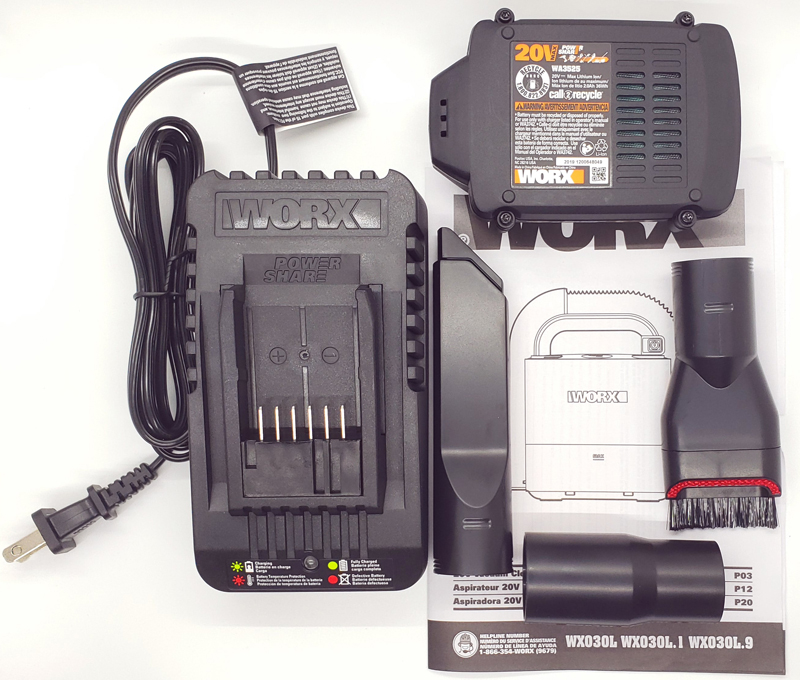 The vacuum itself, pictured above, with attached hose and onboard tool storage
20V Power Share 2.0 Ah Battery (WA3525)
20V Power Share & 18V MaxLithium Battery 60-Minute Quick Charger (WA3881)
Extendable crevice tool accessory
Brush accessory
32mm/35mm vacuum tool adapter
Vacuum instruction booklet
Battery charger instruction booklet (not pictured)
3-year warranty booklet (not pictured)
Warranty registration card (not pictured)
Hardware specs
Vacuum
Dimensions: 6″ x 7.5″ x 9.25″ (l x w x h)
Weight: 48 oz without battery
Vacuum speeds: two – high/low
Estimated runtime with included battery: low >=20 minutes; high >=10 minutes
Hose length: 48 inches when extended
Debris container: 6 oz
Filters: Net-style (1) and HEPA (1), nested
Battery charger
Dimensions: 6.25″ x 3.5″ x 3″ (l x w x h)
Weight: 15 oz
Input: 120V-60Hz
Output: 20V, 2A
Charge time: 60 min (for the included 2Ah battery)
Power cord: 6 ft
Battery
Dimensions: 4.8″ x 3.4″ x 1.6 (l x w x h)
Weight: 13 oz
Cell type: Lithium-ion
Design and features
The vacuum is pretty compact and at just over five pounds with the battery, eminently portable.
Never miss one of our posts again. Sent MON, WED, and FRI with the latest gadget reviews and news!
Setup
Setup is straightforward.
Plug the charger in and charge the battery

Put the battery on the vacuum

Start cleaning
Design
The vacuum feels really solid.  It almost feels like you could throw this at the wall and the wall would come out the loser in the battle.  I don't recommend doing that, but that's the best way I can describe how this feels in the hand.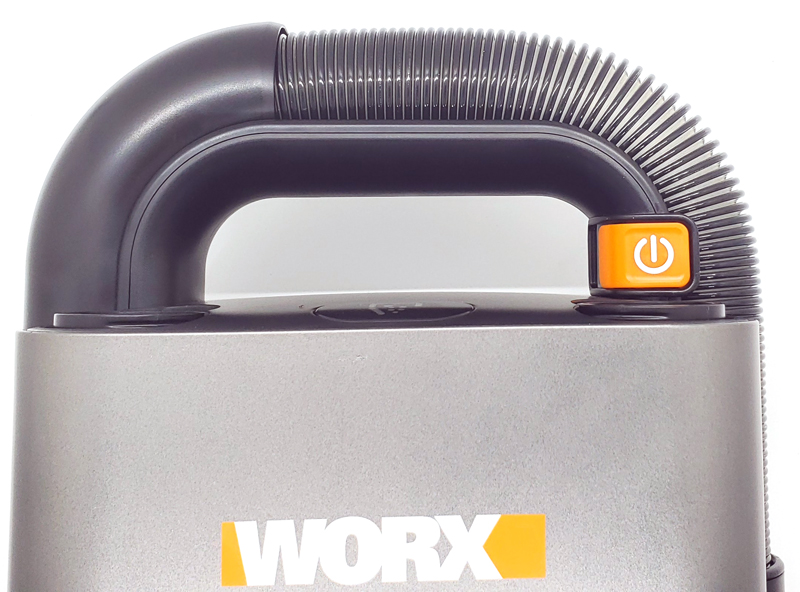 On top, we find the integrated handle. That handle holds the attached hose. Its curved wand tucks neatly into the opposite side of the vacuum.  The power button is also on the handle and controls the low/high/off power cycle.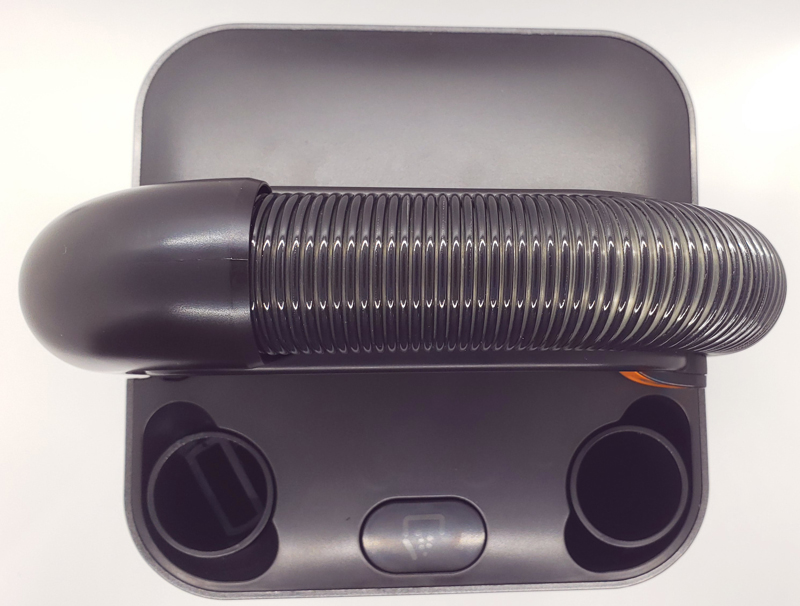 Looking at the top of the unit, we see the hose tucked onto the handle as well as the onboard storage for the crevice tool accessory (left) and brush accessory (right).  The button between the two storage compartments is the debris container release. Pushing that button pops open the six-ounce debris container found under the vacuum.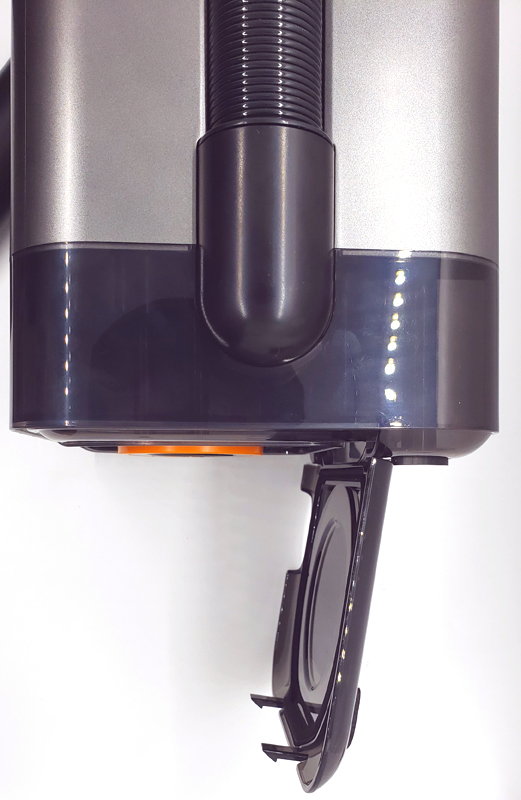 The filters are located inside the debris container.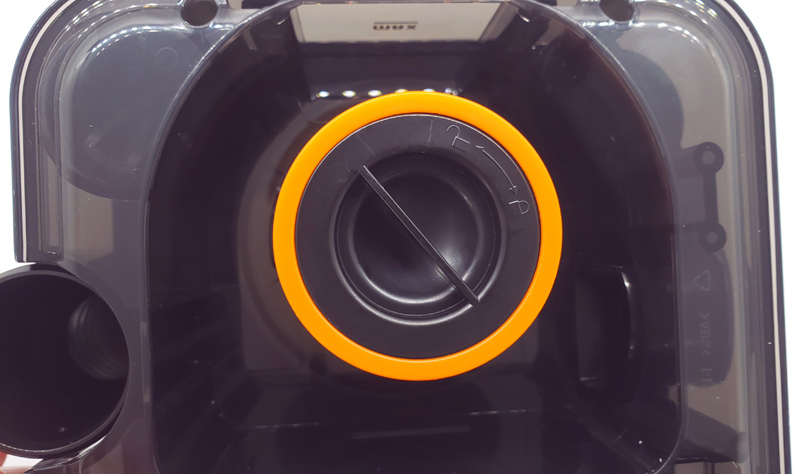 Twisting the filter assembly to the left releases it and exposes the output port of the vacuum.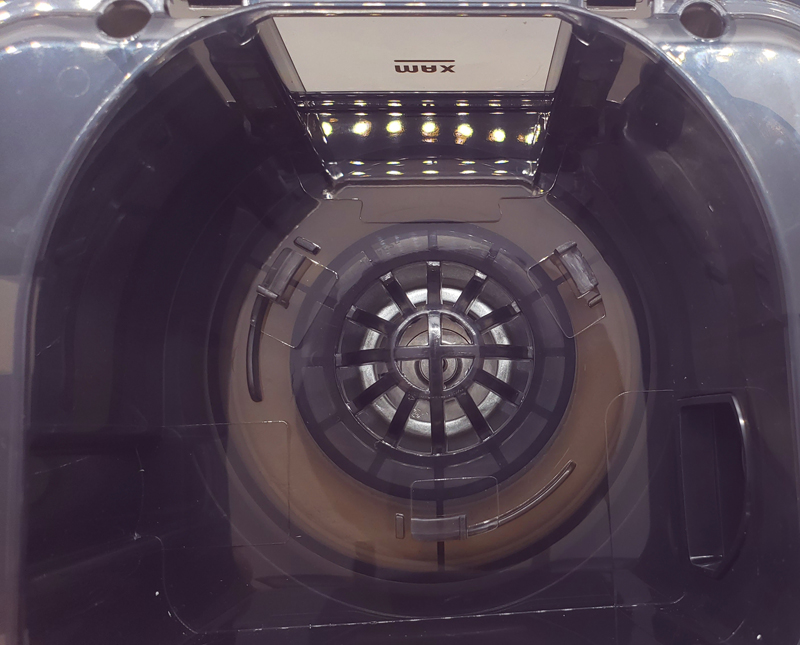 The filter assembly comes off as a combined unit.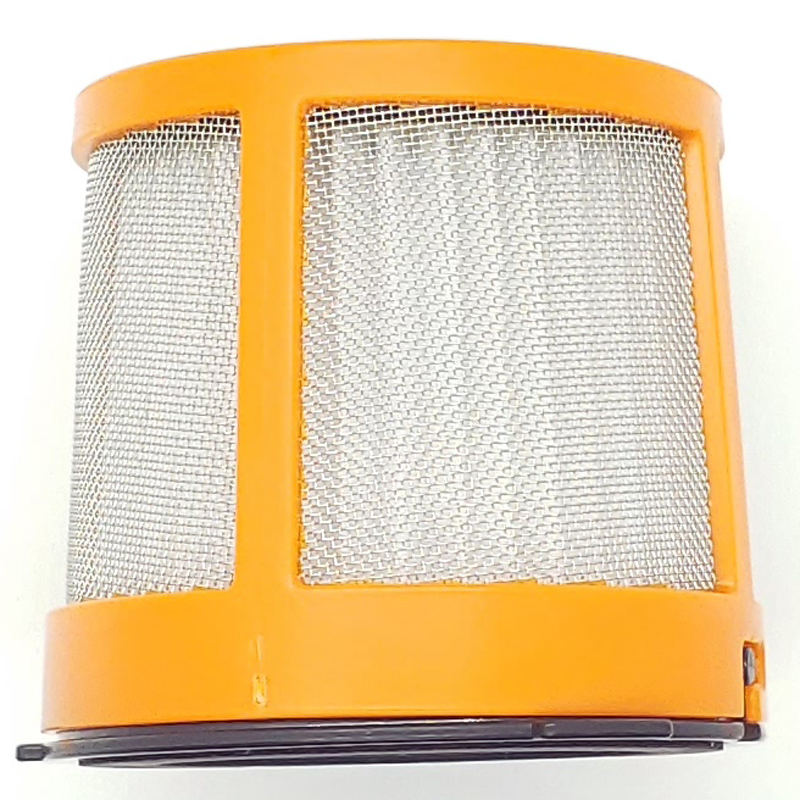 Rotating the outer shell releases the screen filter from the internal HEPA filter.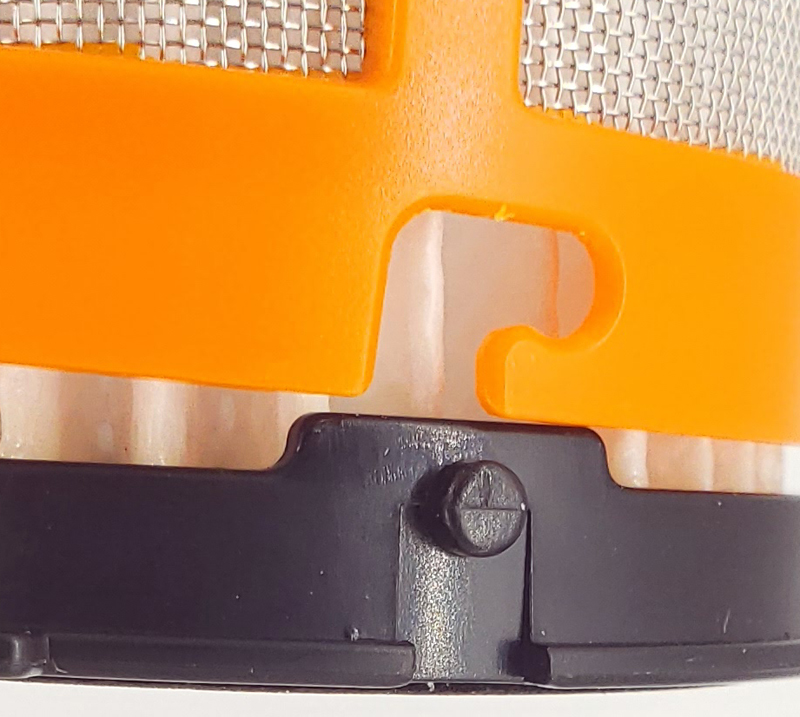 The two filters can be cleaned with clear water.  The HEPA filter should be replaced once it can no longer be effectively cleaned.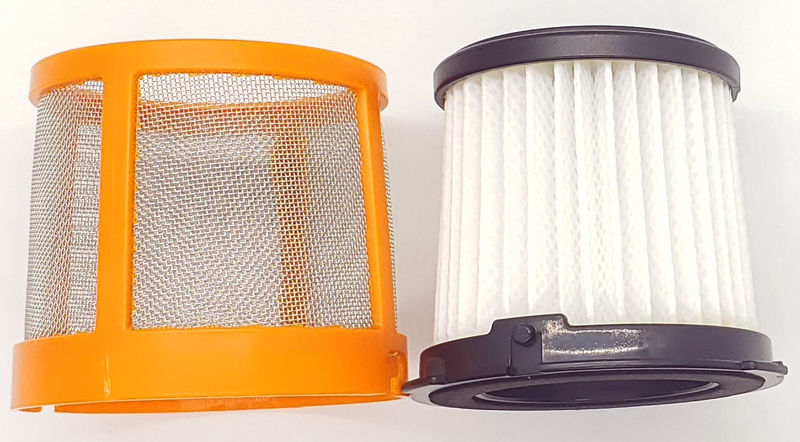 After putting the filters back in place, closing up the debris container lid preps the vacuum for the next cleaning adventure.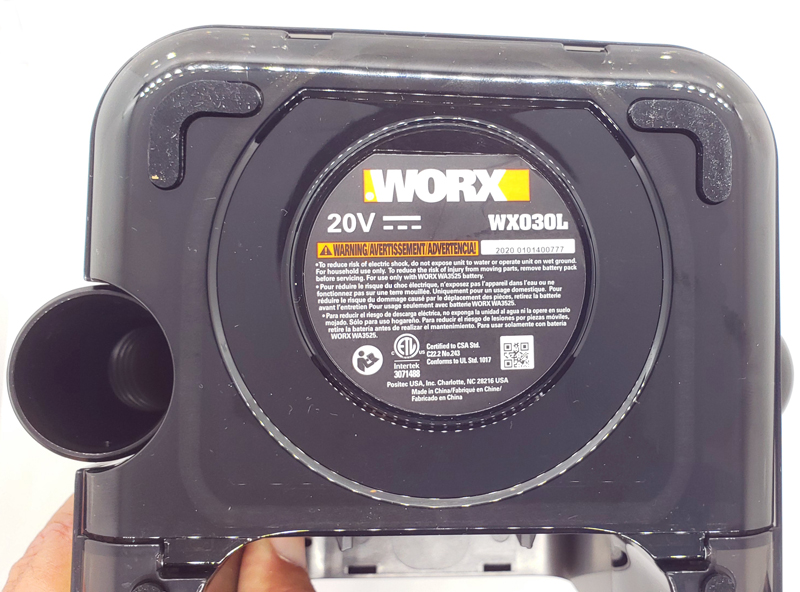 There are nice rubber feet in all four corners that help keep the vacuum in place on flat surfaces. In the photo above, you can also see the suction end of the hose wand in its stored position.
The hose looks pretty short when stored.  When you pull the want out, two things happen.  First, the hose expands.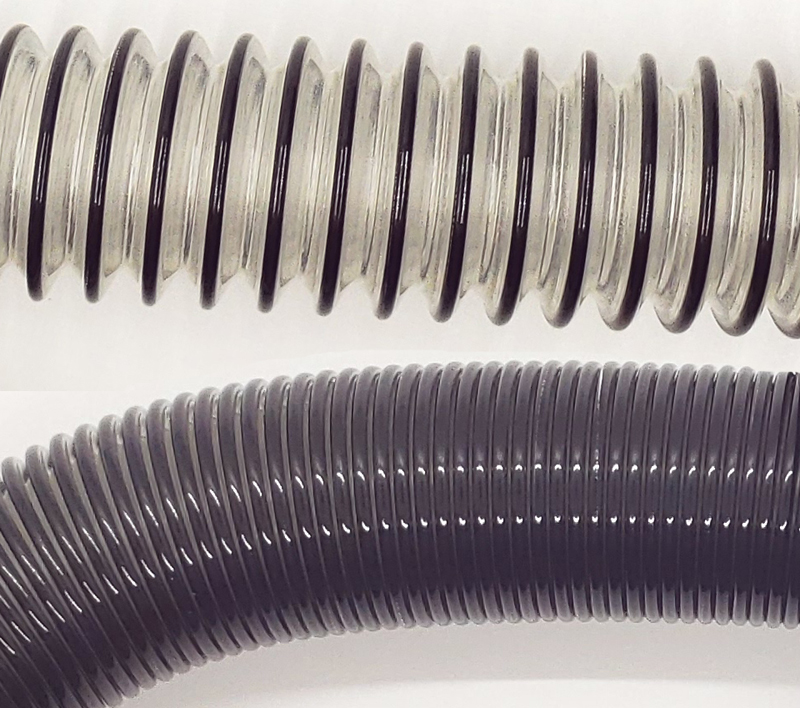 Second, some additional hose comes out from the attached end of the wand.  Fully-extended, you can get about four feet of reach.  I think that's pretty impressive from such a small device.
Another nice feature is the onboard storage.  It means that the brush and crevice accessories are always with you.  That crevice accessory also has a hidden benefit. It is extendable to reach into really tight spaces.

If you have some favorite vacuum tools from another machine, Worx thoughtfully includes a 32mm to 35mm adapter so you can use them with this vacuum. I just wish it stored on the unit as I will likely lose it.
Worx has done a great job cramming a lot of features into a really compact package.  All that is great, but if it doesn't suck, then, it sucks. (See above reference to needing a thesaurus…)
Performance
Cleaning is something that I like to put off.  And by "put off", I mean just not do. A major recipient of my neglect is our full-sized SUV.  A few days ago (read: months), we had some folks in the back seat that had a bunch of dirt/straw/sand/whatever on their shoes.  That made a lovely addition to the dark carpeting.  This seemed like a good test for the mighty mini Worx vacuum.
I headed into the garage with a fully charged battery, expecting to have to go through a couple of charging cycles to complete the process.  Wrong!
I started on the front floor and at low speed using the brush.  I was surprised to see all the debris disappear up the hose.  I cleaned the floor mat, then under the floor mat, on both sides.  So far so good.  I moved to the back seat disaster area.  Just like in front, everything got sucked up without any undue effort, and while still on low-speed.  I did both back floor mats, under the floor mats plus under the middle of the third-row, since the third row was folded down.  I then went in the very back and cleaned the cargo area.  I bumped the vacuum up to high-speed as the texture of the seatbacks were better at holding debris.  I did the entire floor area (made up of the back of the folded third-row seats) and still had plenty of power left.  I had been vacuuming for about 15 minutes, mostly on low, but with several minutes on high.  Their claim of 10 or 20 minutes of runtime seems absolutely plausible.
So, what did it suck up? The photos below are on two standard paper towel sheets.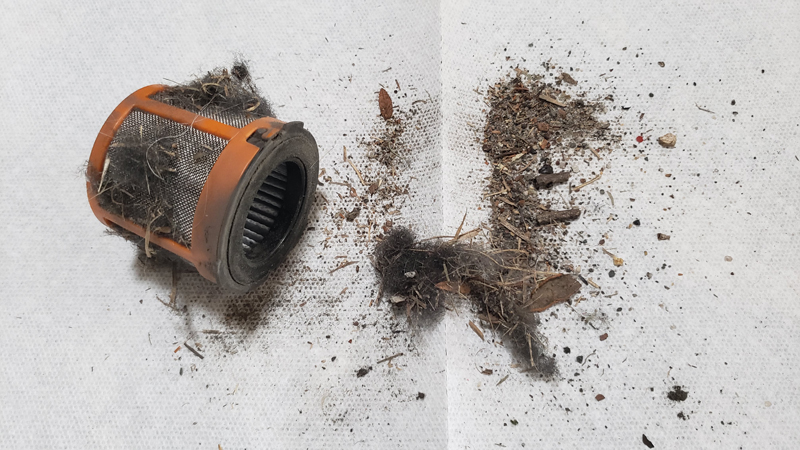 A lot of dirt! And here's where my first complaint popped up. Popping out the filter assemble was easy. If you look at the filter assembly, you can see how jam-packed it is.  It took some pretty aggressive wiggling and pulling to get the assembly apart so I could clean it.  I was successful and knocked off a bunch more dirt from the HEPA filter.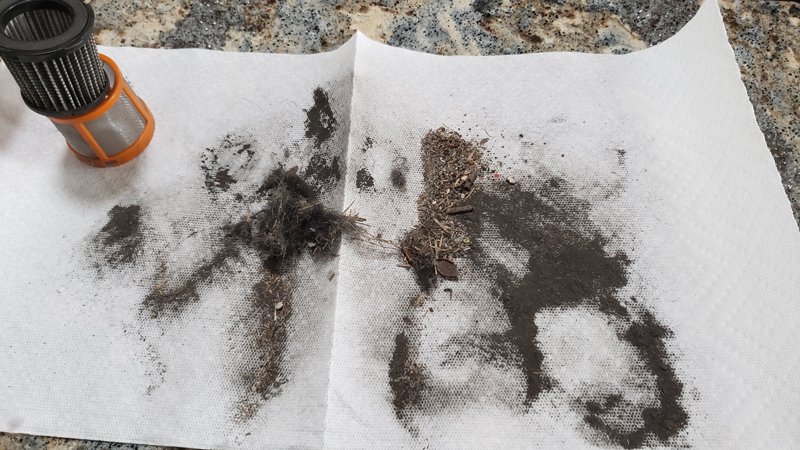 I washed the two filters and let them dry for the next use.  This brought up my next complaint.  There is simply no way to empty the debris bin and clear the filters without getting yourself filthy.  My hands were covered in dust after banging off the two filters.
Still, what the vacuum picked up was impressive and the battery runtime was great.
What I like
Lightweight and portable
All tools stored onboard
Good hose length
Great suction
Great battery life
What I'd change
A better filter design that doesn't clog so easily
A better filter design so you don't get filthy cleaning the filter
I wish the 32/35 adapter would also store onboard.
Final thoughts
This little vacuum does not suck, because it does suck well.  This little thing Worx works. Wow, this is getting confusing.  Let's try this:
Does it vacuum really well?  Yup
Is it nicely portable? Yup
Does the battery work long enough to get a job done? Yup
Will your hands get really dirty cleaning the filters up after vacuuming? Yup
Will I continue to use it and recommend it? Yup
The Worx WX030L is a capable, portable, cordless vacuum that comes with usable tools that are always at hand.  It is a great little package and should be considered for your garage, workshop, camper, or anywhere a little cordless vacuuming is needed.
Now, what's another word for "thesaurus", and, where would you look that up?
Price: $99.99
Where to buy: Amazon or direct from Worx.
Source: The sample of this product was provided by Worx.