We use affiliate links. If you buy something through the links on this page, we may earn a commission at no cost to you. Learn more.
(This post contains affiliate links. Please see my disclosure about affiliate links here.)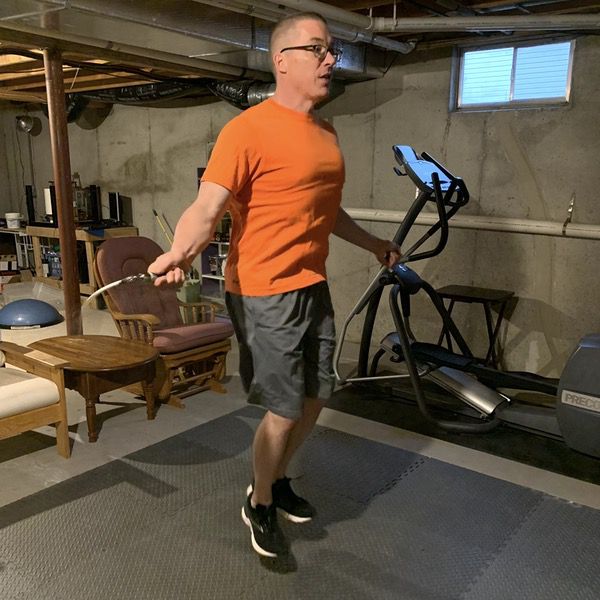 REVIEW – Yup. That's me… jumping rope for the first time in 30 years! The Crossrope is a jump rope system that combines excellent design, different levels of weighted ropes, and a fantastic app to satisfy experienced jumpers and newbies like me. How does it work? Let's jump into the review!
What is it?
It's a jump rope system that uses quick-change handles, different weighted ropes, and a proprietary app to provide a comprehensive exercise program.
What's in the box?
I'm testing the Get Lean set, which includes the following:
1 pair of handles
1 1/4 pound weighted rope
1 1/2 pound weighted rope
2 velcro loops to corral the ropes
1 carry bag for all the components
Instruction manual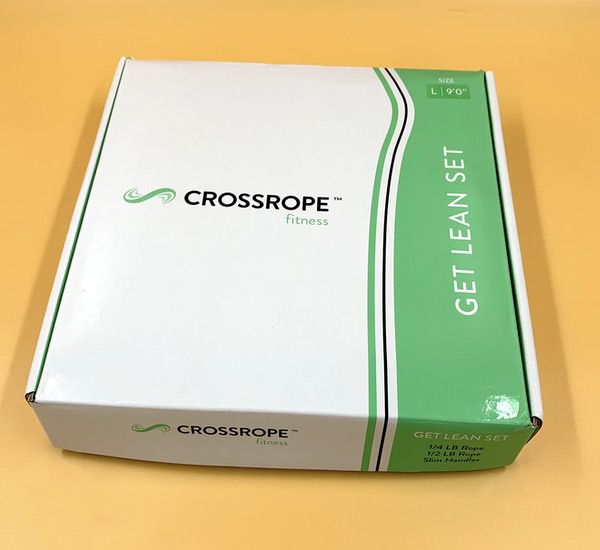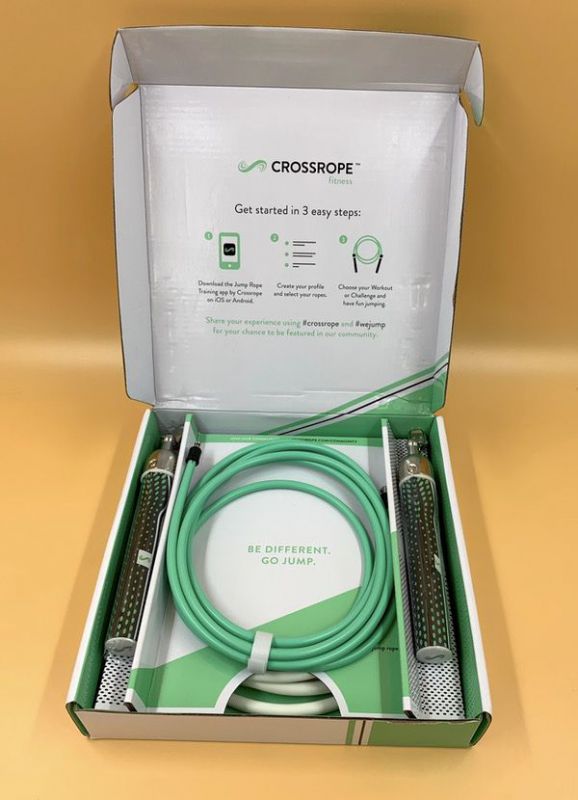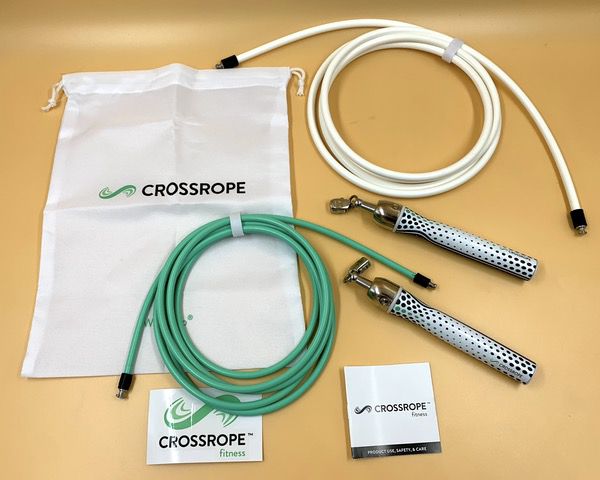 Hardware specs
Ergonomic handles with professional-grade ball bearing housings
Braided steel col ropes w/ proprietary coating
Tangle-free rope design
Patented fast-clip system to change ropes during workouts
Different rope length options available based on your height
Exercise app compatible with iOS and Android
Design and features
The Crossjump Weighted Jump Ropes are serious business. This is professional gym quality stuff, paired with an excellent app to deliver a complete workout system.
The Jump Ropes
I'm using the Get Lean set which features lightweight handles. They have a lovely rubberized & textured surface to prevent slipping, even with sweaty hands. And see that contoured pinch point near the top of the handle? That creates a natural pinch point for your pointer finger and thumb that enables better control.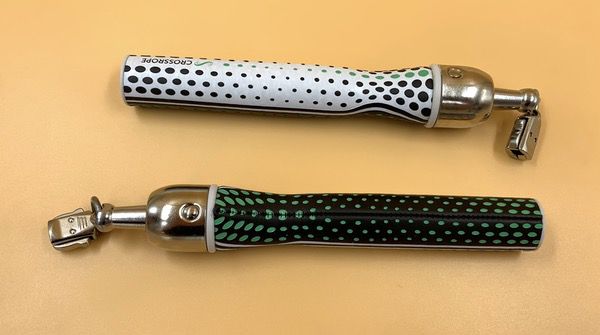 The ropes themselves are made from twisted steel cables, covered with a protective sleeve designed to prevent tangling when in use. The ropes are color coded for weight (green is the 1/4 pound rope, white is the 1/2 pound rope). You'll find those T-shaped tabs on the end of the ropes for connecting to the handles.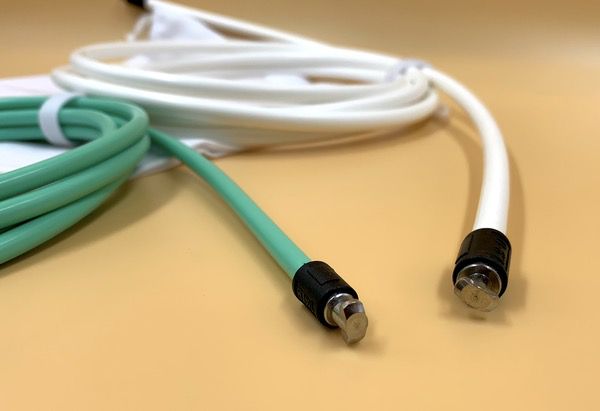 The metal caps on the handles feature a "fast clip system" for quickly changing out your ropes during workout sessions.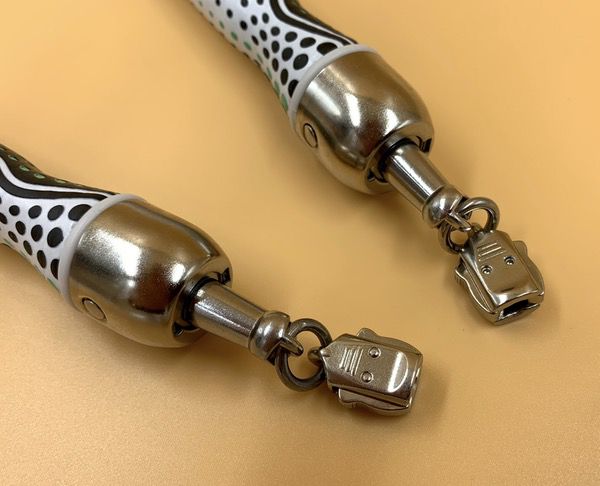 Pinch the clips with your fingers, and insert the tabs from the ropes. Quick and easy. Once they're locked those ropes aren't going anywhere!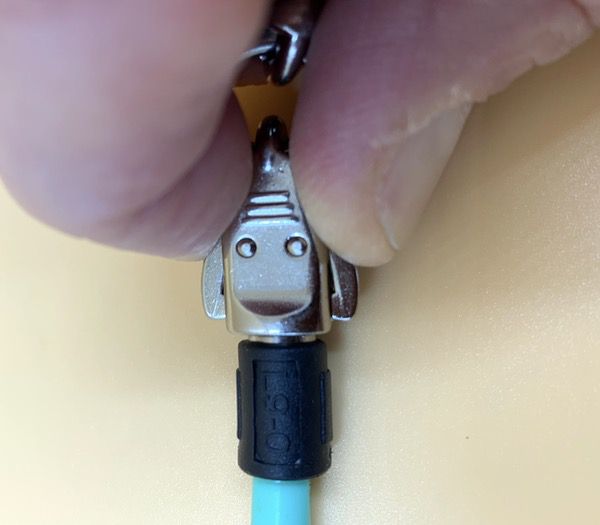 The post on the handle cap is connected to a ball bearing system for smooth rotation.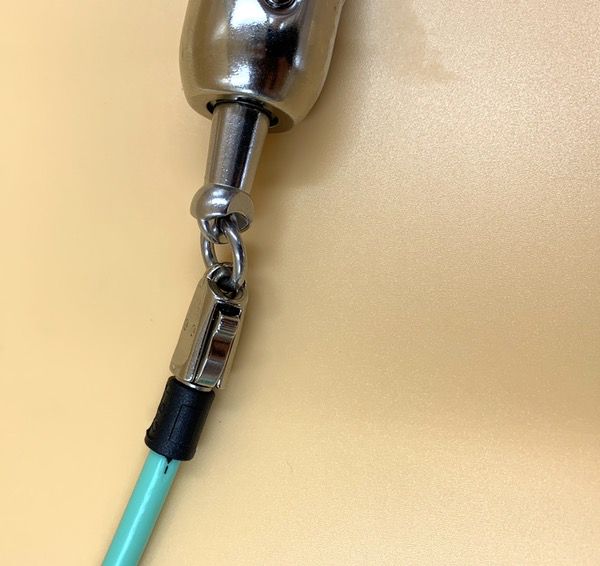 I have yet to experience any tangling of cables during my workouts, and the smooth rotations allow me to focus on the work as opposed to what my hands are doing. I've been using the kit 4-5 times a week for month, and have yet to see any wear & tear to the parts.
The Crossrope App
When you launch the app it loads right up to the exercise page, where you are presented with a series of workouts to choose from. These routines vary in length and style, and are rated for different skill levels. Crossrope regularly adds new routines to menu so you have new stuff to choose from.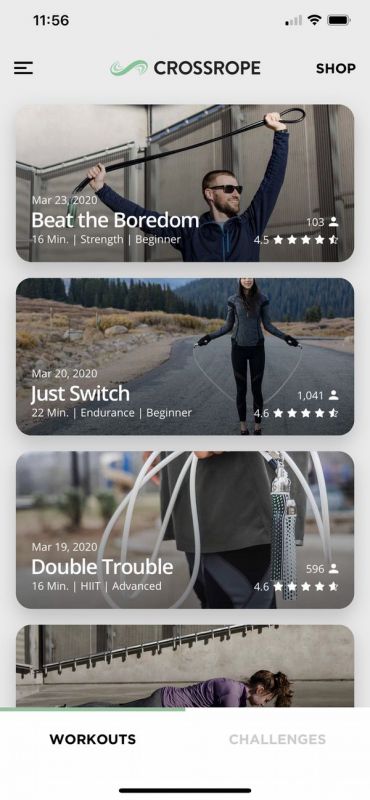 You can also toggle up challenges. As opposed to the single-event workouts, these are series that you'll do over time (14 days for example). Each day you'll get a new workout in the series.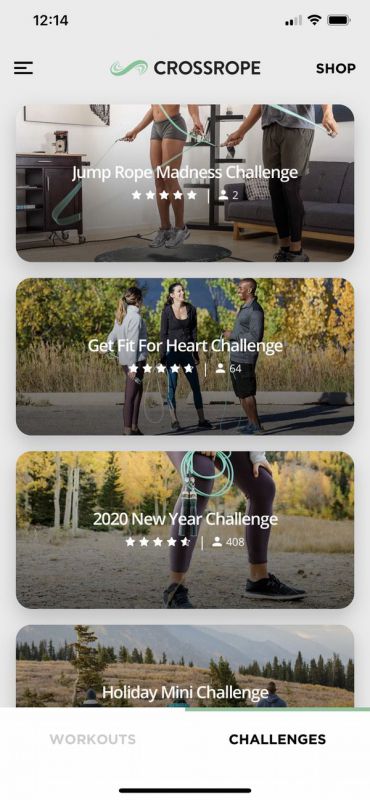 You'll find that all the workout programs are based on interval training, and incorporate different jump styles with other bodyweight exercises. We'll look at a sample workout in the next section.
Completed workouts are logged under the Activity menu so you can track your progress. I've included screen shots from the workout and challenge sub-menus as well. I've been doing more daily routines as my old knees are getting stronger, so it's nice to see monitor progress.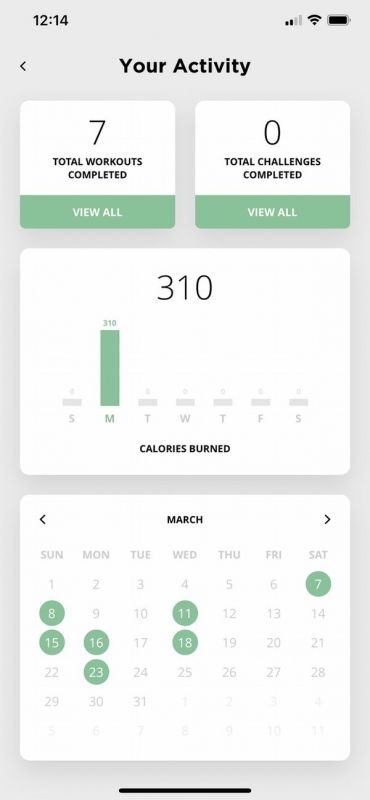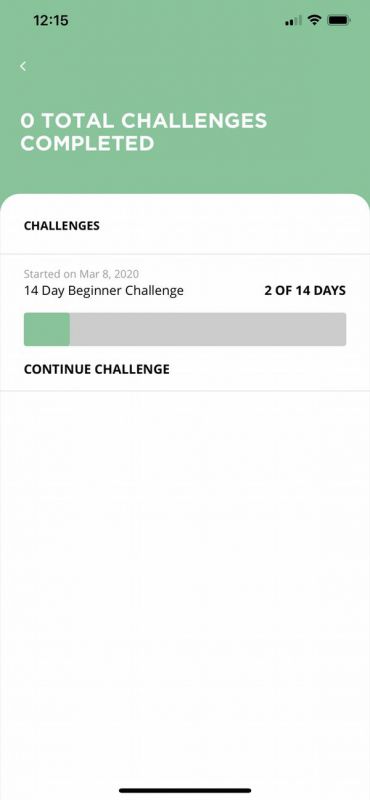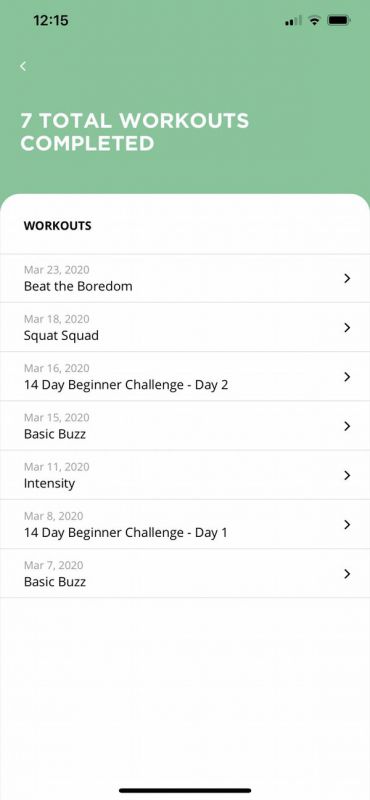 The Learn menu links to their web site, where you'll find tutorials on how to execute different of jump rope exercises. Alternating foot jumps, side to side… who knew there were so many varieties? To be honest, I am still learning some of these.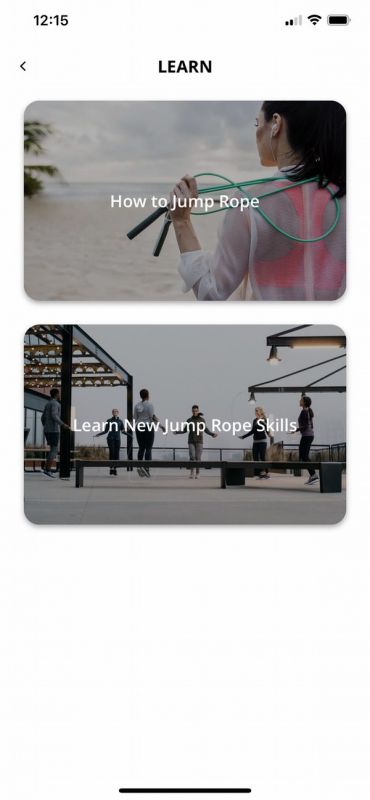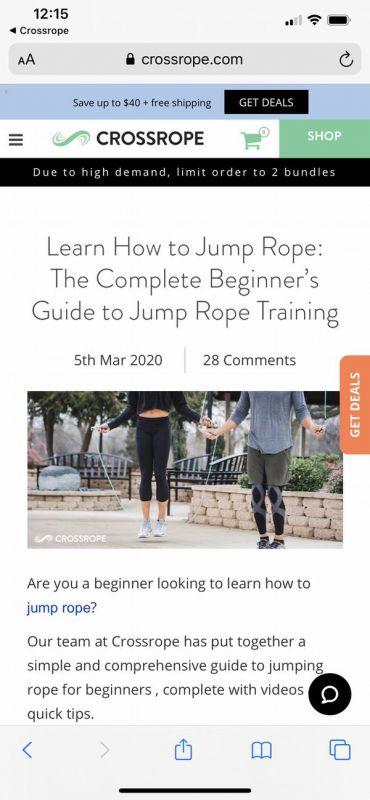 You'll also find options for managing your profile, general settings, connecting to the Crossrope forums, and buying products.
Using the Exercise Programs
So here I am showing you the "Beat the Boredom" routine I did the other day. Note that I do not have the heavier set of ropes, but the routines translate with the light/heavy ropes that come with my kit as well.
Before you begin, the program shows you the moves required to do the routine. You can preview and collect yourself before you start hopping about.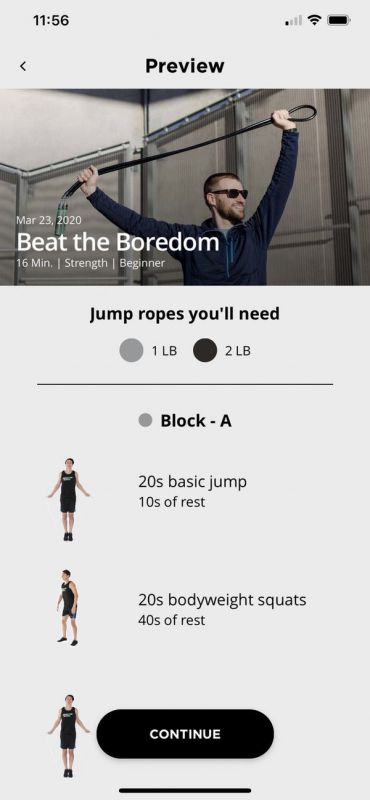 Hit continue, and you're in "get ready" mode. A big timer is displayed on the screen, and the color changes to match the current activity. Here we're just starting up…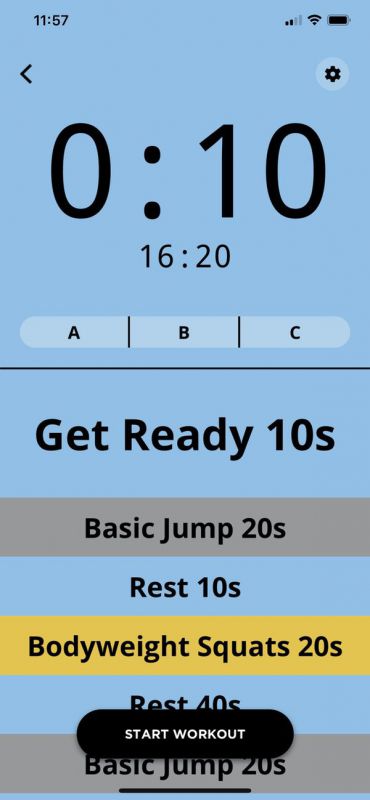 Hit "Start Workout", and you get animated GIFs that show you all the exercises in the upcoming block. They're interval-style routines, and this one is broken into A-B-C blocks. Block A is a combination of jump rope and squats.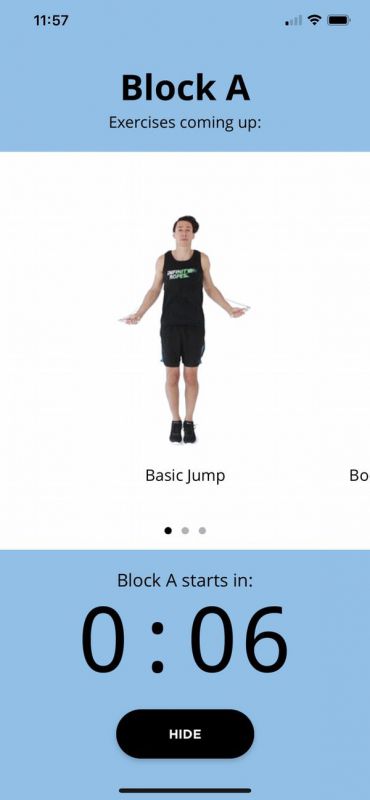 A friendly voice calls out the exercise and the timer kicks in. Note that the timer area changes to match the color to the action (jumping in this case). At about the 8 second mark, the voice will tell you what is coming up next and a tone will repeat every second to let you know a change is coming.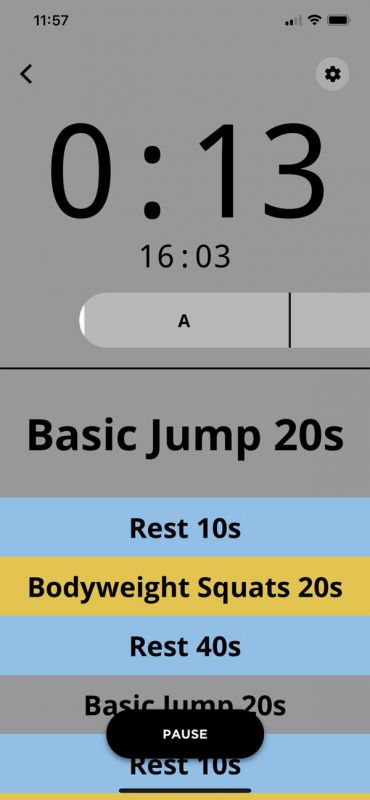 Here I've skipped the rest screen to show you the bodyweight squats. See how the background is now yellow? It's a nice secondary visualization trick that helps when you're iPhone is off in the corner while you are hopping about.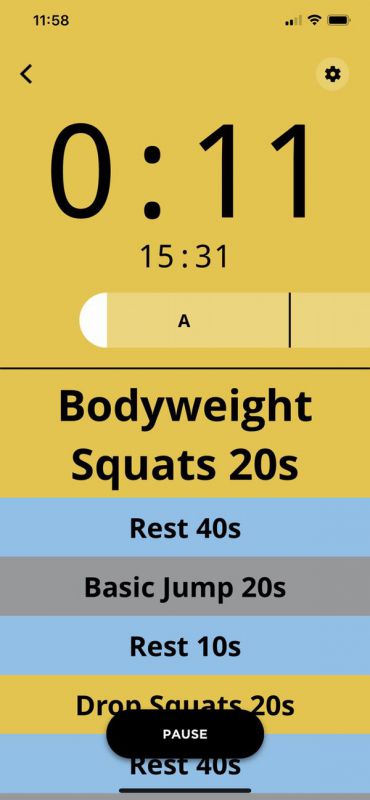 Here's the rest screen. Note that we're at the end of Block A, and moving on to block B. Check out the progress bar and how it is updating as you go… again, a nice simple visualization that doesn't require much thinking to show your progress.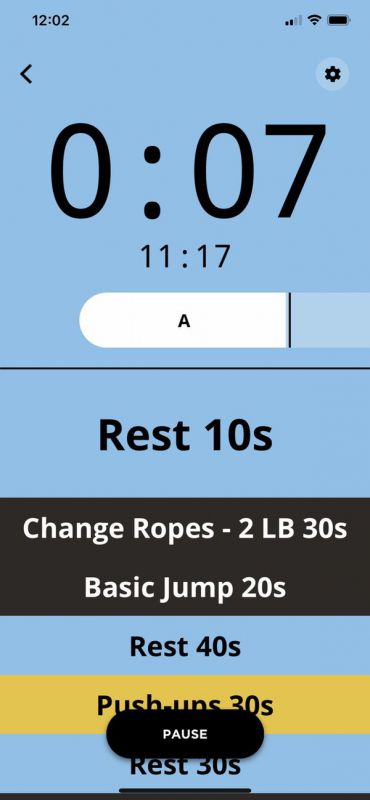 We're getting ready to start block B, and I was given 30 seconds to change ropes. While that is happening, the animated visuals appear so that I can see what other exercises are coming up this round…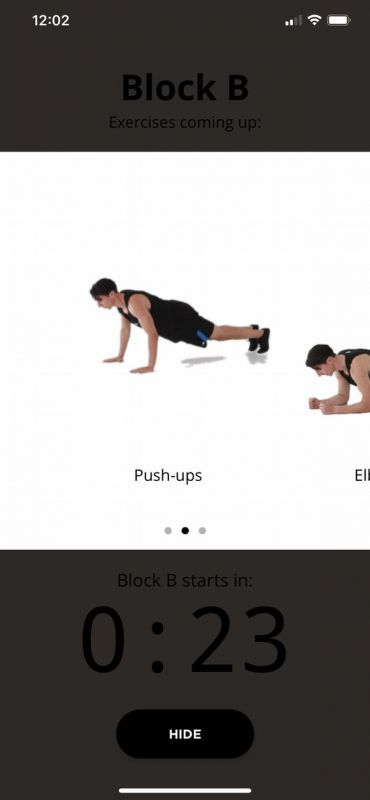 And so it goes. Note that you can alter the setting for the visual and audio elements mid-exercise, or set them from the settings screen in the app. You can also pause and resume if you didn't quite get that drink of water between breaks.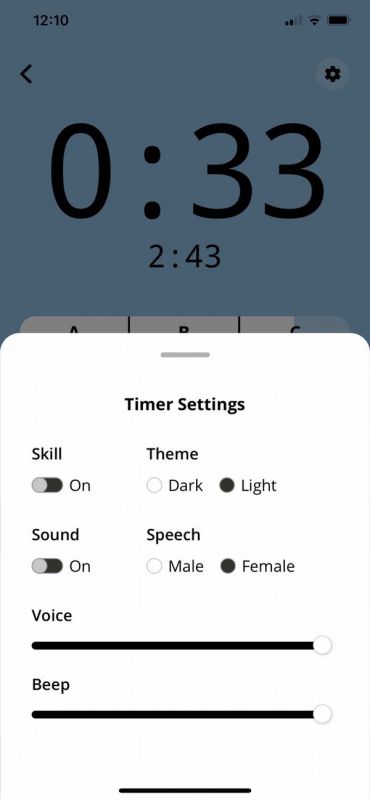 When you're done, the finish screen shows what you did and logs the results in your activities.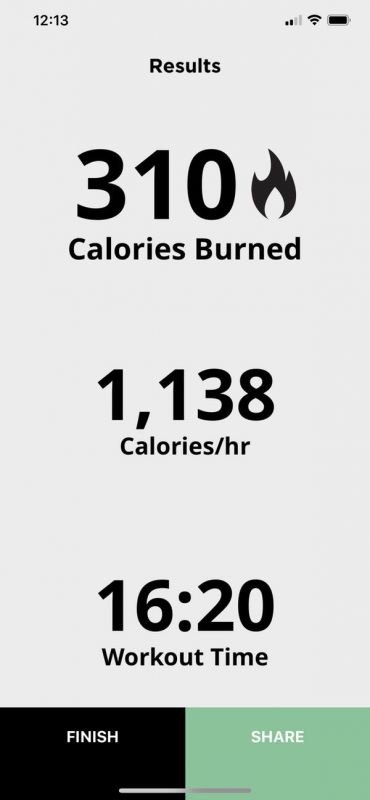 I really like how the app works with you during your routines. You don't want to mess with tiny buttons and menus during a workout! Simple displays, big buttons, secondary audio reinforcement, multiple visual status indicators, and consistent use of bold colors make it easy to work with while you're huffing and puffing. And I can place this 6 feet away from my position and read everything without running the risk of cracking my phone screen.
Performance
I haven't jumped rope since grade school, and I have all the coordination of a drunken walrus. But I'll be honest… the Crossrope is helping me to get my hops back!
I love the contoured handles. You'll see in the pics below how the design allows for confident grip, but the smooth post-swivel design keeps the swinging stuff far away from my meaty paws. That means I'm never catching the ropes on stuff that I shouldn't catch it on. One less thing to worry about when you're a lumbering lummox.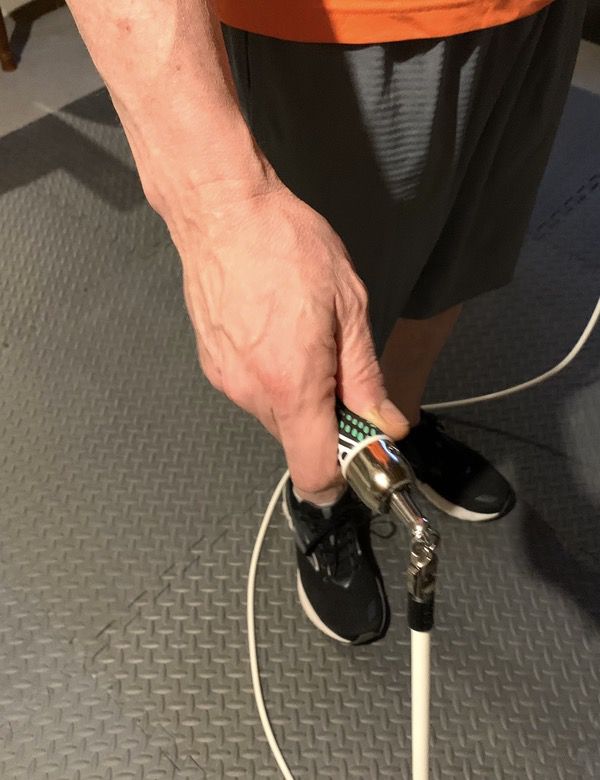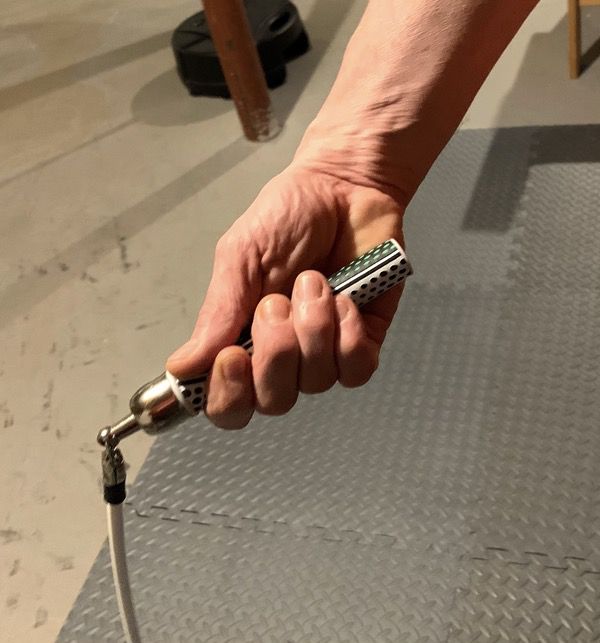 The ropes come in 4 sizes that you choose based on your height range. I am 5'10", and they are the perfect height for me to do the work in my basement without banging the rafters.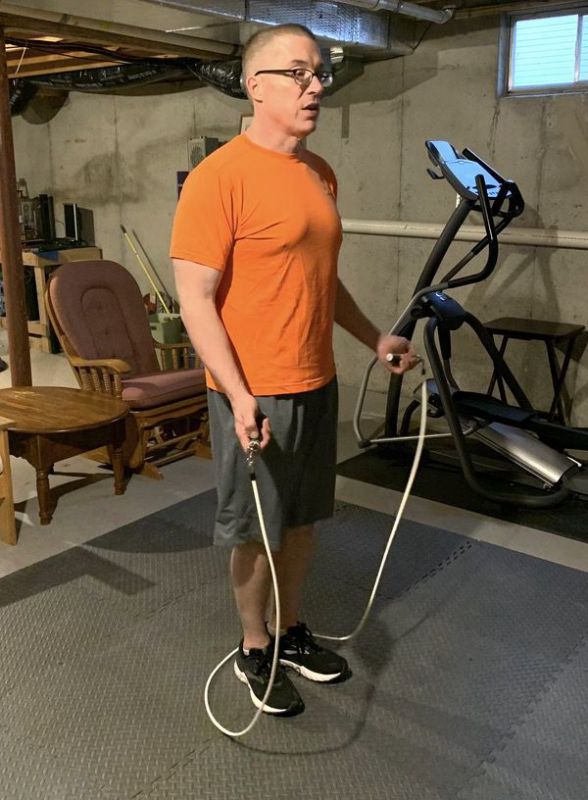 Here we are in full action. That blurry bit is the rope. I should have taken these pics in sports mode.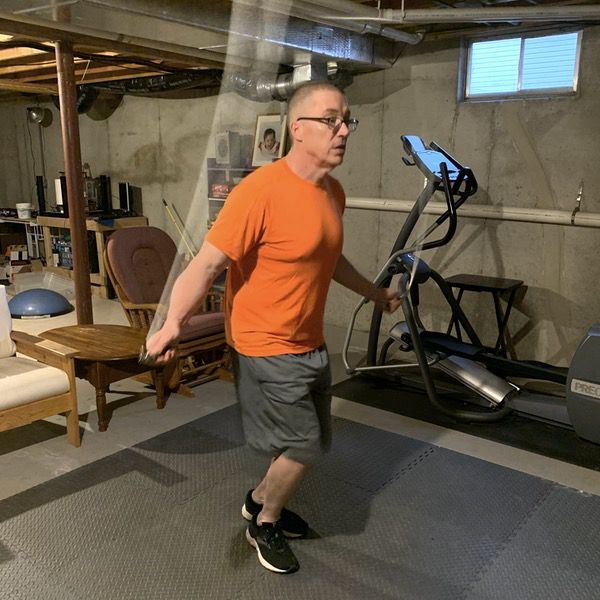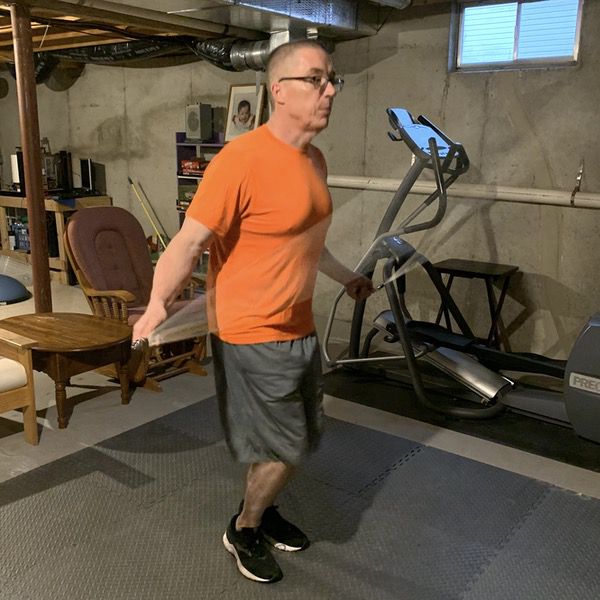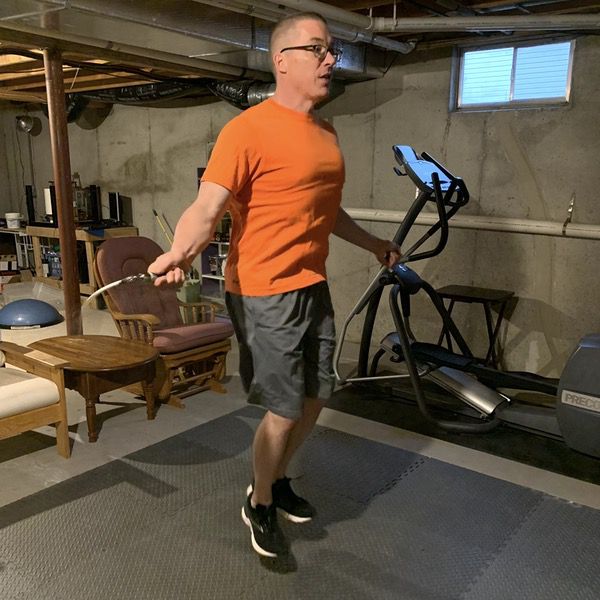 The design of the exercise programs is very approachable for both newbies and experienced jumpers. The beginner workouts start you off simple, giving you opportunity to build up your strength and coordination. You've also got a lot of variety in the programs to choose from for strength, endurance, stability, that integrate other bodyweight exercises for a complete workout. It's tough to get bored with the varying routines, and an assortment of durations and intensities give you options to squeeze in a session that meets your schedule. Experienced jumpers will find plenty to challenge them with advanced jump maneuvers as well.
Me? I'm still learning the basics. But I have been using this setup as my 10-15 minute warmup for my regular workouts, and in some nights I'm doing the longer programs exclusively. I'm finding it has really helped build strength in my knees and calves in particular, and there are few ways to burn calories faster in a short period of time. I can't quite do some of the more advanced moves, but I'm working on it!
Now that I have had some time to play with the Get Lean set, I'm intrigued to check out the Get Strong set. The Get Strong set features heavier handles and higher weighted ropes to emphasize strength and power in your routines. Given my positive experience with the lean set, I think that is next on my shopping list!
What I like
Professional gym-quality construction and design
Excellent app design makes it easy to follow and manage during workouts
Exercise program design provides plenty of variety, regardless of skill level
What needs to be improved
Final thoughts
I've really enjoyed integrating the Crossropes into my regular fitness routine. The whole package is ridiculously usable and approachable for newbies and experts alike. Based on my experience so far, I also believe that the jump rope design has the quality and durability to justify the price point. The app design is excellent, and the program variety ensures you'll never get bored. It's a great addition to your workout collection.
Update 8/24/20
I'm still using the Crossrope as part of my regular workouts, and they're fantastic. They've shown no signs of wear and tear, and I'm looking to purchase the heavy set to ramp up the intensity a bit. I'm still recommending the ropes for their quality,
However… Crossrope has gone to a subscription service for their app. While they still offer free programs, most of the free stuff now requires both the light & heavy rope sets. You can use what you have, of course. The app is still excellent and the quality & variety of the programs is great, but it's something to consider.
Price: Different bundles are available. The Get Lean set reviewed here retails for $99. There's a Get Strong set that utilizes beefier handles and heavier ropes for $139. You can also get both as a bundle for $238. Additional accessories (like mats) are also available.
Where to buy: Go to the Crossrope Web Site for more information.
Source: The sample of this product was provided by Crossrope.