We use affiliate links. If you buy something through the links on this page, we may earn a commission at no cost to you. Learn more.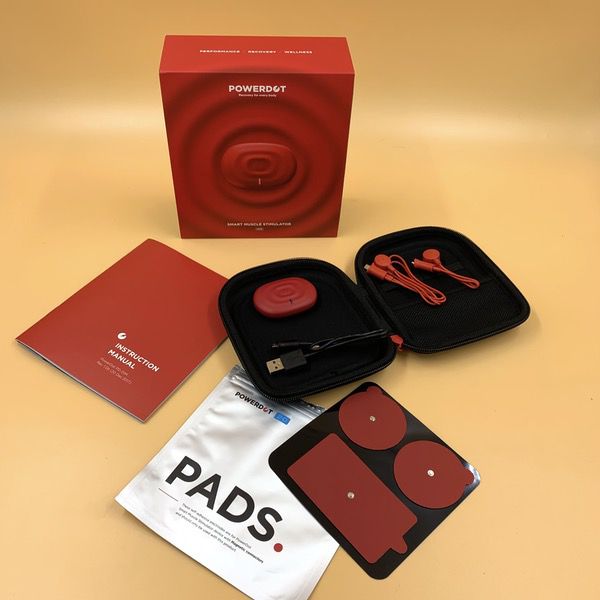 REVIEW – Electric muscle stimulator (EMS) devices make a lot of promises about helping your performance, improving recovery, and eliminating aches and pains. For this review, I'm putting the PowerDot 2.0 Smart Muscle Stimulator to the test. Let's see how this fancy technology works. To the review!
What is it?
It's a device that uses electric stimulation to contract your muscles for wellness and recovery. This device is paired with a smartphone app that you use to control the unit.
What's in the box?
Everything you need for EMS at home is included in the kit:
1 PowerDot pod
1 set of electrode pads
1 set of lead cables (10 cm and 30 cm lengths included)
1 MicroUSb charging cable
1 Carrying case
Printed instruction manual
You'll also need a smartphone to download the app.
Design and features
Before we start, a friendly reminder: a home EMS a training/performance device. It uses electrical charges to stimulate the muscles, which could be dangerous if you have certain medical conditions. If you have any health issues, check with your doctor first. Be smart & be safe!
The PowerDot is designed to make at-home electric muscle stimulation part of your muscle recovery program. Everything you need comes with a nice hard case that's suitable for travel or simply stashing in a drawer when not in use.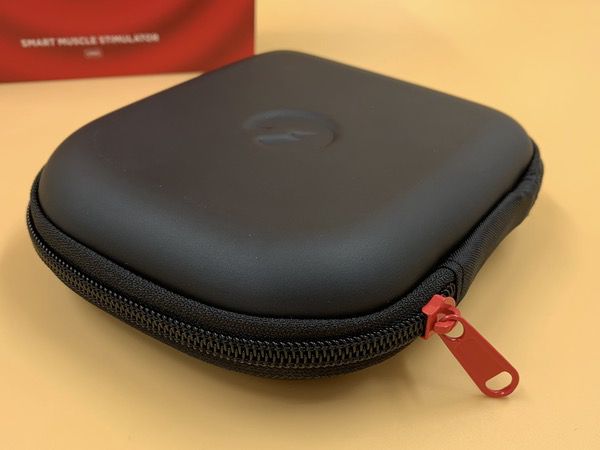 The PowerDot Pod is the base/controller for the unit. It's bluetooth-enabled to pair with the smartphone app, and features one button for power and connectivity. A USB charging cable is included with the kit.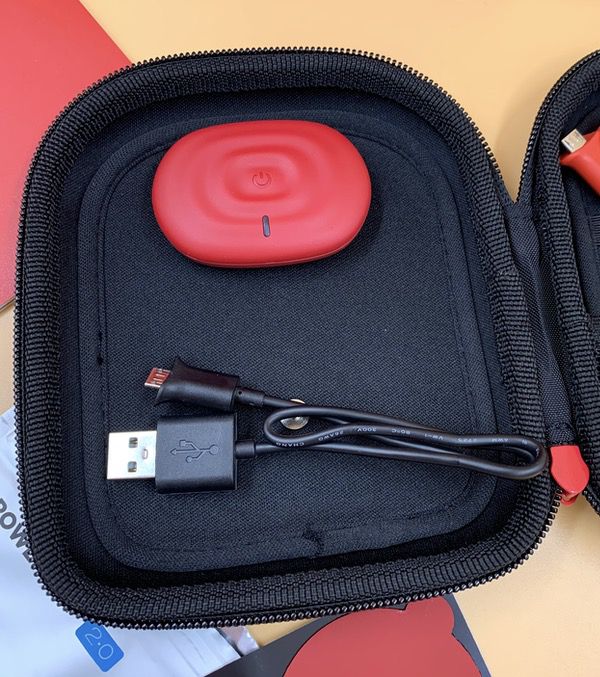 You'll get a pair of lead cables in 4″ and 12″ lengths. That plug connects to the pod unit…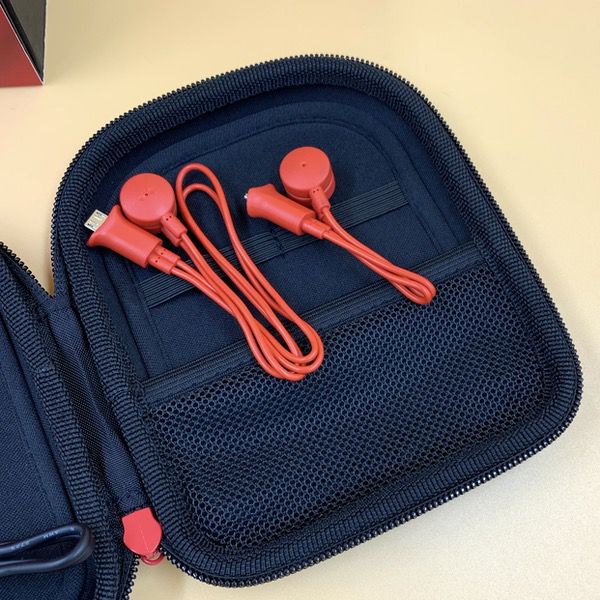 … and the two leads connect to the adhesive electrode pads. The adhesive pads are good for about 25-30 uses before they no longer stick properly. You'll restick them to the included plastic sheet shown here and store them in the zip-lock bag they came in to keep the adhesive from drying out.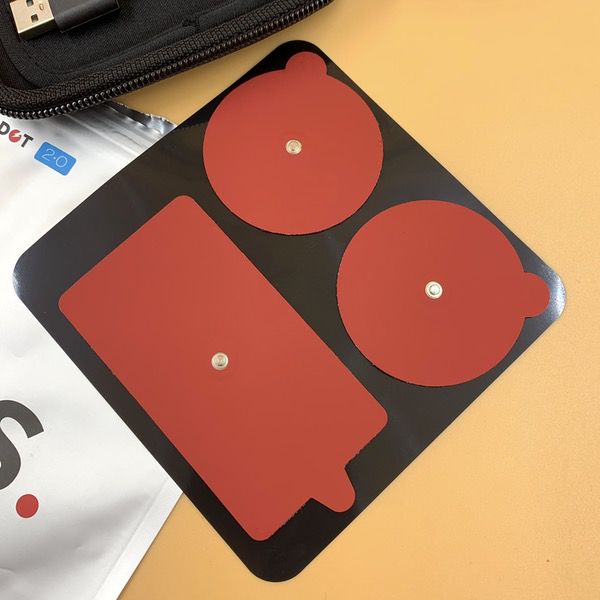 The pads stick to your skin at the appropriate muscle locations for the desired treatment. Magnetic connectors snap the pod to the rectangular pad and the leads to the round pads. Here's what it looks like when in place on my lower back.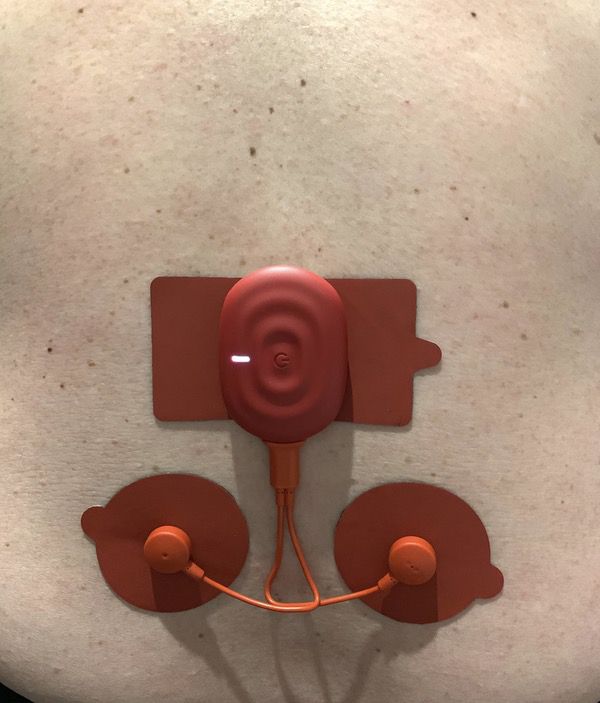 Before you do any of this, however, you'll need to download the app to your smartphone. The app then pairs with the pod (or multiple pods if you bought a dual unit). I was up and running in about 2 minutes start to finish.
App Overview
The PowerDot app must be used to activate and control the system for treatment. But it's more than just a controller. It's got a full suite of tools and features to help manage your use of the PowerDot as part of your fitness program.
The shocky stuff is all controlled from the workout menu. A variety of preset programs are available based on what you're planning to accomplish in your session. You can also create your own program.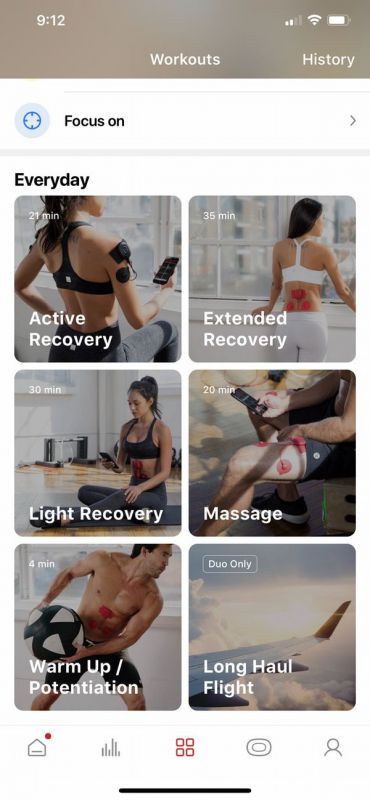 The app includes a section dedicated to a rotating set of articles around wellness and fitness; these also pop up during your session if you want something to read while the PowerDot does it's thing. They're not all about EMS, either. I found articles related to maintaining proper hydration, stretching, pain relief, and other stuff.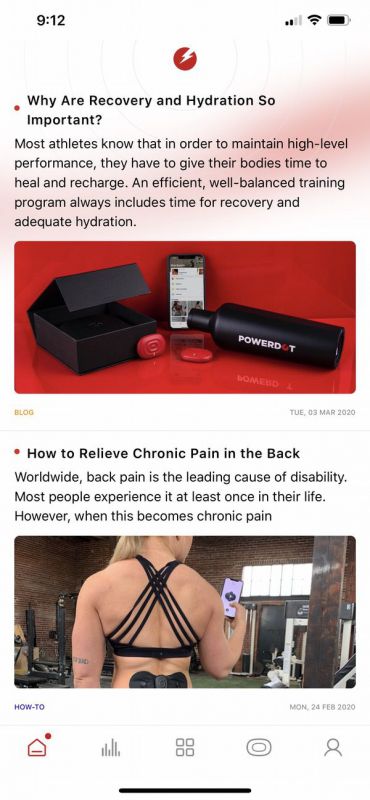 The app continually records your activities so that you can track your progress and review your history.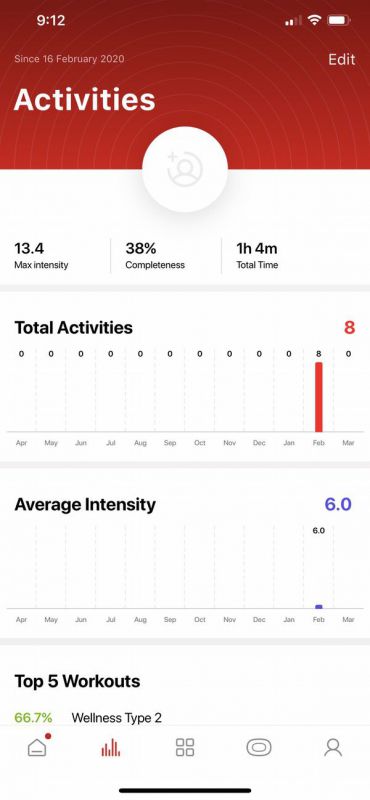 A section is dedicated to monitoring your device's performance & battery life. This also keeps track of the number of times you have used to adhesive pads, so you can get a heads up when it is time order new ones.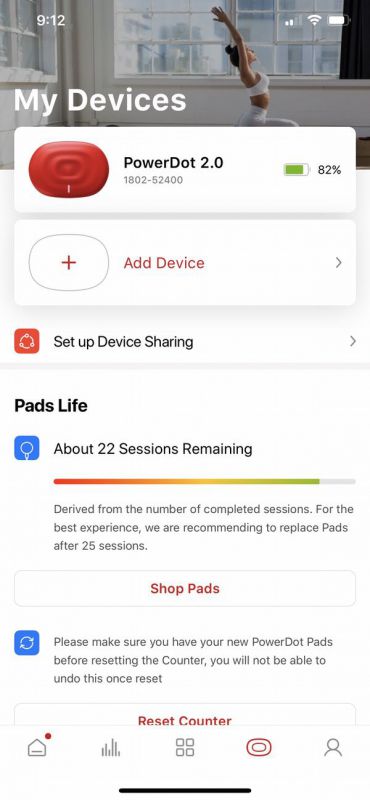 Finally, you have a profile page for managing your interaction with the app and the PowerDot community. You can enter the PowerDot community forums from here, post activities on social media, set up notifications, etc.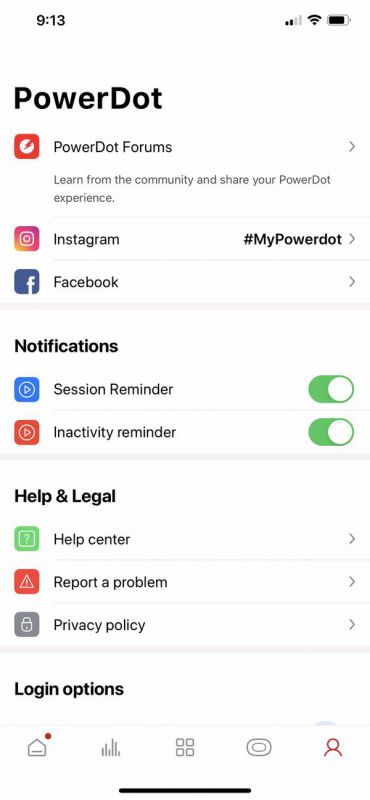 I really like the quality and breadth of the app. PowerDot has clearly invested a lot of time and effort to develop a well-rounded tool to help you with your fitness/wellness experience. The usability is excellent, with clear functions and instructions that minimize the learning curve.
Using the PowerDot
To start a session, you'll pick the type of program you want from the menus or choose to customize your own. I tend to get soreness in my calves after doing a cardio session, so that's where I'm going in this example. I chose the "focus on…" option from the workout menu for pain relief. I answered some simple questions about the severity of the pain, and chose "calf" from the wellness menu to get started.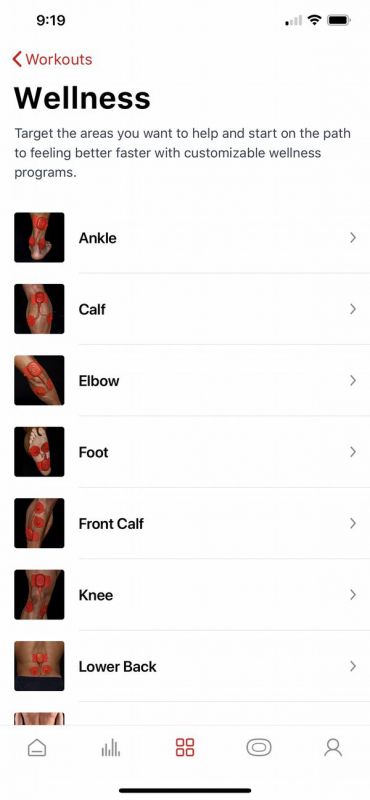 Next, you'll choose from a set of different program types and determine the length of the session. The program types vary in the transition between high and low stimulation phases. If you're customizing the session, you'll set the parameters yourself.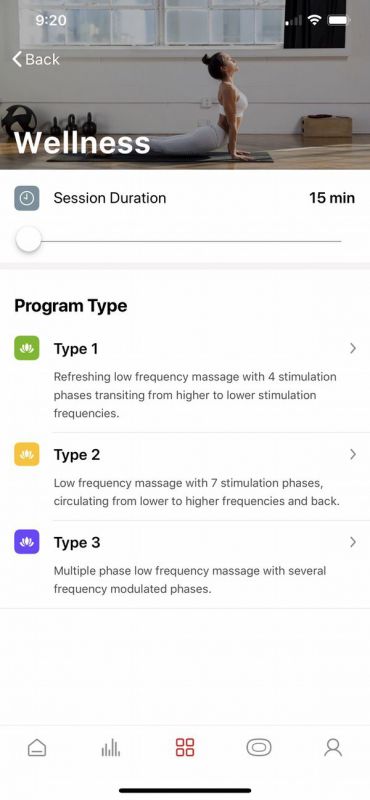 Once you have that set, you'll get a picture that shows you where to position the adhesive pads for the desired application. You'll turn on the pod to connect to the app.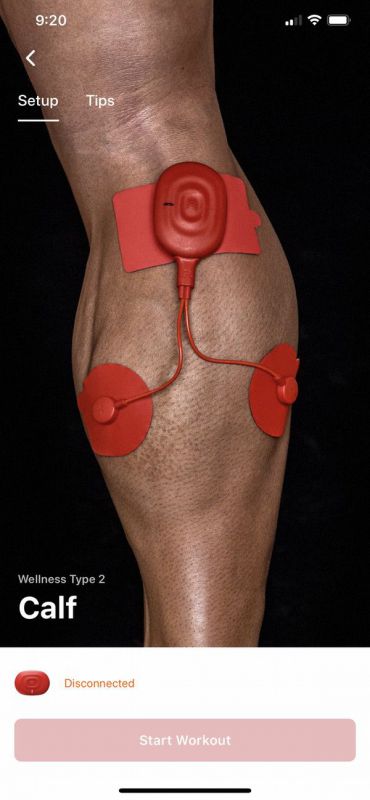 Here's the rig set up on my calf. Please note that the pics below are not representative of the professional model used in the app. Apparently I need to do some toning…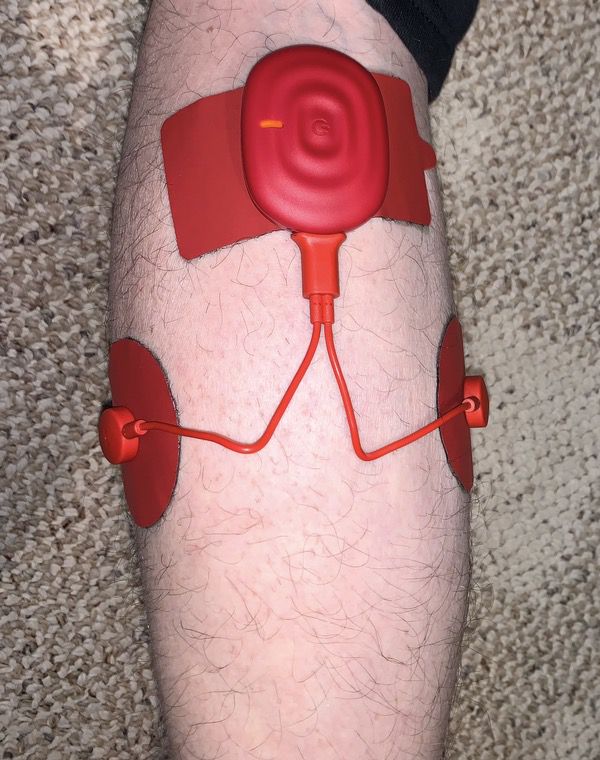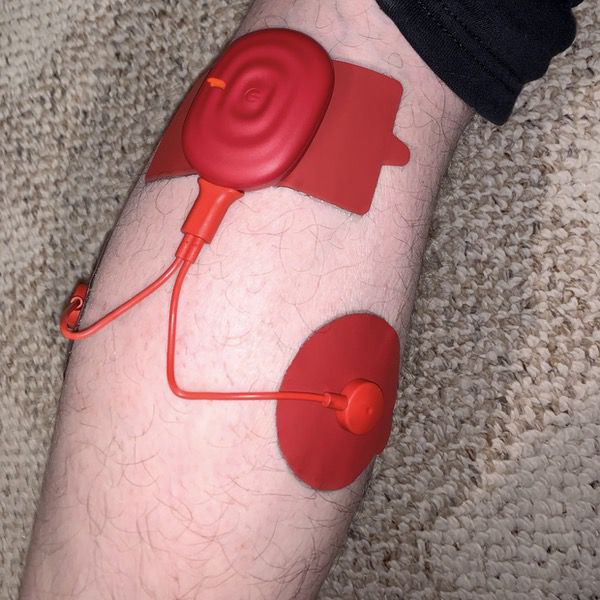 Hit start and you'll get a timer that indicates the progress of the session. You'll use the +/- buttons to adjust the intensity while still maintaining levels of comfort.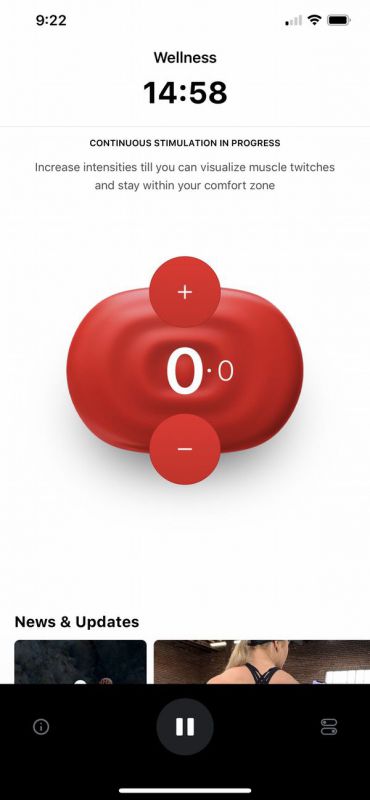 Once you've dialed in the intensity, you just let the device do its work. If you're doing a cycled session the unit will alternate between high/low intensity, using the intensity you picked as the max range. You can also adjust it on the fly if it gets too intense, or pause/exit the session as needed.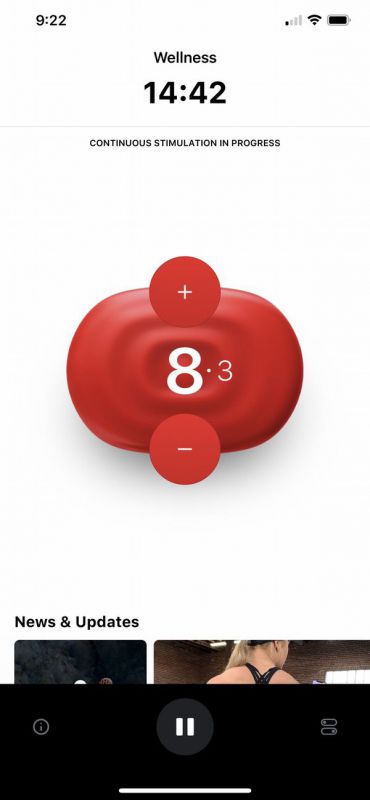 Here's a summary of a custom session I did. This gets logged to the app for future reference. You can revisit programs you like for repeat use.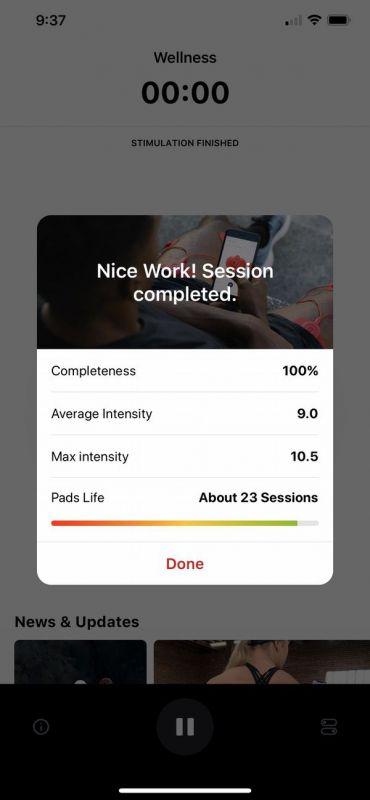 Performance
I'm no athlete, but I do exercise regularly to try and stay fit. The problem is that my 51-year-old body can be a bit creaky. Things get sore. Since I have been using the PowerDot, I have noticed that it does make a difference in recovery and reducing aches and pains. It's super easy to use, and the app adds additional value with helpful bonus content and a good set of tracking tools.
How does using the PowerDot feel? It's hard to describe what electronic muscle stimulation feels like… it sort of gives your muscles a pins and needles kind of feeling. I don't find it unpleasant at lower levels. Dial up the intensity and you'll feel it more to be sure. I started my sessions on lower intensity and SLOWLY dialed it up with subsequent use over several weeks to get comfortable with it.
The adhesive pads are comfortable to work with, and I didn't notice any residue after each use. Note that you'll want to make sure you've cleaned the application area before using. Sweat and stuff will impact the performance of the pads.
I mentioned that I get soreness in my calf muscles consistently after cardio. To test the PowerDot, I tried two different experiments to my 3x weekly cardio sessions:
Applying the PowerDot to one calf after workouts in order to see if there was a different between the two over a few days.
Applying the PowerDot to both calves for one week after cardio sessions, then skipping it entirely the next week.
I did indeed notice in the amount and duration of soreness after workouts, especially the next day. I also noticed that consistent use was important to success. When I included it my post-workout recovery consistently, the results got better. If I tried a one-and-done approach to dealing with specific soreness, the results just weren't as good.
I've also noticed that it helps with lower back strain in my case. I get some soreness after workouts that hit those muscles hard (like core and leg training). I have been using it on an as-needed basis there, and it seems to help relive some muscle tension and aches.
There's still a lot to explore with this device. I'm interested to test the muscle toning aspect next, as I have read that these devices can help with knee soreness related to strengthening the muscles around the knees. PowerDot has a program for that which I will be testing next, and I'll report back on what I learn.
It's important to note that the pads do require replacement after 25-30 uses. You'll want to factor that into your purchasing decision. If you're doing both calves each night like I did, that means you've got 12-15 sessions before they need replacement. If you're applying the unit to multiple body parts a day, you'll burn through pads very quickly.
One last note about the pads: the case is not sized to fit the zip-seal pad bag, so you'll be carting that around separately. That's not a big deal to me, but it's something you should know if you're anticipating some travel with the device.
What I like
Easy to set up and use
Very portable
High quality, intuitive app with lots of bonus content (health articles, community access
Seems to be working for muscle recovery & mild pain relief
What needs to be improved
Replacement pad costs will get expensive with frequent use
Final thoughts
After some careful experimentation to get a feel for how it works, I found that the PowerDot was actually pretty effective at helping with muscle recovery and pain relief. It's easy to use and the app is excellent. I'll be doing some more testing in the coming months to try out all the different programs.
Price: Pricing starts at $199 for the single pod package. Replacement pads are $18 a set.
Where to buy: PowerDot web site and Amazon
Source: The sample of this product was provided by PowerDot.