We use affiliate links. If you buy something through the links on this page, we may earn a commission at no cost to you. Learn more.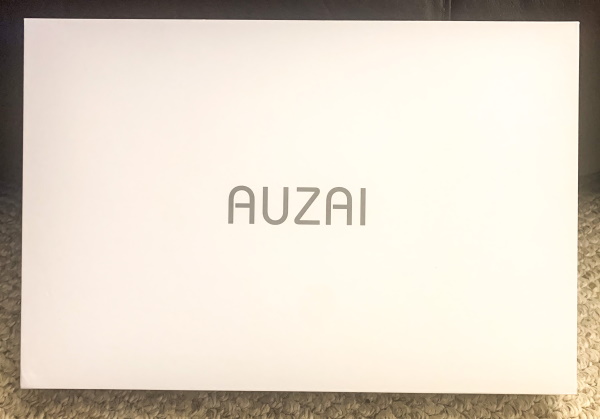 REVIEW – Whenever I am out and about with my EDC backpack, the contents always include a smartphone, an iPad Pro and a laptop. I am always editing photos and/or videos or writing or researching while on the go, and I often find that I could be much more productive if I could just have a bit more desktop workspace. Enter the Auzai Portable Monitor – 15.6-Inch USB-C Portable Display, 1080P Full HD IPS Panel. This monitor may just do the trick!!
What is it?
The Auzai Portable Monitor is a 15.6-Inch ultra-slim Portable Display that features a 1080P Full HD IPS Panel, stereo speakers and USB-C and HDMI connectivity for expanded connectivity.
What's in the box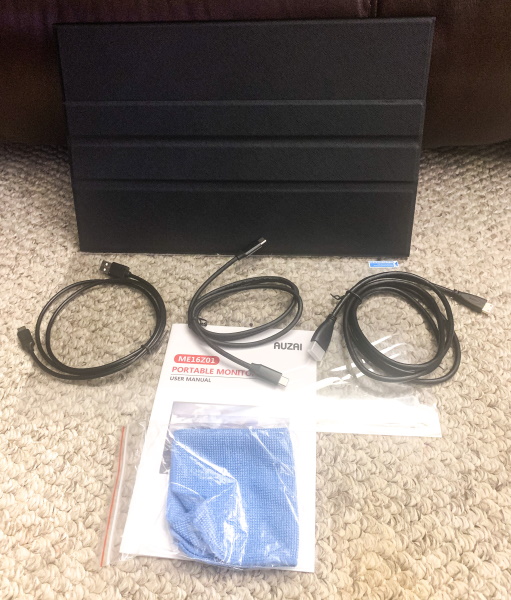 1 x Auzai 15.6 inch Monitor
1 x Mini HDMI Cable
1 x USB-C to USB-C Cable
1 x USB-C to USB-A
1 x Screen Protector
1 x User Manual
1 x Microfiber Cloth
Design and features
Specifications
15.6-inch screen size
Panel Type: IPS LED panel
Maximum Resolution: 1920 x 1080
Aspect Ratio: 6:9
Brightness: 250 cd/m2
Contrast ratio: 1,000:1
Response Time: 30 ms
Ports: USB Type-C data; USB Type-C Power Supply; Mini HDMI; 3.5mm Audio
Features
1080P Full HD & HDR Technology:  AUZAI Portable Monitor displays 1080P Full HD content and supports HDR technology which offers a broader spectrum of colors and contrasts
Compatible with Multiple Devices: AUZAI Portable Display offers wide compatibility with laptops, phones, PS4, Xbox, etc.
Eye Care IPS Panel & Stereo Speakers:  IPS technology enables a wide viewing angle; a flicker-free screen reduces eyestrain and optimizes eye comfort by eliminating flickering. Stereo speakers deliver exceptional audio
Customize Your Display, Enhance Visual Experience:  Easy to master the OSD menu which allows you to view different setting options and adjust components of the display, such as brightness/contrast, color, audio, etc.
Portable Slim, Easy to Carry Around:  Incredibly handy, slim and lightweight features make AUZAI Portable Monitor a perfect match for gaming, traveling and business on the go! Included case & screen protector prevent cracks and scratches.
This Auzai monitor is very compact, and when folded it measures 13.9 inches long, 8.7 inches wide, and less than 1/2 inch thick. It will easily fit in your laptop bag and is a perfect fit for a multi-monitor configuration. It has a wide viewing angle that provides good options for placement and it comes with a magnetic case that also serves as the stand.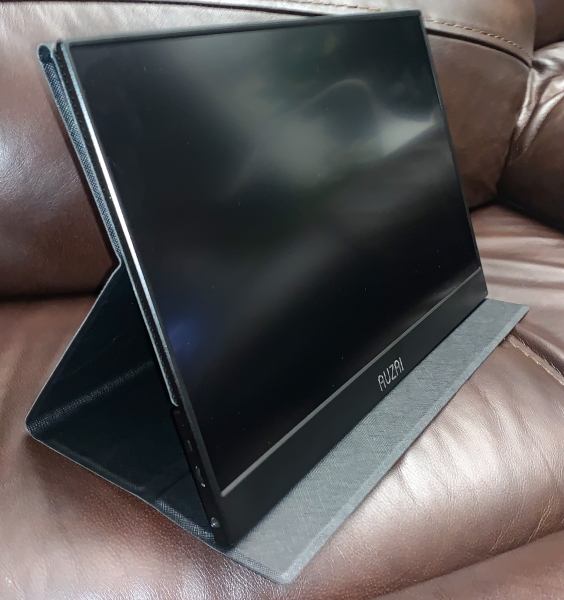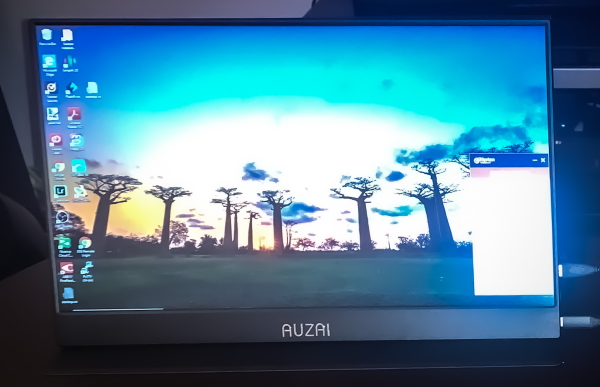 On one side edge of the monitor, as shown below from left to right, there is Power/Return Button, the Menu Button, and the 3.5mm Audio Port.


On the other side edge of the monitor from left to right as shown below, there is the mini HDMI port, the USB Type-C Data Transmission Port and the USB Type-C Power Supply.

Performance
Several years ago when I purchased my first add-on portable monitor, its only connectivity was via USB-A for both power and video. Its resolution was something like 800 x 600 and I needed to download and install a very temperamental driver for it to work. Once it was working it was reliable, but for daily work or video, the viewing experience was a bit painful. It had a relatively large built-in kickstand and while at that time it was considered lightweight, it was heavy when compared to today's devices and certainly this Auzai monitor.
Out of the box, this Auzai monitor is attractive and the case that is also the foldable stand works well. It magnetically connects to the monitor and when closed it covers it completely. A screen protector is included, and while I am usually pretty good at installing these types of stick-on screen protectors, I made a mess of this one and decided that I could ditch it because the bare screen seems tough enough.
My main testing was done using the monitor as an add-on/extension of my Asus laptop. The laptop does have a USB-C port but unfortunately power delivery is not a feature of the port. Understanding that I would need to use a separate power source I considered a powered USB-C dock or a Portable battery. I opted for the latter. So I connected the USB-C to USB-C cable to the monitor and portable battery pack for power and used the mini HDMI cable for the video connection.
Once plugged in and connected, I was very happy with the display. By default it was in mirror mode and then I changed it to extension mode. When I move application screens from the main laptop to the Auzai it is smooth with no real discernible lag. While this is not a monitor that is geared towards gaming, watching videos on it is quite nice, and as long as the host computer handles video well, this monitor performs well as a seamless extension.  It uses IPS diodes which are relatively flicker-free, and therefore easy on the eyes. I do think that the built-in speakers need to be somewhat better, but since I use headphones whenever working on a process where audio is important, it is not a big deal for me.
The following photo shows the monitor in mirror mode: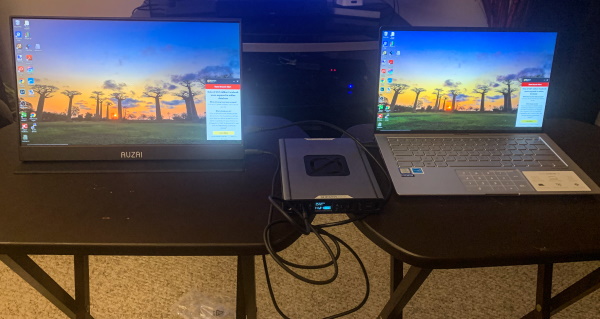 The following photo shows the monitor in extension mode: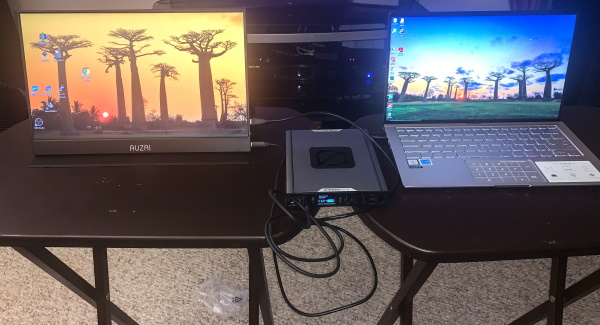 What I like
It is lightweight and compact and very portable
The versatile connectivity options
What I'd change
I think that the case as a stand can be somewhat more stable, but this is more of a personal issue
Final thoughts
This Auzai monitor is well designed and compact and lightweight enough to be a part of my EDC gear. The screen is bright and pleasant to look at, and while it is not 4K, I do not think that for practical use anything more than 1080 is needed to meet the majority of use cases. In addition, it offers enough connectivity options to make it versatile. The ability to use it with various devices and the ease of use make it a winner for me, especially when you need to enlarge your work area be it for just viewing or to support better productivity. I give it a well done and 2 thumbs up.
Price: $179.99 ($20 coupon currently available)
Where to buy: Amazon
Source: The sample for this review was provided by Auzai.