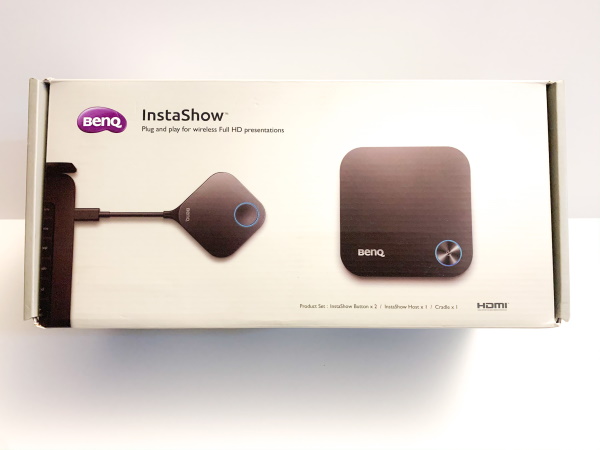 REVIEW – When I first heard about the BenQ InstaShow Wireless Presentation System, I immediately recognized its ability to mirror presentations from a laptop or such device wirelessly onto a large screen. This I believe is the basis for its design and intended use. However, as a photographer and videographer, I also quickly recognized that it could have the same value and purpose at various events that I shoot. There are times when I have a request to play a slideshow on a screen on location, and I usually have to spend quite a bit of preparation time adding numerous pictures to slideshow software to create the slideshow and then transfer it to a USB drive to be plugged into the location TV/projector. I immediately thought that for both slideshows and for videos, I could use this InstaShow, and just play the slideshow via any photo app from my laptop or tablet without the need to create the presentation, and I could also play videos the same way and even by request without much preparation. So now I am excited to see if I am right!!
What is it?
The BenQ InstaShow WDC10C 1080p Wireless Presentation System provides Screen Mirroring capability for meetings and other types of presentation events. The WDC10C version features Enterprise-Grade Security encryption and includes 2 USB-C transmitters (up to 16) and a holder. It can transmit up to 33 feet away and at 60 frames per second. No app is needed.
What's in the box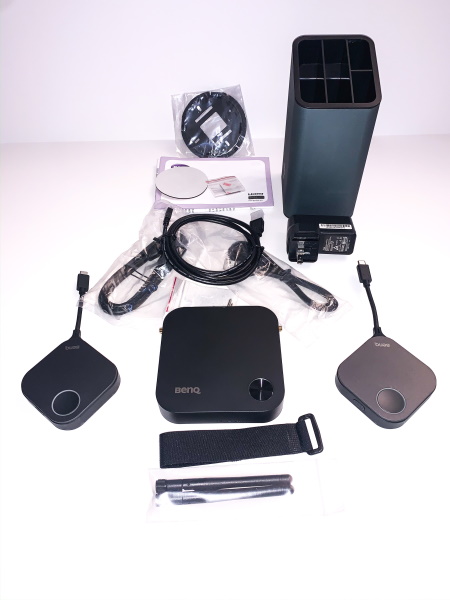 1 x InstaShow Host and Lid
2 x Antennas
2 x InstaShow Buttons
1 x Cradle
1 x Micro USB cable
1 x HDMI Cable
1 x Velcro Strap
1 x AC Adapter
1 x Double-Sided Tape
1 x Instruction Manual
Design and features
Specifications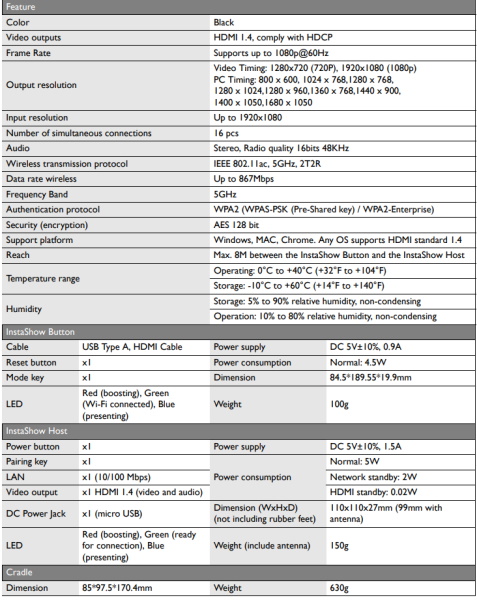 Features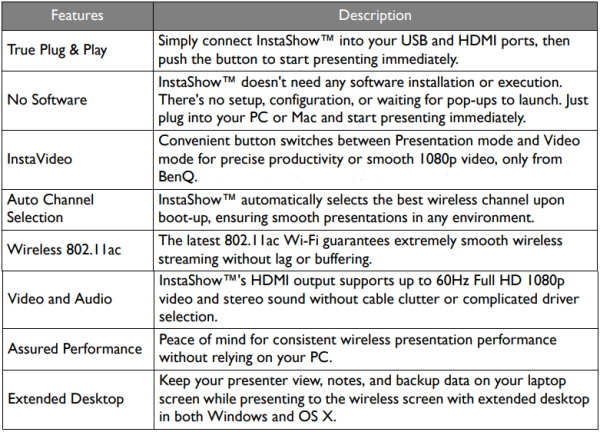 On the flat top surface of the host device, there is the round power/function button. It is surrounded by an LED.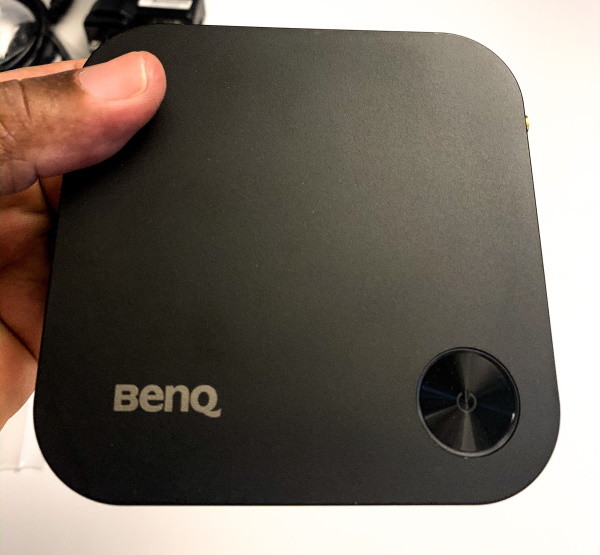 On two sides of the host device, there is an antenna jack.



On one side of the host device, there is a mode button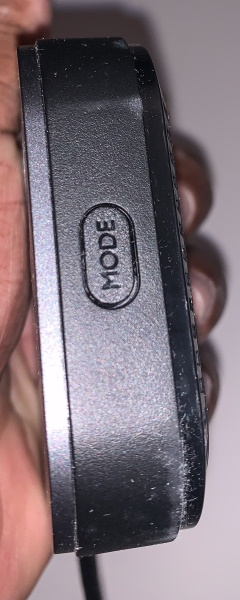 On the rear of the host device, as shown below from left to right, there is a reset button, a pairing button, an ethernet port, an HDMI port, and a USB power port.



On the bottom of the host device, there is a receptacle that allows you to attach the velcro strap plate and the velcro strap. This provides mounting options. They also included double-sided tape for mounting.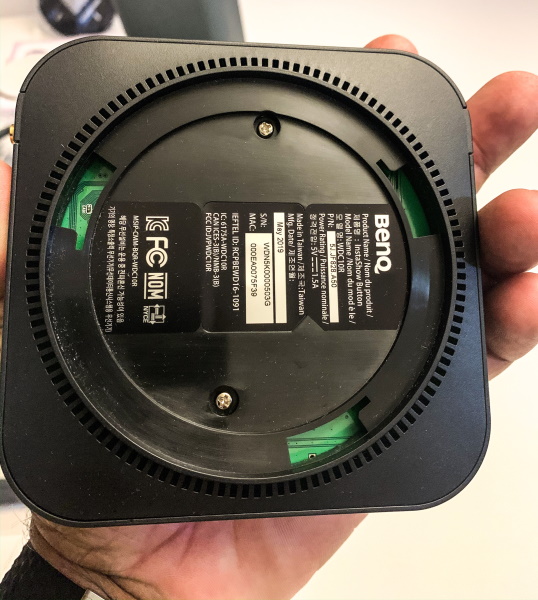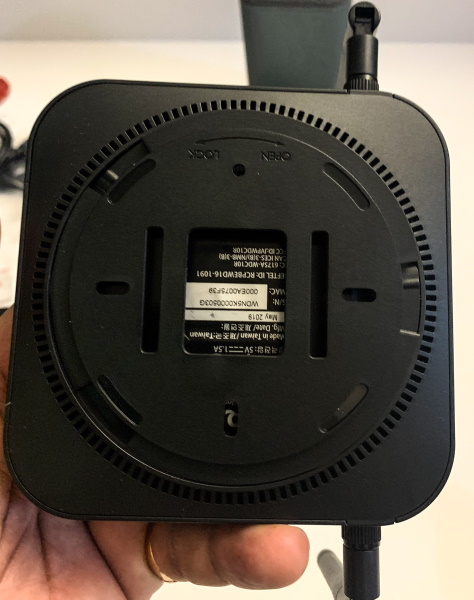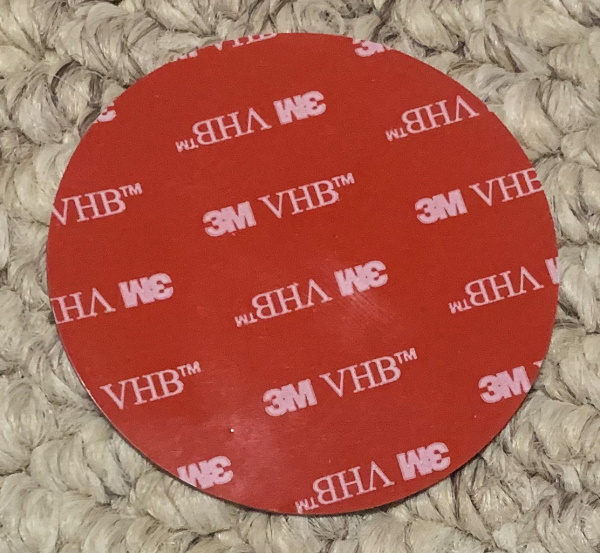 The InstaShow button had a round function button on the surface, a mode button on the side and a short USB-C cable and plug attached.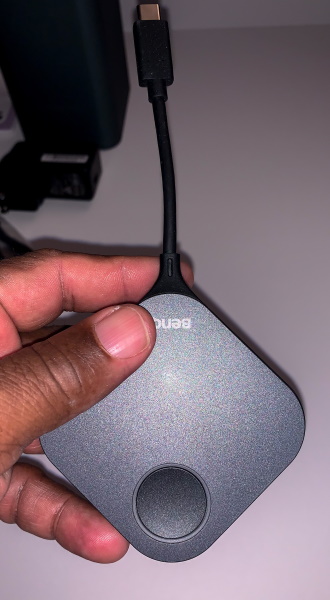 A cradle for storage of cables and the InstaShow buttons is also included.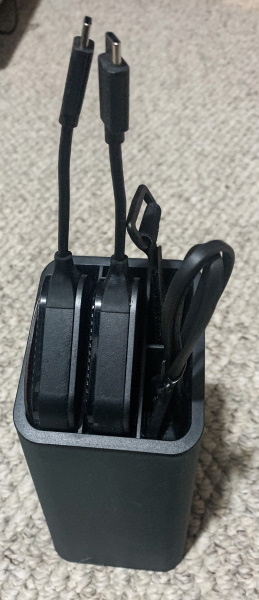 Performance
The BenQ InstsShow is very easy to set up and use. Once you attach the antennas to each side, you connect the power cable and the HDMI cable, and you are ready to go. By default, the host device will connect via DHCP to your network. You also have the option of connecting via ethernet. I used it in wireless mode.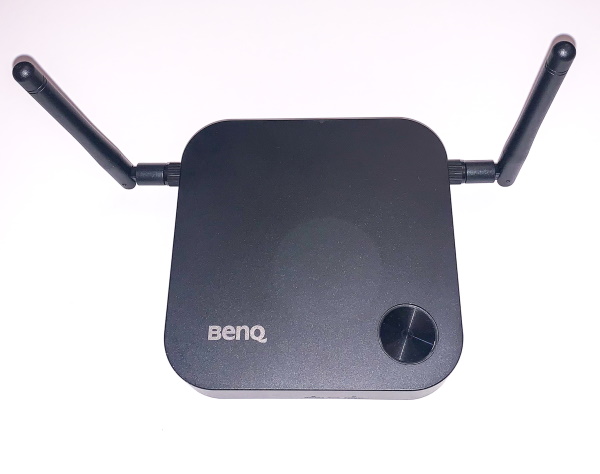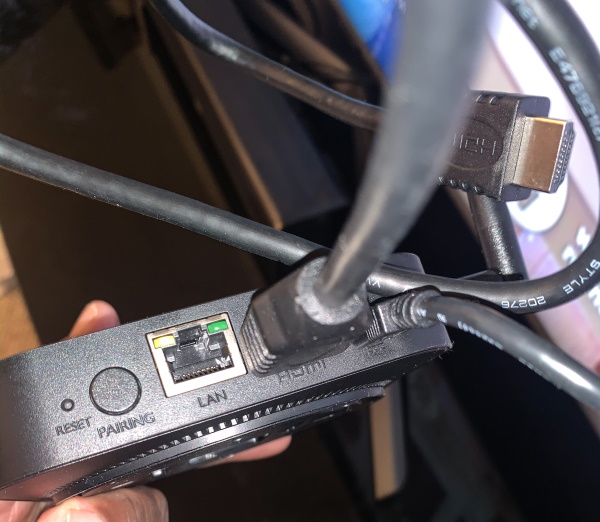 Once you press the round power button on the host it has a red LED that lights up around it while it is booting up. The same happens when you plug in the InstaShow button via its USB-C cable to your laptop or tablet. Once the host is ready to go, its "ready " screen is displayed via HDMI on the main display.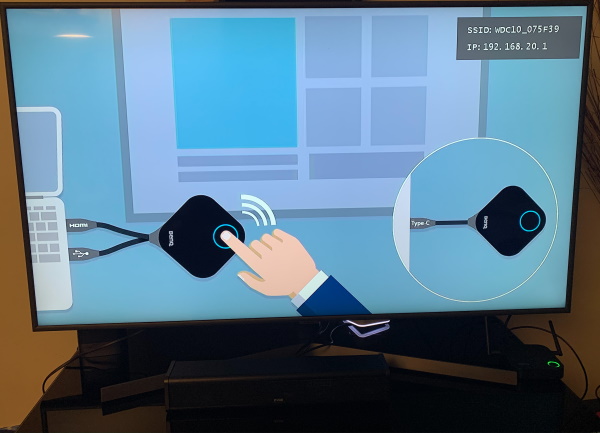 The next step is to press the pairing button at the back of the host device and the round button on the InstaShow button. The LEDs around the buttons on both devices blink blue while pairing and they pair quickly and easily. Once they are paired the LEDs are steady green. When you press the button on the Instashow button again, the LEDs on both the button and the host device turn steady blue and the display mirroring process starts.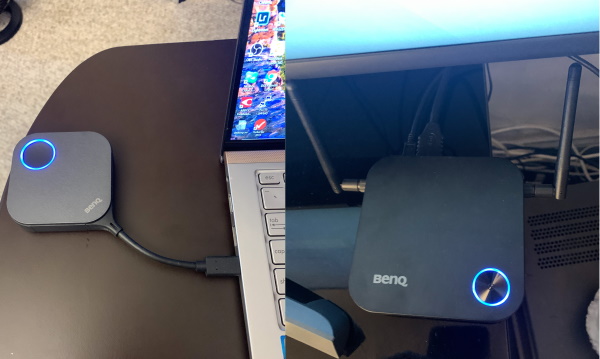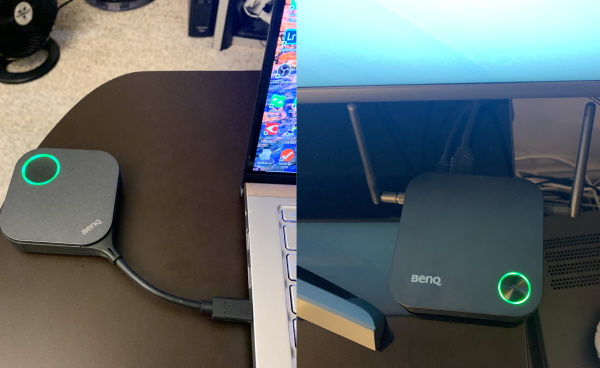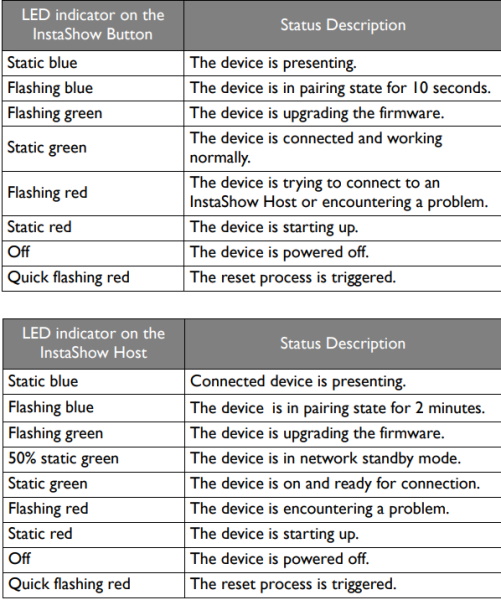 When I first tried to display using the USB-C port on my Asus laptop, I could not get the display to transmit from my laptop to my TV. After checking all of the connections and trying to figure out what it could be, I then remembered that the USB-C port on my Asus does not include the Power delivery feature so it does not supply power. While BenQ does offer versions of the InstaShow with buttons.dongles that include a secondary cable for power to be supplied via a regular USB-A port, this model doe not have any such accommodation should you come across these circumstances. Once I switched to my iPad Pro 12.9 tablet, all worked well for presentations and HD video.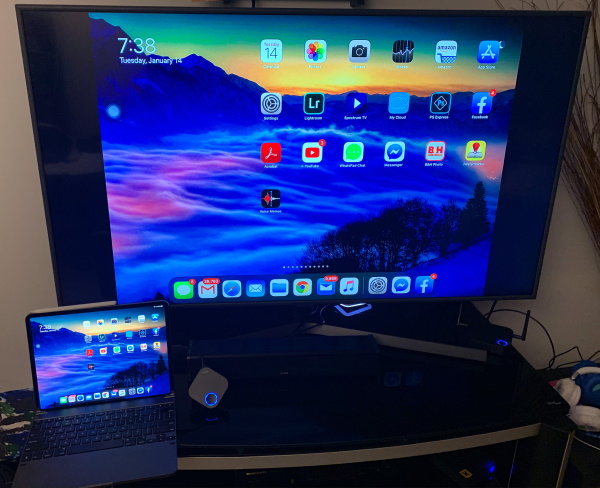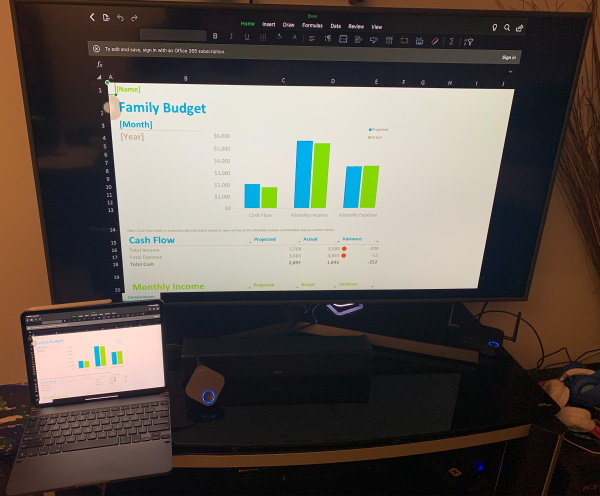 What I like
The ease os the setup process
The reproduction of both presentations and video that is transmitted
The simple design
The usual good BenQ build quality
What I'd change
Add an optional power port to the USB-C InstaShow buttons in case it has to be used with a device that does not have power delivery via its USB-C port
Final thoughts
After playing around with the BenQ InstaShow for a while, I really like how well it performs and the ease of use. While I would like the USB-C InstaShow button to have an auxiliary powering option for the button/dongle, I have no other complaints. Much like all of the BenQ products that I own and love, I give this a well done and two thumbs up!!
Price: $1042.49 (Amazon); $1099.00 (B&H Photo Video)
Where to buy: Amazon, B&H Photo Video
Source: The sample for this review was provided by BenQ
Support The Gadgeteer
:
We may earn a small affiliate commission from purchases made from buying through links on our site. As an Amazon Associate I earn from qualifying purchases. Learn more.