We use affiliate links. If you buy something through the links on this page, we may earn a commission at no cost to you. Learn more.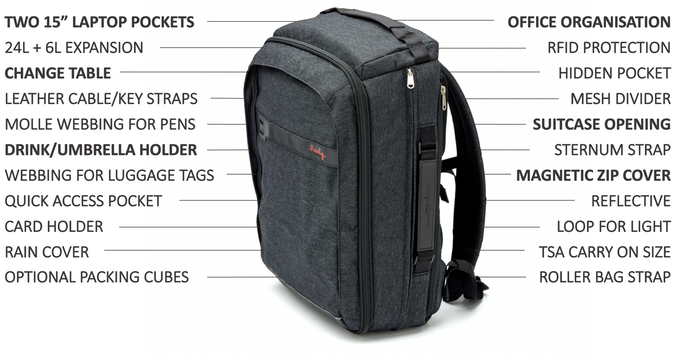 CROWDFUNDING REVIEW: Many Gadgeteers are bagaholics here.  Traditionally while on the move I love my messenger bags. They're easy to use and give easy access to everything quickly and efficiently.  The situation changes however when you have to move things around from place to place.  This is where backpacks are more convenient because they make things easier to load large amounts of gear and are much more comfortable while doing it.  I've already reviewed a couple of Henty's bags; the Wingman for getting your clothes around unruffled, and the Tube Backpack. Being a locally designed product, yes from little old Hobart, Tasmania, Australia, when the guys asked if I'd like to test out their latest Kickstarter product, the Everyday Travel Bag,  of course, I said yes 🙂  How's does it stack up?  Read on after the break……
What is it?
Designed for those on the move, the Everyday Travel bag is available in three colours; black, navy and grey and has some features that add functionality and versatility to the bag if you going from home to the gym via car, bike or bus, travelling interstate for business or travelling overseas.  The bag is TSA size approved and is well built to take the sort of treatment it'll get subjected to while on the move.  Because it's a Kickstarter project, the guys gave me one of their sample bags for a week and sadly my overseas trip wasn't till a couple of week later, but I gave it a pretty good "thrashing" for the week I had it using it to do work duty and weekend duty.
Design and features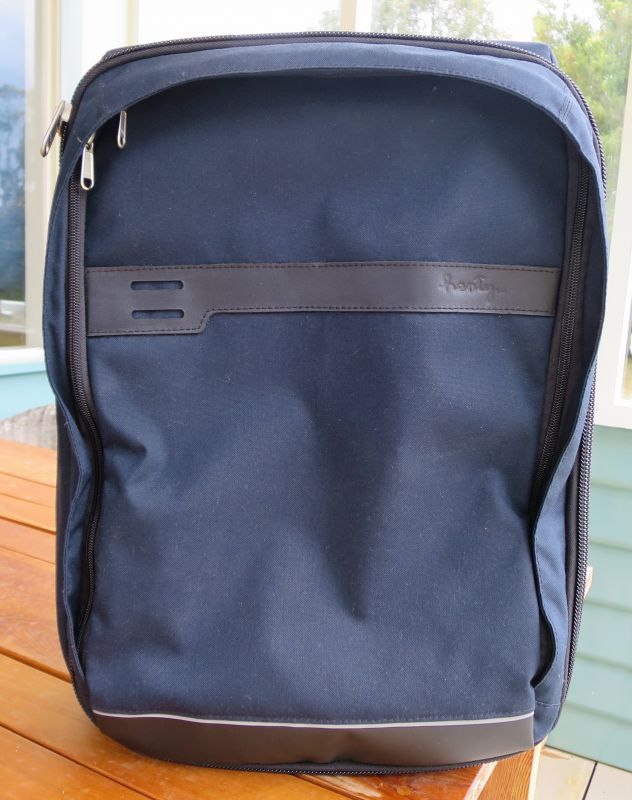 Starting on the front, there's a blinky light attachment and reflective piping to increase your visibility. This is really useful if you're using it on your bicycle but that being said, in Winter I actually attach a blinky to my bags for visibility even when walking.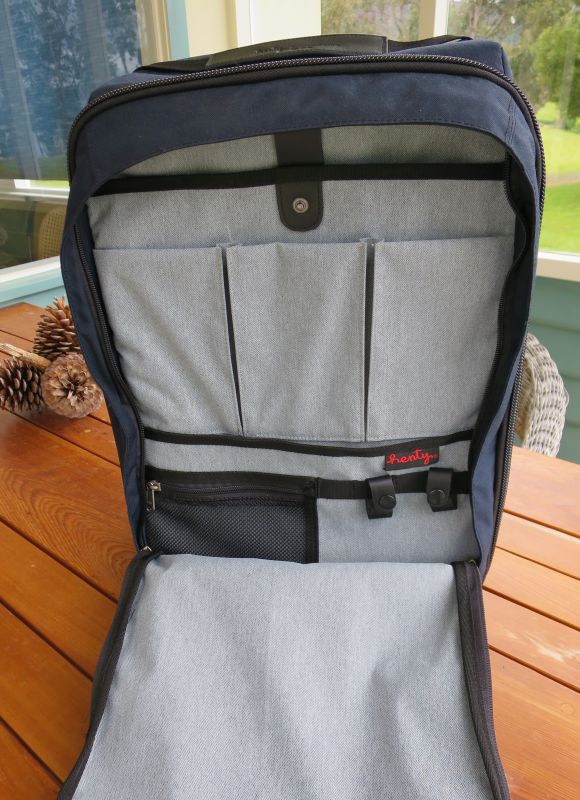 Opening up the front flap and there's an "electronics" organizer area, something that's pretty common these days with most backpacks. There are four generous pockets, a smaller zipper mesh one and a couple of "clips" for cables.  Additionally, there's a secure pocket at the back that will take up to 15″ notebook. It's lined with a nice soft, grey lining that won't damage your goods.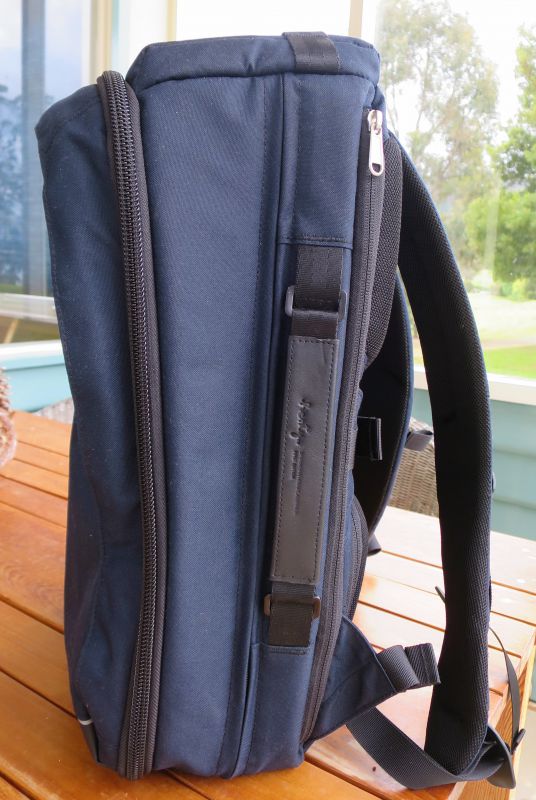 On the right hand side is a leather grab handle. This proved pretty comfortable even when the bag was fully loaded up with stuff.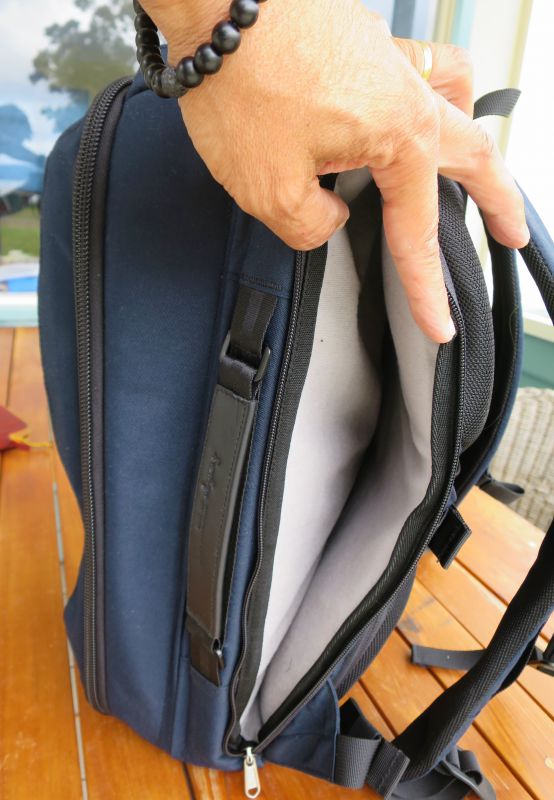 Also on the right hand side as another zipped notebook pocket, again handing up to a 15″ notebook.  This gives easy access for when you have to get your notebook out for security at the airport or similar.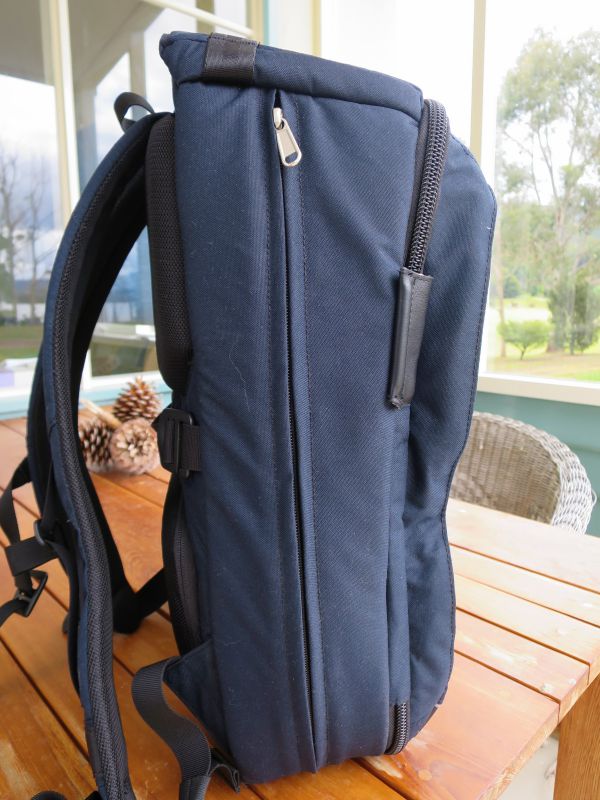 One the left hand side, there's not much except for a big zipper….more on that later 🙂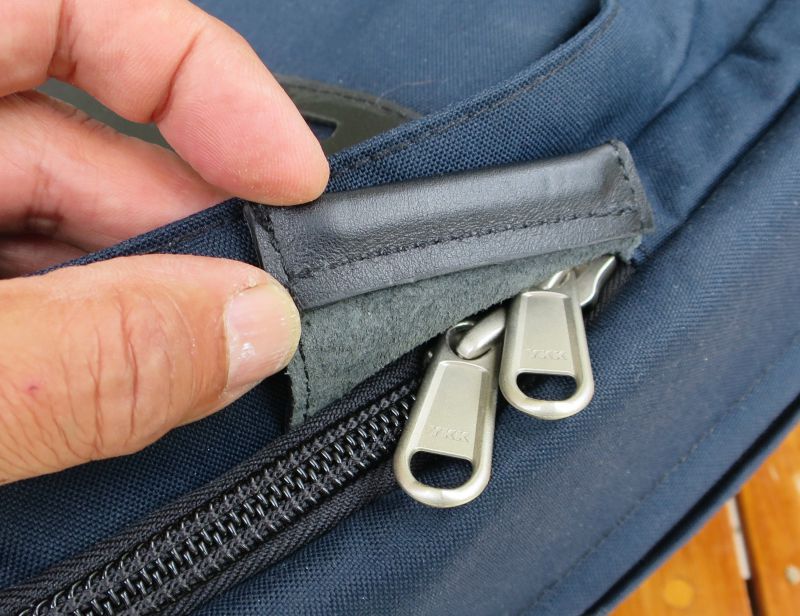 A really nice feature here is the magnetic zip cover.  This has two advantages; firstly it hides the zip making the whole bag look a lot cleaning (to be truthful it confused me for a while because I could actually figure out where the zippers were to open the bag….DUH!), secondly it stops the zipper tags from jingling around.  There's nothing more annoying in a bag than something that jingles or dings every time you take a step or pedal the bike.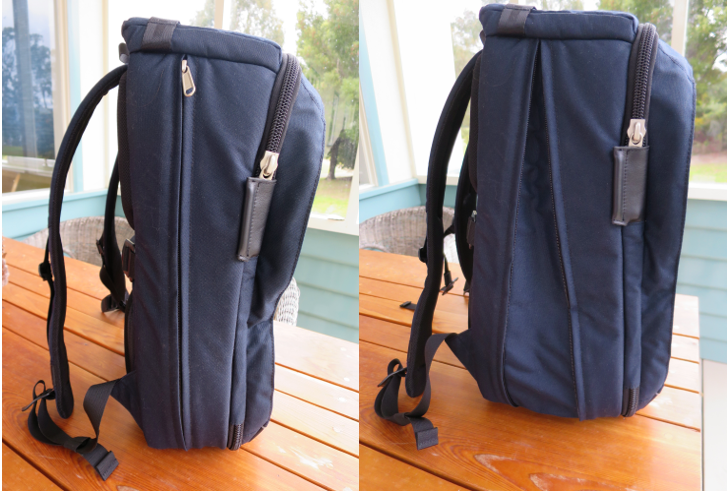 Back to the zipper on the left hand side, it's used to expand the travel bag from 24 to 30 litres. I know I've been for overnight trips to trade shows, had a full bag on arrival and just needed that little bit more space to take back all the samples. Or you just happen to buy a few things that you didn't really realize you needed on that holiday and had to get them home 🙂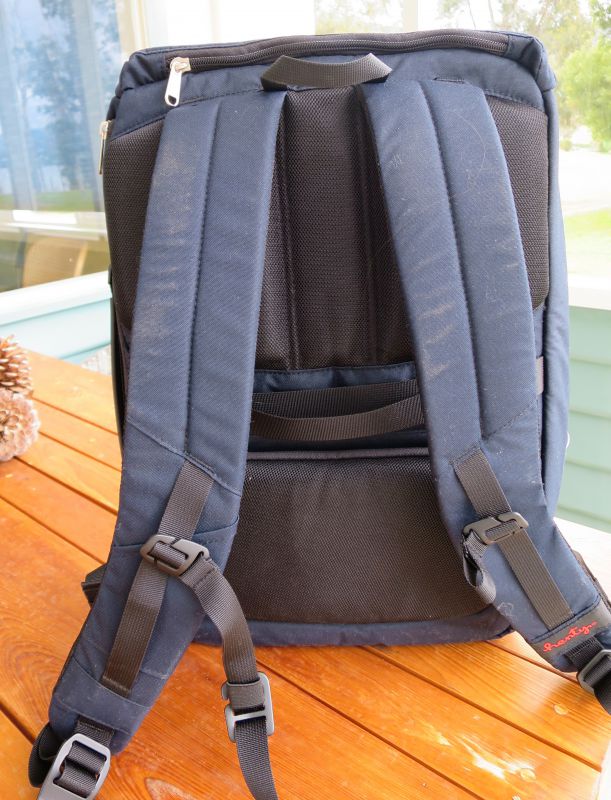 The back is very comfortable with pads in just the right places. The harness itself is pretty adjustable and comfortable. There's a sternum strap to stop the bag from moving around.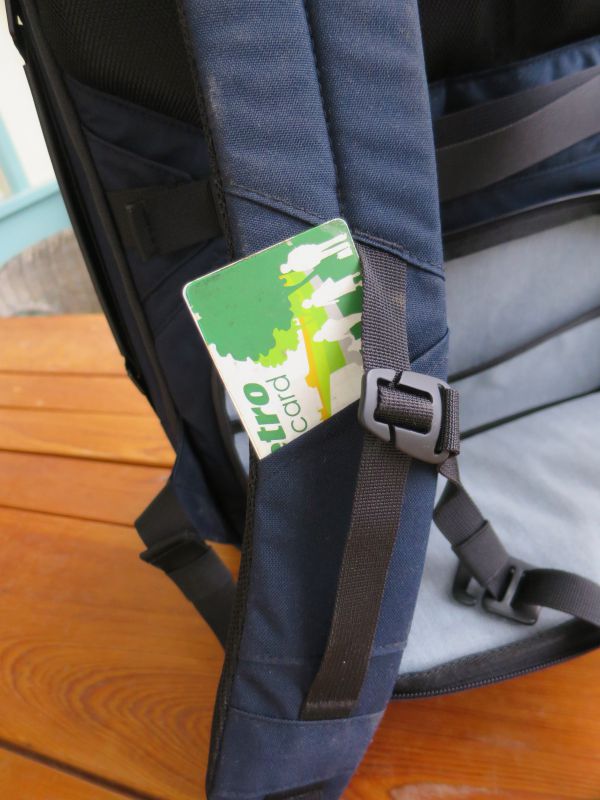 On the right hand strap there's a nice little card holder which is really useful for those often needed cards like a travel access card or a security card.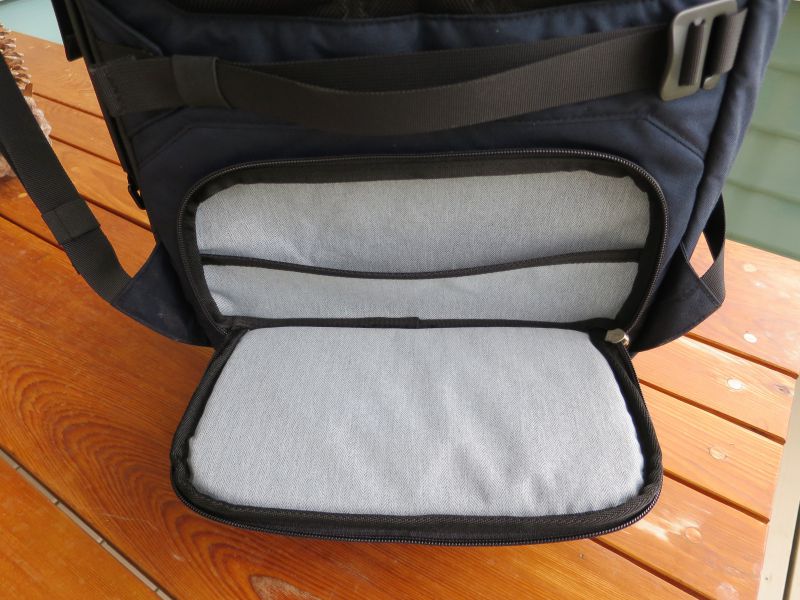 In the bottom pad, there's also an RFID protected pocket that's held against your back. This makes it hard for someone to pickpocket and ideal for those items you want to really keep safe.
The strap that holds the shoulder strap in place also has multiple other purposes. As you can see in the gif above, it can be used to secure to your roll-on luggage, as a bottle holder or to hold additional items, or more interestingly to create a small "change table".  The "change table" function would be really useful either on your visits to the gym or when you get off that plane after a long flight and need to freshen up in the airport facilities.
On top, there's another leather handle and also an easy access pocket that's handy to put things in that you need quick access to.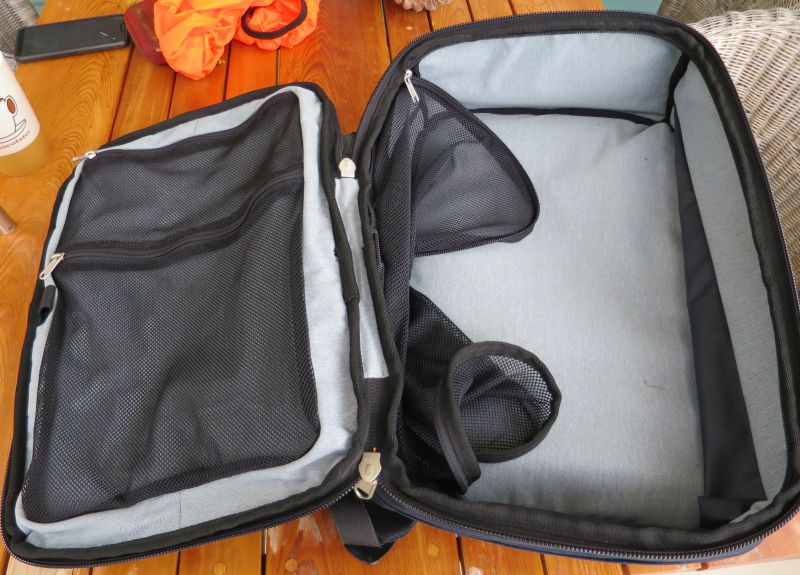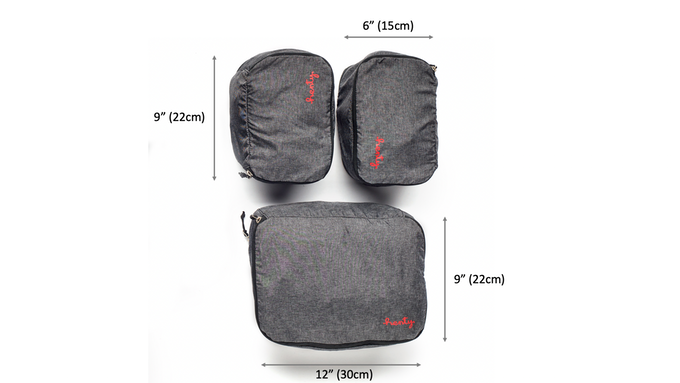 Internally, the bag has two zipped mesh pockets on the lids and a large storage space with a removable mesh separator in the main storage area.  Henty also makes a set of packing cubes to make life a bit more organized 🙂 These weren't available to me at the time of review.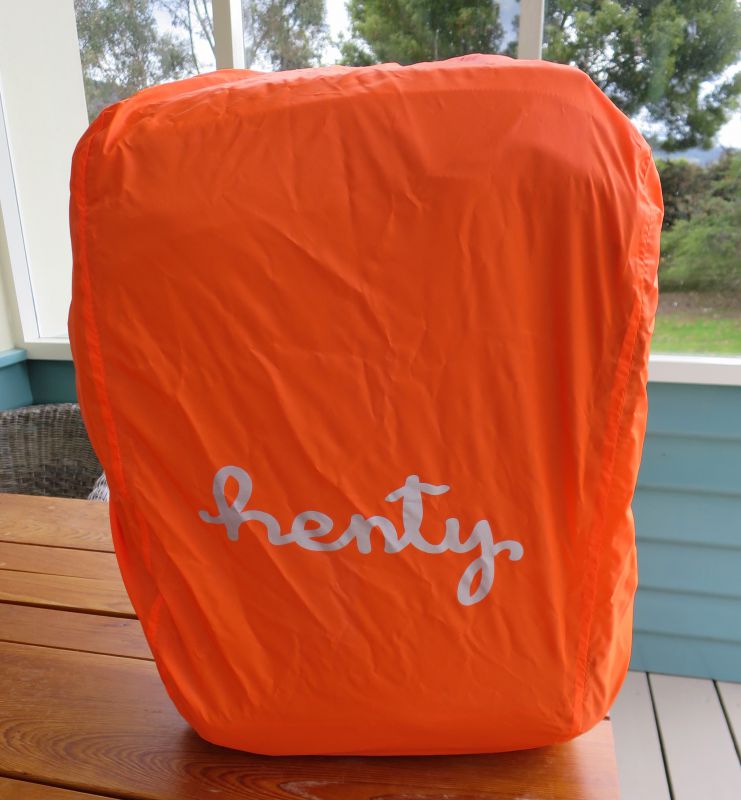 Finally, if you're going to get stuck in the rain there's a removable rain cover to protect all your goodies.
What I like
Perfect size for that overnight/multi-night trip
Expandable sizing
Good fabrics and hardware
Magnetic zip "dejangler"
What I'd change
Would be nice if the rain cover was "integrated" in some way and not separate (I'm sure I'll put it away somewhere in Summer, never to be seen again)
Maybe a storm guard zip for that weather where it's not wet enough to use the rain cover but wet enough for worrying about water getting inside.
Final thoughts
As mentioned I only had this for a week and in reality, it's much bigger than I need for my everyday work carry.  So what does a good Gadgeteer, do?  I loaded it up with some additional clothes, shoes and other assorted items every day for work. Even loaded up the bag remained comfortable to wear and carry.  The front "gadget areas" was nice to have access to all my electronic needs. Sadly I'm away this week for a couple of weeks overseas, but because it's a sample I had to return it and couldn't use it for the trip.  There are just enough little different functions like the magnetic zip holder, the expandable gussets and the packing cubes that make this stand out and differentiate it a bit from other travel bags.  I'll update this review once I've finally got my hands on a final product and I really look forward to being able to put it fully through its paces with some "real" travelling.
Price: From $199.00
Where to buy: Kickstarter
Source: The sample of this product was provided by Henty.