We use affiliate links. If you buy something through the links on this page, we may earn a commission at no cost to you. Learn more.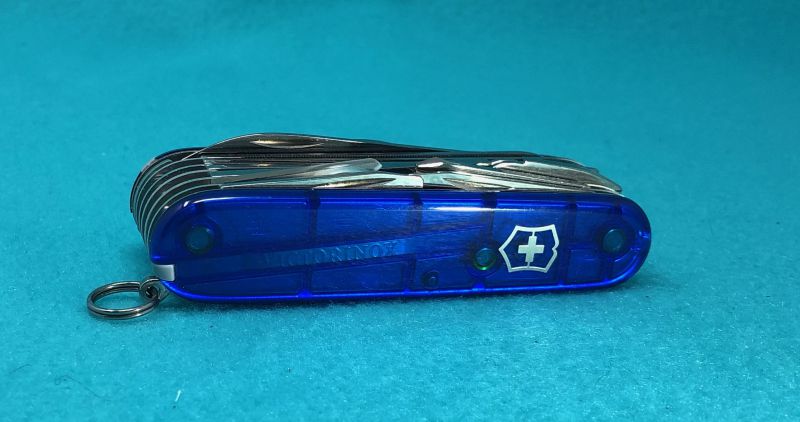 REVIEW – The Swiss Army Officer's Knife has a reputation as the original multi-tool. MacGyver made them famous by using one to craft improvised tools, traps, and defensive weapons out of whatever was on hand. We were recently sent the ultimate model of the Swiss Army knife – the Victorinox SwissChamp! I've been playing with all the new tools and am ready to report!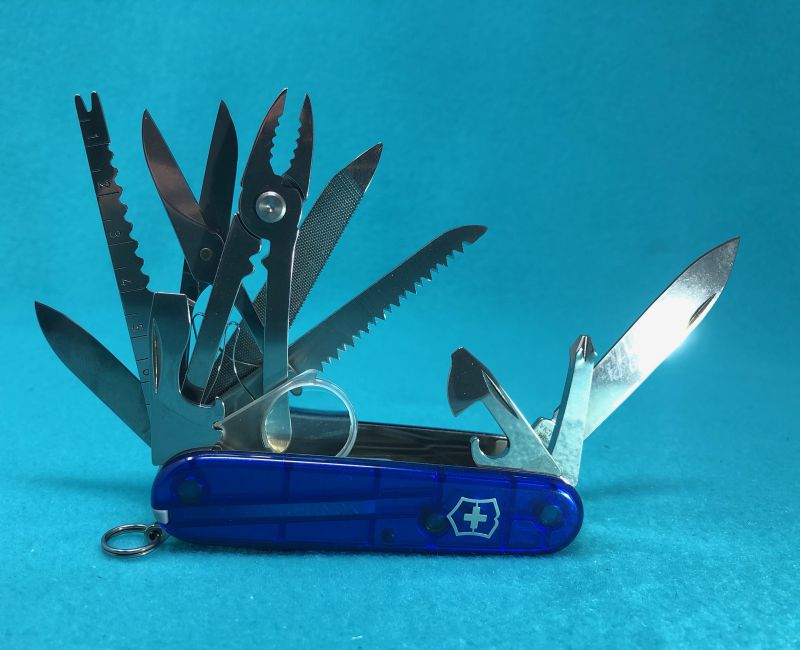 What is it?
The original multi-tool.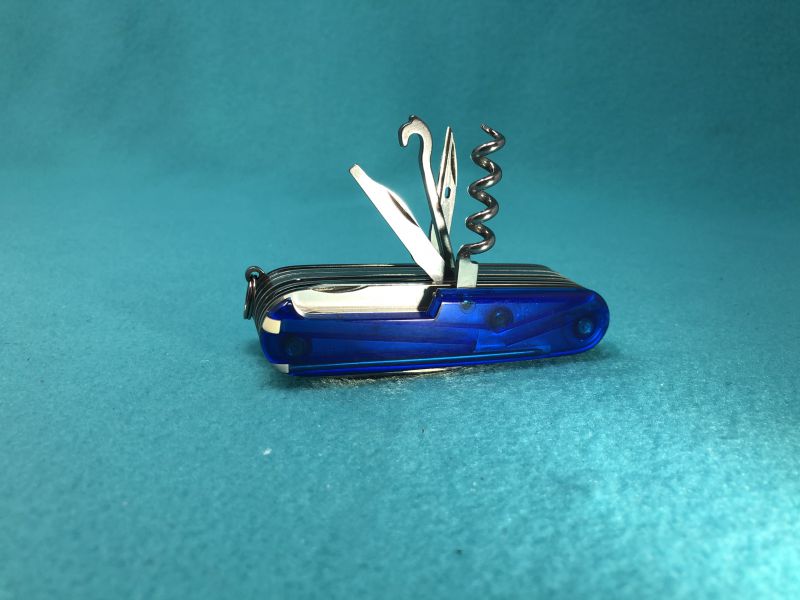 What's in the knife?
If you're reading The Gadgeteer, you know about multi-tools. These are things like the Original Leatherman or the Gerber Dime or the Squirt or the Diesel or the Surge or… The SwissChamp takes this all to the next level. It has the following tools:
large blade
small blade
reamer, punch and sewing awl
can opener
screwdriver 3 mm
bottle opener
screwdriver 6 mm
wire stripper
scissors
pliers
wirecutter
wire crimping tool
multipurpose hook
toothpick
tweezers
Phillips screwdriver 1/2
keyring
corkscrew
fish scaler
hook disgorger
ruler (cm)
ruler (inches)
wood saw
nail file
nail cleaner
metal saw
metal file
magnifying glass
screwdriver 2.5 mm
chisel 4 mm
pressurized ballpoint pen
mini screwdriver
pin, stainless steel

Design and features
The Swiss Champ is a traditionally-modeled 3.5″ (90mm) folding knife with non-locking tools. It will fit easily into a pocket or into a bag, but at 6.55 ounces, you'll know it's there. It's about 1″ tall by 1.25″ across. Tools flip out from each end on one side, and from a center pivot point on the other side. Some tools (toothpick, tweezers, steel pin, and ink pen) are fitted into the plastic handles for storage. The eyeglass-sized screwdriver cleverly threads around the corkscrew, both fitting into a secure location and adding a bit of protection from the sharp point of the corkscrew.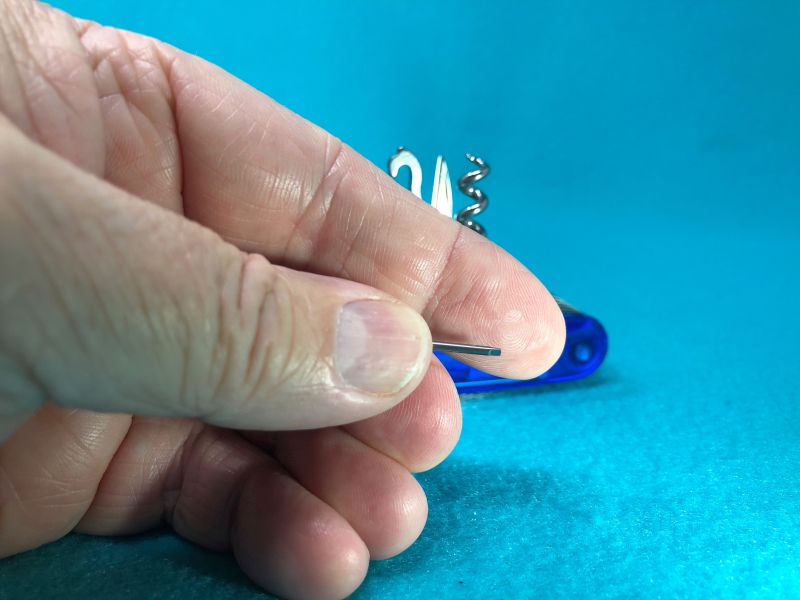 Multi-tools are usually designed to "just get the job done" when you don't have actual tools available. The Swiss Army knife was designed to be the tool you carried to do what needed to be done. Originally, a screwdriver was added for assembling the Swiss Army's issued rifle, and the can opener was included for field rations. As other needs presented themselves, more options were added, with some collections being partnered for certain activities – camping, cycling, boating, fishing, etc. Some users found that tools meant for one sport could be adapted to others. (For instance, the pot-lifter hook, originally made for campers lifting hot kettles from the campfire by their wire bail handles, found that the same hook could help them reseat their bicycle chain, so it was re-named the "multi-purpose hook" and added into the cycling model. It's also useful for carrying string- or wire-bound packages or bales.)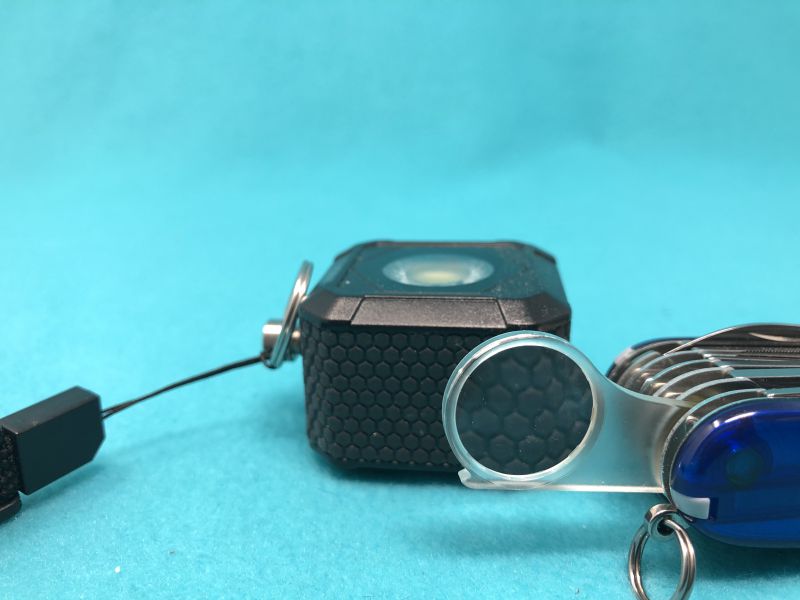 The SwissChamp model is made to get the majority of the tools used in these collections into a single tool for cross-category purposes. By and large, it succeeds. The quality of the tools and their guarantee are first-rate.
Victorinox AG guarantees all knives and tools to be of first-class stainless steel and also guarantees a lifetime against any defects in material and workmanship (save for electronic components 2 years). Damage caused by normal wear and tear, misuse or abuse are not covered by this guarantee.

What I like
Top-quality materials and workmanship
Good sized tools for actual use
Tools are easy to access independently

What I'd change
I worry about the clarity of the lens over time
It's really bulky
And heavy
Final thoughts
I have carried a pocket knife since I was nine or ten years old. For the last 40 years, I have almost exclusively carried a Victorinox Swiss Army Officer's knife, and only one has had a tool break. I could have probably had it replaced, but it was easier to just replace it with a new model in the pre-internet days. The old one is still in use in my desk drawer. My model of choice recently has been the Tinker, which includes the first items on the list above down to the key ring. Years ago, I worked in an Art Department where they were trying to uncork a bottle of wine with a pair of scissors. (It was late in the year, and they wanted to celebrate!) I asked if they'd like a corkscrew, and the manager just glared at me (humorously) and said, "You have one, don't you?" I handed over the Climber model I was carrying at the time, and they happily popped the cork without further damage to their Fiskars.
Having the addition of the other tools has been quite interesting and helpful. At various times, I have carried a collection of single-purpose tools on a carabiner: a steel flip-out loupe, a pair of fine-point tweezers, a SIM tool, a small LED light, and a small fold-out blade. The stainless steel pin is too pointy and too thin to serve as a SIM remover tool, but I like that they have so many other various tools together in one unit. It's only 2 more ounces than my Tinker model, and my recent job has seen the need for a magnifying glass on occasion.
Price: $79.99 with composite plastic handles. $105 with Walnut wood handle scales.
Where to buy: Victorinox website, BladeHQ, or other online/offline retailers.
Source: The sample of this product was provided by BladeHQ.