We use affiliate links. If you buy something through the links on this page, we may earn a commission at no cost to you. Learn more.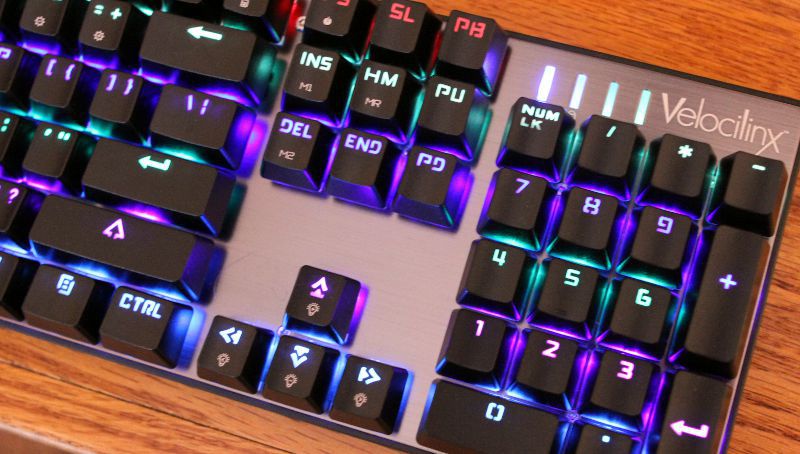 Every video game requires input from the gamer, and for PC gaming that means a gaming keyboard is required.  For me, a great keyboard need to durable as I mash the keys repeatedly, use switches that have a tactile response, and display some bling-bling colors so that I can show off for my friends.  In this review, I'm testing the Velocilinx Brennus Gaming Keyboard to see how well it stacks up to my ideals.
What is it?
The Velocilinx Brennus is a full-sized keyboard with 104 mechanical keys that is designed for gamers.
What's in the box?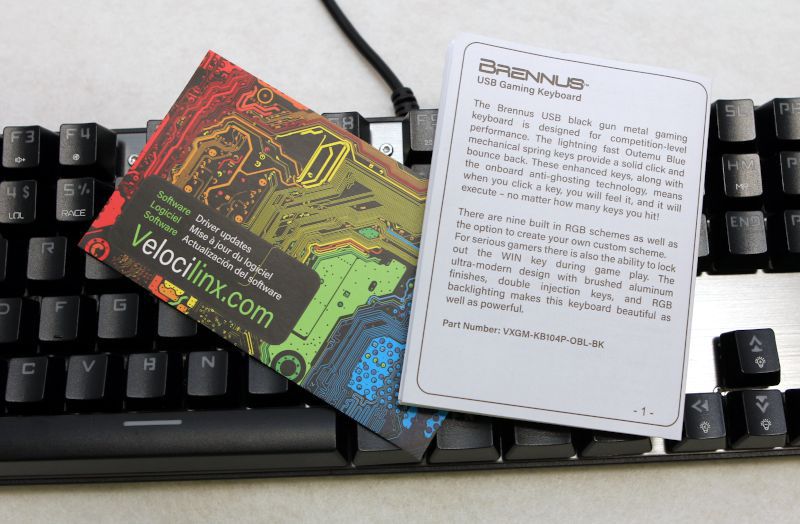 The keyboard
A manual with 8 pages of English instructions
A colorful card with a URL for downloading drivers
Hardware specs
Keys:  104 Outemu Blue mechanical spring keys
Color:  26 lighting effects and key backlighting
Dimensions:  17 x 5 x 1.4 inches
Weight:  1.9 pounds
Design and features
The Velocilinx Brennus has black keys and a black plastic base; the top has a brushed-aluminum finish with visual, external screws.  Although it's a minimalistic design—there's no extra material around the keys such as a wrist rest—it sports a pervasive set of rich colors coming through the key letters and from underneath the keys.  The keyboard is rather light, but even so has very little flexing when I grab the ends and try to twist it.  The Brennus is both stylish in design and solid in construction.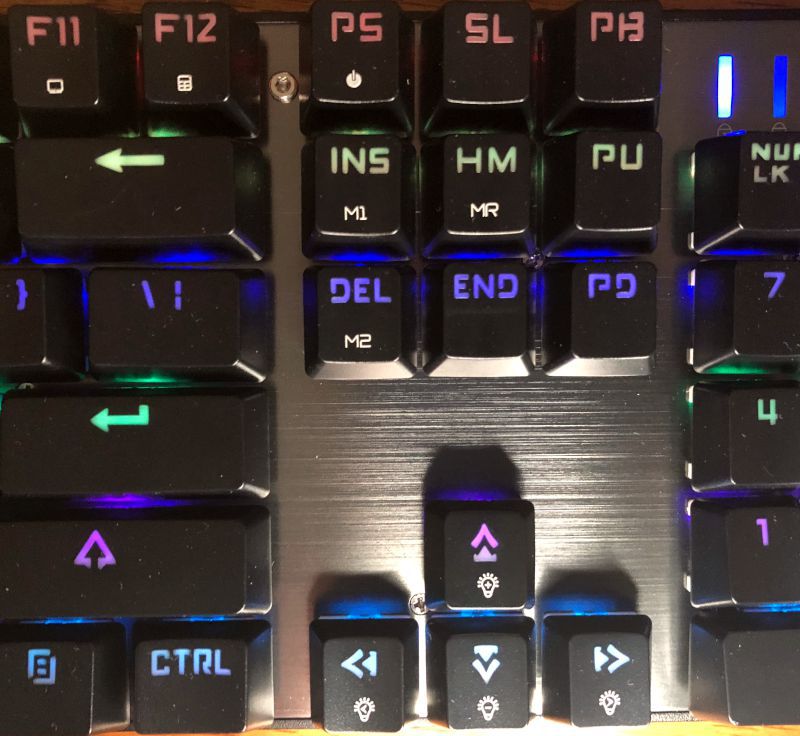 Installation and setup
The Brennus is a USB keyboard, so the first step was simply to plug it in.  I typed a few letters, and they showed up on screen.  I immediately noticed that it was sliding around on my solid oak desk.  I flipped the keyboard over and discovered that it only has 2 rubber feet, neither of which are very grippy.  That's definitely a short-coming, and in my testing I found the that the left side of the Brennus (where my left hand is) often slipped out from underneath my fingers.  Gaming keyboards tend to take a lot of physical force and get pushed around, so I think Velocilinx needs to add a couple more rubber feet and make them a bit more sticky.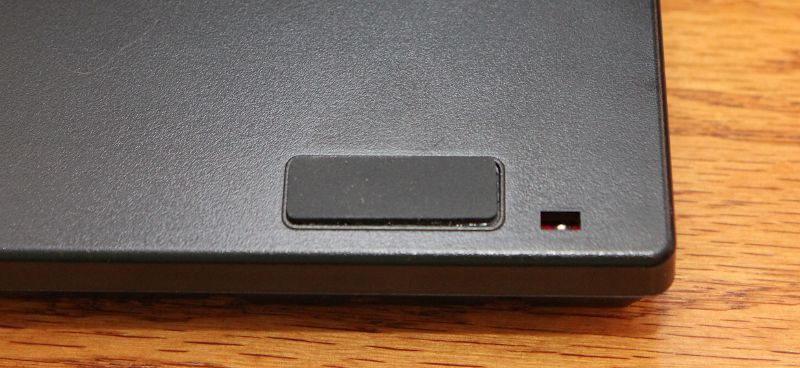 The second step was to read through the manual.  Nearly all of its 8 pages are instructions for changing the various color displays.  This is where the Brennus really shines!  It supports a full range of preset RGB colors and has so many different options for configuring them.  The colors can be solid, fade in and out, respond to key presses, flicker, and so on.  I've never seen a keyboard with so many color choices, and it's great that all of these options are available simply by using the FN key.  The lights look amazing, especially in my gaming room, which tends to be a bit dim.

The third step was to look for Velocilinx's keyboard software.  On the support page for the Brennus keyboard I found a ZIP file that I downloaded.  It contained 2 executables—sorry, nothing for you Mac users—one for 4k and one for 1080p.  What?  What in the world does my monitor's resolution, which is neither 4k nor 1080p, have to do with my keyboard settings?  I think it would be helpful for Velocilinx to add some documentation to its support page and to a readme file in the ZIP that explains why there are 2 different files, what they each do, and why they are named after monitor resolutions.

I ran the 4K file, and it installed VX Keyboard for me.  The primary function of this software is to adjust the color settings of the Brennus.  As far as I can tell, it doesn't offer any color functionality that I can't get with the FN key, though I suppose it's easier to visually see what each setting does.  The secondary function is to allow you to create macros for your keys, but this isn't something that I do; in fact, in Dota, my favorite game, using one keypress to perform multiple actions is explicitly defined as cheating.  As the software doesn't really offer any new functionality for me, I eventually uninstalled it.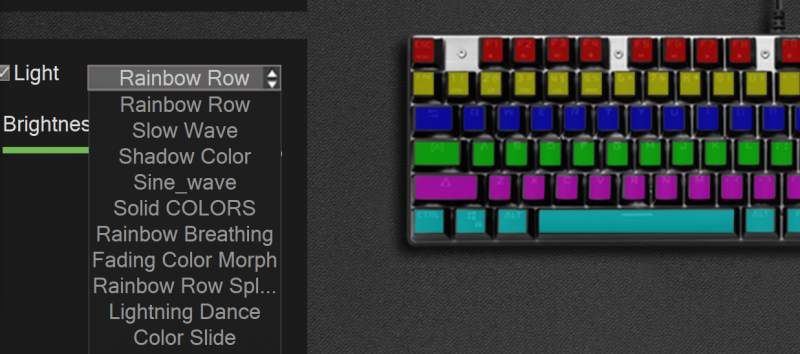 Performance
To test the Brennus keyboard, I played four different video games.  I began with an old standby, Minecraft.  I quickly discovered two very disruptive problems.  First, sometimes the keys did not respond when pressed; that is, I pressed a key to do something, and it didn't do anything.  If I pressed it again, it worked as expected.  Second, sometimes I pressed a key and it auto-repeated multiple times.  When pressed the "w" key to go forward, and my character started going but wouldn't stop.  I rebooted my computer, and the problem stopped, but it reappeared at other times.  I even experienced this behavior while typing in Word and while trying to login to Windows 10.  Whenever this behavior began, the only way to stop it was with a reboot.  I didn't experience this often, certainly not every time, but when I did it was extremely annoying and frustrating.  I've never seen this behavior in any other keyboard.  The good news is that this behavior stopped after a week of testing, and I haven't seen it since.  My best guess is that there was some sort of residue that remained on the switches as a result of the manufacturing or assembly process, something that disappeared with time.  Whatever the problem is, I hope that they can find and resolve it.
Once this problem faded away, I began testing the Brennus keyboard with my favorite competitive game, Dota 2.  I really like how it played.  The keys are solidly built, definitely mechanical, and have a great tactile response with an audible click.  The overall feel is not very different from my trusty Razer BlackWidow.

I then moved on to test the Brennus with two games that I had never played before, Maelstrom, a battle royale game with ships, and Destiny 2, an FPS game that just arrived on Steam.  The keyboard worked perfectly, and I had a blast sinking ships and frying aliens.
After I finished testing, I sent the keyboard off to my son, Jacen, who is the President of Liberty University's Gaming Club and Director of Liberty Esports.  He plays a variety of games, including Dota 2, Apex Legends, and Overwatch.  He didn't have any problems with sticking or repeating keys, which tends to confirm my suspicion that this was a residual problem.  He described the preset color options as "pretty sick," though he wished there were more options for customization.  Like me, he felt the mechanical keys were solid to use.  Overall, he considered it to be a "very solid keyboard," and he's currently using it as his gaming keyboard.
Extra Features
The Brennus has a Windows key lock.  If you've ever played a game in full screen mode and then accidentally hit the Windows key, you know how jarring it is to be kicked out of the game and suddenly be looking at your Windows menu.  When I hit FN + the Windows key, it locks it down so it can't be used.  Previously I've had to use third party software to prevent this, so kudos to Velocinx for building this in.
The keys use a strange font can be a bit hard to read for a few letters.  I did a double-take the first time I saw that "B" key, for example.  The font is certainly stylistic and rarely an issue as I can both type and game by touch, but I would prefer a more traditional font for those times where I do hunt and peck for a key.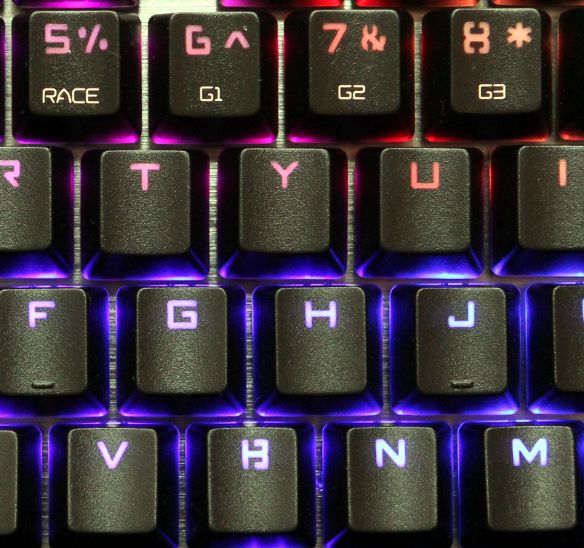 The Brennus is a mid-ranged keyboard, yet it lacks some features that I would expect at its price point, such as a braided cable, USB and audio ports, and an ergonomic wrist rest.
What I like
The lights are amazing!
The mechanical keys are tactile and responsive.
The no-frills design focuses on gaming.
What I'd change
Fix the problems with keys not firing and sticking.
Improve the quality of the documentation for VX Keyboard software
Final thoughts
The Velocilinx Brennus is a nice mid-ranged keyboard.  It's solid, feels good, and has great lighting.  I am recommending it to you, albeit with one little caveat:  Keep your receipt.  If you happen to experience the same problems with the keyboard that I first experienced, you want to make sure you can return it, just in case they don't go away.  But if you never see those problems, then it's very likely that you are going to enjoy using the Brennus in your competitive games.
Price: $109.99
Where to buy:  Staples
Source: The sample for this review was provided by Velocilinx.