We use affiliate links. If you buy something through the links on this page, we may earn a commission at no cost to you. Learn more.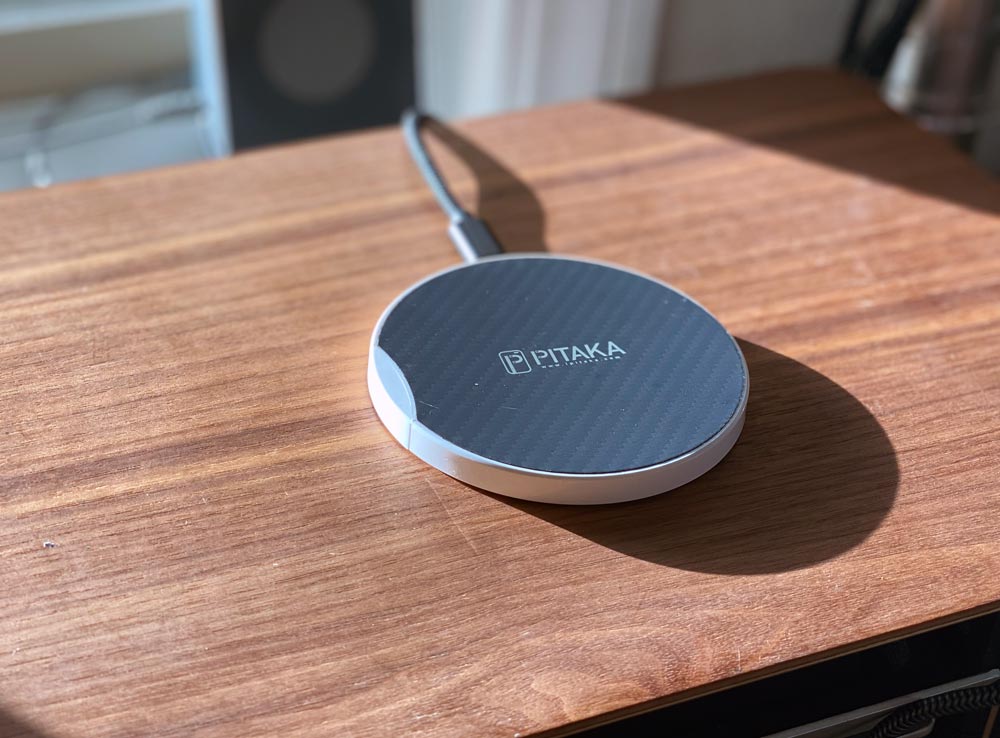 REVIEW – What's round, thin and keeps your phone alive? A Pitaka Fast Wireless Charging Pad! It can be hard to get excited about wireless charging accessories these days, now that it's so readily available. It seems just yesterday that many of us were wondering 'Is it that hard to plug in a cable?'. The truth is it's incredible convenience has won out, and helps keep things nice and tidy to boot. Let's look closer at this Pitaka's solution.
What is it?
Pitaka's Fast Wireless Charging Pad is a low-profile, Qi certified, quick-charger compatible with any devices that can recharge with the Qi system which really does seem to be most of them.
What's in the box?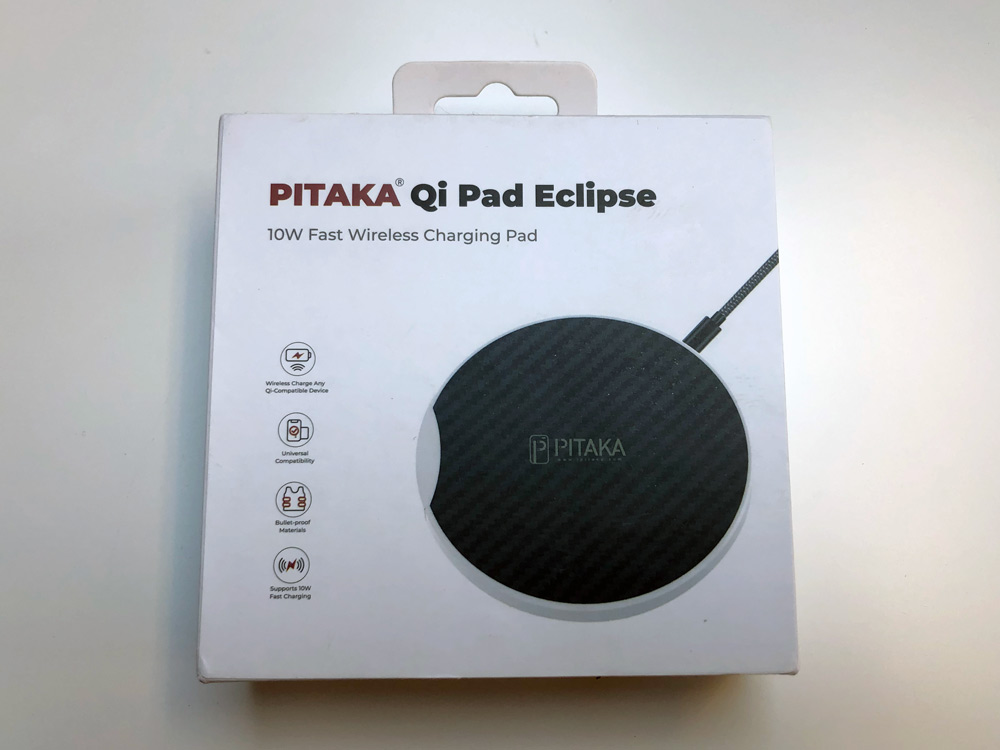 Everything come tucked into a nice compact box.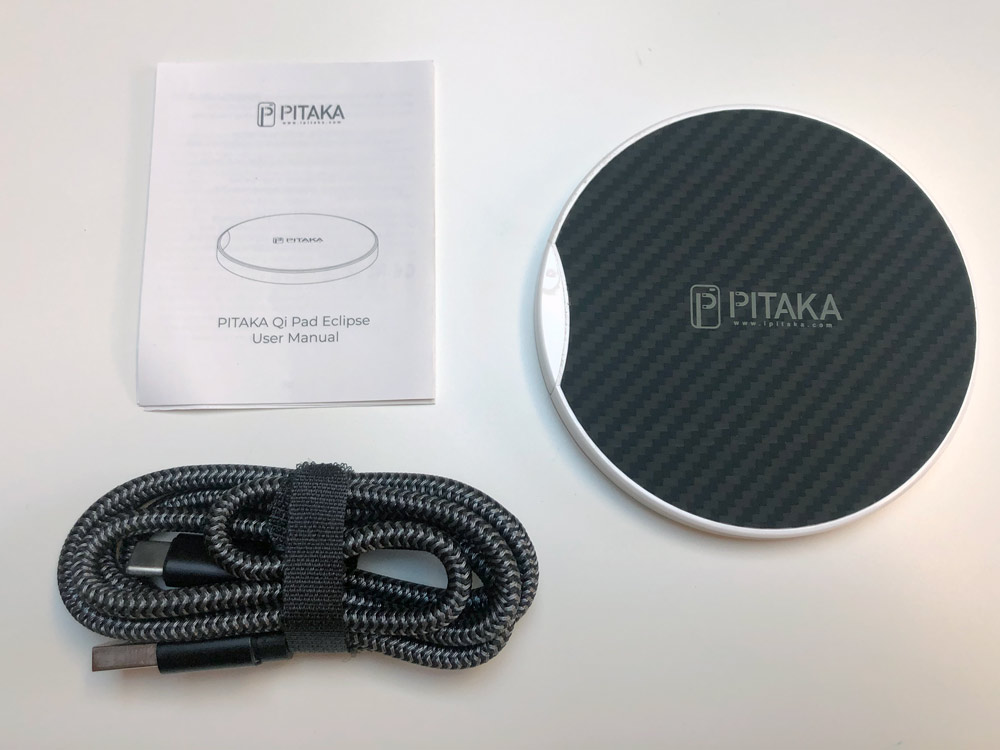 Fast Wireless Charging Pad
USB-A to USB-C Charging Cable
User Manual
Hardware specs
Connection: USB-C on pad, included cable is USB-A to USB-C
Dimensions: ~9cm diameter and ≤ 1cm profile
Charging speed: Supports up to QC3.0 10w quick charging when used with an enabled adapter (not supplied)
Design and features
The Fast Wireless Charging Pad (FWC Pad going forward for brevity) is a classic Pitaka product. It does what it needs to without excess fuss, uses their Aramid fiber material that is on virtually all of their products and just works, arguably better when paired with other Pitaka products.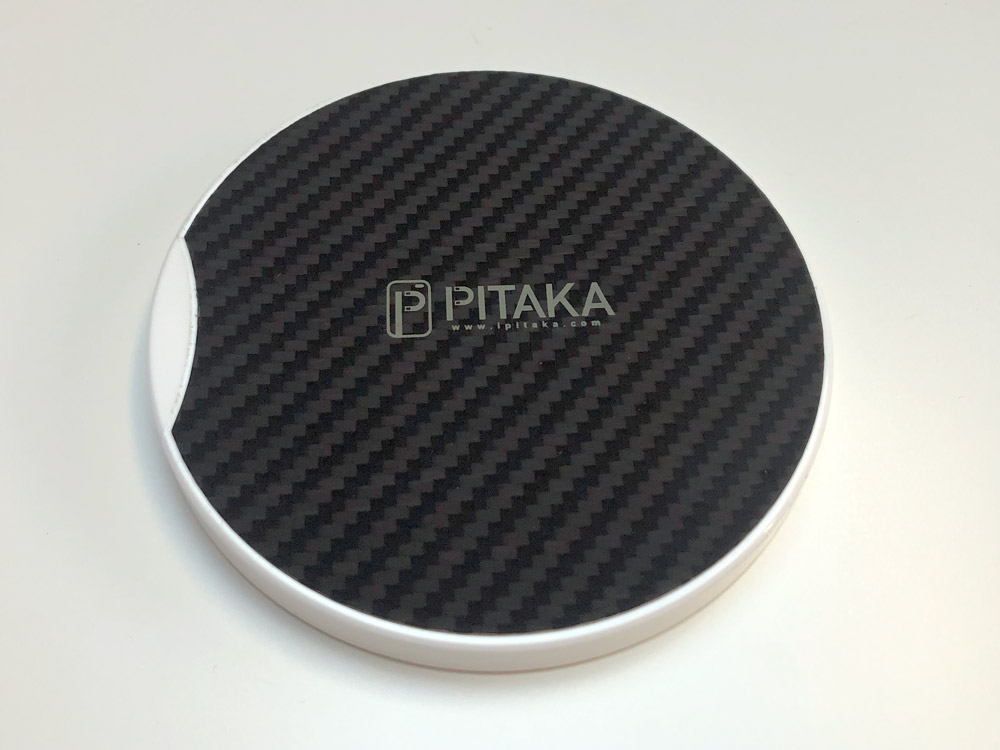 At first, the white crescent on the left edge looks like just a design element (which it is) but it also hides an expansion connection that lets it magnetically dock and be powered by other Pitaka products like their MagDock.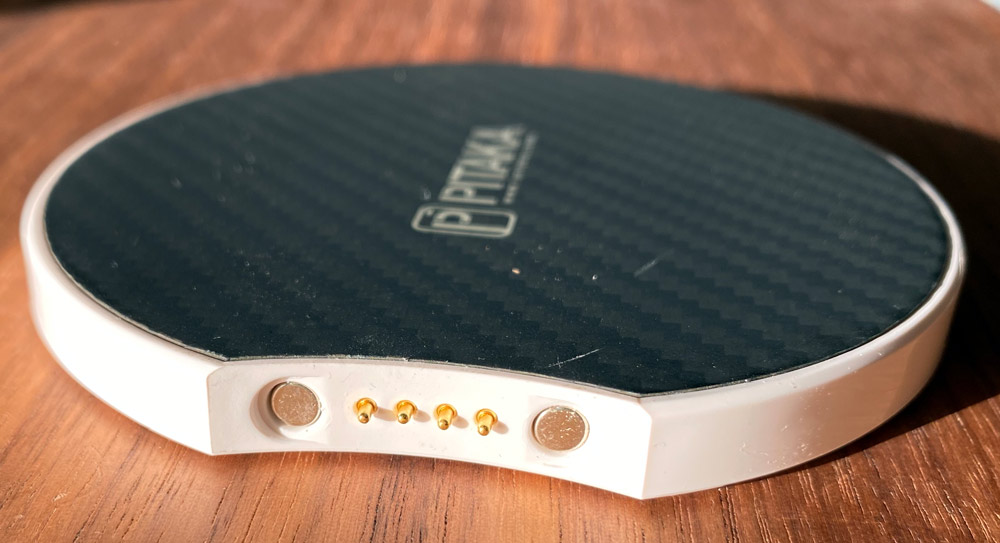 The FWC Pad has a textured bottom with four anti-slip pads to help keep it in place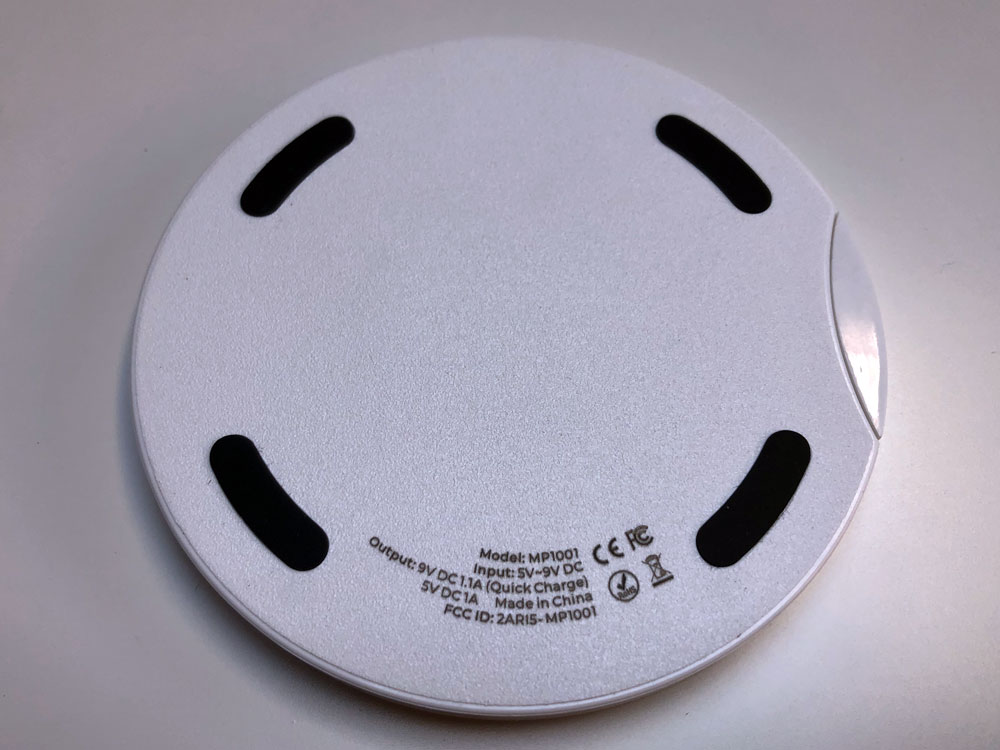 A USB-C connection means it's directly compatible with newer USB-C only laptops, and the included USB-C to USB-A cable keeps it backwards compatible.
Setup
Connect the USB-C end of the cable to the FWC Pad and the USB-A end to your favorite wall adapter, computer or other power source and you're ready to charge.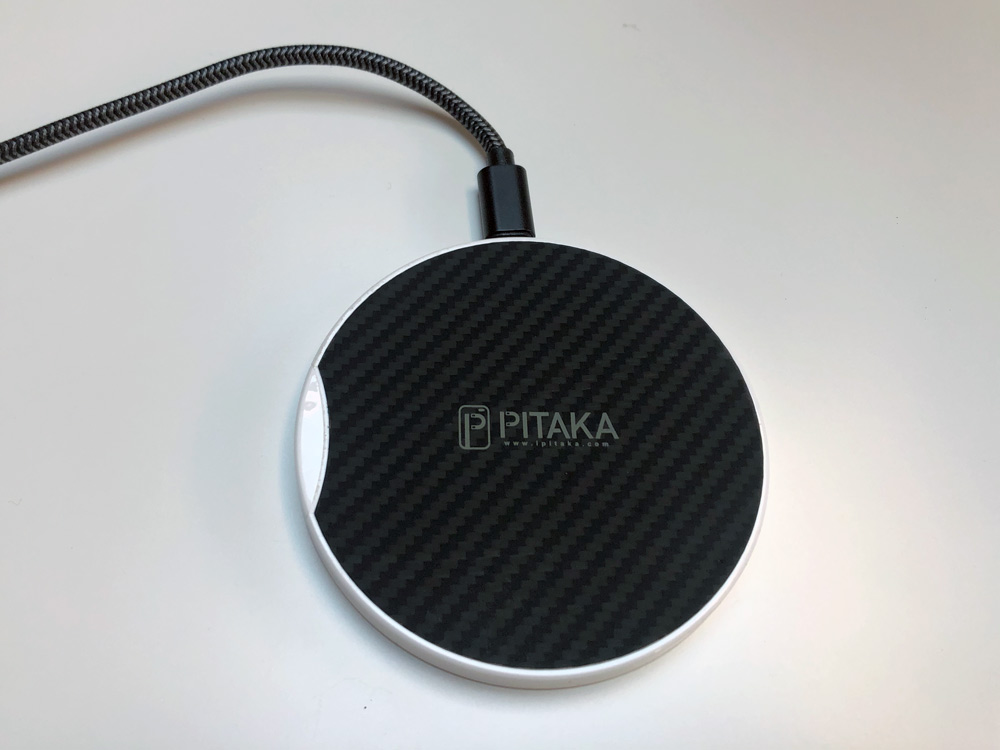 To charge at the higher speed, make sure to use an adapter capable of 10w quick charging.
As with any Qi compatible charger you'll want to make sure the charging coil on the device you'll be charging is centered over the pad. That coil may not be in the center of your device so adjust position accordingly and make a mental note of it.
Performance
The main benefit of using a well-placed wireless charging pad on your desk is that it becomes second nature to lay your phone there every time you sit down.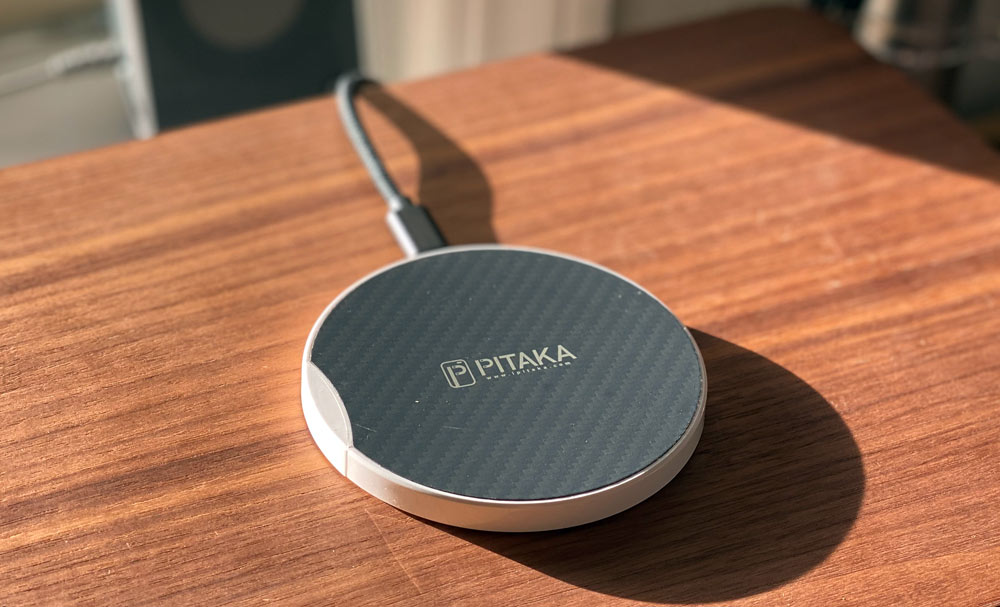 Charging without thinking about it trying to work in cabling up later when needed. Speaking of, at the office I would frequently return to my desk to find a fellow employee's phone laying on this to keep them out of the low-battery zone.
I've been using this at my desk for the entire review period. The funny thing is I've actually been using it much longer than that. I backed their MagDock product on Kickstarter and that product came with this same charger without the crescent cover.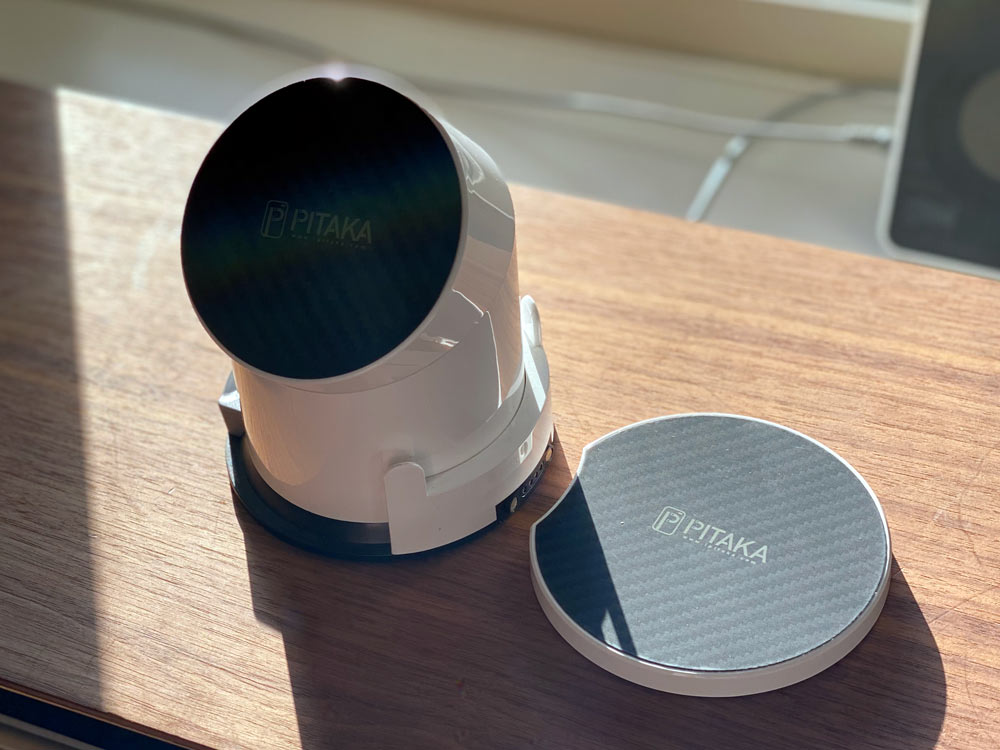 So in actuality, I've been using this product for well over 6 months at this point and it's been working perfectly.
I mentioned before that you need to properly position your device. Pitaka has made this easier when paired with one of their own cases. Pitaka cases have thin steel plates between the layers that are carefully aligned around the position of the charging coil in your phone. Corresponding magnets in the FWC Pad help get it into the right place and hold it there.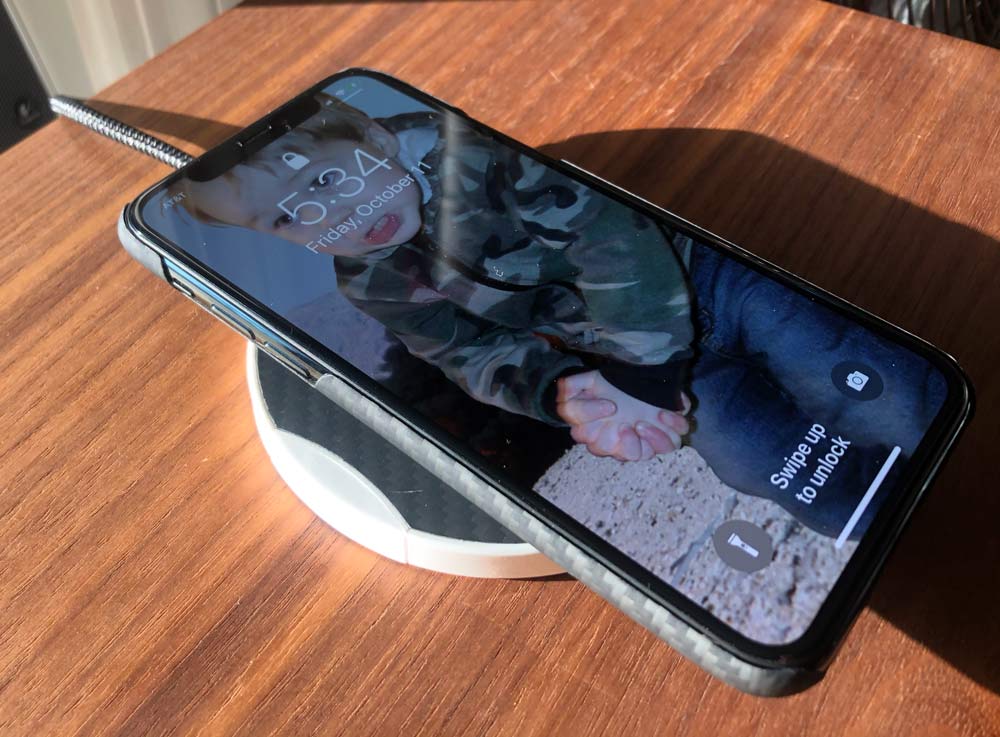 The FWC Pad isn't very heavy so it can migrate on the desk a bit, but between the weight of the supplied cable and the anti-slip feet, it does a good job of staying put. If you are using a Pitaka case the magnetic attraction is enough that you'll need to roll the device off a bit or push off with one finger as you lift your phone.
The last thing worth mentioning is that there are no LEDs or piezos on this thing so no flashing lights chirps. They call that sleep friendly and it's something I wish more companies did. Your phone and most other devices already tell you if they are charging so why duplicate that in technology or cost.
What I like
Small and compact, good for travel or just minimalism
USB-C connector is a solid connection and can connect directly to my MacBook pro without an adapter (using my own cable)
Magnetic connector for future expandability?
Robust and durable
What I'd change
Kinda pricey compared to some other Qi compatible options out there
Would be cool to see some non-white color options
Final thoughts
The Pitaka Fast Wireless Charging Pad does exactly what it sets out to do. It charges any compatible Qi device quickly and easily. It has a minimal profile on your desk or nightstand and no lights or sounds to get in your way. If you happen to use a Pitaka case on your phone or AirPods, the magnetic attraction is a welcome addition. If it's within your budget and the Aramid material (carbon-fiber look) works for you, then please take a look.
Price: $49.99
Where to buy: Amazon
Source: The sample of this product was provided by Pitaka