We use affiliate links. If you buy something through the links on this page, we may earn a commission at no cost to you. Learn more.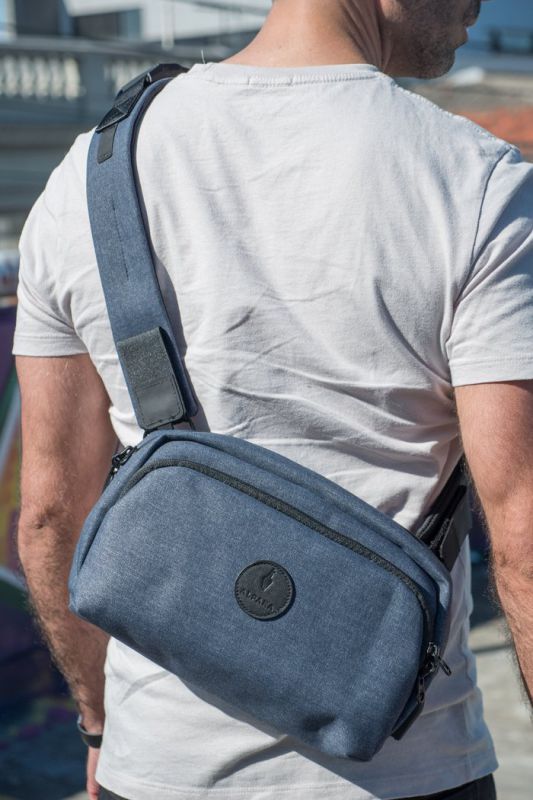 REVIEW – I recently reviewed the Australian designed Alpaka 7VEN Mini Messenger.  While I had an issue with the strap as a proper messenger bag, it's pretty much been my work EDC used as a shoulder bag/briefcase only. Because of its great layout of pockets and other things, as a shoulder/briefcase it's really good. The problem I've always had with messenger bags is that they're great because they can carry so much, but they're not so great as they carry so much 🙂  I just keep filling them up and never cleaning them out and they end up with stuff in there I haven't used for months.  What happens when you just want to carry a small amount of equipment or carry some minimal camera gear?  That's where Alpaka's Go Sling Pro comes into play.
Specifications:
5.5 litres
17 x 28 x1 1cm
550 grams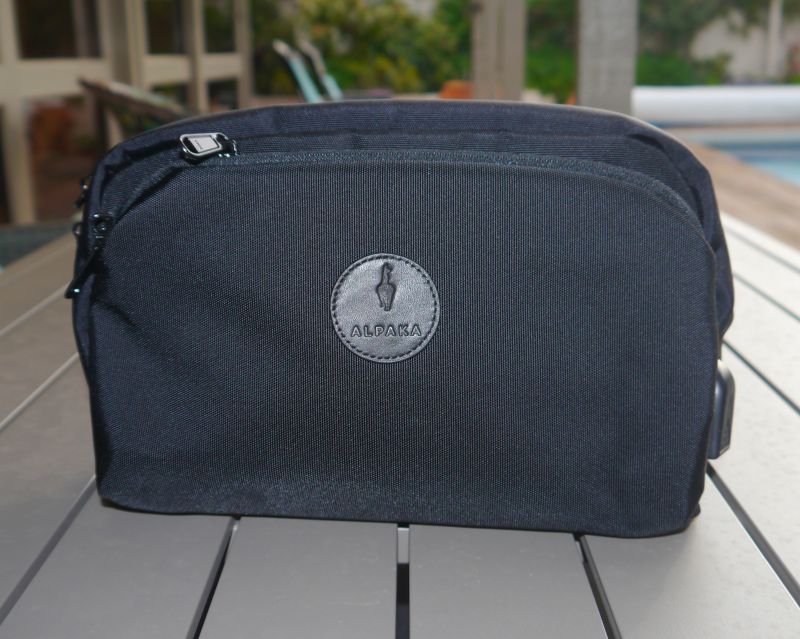 Made from waterproof ballistic nylon or faux wool the bag comes in 4 colours; grey (faux wool), black, brown and blue. The bag also has a Kevlar mid-layer to protect against slashing into the bag, something that may come in useful when you're travelling in some of the "dodgier" areas around the World. On the front is a nice sized pocket with a lockable zip.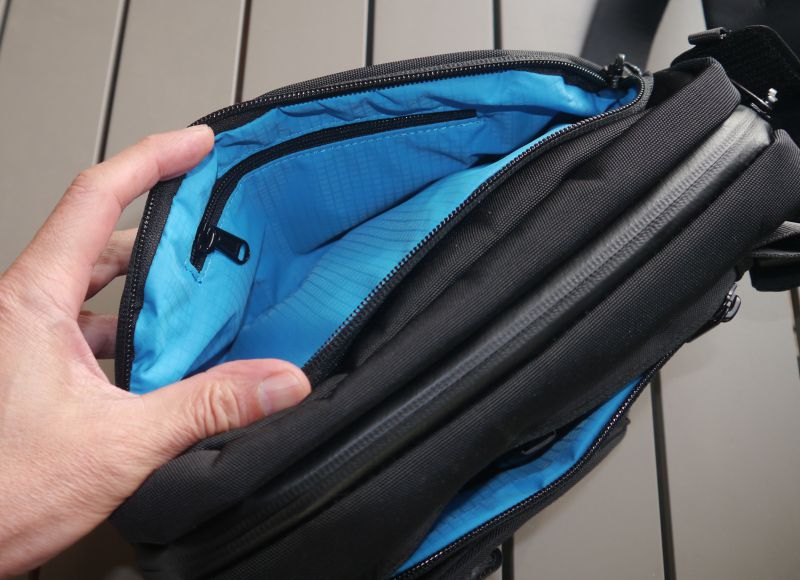 The front pocket is lined with blue 210D ripstop nylon which makes it's easy to see things in there and there's a zippable smaller pocket in the front for keeping things either separate or safe.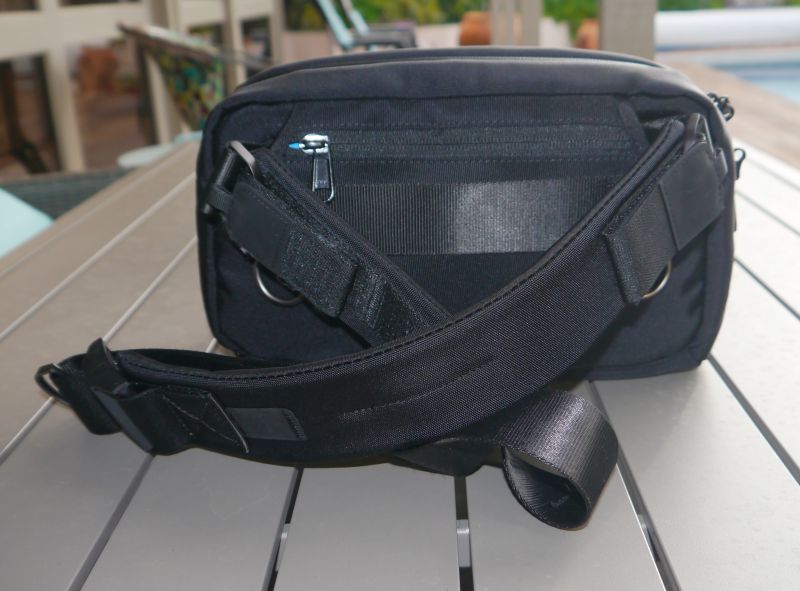 On the back is the strap, a back pocket and a hand strap.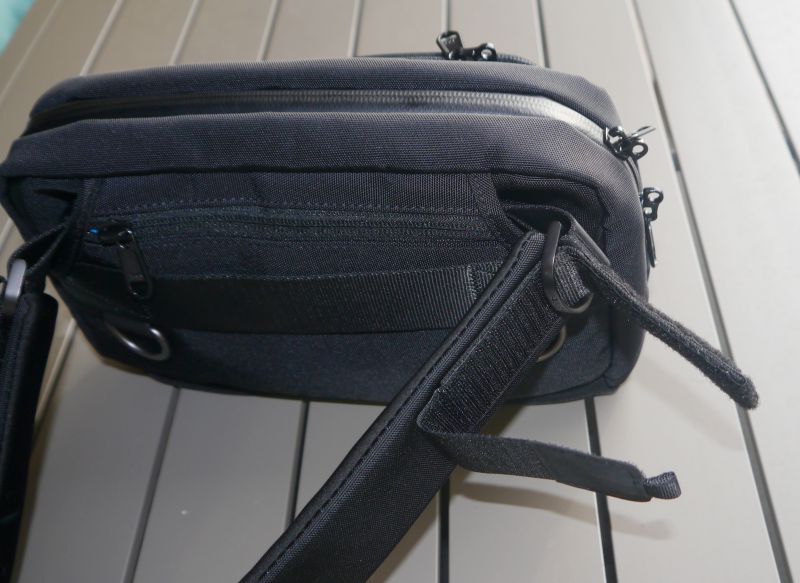 Unlike the 7VEN messenger, the strap is removable. The good thing about this is that this bag can be configured for either left or right shoulder carry.  The strap is held on with strong velcro that hooks into some metal D-rings. Once installed there's no way that the strap will come off. There's also a couple of spare D-rings if you want to hang other stuff off it as well.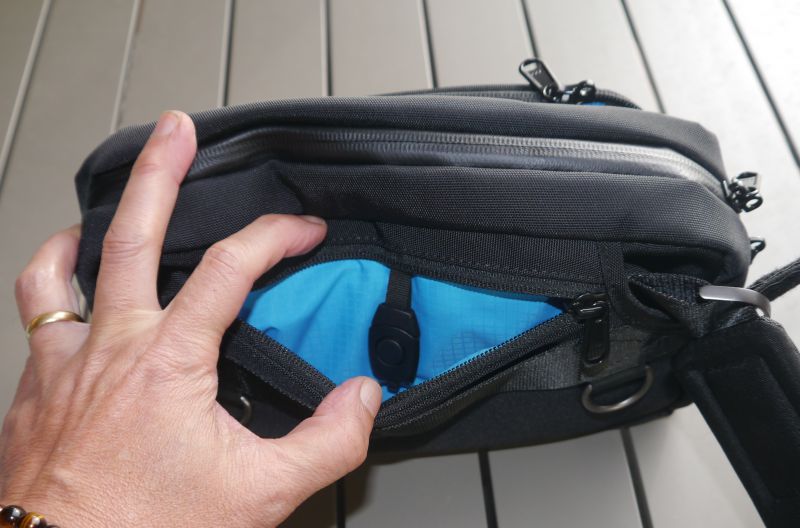 The back pocket is also lined with blue ripstop and there's also a detachable key ring holder as well. Because this pocket is held against your body, it's a good place to store things securely as you'll know if anybody is trying to get to this pocket.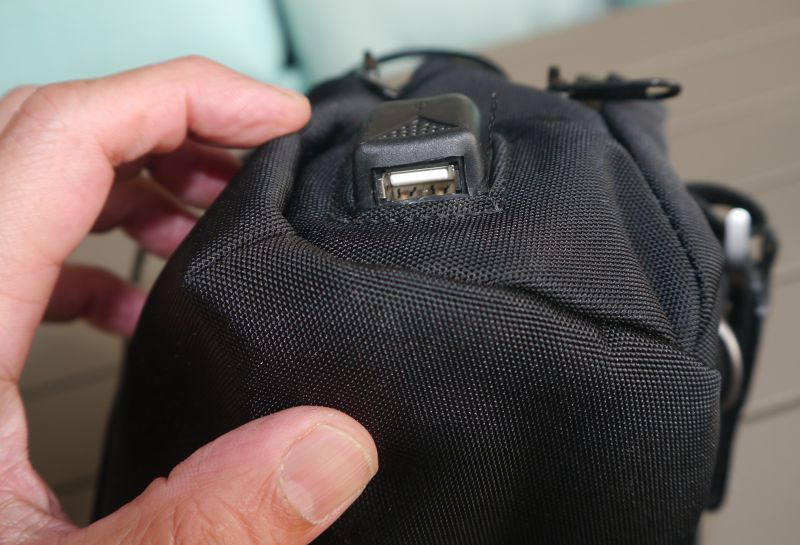 Ever need to charge your phone or camera via a USB battery pack?   Here's a neat little addition, there's the ability to charge your device for an external USB port.  This way you can easily still use your device while charging it.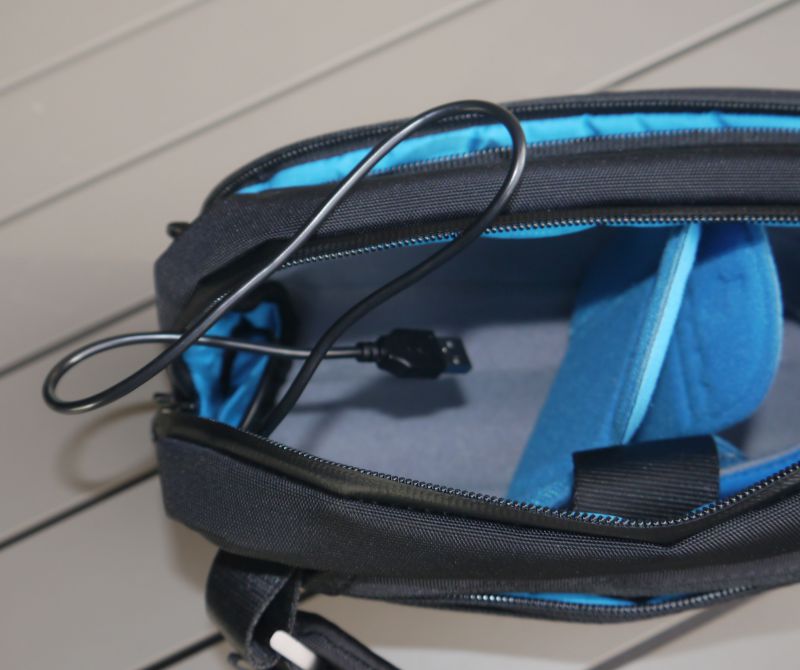 It's nothing too complex. The external port runs a standard USB cable and you can keep your battery pack internally while charging your device externally. It doesn't come with a battery pack, so you can supply your own depending on your needs.
The main pocket is quite large and lined with a velvet fabric to protect the equipment you put inside. The zipper is a YKK Stormguard which should help protect against water ingress. It also comes with 2 removable dividers that allow you to separate your items. They quote that the compartment is big enough to handle a DJI Mavic drone (which I don't have so can't test :p ).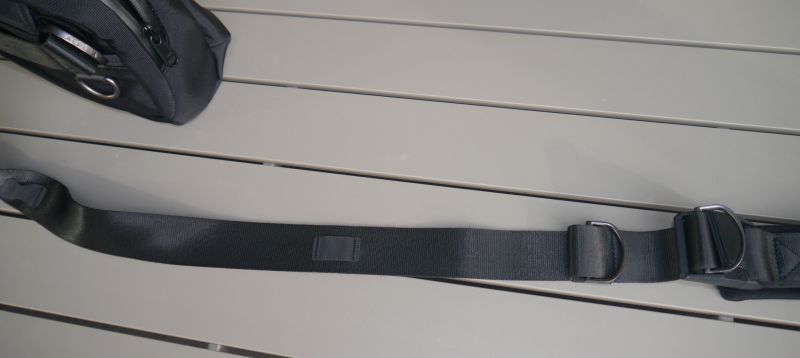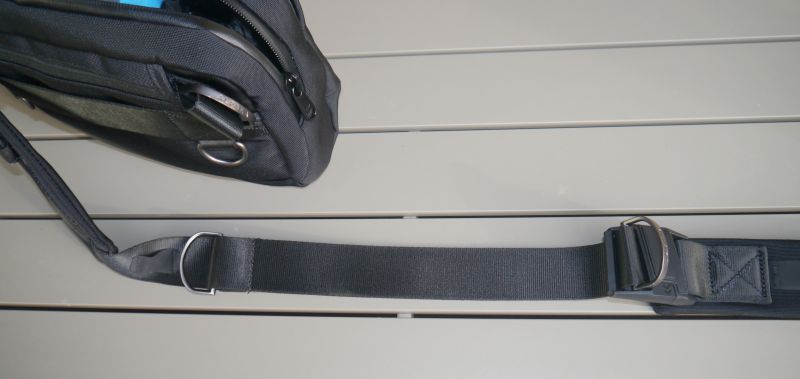 The strap of the 7ven messenger was my bugbear and the strap for the Go Sling Pro is a great improvement (though not suitable for a full messenger as it is). The strap is easy to shorten or lengthen on either shoulder just by holding and pulling on the 2 metal D-rings, so messenger style adjustment on the go is easy to do. This means I can adjust the strap (up)  to get maximum comfort, then easily "lower" the bag to get things out and then adjust back up again. You can see above in its shortest and longest configurations.
The strap is also protected with Kevlar to stop slash and grab type attacks.
There are also some neat things like a sunglasses holder ( the little strap near the left hand buckle), that you can quickly and easily hang your (sun)glasses on with easy access.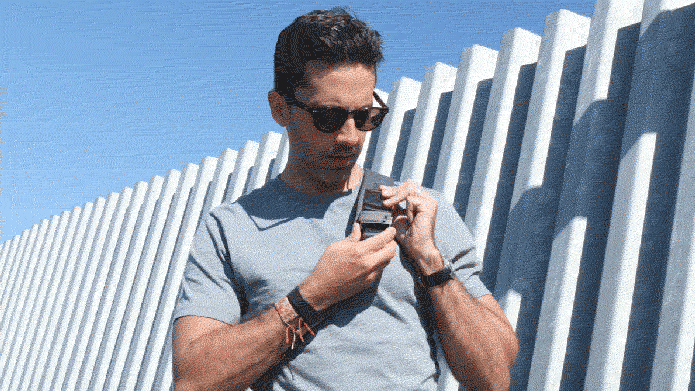 The strap also includes a magnetic fidlock buckle just like the 7ven messenger. This is really handy when you have to take the bag off when saying wearing a bicycle or motorcycle helmet or if you just don't want to mess up your hair 🙂 It makes it much easier to put on or take off.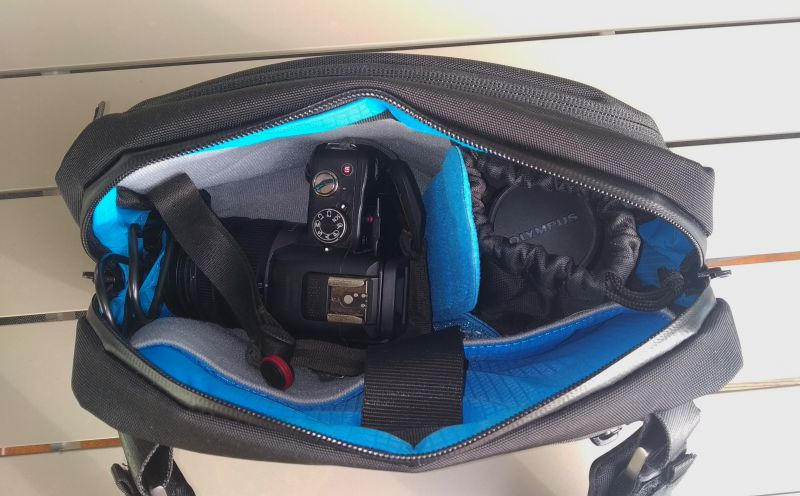 Here it is loaded up with my Panasonic G3 with its standard 42-90mm lens and my 50mm portrait lens.  Note too there's a padded and strap protected pocket on the back as well that's big enough for an Apple iPad mini or Kindle or a small Android tablet. I can still use the front or rear pockets to carry my camera peripherals like batteries and filters, or throw in my wallet or phone. A nice amount of room for a day out.
What I like
It holds a lot more stuff than it looks like it should
Construction is great and is well padded to protect your electronic equipment
Carries just enough equipment for a day
Easily adjusted while being worn
What I'd change
It's a bit heavy, but that's because of the good construction and to protect your electronics
For water ingress, it would be nice if the front pocket and rear pocket used a Stormguard zipper, not just the middle compartment
Final thoughts
Whether I'm going out to take some photos, or just want to carry a few things around with me for the day, the Go Sling Pro really meets the specifications it was built for. For a day trip around town it's kinda a "Goldilocks" product; just right. I'll be going overseas at the end of the year and be using this as my EDC travel bag.  Means I won't carry too much with me as I would with a messenger ("I'll just take that too in case I need it")  and has the added advantage that my wife can't use me as a "pack mule" to carry all her shopping like she does with a messenger. For the urban traveller or the overseas traveller, its combination of construction, security and carrying ability seems to fit the purpose it was made for pretty well.
Price: $99 USD
Where to buy: Alpaka Gear / Amazon US
Source: Alpaka Gear