We use affiliate links. If you buy something through the links on this page, we may earn a commission at no cost to you. Learn more.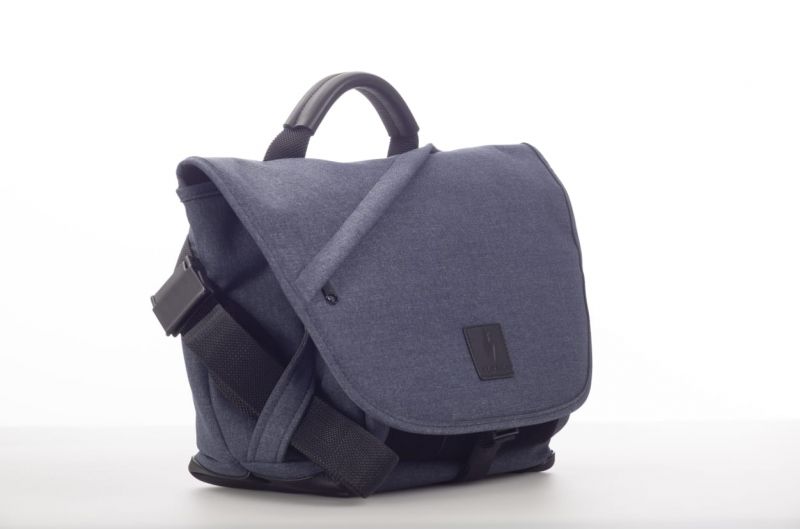 REVIEW – Ok, I'll admit it. I'm Ian, and I'm a messenger bagaholic.  Through the years I've had no-name messengers, multiple  Timbuk2s, a custom made BO-Gear and the list goes on.  When I found another Australian messenger company, Alpaka Gear (yeah, not a very Aussie name. Why isn't it the Roo, or the Echidna or the Koala? 🙂 )  I knew I had to get my fix and give them a try. How well does it fit my addiction? Will it be the one? Read on………
What is it?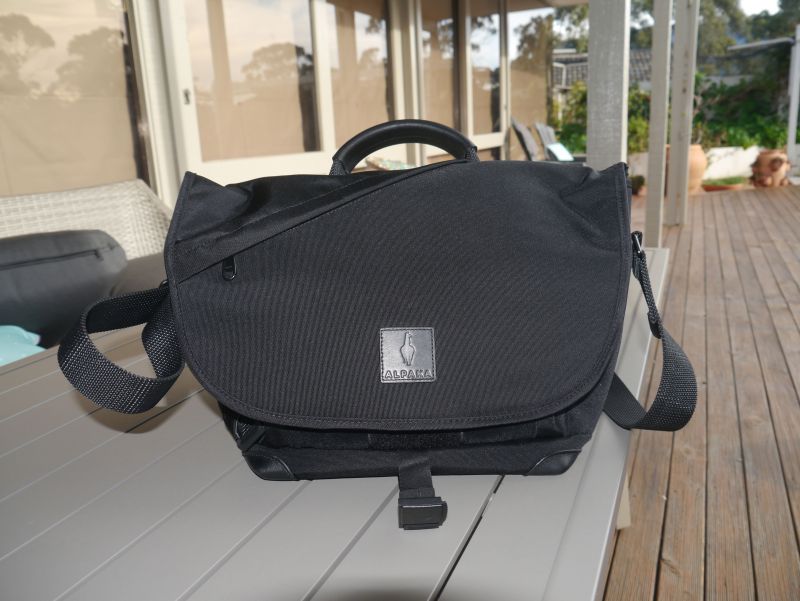 A messenger bag is a messenger bag is a messenger bag.  Obviously, a messenger bag is a very personal item, it's size, how many pockets, how heavy are all factors that will determine if a messenger bag is for you. Over time as mentioned above, I've had multiple messengers all of which get used at different times depending on my requirements such as carry capacity.  The 7Ven Mini Messenger is what I'd consider a medium size messenger designed to be used both for business and personal use and has some very handy features.
Specifications
The 7Ven Mini Messenger comes in 3 colours, black, brown and faux wool. The unit I received is black (at my request 🙂 ).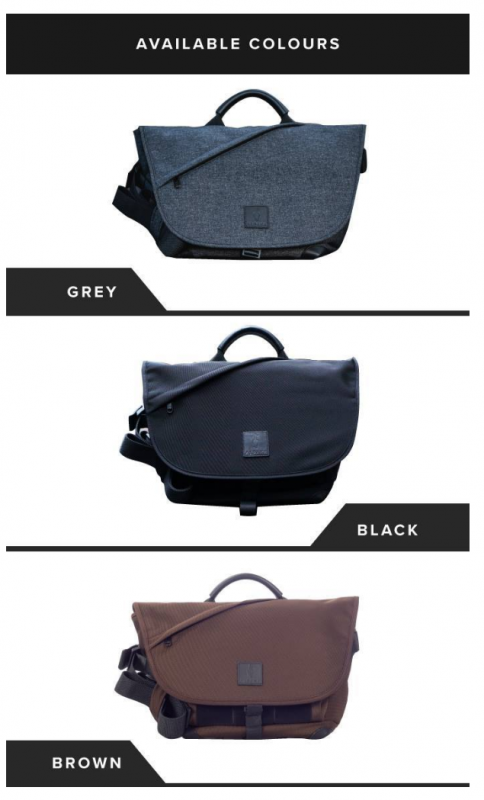 Dimensions
26 (10.2) x 33 (12.9) x 17 (6.6) cm/in
15-20 litres
1.1 kg (2.4 lb)
Exterior
Exterior 1000D Ballistic Nylon (Black / Brown) | 750D Nylon FauxWool (Grey)
Lining
210D Ripstop Nylon
Design and features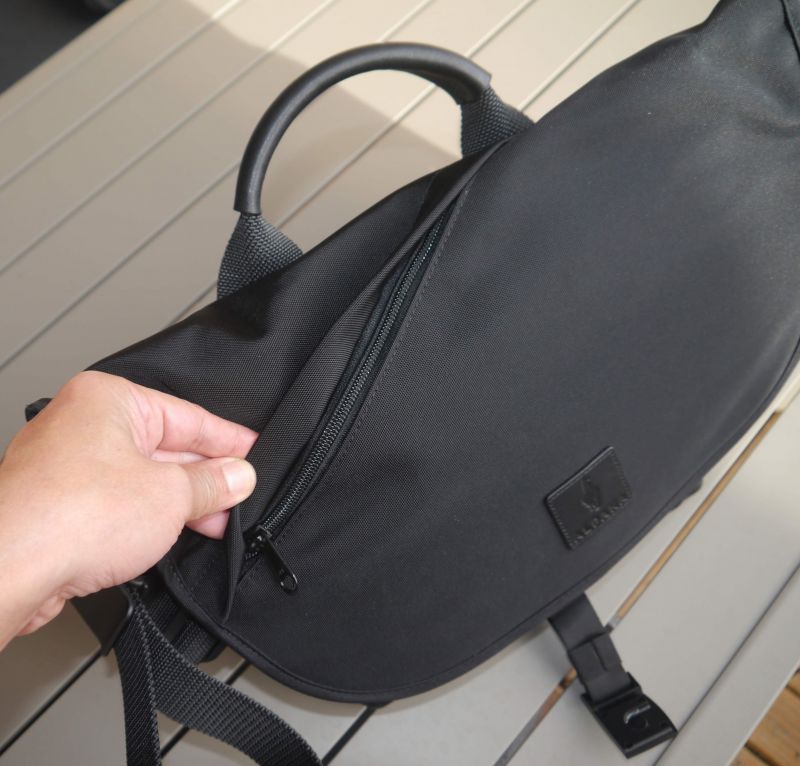 The front flap has a slash pocket on the front for easy access.   There's a nice "overhang" over it which should keep water out if you should be singing in the rain. Interestingly the flap also has a hard insert in it. This makes sure that the front flaps falls correctly and keeps its form ( well that's my take) as items in this front pocket sit in front of the hard insert, so the insert's not there for protection. This pocket is great for those items you need easy access to without opening the main flap.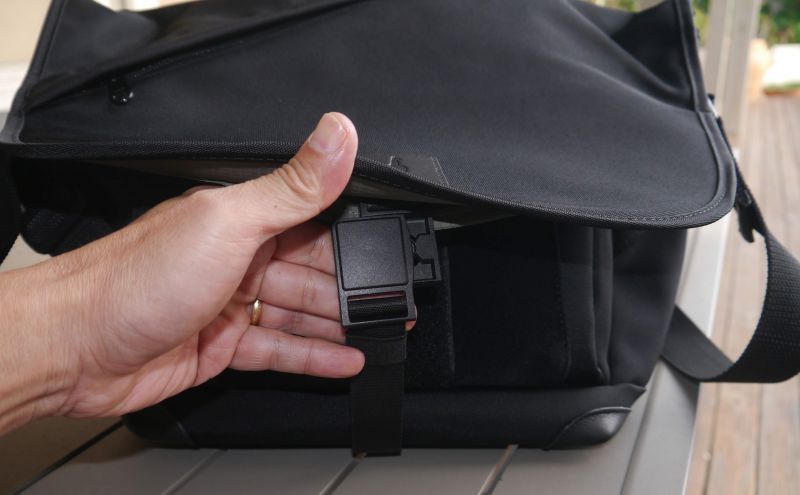 Locking the bag is this neat Fidlock magnetic connector. It's actually pretty cool and once you get used to it, it's much easier to open and close than your standard press clip. It makes a nice satisfying "click" when you close it. The connector strap is adjustable for carrying different size loads.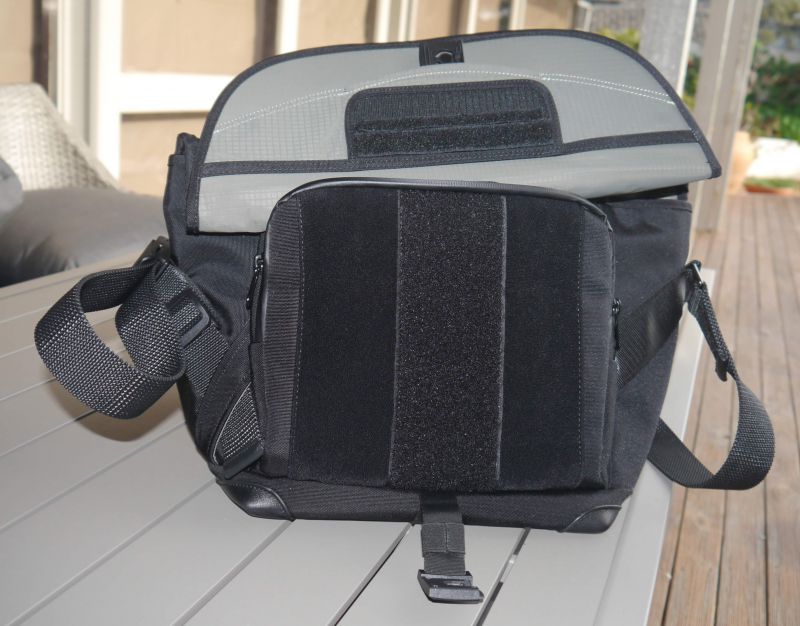 For additional security, there's also a big velcro patch. Because of the size of the pad, you can overstuff your bag and the front flap still remains secured and you adjust the fidlock for that additional layer of protection.  If however, you don't like that velcro "RRRRIPPPP" noise then while secure, this bag is very loud when you open it. Not good in a quiet, meditative environment. That being said if you look closely you'll see I've minimized this using some double sided velcro tape from the discount store for about $2, only about a metre and a half more and I'll have used it all up 🙂   I can easily remove my homemade "velcro silencers" if required.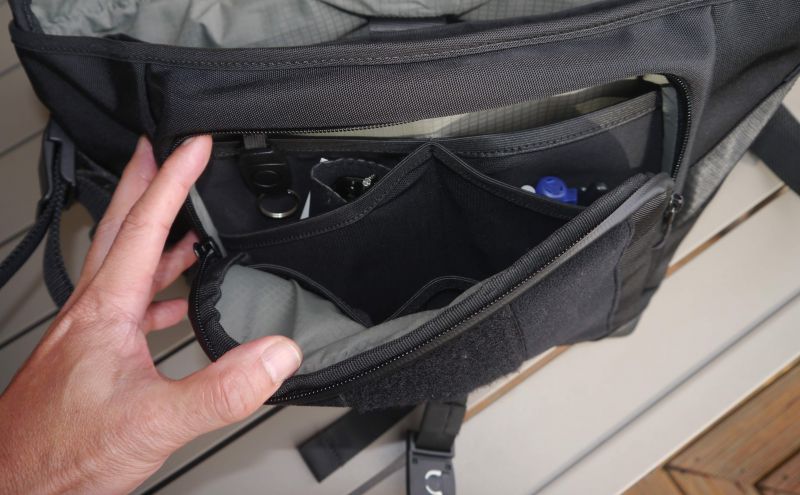 The front pocket has 7 elasticized pockets so you can easily organise all those bibs and bobs you need quick access to. There's a keyfob too for securing your keys. The grey ripstop inner liner throughout makes it easy to see your items.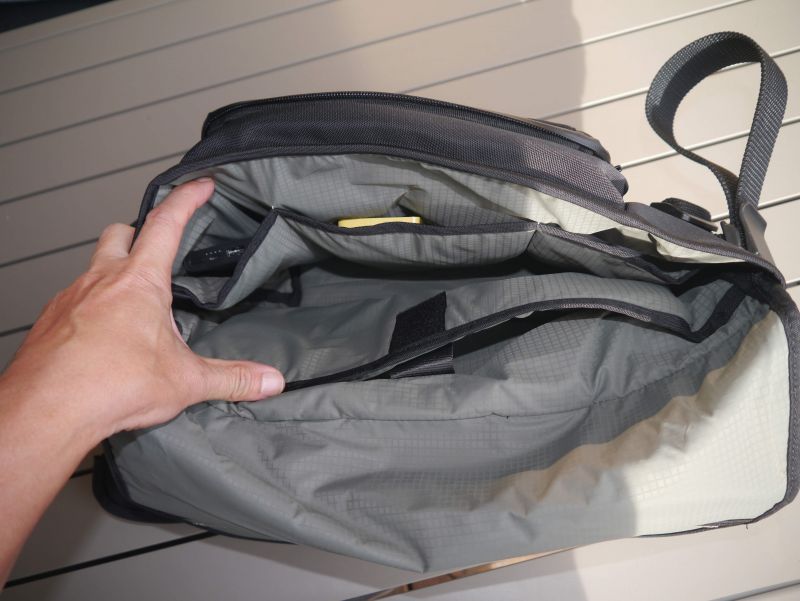 The main compartment is fairly sizeable, there's a padded notebook/tablet pouch with velcro securing strap which should take up to a 14″ device and there are 3 padded pockets on the front.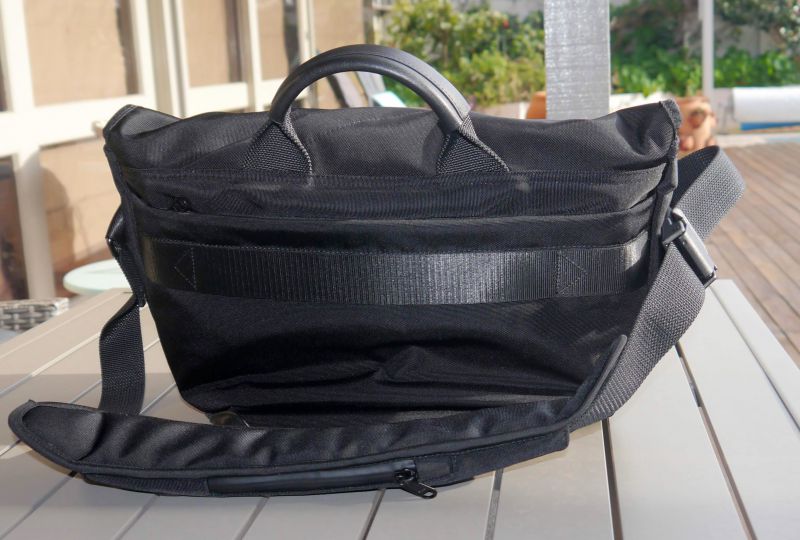 On the top is a very nice leather padded handle and on the back a strap for using your bag with a wheelie suitcase.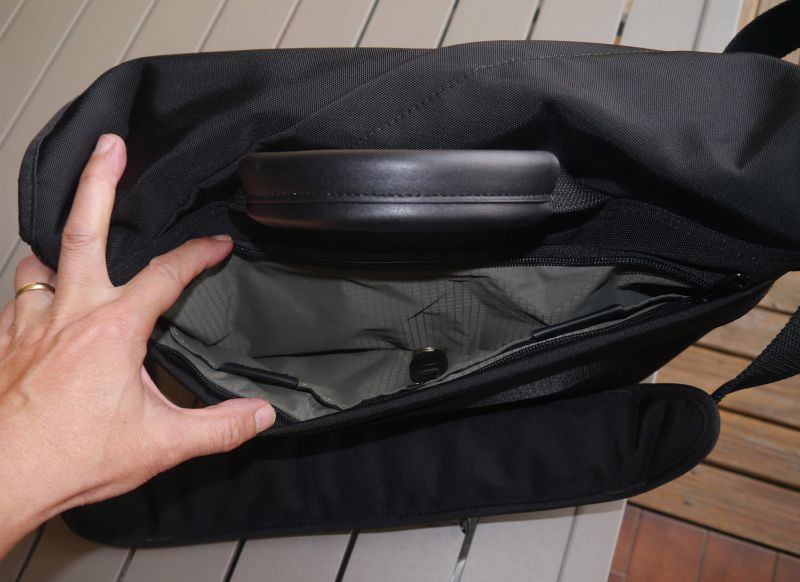 On the back is another compartment with 2 large pockets.  Note the nice leather touches on the pockets.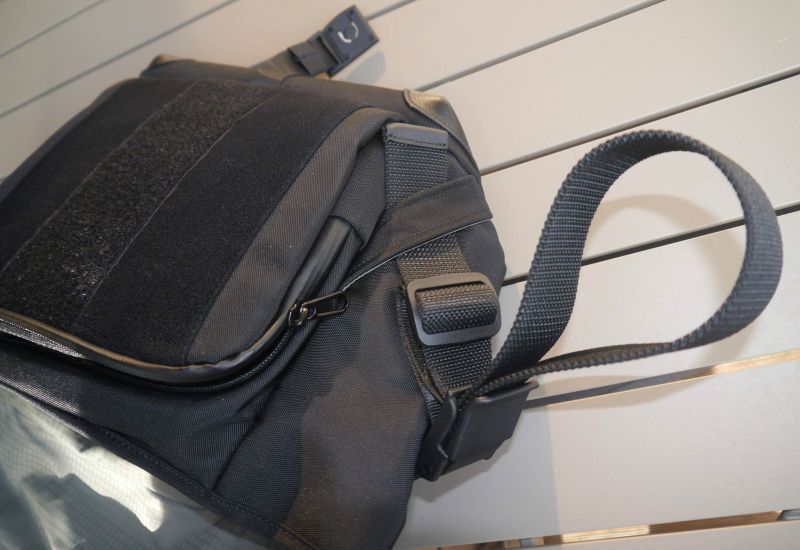 On the left is the main strap adjustment cam buckle.  There's also a holder so that you can keep the excess strap from flapping around. This is especially useful if you're using in briefcase mode. The ends of all the straps are finished off with a piece of leather.  Not really a functional addition but a nice aesthetic touch.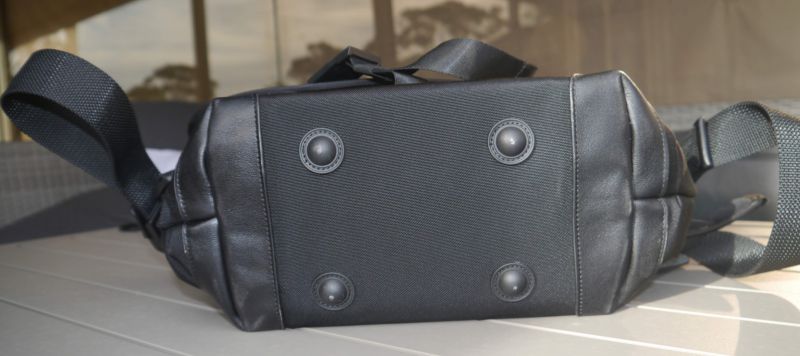 Pretty much with every one of my bags the corners are the first to go.  This messenger has some nice leather corner protectors as well as 4 small feet.  This adds some cushioning and also goes some way to protecting your bag from sitting in the dirt when you put it down. Because the bag is a triangular shape and because of the padding the bag sits upright most times when putting down rather than falling over or just "flopping".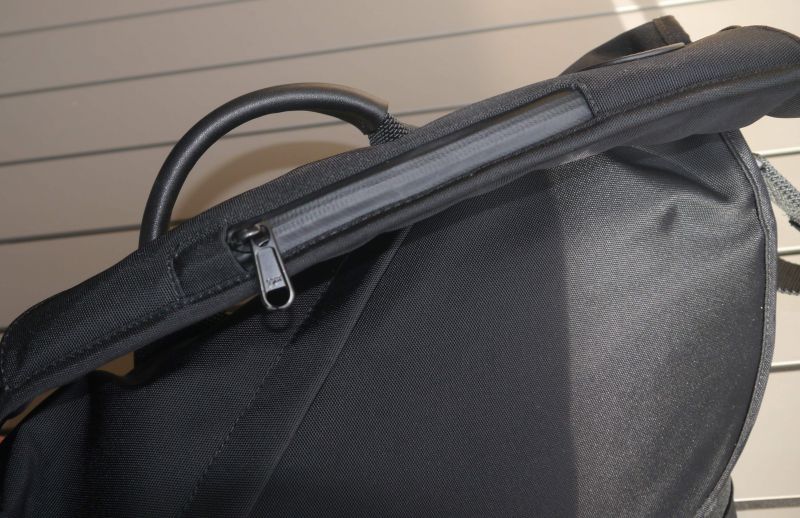 The shoulder strap pad is nice and long, and there's an integrated zipper pocket along its length with a nice waterproof zipper. Very handy for keep things like say your transport or access card. The strap pad is also removable.
What I like
I really do like this bag. I've been using it over the last couple of week for work and for weekends.  It's about the right size for my EDC to work but has the flexibility to expand out if I need to take more additional stuff some mornings, or if I need to bring something else back from work (like say the two mesh routers I received the other day).  The padding inside is enough that you don't have to put any of your delicate items into additional cases. There's enough pockets in enough places to have a place for everything though you will have to remember where you put them.
What I'd change
There's not much I'd change in this bag. As mentioned in the beginning a lot of it comes down to personal preference. A few suggestions that would make it better for me:
reflective striping for night use
some "dog ears" on the main flap to keep things more secure and safe
a blinky light strap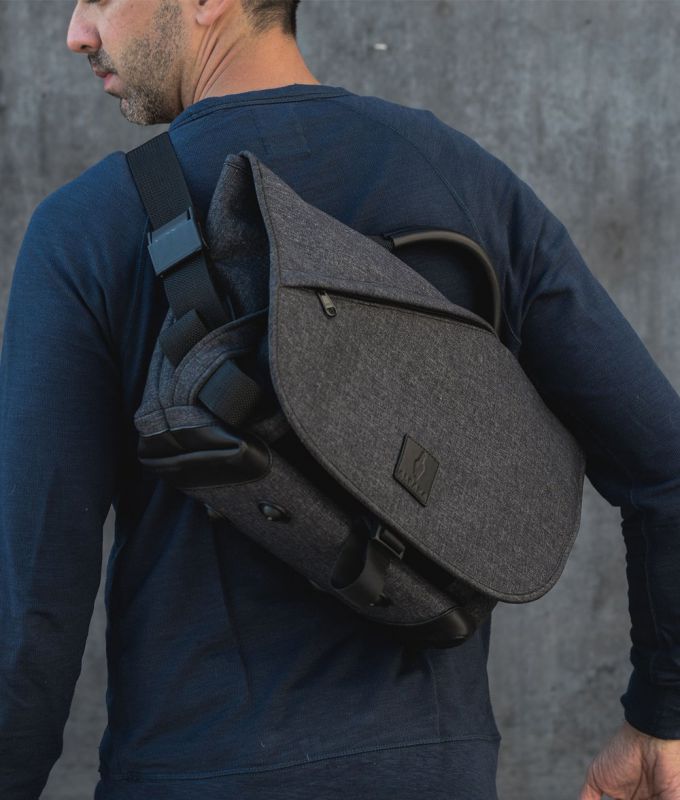 However, there is one MAJOR thing I would change and it's big enough to make me not use this bag as an EDC long term. All the great features are badly outweighed by just one variable.  If you look at the adjustment cam buckle it's on the left of the bag.  Now I wear my messengers with the strap sitting on the left-hand shoulder which means that with this bag the cam is actually sitting behind you.  This makes it VERY hard to easily adjust the bag.  I tend to wear my messengers high on my back as this means you're not bending over trying to compensate for the weight of the bag and its contents. Sometimes just adjusting an inch or so on the go makes a huge difference to the comfort. I cannot easily adjust with this bag.  When I'm using this as a photography bag I want to be able to release the cam to lower the bag, get my camera gear out, take the shot, and then put the bag back high on my back. I just can't do this with this bag. Even being able to release the cam to take the bag off over my head or put it back on and shorten the strap feels "wrong" and awkward.
I actually thought maybe I'd received a left-handed version of the bag and sent an email to the manufacturer.  Their response was "The 7ven Messenger and 7ven Mini were only made to carry over the right shoulder".  I tried this but it just doesn't feel right.  Even little things like the Alpaka logo being upside down and the front flap pocket being the "wrong way" for easy access when you put it on your left-hand shoulder supports their claim.
Final thoughts
All up this is a great bag and would easily be my EDC EXCEPT  for the cam buckle being designed for people that carry their messengers on their right-hand shoulder (predominantly left-handed people?) . All the major strap adjustment benefits of using a messenger are basically lost to me because of the setup. If you do wear your messenger on your right-hand shoulder then I'd highly recommend this bag however for me it looks like the search for the perfect messenger continues.
Price: $ 189 USD
Where to buy: From Alpaka Gear
Source: The sample of this product was provided by Alpaka Gear