We use affiliate links. If you buy something through the links on this page, we may earn a commission at no cost to you. Learn more.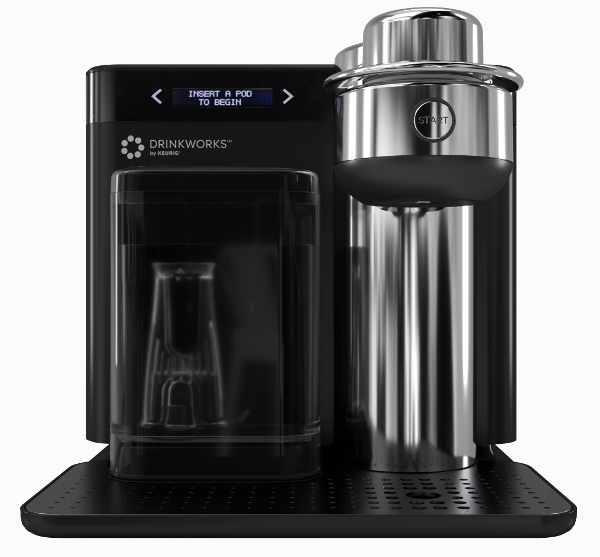 NEWS – Everyone has a favorite beverage(s). That makes it particularly difficult if you're having a party with lots of guests. You have a Keurig for coffee and tea but what about alcoholic beverages? What does everyone like? Which ingredients do you buy that will please the most people? That question is moot now with the Drinkworks Home Bar.
The Home Bar Drinkmaker device "uses precision on-board chilling and carbonation systems [using CO2 cartridges] to prepare quality cocktails, brews, ciders and more at the touch of a button." And just like a Keurig, the Drinkmaker uses pods to make your favorite drinks. Each pod contains all that you need – the alcohol and natural flavors – to create each drink. Currently, there are only 22 drinks available but more are coming (see the list of the current pods available and click on each drink for the ingredients).
There is an internal chilling tank that keeps the water at 37° F (3° C) but the water will be chilled to the pod-specific recipe. The strength, temperature, and size of the drink (6.7 ounces for a beer while most cocktails are either 4 or 6.7 ounces) will vary according to what type of drink you choose. For more details about the Home Bar, check the Drinkworks FAQ section.
Right now, the Drinkworks Drinkmaker and its accessories are only available in Missouri and Florida. The Drinkmaker is selling for $399.00. It will be coming to Florida sometime this summer and then to California in April 2020.
When you purchase the Home Bar, it will "include complimentary coasters, cleaning tablets, CO2, and carbon filters" but pods will have to be ordered separately. Each type of drink that you order will come with four pods at a cost of $15.99 for cocktails and $9.99 for beer. The CO2 replacements contain two cartridges that sell for $14.99. Each cartridge should make on average about 12 drinks. The water filters go for $8.99 and should be replaced after 60 water tank refills. And finally, you can buy 12 cleaning tablets for $7.99. Each cleaning cycle uses three tablets. When you order these items, it will ask you to enter your address to check on the availability of the item.