We use affiliate links. If you buy something through the links on this page, we may earn a commission at no cost to you. Learn more.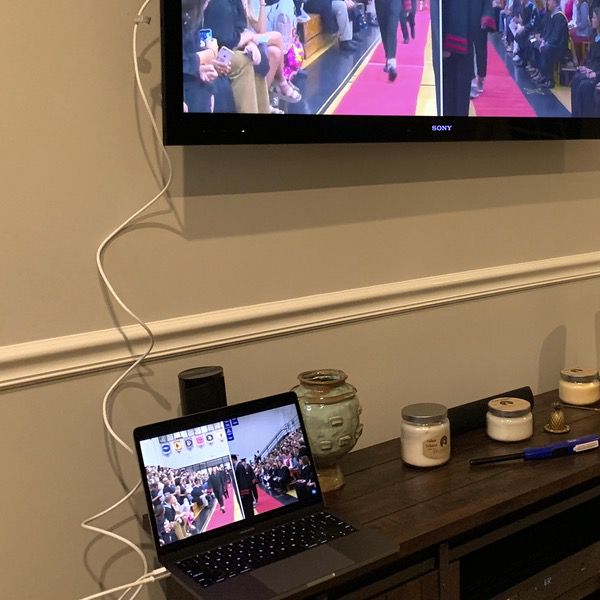 REVIEW – So my niece's graduation was moved indoors by a rampaging storm in the Philadelphia area. That meant limited seating, and we were forced to livestream the event on YouTube. But you know what? I happened to have my Moshi USB-C to HDMI cable. That meant glorious HD viewing from the comfort of my living room. Graduation was saved! To the review!
What is it?
It's a 2 meter (6.6 foot) USB-C to HDMI cable.
Hardware specs
2 meters (6.6′) overall length
3.06 ounces
Supports both 1080p HD and 4K UHD video output at up to 60 fps
Supports High Dynamic Range (HDR) and multi-channel digital audio
Aluminum casing to minimize electromagnetic interference
Design and features
The Moshi USB-C to HDMI cable is a solid piece of gear. It's got a total length of 2 meters (or 6.6 feet), with beefy aluminum-jacketed & reinforced plugs. You won't worry about this being kicked around in your bag if you travel with it. Check out the closeup shots below: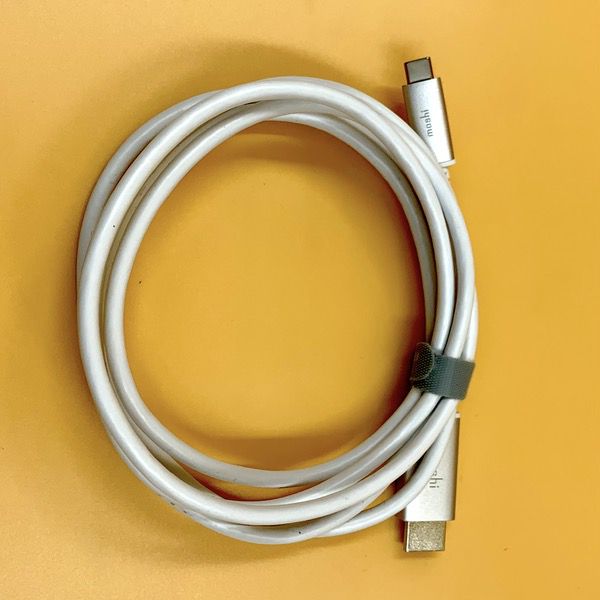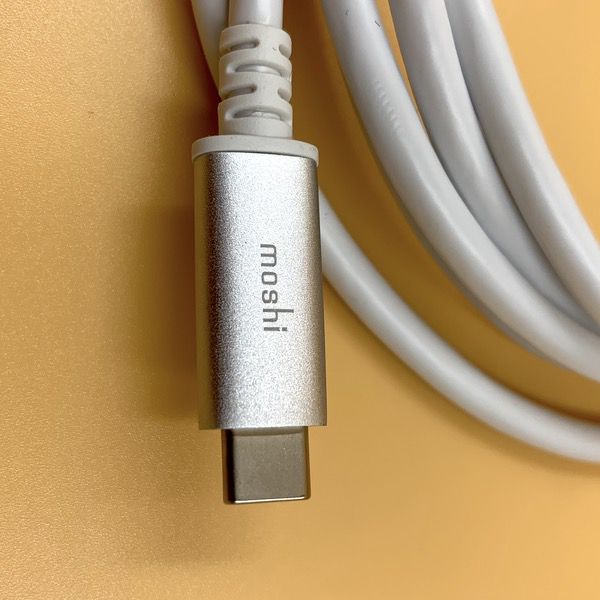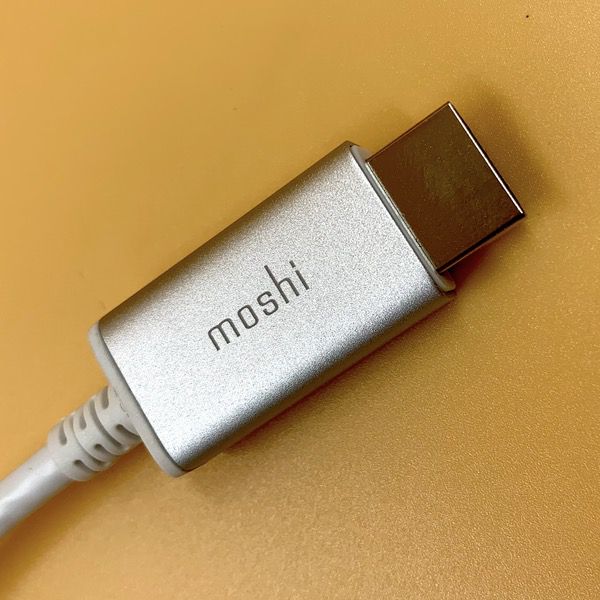 It's also got a sturdy hook-and-loop strap to manage the cable when it's coiled. The strap is just as durable, and strong enough that it won't come undone unless you give it a good rip.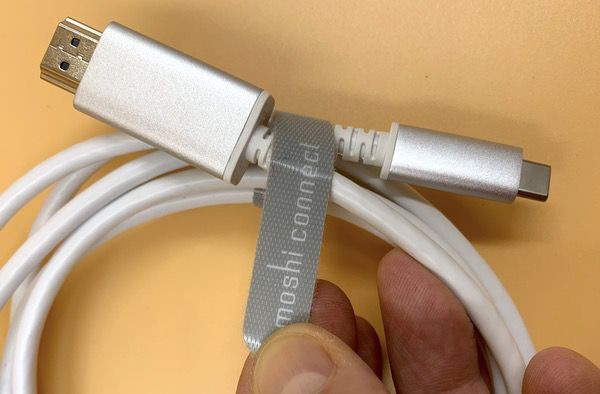 When downpours changed the plans for my niece's graduation, this not-so-short cable was a lifesaver. I just plugged the USB-C plug into the port on my MacBook Pro…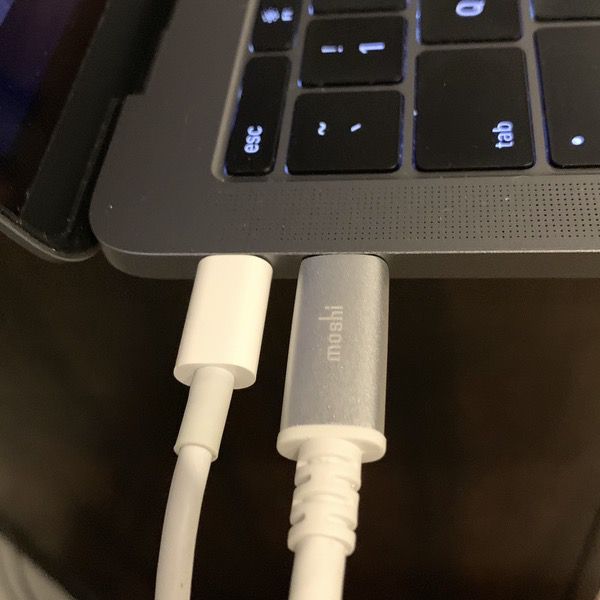 …and then popped the HDMI plug into the port on the HD TV in my living room…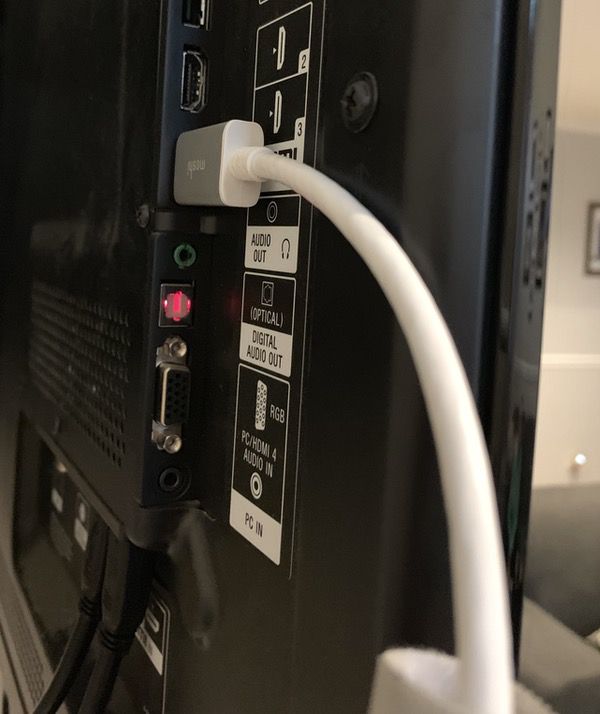 … And presto! Within minutes I was streaming the event in full HD from YouTube, including stereo sound. With the long cable, I didn't have to cook up some sort of structure to get my laptop closer to the TV. I just put the laptop on my credenza, and I was good to go: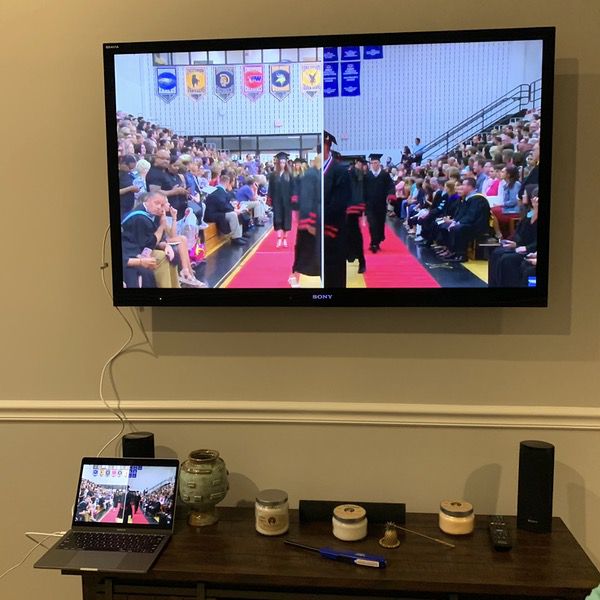 I've since been using this cable as a backup in my bag for conference rooms as well as streaming the occasional Netflix film to my big TV. Not only is the build durable, but the length is amazing for getting connected to remote places in a conference room. Wall mounted monitor? Check. Got a ceiling-mounted projector? Check. The cable is rated to support 1080p HD and 4K UHD video output at 60 frames per second.
What I like
Durable construction for travel
Excellent cable length makes it easy to connect to televisions, monitors & projectors
What I'd change
Nothing that I have found so far
Final thoughts
This one is an easy one. If you find yourself needing to stream from your USB-C compatible device like a MacBook Pro, you'll enable a 2 meter HDMI connection to whatever monitor is hanging about for under 50 bucks. It serves double duty for work and home entertainment. It's a winner.
Price: $44.95
Where to buy: Go to the product page to buy direct from Moshi.
Source: The sample of this product was provided by Moshi.