We use affiliate links. If you buy something through the links on this page, we may earn a commission at no cost to you. Learn more.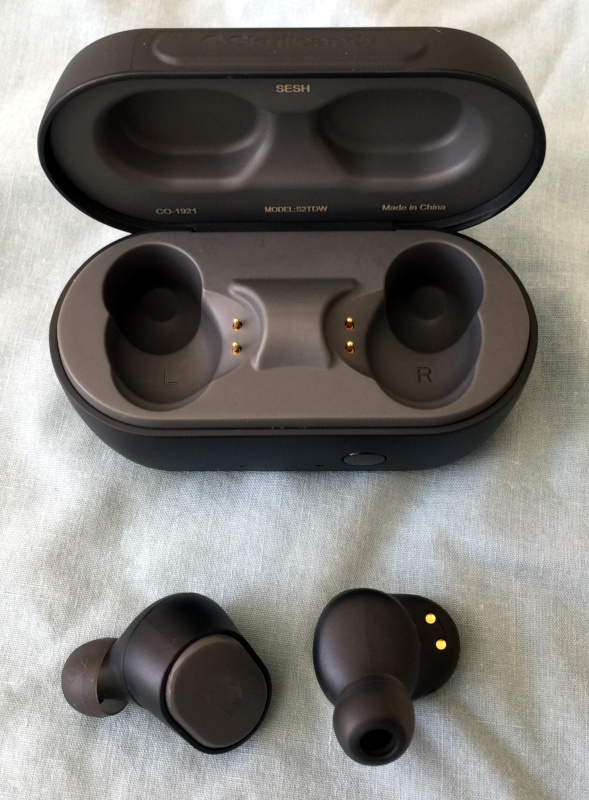 REVIEW – I have been following the true wireless earbuds trend for the past several years and had recently decided to dip my toe in the water. When the opportunity to review the latest wireless earbuds from Skullcandy came up, I decided to go on and jump in.
What is it?
The Sesh true wireless earbuds system consists of two earbuds, a travel / charging case, and various sized ear baffles to customize their fit.
What's in the box?
The Sesh system comes in a nice flap-front window box.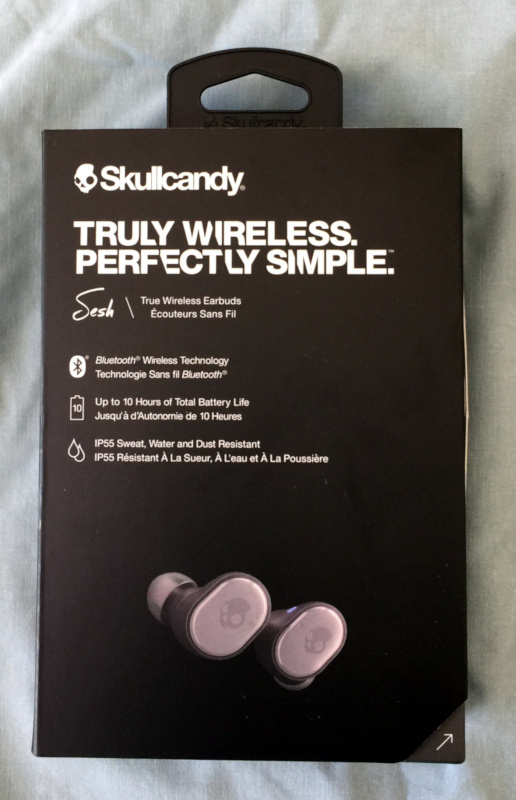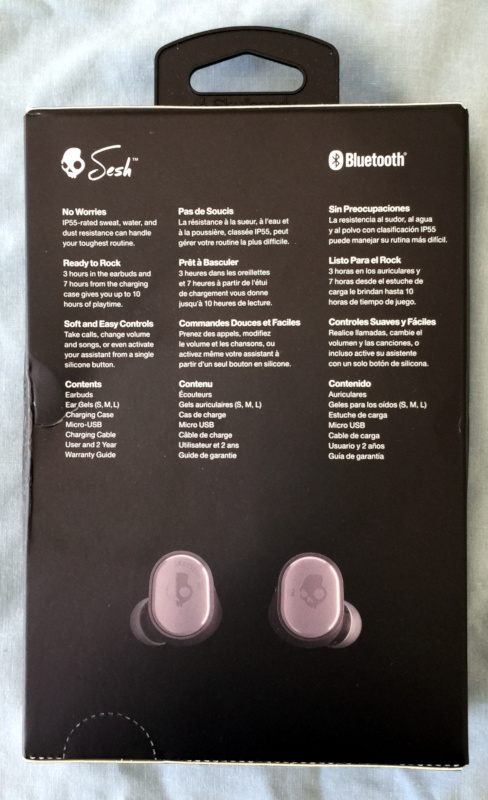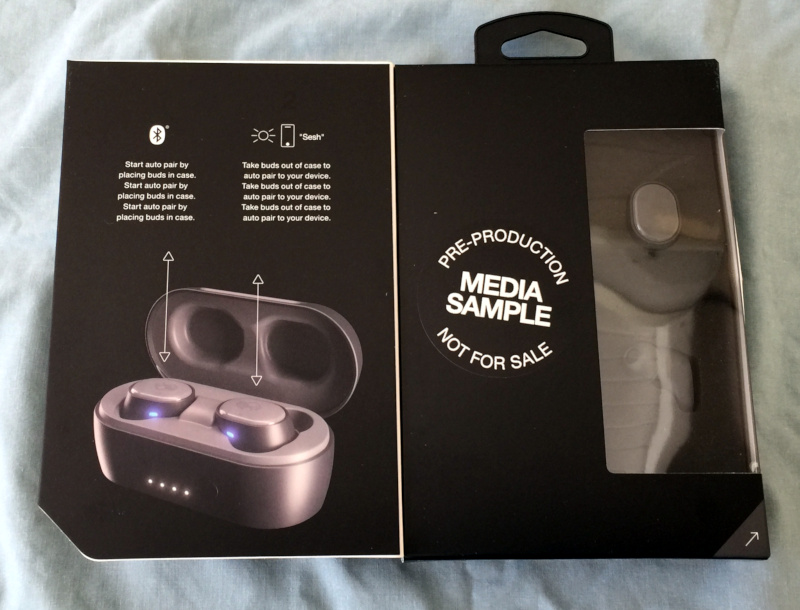 Inside the box are the following items:
2 ear buds
3 sets of ear gels (baffles), one each of small, medium, and large
travel / charging case
USB A – micro USB charging cable
User guide and warranty card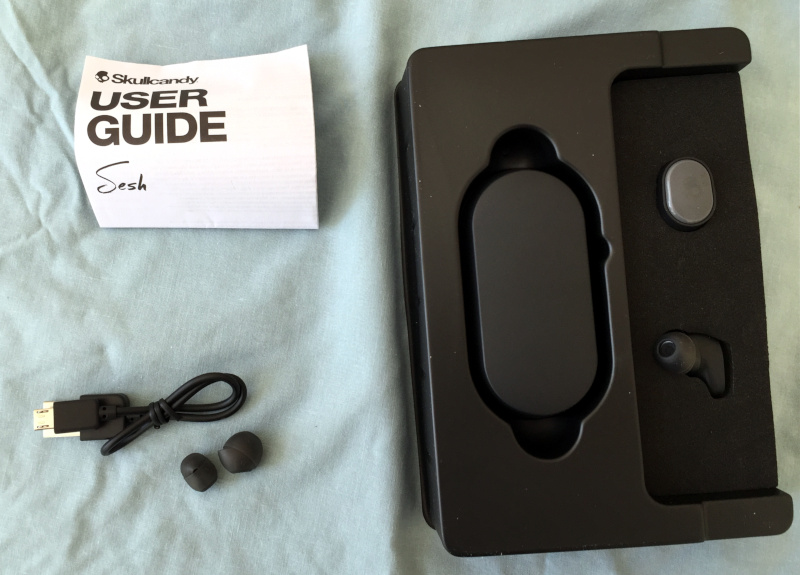 Design and features
The Sesh earbuds are IP55-rated to resist sweat, surface moisture (say rain), and dust, so they should be fine for running, the gym, or just mundane exercise like mowing the lawn, trimming bushes, or building something in your workshop. The internal batteries in the ear buds should give you about 3 hours of music (my experience was 2.5 – 3.5 hours, but I would pause my music and also answering calls) and the battery in the charging case will top off the batteries about 2.3 more times. This gives an on-the-go total time of up to 10 hours. The charging case helpfully provides a visual indicator of its remaining charge which can be activated by pressing the button located on the front of the case.  The photos show about 50% power left in the charging case. The red lights on the earbuds indicated that the earbuds are charging (among other functions). The lights go out when charging is complete.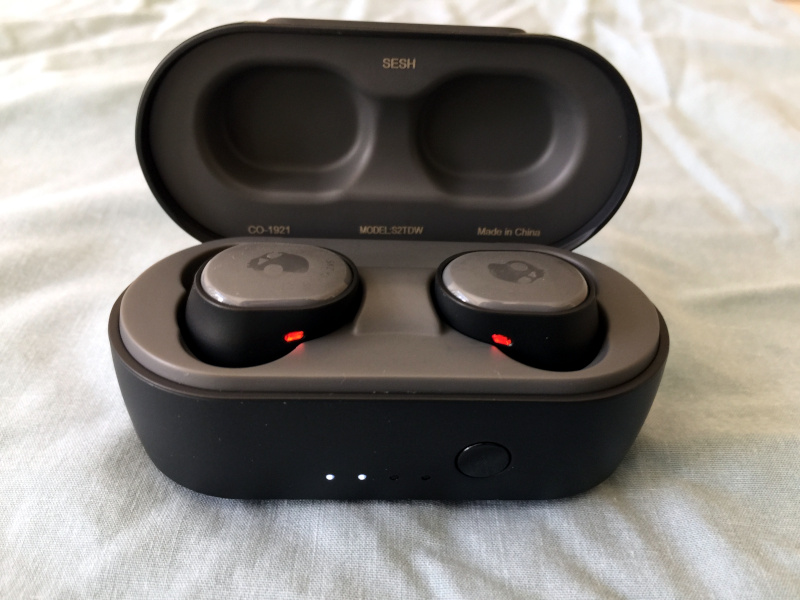 Each earbud has a physical button located under the Skullcandy logo which performs different features depending on which side (left or right) and how long / how many times the buttons are pressed. For example, pressing the button on either earbud momentarily will pause the audio stream and a second press will resume the audio stream while pressing the right earbud button for 2 seconds skips ahead to the next track and the left button (again held for 2 seconds) backs up a track. All of these features are listed out on the handy one sheet (tabloid sized) users guide. I had a bit of trouble moving from the button setting on wireless headphones to the Sesh, but after some review (and lots of trial and error), I finally got myself trained.
Setup
Before use, the charging case and the earbuds should be fully charged. This should take less than 3 hours.
The Sesh earbuds are supposed to enter pairing mode with placed into and then removed from the travel / charging case. I had some problems getting this to work reliably and had to resort to using the buttons on the earbuds to manually enter pairing mode.
Performance
I found the Sesh wireless earbuds provide a similar experience to my wired Skullcandy earbuds and Skullcandy on-the-ear headphones. Specifically, the sound is bass rich without sacrificing too much on the high end. These are definitely not audiophile, neutrally-balanced listening devices. There is a noticeable difference between the Sesh earbuds and my Seinheiser headphones.
Continuing on the audio performance track (pun intended), I have used the Sesh earbuds at my desk, when working outside, and in my shop. They work well enough for the music that I listen to (a mix of folk, country folk, pop, rock, mid-century jazz / big band, and some electronic). I have successfully used them under a pair of 3M high-performance ear muff-style hearing protectors when working with power tools of various types. However, I notice that when I cup my hands over my ears (say when I'm watching my son run a power tool and he is using the hearing protectors, that I lose the right channel, but not the left until I take my hands away from my head. I don't know if I'm creating a human Faraday cage or what.
Phone calls sounded fine and the people to whom I was speaking said that I came through loud and clear (loud usually isn't the problem with speaking with me on the phone).
My pair of Sesh earbuds will not connect to multiple devices simultaneously and reconnect to the last active Bluetooth device to which they were paired. I don't know if this is a design feature to save space and improve battery performance, but it is something that I've had to spend time figuring out, especially when I have paired them to multiple devices during testing. I also had problems getting this pair of earbuds to connect to my Thinkpad E560 using anything other than the voice profile. This may be a limitation on the laptop side because they will connect to my work laptop using voice, hands-free, and music profiles. I have also had some problems with intermittent connection drops when using them with my iPhone 6 Plus (soon to be replaced). I don't know if this is a hardware issue with my phone because my Seinheiser headphones don't exhibit this problem. The earbuds do work well with my iPad Air2, so that's still a mystery.
What I like
Good fit — selection of ear baffles
Charging case
Sound that is similar to other Skullcandy products
What I'd change
I would like to see the ability to pair multiple devices simultaneously
More responsive buttons
Improved pairing performance
Active noise cancellation would be nice, but unrealistic at this price
Final thoughts
I am quite impressed with the overall performance of the Sesh earbuds when taking into account their price. They have enough features to make them a good value and not so expensive that I worry excessively about damaging one or losing it while working outside.
Price: $59.99 MSRP
Where to buy: Skullcandy and Amazon
Source: The sample of this product was provided by Skullcandy.