We use affiliate links. If you buy something through the links on this page, we may earn a commission at no cost to you. Learn more.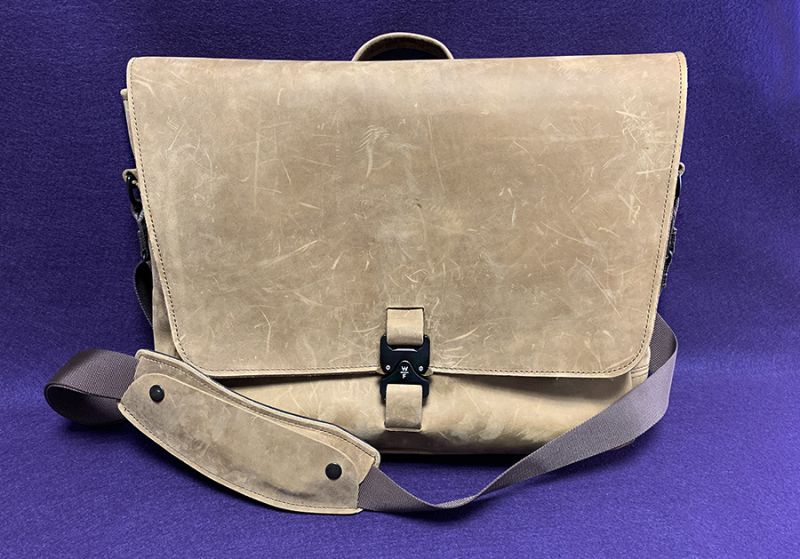 REVIEW – Okay, a bag or backpack is technically not a gadget—I get that. But you gotta carry your stuff (gadgets included) in something, so I'm reviewing a new something to do just that— the Executive Leather Messenger Bag from Waterfield Designs.  

What is it?
The Executive Leather Messenger Bag is the successor to the popular Maverick laptop messenger bag I reviewed back in 2017. This new bag is made to hold a lot of stuff and still have room for a laptop and a tablet. It comes in two sizes; compact and full. The bag is available in two color choices—the casual grizzly leather (what I'm reviewing) or more formal black leather. 
Specs
Dimensions & Weight:
Compact: 14.25 x 10.5 x 3-2.75 inches; 3.25 lbs.
Full: 15 x 12 x 3.5-3.25 inches; 3.5 lbs.

Features:
Full-grain leather with exposed edges
Leather flap with paragliding-designed buckle
Soft, padded laptop and tablet compartments
Water-resistant orange liner
Two interior pockets—one zippered and one open
Two soft-lined pockets under the front flap for quick-access items.
Adjustable shoulder strap with a removable non-slip shoulder pad.
Leather grab handle
Rear panel for hands-free airport navigation.
Interior key fob strap for key retrieval.
Made from a single hide

Design and features
The only real complaint I had about the previously reviewed Maverick messenger bag was that I regretted getting the smaller size. I didn't repeat that mistake with the Executive Leather Messenger Bag. Because this is the larger-sized bag, it holds my stuff with room to spare and it's all easy to find. 
The compact size will fit a 13-15 in. laptop and a larger tablet, like a 12.9 in. iPad Pro. The full size will more easily fit those items with bit more room—especially if those items are in thick cases (like my iPad pro). This was the issue I had with the Maverick bag—my tablet fit, but with the case on, it was really tight.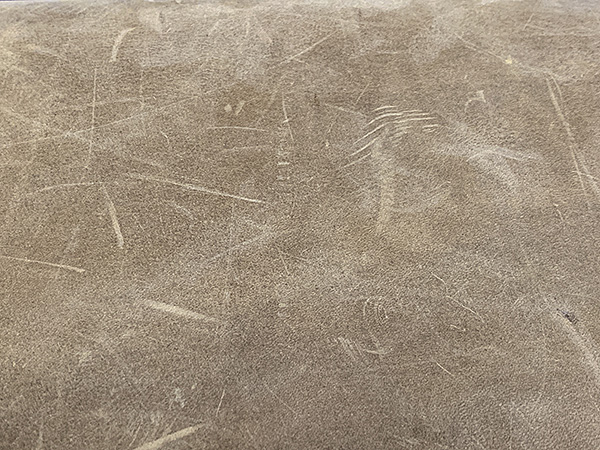 The Executive Leather Messenger Bag has an all-leather exterior made from a single hide. This ensures that there is a consistency in the leather's grain and appearance. When I was (much) younger, I hand-made and sold leather purses, so I can appreciate Waterfield's attention to detail. What's cool about an all-leather exterior is that over time, the leather develops what's called a patina. Through the years, it acquires scratches and scuff marks that improve the look and feel of the bag. This is a bag you don't have to baby. You can—and should—be rough with it because it gets better as it ages!
Did I mention how nice the bag smells?
Construction of the Executive Leather Messenger Bag is typical Waterfield. In other words, it's top-notch. I've owned 4 Waterfield bags and all of them are still in use either by me or have been handed off to kids or friends to use. They are practically destruction-proof. The stitching on this bag will hold up for years. You have to see and feel it to appreciate its quality. It should be noted that Waterfield bags are made right here in the good-ole' USA. How cool is that?
The bag will stand up on its own but tends to lean and sometimes fall backward if loaded with both a laptop and a tablet. The bottom doesn't have any kind of flat reinforcement to help it remain upright. It's not a big issue for me, but worth noting.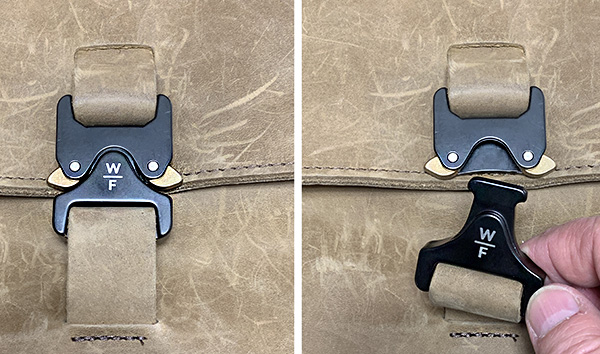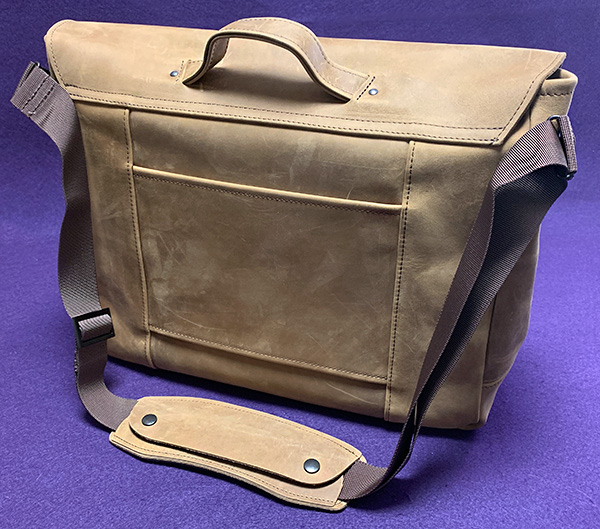 The thick, leather front flap has a metal closure that's an imported, paraglider buckle. I don't paraglide, but I do appreciate that the buckle opens using only one hand. This makes it easy to retrieve anything inside the bag—especially if your other hand is holding that $5 mocha latte frappe-whatever you're drinking. The drawback to this buckle design is that it doesn't close as easily using only one hand. The back of the bag has an open panel that slides over the handles of a wheeled-suitcase for hands-free airport use. This panel trend has become a necessity for travelers and it's good to see Waterfield using it here.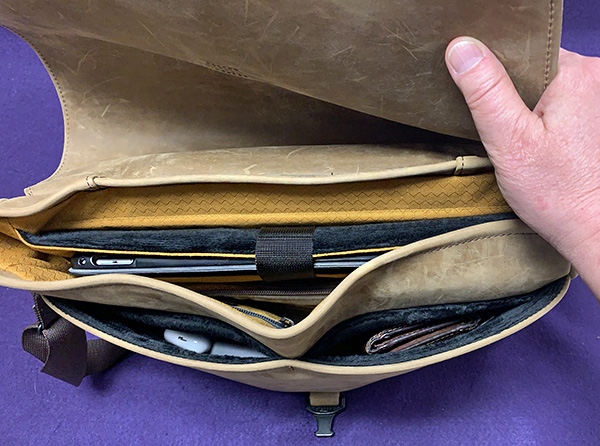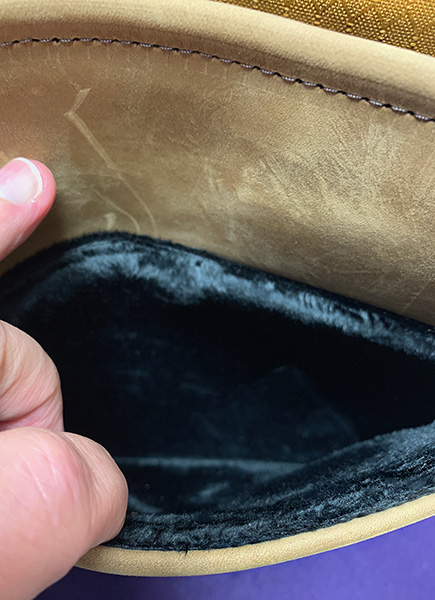 Directly under this flap are two open, over-sized pockets. The pockets are handy to store anything you routinely need from your bag, especially with that easy-to-open closure. I use these pockets for my car keys, wallet, employee entrance security badge, and wireless earphones. The pockets are lined with a really nice and soft material that feels great. There's a Waterfield video explaining the bag that talks about how nice it is to place your hands into the pockets. It's a silly thing to say, but they're not kidding! It's that soft.
Did I mention how nice the bag smells?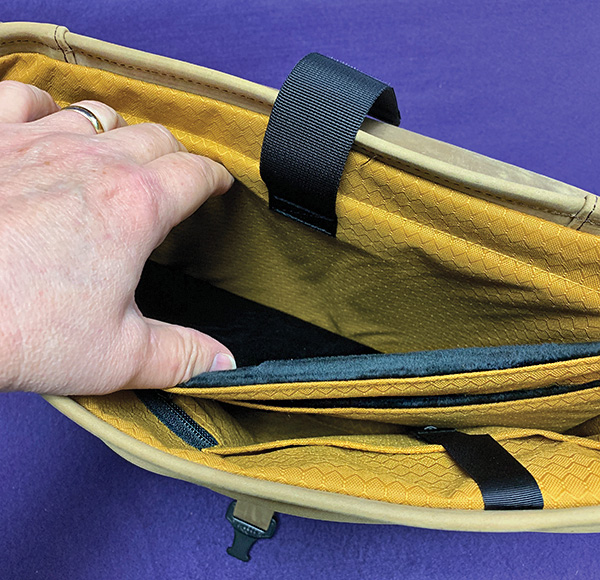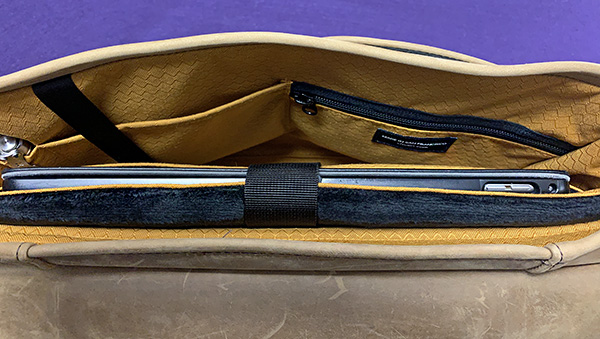 The interior of the Executive Leather Messenger Bag is lined with Waterfield's iconic burnt-orange fabric. Using this color allows enough light into the interior of the bag making it a little bit easier to find your stuff. The orange color is not so bright that it's jarring. Inside its large and open interior, there are two smaller compartments—one open, one zippered. I would have preferred both pockets to be zippered. That way, I could still leave one open or zip both closed. Unfortunately, that's not the case.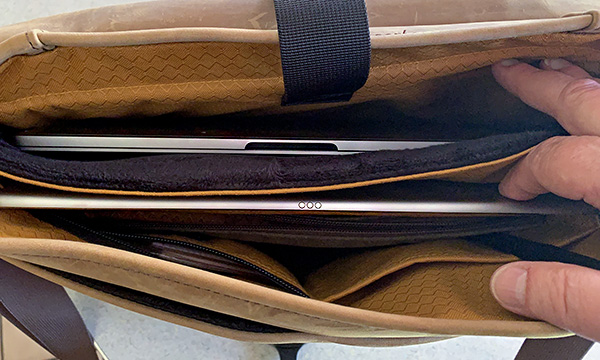 At the back of the interior, there are two soft-lined laptop and tablet pockets. The lining is the same as the front pockets. This softness will protect any laptop or tablet from scratching as items are pulled in and out of the bag. It makes me wish I had a jacket lined with this same material. These laptop/tablet pockets are closed by a sewn-in Velcro strap that holds both laptop and tablet snuggly in place. The soft fabric also makes your gadgets slide more easily into and out of the pockets—a nice touch.
Full disclosure: I cheated a bit by using the Waterfield Air Caddy pouch inside the Executive Leather Messenger Bag. I previously reviewed the Air Caddy along with the Waterfield Air Porter carry-on bag. The wonderful little Air Caddy provides a few extra pockets for further dividing stuff. I love it, but it's not necessary for this bag.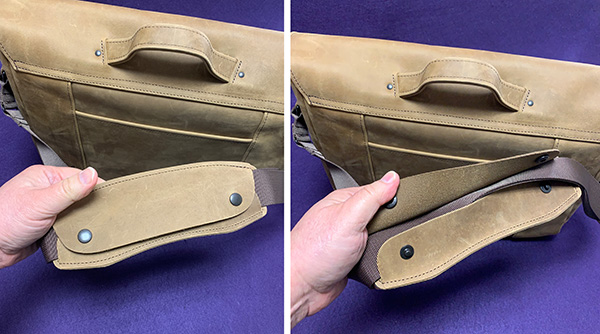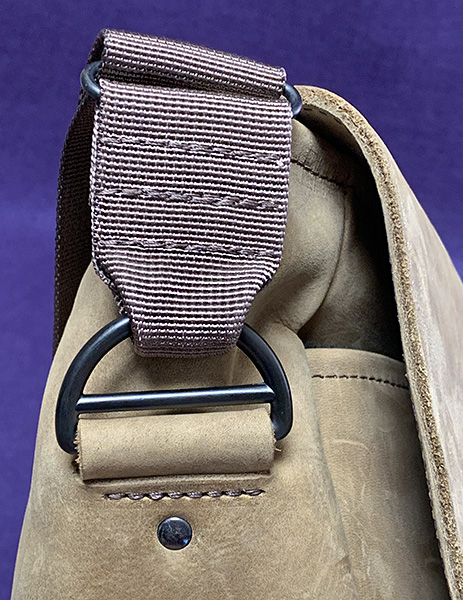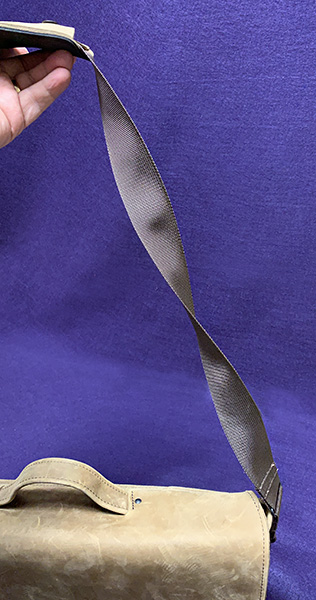 Due to its wide shoulder strap and thick, leather handle, it's comfortable to carry. The adjustable shoulder strap has what Waterfield calls a removable, floating shoulder pad. This simply means that the pad has snaps that allow it to be removed if preferred, although I can't think of a reason anyone would want to. It's an understatement to say that the shoulder pad is non-slip—this thing practically pulls my shirt off every time I try to slip the strap off my shoulder. However, that's a good annoyance, because it means the bag is staying put while carrying. The strap is also attached to metal "D-Rings" that gives the strap some flexibility whether hanging off a shoulder or cross body. What I like about it is that it reduces having to untwist the strap before using—a constant annoyance of the Maverick bag with its sewn-in sideways strap. This is a major design improvement.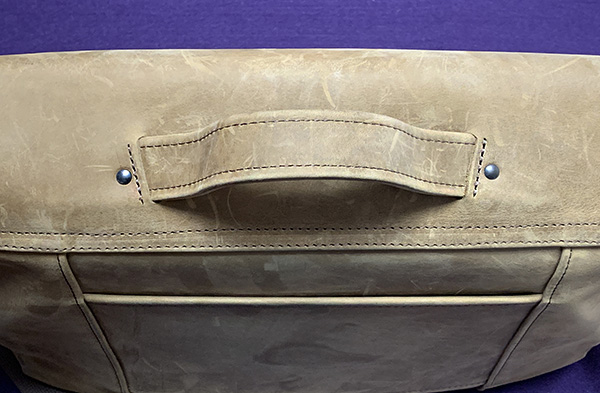 The handle is both sewn and riveted in place—kinda classy looking. It's placed ever-so-slightly towards the back of the bag rather than centered on the top. This little trick causes the bag to be angled towards your body and not flopping around while carrying. It's these little touches that separate Waterfield from their competitors.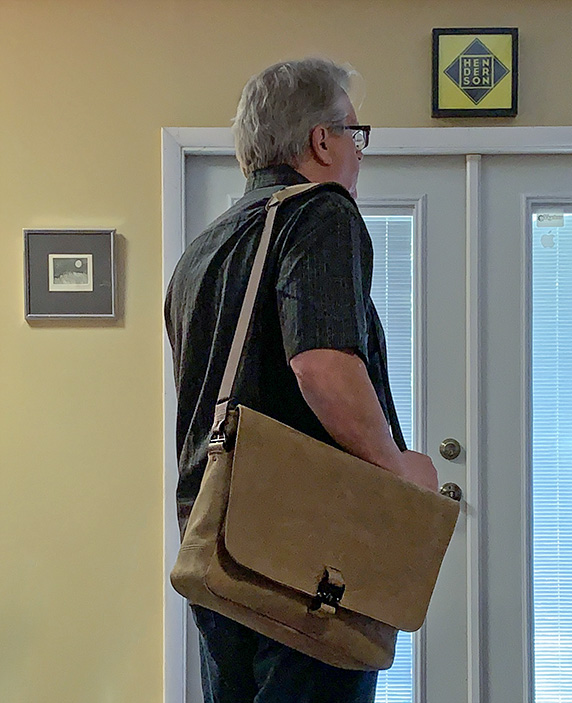 Using the Executive Leather Messenger Bag on a daily basis proves that good design with thoughtful touches can make the difference between a pleasurable experience and a struggle. After a couple of weeks, the bag has become totally integrated into my life. It holds my stuff. It resides in my office, car, and home without calling undue attention to itself. And it looks so darned good.  
Did I mention how nice it smells?
What I like
Construction
One-handed front closure
Softly lined pockets
Roomy—especially for a messenger bag
What needs to be improved
Would have preferred two zippered interior pockets
Nothing major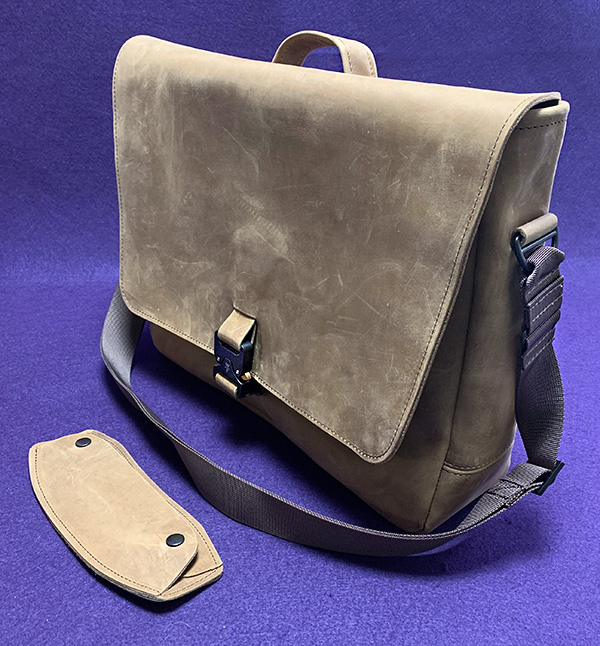 Final Thoughts
Waterfield took a good messenger bag like the Maverick and improved it in every meaningful way. The vastly improved closure and soft pocket liners make this bag something you can use for years and it will only improve with age. It's not cheap, but it's hand-made and could very well be the last bag you'll ever need to buy. If you aren't looking for a messenger bag, Waterfield makes many other bag/backpack styles.
Price: $379/Compact and $399/Full. All prices US.
Where to buy:
Source: The sample of this product was provided by Waterfield Designs.