We use affiliate links. If you buy something through the links on this page, we may earn a commission at no cost to you. Learn more.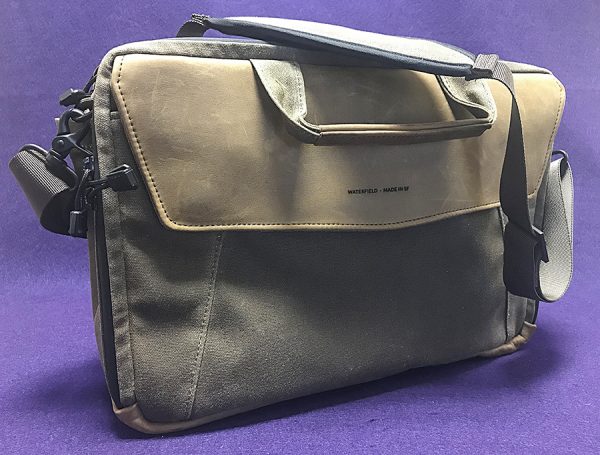 Earlier this year, I reviewed the Waterfield Maverick Laptop Messenger Bag and loved it for its leather which gets better looking as it's used and abused. Waterfield's new Air Porter carry-on bag serves a different function and wasn't made to compete with the Maverick—but it sorta can. The Air Porter may be made to be a carry-on bag for air travel (we'll get into that later), but it can easily be an all-around bag for work and car trips. Waterfield based the Air Porter's design on feedback they received from their customers using an online survey. Waterfield addressed as many requested features as possible and the result is a bag that can do just about anything required of a bag—and then some.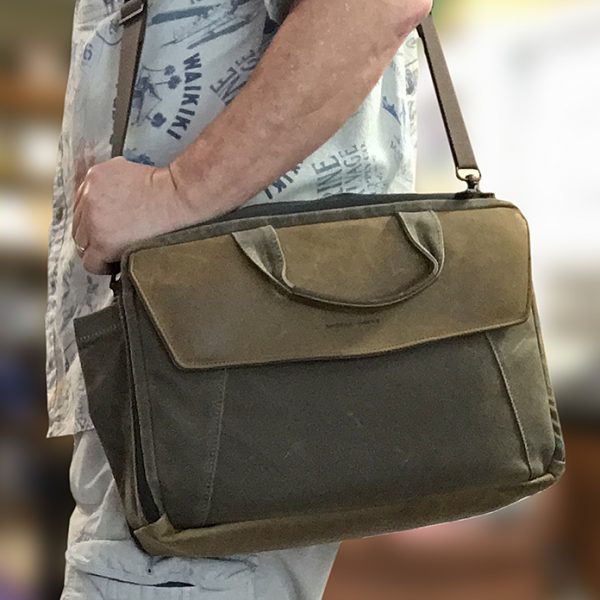 The Waterfield Air Porter bag isn't covered in leather like the Maverick bag. The bag I'm reviewing is more similar to the Waterfield Bolt backpack and briefcase with its waxed canvas and leather trim appearance. Like leather, waxed canvas looks better with age, but doesn't have that "cachet" the Maverick has. No matter, because in the weeks I've had the Air Porter, I've come to depend on its sheer usefulness. This is a bag that means business. It's the size of a briefcase and can hold a bunch of stuff. At the time of writing this review, Here's what I have stuffed inside the Air Porter: Various paperwork, 12.9 in. iPad Pro (inside a thick Speck case), 3 pairs of earphones for future reviews, four charging cords with plugs, two portable chargers, two flashlights, eye medicine, card key for the office, wallet and car keys. All that and the Air Porter is not even half full.
The Air Porter bag measures 10.25" H X 4.5" W X 15" L. Waterfield sized the bag to fit within TSA's sizing guidelines for air travel. This size allows the bag to be stowed upright under an airline seat while still leaving room for feet. It also opens flat for easier TSA screening and access to the laptop compartment.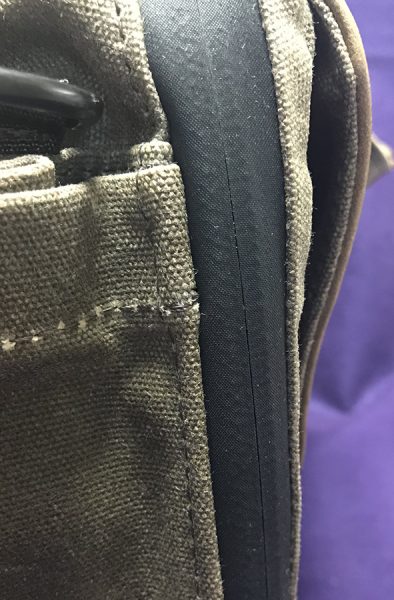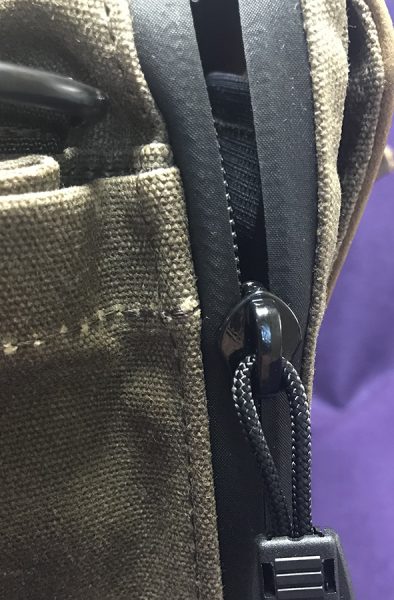 As I said, the construction of the Waterfield Air Porter bag is waxed canvas. The canvas has been made water resistant, so getting caught in the rain is not a problem. Plus the bag's zippers are waterproof. For the record—I really like these zippers. They are smooth and are almost invisible when closed—another nice design touch borrowed from the Bolt line.
Note that the Air Porter also comes in a black ballistic nylon material. This gives the bag a smoother, more professional look, but is every bit as tough—if not tougher than canvas. I try to be as unprofessional as possible, so the more casual canvas look is my preference.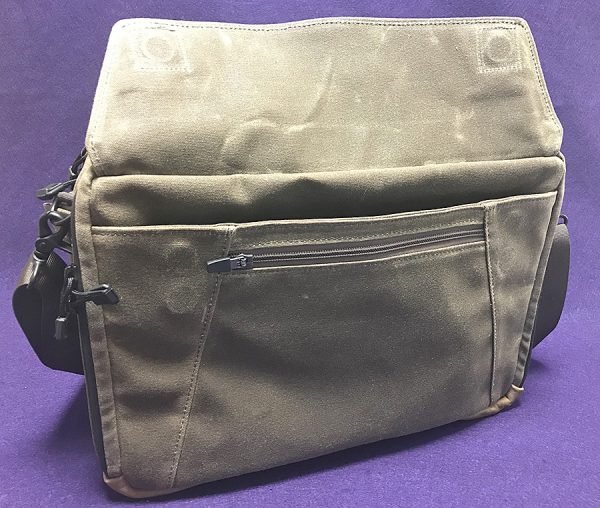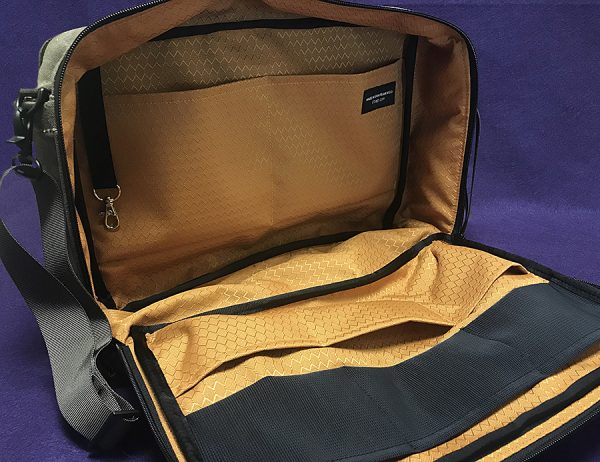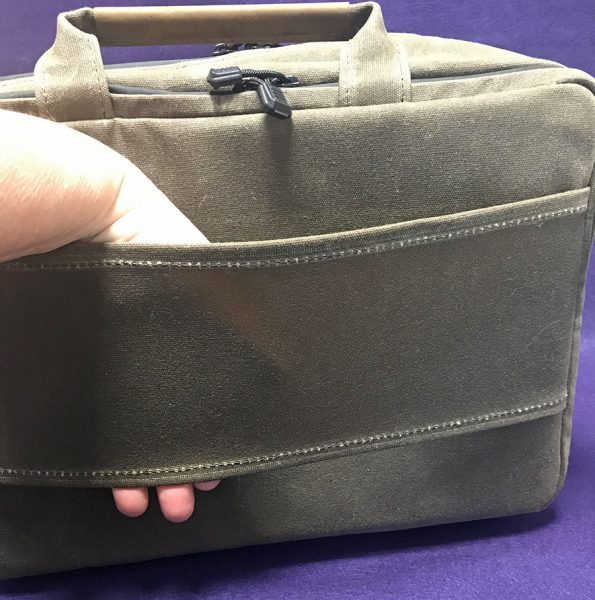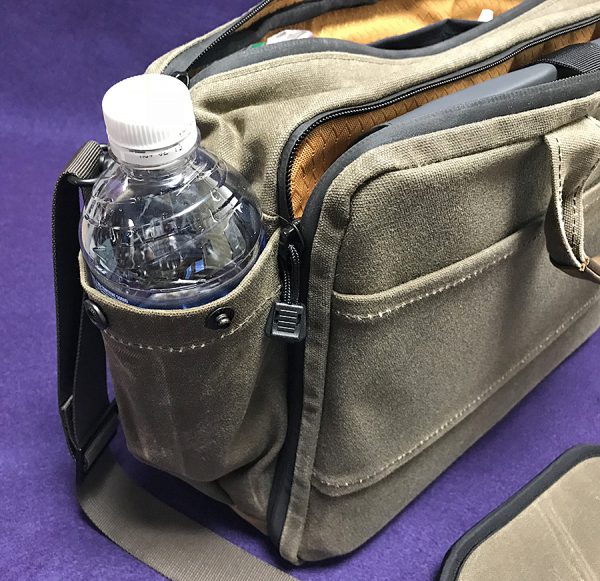 The front of the Air Porter bag has a large pocket and smaller zippered compartment, all hidden by a leather flap that magnetically closes. This clever flap adjusts to accommodate more or fewer items. The interior is lined in a burnt-orange colored nylon fabric. This color is more tasteful than the bright orange found inside some bags and backpacks, yet still serves as a nice contrast so items are be easily found without having to shine a light inside. Like many carry-on bags, the back of the Air Porter has a wide, sturdy slot for slipping over rolling suitcase handles freeing up hands and shoulders. Both ends of the Air Porter have large, vertical pockets for water bottles. When not in use, these pockets can collapse and snap closed.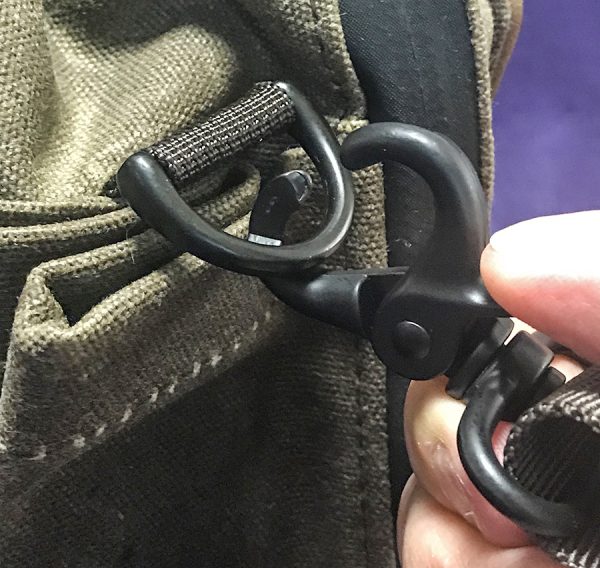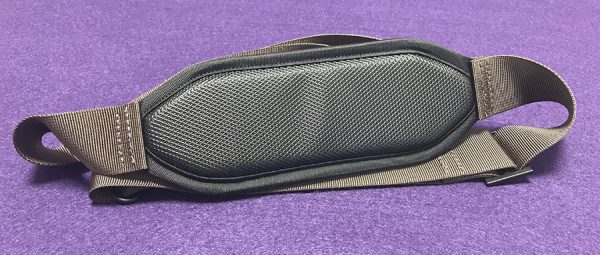 One of my minor complaints about the Maverick bag was the way the strap was sewn into the bag itself. I had issues with usually having to untwist the strap before I could use it. That's not an issue with the Air Porter. The adjustable strap has clips on each end that swivel, so there is no wrong way to throw the bag on your shoulders. The strap also has a wide padded section which makes using the bag much more comfortable, especially if weighed down. The strap is removable if you prefer using the bag's sewn-in leather carry handles.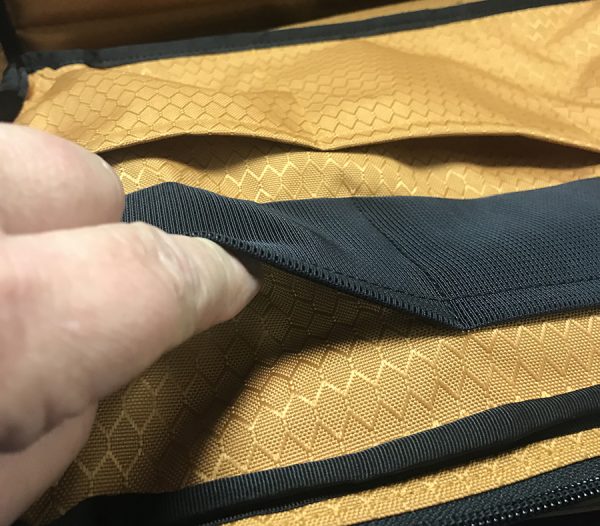 The Waterfield Air Porter has a total of 17 pockets and spaces. The main compartment has a large open area with large and small pockets lining its sides. The larger pockets are made of the same orange nylon, while smaller pockets are a black, stretchy mesh material that can hold irregularly shaped objects. There is also an attached key chain with a carabiner which can help save some time searching for lost or misplaced keys.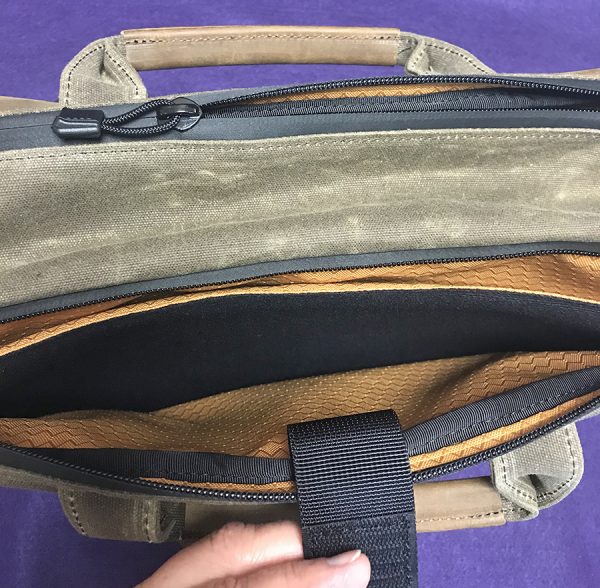 The second open compartment is divided into two pockets. One is felt-lined for either a laptop or iPad. The pocket has cutaways on both ends for charging cables to slip through for easy charging while the bag is closed—a nice touch. My large iPad Pro with its oversized case fits perfectly into this pocket. The other large pocket also has two smaller pockets attached. This is perfect for paper, magazines, and other flat items.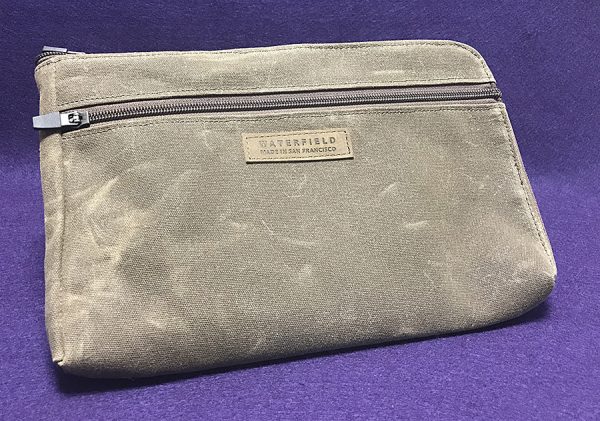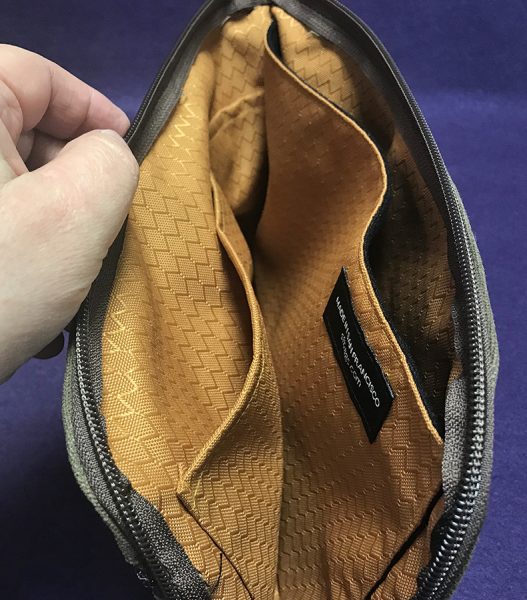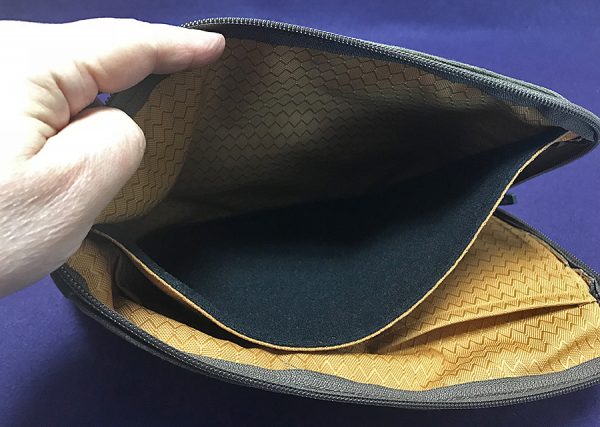 If you can't find room for everything you need to carry, there's an optional Air Caddy. This pouch can be purchased separately or along with the Air Porter. With its many pockets, the Caddy allows you to pack items you need more often, such as a smartphone, cords and such. This way—as on a flight—the larger Air Porter can be stowed either under a seat or in the overhead bin while the Air Caddy can be placed in the seat pouch within easy reach. The Air Caddy is even large enough to hold a regular-sized iPad. Heavy-duty zippers protect what's inside. The Air Caddy easily fits either inside the Air Porter's main compartment or front pocket.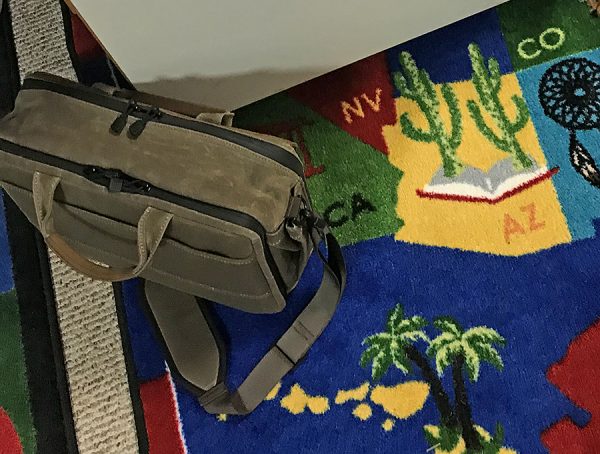 The Waterfield Air Porter carry-on bag is a perfect bag for traveling. It's large enough for just about anything you want to carry, yet small enough to fit under airline seats for easy reach. And it's TSA friendly—a big deal in today's world. It's always fun to see what products Waterfield is planning and the Air Porter was worth the wait.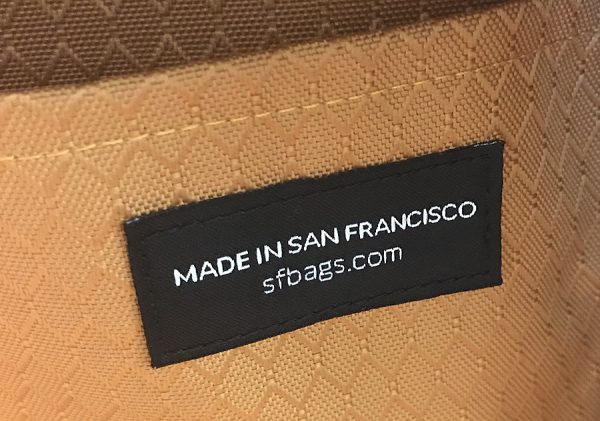 Positives
Extremely well made
Can take abuse
Room for just about everything
TSA friendly
Comes with optional extra pouch
Hand-made in the USA
Negatives
Price: $359
Where to buy: Waterfield Design
Source: The sample for this review was provided by Waterfield Design.