We use affiliate links. If you buy something through the links on this page, we may earn a commission at no cost to you. Learn more.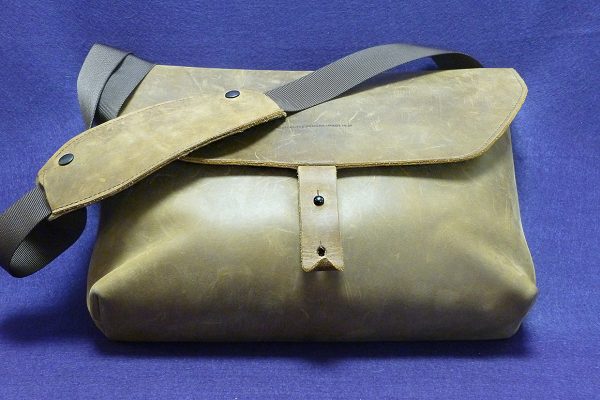 There are a few Gadgeteer reviewers who have liked Waterfield bags, myself included. For years, Waterfield has made bags of all sizes and uses—and they are made in the good ole U.S.A. My first Waterfield product was a small, zippered pouch to hold my iPod (remember those?) along with earphones and necessary wiring. Last year, I reviewed one of their  backpacks—the Bolt. Recently, I decided to downsize to a smaller bag, mainly because I was accumulating too much stuff and downsizing would force me to make hard choices. Waterfield's timing was perfect when I was given the chance to review their new Maverick messenger bag, a svelte, full leather bag that is as tough as it looks, maybe even tougher.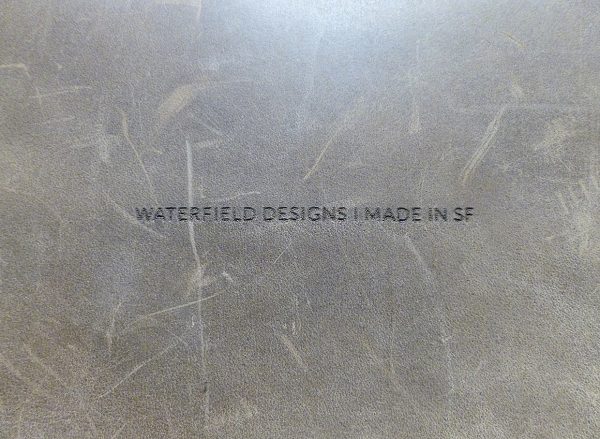 When I receive a product (usually audio related) to review, I either photograph it right out of the box, treat it with kid gloves or photoshop out scratches, nicks and whatever can happen during daily use. Not so with the Waterfield Maverick. Since it was advertised to get only better with age, I decided to wait and not photograph it until is was aged by my daily use—which included a business trip to New York City. And now, it's time to review and you know what? Waterfield was right, The Maverick is scratched, scarred and stained yet it does look better than new!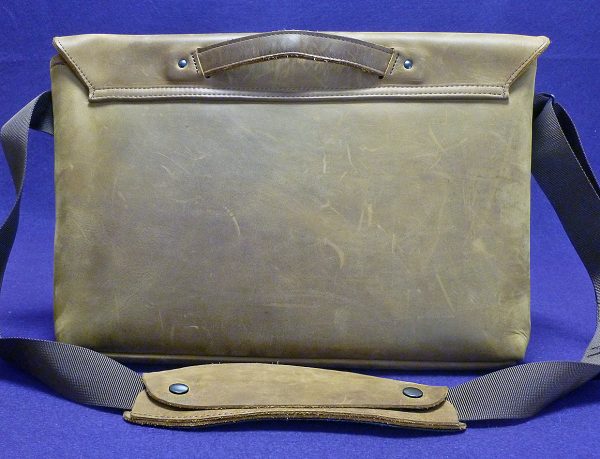 One interesting aspect about the Maverick messenger bag is that it's made from a single hide. This ensures that the whole bag will have a uniform look. As someone who hand-made leather purses and belts years ago, I can tell you that different hides accept dyes differently, have varying thicknesses and can be as individual as the cow it came from.
There are three colors available: Black, Chocolate, and Grizzly. The reviewed bag is the lighter Grizzly, which has a more casual, western look.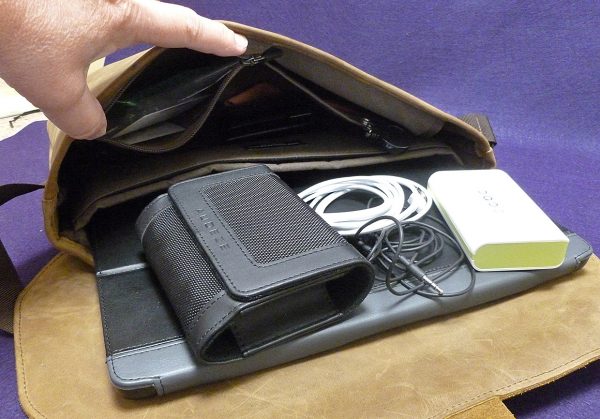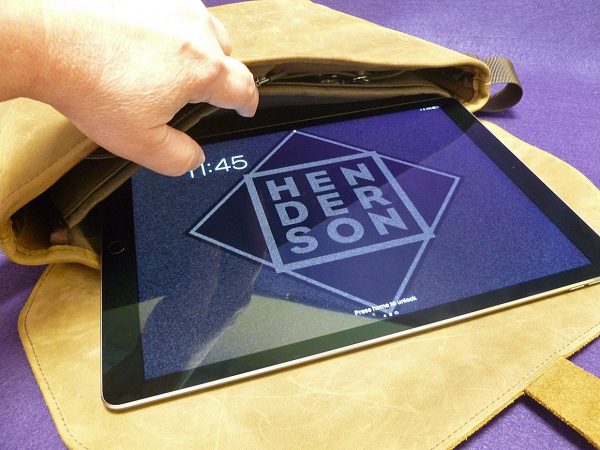 The Maverick bag comes in two sizes—Full and Compact. The Full size will hold: A larger MacBook Pro, larger PC laptop, 12.9″ iPad Pro (and smaller) and other similarly-sized tablets. The Compact will hold: A 13" MacBook Pro, MacBook Air, 9.7" iPad and similarly-sized tablets and even a 12.9″ iPad Pro—only in the laptop compartment. I do not own a laptop but since my 12.9″ iPad Pro fits into the laptop compartment, I opted for the compact-sized bag. It's the one mistake I made. True, the 12.9″ iPad Pro easily fits into the compact-sized bag, but that's without a case. I have a case and while it still fits, it's a much tighter fit. My advice is that if you have any doubt if your laptop or tablet will fit, go for the full-sized Maverick bag.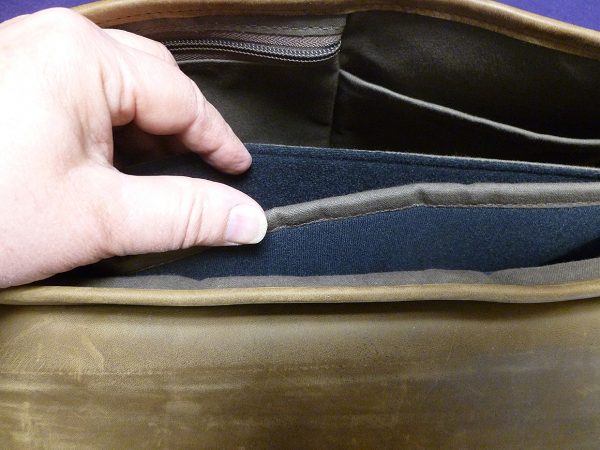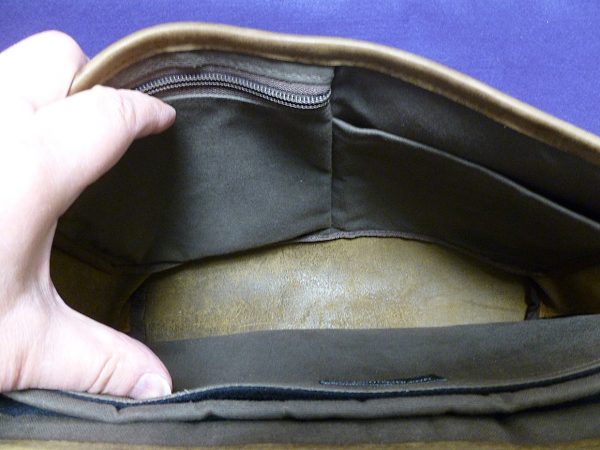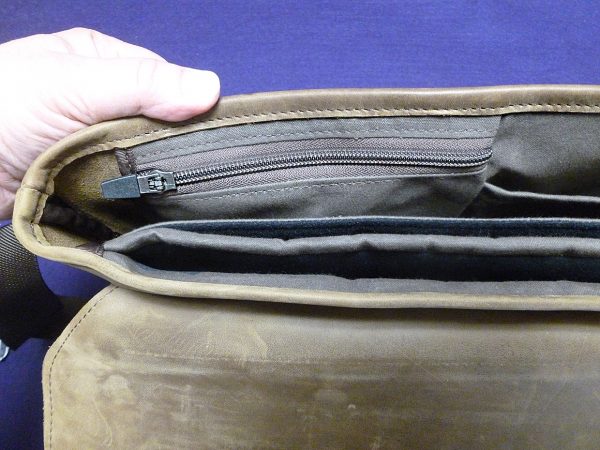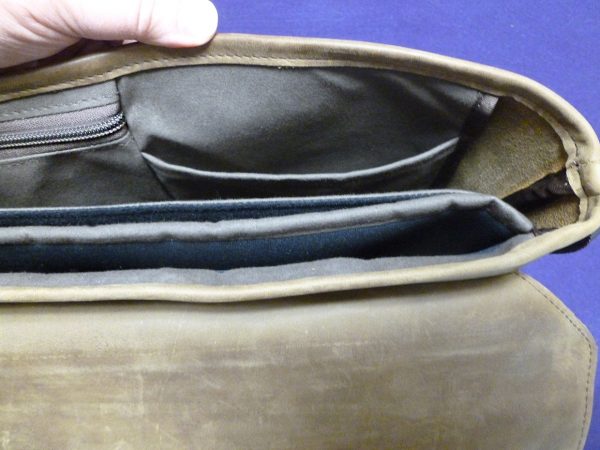 Despite the size issue, I have enjoyed using the Maverick bag. As I said before, the outer part is scarred—a lot after use. The interior is made of heavy-duty canvas with heavy-duty finished seams. There are two large open pockets that run the length of the bag for holding a laptop and tablet separately. Each is padded to help prevent scratching. The middle is an open area for dumping whatever will fit. The inside front of the bag has two (unlined) smaller canvas pockets—one open and the other zippered. After using the bag for a couple of months, I now wish both pockets were zippered. If I either pocket left open, I would then have the choice to leave it unzipped.
That's it for the interior. There are no hidden or side pockets, no bottle holders, no built-in charger—just simple, effective design.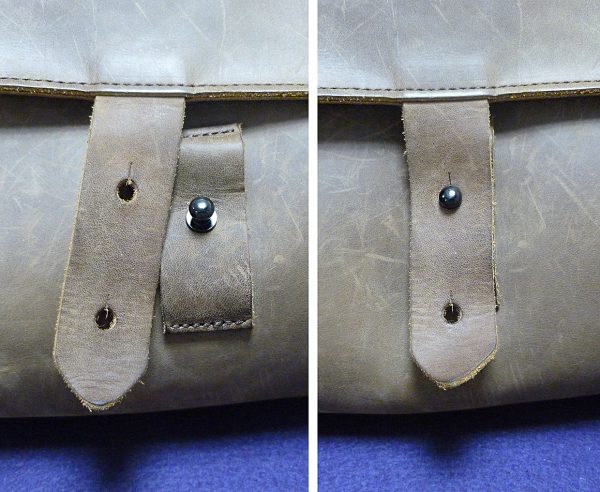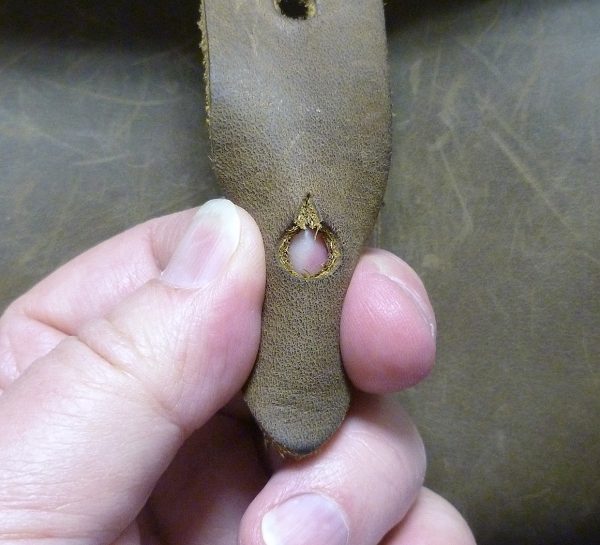 The front flap has two holes cut into a leather tab that fits offer a sewn on stud. Which hole you use largely depends on how much stuff has been crammed into the bag. I worry about the holes cut into the leather tab becoming stretched with repeated usage, but it hasn't happened yet, so it's probably me being paranoid.
As I said before, using the Maverick messenger bag has forced me to edit my stuff and that's been a (mostly) good experience. Previously in my other backpack, I had a few chargers, way too many cables and other junk that I have since put in a drawer for when I really need them—not if I need them. My shoulder now thanks me.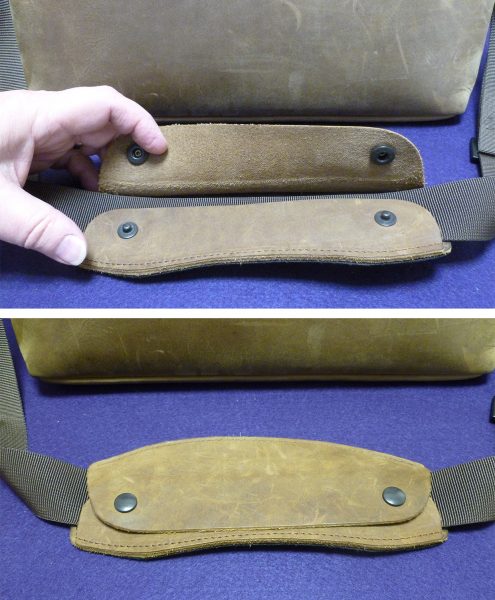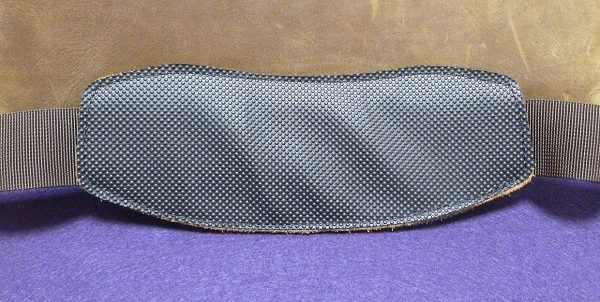 Speaking of shoulders, the Maverick has a 1.5 in. wide nylon shoulder strap for carrying. Thankfully, Waterfield has included a removable non-slip leather shoulder pad that keeps the strap from digging into your shoulder which makes it much more comfortable to carry. Since it's removable, it can be infinitely adjusted up or down the strap.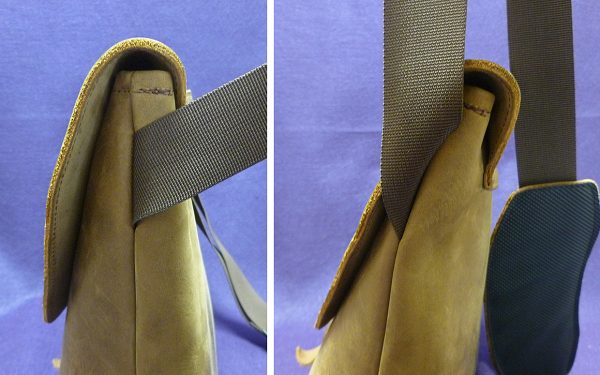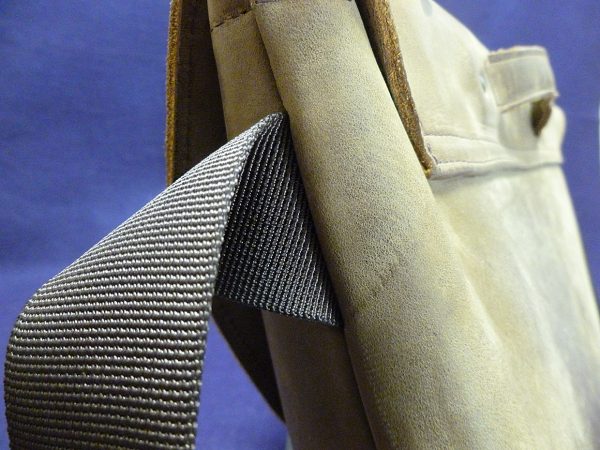 The strap itself is sewn into the bag at a vertical angle. It's easier to look at the photos than have me explain it. I understand Waterfield's reasoning, but I still haven't gotten used to it. One thing that bothers me is that the strap seems to get twisted a lot after repeated use. It's easy to untwist, but it's still something I have to do before throwing it over my shoulder.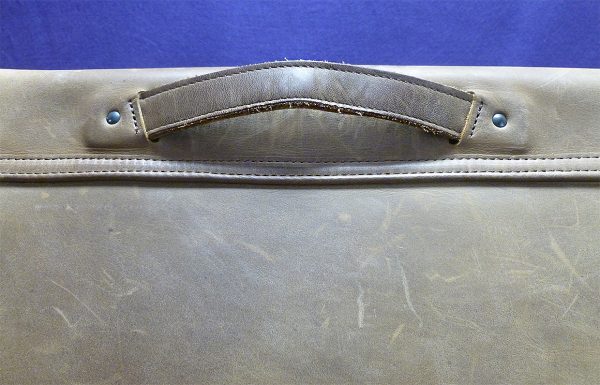 There is a leather handle sewn into the upper back of the bag's flap rather than at the top. Again, Waterfield has a design reason for this. I'm not sure I agree, but I hardly use this handle, so I don't think about it too much.
Despite me being picky about certain aspects, the Maverick is a handy bag that's a pleasure to use. I've come to appreciate it more and more each day. True, I wish I had chosen the full-sized version, but that's my fault. If you're looking to buy a messenger bag, you can learn from my judgment error in sizing.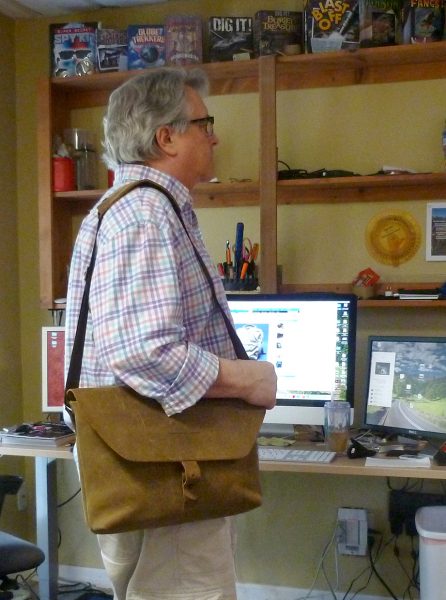 Waterfield has—once again—made a product that should give years of use. The leather Maverick messenger bag should last long enough to hand down to a new generation should you want to get a new bag or backpack later. I would only caution those who like their bag to look new as long as possible because it will get scarred. As I said though, I think it's aging quite beautifully.
The Maverick messenger bag sells for $289.00 or $319.00 US.
Source: The sample for this review was provided by Waterfield. Please visit www.sfbags.com for more info.
Product Information
Price:
$289.00 US (Compact size) or $319.00 US (Full size)
Manufacturer:
Waterfield
Pros:

Well made
Tough
Comfortable to carry
Look better with age
Holds a lot for its size

Cons:

Not as roomy as a backpack
Expensive