We use affiliate links. If you buy something through the links on this page, we may earn a commission at no cost to you. Learn more.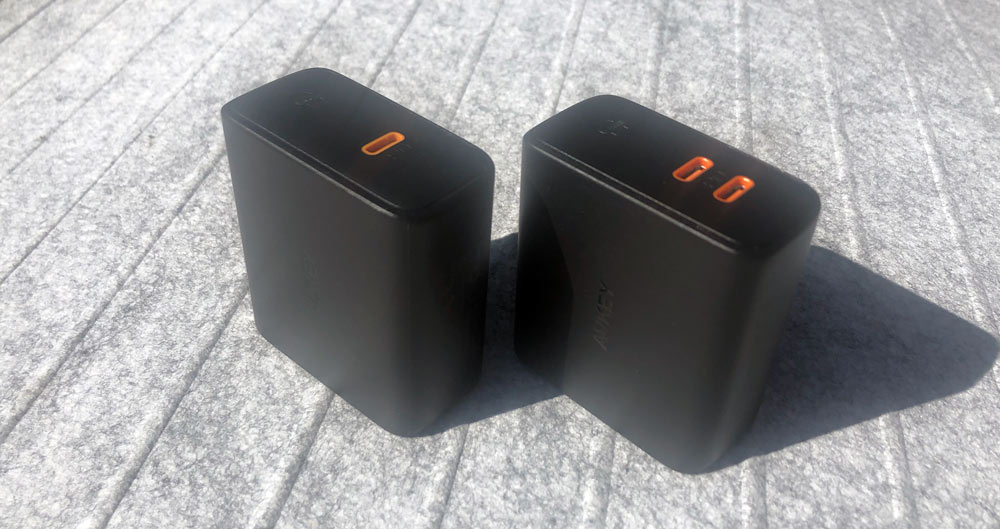 REVIEW – Charging your devices is a necessary evil and usually rears its head at the most inopportune times. The best plan is plug in and steal a few minutes of charging when we can. There are multiple solutions for charging out there and we're going to take a look at two specific USB-C chargers from Aukey that are optimized for efficiency in two unique ways. They are the 60W PD Wall Charger with GaN Power Tech and the Dual-Port 36W PD Wall Charger with Dynamic Detect. Long names aside, there's some cool here.
What are they?
The 60W PD Wall Charger with GaN Power Tech is a wall charger that uses advanced gallium nitride technology to reduce weight and size for the same output. The Dual-Port 36W PD Wall Charger with Dynamic Detect is a wall charger that is able to tell if one or two devices is connected and intelligently adjust output for both devices to be as efficient as possible. Both chargers utilize the 'Power Delivery' charging standard that enables compatible devices to charge at a higher power and therefore faster speed than normal which helps in those quick charge scenarios. Check the stats on your device if you're unsure of your compatibility.
What's in the box?
Each of these are sold separately, so the bullets below are per product.

60W Wall Charger, Manual, Warranty Sticker
36W Dual-Port Wall Charger, Manual, Warranty Sticker
Hardware specs
60W PD Wall Charger with GaN Power Tech
Dual-Port 36W PD Wall Charger with Dynamic Detect

Design and features
The first thing you'll notice is what these two wall chargers have in common.


They share the exact same enclosure design and size.

The share the same folding prongs which fold back with a satisfactory 'SNAP'.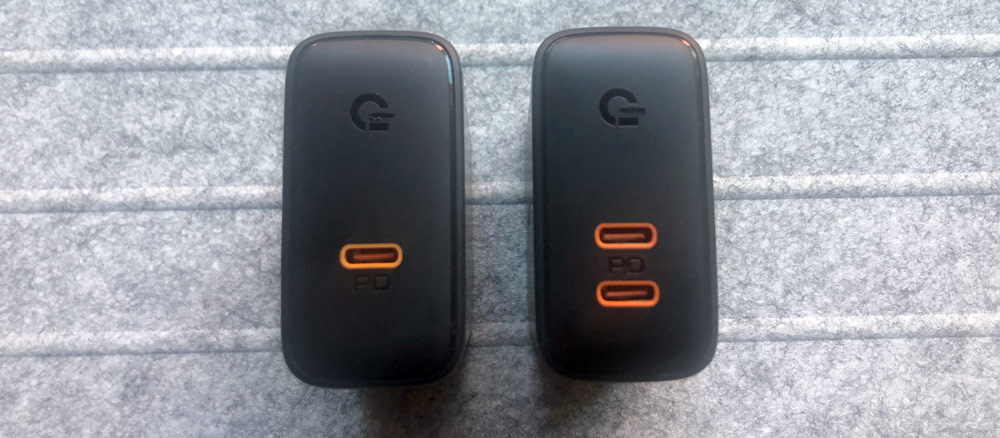 The faceplates share a power indicator logo and LED, but the 60W has a single USB-C port while the 36W has two.
Setup
Both of these wall chargers are BYOC or Bring Your Own Cable. So grab your favorite cable and make sure it's got a USB-C end for connecting to one of these two chargers. I used the Apple USB-C cable that came with my devices for my review.
Performance
Charge time is a pretty good metric for measuring performance. I used Netflix on my iPad Pro until it flat shut off. Killing the battery on my work laptop is never all that hard as there's always more work to do. I ran that down to 1%, then killed all the apps and let it blackout in a non-sleep setting. I then plugged both of them in and started a timer on my phone.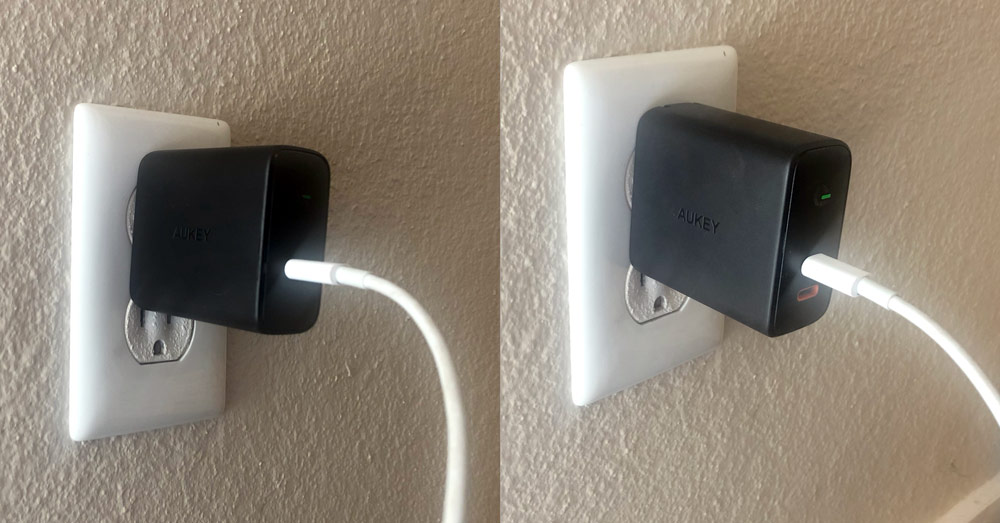 Using Aukey's 36W charger, it took 129 minutes to charge my iPad Pro 11″ from zero to full (above right). This is about an hour faster than using the adapter that came with my iPad. After reading through some of the info on their website, this charger is set to max out at 30w when using a single port. If you're using two, each will top out at 18w, so just note that the charge times will vary depending on what and how many devices you're connecting. It may be bigger than my iPad charger, but it's smaller and faster than both my iPad and iPhone chargers together. I call that a win.
The 60W charger (above left) from Aukey took about 90 seconds to get my MacBook Pro 15″ (2017) to a grey screen and recover, and then 123 minutes to charge from zero to full (leaving it alone). This is slightly slower than the larger (87w) power brick that came with my Mac, but not enough to outweigh the size and weight reduction. Take a look at the size difference.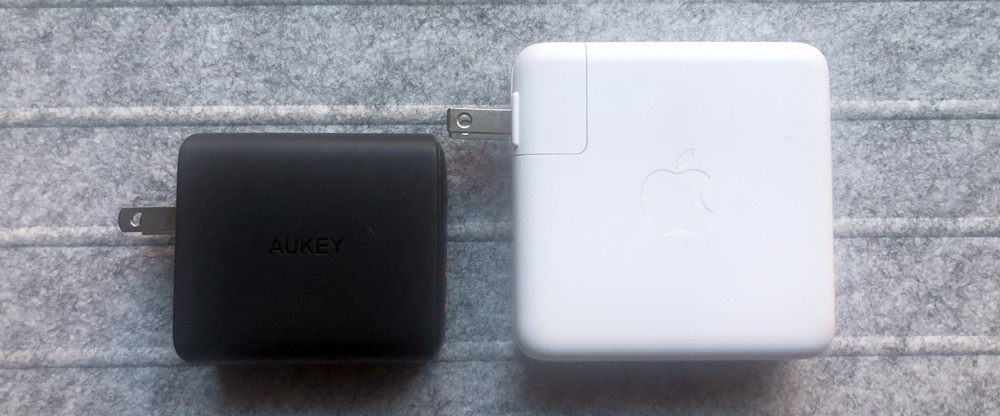 There's not all that much else to know. The LEDs are super low key which I appreciate. You'll need to rely on the devices themselves to tell you if they're charged which is simple enough. The prong orientation makes it block the second position in a standard wall outlet, but if you use the lower position, you can still squeeze a regular cord in. That's about it.
What I like
The diminutive size of the 60W charger
USB-C positive cable connection
Charging speeds
The fact that they're both the same size makes packing/traveling easier
What I'd change
Need a power strip if you want to plug more than one of these into a single wall outlet
Final thoughts
These chargers are fast, small and priced well. Whether you're looking to reduce the size of your laptop charger or carry less chargers all together, these are a solid bet if you have PD compatible devices.
Price: $39.99 (60W PD), $35.99 (Dual-Port 36W PD)
Where to buy: Aukey and Amazon
Source: The sample of this product was provided by Aukey.