We use affiliate links. If you buy something through the links on this page, we may earn a commission at no cost to you. Learn more.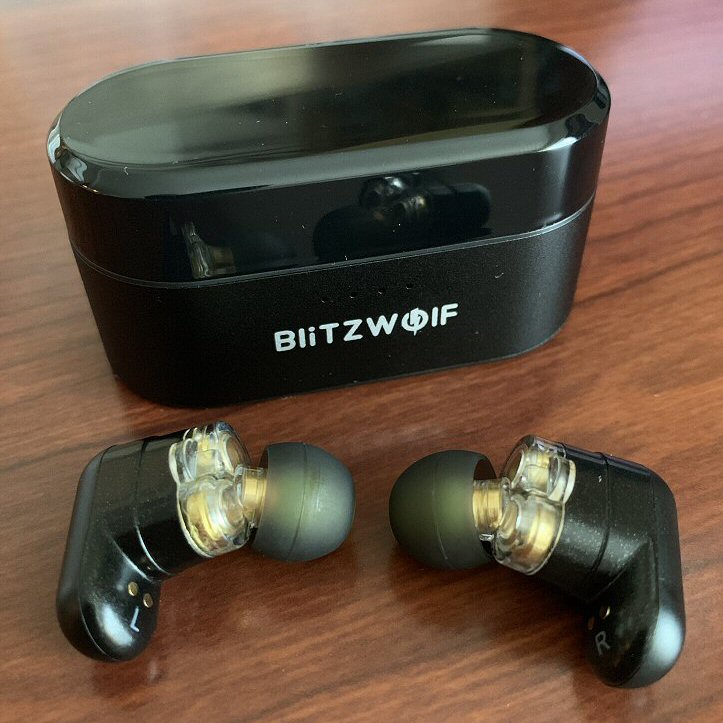 REVIEW – It's not a state secret that I've reviewed quite a few Bluetooth earbuds over the past few years and although some have worked better for me than others, I am always on the hunt for the next pair that might more closely suit my needs.  The BlitzWolf BW-FYE7 True Wireless Earbuds caught my attention because of their ergonomically-angled ear tips, small size, and full-featured charging case.  But how did they work out for me?  Let's find out.  Gadget on!
What is it?
The BlitzWolf BW-FYE7 True Wireless Earbuds are a pair of cord-free wireless earbuds that include their own charging/storage case.
What's in the box?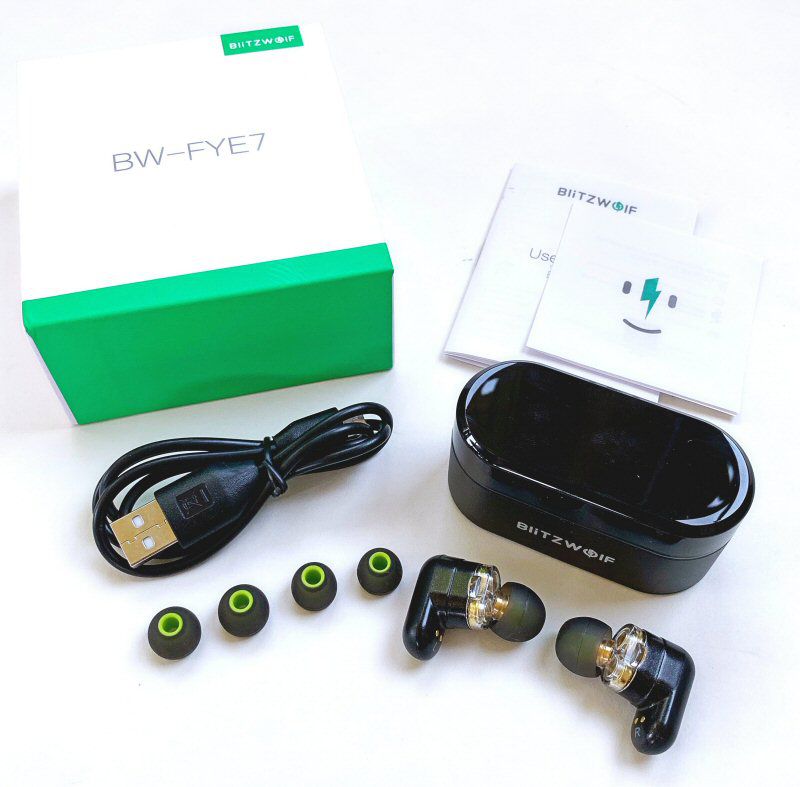 BW-FYE7 earbuds
Small, Medium, and Large silicone ear tip pairs
Charging/storage case
Micro USB charging cable
Instruction manual
Hardware specs
Weight:

Single Earbud: 5g
Charging Case: 55g
Total Weight: 65g

Bluetooth:

Version:V5.0
Chip:AIROHA1526P
Supported Profiles:HSP/HFP/A2DP/AVRCP
Transmission Distance:33 feet (10m)
Frequency:2.402GHz-2.480GHz, Class 2

Charging

Current:500MA-1A
Charging Time:

Time in Charging the Earbuds——2H
Time in Charging the Battery Case——2H

Input Voltage:DC5.0V
Battery Capacity:

Earbud: 50mAh Polymer battery
Charging Box: 500 mAh Polymer battery

Battery Time:

Monaural Earbud with Full Electricity——3-4H
Consuming All the Electricity of the Charging Box——Up to 16H
Standby Time:120h
Call Time:3h

Materials:Polycarbonate + ABS
Dimensions:

Earbud: 26*13*30mm
Charging Box: 70*33*35.5mm

Water Resistance: IPX4
Operating Temperature:0℃ ~45℃
Design and features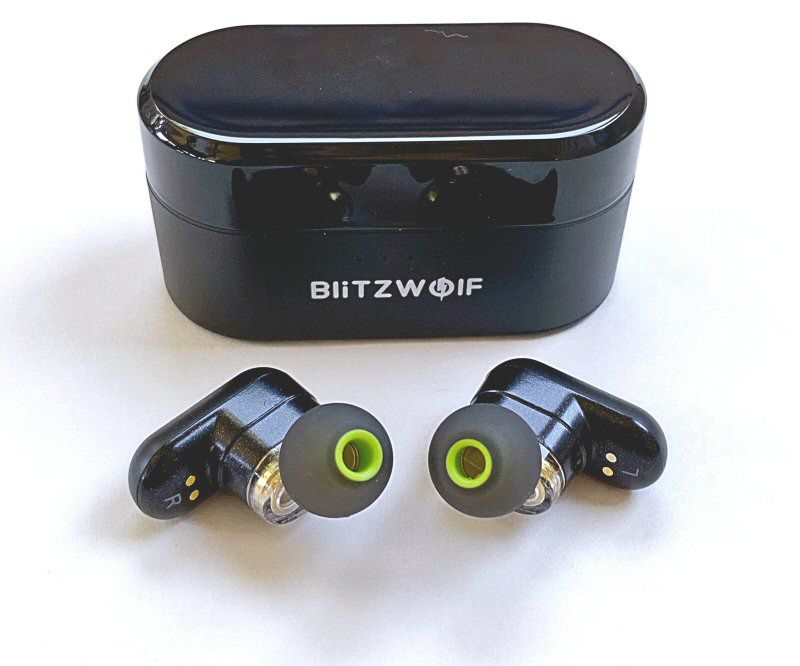 My initial impressions of the BW-FYE7 True Wireless Earbuds were twofold: the earbuds themselves were quite small, and the charging/storage case was solid, and both looked and felt very high quality.
Features and size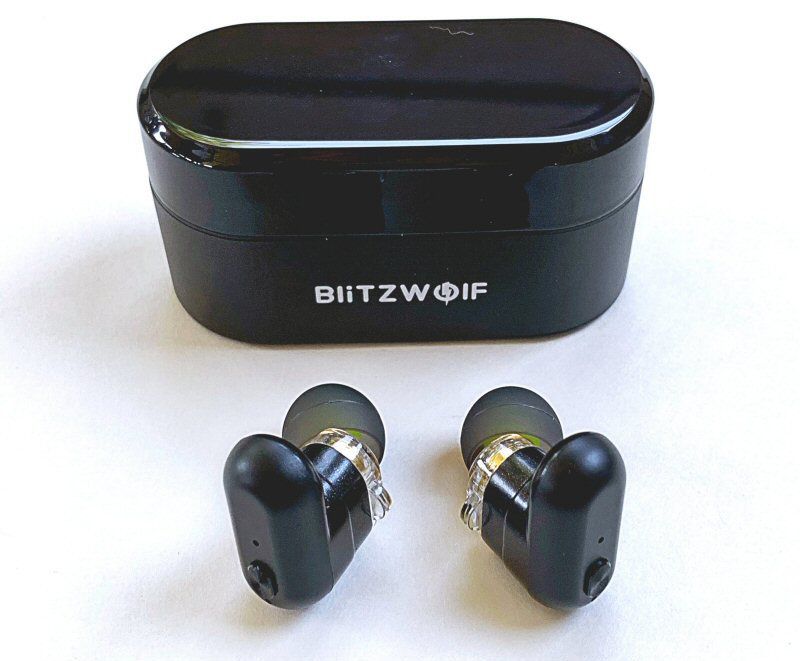 Another aspect of the BW-FYE7's design that piqued my initial interest was that the earbud "posts" were oriented at an angle to the main body of the earbuds.  My suspicion was that this was a feature to help situate the earbuds in the user's ear in a more anatomic position.

Never miss one of our posts again. Sent MON, WED, and FRI with the latest gadget reviews and news!
Above and below are some photos of the earbuds themselves from various angles.  Another thing I noticed about these earbuds was that they just looked very high-tech and high quality, with the brass/gold colored posts and charging contact points, transparent components, and so on all combining to give a very expensive look and feel for a very affordable ~$40.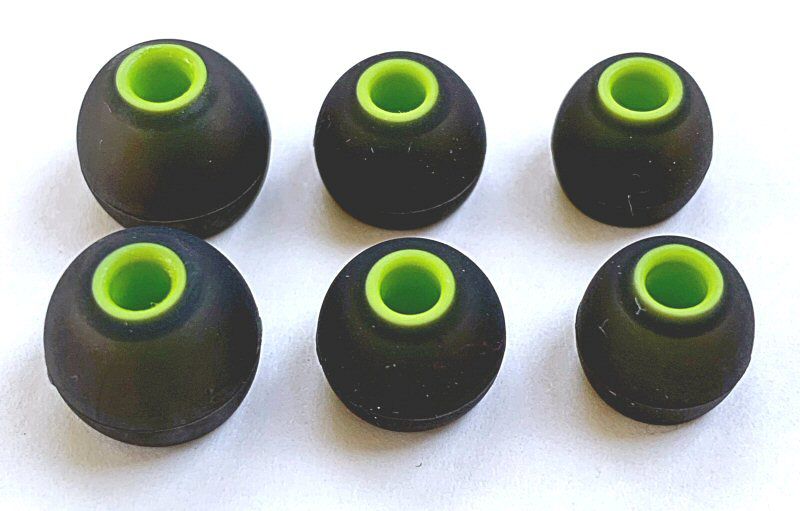 The BW-FYE7 included three pairs of soft silicone ear tip sizes.  Each had a core of hard plastic that helped keep them attached to the earbud posts.  Because of my larger than average ear canals, I immediately selected the largest-sized ear tips.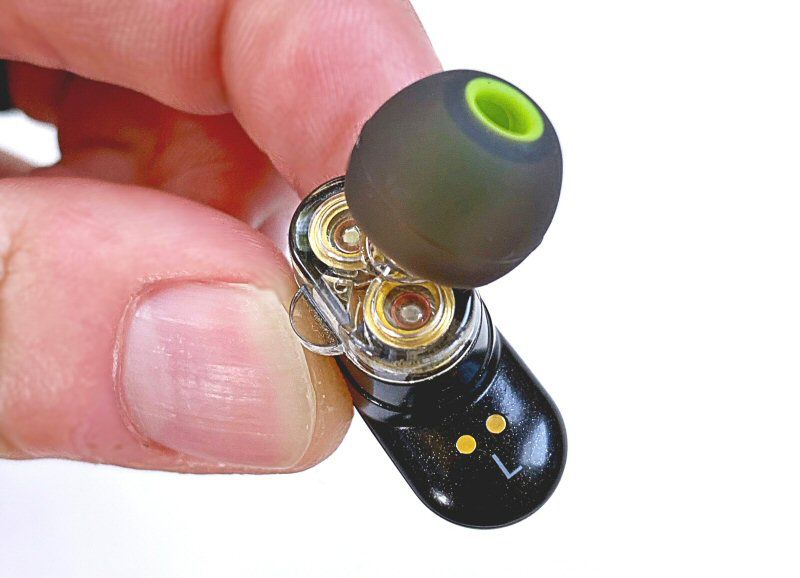 The ear tips were easy to install; I simply gave them a little twist as I pressed them down onto the earbud posts and did a visual check to confirm that they were fully seated.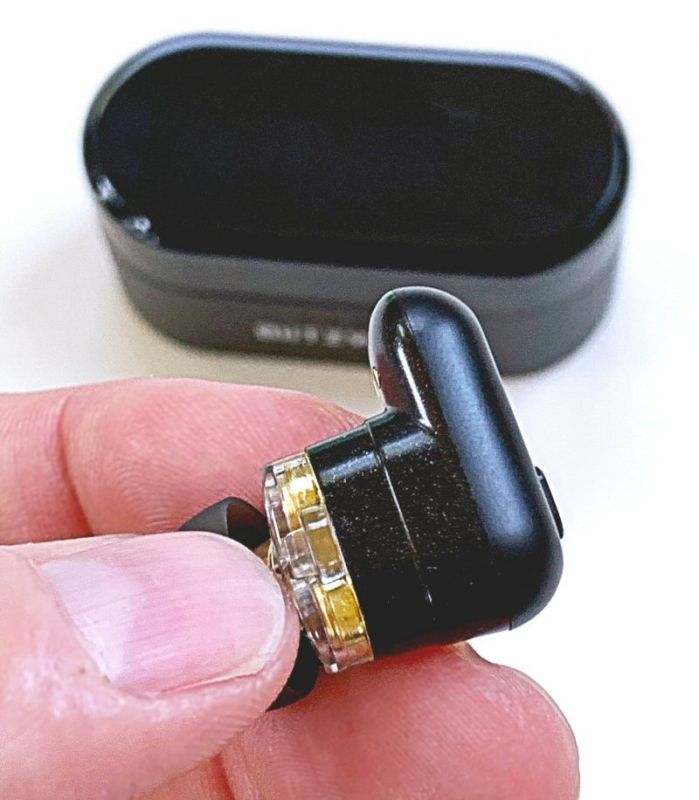 The BW-FYE7's main body had an oblong, essentially oval shape.  At first, it seemed to be a strange design choice—-many other true wireless earbuds are not shaped like this.  However, their shape did turn out to be significant; more on this later.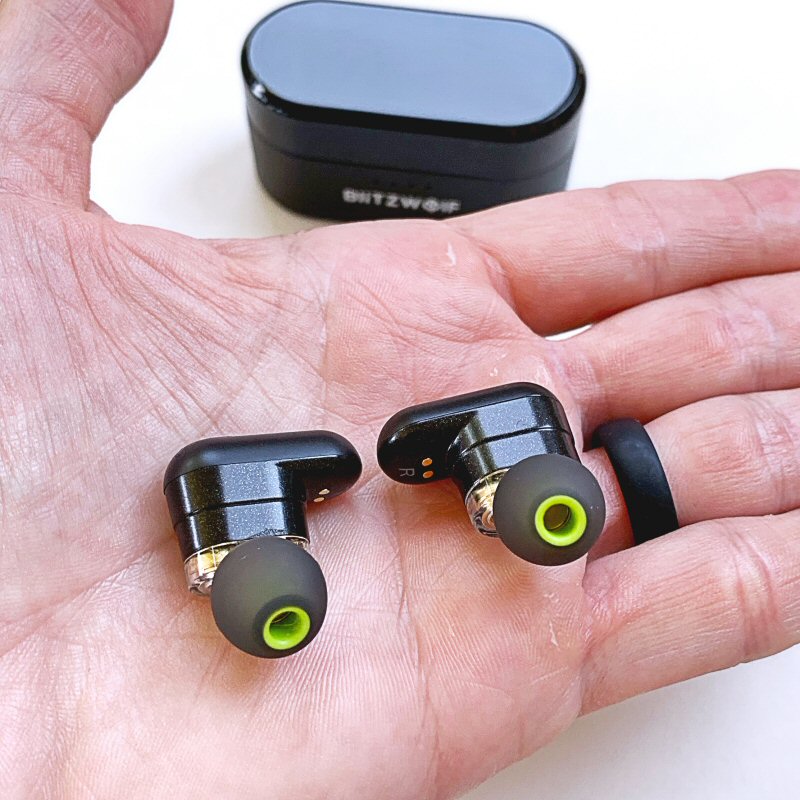 The photos above and below give a sense of the size of the BW-FYE7 earbuds.  I found them to be quite small and lightweight, which I like.
Setup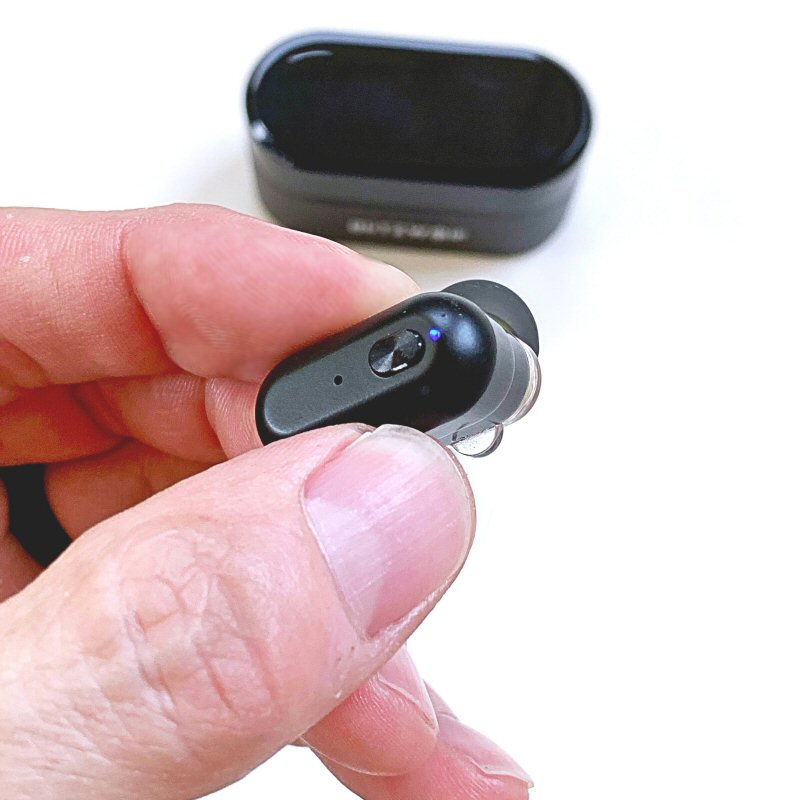 The outside of each of the earbuds had a single button and a tiny LED.  The button on each earbud is used to perform various functions.  For starters, a 3-second long press on the buttons will turn the earbuds on, while a 4-second long press will turn them off.  Three short presses will get Siri's attention for voice commands.  When a call is incoming, a short press will answer it, a long press will reject it, and another short press will end an answered call.  A short press of either the right or left button when listening to music or podcasts will pause, a second short press will resume.  The only audio control that I found to be a bit challenging to learn was going to the next song, which required a 1.5-second longish press on the right earbud (I kept either pausing the music or shutting the earbud off altogether until I got the hang of it).  Similarly, going to the previous song required a 1.5-second longish press on the left earbud.  Overall, however, the BW-FYE7's controls were more straightforward, intuitive, and reliable than just about any other Bluetooth earbuds I've tried.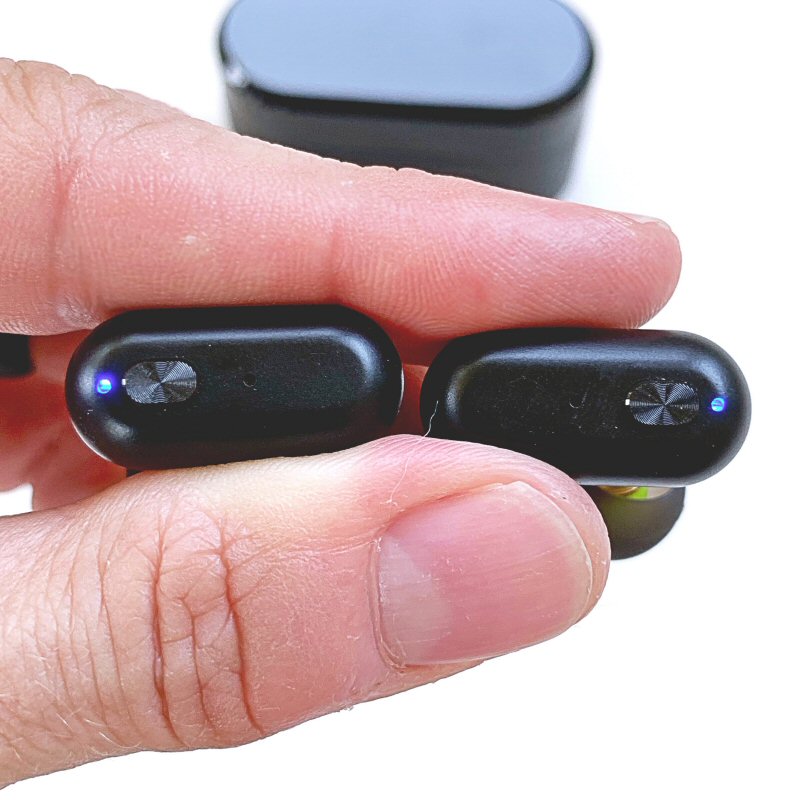 Pairing the BW-FYE7  earbuds for the first time was quite straightforward.  I simply pulled each of them from their charging case and they turned themselves on automatically.  By the time I had situated them in my ears, a voice prompt was already pleasantly informing me, "Pairing mode activated."  I went into the Bluetooth settings on my iPhone XR, ensured it was "discoverable" and quickly both BW-FYE7 R and BW-FYE7 L popped into the list.  I selected each of them and both connected to my iPhone XR and the pleasant voice informed me thusly.  I should mention here that in the vast majority of situations, the earbuds automatically re-connected themselves to my iPhone XR whenever I removed them from the charging case.  However, on a few occasions, such as if I removed them from the case and my iPhone XR was not within range, I did have to manually re-pair them with my iPhone XR, but the manual stereo re-pairing process was quite easy as well: simply hold down the multi-function buttons for 3 seconds to enter pairing mode (the tiny LEDs turn blue as seen above) and they reconnected to my iPhone XR on their own, without me even having to select them from the Bluetooth devices list again.  I've never tried a pair of Bluetooth headphones that stayed connected so well and were so easy to re-connect if needed.
UPDATE August 29, 2019: In addition to pairing the BW-FYE7  earbuds to my iPhone XR, I was also able to pair them to my work-issued Lenovo X270 laptop running Windows 10.  I pput the earbuds into pairing mode by holding each of the buttons down for several seconds until the LEDs blinked red and black., then went into my laptop's Settings under Bluetooth  & other devices and clicked Add Bluetooth or other device.  I had to pair BW-FYE7 R and BW-FYE7 L separately, but once I had done this, I was connected and enjoying audio from my laptop on the BW-FYE7  earbuds.
Charging Case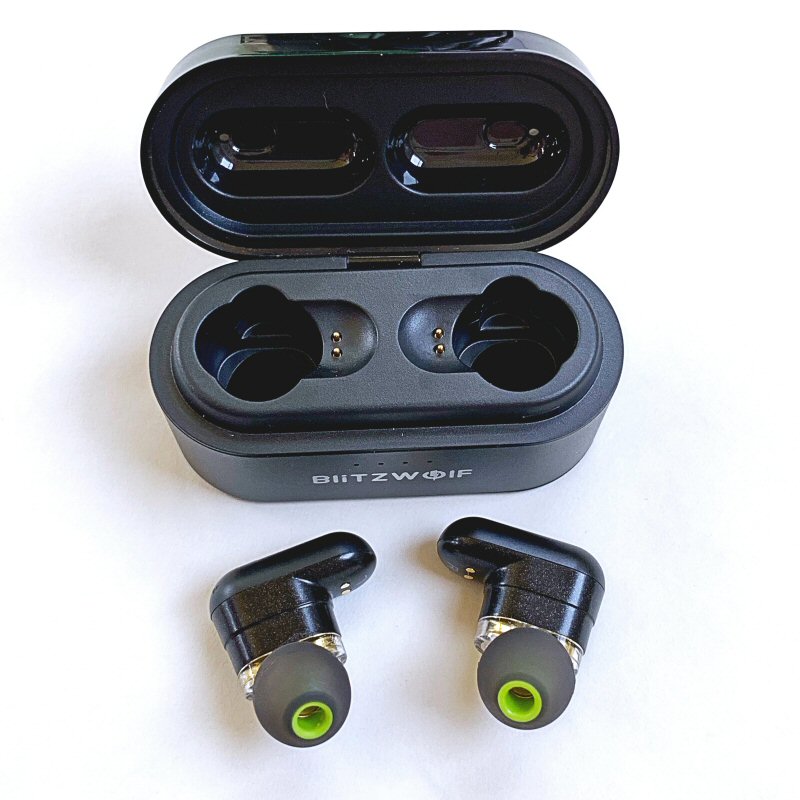 As mentioned at the outset of this review, my initial impression of the BW-FYE7 True Wireless Earbuds' charging/storage case was that it was solid and both looked and felt very high quality.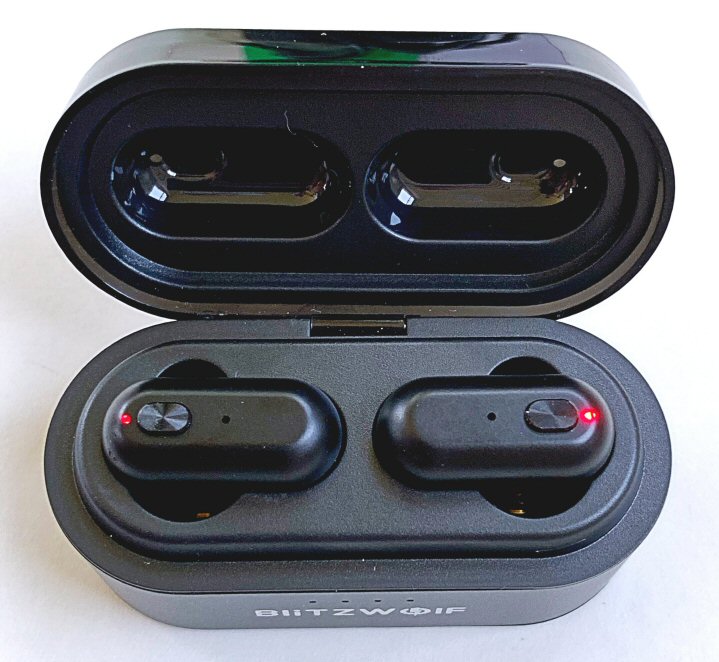 The oval-shaped BW-FYE7 earbuds each fit perfectly into oval-shaped slots in their charging case.  Also, they magnetically attached to the case, which helped not only secure them into the case but also helped properly orient them into their respective slots every single time—they just snapped right into position.  When the BW-FYE7 earbuds were placed in the charging case, the tiny LEDs on each of them illuminated red to indicate that they were being charged via the battery in the case.   I used the BW-FYE7 earbuds during multiple workout sessions lasting anywhere from 45 minutes to just shy of 2 hours, and as long as I kept placing them back in the storage case afterward, I never fully drained them.  However, I did experiment a bit to see how long it would take to drain them completely and it took just shy of 3 hours.  From fully drained, the earbuds took about 1.5 to 2 hours to fully charge.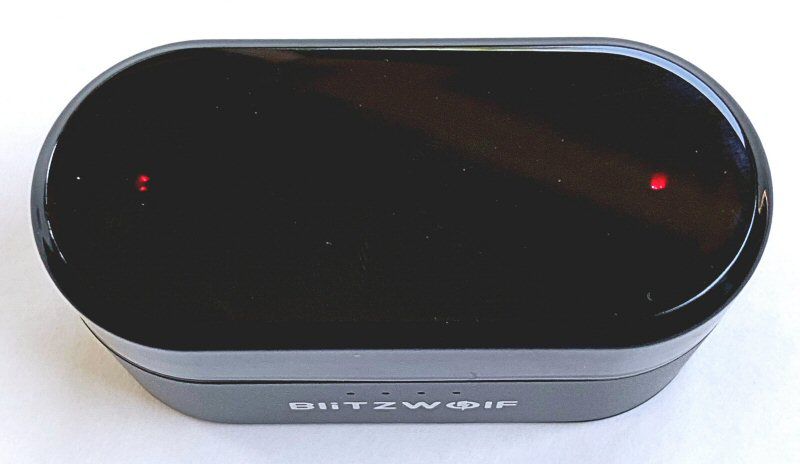 The lid of the charging case was nearly opaque but was also sufficiently transparent that you could see the LEDs through the lid enabling you to determine if the BW-FYE7 earbuds were still charging.  I found this to be a handy feature indeed.

The rear of the charging case had two notable features.  The first was a small, oval-shaped button (more on this button below).  The other was the micro-USB port for the charging cable.

The charging case itself had four tiny LEDs on its front.  When connected to a computer or outlet via the micro-USB port on the rear, these LEDs blinked to indicate the level of charge that has been obtained.  Once disconnected from power, these LEDs were not normally illuminated, but pressing the small, oval-shaped button the back of the charging case (see above) illuminated the LEDs on the front briefly to indicate the charge level of the case's battery.  I found this to be another very handy feature.  The charging case took about 1.5 to 2 hours to fully charge.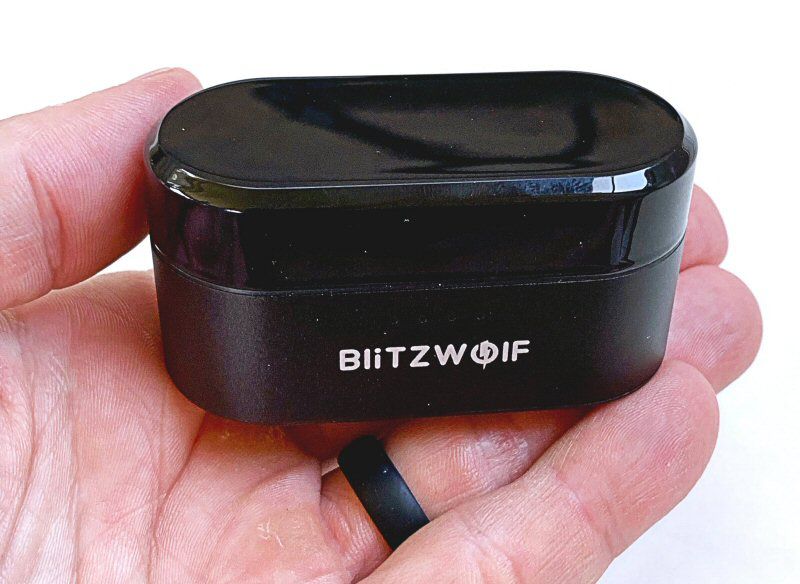 The charging case was a nice size, but my only critique of it was that it was a bit of an awkward shape—it didn't feel very comfortable when slid into a pants pocket.  If it had been a little more rounded and contoured, it would have been better.  Still, I did like its styling, how solid it felt, and that it was loaded with useful features.
Fit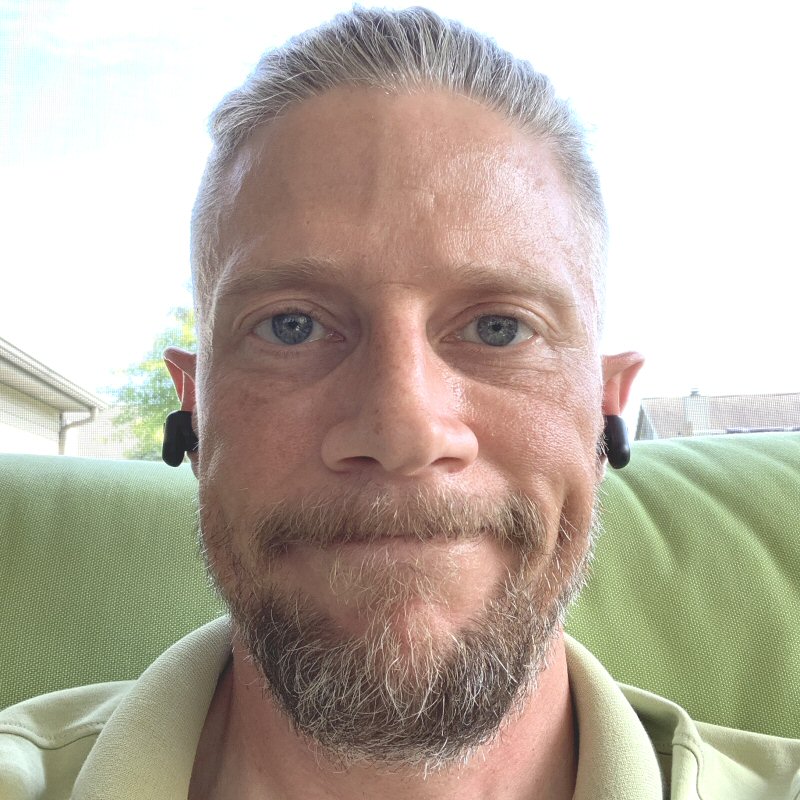 I've reviewed quite a few Bluetooth earbuds, both wired and wireless, and the BW-FYE7 earbuds did fit into my ears in a bit of a unique way.  They were fairly low profile and didn't protrude much from my ears, and the combination of their angled posts plus their oblong, somewhat "hook" shape seemed to help keep them in my years better than any earbuds I've tried yet, either wired or wireless.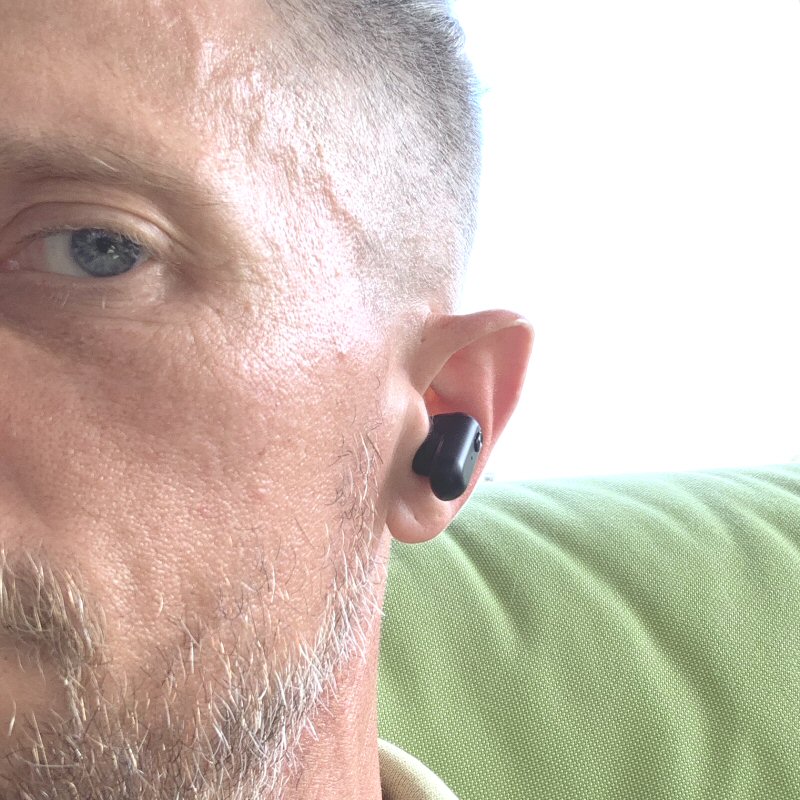 When placed in the ear with the angled posts oriented straight down the ear canal, their oblong shape sort of "rested" in the little notch toward the bottom of my ear, as seen in the image above.  This seemed to really help capture them and keep them in place, even when I was exercising.  The only time they even started to come loose was when I became excessively sweaty during some very intense workouts.  In fact, even when I wore them in the rain, they stayed put, and they also continued to function without issue through both sweating and rain, which demonstrated that their water-resistance was not exaggerated.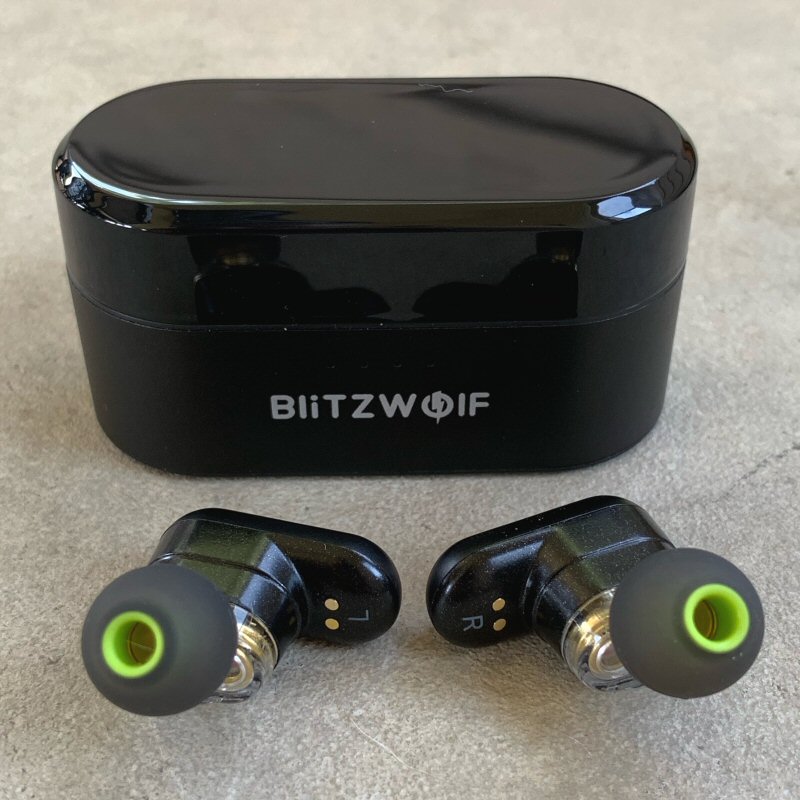 Audio Performance
Last, but certainly not least—how did they sound?  (They *are* audio devices, after all!)  I will preface my answer to this by first stating once again that I have reviewed many different Bluetooth earbuds, and to be honest, the audio quality of most of them was acceptable—not bad by any means, but just not great.  However, I was very pleasantly surprised by the BW-FYE7 earbuds, whose sound quality was actually noticeably good to my ears.  The highs were crisp and the lows were deep, even for a very small pair of Bluetooth earbuds.  I attributed this to both their dual 6mm dynamic drivers and their solid fit in my ear canals—while their silicone ear tips did not appear to be anything unique, the combination of their anatomically-oriented posts and the way their shape  "locked" into position in my ears helped really cut down on ambient noise, allowing me to hear more of whatever I may have had pumping through their tiny speakers.
What I like
Sound quality is excellent
Earbuds are small and lightweight AND they stayed in my ears during all but the most strenuous (and sweaty) exercising
Charging case is well-built, solid, and has several useful features
Good battery life for both the earbuds and charging case
Generally stayed pair to my iPhone and were easy to re-connect if necessary
Audio controls were intuitive and worked consistently
What I'd change
Charging case could be a bit more rounded and contoured to feel more comfortable when in a pants pocket
Final thoughts
If you've read the above, by now you probably have a good idea that I was quite impressed with the BlitzWolf BW-FYE7 True Wireless Earbuds.  They really hit all of my requirements and included some features that I hadn't expected or that worked even better than I did expect.  For a very affordable ~$40, the BlitzWolf BW-FYE7 True Wireless Earbuds are worth a serious look if you are in the market for a set of Bluetooth true wireless earbuds.
Update 6/14/20
The BlitzWolf BW-FYE7 Earbuds were some of the best-fitting of any true wireless earbuds that I've yet reviewed, and that's saying something because so many of the previous ones have not stayed in my ears during exercise. They have a good feature set, performed well and are quite affordable. I still use them on a regular basis.
Price: $39.99
Where to buy: Amazon (use code RJ7NAGP9 at checkout to save 25% – code expires 8/31/19)
Source: The sample of this product was provided by BlitzWolf.