We use affiliate links. If you buy something through the links on this page, we may earn a commission at no cost to you. Learn more.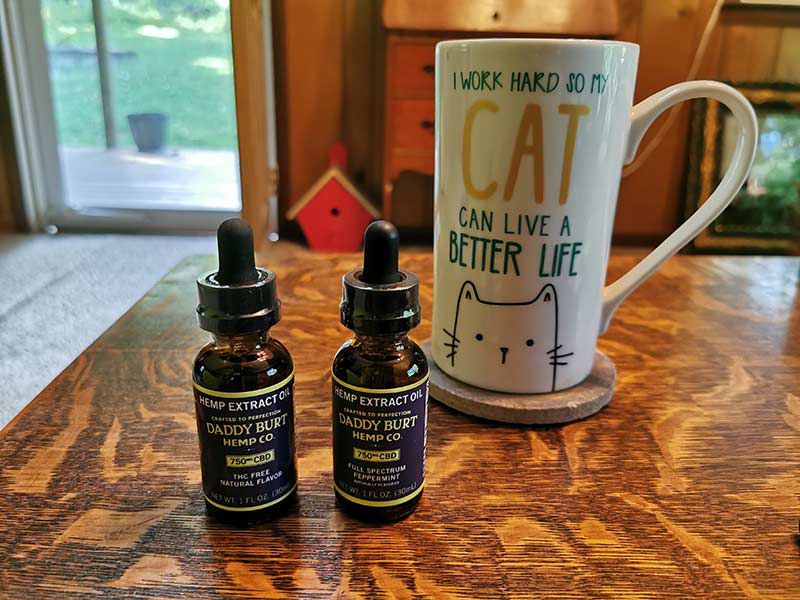 REVIEW – I'm always interested in trying alternative foods like the meal replacement shakes that I've been writing about lately. I'm also interested in alternative medicines that can help provide relief for a variety of health issues. I was invited to try some CBD products from Daddy Burt Hemp Co. CBD products have gained popularity in the last year, so I was game to give them a try.
What is it?
CBD aka Cannabidiol is an extract from the hemp plant and also the trendy new ingredient being used in 100's of products including oils, lotions, edible gummies, and more. Some people claim that CBD helps with stress, anxiety, pain, inflammation, epilepsy symptoms, and more.
Daddy Burt Hemp Co. has family ties to the hemp farming business in Kentucky for over 100 years.
Are CBD products legal and will it make you high?
Those are the 2 main questions that most people wonder about when it comes to CBD products. Simply put, the answer to the first question is yes, and the answer to the second question is no.
CBD products that are made from hemp (like the ones from Daddy Burt) are legal to use and purchase from online retailers in the US.
Using CBD products will not make you high because CBD has no psychoactive, intoxicating, or mind-altering effects. That said, some types of CBD products can contain traces of THC which can show up in a drug test. Daddy Burt Hemp Co. offers CBD isolate oils which contain zero THC so there are no worries about it causing a failed drug test. CBD is also not addictive and has no side effects.
For more info on these topics, you can check out the CBD FAQ on Daddy Burt's site.
My experience using Daddy Burt Hemp Co. CBD oil
Daddy Burt Hemp Company sent me a bottle of their THC free CBD oil and a bottle of their full-spectrum CBD oil which does contain less than 0.3% of THC, so it can show up on a drug test. If that is a concern, the THC free CBD isolate should be chosen instead.
I was interested in trying the full-spectrum version of the CBD oil because it has 85 different cannabinoids from hemp which is supposed to provide extra benefits over the isolate version. I have tried another company's CBD oil in the past and didn't feel any benefits at all.
I also wanted to see if CBD oil could help with mild joint pain and mild stress/anxiety issues that I sometimes have. For joint pain, I think I have the start of arthritis or an RSI (repeated stress injury) in my right lower thumb. I usually just take Tumeric capsules for it and stopped taking Tumeric prior to testing the CBD.
As for stress, I will sometimes feel a little anxious when it comes to social events. This is very mild and usually only consists of getting an upset stomach before the event or the worry that I might get a stomach ache at some point. I do not and have never taken drugs for anxiety.
I realize that my experience trying these products are personal to me and that others can have a completely different experience or no experience at all.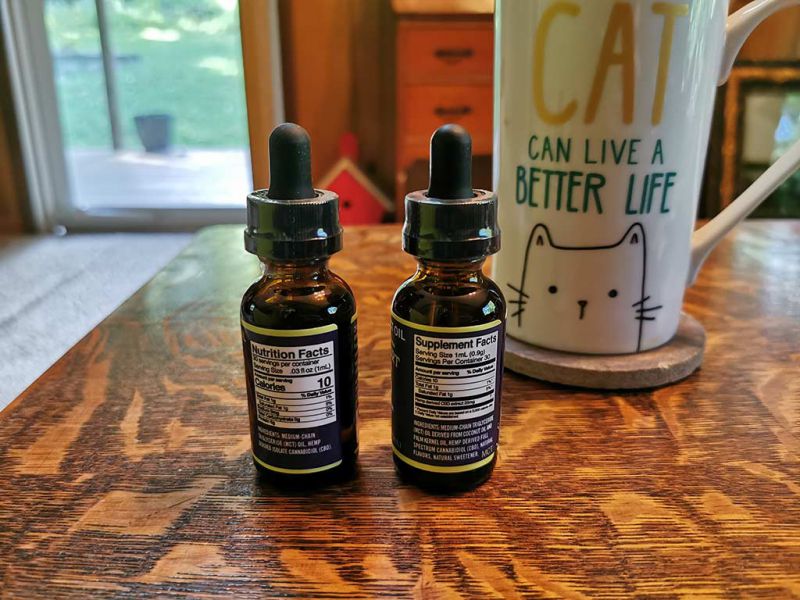 Both types of CBD oil samples that were sent to me came in a small brown glass bottle that holds 30 25mg servings.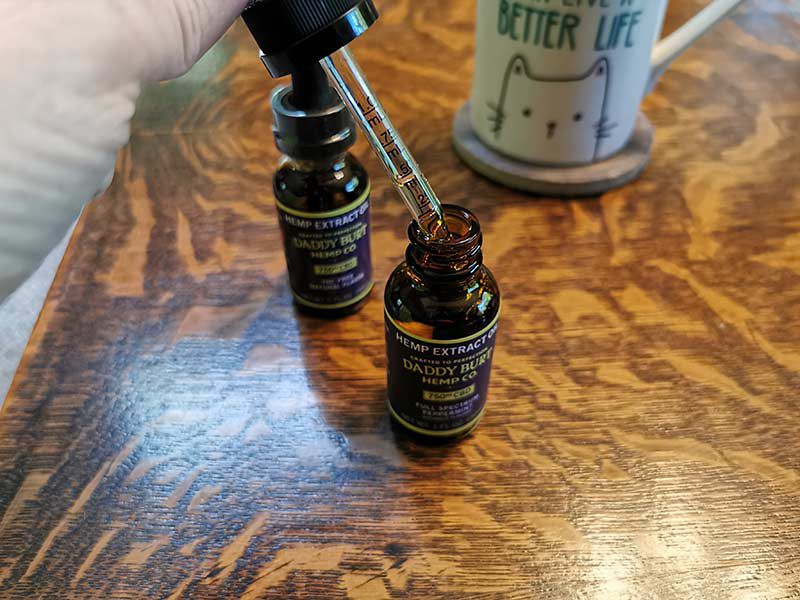 The bottles have a glass eye dropper attached to the cap. The dropper has dosage markings on the glass tube.
You can use the oil sublingually by putting the drops under your tongue and holding them there for at least 60 seconds. There aren't any specific dosage rules as far as if you want to take a full dose (25ml) once a day or break up the dose twice a day. During the few weeks that I've been testing them, I would take a dose in the morning and another in the late afternoon.
The taste of the oils are neutral like a light olive oil or in the case of the full spectrum version, it has a slight peppermint flavor.
When I first took the full-spectrum oil, I wondered if I would feel "anything" weird since it has a tiny bit of THC in it. I really didn't feel anything at all. I didn't get all zen, and I didn't get the munchies. I just felt nothing. I was actually a little disappointed. But, I kept taking it and after a couple of weeks, I have noticed a few things.
The swelling and minor pain in my hand seem improved. It's not like it's healed and 100% better, but I would say that it's 20% better than when I was taking Tumeric.
What about anxiety? Since I don't have many instances when I have that issue, I wasn't sure I'd have a chance to really test for improvement while testing this product. But 2 occasions did come up while taking the CBD oil. The first instance was when we were going to a concert in another town. Typically, I would feel a little stressed about driving there, finding a place to eat, finding parking, etc, in time to get to the theater for the show. I had no worries or upset stomach issues during the trip.
Then, another time we had plans to meet with a family member that I've not seen face to face in a couple of years. I would normally be anxious about that but this time I wasn't at all and didn't even realize that I wasn't nervous until it was back home.
What I like
Easy to use
U.S. Hemp Authority Certification
What I'd change
Final thoughts
Reviewing a product where the results are subjective is tough especially when it comes to foods and products like CBD oil where each person that tries it can have a completely different experience. That said, I will say that I feel like I've had good results when taking Daddy Burt Hemp Co. CBD oils.
I feel like the oil helped with the inflammation in my hand and it helped with my anxiety issues. I can't promise this product will do the same for you, but if you've thought about trying CBD oil but weren't sure which company's products to try, I have no problems recommending Daddy Burt Hemp Co. CBD products and I hope to try some of their other CBD products like their lotions and gummies in the future.
Price: $74.95 per 1 oz (30ml) bottle
Where to buy: Daddy Burt Hemp Co.
Source: The sample for this review was provided by Daddy Burt Hemp Co.