We use affiliate links. If you buy something through the links on this page, we may earn a commission at no cost to you. Learn more.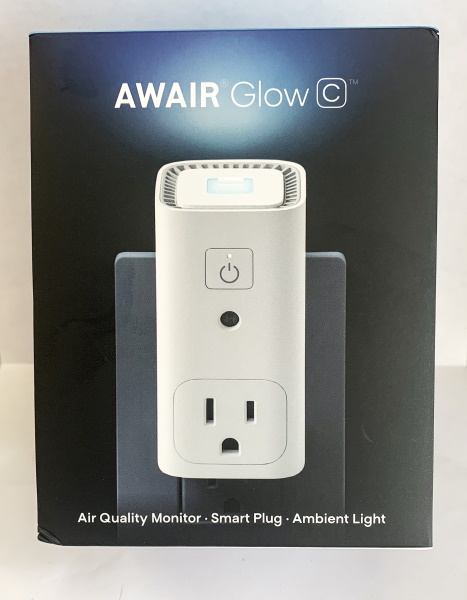 REVIEW – Each day when I walk back and forth to take the railroad to and from work, it seems that there is a new building being constructed in the city. With all of the construction and materials and digging and trucks going back an forth, pollution seems to be at an all-time high. Since just about everyone in my family suffers at some level from allergies, any device that can help me to keep pollutants to a minimum in my home is of interest to me. Lets checkout the Awair Glow C to "C" if it gets an "A" or an "F".
What is it?
The Awair Glow C monitors chemicals (VOCs), temperature, and humidity levels and provides real-time information on your air quality in the room it is installed in. When you plug in a "non-smart" humidifier or air purifier or fan into its built-in smart plug, it automatically turns the plugged-in device on/off to maintain the air quality in your space.
What's in the box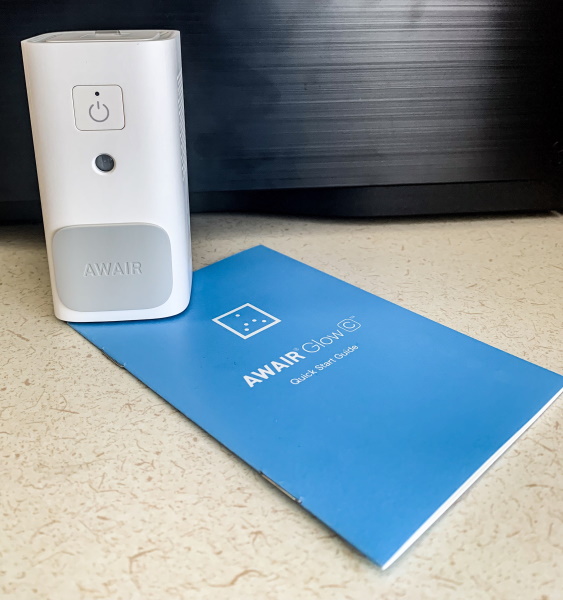 1 x Awair Glow C
1 x Quick Start Guide
Design and features
Features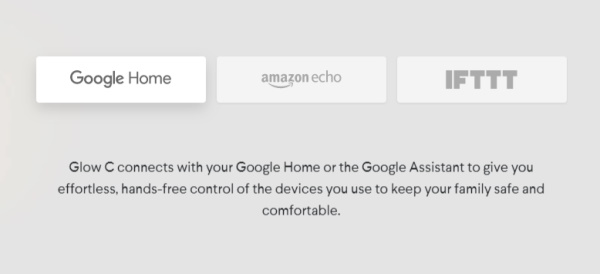 On the front of the Awair Glow C, there is the on/off touch switch, the sensor below the switch and the pass-through AC smart outlet.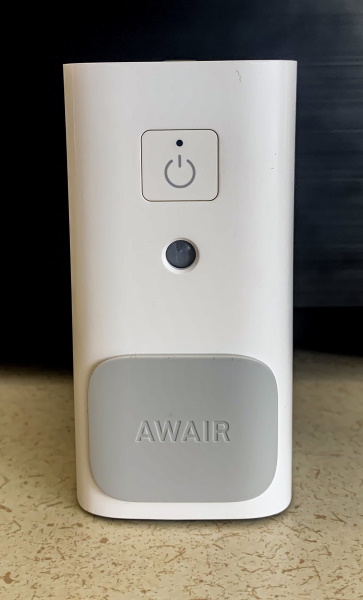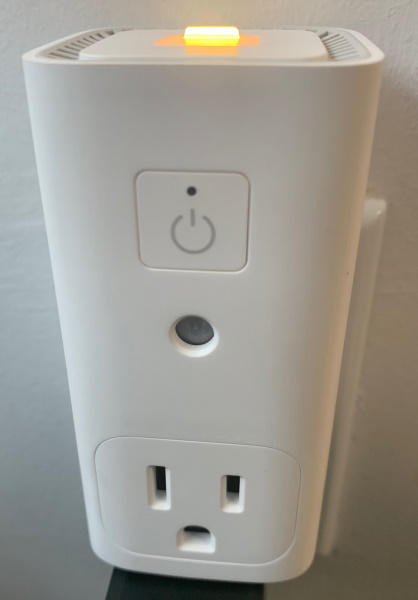 On the back of the Awair, there is a vent and a 3-prong AC plug.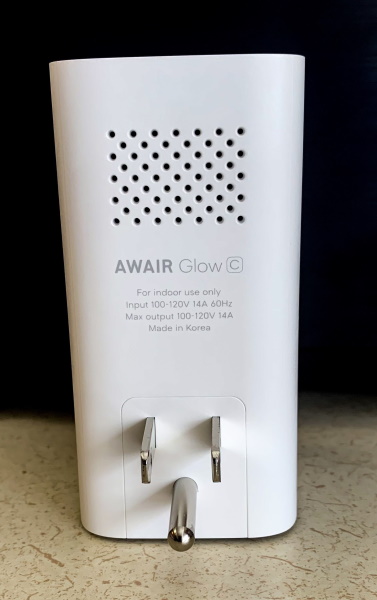 There is a vent on each side of the Awair.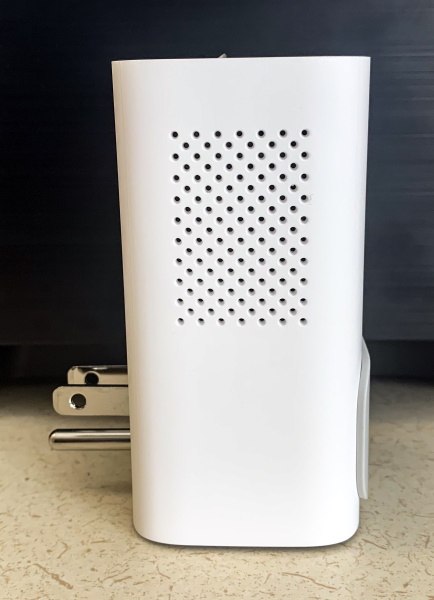 On top of the Awair, there is a vent and the status LED.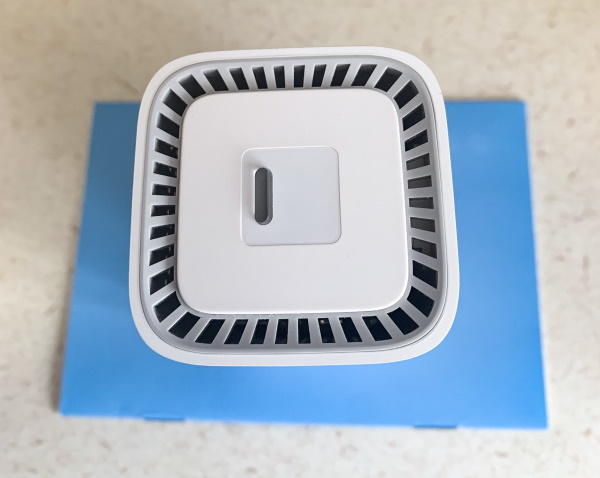 Performance
This device is very easy to use. it is plug and play, and it begins to work as soon as you plug it into the AC outlet. It has a LED on top that uses colors to indicate the air quality level. It also can be controlled via smart devices.
The LED can also be used as a night light and the color can be customized via the app.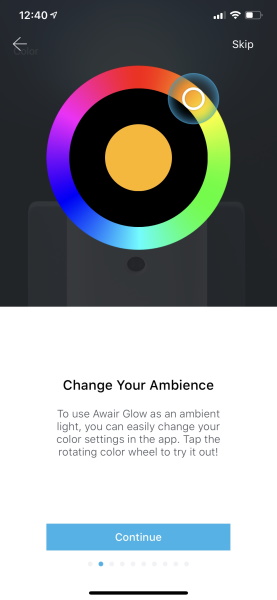 The device has an app that allows you to set up an account and to manage the functionality. It helps you to understand your air quality and track improvements in real-time. You also get notifications and tips via the app that include air quality and temperature updates, etc. One issue I had with the app was the amount and type of personal information it requests. In a time when data security is a big deal, information like date of birth and gender, etc should not be a part of the process regardless of whether it is voluntary or not. Here are some screenshots from the app: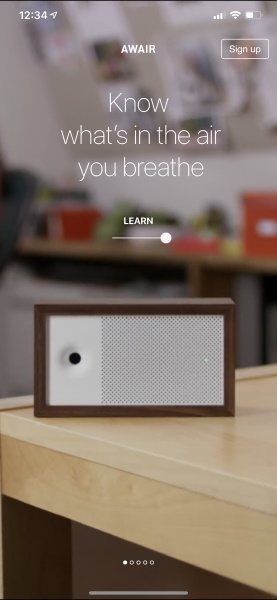 What I like
The compact size
The build quality
The pass-through AC on/off functionality
What I'd change
Remove the personal data information collection part of the app
Final thoughts
The Awair Glow C is a nice device that in some cases can be a key component for managing air pollutants especially for folks like me and my family who suffer a lot from allergies. However, it struggles to fit into my specific home environment because all of my humidifiers and air purifiers are smart devices, and my touch fans cannot be controlled just from the presence of AC power. The auto-triggered smart AC through-plug only works with non-smart devices that likely have hardware on/off switches that can be left on, or devices that can be triggered by the presence of AC power. Since it has a manual on/off switch for the AC outlet, it can still serve as a through-plug to extend access to the AC wall outlet that it occupies. I do suspect that for most consumers, the decision to purchase this device will be based on the capabilities of their existing humidifiers/air purifiers/fans. However, I do not want to overshadow the value of the useful information, notifications and alerts that this device provides even when used as a stand alone device. It also works great as a night light. In my opinion, there is enough overall value in it to make it quite useful.
Never miss one of our posts again. Sent MON, WED, and FRI with the latest gadget reviews and news!
Price: $79
Where to buy: Awair website and Amazon
Source: The sample for this review was provided by Awair.