We use affiliate links. If you buy something through the links on this page, we may earn a commission at no cost to you. Learn more.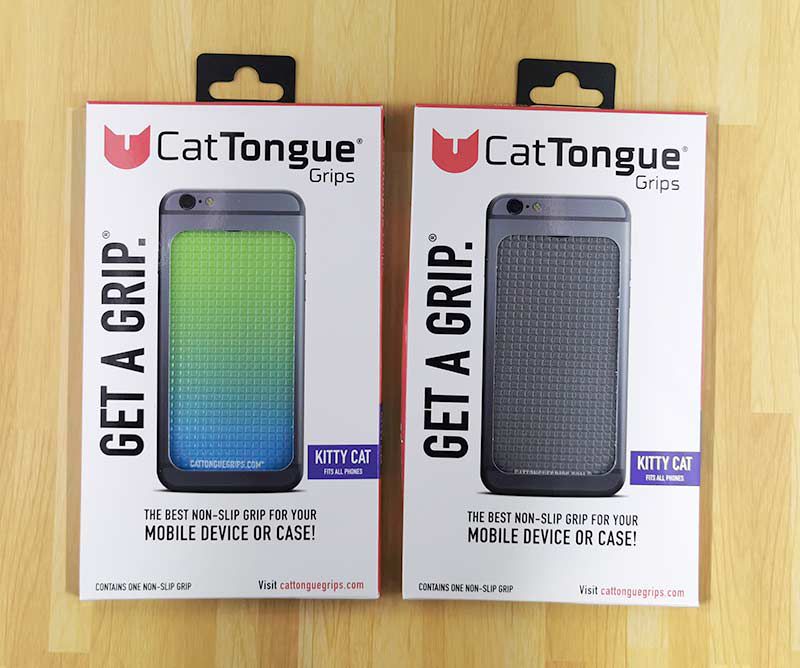 REVIEW – Let's face it, phones are as slippery as they are expensive. But what do we do? We buy these fancy phones that make our wallets cry, only to cover them up with a bulky and ugly case to protect them. There has to be a better way right? That's where CatTongue Grips come in. Let's check them out and you can be sure that no actual cat tongues were harmed in the making of this review.
What is it?
CatTongue Grips are specially designed peel & stick sheets of material that add "gription" to the back of your phone.
Design and features
CatTongue Grips are available in a variety of colors and patterns and in two sizes, Kitty cat and Tom cat. As you probably can guess, the Kitty cat size is 2.25 x 4.00 inches for smaller phones, while the Tom cat size is 2.50 x 5.00 inches for larger phones.
I was sent 2 of the Kitty cat size grips in gray and a cool blue/green gradient.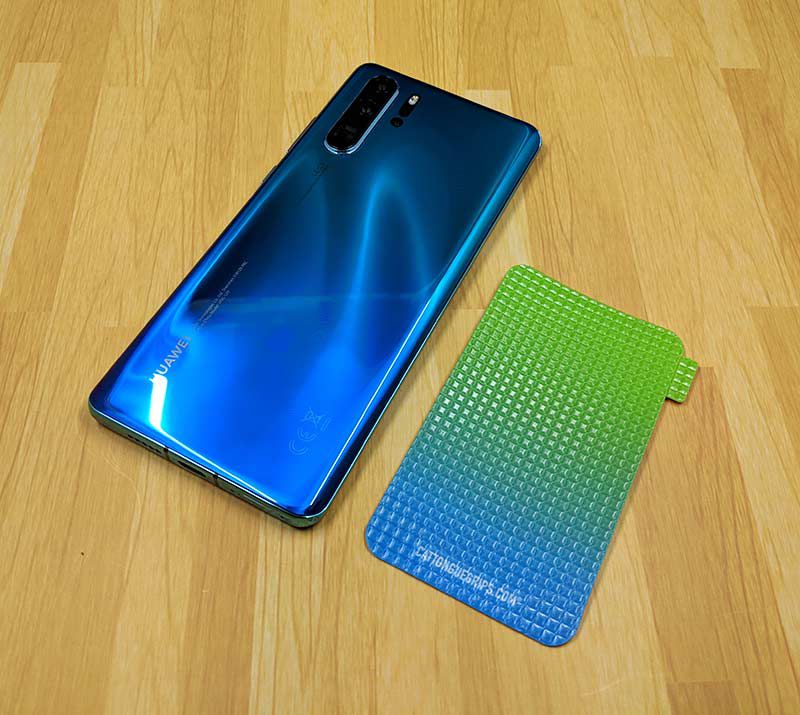 For this review, I used my Huawei P30 Pro which is insanely slippery. So slippery in fact, that Huawei includes a clear case with the phone. I used this freebie case for a long time and then one day I decided to be daring and took it off because I don't particularly like cases. Long story short, The caseless phone slipped out of my fingers and fell onto the concrete floor in my garage from about waist high (I'm 5'6″). Luckily the screen didn't break, but the fall did scuff up two of the corners. Needless to say, the case went back on. 🙁
But then I was offered the CatTongue Grip and the case came back off again because I like to live dangerously (sorta).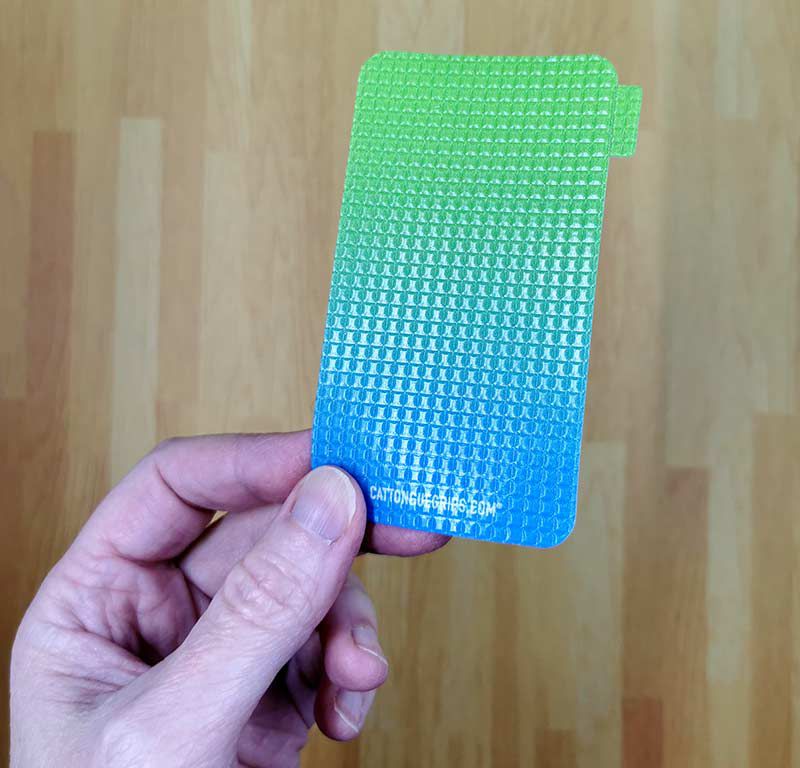 Each CatTongue is a flexible soft almost quilted sheet of plastic.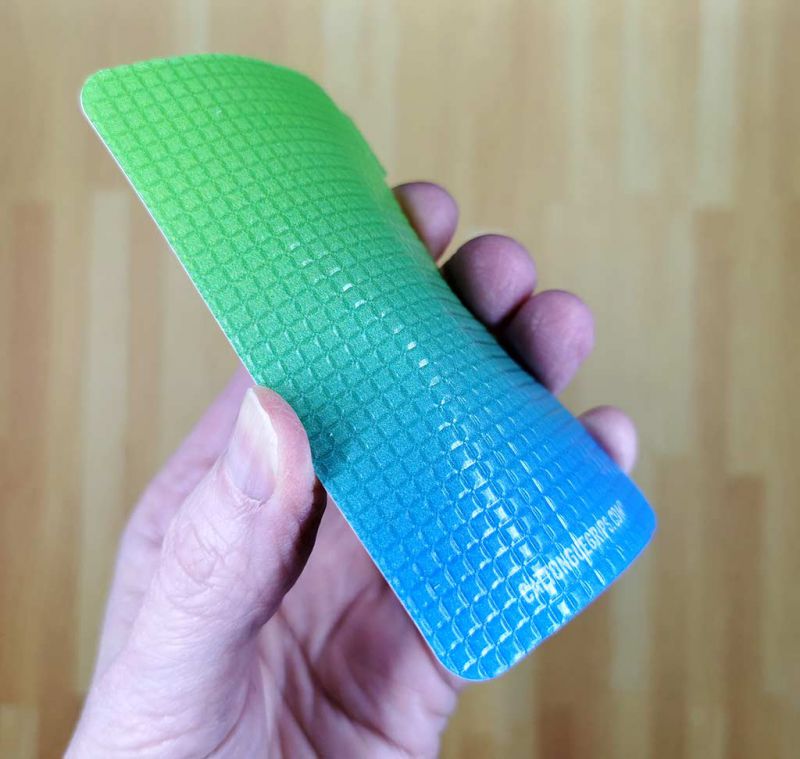 Although you think it would be sticky like a cat's tongue, it really isn't. Instead, it reminds me of one of those bottle gripper thingies that helps you grab the top of a bottle to open it.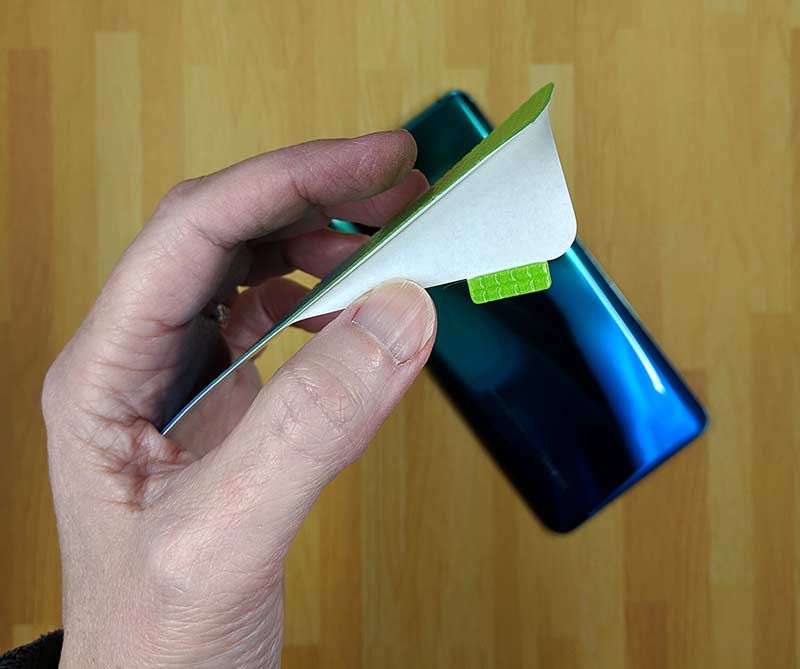 Installing the Grip on the back of your phone is as easy as you would imagine it would be. Just remove the protective sheet over the adhesive…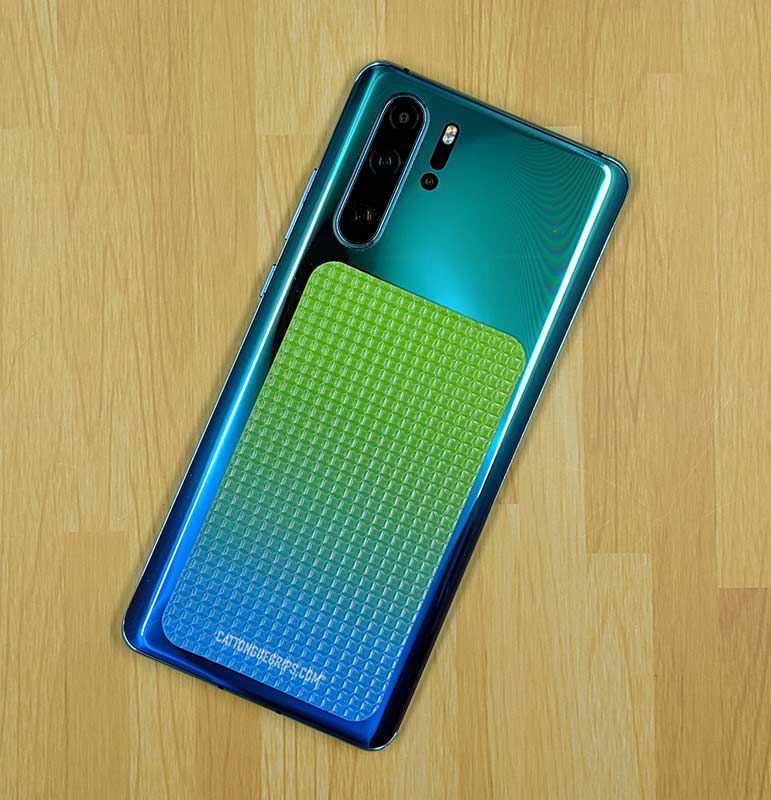 And press the CatTongue Grip to the back of the phone. Done!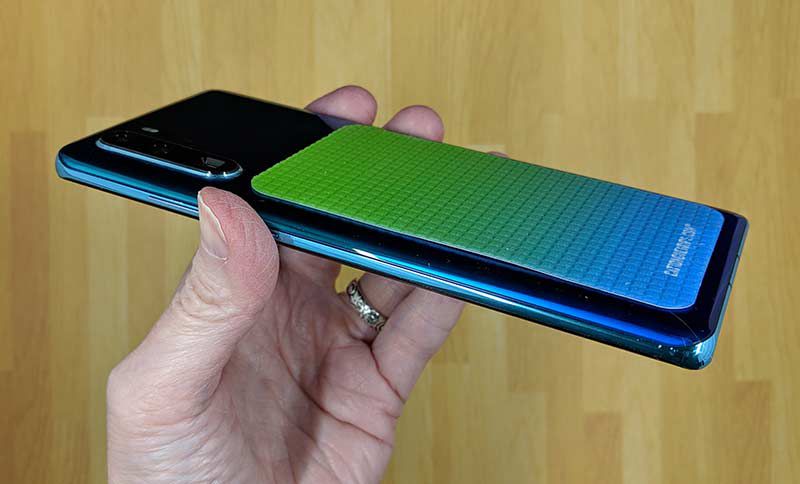 I was sure that a product that has been designed to "stick" to surfaces would a magnet for all manner of dust, dirt, hair, and fluff, but I am happy to report that I was wrong in that assumption. I insert and remove my phone from pockets all day long and nothing at all is stuck to it.
The Grip isn't very thick which can actually be a problem because it's not thicker than the camera bump on the back of my phone. That means that the phone doesn't always lay flat so that the full surface of the Grip comes in contact with the surface that it's placed on.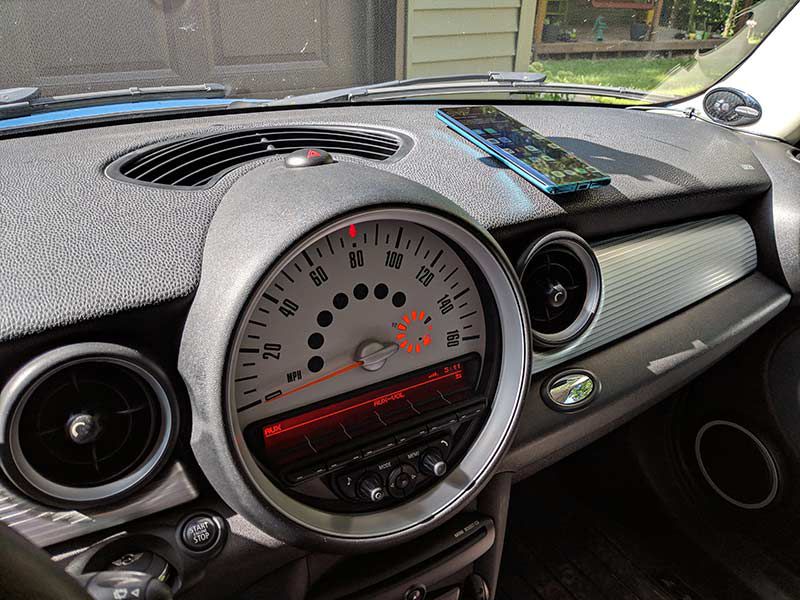 Even so, I was able to drive with the phone on my dash as you can see above. Even driving over potholes didn't dislodge it. I didn't see if stopping suddenly would cause it to fall though. I don't drive around with my phone on my dash, but I have found that the Grip does add just enough gription for me to pull the phone out of my pocket without me worrying that it's going to slip from my fingers and fall on the ground.
What I like
Easy to apply
Adds grip without being a magnet for dirt
What I'd change
Final thoughts
This material is an interesting alternative to a case for people who don't usually drop their devices. If you already use a case because you're a clutz, I would not expect this product to change that and it should be obvious that it will not protect the corners or display of your phone if you do drop it on a hard surface. CatTongue Grips are easy to apply sheets of material that provide some extra grip to an otherwise super slippery device.
Price: $14.99
Where to buy: Amazon
Source: The sample for this review was provided by CatTongue Grips.