We use affiliate links. If you buy something through the links on this page, we may earn a commission at no cost to you. Learn more.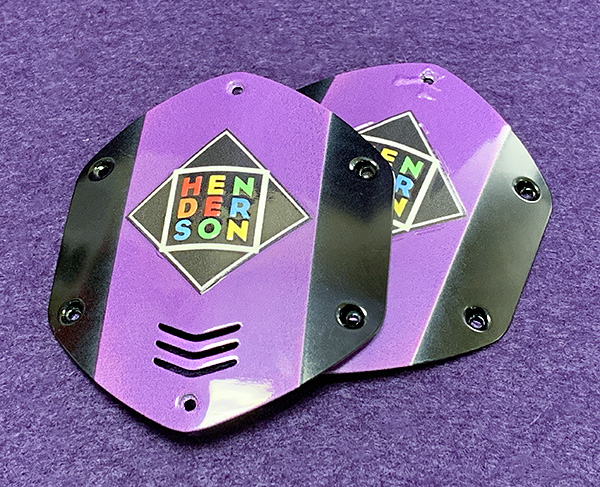 REVIEW – In the world of headphones, design can be as important as: 1. Sound; 2. Quality; and 3. Comfort. Many times it seems like you can have any two of them—just not all three. V-Moda is one headphone maker that disagrees with that. Their headphones—beginning with the original Crossfade to the latest wireless Crossfades—are designed like no other headphones with outstanding comfort and great sound. Except that V-moda doesn't stop there, because if you want, they offer customization to make your headphones your headphones. They call this customization the V-Moda Over-ear Custom Shield Kit.

What is it?
The custom shield kit is an extra-cost service V-Moda offers to buyers of their Crossfade headphones. V-Moda's headphones come with a metal plate on the ear cup exterior. These plates are removable and can be replaced with other colors, metals or customizable designs (what I'm reviewing). These designs can be printed, laser engraved or embossed. Artwork/designs can be either chosen from ready-made selections, personally made and uploaded by you or developed in conjunction with one of V-Moda's own designers through their concierge service. Each one of these choices has its own pricing structure. These choices are so numerous that I won't list all the prices in this review. However, to give you an idea, prices for the shields run from a basic color with no printing for $35 all the way up to solid platinum for $28,000—I kid you not! Ordering is done through V-Moda's web site. Delivery takes anywhere from 2-20 days, depending on design and metal chosen.

Design and features
It's hard to talk about design for the custom shields because it's totally up to the buyer. I can only relate my own experience based on what I ordered, but it should give you an idea of the possibilities. 
Note that the custom shields are purchased separately and do not include the headphones. Also custom shields can be purchased later for those who already own a V-Moda Crossfade headphone.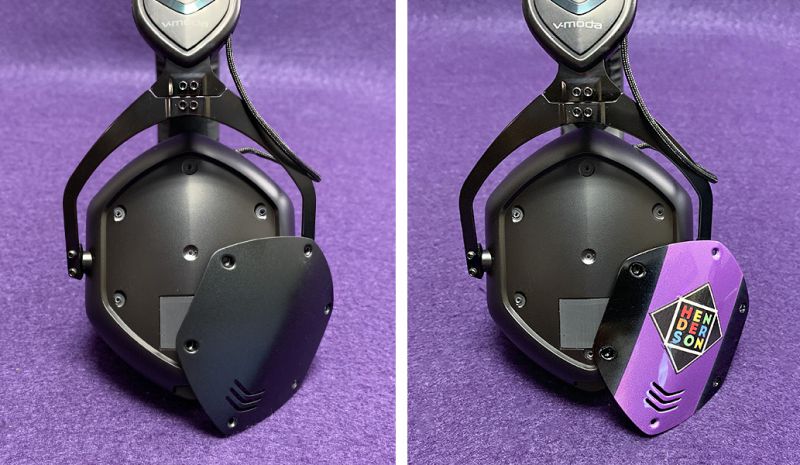 Since I am an art director by day, I decided to go with one of my own designs—my personal logo. V-Moda offered to print what I wanted, as long as it followed their basic guidelines and rules. Copyrighted art or design (Coca-Cola or Nike, for example) is not allowed. 
If you're not an artist, V-Mode offers a good selection of designs to choose from. In fact, there are almost too many choices, which can be a bit overwhelming. Also, the multi-step process of making selections can be confusing because choices are dependent on whatever previous selection was made.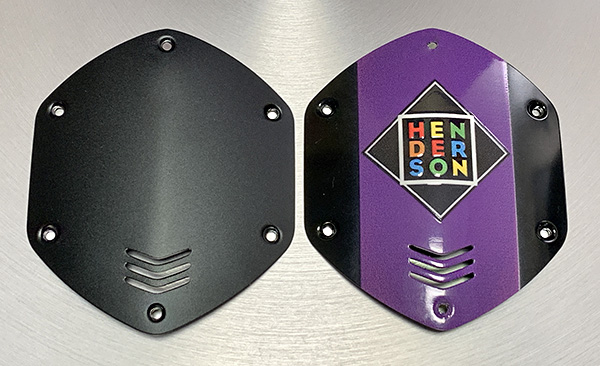 The process is: After you choose your headphone (if you don't already own one), you navigate to the Shield Kit page. From there you choose Type for the design you want and then choose: Color Printed, Laser Engraved or 3D Printed (embossed). After choosing Type, choose Design and then choose: Designs, Monograms or Upload Your Own (my choice). As I said, it can be confusing because the choices are almost limitless. It requires taking your time to get what you want—or close to it. Note that V-Moda's FAQ section is a big help for answering any questions, especially if you're uploading your own design. They even provide a useful downloadable template for sizing and placement of art.
For my design, I downloaded V-Moda's template and used Adobe Illustrator. Accepted formats from most art apps are: JPG, .PNG, .GIF, .BMP, .TIFF, .PSD, .PDF, .AI, .EPS, .SVG, .DOC(X), .CDR.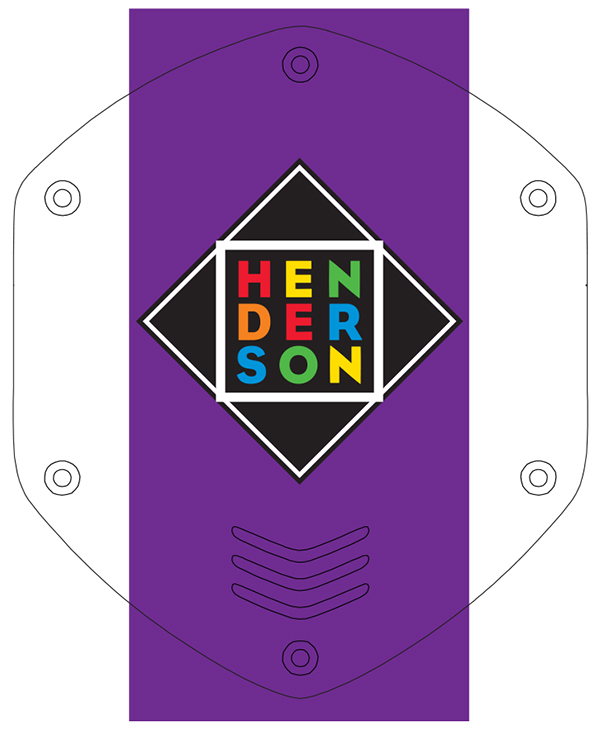 My logo is usually black/white, but since this process allows multi-color designs, I decided to test that out. After preparing the art, it was then uploaded. I received an emailed confirmation and all I had to do then was wait. It didn't take long.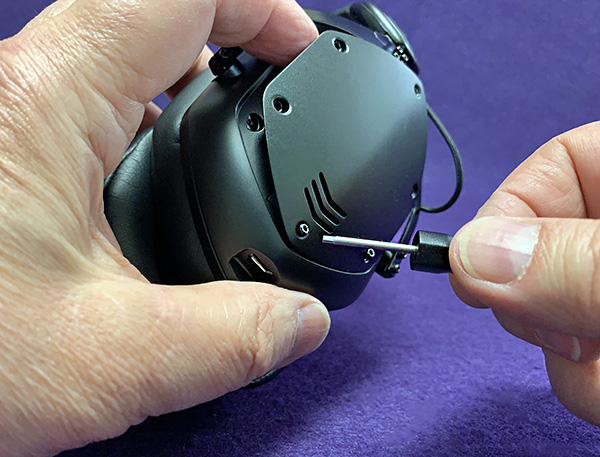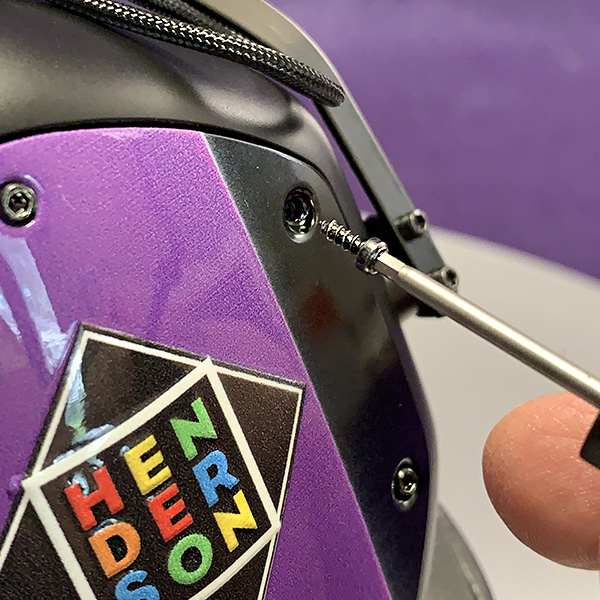 Just a few days later, the shields arrived in a bubble-wrapped envelope. Inside were the shields, a small allen (hex) screwdriver and a package of tiny screws. When ordered, you can also choose the color of screws. I went with plain black. All that needed to be done for each shield was removing the six screws that held the original shield and replace with the new design. This process is easy enough to do. Even though the screwdriver and screws are magnetic, the screws are tiny and can easily be dropped or misplaced, so paying attention is a good thing.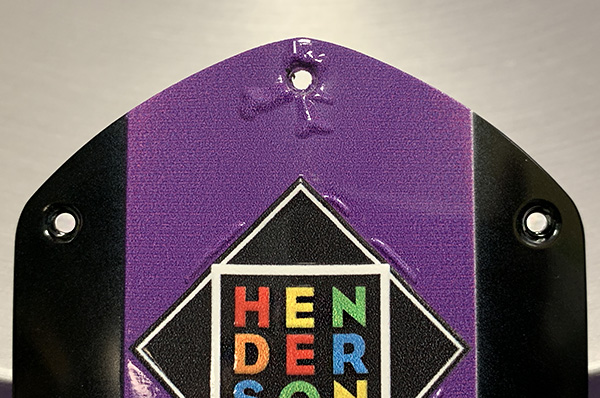 The printed shield is identical to the design I uploaded and color accuracy is spot-on. Interestingly, my design on the shield felt slightly embossed even though I did not request or pay for 3D printing. It gave the design a bit of welcomed depth. One caveat is that while one shield was printed perfectly, the other had small but noticeable bubbles in the paint. I'm okay with it, but I can see where some might want to return the defective shield for a re-print.
Once the new shields are screwed into place, that's it! You now have your headphones.

What I like
V-Moda's ready-made designs are almost limitless. Any custom design is only limited by your imagination—provided you're budget allows. All tools are provided and moving and replacing the shields is easy.
What I'd change
There are so many choices and design directions, that unless you know what you want beforehand, the complete process from beginning to end can be daunting. 

Final Thoughts
Even though V-Moda's headphones are unique looking out of the box, I like that they offer this service for those who aren't satisfied with the stock design. Being able to upload custom designs, using a ready-made design or even using V-Moda's help with designs are nice choices to have. Plus the price range can fit any budget—even for those with $28,000 to burn!
Price: $35 – $28,000 US
Where to buy: V-Moda
Source: The sample for this product was provided by V-Moda.