We use affiliate links. If you buy something through the links on this page, we may earn a commission at no cost to you. Learn more.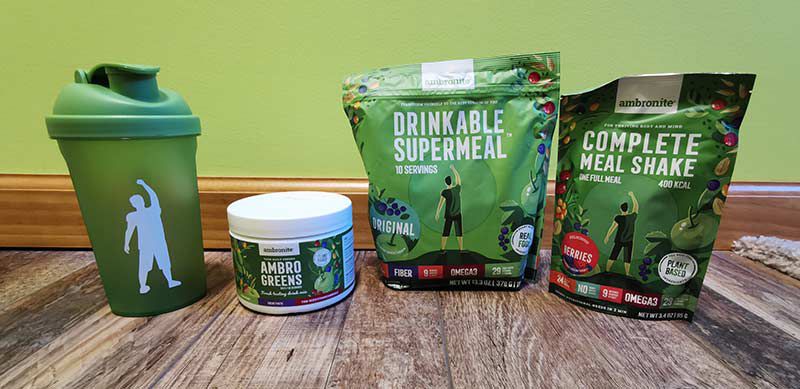 REVIEW – I'm still on my quest to try a variety of meal replacement shakes and bars in an effort to curb my bad habit of eating unhealthy options for breakfast and lunch during the workweek. The latest meal shakes that I've been sampling are from Ambronite. Let's take a closer look.
What is it?
Ambronite offers complete plant-based meal replacement shakes that come in individual pouches, bags, and tubs. They also offer a green drink mix that provides 1 serving of veggies and greens.
Drinkable Meal Shakes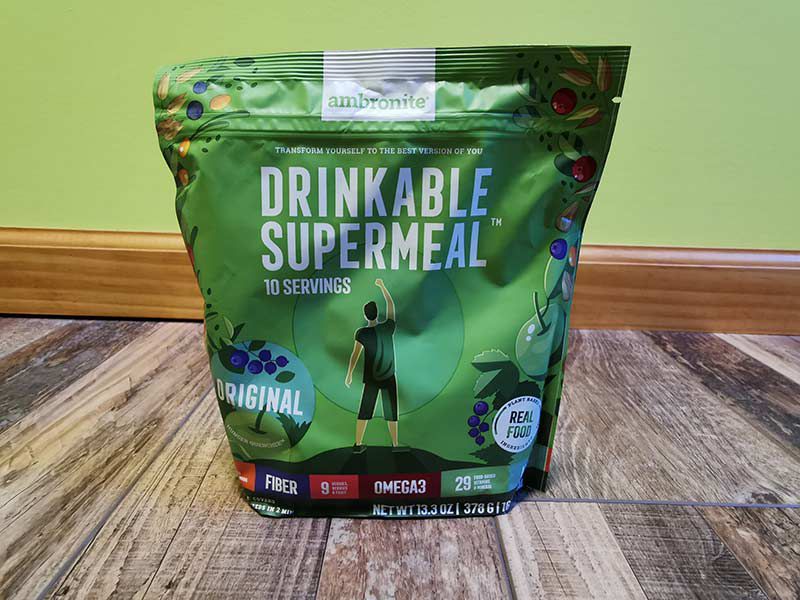 Ambronite offers its powdered meal shake mixes in three flavors and three package types. They have an original flavor, berry flavor, and banana flavor. They sent me one of the 4-meal bags of their original flavor and 3 individual 1-meal pouches of their berry flavor. No, I don't like bananas, so I haven't tried that flavor.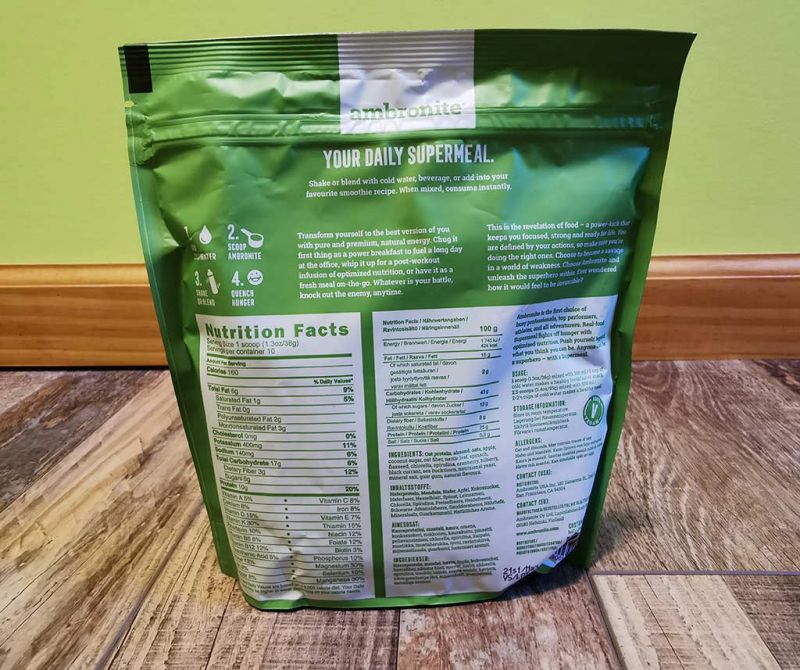 The 4-meal bags are based on 400 calories per meal. So you can actually make each bag last longer by customizing the meals by using less of the powder. One scoop = 160 calories and 2.5 scoops = 400 calories.
Ambronite uses oats and almonds as the protein source along with spinach, flaxseed, and other natural ingredients. Click the image above to see more.
Preparing the meal shakes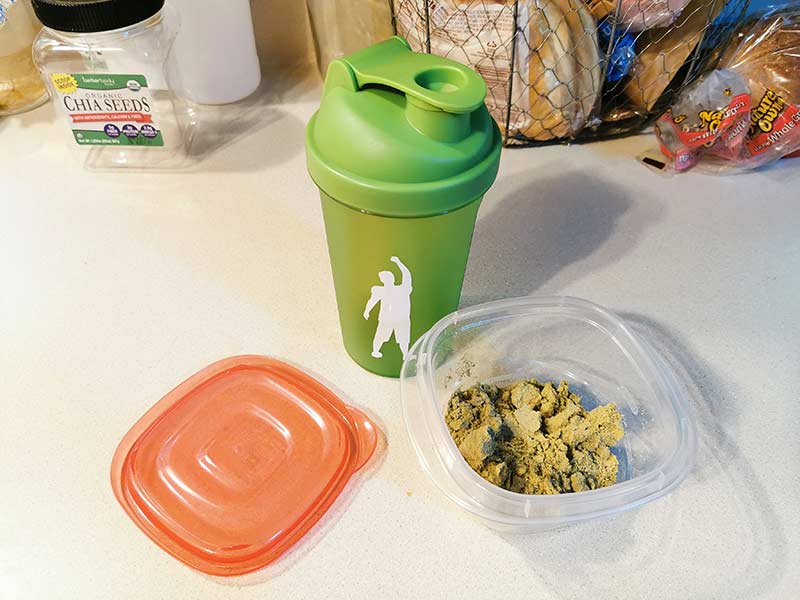 To prepare a shake, you just add the number of scoops for your preferred calorie meal and 1-2.5 cups of water in a shaker bottle. The bottle that Ambronite sent to me did not have a shaker ball or a shaker screen in it. I don't know if that part was missing or that's just the way theirs is, but using it to mix the shake left some clumps compared to when I use a shaker bottle with a ball or screen.
The resulting shake was a not so appetizing green color but that's because each serving of the Ambronite meal shake gives you a 2 for 1 punch because it includes greens too.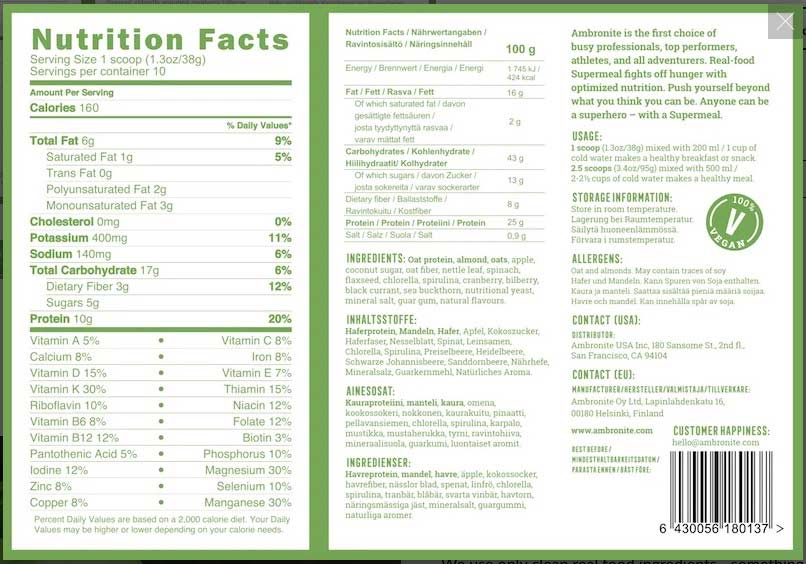 Each serving is 100% vegan, 160 calories, and provides 10g of protein and only 14g of carbs which isn't that bad at all. And no Sucralose! Yay!
Texture and taste
I first tried the berries flavored 1-meal shake package and found the flavor to be a vaguely berry-flavored medium sweet shake with a medium-thick shake-like texture. The only offputting thing about the shake is that it has small bits of what I think are almonds in it that make the shake a little "chunky". I might not mind the almond chunks if the shake were chocolate flavored, but that texture doesn't seem right in a berry-flavored drink, but that's just me. You might feel differently.
The original flavored of the meal shake mix doesn't really have much of a flavor at all unless "meh" could be considered a flavor. It's lightly sweetened and has the same chunky texture as the berries flavor. I thought I might be able to "doctor up" the shake by adding a tablespoon of cocoa powder and a couple packets of stevia sweetener. It helped some, but not much.
I was able to remedy the problem with the chunks by putting the powder, water, and ice cubes in my Ninja blender. It didn't help with the flavor though. Given a choice, I would go with the berries flavor, but neither one were enjoyable or all that tasty to me.
AmbroGreens
I don't eat nearly enough fruits and veggies. I'm lucky if I eat one serving a day, let alone the 3-5 you're supposed to eat with EACH meal. The AmbroGreens drink mix is a small container that provides 30 23 calorie servings of greens.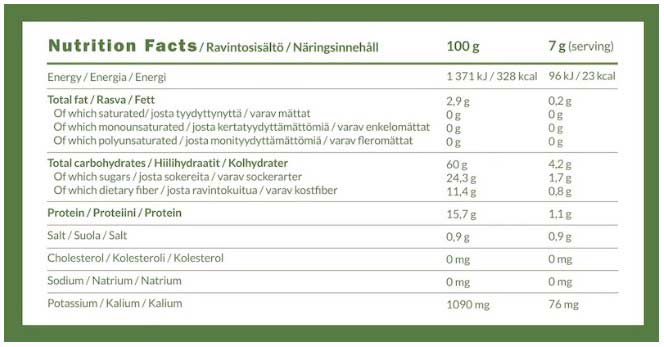 Note that while you are getting vitamins, antioxidants, and phytonutrients when you drink the AmbroGreens drink, but little to no fiber. That means that you should not substitute AmbroGreens for real servings of fruits and veggies, but it is a nice supplement or when you're traveling.
To fix the green drink, you just mix a teaspoon with some water and drink. The flavor wasn't bad but wasn't something I looked forward to drinking every day either. However, I started adding it to my post-workout shake made of cocoa and egg protein powder, and I don't mind it at all.
What I like
Healthier than other replacement meal mixes I've tried so far
No artificial sweeteners
No artificial ingredients
No preservatives
No wheat, dairy, or soy
What I'd change
Improve the flavor and texture of the meal shakes
Final thoughts
When it comes to ingredients and nutrition the Ambronite meal replacement drink mixes have Soylent, Huel, and Queal beat. They are high protein and lower in carbs and don't include questionable ingredients like Suclarose. But when it comes to flavor and texture, Ambronite comes in last – at least to my taste buds. I'll continue to drink the rest of the samples that they sent me, but I don't plan to order more until they improve the flavor and texture. That said, if they ever add a chocolate version of their meal replacement shake mix, I'd love to try it.
Update 11/25/19
When I posted this review back in July, I said that I liked Ambronite meal replacement shakes for their healthy ingredients, but I wasn't happy with the taste and texture. They took those comments and told me that they would let me know when they had new products for me to try. They recently sent me their brand new chocolate meal replacement shake mix and their new AmbroBite snack bars.
The new chocolate shake mix tastes much better than their berry flavor that I reviewed. It's smooth and thick and very satisfying. Just like the berry flavor, each full serving can replace a meal and provides 400 calories and 20 grams of protein. Each tub provides 10 full meals and is priced at $54.99.
The bars are really tasty too. They won't replace a meal, but they make a quick snack that is 100% plant-based with real oats, cranberries, and strawberries. Each bar is 155 calories, 23 carbs, and 5 grams of protein. You can get a box of the Ambronite bars in different quantities from 24 – 60 bars for $46.80 – $109.84.
Price: $19.95 and up. Price depends on package size. Cheaper on Amazon.
Where to buy: Amazon
Source: The sample for this review was provided by Ambronite.