We use affiliate links. If you buy something through the links on this page, we may earn a commission at no cost to you. Learn more.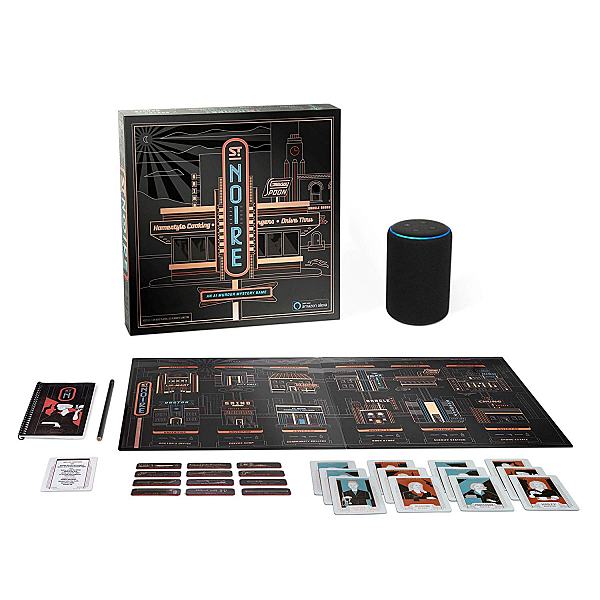 NEWS – I loved playing board games when I was a kid, as an adult not so much. The only time I play them now is on occasion with my young nephews. Let's face it they haven't changed much over the years, and they've just lost their appeal. However, a new type of board game may change all that.  St.Noire, is a new board game created by Atari co-founder Nolan Bushnell that is powered by Alexa. The game is a voice-controlled Murdermystery board game. Alexa provides the games atmospheric background and cinematic voice performances. There are over 2,500 lines of dialogue that are performed by 12 different characters.
The basic gist of the game is that you have seven days to solve a murder in the small town of St.Noire. As a detective, you have to gather clues and question suspects as you piece together the events on the night of the murder. Using Alexa, you can visit various locations around town and question suspects.
On every turn you can choose to either:
Examine a location for evidence.

Choose to question a townsperson about where they were and who they saw on the night of the murder.

Accuse a suspect.
Winning the game is done by figuring out "who done it" before the end of night seven. But, If you make two incorrect accusations or make a wrong accusation on night seven, the killer skates free. Don't worry it doesn't take seven days to complete the game. The game only takes 20-30 minutes to play. Perfect for today's short attention spans. And you can play by yourself or team up with friends to solve the crime.
The game should have good replay-ability. No two games are the same because storylines, endings, victims, and killers are all randomized.
The game, of course, is an Amazon exclusive and comes with everything you need to play except The Alexa speaker itself. But everyone has at least one of those in their house by now, don't they?
If you're a fan of murder mysteries and immersive gameplay you can order St.Noire from Amazon for $40. Although it does appear the game is currently sold out.