We use affiliate links. If you buy something through the links on this page, we may earn a commission at no cost to you. Learn more.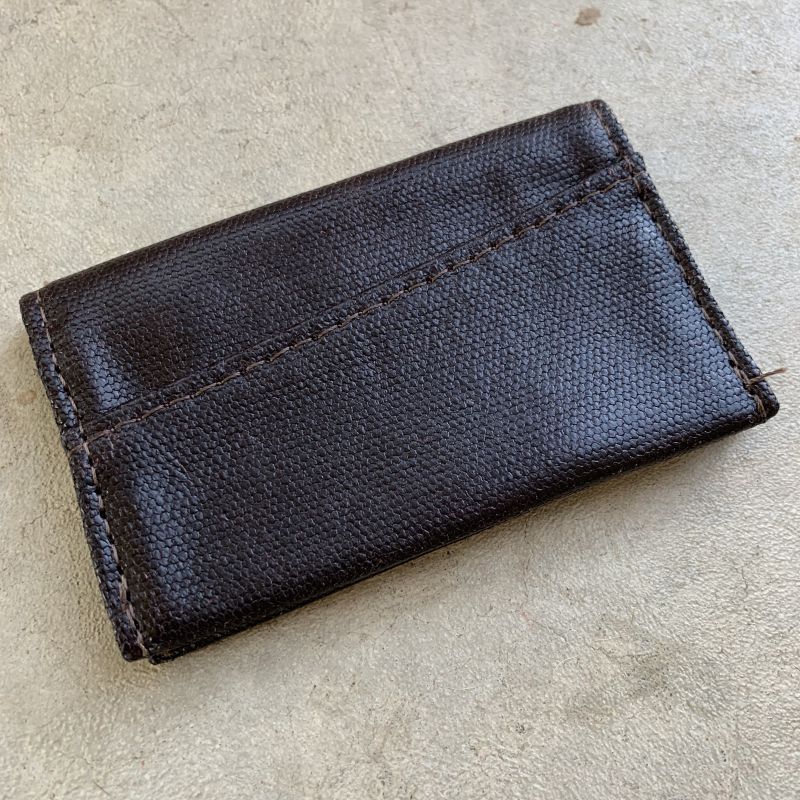 REVIEW – Slim, minimalist wallets have been on the rise for some time, and in fact, we have reviewed several of them here at The Gadgeteer.  Recently, one of the companies whose bags, pouches, wallets, and other products we have come to admire, Waterfield Designs, administered their  Next Generation Wallet community design project, soliciting feedback via multiple surveys directly from customers and fans.  That feedback was used to not only update some of their existing wallet designs but also to create new wallets not previously offered in their wallet product lines.  One of those new wallets was their Minemo Slim Wallet.  Let's check them out!  Gadget on!
What is it?
The Minemo Slim Wallet is a small, thin, compact bi-fold style wallet with a minimalist style that is designed to hold a few cards and some cash.
Hardware specs
Material options =

Oil-tanned, full grain Black, Blue, Brown, or Dark Brown Leather – each $59
Heritage Blue, Stone Red or Forest Brown Italian Waxed Canvas (Forest Brown reviewed here) – each $49

Capacity = Holds about 8 cards and some folded cash, plus 1-2 cards in the exterior quick-access pocket
Optional RFID blocking liner available for an additional $10
Dimensions = 4″ x 2.6" x 0.375"
Weight = 0.8 oz.
Location of manufacture = Workshop crafted in San Francisco, CA, USA
Design and features
The new Minemo Slim Wallet is one of Waterfield Designs' newest wallets.  It is the direct result of the Next Generation Wallets survey which was administered to customers and other interested folks back in January-February of 2019.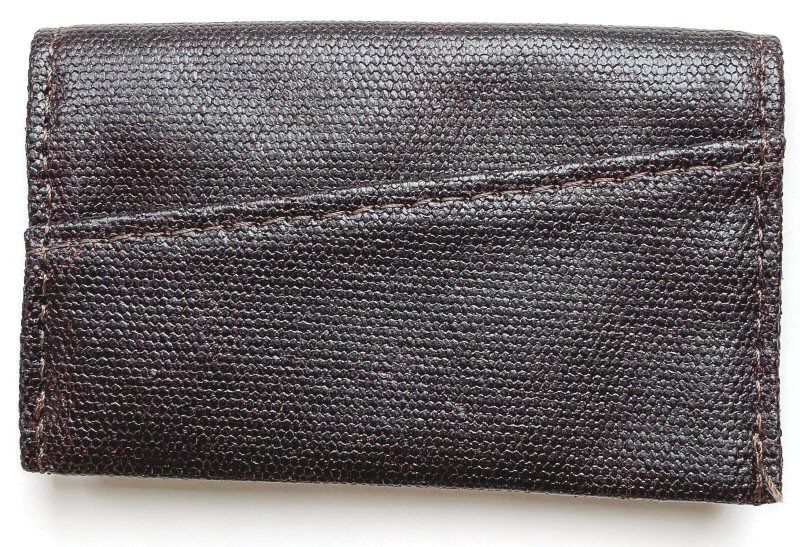 My initial impressions of the Minemo Slim Wallet that I was sent to review were twofold: first, it is indeed slim, and second, the look and feel of its material are quite unique.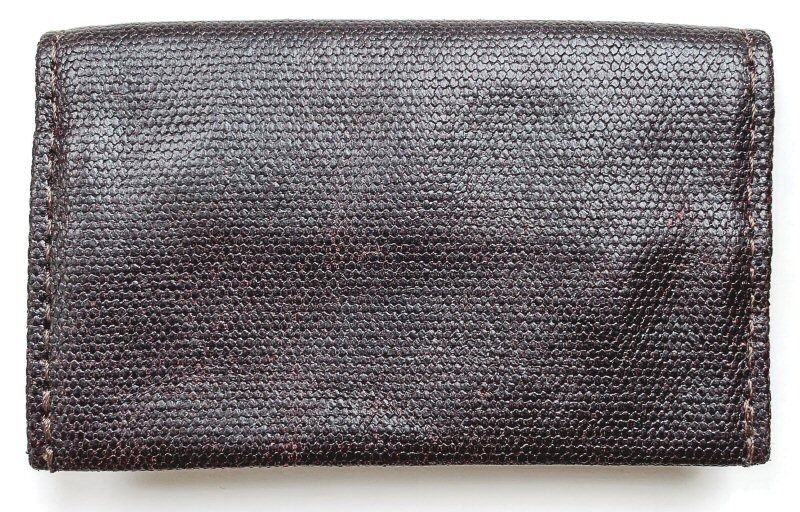 While the Italian Waxed Canvas fabric of this review sample was quite unique in look and feel (and available in Heritage Blue, Stone Red, and this Forest Brown color), the Minemo Slim Wallet is also available in Black, Blue, or Dark Brown oil-tanned, full-grain leather.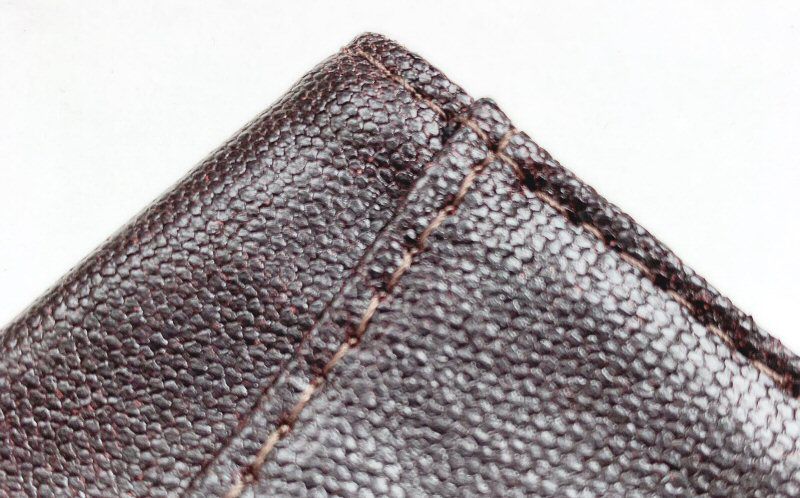 The Minemo Slim Wallet is available in Black, Blue, Brown, or Dark Brown Leather, or Heritage Blue, Stone Red or Forest Brown (reviewed here) Italian Canvas.  The Italian Canvas material looks and feels almost like a waxed canvas material in both visual an tactile properties.  Furthermore, on close inspection, the fabric has what appears to be a very small "hex" or "honeycomb" pattern.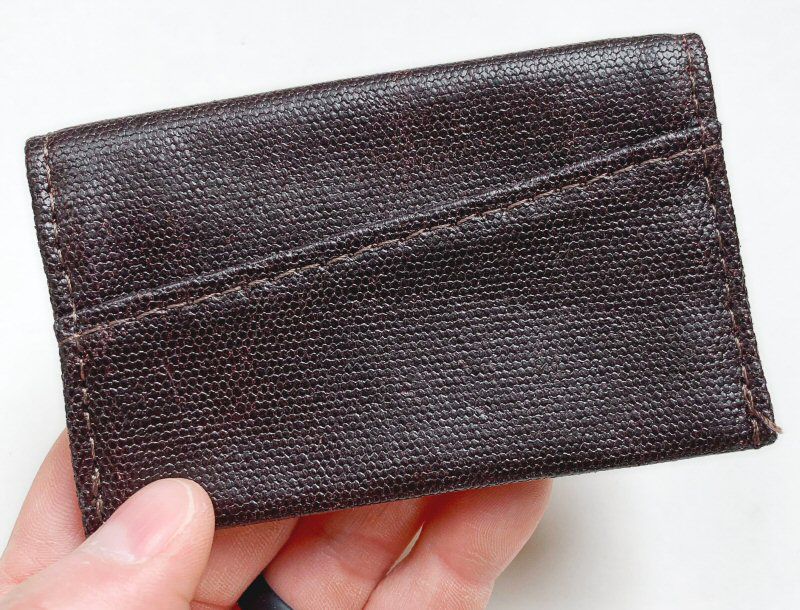 The Minemo Slim Wallet is not only slim, but it also has a small footprint at only 4″ x 2.6", which makes it a great option for either front- or back-pocket carry, and in fact would probably work fine for even front shirt-pocket carry (though I don't tend to carry my wallets this way).  Additionally, the Minemo Slim Wallet has been designed to fit inside some of Waterfield Designs' larger wallets for travel, such as their Passport Finn Access Wallet or their new Travel Wallet (reviews of both are in-process—stay tuned).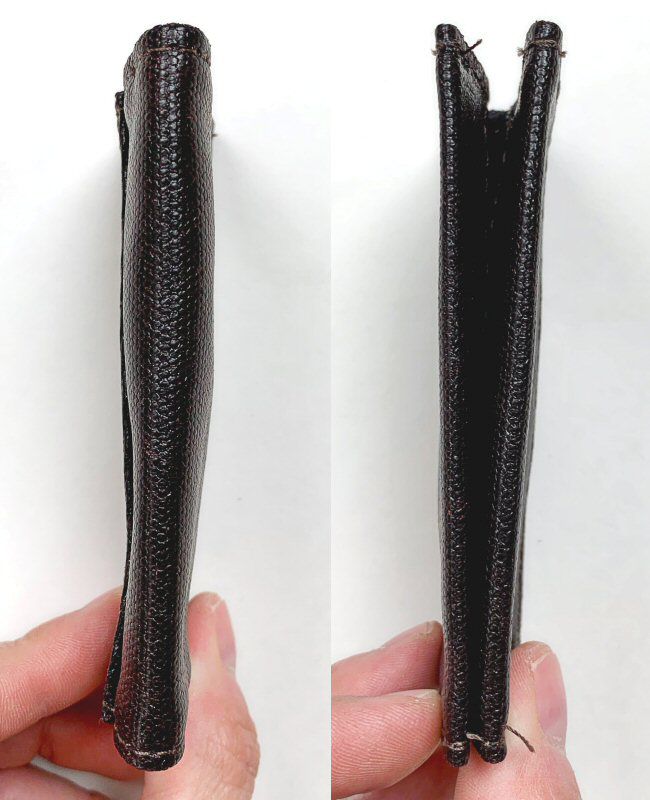 As mentioned above, the Minemo Slim Wallet is indeed slim at 0.375″ thick when empty.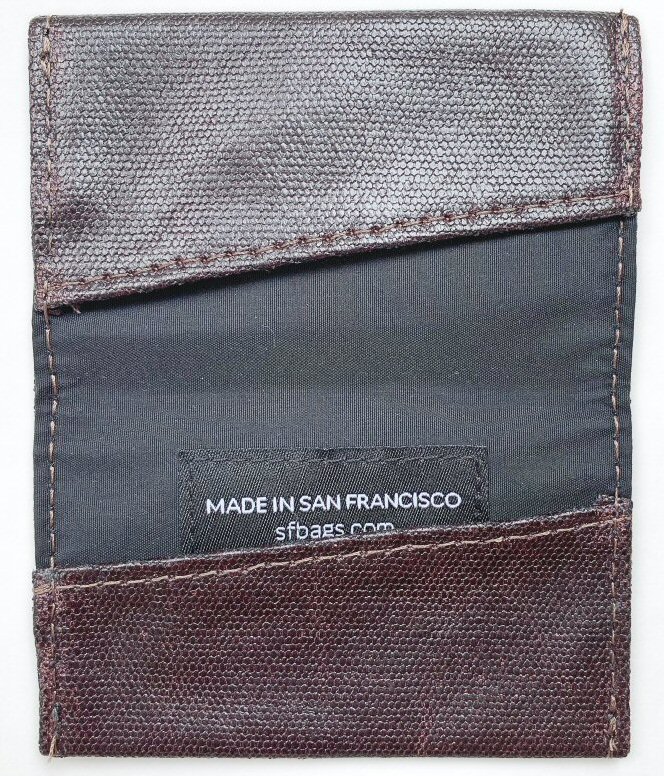 The Minemo Slim Wallet is lined, and has a simple diagonal pocket on either side to hold cards or cash.  For an additional $10, the Minemo Slim wallet can include an RFID protection liner as well, but this feature was not included in the item reviewed here.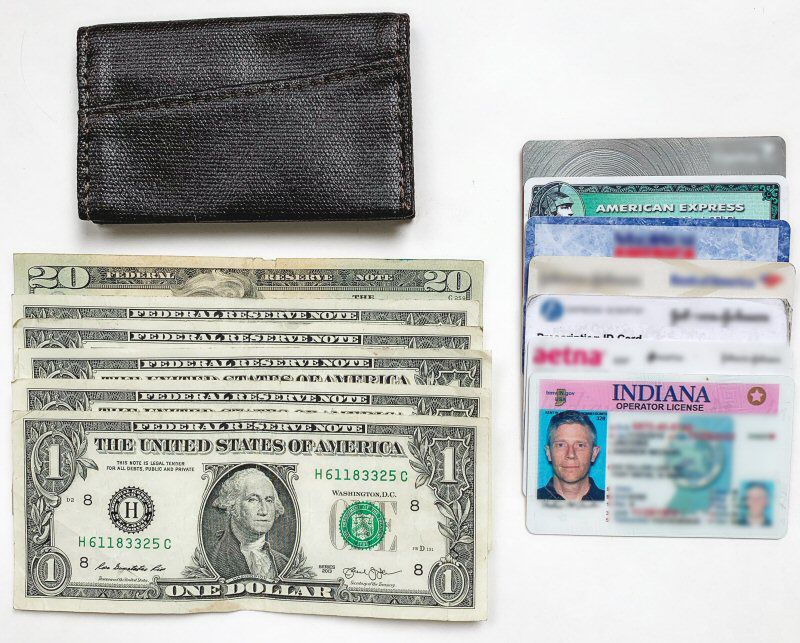 To test out the Minemo Slim Wallet, I loaded it up with the above items: 6 bills and 7 cards, which is a fair representation of what I might typically carry in my wallet on an average day.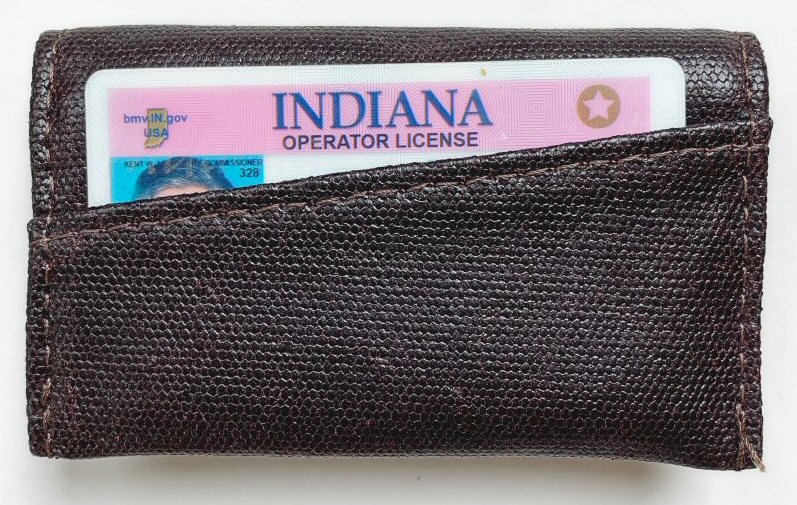 The exterior of the Minemo Slim Wallet has a single easy-access diagonal pocket on the front, which allows the user to insert an oft-used item for quick access, such as an ID or some cash.  Note that if this Minemo Slim Wallet had included the optional RFID protection, any item placed into this exterior pocket would be outside of the RFID protection, which can be both a risk or benefit.  The risk is that someone with malicious intent could access the data on a card stored in this exterior pocket without your knowledge via wireless technology. The benefit is that if you use a certain card often via wireless means—a chipped credit card, and so forth—you could use this card without removing it from the inside of the wallet, or even removing it from this exterior pocket.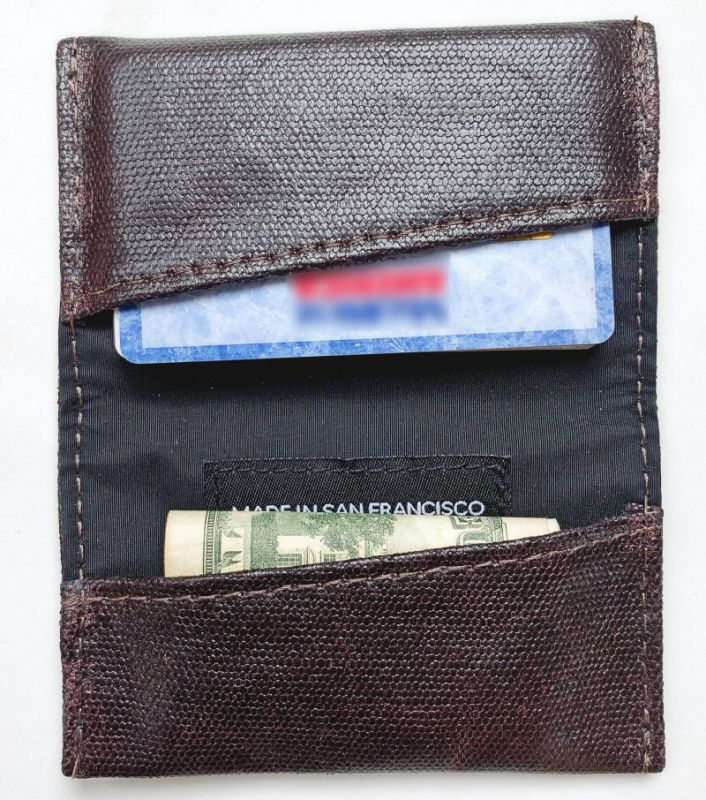 Above, I've loaded the Minemo Slim Wallet with the remaining 5 cards (my ID being in the outside pocket) in the top pocket, and the 6 bills in the lower pocket.  One drawback to the Minemo Slim Wallet here is that, if you want to put cash bills into it, you have to double fold them, which adds a lot of thickness to it.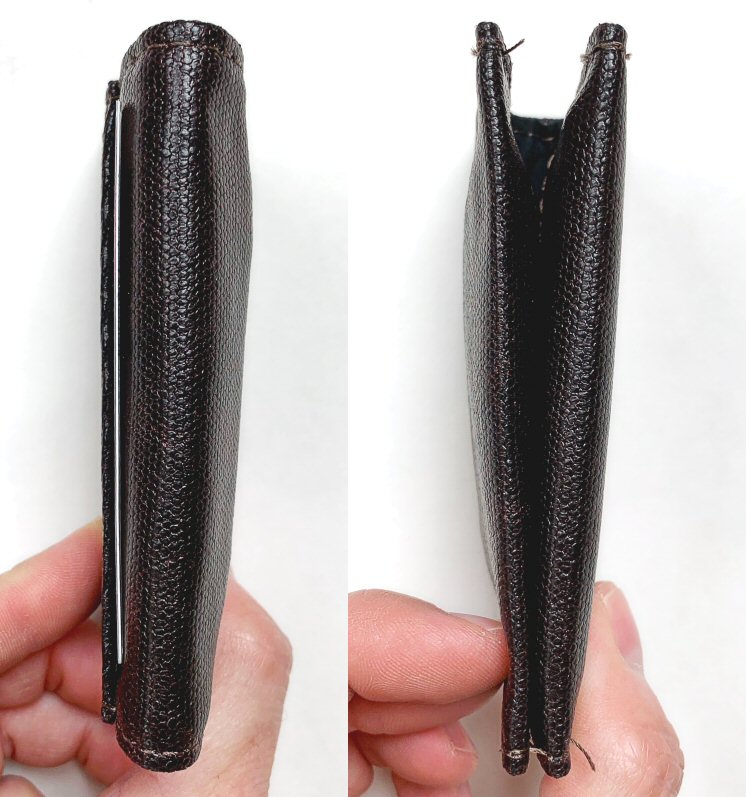 I think the number of cards and bills that I placed in the Minemo Slim Wallet were probably just a bit more than it was designed to carry regularly; while  I'm certain I could have put more cards and/or bills into it, this would continue to increase the thickness, and with the word "Slim" right in its name, I think the Minemo Slim Wallet is intended to provide a more svelte, minimalist carry for your wallet items, which means you should probably be carrying less in it than you would in a typical wallet.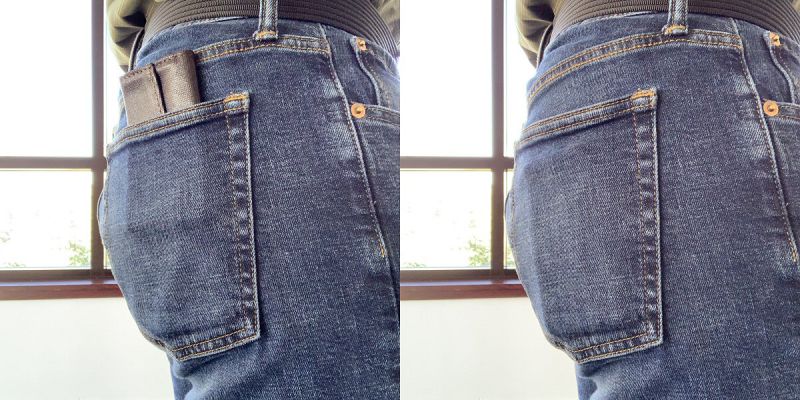 As seen above, the Minemo Slim Wallet is very suitable for back-pocket carry like just about any traditional wallet.  I barely know it's there!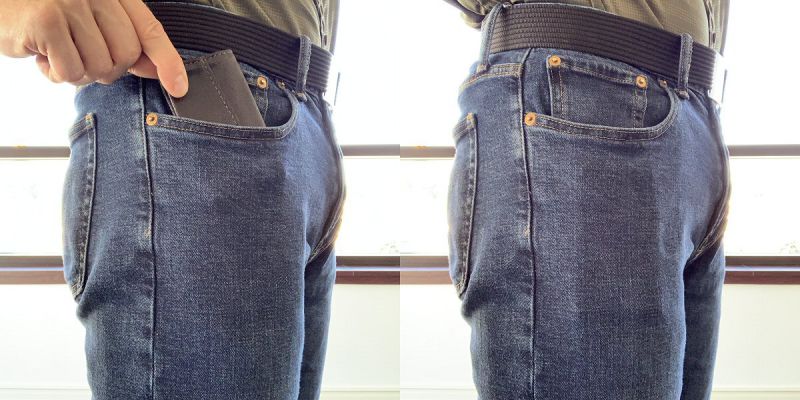 Where the Minemo Slim Wallet excels, however, is in front-pocket carry, where its very small footprint, super thinness, and very soft material make it quite comfortable.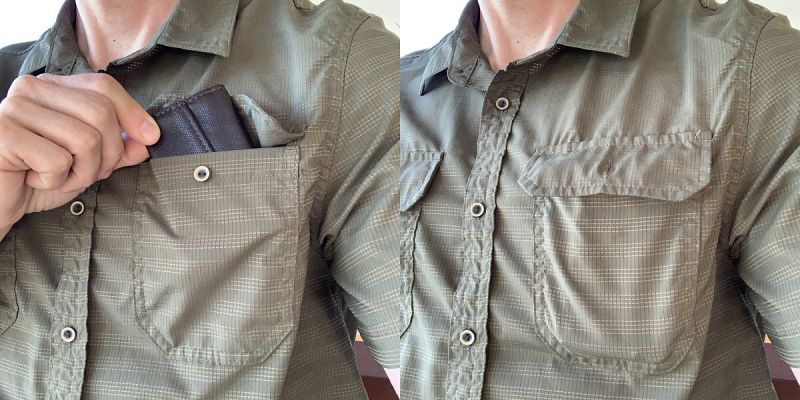 And finally, the Minemo Slim Wallet is actually quite suitable for front shirt pocket carry as well, as long as you don't put too much into it, which will make it heavier and can pull your pocket downward.
What I like
Very small, very slim, very suited for either front or back pocket carry
External quick-access pocket is handy
High-quality materials and construction
What I'd change
Perhaps make the footprint just a bit larger—cash bills must be double-folded to fit, which increases the thickness
Final thoughts
The Waterfield Designs Minemo Slim Wallet is an excellent slim, compact, minimalist wallet if you want to carry a handful of cards and cash.  It has a classy look and feel and although it is a bit on the pricey side, its materials and construction give me the impression that it will last a long time and only get better with age.
Update 6/7/20
Although the Waterfield Designs Minemo Slim Wallet is a bit more minimal than I prefer to carry, I'd very much recommend it for true minimalists.
Price:
Italian Waxed Canvas styles are $49.99
Oil-tanned, full-grain leather styles are $59.99
For RFID protection liner, add $10 to any wallet price
Where to buy: Waterfield Designs (AKA SF Bags)
Source: The sample of this product was provided by Waterfield Designs