We use affiliate links. If you buy something through the links on this page, we may earn a commission at no cost to you. Learn more.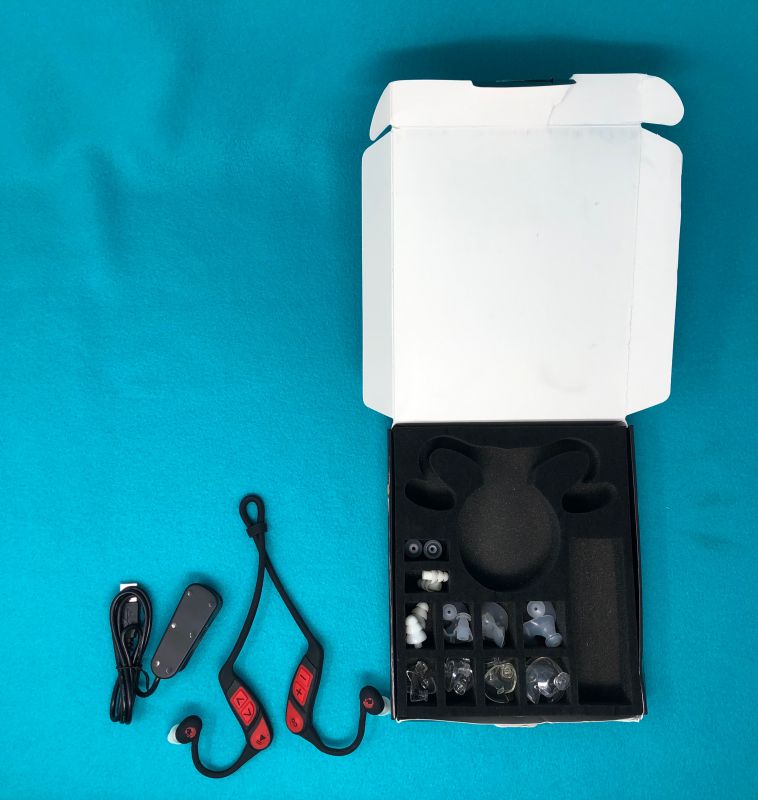 REVIEW – Earbuds that can withstand sweat and weather are getting pretty common on the market, but what about waterproof sources for that sound you're listening to? I was recently sent a set of waterproof earbuds with a built-in MP3 player designed for swimming. Is such a thing possible? I took the plunge to test the Swimbuds MP3 from Underwater Audio to find out. Let's dive in, shall we?
What is it?
Earbuds and a built-in MP3 player designed to work while swimming.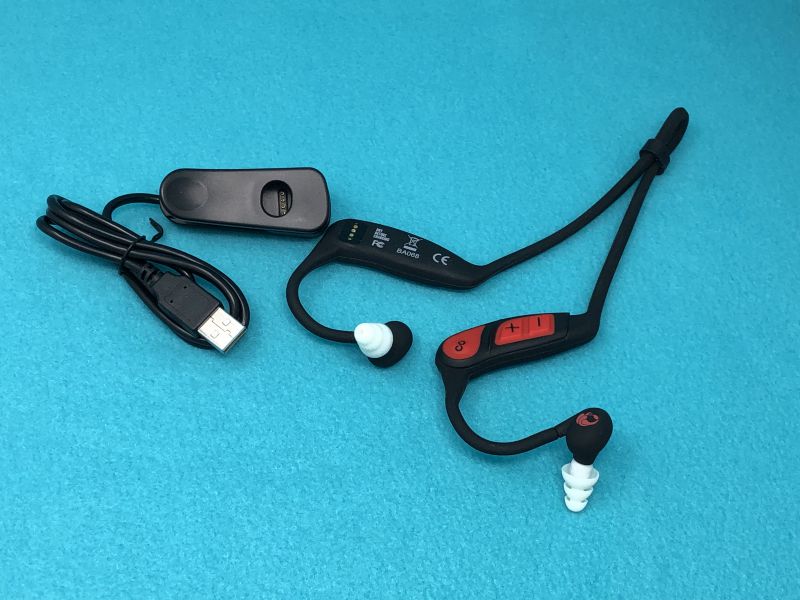 What's in the box?
The actual headpiece
USB charger for unit
11 pairs of ear tips
instruction sheet
Hardware specs
All-in-one MP3 player and headphone
8GB of storage (up to 2,000 songs)
Impermeable to 10 feet (3 meters)
7 hours of playback time
4 styles of earbuds with various sizes so you can find the fit that works for you
Design and features
The big question with a waterproof electronic device is "How are you going to power this while keeping it sealed?" For this unit, it's an external USB-equipped clip that holds the main unit's charging touch-points against a matched set of pogo-pins in the charger. It's a very tight fit, and there's an opening in the clip so you can see the LEDs that give you indicators of the charge and power conditions.
Setup
Setup is fairly straightforward. The unit will read .mp3 files only, and they are just placed in the root of the device, just like you're loading a thumb drive. No folders, no syncing, no frills: just dump them in, and they're available.
This brings up one of the irritating things – .mp3 files. I never use this old format anymore. To create a bunch of files to listen to, I had to convert the desired files to the format needed, and then delete the old version to avoid having duplicates. Plus, there's no good way to organize the order the songs would play in.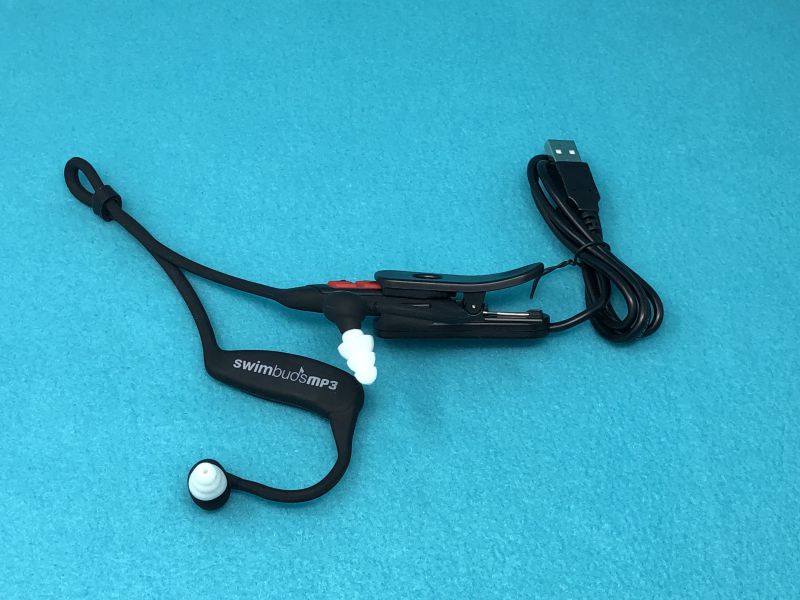 Performance
I did have a bit of trouble at the start. The unit would not show up on my Mac, which is a brand new Mac mini running MacOS Mojave 10.14.5. The USB port would charge it, but it never showed up alongside the other discs that are attached. I sent an email to the support line, and after they finally got the message that I know how to attach and clip it into the holder and it's an issue with the unit, they walked me through a hard reset, which was as simple as holding down the power button for 10 seconds. Once it reset, it never gave me a moment's problem. (Note to support: I'd put hard reset at step one or two, not step 5. And maybe assume folks can figure out how to connect the clip after they tell you the first time that it's charging.)
Wearing the unit while swimming laps at my wife's gym was trouble free. I'm not big on laps, but having music to encourage me along made the time seem to pass more quickly. The raised controls for stop, start, volume up/down, or skip/replay are easy to use because the buttons are raised. One side controls volume, the other controls playback/rewind. Easy-peasy.
With a large number of ear tips included, I was able to have my ears sealed off from water, but full of my music. Much more fun than just listening to my labored breathing.
What I like
Simple content loading
Many various ear-tips
Raised controls make adjustments easy
What I'd change
Playlists would be nice
.mp3 file format is very limiting
Final thoughts
Swimming has been the most enjoyable exercise I've ever done. It's time-consuming and monotonous, however, which makes it boring. Having music or an audiobook to keep your mind occupied while your body does what it needs to do really makes it a better experience. I'm going to try and do more laps, and I'm depending on the Swimbuds to carry me through. They were great to use during testing, and I recommend them to anyone needing a workout soundtrack.
Price: $80.00
Where to buy: Underwateraudio.com
Source: The sample of this product was provided by Underwater Audio.