We use affiliate links. If you buy something through the links on this page, we may earn a commission at no cost to you. Learn more.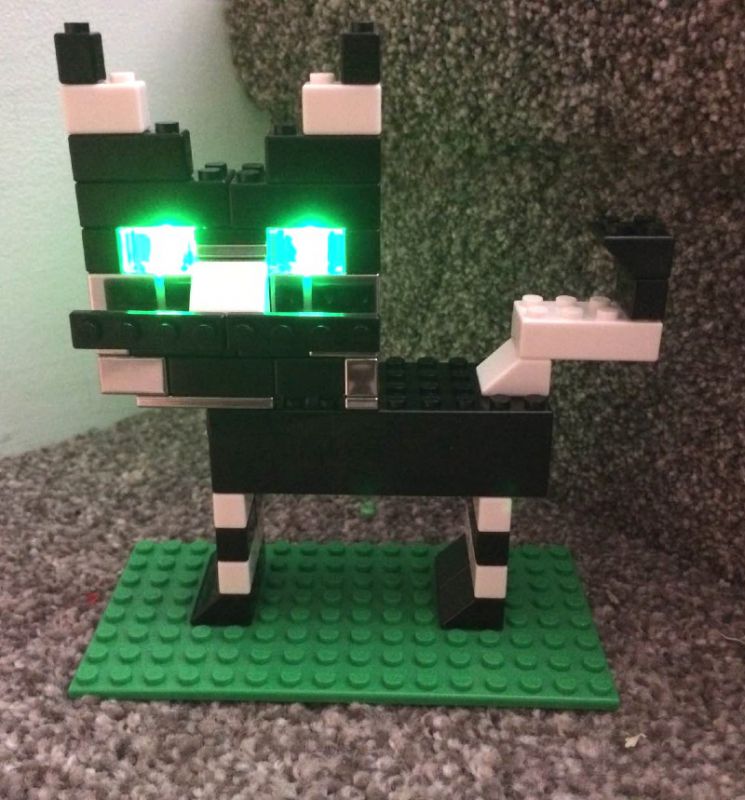 REVIEW – E-Blox are great for anyone who loves Lego but wants to try something different, perhaps a little more advanced, with cool light-up blocks.
What is it?
Building-block toys with LEDs, some sets come with related stories, some are kits with free-play options, others involve constructing circuits.  
What's in the box?
We tested two boxes. 
Our Power Blox Builds Plus set came with:
73 pieces (3 models shown)

Safety instructions for 9-volt battery handling
Our Story Blox The City set came with:
138 pieces (8 models)

"The City," a chapter in the E-blox novelette "Earth One"

An assembly manual

Safety instructions for 9-volt battery handling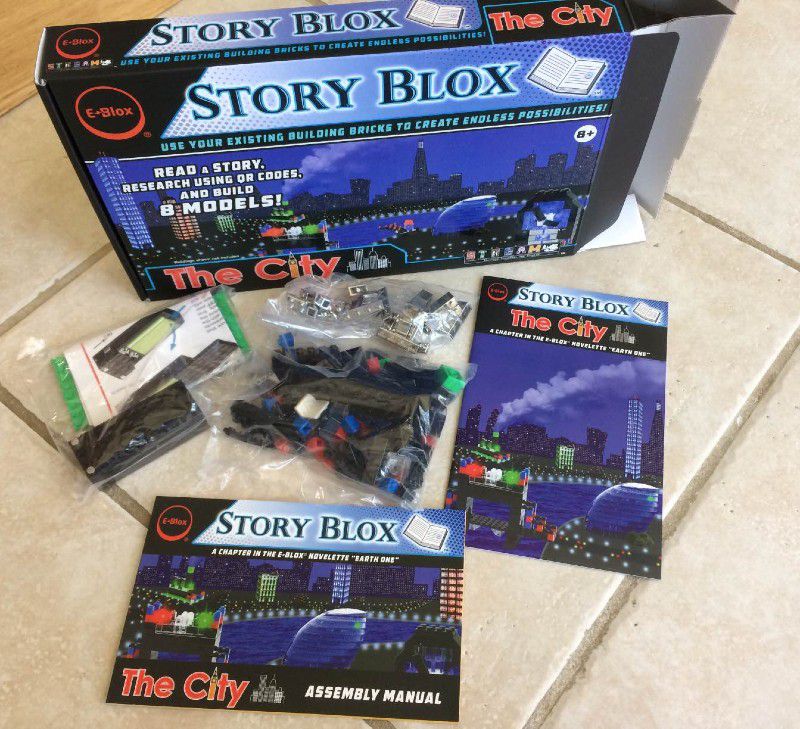 Specs
A 9-volt battery is required for the power box/battery case, which powers the LED pieces. Each box includes a safety sheet about the hazards, storage and removal of the battery in order to avoid a short circuit or leakage. In fact, there's even an alarm incorporated into the battery box, which sounds when there's a short.
On the opposite side of the safety sheet are instructions for getting started with E-blox. Unlike other building block toys, there are several specific rules with E-blox in order to get the light-up blocks to work properly:
The LED must be connected to the battery case terminals.

Each piece must be placed correctly, with the positive "+" side of the LED module connected to the positive side of the battery case. (Both are labeled.) Backward LEDs won't glow.

It must also be connected to the negative battery case terminal, too.

If you want your project to include more than one light by connecting the modules in a series, the silver conductive pieces must interconnect the LEDs to each other and to the battery module terminals.
Design and features
There are four different types of E-Blox:
Circuit Blox, where you use a circuit board to build toys, with 13 different sets including a flying saucer or FM radio.

Power Blox, with 11 sets, where you build structures that incorporate glowing pieces, with multiple designs per box (ours was a kitten, tower or picture frame; another option was an airplane, space invader or ghostship).

Story Blox, three sets that incorporate a story and 8 corresponding models to build.

Single Pieces, buy exactly the blox you need, priced from 10 cents for a 1-block spacer to $10 for a battery block.
We tested a Power Blox and Story Blox set. My son, 11, was excited to make the kitten in his Power Blox set. Based on previous Lego experience, he expected he could improvise— and he constructed it just fine to the naked eye, but the cool green eyes wouldn't glow, because we hadn't sufficiently studied all the rules for getting the LEDs to work.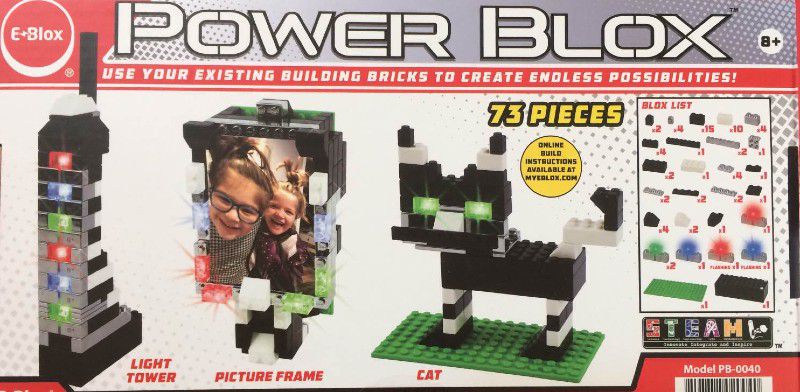 As you can see from the LED requirements in the Specs section above, there is a lot to pay attention to. For us, this meant a little learning curve before building, at least if you want the lights to work on your creation. 
After 30 minutes of frustration, we looked up the instructions on YouTube, since his Power Blox set didn't come with an assembly manual. With the instructions and a more attentive eye to positive and negative terminals, his dad helped work it out. 
I should note that after my son built a handful of smaller models with the instructions (in the Story Blox set), he went back to his Power Blox and was able to build an impressive tower on his own. So these can be used for creative play and freestyling, but you need to study up and get a feel for them first.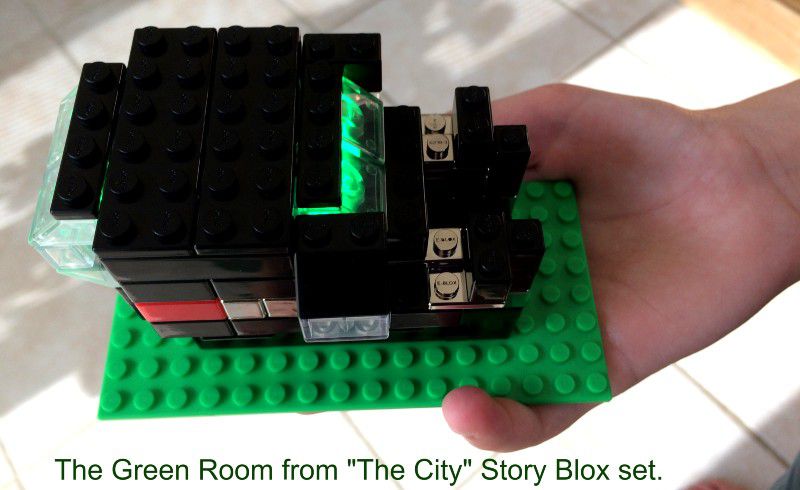 Story Blox are a neat concept, especially if you're trying to help a hands-on learner get in more reading and even a little research. For every page of text, there was a related build, as well as a QR code to research topics related to the story. Don't expect a lot of reading, there are only about 8 sentences to read before each build. But it's certainly a clever way to get kids engaged.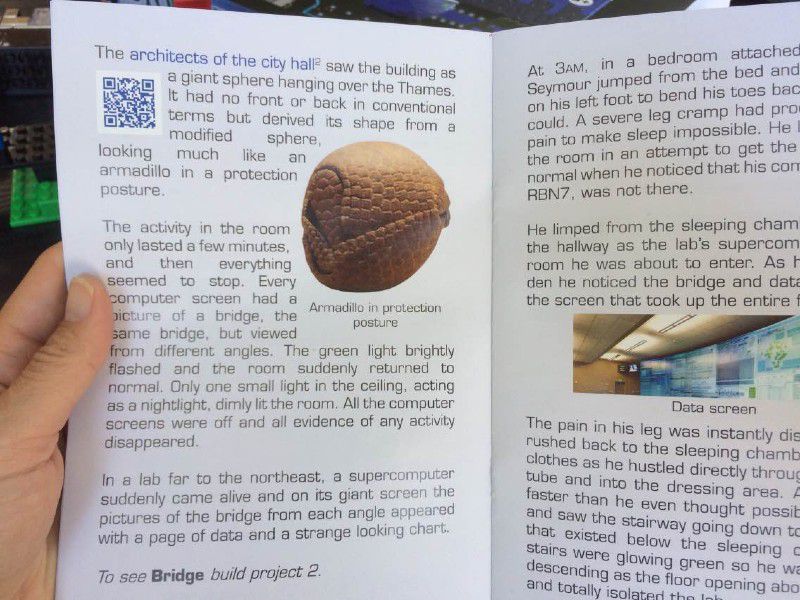 A few watch-outs:
These creations are very delicate. While the conductive pieces are very tight and hard to get apart because of their plating, the regular pieces are very loose. I carefully picked up the kitty after taking its picture, and it crumbled in my hands. I also accidentally broke the bridge from The City. If my child were younger or more sensitive, that could have led to tears.

The light-up pieces look like three separate pieces, but they are actually one. If you've spent any time playing with Legos, you'd be conditioned to see 3 one-by-twos. And like both me and my son, you'll try to rip them apart. Don't! You'll break them.

The pictures on the box aren't necessarily the models you're going to build. Our Story Blox box showed cool light-up office buildings, which were not included. Be sure to check the back of the box to see the exact models it comes with.

You need to take apart each project to build the next, which may be hard for those who get easily attached to their work. We've been displaying my son's creation-of-the-day as our dinner table centerpiece each night before he takes it apart to build something new. But five years ago, we wouldn't have gotten past the first build, because he could never bear to destroy it.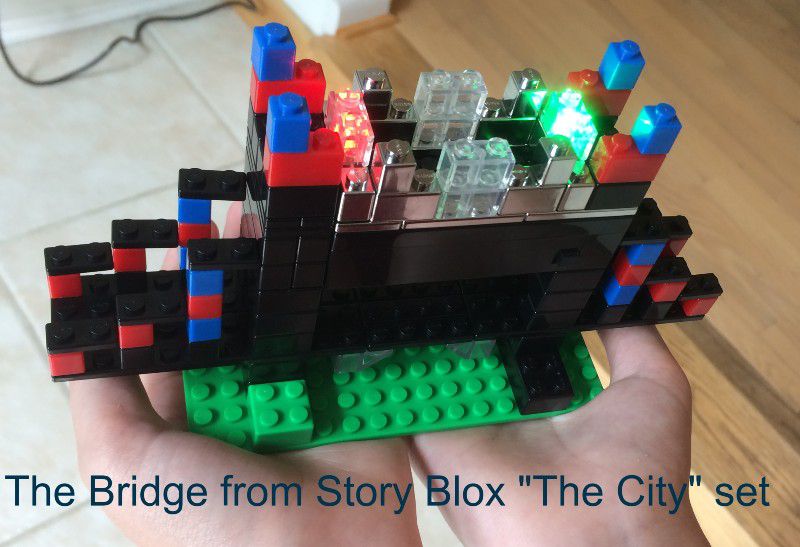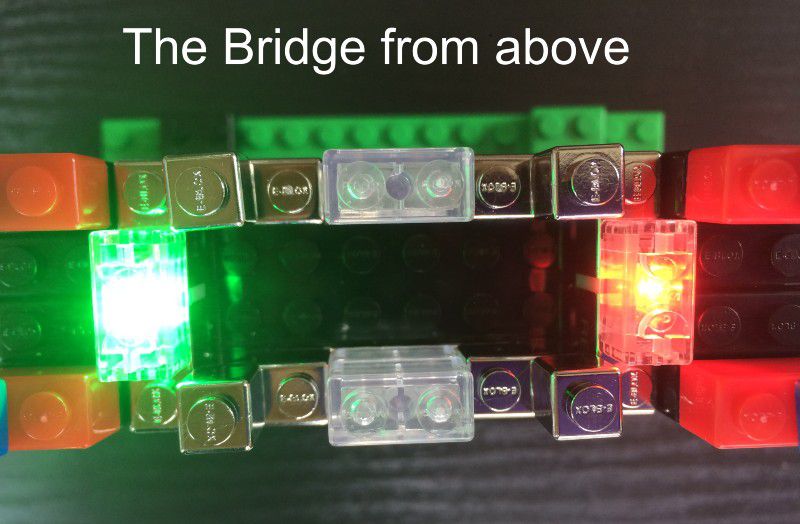 What I like
Creative toy, with several ways to engage young learners

The different colored lights are very cool and unique

It's educational, a great way to learn about 3D electronic circuits

Attention to safety, especially the alarm for short circuits
What I'd change
Include written assembly manual for all sets

Tighter fitting "regular" pieces for more stability

Add a tool for unlocking the tight-fitting conductive pieces
Final thoughts
A fun, unique toy with a bit of a learning curve at first, but lots of cool designs and creative possibilities once you understand how they work.
Price: Power Blox sets from $21.99 to $175.99. Circuit Blox sets from $10.99 to $82.49. Story Blox sets are $54.99. We tested Story Blox The City, $54.99, and the Power Blox Builds Plus set, $43.99.
Where to buy: E-Blox and Amazon
Source: The sample of this product was provided by E-Blox.