We use affiliate links. If you buy something through the links on this page, we may earn a commission at no cost to you. Learn more.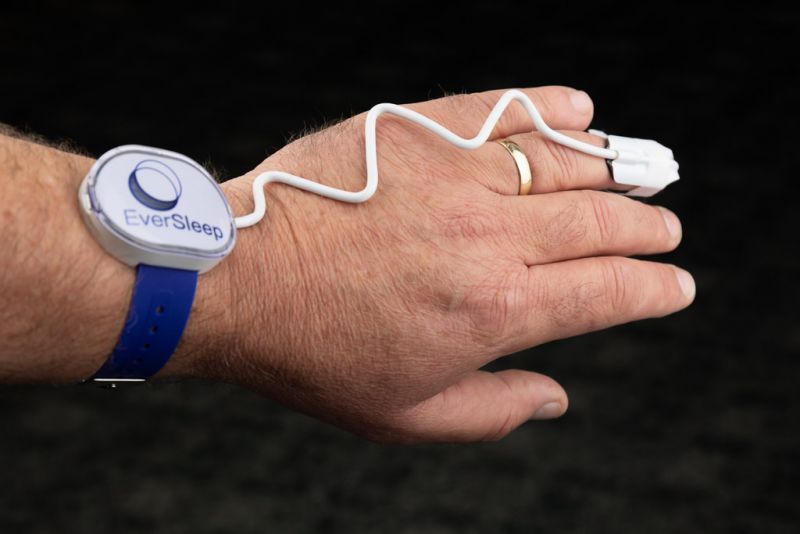 REVIEW – I'm a tech guy, so when I can get hard data or charts, I'm a happy person. When the EverSleep review offer came along, I said to myself "Bring on the data!".
What is it?
The EverSleep sleep tracker is a wrist-worn device that tracks many aspects of your sleep with the aim of improving how long and how well you sleep.
What's in the box?
EverSleep Sleep Tracker
Charger and Micro-USB Cord
Medical Tape
Ear Plugs
App instructions and Info
Design and features
The EverSleep sleep tracker is designed to help monitor your sleep. Using the data it provides it aims to help you optimize your sleep and track your progress.
It is worn basically like a watch, it includes a hospital-grade finger sensor to monitor oxygen level and pulse rate. It uses an app on your smartphone to record the results.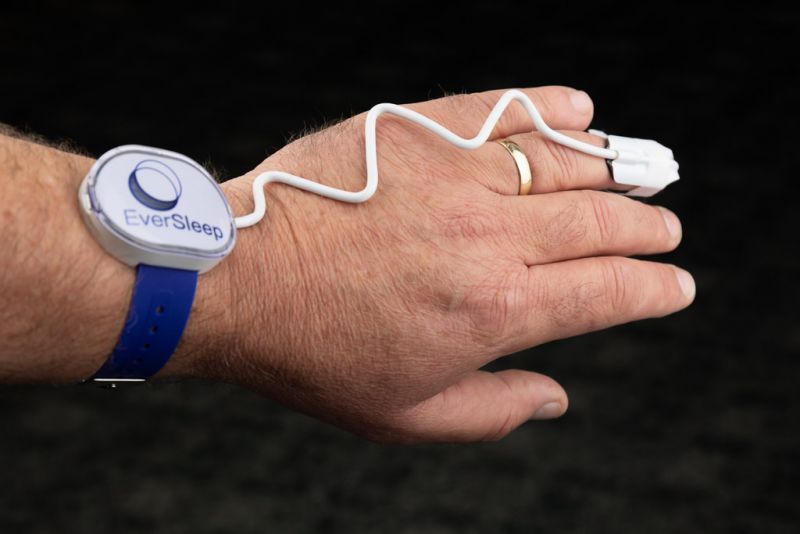 EverSleep advertises:
Identifies 5 types of insomnia
Continuous oxygen monitoring for breathing interruptions
Correlates insomnia and breathing events
Tracks motion events and other disruptions
Measures Fragmented sleep and quality sleep
Coaching and tips based on your sleep data
Just before the opportunity to do this review came along my doctor scheduled me for a sleep study. My wife says I probably need a CPAP machine because of my snoring and breathing patterns. When this review came along I thought it would be a great time to compare a before and after with the EverSleep device. Unfortunately, the sleep center has not processed my results yet, so I can't compare a before and after with this unit, but when/if I do get a CPAP machine, I'll update this review.
When you start the Eversleep app you answer some basic profile questions, then when you get ready to go to sleep, you tap "Record" and answer a few survey questions. The EverSleep app will then walk you through setting up the device for recording.
Upon completion of our night's sleep, a report will be generated containing three sections: Overview, Details, and Coaching. The details view allows you to zoom in for finer detail on particular events and times.
The results are saved automatically for tracking trends:
The Profile portion of the app contains the "About Me", "Doctor has diagnosed me with" and "Medications, Therapy, etc" information for the app to use to suggest coaching tips.
The Export section allows you to export a result as a PDF.
The "Learn" section provides many tips for getting better sleep.
The EverSleep sleep tracker accurately measured my sleep. In fact, I had one particular night where I tossed and turned most of the night and the EverSleep showed that I only slept for just over three hours.
On most nights it recorded that I snored 99 to 100% of the night, but I think that might have been it picking up the noisy fan in my room. This will be another good thing to compare later if I do get a CPAP machine.
I found that the strap used to hold the device on your wrist is a little difficult to put on. It's a stretchy silicone band, I would prefer a velcro and elastic band.
The finger sensor was a little small for my slightly larger than normal fingers. It was slightly snug and annoying, but not so much as to keep me awake as long as I didn't tape it on too snugly. I would prefer the type that I used during my sleep study that did not require tape to keep it on.
The Eversleep sleep tracker did accurately suggest that I talk to my doctor about my "mild to moderate breathing interruptions", which also confirms what my wife was telling me.
What I like
Pulse and Oxygen monitoring
Charts and Data!
What I'd change
The strap needs to be easier to put on
The finger sensor is a bit snug
Final thoughts
Overall I feel that the EverSleep sleep tracker provides enough information about your sleep to help you identify ways to improve the quality of your sleep and track if changes you make have an effect on your sleep. If I get a CPAP machine in the next couple of weeks I'll do some more tests and update this post.
Price: $249.99
Where to buy: EverSleep
Source: The sample of this product was provided by EverSleep.