We use affiliate links. If you buy something through the links on this page, we may earn a commission at no cost to you. Learn more.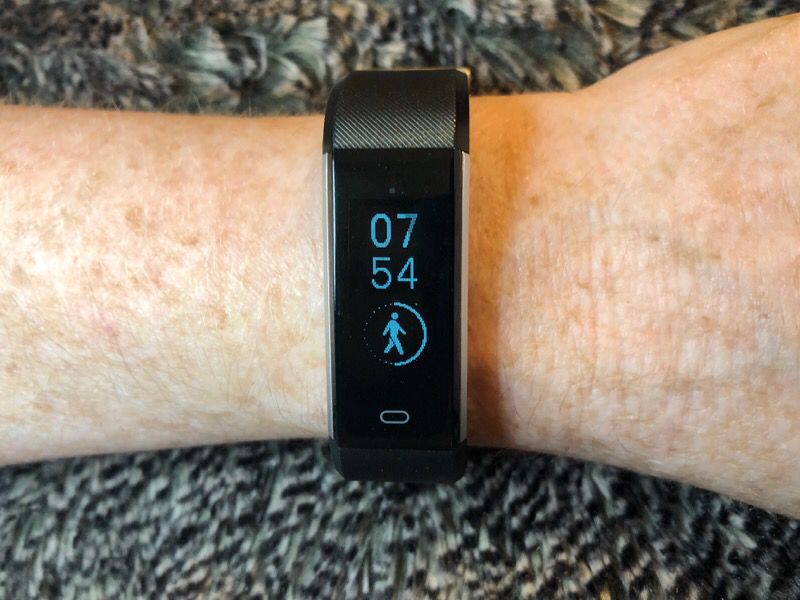 REVIEW – The Centers for Disease Control and Prevention (CDC) recommend that American adults engage in at least 150 minutes of moderate exercise each week.  This roughly translates into taking 10,000 steps a day.  The Mayo Clinic, however, estimates that the average American only walks 3,000 to 4,000 steps a day, far short of what is healthy.  My wife agreed to test Letscom's Fitness Tracker as part of her efforts to get to that 10,000-step level.  Is this the right gadget for the job?  Read on to find out.
What is it?
It is a fitness gadget worn on the wrist that tracks exercise and sleep patterns, monitors heart rate, and provides alerts and alarms.
What's in the box?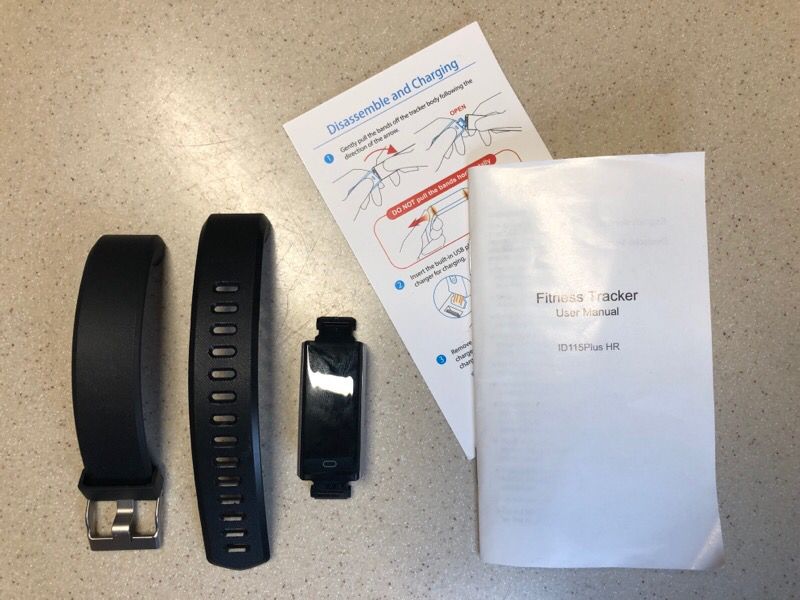 The tracker with associated wrist band
A quick start guide
A manual with 18 pages of English instruction (in a very, very small font)
Hardware specs
GPS connection for tracking exercise routes and locations
Bluetooth 4.0 for connecting to mobile app
OLED screen (not a touch screen)
USB charging
Lithium battery that should run 5 to 10 days on a charge
Charging time is 1-2 hours
Design and features
My wife has been wearing this gadget for 3 weeks non-stop, except when she showers or when it needs charging.  She's utilized the majority of its features and has a good appreciation of its capabilities.  Here's what she found.
Installation and setup
The fitness tracker comes in three pieces:  The tracker itself and the 2 halves of the watch band.  The tracker is approximately 1.5 inches long and ¾ of an inch wide and has connectors for the wrist band on the top and the bottom.
When flipped over, you can see that one of the connectors is used for charging, and that there's a monitor that will be against the skin.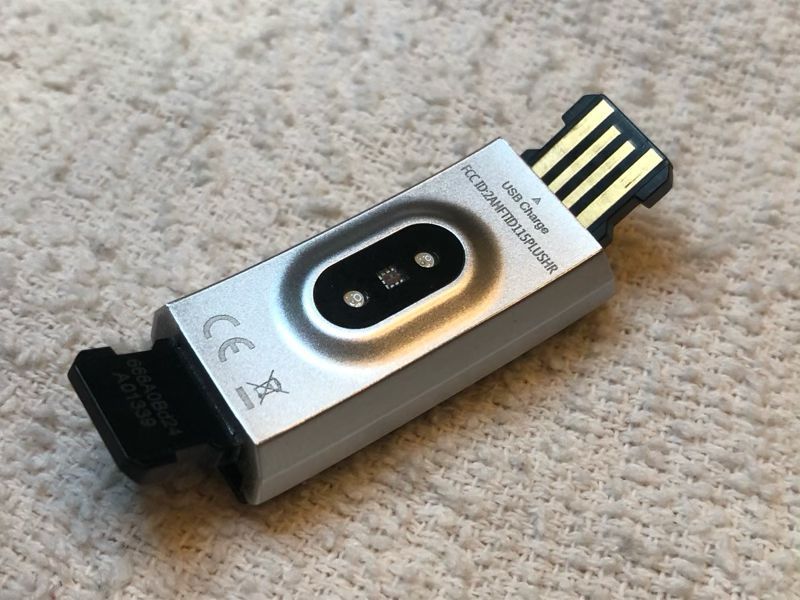 The first step in the installation process is to charge the tracker for at least 2 hours, which my wife did by connecting it to our Anker USB charging station.  When you plug it in, you have to make sure that the little red light comes on, otherwise, it won't actually charge.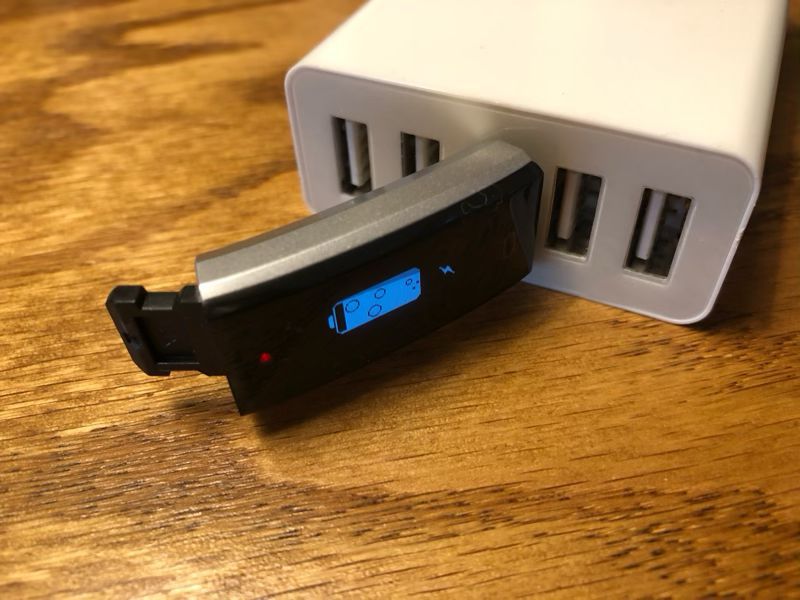 The second step is to attach the watch band.  Make sure that "bottom" side, the one with the little button, connects to the band with the holes and the "top" side connects to the band with the buckle.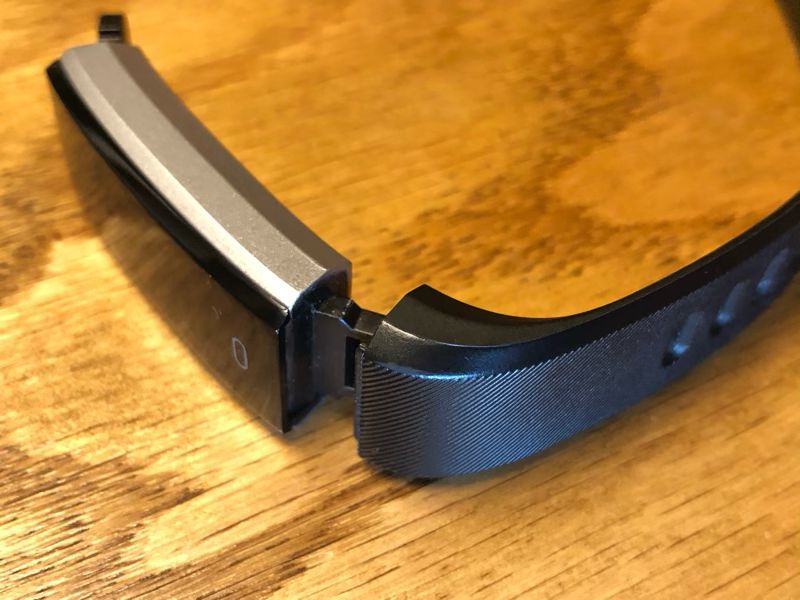 The third and final step is to download the mobile app.  There are a pair of QR codes in the manual, one for iOS and one for Android.  For iOS, this takes you to the VeryFitPro app, which is a free download.
Fitness Tracker Modes
The fitness tracker has 7 modes, each with its own unique screen.  You can cycle through the modes by pressing the button.  The screen is not a touch screen, so the only interaction is via the one button.
The main screen shows the time, like a watch.  It can be configured to show the date, battery status, Bluetooth status, or the steps taken today.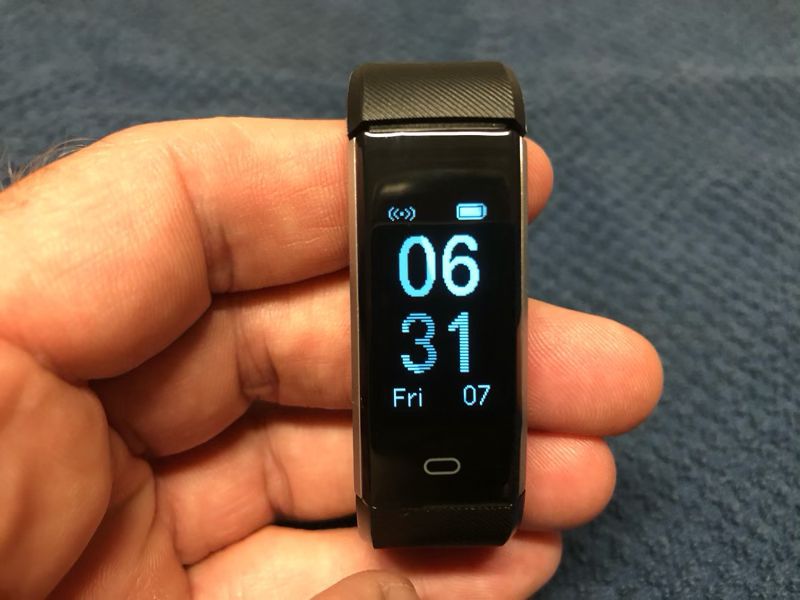 Step mode shows how many steps have been taken today, how many miles have been walked, how many minutes have been active (including walking), and how many calories have been consumed.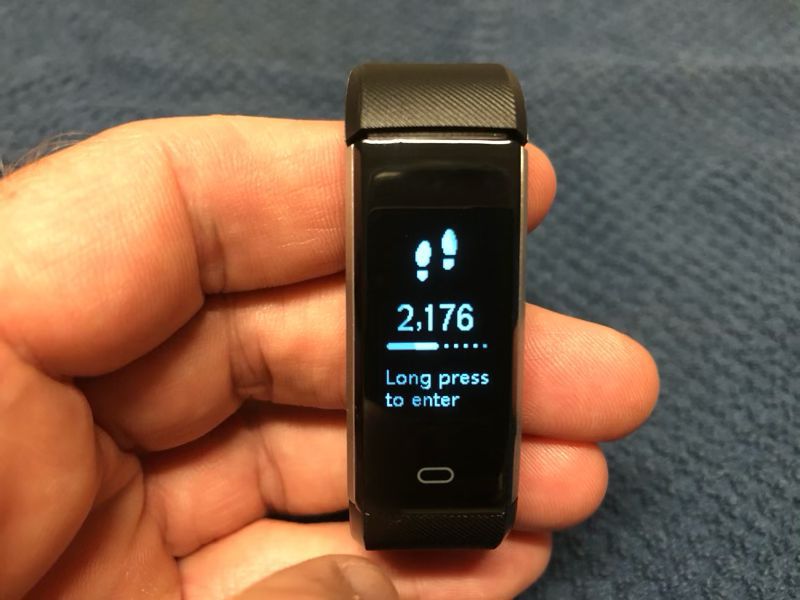 Heart rate mode measures the current beats per minute (BPM).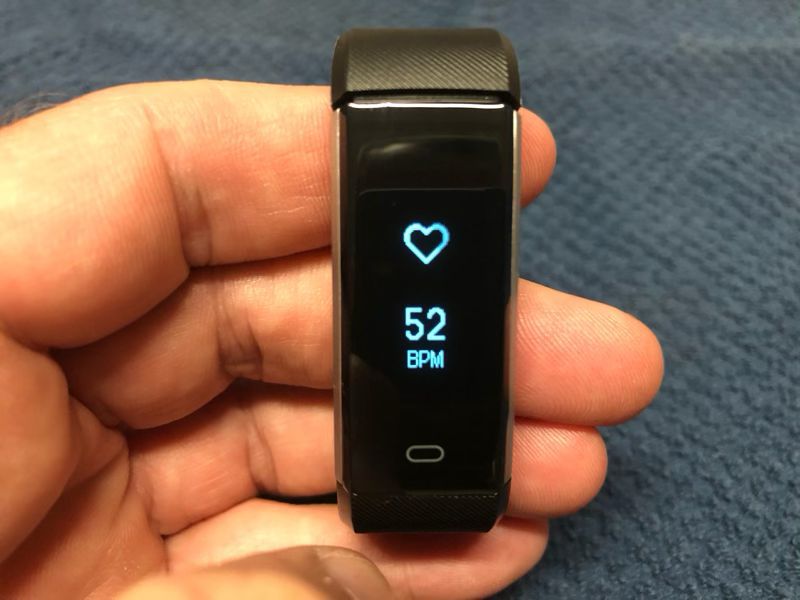 Alarm mode displays your next alarm and allows you to disable it.  New alarms can only be set via the mobile app.  (And yes, my wife's next alarm is for 4:30am.  She gets up way too early to teach ESL to international students.)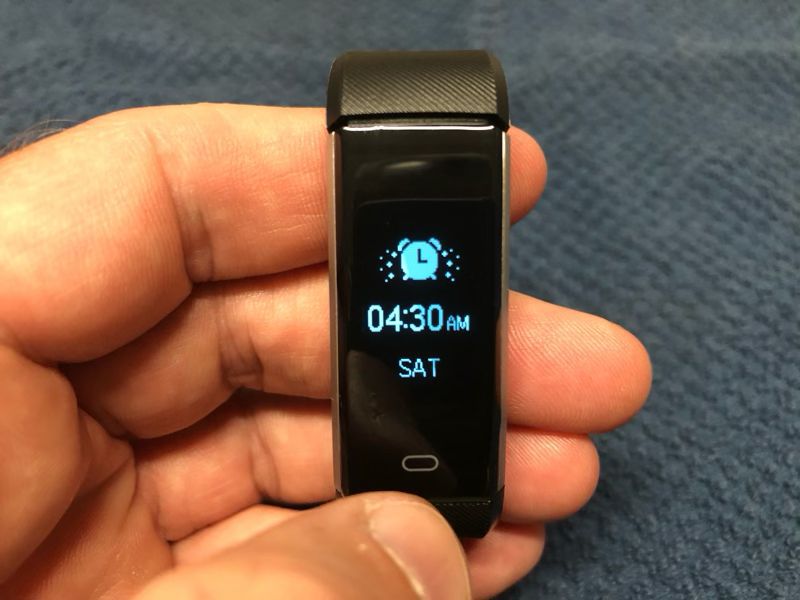 Walk mode allows you to track the steps taken and time spent on a specific walk.  You use the button to tell the tracker when you stop and start your walk.  It will also monitor your heart rate while walking.  Although my wife didn't test the run and bike modes, she assumes they offer similar capabilities to the walk mode.
The tracker's interface is as simple as it gets.  This makes it easy to move between the modes and use them as necessary.  The more advanced functionality comes through the tracker's interaction with the mobile app.
The only downside to the tracker is that the process of monitoring the heart rate involves the use of a rather bright green strobing light.  During the day, this is not noticeable; but if you're a light sleeper, as I am, this can wake you up at night.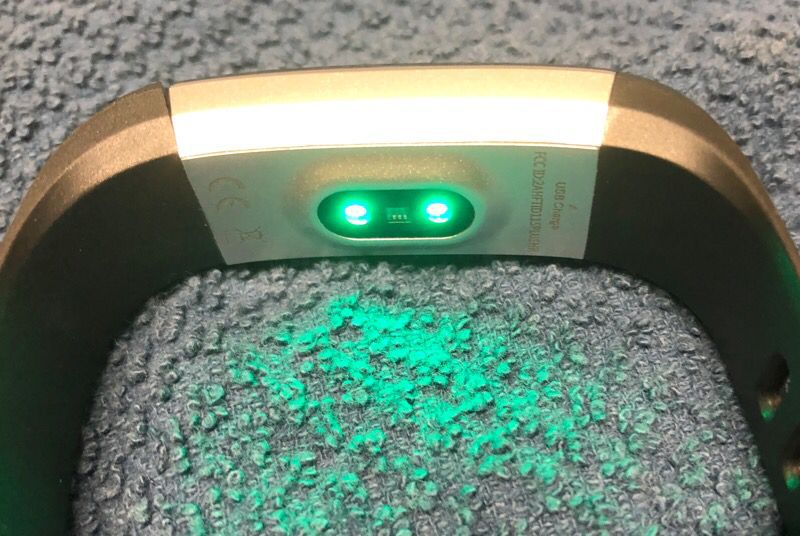 VeryFitPro mobile app
Letscom has created a mobile app that works with the fitness tracker by providing better visualization and long-term storage of the fitness data.  To use the mobile app, my wife first paired it with the tracker.  She made sure Bluetooth was enabled on her phone, then she opened the app, selected the Device button, chose Bind Device, and then selected "ID115Plus HR" from the list of devices.  Whenever she wants to sync the data in the tracker with the app, she simply has to "swipe down" on the main page when her phone is near the tracker.
The bottom of the mobile app has 5 buttons:  Mainpage, Details, Device, User, and a giant orange plus.  The Mainpage button shows the main page, which is a fairly detailed visualization of all activities that have been completed so far today.  For example, it lists the steps taken, calories burned, and time spent in an activity.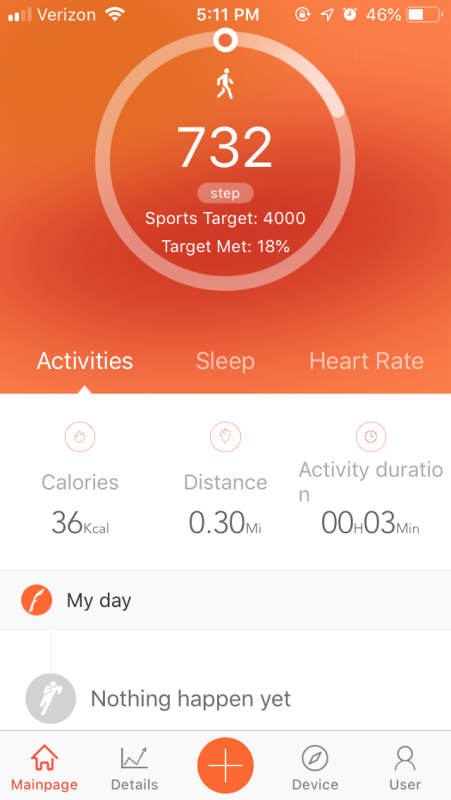 If you click on the Sleep tab, it shows how long you slept, and if you touch the number of hours, then it shows your sleep patterns for the previous night.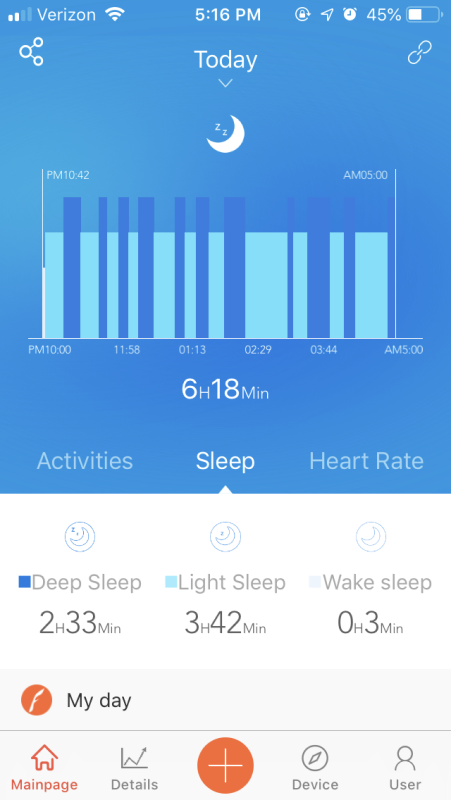 The Details button depicts overviews for today, this week, this month, and this year.  If you swipe to the right on any of these screens, you can see previous days, weeks, months, and years.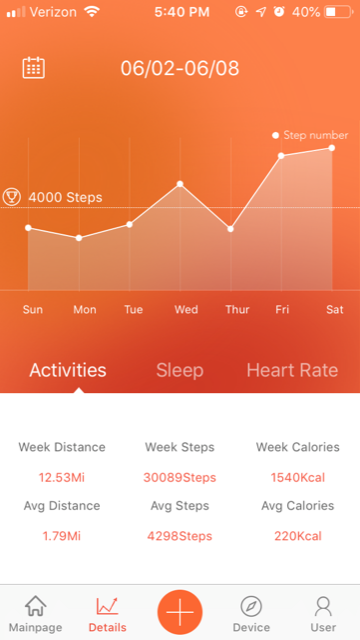 The Device button specifies how the mobile app interacts with the fitness tracker.  For example, it can set alerts when your phone gets a call or a text or when you've been stationary too long.  When your phone receives a call, it briefly displays the phone number or contact name on the trackers.  When it receives a text (or a private message from apps like Facebook, Instagram, and WeChat), it briefly displays the text on the tracker.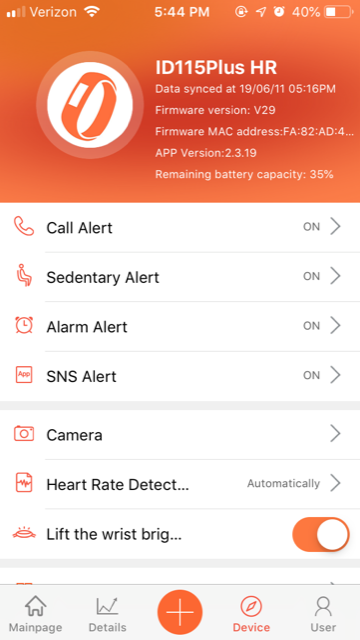 The User button sets a variety of information about you, the user of the tracker, such as the number of steps you hope to walk in a day, and your preferences, such as imperial vs metric units.  It's worth noting that the Third Party Program features allows you to send information to the Apple Health app on your iPhone, if you have one.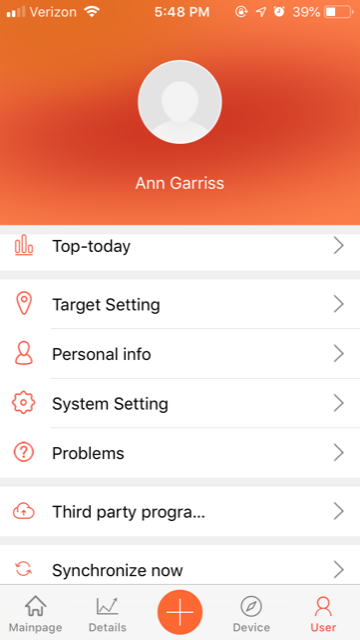 The giant orange plus button functions like a pop-up menu that brings up three more menu choices.  The first choice is used to record runs, walks, hikes, and rides, if you don't have your fitness tracker with you.  The second choice is used to record a variety of different activities, such as yoga, badminton, and mountain climbing.  The third choice is used to record your weight.
In general, my wife really likes the mobile app.  She finds that the main screen is helpful for getting a quick overview about how she's progressing during the day.  She also finds the various charts and graphs to be informative.
She also discovered three problems.  One, the sedentary alert sometimes goes off right after she finishes walking.  Two, the sleep monitor doesn't record afternoon naps as sleeping.  Three, messages from her phone are displayed too briefly, and there's no way to go back and read them again.  In general, these are fairly minor problems that don't detract much from the quality of the mobile app.  (Although it did leave her wondering if it's worth paying more for a more powerful gadget, like an Apple Watch.)
Extra Features
To recharge the battery, my wife has to pull off the lower half of the band.  The first time she tried to pull it off, she couldn't, as it was so tight.  She asked for me to help, and it still took me over 2 minutes to get it off.  Over time, however, this has become easier, as the band has loosened up.  I am concerned that if this process continues, it will eventually become so loose that it won't stay on the tracker.  I wish that Letscom has designed an alternate mechanism for attaching and detaching the band or a completely different mechanism for charging.  Although the battery is rechargeable, the manual notes that it is not replaceable.
The tracker that my wife tested was black, but it also comes in blue, purple, red, green, and pink.
Warnings
While reading the manual, I came across several scary (and slightly humorous) statements:
"The device, accessories, heart rate monitor, and related data are intended only to be used for recreational purposes and not for medical purposes."
"The heart rate readings are for reference only, and no responsibility is accepted for the consequences of any erroneous readings."
"While the optical write heart rate monitor technology typically provides the best estimate of a user's heart rate, there are inherent limitations with the technology that may cause some of the heart rate reading to be inaccurate."
When considering fitness trackers, including Letscom's, keep in mind that these devices typically are not considered to be medical devices, as they are not approved by the FDA.  They can be helpful in estimating your health, but they are not guaranteed to be accurate.  If you have a medical or heart condition, you will probably want to look at a different category of gadgets.
What I like
Price is right
Easy to use
Successfully keeps my wife more aware of her activities (or lack thereof)
Mobile app is easy to use and does a great job of keeping and displaying data
What I'd change
Better charging mechanism
More options for viewing alerts/alarms
Final thoughts
While there may be fancier fitness trackers on the market, Letscom's Fitness Tracker is perfect for health-conscious people who are either trying out their first tracker or who don't want to pay premium prices.  It does everything that a fitness tracker needs to do (and more), and its mobile app provides lots of extra functionality.  If you are in the market for a tracker, my wife recommends that you take a look at this one (and so do I).
Price: $28.99
Where to buy:  Amazon
Source: The sample for this review was provided by Letscom.