We use affiliate links. If you buy something through the links on this page, we may earn a commission at no cost to you. Learn more.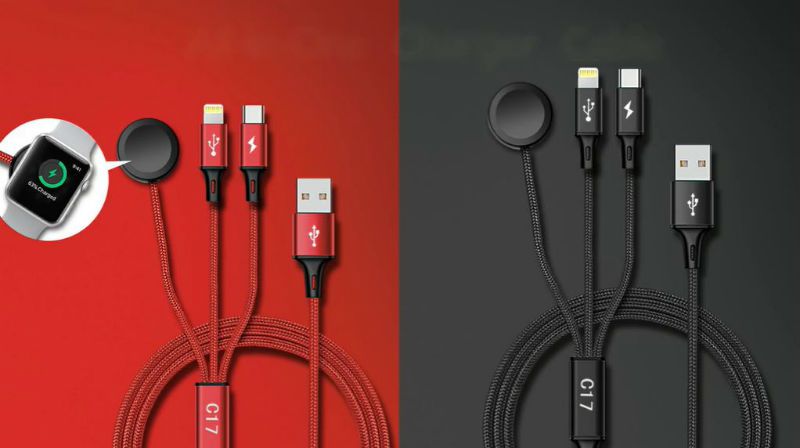 CROWDFUNDING NEWS – d
What is it?
The C17 All-In-One Charger Cable is a 4FT (125cm) USB cable that provides 3 or 4 different connections (depending on the cable version) for USB-C, micro USB, Lightning, and the Apple Watch.
Why do I like it?
I like the C17 cable because it's one cable with all the connections most people would need. Besides that, the cable has a nylon braided cover which I like, and even better is the fact that you can use all 3-4 connections at once. You can charge your Apple Watch, an iPad or iPhone, a USB-C device, and a micro USB device all at the same time only using one USB power adapter. I think this would be a great cable to have for travelers.
Some things to consider before pledging
It's important to know that although this cable can charge up to 4 devices at the same time, it does not support data for all of those connections. According to the FAQ on the campaign page, the only connection that will work for data is the Lightning connection with an iPhone.
You will also need a USB power adapter which won't be included with the cable.
The max 3.8Amp current load and the Fast Charging is up to USB power adapters. We recommend the minimum output current 2.2 A/ 5V when you charging all devices at the same time.
Where can I find more info?
The C17 All-In-One Charger Cable campaign ends on 7/3/19 they are working towards their funding goal of $5,101. You can pre-order the 3-in-1 version of the C17 cable starting at $19. After the C17 campaign ends, rewards are estimated to start shipping in July 2019. Visit their Kickstarter page for all the details.