We use affiliate links. If you buy something through the links on this page, we may earn a commission at no cost to you. Learn more.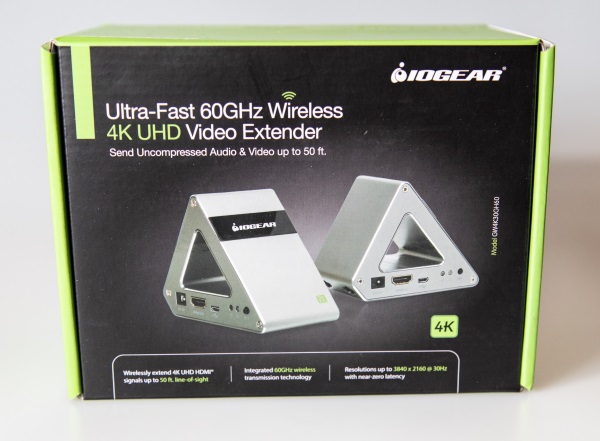 REVIEW – My wife constantly complains about the number of wires I have running in our home. From her perspective, they seem to be everywhere. I have about 7 network switches and connected CAT5 cables running everywhere. I recently decided that I wanted to add projectors to a couple of rooms and she cringed at the thought of additional HDMI cables running everywhere. I believe in "Happy wife happy life", so the opportunity to test and review the IOGear Ultra-Fast 60GHz Wireless 4K UHD Video Extender was a much-welcomed opportunity.
What is it?
The IOGear Ultra-Fast 60GHz Wireless 4K UHD Video Extender enables you to transmit 60GHz Wireless 4K Ultra High Definition UHD) Video with digital 7.1 surround sound audio from an HDMI source from the Transmitter to the Receiver up to 60 feet away with near-zero latency.
What's in the box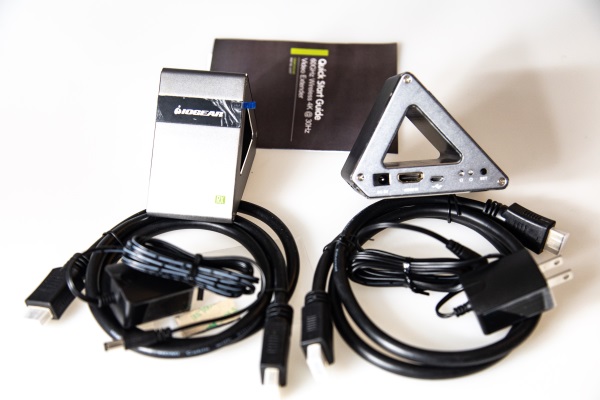 1 x HDMI Extender Transmitter
1 x HDMI Extender Receiver
2 x 5VDC/2A Switching Power Supply
2 x HDMI Cable
1 x Quick Start Guide
1 x Warranty Card
Design and features
Specifications
Video Input: HDMI 2.0/ HDCP 2.2
Video Output: HDMI 2.0/ HDCP 2.2
Power: 5V/1A
Video Resolution: 3840 x 2160 @ 30Hz
Video Streaming: Uncompressed
Audio Output: Dolby TrueHD, DTS-HD Master Audio and LPCM digital audio streaming up to 7.1 channels HBR lossless audio
Frequency Band: 60 GHz
Antenna Type: Printed Circuit Board
Operation Temperature: 32~122ºF (0~50ºC)
Storage Temperature: 14~158ºF (-10~70ºC)
Humidity: 10 – 90%
Power Adapter: 5 VDC/1A
Height: 3″
Depth: 4″
Length: 1.125″
Features:
Wirelessly send 4K UHD video from one HDMI source to one HDMI TV/Projector
Extends signals up to 60 Ft. line-of-sight
Uncompressed audio and video at near-zero latency – ideal for gaming and streaming
Resolutions up to 3840 x 2160 @30Hz
Minimal interference with existing Wi-Fi devices via 60GHz wireless frequency
Support 7.1 surround sound audio, Dolby® True HD and DTS-HD® Master audio format
Plug-n-Play – Transmitter, and receiver come pre-paired from the factory
Dedicated closed wireless system – Requires no Wi-Fi network
Advanced wireless technology speeds to 18 Gbps
LED status lights for source/display connections and wireless link
Supports dual power option via USB or included AC adapter
Compact mountable design for easy placement
HDMI 2.0 & HDCP 2.2 compliant
Supports 4K UHD High Dynamic Range (HDR) TVs and content
The IOGear extender kit consists of two main components that are the Transmitter and Receiver. They both have identical ports on one side. As shown below from left to right they are the power port, the HDMI port (Input on Transmitter and output on Receiver), the USB optional power input port, the Data Transmission Indicator, the Power Indicator, and the SET button.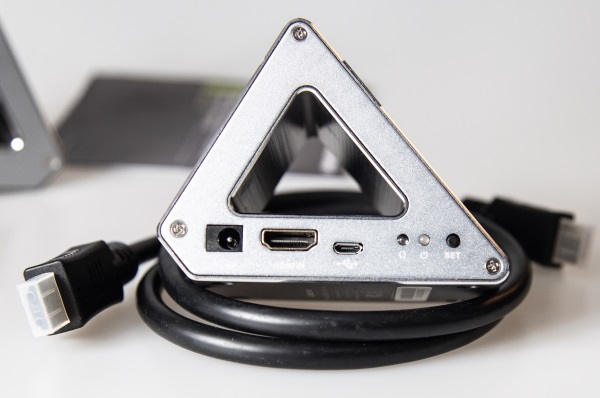 The back of both the Transmitter and Receiver has mounting holes.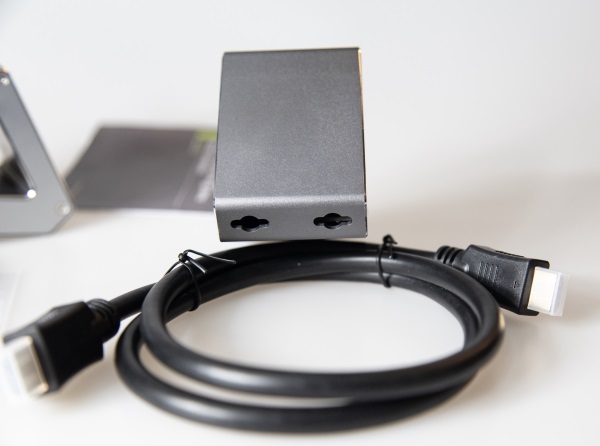 Performance
The Video Extender kit is very simple and straightforward to use right out of the box. For my testing, I connected my 4K Roku streaming stick to the Transmitter as well as the power supply. On the opposite end, I connected one of my portable projectors to the Receiver via an HDMI cable and the power adapter to the Receiver.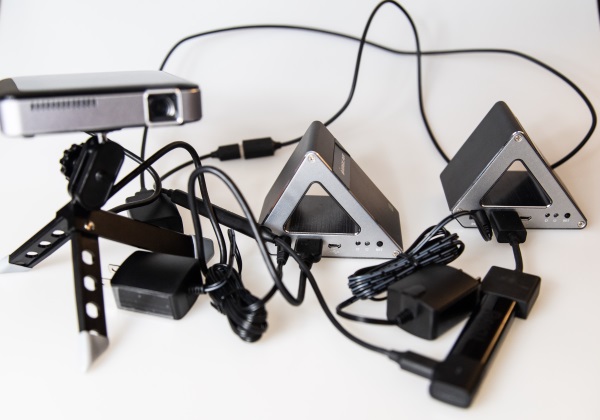 And voila!! As shown below, the Roku menu was immediately displayed via the projector.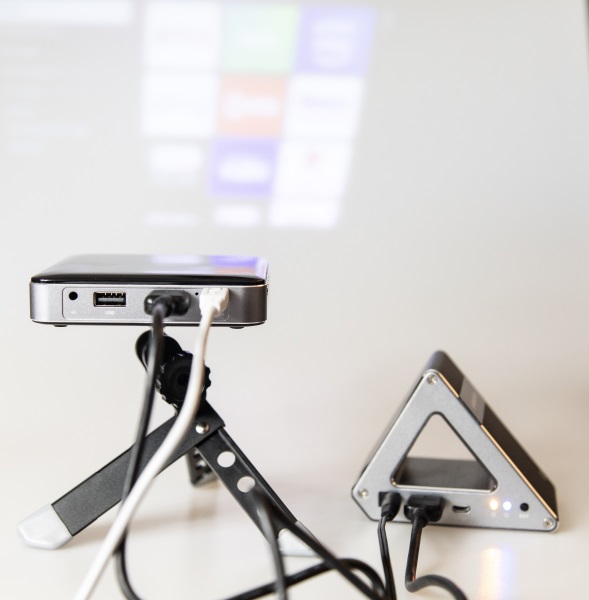 Here is a better visual of some shots of the picture when I displayed it on the ceiling in the dark: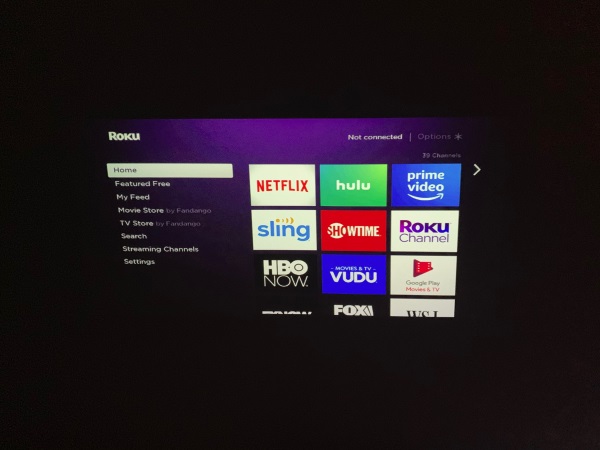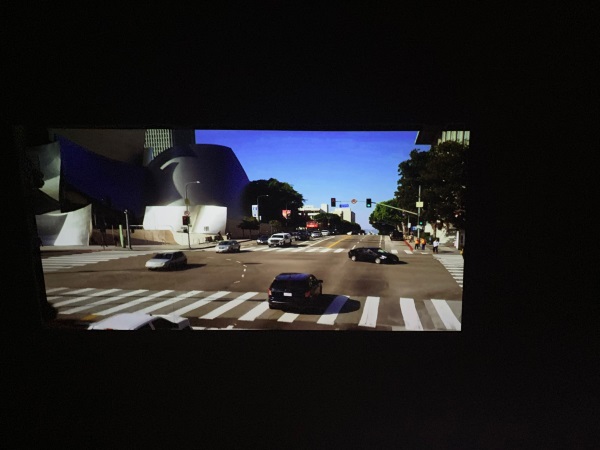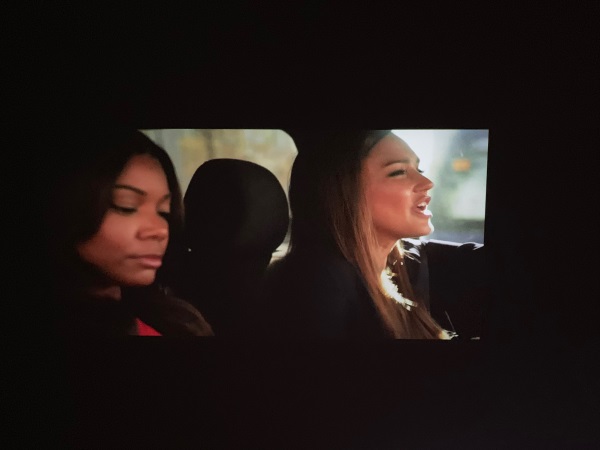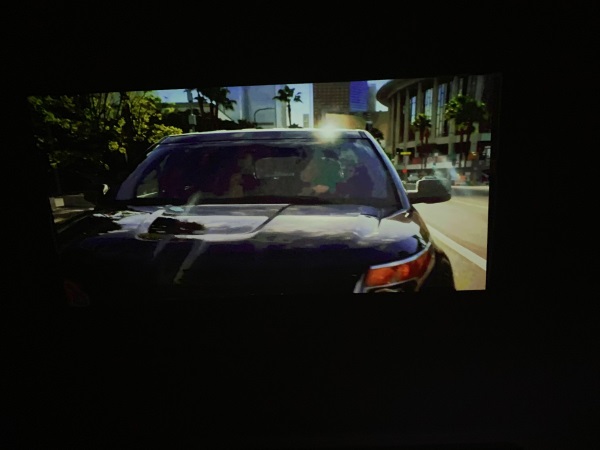 I also tested full 4K all the way through with my BenQ HT2550 4K projector and I did not notice any discernable latency or dropped signal in any of my tests.
What I like
The build quality
The simplicity of the design and the ease of use
While I was only able to test at a distance of about 20 feet, the quality of the video produced
What can be improved
Final thoughts
While I am a fan of many things wireless, I am only a fan if the resulting service is close to or equal to that of wired service. In many cases, this is not so, and there is often noticeable degradation and latency when opting for the convenience that wireless provides. After reading several online reviews, I was expecting mediocre results at best when I tested this IOGear extender, but much to my joyful surprise, the performance was great and there was not any noticeable impact on the video output. I have read many reviews that indicate connectivity problems between the Transmitter and Receiver and the dropping of the signal. I also read reviews that stated that the extender simply stopped working after a few months. I can honestly say that I have not experienced any connectivity issues or quality of video issues, albeit that I only had limited 4K content to test with. It works flawlessly with 1080P and also with my current mini projectors that either downscale the output to 720P or accept a 1080P input signal irrespective of their output resolution. It also worked well with my 4K projector. I do understand that I have only had this device for a few weeks and that my testing distance is shorter than the claimed limits of the device. Many reviews indicated that there were connectivity problems from even just 10 feet away, so time will tell. If I experience any issues in the weeks or months ahead I will certainly submit an update. But until then, I am giving the IOGear 4K Extender two thumbs up!!.
Price: $245.35
Where to buy: Amazon
Source: The sample for this review was provided by IOGear.