We use affiliate links. If you buy something through the links on this page, we may earn a commission at no cost to you. Learn more.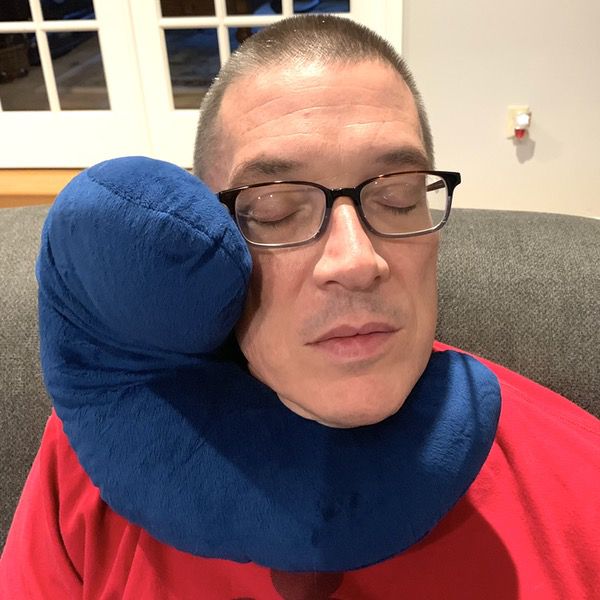 REVIEW – Zzzzzzzz… huh? Oh! Sorry, friends! I must have dozed off while writing my review! And that's a good thing in this case. I'm checking out the J-Pillow, a different (and award-winning) take on the travel pillow design. Not only is it comfy, but it's got some neat tricks up hidden under it's wings. To the review!
What is it?
It's a travel pillow designed for resting while sitting up, but it's also great for around-the-home use.
What's in the box?
You get the pillow and a drawstring travel bag.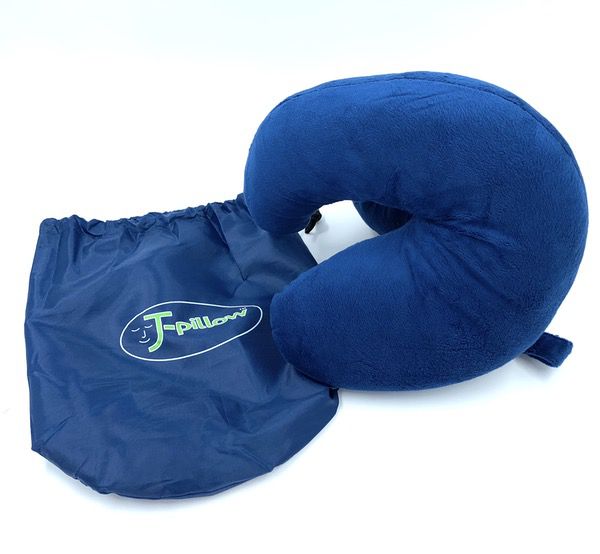 Hardware specs
9″ by 9″ by 5″
8 ounces
Machine washable
100% polyester fabric cover
100% polyester & flame retardant filling
Design and features
So there are a ton of travel pillows that are based on some variation on a u-shaped, yoke-style design. What's so different about the J-Pillow? It employs a pair of bat-like wings, and adds a third J-shaped pad from which the pillow gets it's name. Designed by a former flight attendant, this extra pad provides additional stability when you're trying to use it to rest while sitting up during travel. Check it out: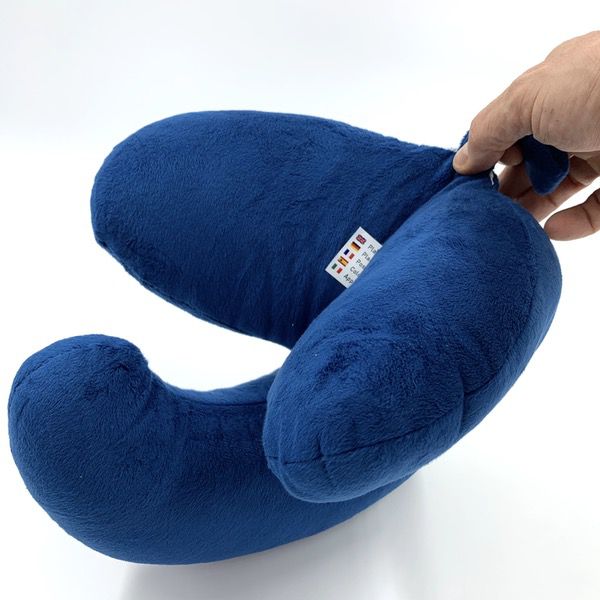 The pillow is made from a super-soft padding and cover material, so it feels good to use right off the bat. But here's the neat bit: the design allows you to configure it in a way that maximizes your comfort based on your preferences and body type.
Never miss one of our posts again. Sent MON, WED, and FRI with the latest gadget reviews and news!
Here's the "standard" configuration. In this setup, the "J" pad slings under your chin, and the wings cradle your head. You can set this up for left- or right-side use. See how there's no gap between my neck and the pillow?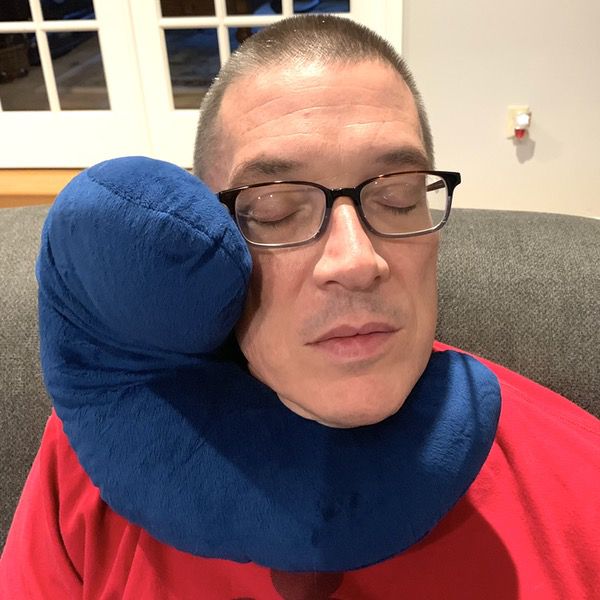 If that setup doesn't work for you, you can flip it. Here the "J" pad is wrapped around the back of my neck, and the wings run vertically. This is the way I'd set it up if I had a window seat: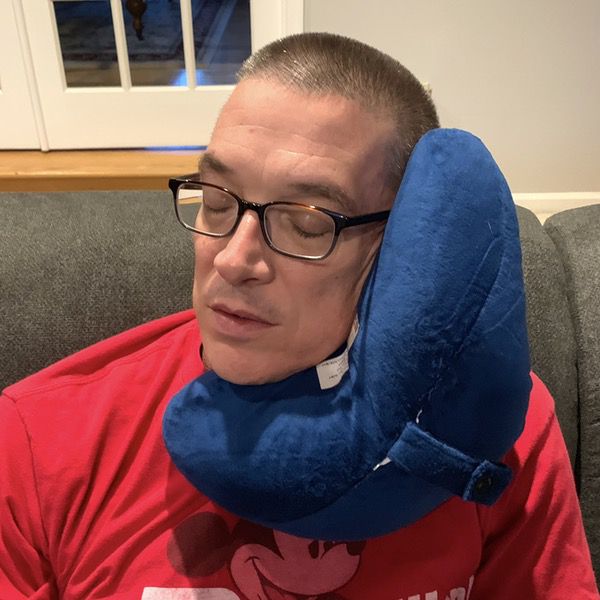 You can also use it like a traditional U-shaped pillow. Pinch the wings on one side, and off you go. Notice the restful expression on your reviewer's face. It's comfy, folks!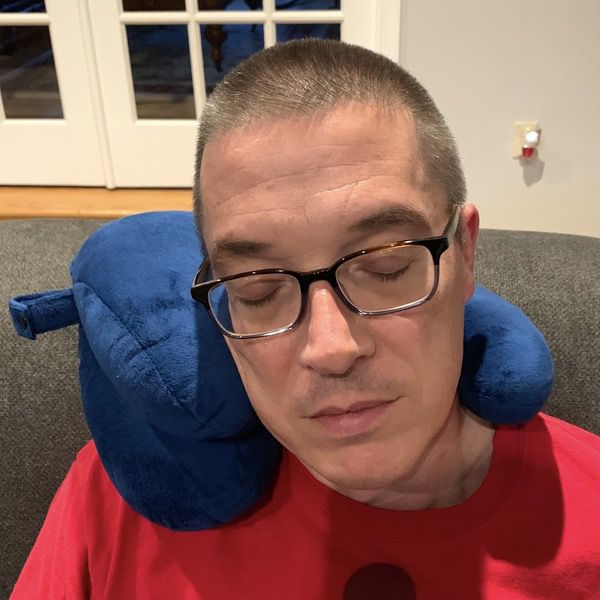 In the interest of full disclosure, I haven't traveled with the J-Pillow yet. But I am also finding a lot of uses for it around the house. J-Pillow promotes it's use as a lumbar support pillow, and this really works for me. Its wonderful for reducing back strain at my old creaky desk chair. I'm also using it on the couch, as seen here: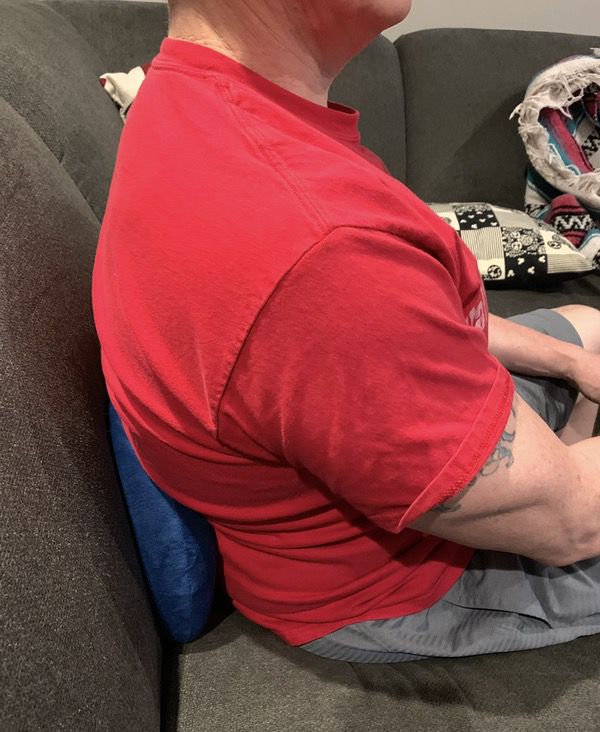 And here's another use that they promote that REALLY works for me. My 50 year old knees can get downright surly sometimes, and I need to rest/sleep with a pillow to reduce soreness. The J-pillow works great as a leg pillow, as demonstrated by your pasty-white reviewer/model below: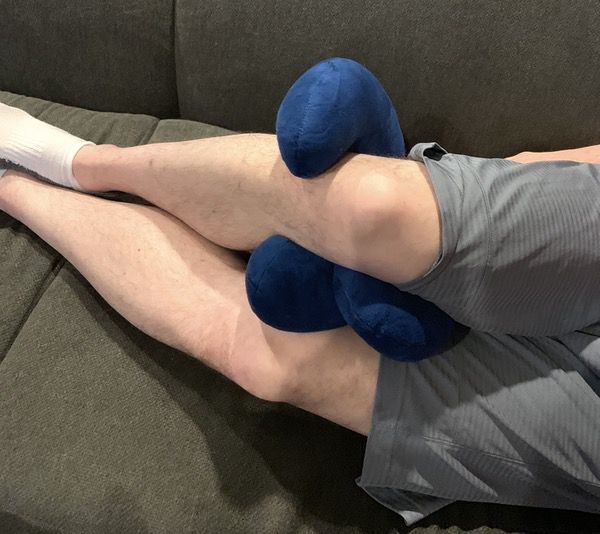 I'm also using it as a pillow when lounging about, and it's great for watching TV or reading. Or napping with the dog. You get the idea.
For traveling, the J-pillow includes a vinyl travel bag with a drawstring closure. It compresses nicely in the bag and has a button-snap loop that you can use to attach it to your luggage (with or without the bag). It's a convenient feature that saves space in your luggage.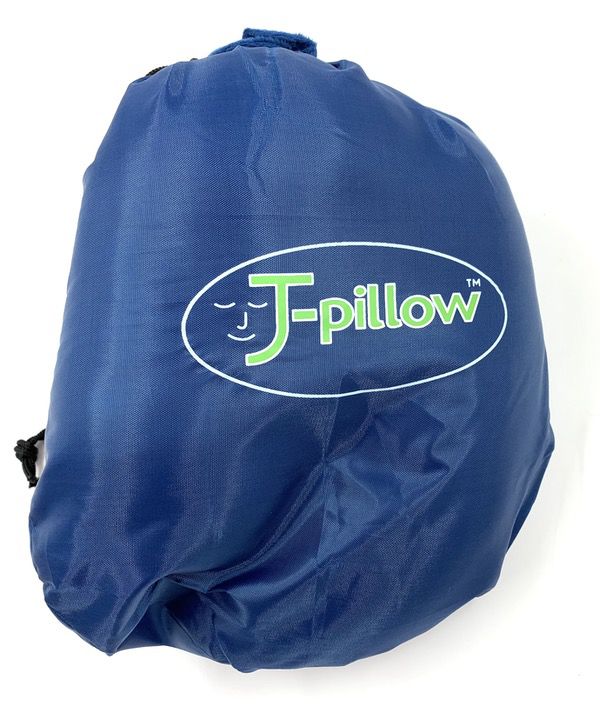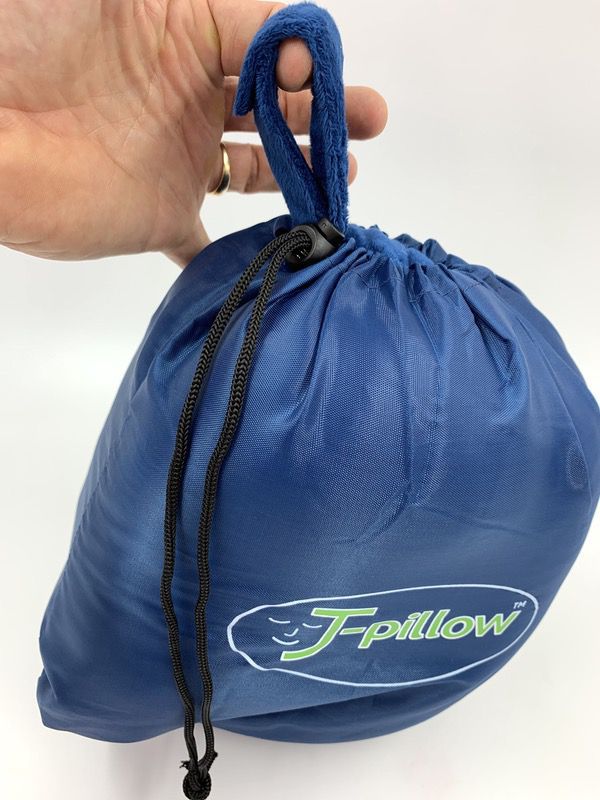 What I like
Very comfortable, no matter how you choose to use it
Great for both travel and in-home use
Attaches to your luggage, saving space in your bag
Convenient storage/travel bag to keep it clean when not in use
What needs to be improved
Final thoughts
Sometimes the simple innovations make all the difference. I can see why the J-Pillow has won awards for it's design and is so highly rated by users. I'm loving this pillow for use around the house, and can't wait to take it on my next trip. In the meanwhile, you'll find me snoozing on the couch. Sweet dreams!
Price: $49.95 direct from the manufacturer, but I'm seeing prices under $30.00 on Amazon. Multiple colors are also available.
Where to buy: Get it at the J-Pillow web site, or on Amazon.
Source: The sample of this product was provided by J-Pillow.