We use affiliate links. If you buy something through the links on this page, we may earn a commission at no cost to you. Learn more.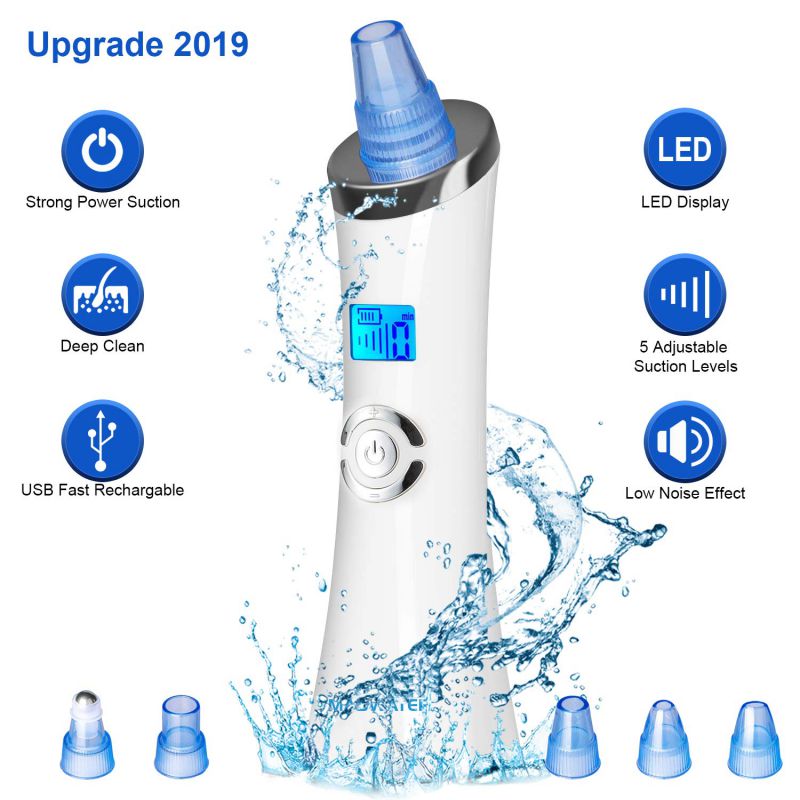 NEWS – Where was this when I was a teenager? Actually- I still need this now!
Maswater's electric blackhead extractor is essentially a safe way to clear your facial pores by removing gunky blackheads through the power of suction. Even those without prominent blackheads can benefit from the use of this product; however, because it also increases blood circulation, tightens up loose skin, reduces wrinkles, shrinks pores, and makes your skin smoother.
The electric blackhead extractor comes with 5 different changeable tips or "probes" that all aid in achieving different effects.
The oval mouth probe is to be used on the lips, corners of eyes, nose, or neck. It smoothes out fine lines and reduces wrinkles.
The small probe is to be used in all the same places, and it's main purpose is to remove blackheads.
The big probe should be used around the eyes, and specializes in skin tightening.
The large round hole head (biggest) should NOT be used around the eyes, mouth, or neck and it increases sweat gland secretion which eliminates bodily toxins.
The cold ball probe can be used anywhere on the face, and should probably be used last. It relieves swelling and fatigue feelings and acts as a facial lifter.
This tool works on all skin types, and offers 5 progressive intensity levels of sucking. Those of us with sensitive skin should start on level one, and holding this product in the same spot for more than 3 seconds can cause bruising or redness. Total usage shouldn't be over 5 minutes, and it should only be used once or twice a week. Slight redness or bruising is normal after the first couple uses.
For best results, remove makeup and open up your pores using a hot washcloth on your face before use. Apply a face-mask after to shrink your pores back down.
It takes about 1.5 hours to fully charge via USB, and the charge lasts about 3 continuous hours. It's small enough for travel, so you can even take it on the go!
This product ships at about 4 ounces. It's about 7.5 inches long and 2 inches wide.
Get yours on Amazon for $21.97 now, and enjoy free one day shipping through Amazon Prime.