We use affiliate links. If you buy something through the links on this page, we may earn a commission at no cost to you. Learn more.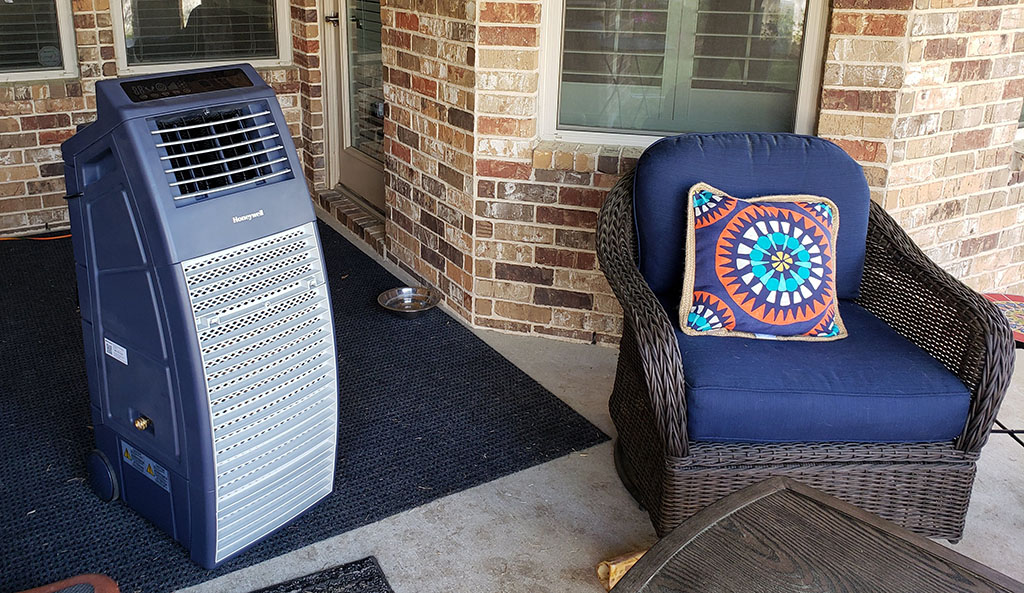 REVIEW – We just moved to the Houston area, aka "Hotstown".  Summers here are supposed to be brutal between the heat and humidity.  So far, however, we have had unseasonably mild weather, almost like our former home in Seattle.  But, to misquote Game of Thrones, summer is coming and we will need something like the Honeywell Evaporative cooler to enjoy the patio.  Will it live up to the expectation?  Read on to find out…
What is it?
The Honeywell Portable Evaporative Cooler (model CO301PC to be precise) is a large "swamp cooler" type of device on wheels which allows it to be freely moved between areas of need.  Evaporative coolers use only water to cool the air, unlike traditional air conditioners which use chemicals like freon to cool.  Because of this, the evaporative cooler can be a more environmentally friendly device because there are no chemical emissions.  They can also be somewhat quieter (as compared to a window air conditioner) because there is no compressor or refrigerant.  And they are generally less costly to use than AC.
There are a few downsides to evaporative coolers, though.  They are somewhat less effective than traditional air conditioning when in very humid environments because they add more water back into the air – and that is not needed when your humidity is at 98%.  When used indoors, there is almost always an exhaust hose or a window that needs to be open to prevent moisture from building up.  And they require a water supply, which for most units means getting up in the middle of the night to get a pitcher of water to feed your cooler.
The Honeywell unit is designed primarily as an outdoor cooler, perfect for an enclosed or screened patio.  It is large, but that is because it is designed to cool around 450 square feet.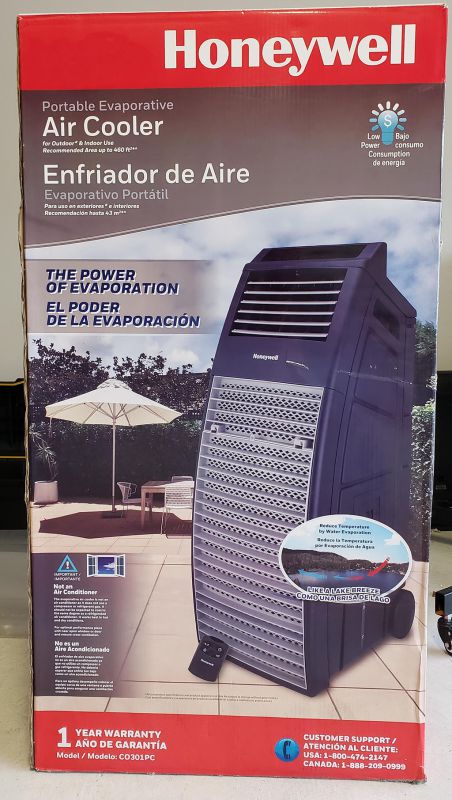 What's in the box?
The box contains:
The CO301PC Evaporative Cooler
A remote control
Operating instructions and a safety guide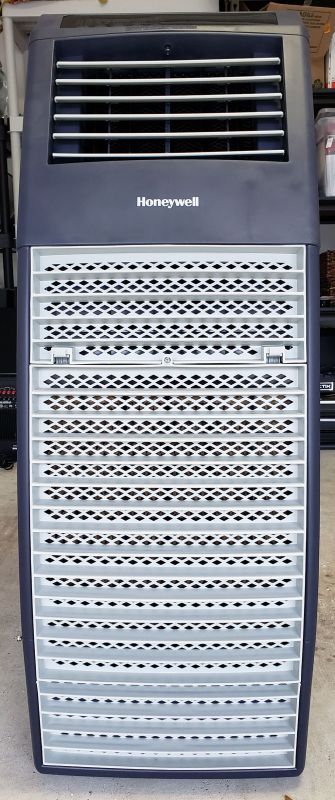 Design and Features
The front of the cooler is pretty standard.  The lower white grill is where air is drawn over the water pad to cool and moisturize the air.  The louvers on the top is where the cool air is delivered.  Above the louvers is the manual controls – from here you can turn the unit on or off, set how much time the unit will run, set the fan speed and oscillation, and change between cooling and fan-only operation.  There is also a lock button which will prevent accidental changes to the other controls.
Although the cooler is large, it is surprisingly light and easy to move.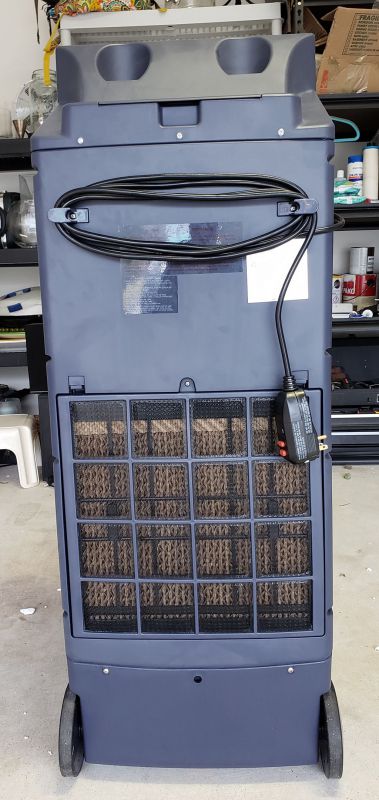 The back of the cooler has another filter and water cooling pad plus the power cord.  The power is GFCI-enabled so the unit should shut off automatically in case of a power surge without tripping a breaker.  The power cord is about 6 feet long and requires a grounded outlet.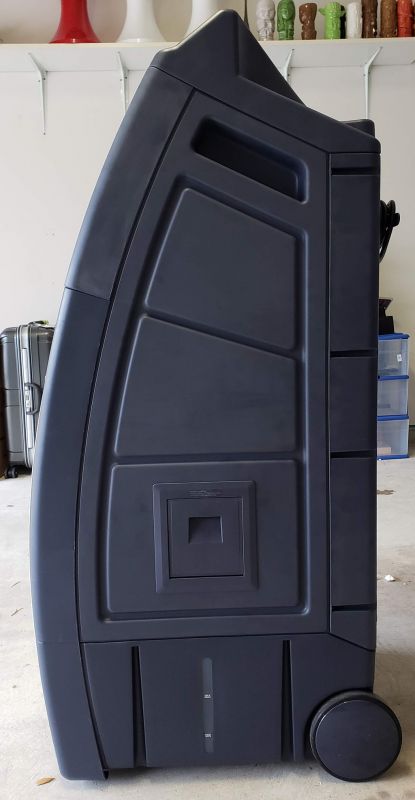 The right side of the cooler is the water tank and tank access door.  If you are using the cooler inside, this is where you would fill the tank for cooling operation.  There is a drain plug on the bottom of the cooler to allow you to drain the water tank before storing away for winter or to periodically clean the system.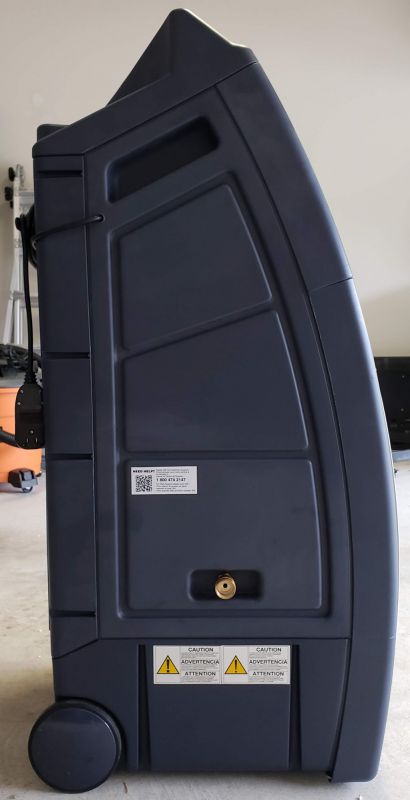 On the left side there is a hose adapter that allows you to connect the cooler to a constant water supply such as an outdoor spigot.  Very nice touch – connect a garden hose, turn on the water and you no longer need to get up and refill the tank.  The cooler has an auto-shutoff valve that will prevent the water tank from overflowing.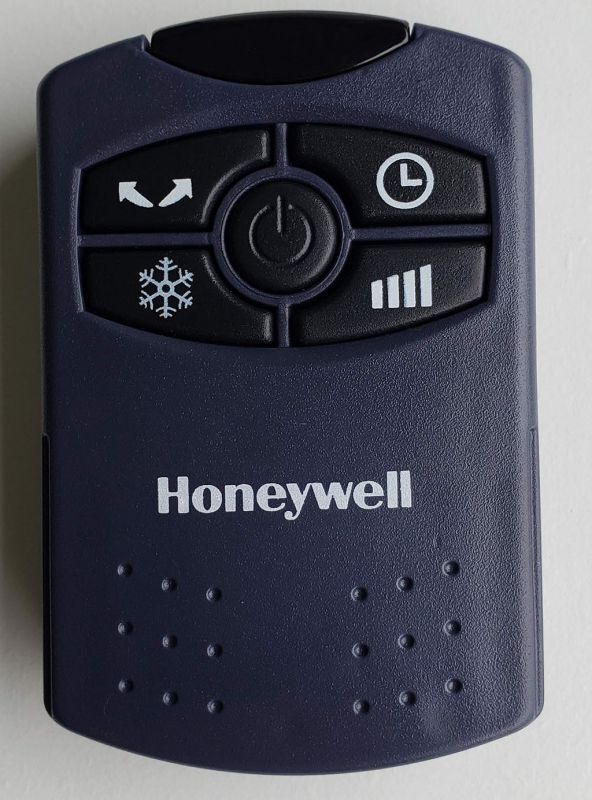 The included remote control does everything the front panel controls do.  It does not respect the panel lock, though, which is a very good thing.  You can change settings without having to get up and unlock the cooler.  The remote worked well from about 9 feet away even when I was sitting in direct sunlight.
Does it work?
As I said at the beginning, right after moving here from Seattle we had a very long and VERY unseasonable cold spell.  Gray, cloudy skies, rain, temperatures anywhere from the mid-40's to the low-60's.  Not exactly the "we need cooling, stat!" kind of weather.
All good things come to an end, though, and over the last week, we have started to move back to normal weather.  Which means hot and humid.  Given how evaporative coolers work, you might think that the Honeywell cooler might be a mismatch for our home.  And you'd be wrong.
Over the last 5 days the Honeywell cooler has kept our patio at a comfortable low-70's temperature range even when the mercury climbed into the upper-80's.  The cooler runs much quieter than expected – we can have a mostly normal volume communication or watch TV without our neighbors complaining or our ears bleeding.  While it is recommended to keep the cooler out of direct sunlight (duh!) our solar shades for the patio have not yet been installed so there are portions in the late afternoon where the sun is actively trying to burn our furniture and by virtue of association, us.  Even there you can feel a cool breeze as the cooler just continues to do its job.
What I like
It cools a pretty large area, and will work even better when our solar shades are installed
The constant water supply feature means not having to play Gunga Din with the water tank
A Philips screwdriver is all you need to replace filters and keep the cooler working at peak efficiency
What needs to be improved
The only real criticism I could level is that I would like a longer power cord.  With this type of device, you really should not use extension cords, so with a 6 foot power cord your placement options might be a tad limited depending on where your outlet is.
Final thoughts
The Honeywell Evaporative Cooler will give us a real shot at having a 4 season patio and an outdoor life in a place where people disappear indoors between May and October.  If we lived in a place where the heat is dry – say, Arizona – this would be even more efficient.  At $469 it is not a cheap solution, but it is a highly effective one and in my opinion, well worth the money for the benefit it brings.
Price: $465.04
Where to buy: Amazon
Source: The sample for this review was provided by Honeywell.